Written by Staff on January 30, 2020 – 2:57 pm -
Legacy Five Turns 20
At 20 years of age, the teenager becomes a young adult. The brain is still developing, but otherwise, most human beings are physiologically mature by this age. Gospel quartet Legacy Five enters this age of maturity in January 2020 and is fully embracing this by the release of "Pure Love," a dynamic re-awakening of the powerful Legacy Five sound first heard in their unofficial debut at the National Quartet Convention in September 1999. Scott Fowler, at the helm, is deftly guiding his group into their adulthood, with Josh Townsend, Matt Fouch, and newcomers Lee Black and Bryan Walker.
Who Fowler is now, is the result of God working in his life, bringing him into contact with Roger Bennett to form Legacy Five, and prior to that, leading him into ministry with the Cathedrals to sing with Bennett, Ernie Haase, and legends Glen Payne and George Younce. It was the Cathedrals that ignited Fowler's desire to sing. From that time to this, God has been fulfilling Fowler's dreams in a way even he could not imagine.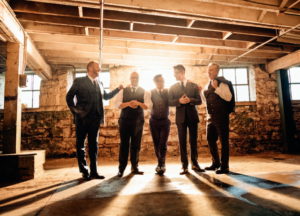 "I have been blessed to sing in a lot of amazing places in my 31 years (of professional gospel singing)," says Fowler. "I've sung at many of the churches in America that people would say are important to sing at. We have had United States Congressman and Senators in our audience over the course of 20 years. I have personally sung at a Billy Graham Crusade, in Cleveland, Ohio, where 70,000 people were packed in the Cleveland stadium."
Fowler relates a particularly poignant memory, "Legacy Five saying on the (Ground Zero) Observation Platform, the day it was dedicated in New York City, just weeks after 911. There was still smoke rising from the site and we stood on the Observation Platform (as) it was dedicated by Rudy Giuliani and we sang the national anthem." 
With all of these remarkable experiences, certain blessings stand out to the owner of Legacy Five.
"I had a husband and wife approach me in the lobby and tell me that they had been married for 46 years, and that they had decided to separate and dissolve their marriage," Fowler recalls. "She and he both informed me that evening, with tears in their eyes, that after being at our concert, they had decided not to do that and were going to get the help that they needed in their marriage. And what I love about the gospel is, whether it is presented in music or any other package, we didn't sing one song or say one word that night about how God can restore marriages. And yet he somehow was able to convey that message to that couple that night. And the amazing thing is, that he was able to convey a totally different message, concerning a totally different need, to two totally different people the same night. I love hearing those individual stories from people about what God does for them through our music."
God has worked through Legacy Five many times to change hearts.
"I think about the young lady a few years ago who came to us after the concert, weeping, saying that her life was a mess and that she had decided to take her life this very week," Fowler recalls. "But after being at our concert and hearing the message, she was given a new sense of hope."
Reminiscences over the life of Legacy Five would not be complete without talking about the group's co-founder Roger Bennett, who passed away March 17, 2007.
"I feel like I learned a lot from Roger," says Fowler. "A couple of things that I learned from him were, how possible it was to have a great attitude in the midst of great distress and difficulty.  Roger endured three bone marrow transplants and countless chemotherapy treatments, and I can probably count on one hand the number of days that I feel like he was living defeated that day. He was extraordinarily resilient and optimistic and positive and happy and joyful. He was always, always, always laughing."
"He taught me to be honest and transparent with myself and others.  He was a remarkable man. He was my best friend. And I still miss him fiercely," declares Fowler.
Frank Seamans was the tenor with the quartet when Bennett passed. He shares a great memory from this pivotal moment in the history of Legacy Five.
"When we lost Roger Bennett to cancer in 2007, we had no idea how to move forward," Seamans shares. "We were simply trusting God to help us and he certainly did. The first concert date after Roger's death was quite a challenge. How do we start? What do we say? What do we sing? How do we address our loss on stage? These were all questions we couldn't answer, but we prayed before going out and just asked God to lead us. We didn't have a plan, but we decided to sing three of our standards without saying a word and then see where God takes it from there. As we sang those first three songs, we noticed an adorable and very exuberant couple in their late 80's, sitting in the first row, clapping and singing along with every word. They were such an encouragement to us with their enthusiasm and sweet disposition. We stopped after those three songs and addressed the gentleman: 'Thank you so much for your enthusiasm, sir. You are such a blessing to us tonight. How many years have you two been married?' 
"'He grinned and answered, 'We're not married, we're on a date.' The whole place erupted in laughter, and the rest of the concert was so light and fun, we never had to think about any of those questions," Seamans concludes. "God knew exactly what we needed that night and we believe He placed that little couple on the front row just for us."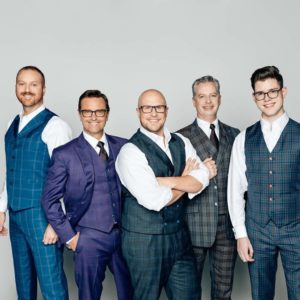 Laughter is something everyone needs and Fowler and his group often deliver that during their performance. Tim Parton learned this during his time as pianist for the quartet.
"Scott Fowler taught me about having fun on stage, and when I have fun, the audience can too," says Parton. "Scott also taught me that nothing happens by accident; you only see results when you've planned for results. Scott is a machine, but you'd never know it because he makes it look like he's just having a good time."
"Be who you are, there's an audience for almost everyone," Parton continues. "Enjoy the journey, support your friends, love people, love God. Fall, get back up. And forgive. "
"I had a super time with L5 and I don't think I ever laughed so hard than when I was on stage with them and Scott Howard forgot his words and made up an entire verse without skipping a beat," laughs Parton. "I couldn't see the piano keys for the tears."
As Parton recalls, the gang was full of hijinks, and even the boss wasn't exempt from the jokes.
"I recall hiding in Fowler's closet after a concert and waiting until he changed clothes to scare the daylights out of him," says Parton. "But one never does anything to Scott without him returning the favor, so I kept the shenanigans to a respectful level."
Parton concludes his recollections with this comment: "Being with L5 was such a super time  in my professional life when all heck was falling apart at home. So grateful for Scott, Glenn Dustin, Scott Howard, Frank Seamans, and Gary Buckner. We were Legacy Five."
Tags:
Bryan Walker
,
Josh Townsend
,
Lee Black
,
legacy five
,
Matt Fouch
,
Scott Fowler
Posted in
Christian interest
,
sgn scoops magazine
|
Comments Off

on Legacy Five: "What Kind Of Man" is Scott Fowler?
Written by Staff on December 9, 2019 – 6:46 pm -
It's that time again. Christmas is a time when family and friends come together and celebrate the birth of Jesus Christ, the greatest gift to humankind. While I enjoy opening presents, listening to music, and eating great food, I have realized more and more that none of that matters much compared to Jesus and family.
Over the years my family has struggled financially and experienced loss, but we always manage to have a fun and meaningful holiday season. I will always cherish being with family playing games, eating food, and going to look at Christmas lights. It is my hope that reading the following memories from your favorite Southern gospel artists will get you in the spirit of Christmas and remind you to cherish the time you have with family and friends. 
Merry Christmas…
Matt Fouch (Legacy Five): "Being able to now be the head of my family and read the story of Jesus birth on Christmas Day to my family."
Matt Dibler (Inspirations): "My favorite Christmas memory was a tradition we had. Every Christmas Eve we would turn out all the lights and use only candles and the lights from the Christmas tree. We would sing Christmas Carols and read the Christmas story from Luke 2 and have family prayer. I think of it every year.."
Jeff Collins (Producer): "I have several great Christmas memories, as my parents made Christmas very special for my sister and I throughout our childhood. But there was one particular year that was extra special. I was around 11 or 12 years old and had asked Santa Claus for a minibike. After what seemed like years, Christmas Eve arrived, and I was hoping and praying Santa would make my wish come true. Lo and behold, on Christmas morning when Mom and Dad let us come down the hallway and around the corner to the living room, there sat my minibike. I was so happy. I was itching all morning to get outside to ride it, but first we had to open all of our presents, eat breakfast, and then finally go outside. 
We finally got the bike out in the carport and Dad says, 'Start her up, Jeff.' This minibike was a bare-bones kind of minibike with a basic Briggs and Stratton lawn mower engine. Anyhow, I started pulling on it, trying to start it. I pulled until my arm was like Jell-O. No start. My dad pulled on it for another 30 minutes. A neighbor was there by then, pulled on it for 30 minutes. Man, was I getting frustrated. I should mention here that there is an on and off switch between the handlebars and the seat. We had it in the 'on' position. Another neighbor had showed up by now. It was getting close to lunch. He reached down and haphazardly turned the switch to the 'off' position, pulled the engine, and it started. Just like that. But finally… I got to ride my minibike. I was one happy 11 year old."
Arthur Rice (Kingdom Heirs): "In the fall of 1987, my dad had a brain aneurysm. I was with the Kingsmen at the time and they had folks praying all over the country. He came out of the surgery great and the only paralysis was his memory. He didn't know who we were or what had happened. Just before Christmas he said it was like he heard a switch in his head go on and he started remembering us little by little. He was able to come home for Christmas and shortly after that all his memory returned. The Lord gave us 14 more years with him. It was a very thankful Christmas."
Mark Trammell (Mark Trammell Quartet): "The year my dad and mom went without Christmas so they could buy my first bass guitar. I didn't know it until years later. Priceless lesson in unselfish lifestyle."
Josh Feemster: "I think it would have to be the last Christmas with my grandma. She was so much fun. This particular Christmas she stayed at our house. My dad, brothers and myself went to a Christmas event without my mom and grandma. She just wasn't feeling well so they decided to stay home. This particular trip was memorable because of the sleeting going on during the drive,kinda rare in Alabama in December. Anyway, it was Christmas Eve and when we got back to our house Santa had already been there. All of our presents were out and Grandma convinced me that she helped him unload them. She was the greatest. We had a great time and I'll never forget eating her chicken and dressing one last time the next day. Within a month she was in heaven. I don't really remember what toys I got but I'll always remember how happy she was to be with us."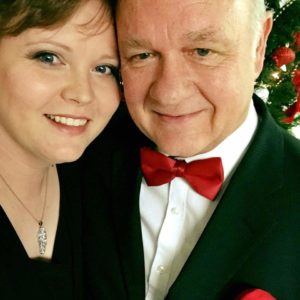 Lisa Williamson (The Williamsons): "When I was 16, my family and I were going through a pretty tough time. My mom had broken her ankle so our spirits were down. We hated to even ask, but my sister Rachel and I really wanted a PlayStation for Christmas. We didn't want to get our hopes up, but we sure were hoping to see that thing under the tree on Christmas morning. A week or so before Christmas, Mom came into the living room on her crutches wearing a brand new tee shirt. The back of it had a very bright, colorful, and recognizable logo…PlayStation. We kept asking her where she got her shirt, but all she would do was smile. Needless to say, we opened a PlayStation on Christmas morning."
Randy Crawford (Formerly of The Kingsmen): "Not so much a memory as it is something I miss. My grandmother on my father's side always used to have a "sock" for us grandkids. It truly was a sock. But it was filled with fruits, candy, and old fashioned peppermint stick candy. We used to cut a hole in our oranges and suck the juice out through the peppermint candy. I miss my grandmother so much, and love she put into our 'socks'."
Maria Kramer Wolfe (The Kramers): "My favorite Christmas memory, or tradition, is putting up the Christmas tree while listening to traditional Christmas music and baking Christmas cookies. I love family time the most, so getting together with family during the Christmas season is a rich blessing."
Steve Ladd (The Old Paths): "My favorite Christmas memory is my first Christmas as a father. Christmas took on a whole new meaning to me since then… my children's face and the excitement made me not care if I ever got another gift."
Tammy Burns (Troy Burns Family): "My favorite Christmas memory was 1974. My oldest brother got married right after Christmas and our whole family was together for the last time on this earth. It seemed like it was the happiest time we had ever had with family and friends. That next year my little brother, Tommy, went home to be with the Lord after battling cancer for 12 years. He was only 12. I will always cherish that Christmas."
Judy Nelon: "Rex and I had been dating a while. We spent a few days with his 98-year-old mom and his other family members in his hometown Asheville, N. C., during Christmas. It was the sweetest time. We exchanged gifts and it was interesting –  we gave each other exactly the same Christmas card, he bought his in Atlanta and I bought mine in Nashville. It said 'Only You.' We knew from the start we were a match. As he was driving me back to Nashville we stopped in Waffle House. He asked if I had expected a engagement ring for Christmas and I was honest and said. 'Yes, I did.' He said, 'Okay then, will you marry me?' He had plans for a ring but he couldn't wait. He was the funniest, sweetest and most unique man. I'll always love Rex Nelon."
Les Butler (Butler Music Group): "Christmas 1971, I was nine. My parents bought me an upright piano. Little did I know that instrument would play such an integral part in my life."
Riley Harrison Clark (Tribute Quartet): "Every year while growing up in Oklahoma, my family went to Silver Dollar City for Christmas. So many memories were made and even more funnel cakes were eaten. Going there is a Christmas tradition I will never forget."
Stephen Adair (Dixie Echoes): "One year my dad was in the hospital after a series of strokes during the Christmas season. He was still in the hospital on Christmas Day, so my mom and I packed up all of the gifts that were under the tree and took them to his hospital room. We had Christmas there complete with hot chocolate, the Macy's Christmas Day Parade, and the best hospital food we could find. We were together, and that's what made that Christmas so special."
Bob Sellers (Soloist): "When I was about 10 years old, my parents asked my sister and I to clean out our closets of any toys, clothing, etc. that we could live without (only good stuff), and we took it to this one room cinder block home where a family with about six or eight kids lived. My dad had cut them a load of firewood and we gave them that, plus all the stuff my sister and I had put together. I'll never forget the look on those kids' and their parent's faces. They were about our same age, and although we were far from wealthy, they looked at us and my parents like we were angels or something. I guess to them we were, at least that year. I'm thankful for godly, loving parents who instilled the true meaning of Christmas in me."
Nic Holland (Poet Voices): "Probably my last Christmas with my mom before she died, 2003. We knew she didn't have long to live and enjoyed every second of just being together. I have no memory of one single present I got that year but my time with Mom I'll never forget."
Duane Allen (Oak Ridge Boys): "My wife gave birth to Jamie, our baby girl, on Dec. 13. Early on Christmas morning, Norah Lee slipped out of bed, dressed Jamie up real pretty, put her in her little portable bed and placed her under the Christmas tree. Then, Norah Lee came back to the bedroom, woke me up and led me to the living room to see my Christmas present."
Scott Brand (Gold City): "I couldn't possibly narrow it down to one. Christmas is my favorite time of the year. When I was a kid, my grandparents, along with my great grandmother, would come spend four or five days with us around Christmas. The Brand tradition was to cook a ham in Coca Cola all night on Christmas Eve. I can still to this day smell that cooking through the house. Just family getting together and keeping traditions alive would be my Christmas memories as a kid."
Randa Jordan (Jordan Family Band): "I was eight years old, and money was something we never had much of. I knew that Daddy and Mama didn't have enough money to go out and buy me and my brother new toys, and yet somehow I was okay with that. I was a dreamer, and I enjoyed the most simple things that surrounded me. We lived in what seemed like to me the most wonderful apartment in downtown Rome. Two stories, hardwood floors, a screened in back porch, huge living room, and the front yard was next to the busy road where the town's bus and trolley would pass throughout the day. I loved that apartment so much. The staircase was huge to me and I loved dressing up and and walking up and down them like a princess out of a fairy tail book. The morning of Christmas, 1989, I wasn't sure what to expect, but my brother and I woke up, and at the direction of Daddy and Mama, we waited on the big staircase till they instructed us to come into the living room. Bubbling with joy and wearing my little white gown and house shoes, I walked into a living room that was covered in gifts. Clothes, toys, games everywhere. The couches and chairs were covered, items set up all across the floor and gifts under the tree. It was like a dream. Dad and Mom had went "yard sale-ing" and "goodwill-ing" and loaded up without spending much at all. That was one of the best days of my life."
Sarah Davison (HighRoad): "When I was a young girl we had a huge snowstorm come through – probably 13-14 inches of snow – and it was so heavy that we lost power for several days including Christmas Eve and Christmas day. I remember Dad firing up the wood stove and Mom making homemade soup on top of the wood stove. We played board games and got some old hymnals out and gathered around the piano. It was the most quiet, peaceful Christmas I can remember and by far my favorite one too."
Amber Nelon Kistler (The Nelons): "My favorite Christmas memory is sitting around the table playing games with my whole family and grandparents at their house. Then eating the dinner my grandmama cooked …twice a year… Thanksgiving and Christmas."
Compiled by Justin Gilmore
First published by SGNScoops Magazine in December 2018
Tags:
Arthur Rice
,
christmas
,
gospel music
,
Inspirations
,
Kingdom Heirs
,
legacy five
,
mark trammell quartet
,
Matt Fouch
,
Southern Gospel Music
,
The Oak Ridge Boys
Posted in
announcements
|
Comments Off

on A Southern Gospel Christmas: Christmas Memories from Your Favorite Artists
Written by Staff on May 2, 2019 – 8:09 pm -
On Saturday, April 27th, 2019, a concert was held in London, Ontario that was for some the end of an era. The event was a fundraiser for New Life Prison Ministries, a jail outreach program in the area.
London Gospel Temple was the site for many gospel music fans who were happy to hear some good, live music after a long, cold winter.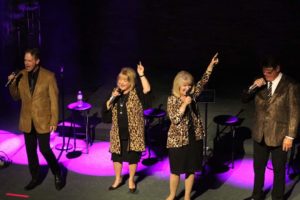 Opening the evening was the popular Ontario group, the Chapelaies, who are into their 51st year of ministry. This mixed quartet has won the hearts of many over the years. Led by David and Sheila Jackson, who are joined on stage by Myrna Hand and Phil Pugh, this group performs with grace, class, and the love of Jesus Christ.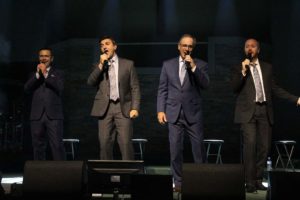 Legacy Five followed the Chapelaies and the audience was treated to an outstanding performance of male four-part harmony at its best. Enthusiastically singing their hit songs, the group showed why they are so often mentioned among the best in the U. S. Scott Fowler; the gracious host, and Josh Townsend, the expert pianist, joined superb bass Matt Fouch, as the group members who will bring the L5 into the next decade. New members will join them this weekend, but the Canadian audience was witness to the very last concert of Legacy Five with smooth baritone Scott Howard and the incredible tenor style of Josh Feemster.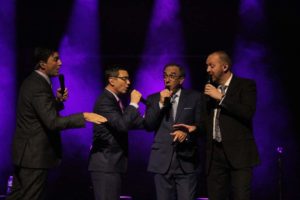 The evening was fun as well as worshipful and engaging, as attested to by the continuous calls for encores at the end. Afterward, group members stayed late to talk with every fan. Many selfies were snapped and much laughter filled the hall.
It was an encouraging, enjoyable evening, surpassing even the greatest expectations. A huge thanks to all involved. The evening was truly unforgettable.
By Lorraine Walker, who will be able to tell the story of how she was there at the last concert of two of the best vocalists in gospel music.
Special thanks to photographer Jillian Whitson for providing the concert images.
Tags:
Chapelaies
,
David Jackson
,
FJosh Townsed
,
gospel music
,
Josh Feemster
,
Legacy 5
,
legacy five
,
Matt Fouch
,
Myrna Hand
,
New Life Prison Ministries
,
Phil Pugh
,
Scott Fowler
,
Scott Howard
,
Sheila Jackson
,
Southern Gospel Music
Posted in
artists
,
concert reviews
|
Comments Off

on Chapelaires and Legacy 5 leave a lasting impression in London
Written by Staff on March 27, 2019 – 6:09 am -
PIGEON FORGE, Tenn. (March 22, 2019) – NQC – the National Quartet Convention – has announced they are producing an original television series called, NQC's American Gospel. The program will be hosted by Gerald Wolfe and Joseph Habedank and feature main stage performances from the 2018 National Quartet Convention. The program will have a featured artist for each episode, with that artist being interviewed by Matt Fouch of Legacy Five. Each episode will also feature a segment from the 2018 Gospel Music Hymn Sing.
The half-hour program will be viewable on NQC's on-demand platforms which include the NQC YouTube Channel, NQCOnline, and Roku Channel, NQCTV. In addition, several television networks have expressed interest in carrying the program on varying days and times with varying launch dates.
"We are excited about this new series, "states Clarke Beasley, NQC's Executive Vice President. "This program gives viewers the feeling that they are attending the Convention with many of the sites and sounds of the event visible on the program.  We believe this will entice people to want to attend NQC in person."
NQC – the National Quartet Convention – was formed in 1957 by gospel music legend and former backup vocalist for Elvis Presley, J.D. Sumner who co-produced the event with James Blackwood. The annual convention was moved in later years to Nashville, TN and then to Louisville, KY where it was held for 20 years.
For more Gospel Music news, read the latest SGNScoops Magazine HERE
Download The PDF Of SGNScoops Magazine
HERE
Find SGNScoops Magazine On Facebook
HERE
Listen To The Best In Today's Gospel Music
HERE
Tags:
American Gospel music
,
Clarke Beasley
,
Gerald Wolfe
,
gospel music
,
Joseph Habedank
,
Matt Fouch
,
nqc
,
NQC's American Gospel
Posted in
announcements
,
artists
|
Comments Off

on NQC Announces Original Television Series
Written by Staff on March 25, 2019 – 9:11 am -
Scott Howard, long-time baritone for Legacy Five, has announced his retirement from Legacy Five. "I've lived my dream. I'll never be able to express my gratitude to Scott Fowler, Roger Bennett and the Lord for giving me the desire of my heart all those years ago to sing Southern Gospel Music. I've had the opportunity to make life-long friends, sing night after night to people all over the world about God's love, and share the stage with the finest men in the industry. I am grateful beyond words for the privilege to do this for almost 20 years. However, seasons come and go, and for over a year now I have sensed this chapter coming to a close for myself and my family. Scott and I talked about it during this last year and he graciously gave me time and space to listen to the Lord and wait for His timing. Change is never easy for a group either personally or financially. So, after discussion, Fowler and I both feel it will be better to coordinate my departure with that of Josh Feemster's. I am hopeful it will ease the transitional costs and adjustments on Legacy Five as a whole.
"To all of you across the industry and to all the fans of Southern Gospel Music who welcomed me with open arms and supported me all these years, 'THANK YOU!' You all have been my second family – my road family! This is not good-bye, it's just the closing of one chapter and the beginning of the next."
Scott Fowler states, "I could not have asked for a better man to have by my side for 20 years. Scott Howard is a man of impeccable character and has stood with me thru some very difficult times in the life of Legacy Five. He is a rock and I have relied on him for more than I can tell you. I will miss him greatly, but I support him and his decision 100%."
Scott will continue on the road with Legacy Five for the next few weeks as transitions are made. He plans to truly "retire" for a few weeks before joining Danley Sound Labs assisting and developing clients with audio needs.
For more Gospel Music news, read the latest SGNScoops Magazine HERE
Download The PDF Of SGNScoops Magazine
HERE
Find SGNScoops Magazine On Facebook
HERE
Listen To The Best In Today's Gospel Music
HERE
Tags:
American Gospel music
,
gospel music
,
Josh Feemster
,
legacy five
,
Matt Fouch
,
Scott Fowler
,
Scott Howard
Posted in
announcements
,
artists
|
Comments Off

on Legacy Five announces departure of Scott Howard
Written by Staff on March 18, 2019 – 3:36 pm -
Scott Fowler leads Legacy Five into the future
By John Herndon
Rooted in one of the greatest traditions in gospel music, the Legacy Five has embarked on a 2019 schedule that will see the group pay tribute to history, yet do so by embracing the changes of the times.

I was fortunate to talk with Scott Fowler, one of the quartet's founding members, after a concert at Sand Spring Baptist Church, in Lawrenceburg, Ky., on Jan. 24. It was a performance that drew a good crowd on a bitterly cold night and prompted several extended standing ovations.

Fowler was excited to talk about the group's plans for the coming year. "We are getting ready to release our first video in about five or six years," he said, noting that 21-year-old pianist Josh Townsend will be prominently featured. "A couple of things people have been asking for are J.T.'s testimony, which you heard tonight, and the song that he sings."


Townsend, who has overcome two childhood tumors and a massive stroke while being carried in his mother's womb, shared his testimony with a mesmerized audience before singing the tear-filled "God's Been Good," a bonus track from the "Faith and Freedom" album released in late 2017.

"People ask a lot if we've got the patriotic segment we did tonight on video," Fowler continued. "That's going to be on the video with 'I Made it to Arlington' along with the 'Tribute to the Troops' we do. Those are two big items that will be on the DVD. It will be called, 'Live in Peoria.'

"It will come out around the first of March, maybe the 15th. Then we are working on a new studio album. We don't have it titled yet, but it will have 10 brand new songs on it. That will be coming in the late spring or early summer."


Fowler said the Legacy Five will be on a normal tour schedule of about 135 concerts, too.

The Sand Spring concert was heavy on songs from "Faith and Freedom," including "God Bless the USA," "Hallelujah Chorus," and a rousing version of "When the Saints Go Marching In," as the finale.

Fowler explained the reasoning behind the album. "I have always been very patriotic personally," he said. "I have always had a deep sense of gratitude. I have been to El Salvador. I have been to the Dominican Republic. I have been to the nation of Colombia. They are great places with great people, but the kids there will never have the opportunities of kids in America because of where they were born. I realize that the only difference between my kids and those kids in other countries was where they were born. There is no other difference.


"They may speak a different language and their skin might be a different color but God doesn't love them any less than he loves my kids. I am very grateful that my kids were allowed to be born in America.

"Then you have the political climate. The culture got there for a while there that people were apologizing for America and not standing for the Anthem, just not being respectful. I wanted people to know where Legacy Five stood on those issues, so that is what we did."

The group took time to recognize veterans from all branches of the service. "Veterans deserve everything our government will give them and more," Fowler said.

Fowler is one of the veterans of gospel music, singing with the Cathedrals for 10 years before legends George Younce and Glen Payne retired the group. Fowler and Cathedrals pianist Roger Bennett formed Legacy Five to begin touring in January of 2000. Bennett died in 2007, but the group continues as one of gospel music's most popular.


Part of Legacy Five's appeal has been its ability to adapt to a changing world. "The actual style has changed. It always gets a little more progressive," Fowler said, noting the same thing happens in other styles of music.

"The biggest change is technologically. You know with all the social media, now your music is available online and on YouTube. You can stream it. Nobody knew what those terms were 20 years ago."

When Fowler talked about CD's and other merchandise available at the product table, he noted the group had a USB-drive loaded with several albums available.

Fowler smiled, "The message doesn't change. The package changes, but the message never changes."
It's why Legacy Five remains near the top of gospel music.
All images by John Herndon, except for promotional photographs.
By John Herndon
John Herndon is a writer for SGNScoops Magazine and also has a website called KentuckySings. John is a Kentucky native who was raised listening to gospel music. As a child, the Sunday morning routine always included the Gospel Singing Jubilee and his summers were filled with all-day-singings-and-dinner-on-the-ground listening to local groups just about every Sunday. He remembers seeing The Prophets at his county fair when he was seven years old and eventually, he became a huge fan of The Oak Ridge Boys, The Imperials and J.D. Sumner and the Stamps. John spent 20 years in the located ministry and during this time, he began writing local sports for The Anderson News in Lawrenceburg, Ky. For the last 16 years, he has been the full-time sports editor of that paper. John has won over 100 awards from the Kentucky Press Association, the Society of Professional Journalists and Landmark Community Newspapers. He loves listening to gospel music or playing one of his guitars. John lives in Lawrenceburg with his wife, Stephanie, and 17-year-old daughter. He has three grown children and four grandchildren.
***Note: This article was written before the announcement that Josh Feemster is leaving this popular quartet. See elsewhere on this website for more information.
For more Gospel Music news read the latest issue of the SGNScoops Magazine HERE.
Download the latest SGNScoops Magazine PDF Here
Find SGNScoops Magazine On Facebook Here
Listen To Today's Gospel Music Here
Tags:
Christian Music
,
gospel music
,
John Herndon
,
Josh Feemster
,
Josh Townsend
,
legacy five
,
Matt Fouch
,
Scott Fowler
,
Scott Howard
Posted in
artists
,
sgn scoops magazine
|
Comments Off

on Legacy Five: Unchanging message in changing times
Written by Staff on December 12, 2018 – 11:05 am -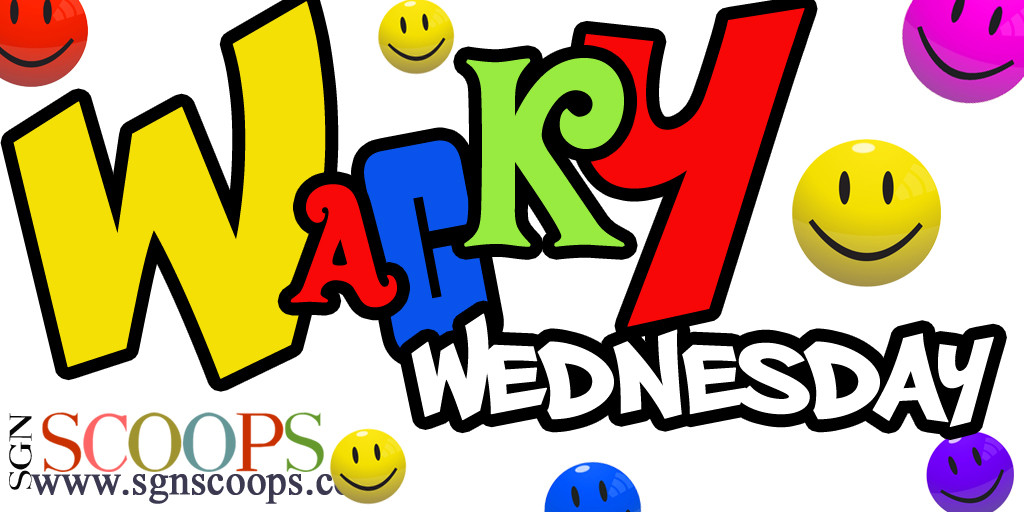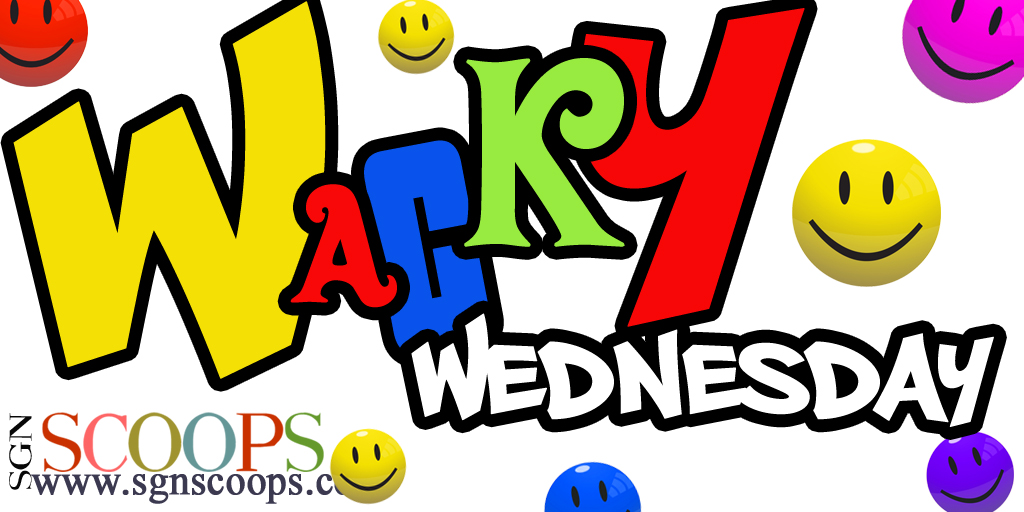 It's Christmastime here on SGNScoops and we have a brand new Christmas edition of Wacky Wednesday just for you. This time, our question was: What is your favorite Christmas song and why? Let's shake our Gospel music snowglobe and see what answers the artists have for us.
Thanks again to our special Social Media girl, Jantina de Haan, for securing these responses for us. We hope you enjoy it. Merry Christmas!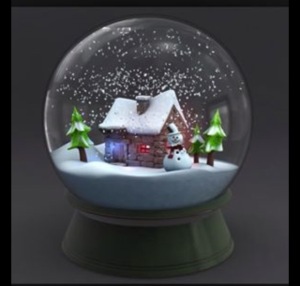 Mark Byrd: "Mary Did You Know." I love the way this song has such a sweet flow but tells a story of a mighty King and Savior.
Eric Bennett: "Hope Has Hands" © Phill Cross; I love the way he describes baby Jesus. Hope has Hands, Freedom has Feet; Truth will stand, The Word will speak. The Holy and Lovely will finally embrace. For Love has a Heartbeat and Grace has a Face…"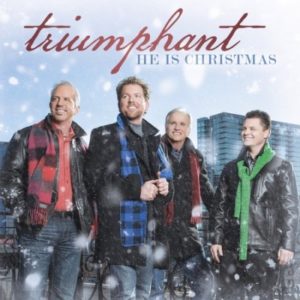 Adam Crabb: "O Holy Night," because it talks about the birth of our Savior and to me, this song is the true spirit of Christmas.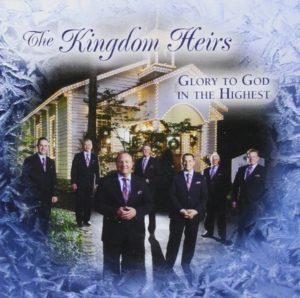 Jaquita Lindsey: "Do You Hear What I Hear." I remember trying to learn it on the piano, which I never learned to play the piano 🙂 I don't have a particular reason for liking it. Just because.
Greg Sullivan: "There's a New Kid In Town." I like this song because not many people in Bethlehem knew that Jesus had been born and it focuses on how God became man in form of a child. This child would be the Savior of the world.
Randa Jordan: "White Christmas." I loved the movie as a little girl, loved Bing Crosby, and it stayed with me all these years. It brings to me the happiest of memories.
Arthur Rice: "I'll Be Home For Christmas." The song came out in 1943 during WW2 and it was written from a soldier's perspective of wanting to be home
with their families for Christmas, even though the last line reveals it wouldn't be a reality.
The song always reminds me of the reality that so many of our men and women won't be home for Christmas. And how appreciative we should be for the sacrifice of them and their families, and we pray for their safe and speedy
return home.
Mark Bishop: Wow.. that's a tough one. It's hard to narrow it down to one song. For the simplicity of the beautiful message and the melody, it's hard to beat "Silent Night." It exemplifies what we should be focusing on at Christmas time, over shopping and gifts. It always makes me a little melancholy, too. Likewise, with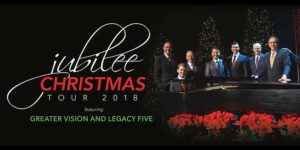 "Oh Holy Night." My sleeper choice would have to be "The Little Drummer Boy." I love the story that it tells and that we don't need to bring great gifts to Jesus like the three wise men, we only need to give Him the talents that He gave us. But the greatest Christmas gift of all is to give back to God what He gave us, to begin with.
Matt Fouch: I have a funny one…'You're a Mean One, Mr. Grinch." I love the original cut on this song and it fits the bass range just perfectly. People always smile when they hear you sing it, It's a lot of fun.
Autumn Clark: "The Christmas song." Because it is so beautiful and the story it tells.
Scott Peek (DJ of KNMG Radio): "We Are The Reason." The message can be no clearer. He came to earth as a baby for us. All 33 years of His life were about us His willingness to die on the cross was about us. And it all started that first Christmas morning…"WE ARE THE REASON!"
Harley Madden: "I'll Be Home For Christmas," I think maybe my favorite song for Christmas. And the reason I say that is, back in 1985 my sister passed, and I miss her everyday. But now I think about it, she made my mom a promise for Christmas that year. And that was: She would be home for Christmas. Even though we may not have got our wish for her to be at her earthly home for Christmas, she was made new in her Heavenly home. Sitting at the feet of Jesus. I can't wait to get to Heaven, to be able to see her again and give her a big hug.

A Wacky Wednesday Merry Christmas from SGNScoops
Tags:
Adam Crabb
,
Arthur Rice
,
Christian Music
,
christmas
,
christmas music
,
Eric Bennett
,
gospel music
,
Greater Vision
,
Greg Sullivan
,
Harley Madden
,
Jaquita Lindsey
,
Jordan family band
,
Kingdom Heirs
,
legacy five
,
Mark Bishop
,
Mark Byrd
,
Matt Fouch
,
nelons
,
Scott Peek
,
Triumphant
,
Wacky Wednesday
Posted in
artists
,
SGNScoops Wacky Wednesday
|
Comments Off

on Christmas Wacky Wednesday from SGNScoops
Written by Staff on July 1, 2018 – 2:08 pm -
Ray Reese is interviewed by Matt Fouch on this latest episode of On the Couch with Fouch
When you think of male quartets in Southern gospel music, for several decades, one name always comes to mind and that name is the Kingsmen Quartet.
This month I have the privilege to share my interview with their bass singer, Ray Reese. Ray has been the bass singer for the Kingsmen for over 50 years!. That is an amazing accomplishment.
In this episode you will hear some amazing history on the Kingsmen and get to know Ray a little more personally.
Sit back, relax, grab a cup of coffee and enjoy this interview with the Dean of bass singer, Ray Dean Reese.
Read the June 2018 SGNScoops Magazine HERE.
Find SGNScoops Magazine On Facebook HERE
Download The PDF Version Of SGNScoops June 2018 Magazine HERE
Listen To The Best In Todays Gospel Music Online HERE
Tags:
gospel music
,
Kingsmen
,
Matt Fouch
,
On the Couch With Fouch
,
Ray Dean Reese
,
Ray Reese
Posted in
announcements
,
artists
|
Comments Off

on Ray Reese is On the Couch with Fouch
Written by Staff on June 15, 2018 – 6:40 am -
On this episode of the Bass vs Tenor Challenge, I compete against Michael Booth of the Booth Brothers to see who did it better bass or tenor.
You are the deciding factor. You comment with your vote, whoever receives the most votes, wins the challenge.
We had a blast recording this video and we hope you have just as much fun watching it as we had recording it.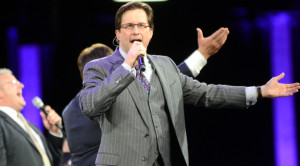 Find SGNScoops Magazine On Facebook HERE
Download The PDF Version Of SGNScoops Magazine HERE
Listen To The Best In Todays Gospel Music Online HERE
Tags:
booth brothers
,
gospel music
,
legacy five
,
Matt Fouch
,
Michael booth
,
On the Couch With Fouch
Posted in
announcements
,
artists
|
Comments Off

on Michael Booth vs Matt Fouch in Bass vs Tenor Challenge
Written by Staff on November 12, 2017 – 6:18 am -
I've heard it stated a million different ways: "Thank you." I'm guilty of saying it without truly meaning it. I know I'm not the only one. So often, we're obliged to express our thanks by simply saying two words. It's easy to just spit them out and not even really remember why we said it in the first place. We say it to the barista at the coffee shop. Ladies say it when someone opens a door for them. Men say it when someone compliments their golf game. Children say it, often at the prompting of Mom or Dad, when they're given a gift. As a parent, I've worked to instill in my two children to say "thank you" every chance they get. I hear them say it many times; but sometimes, there's a magical moment when I hear them say it from their heart. How my heart swells with pride to see genuine gratitude in their eyes.
I've entitled my article for this month Thanks-Living for this reason: There are times when we express thankfulness in our heart by our words, and there are other times that we express gratitude in our lives. One of the greatest ways we can express this is in song, and I was thrilled to have the opportunity to discuss all things Thanksgiving with two friends who just happen to be outstanding artists: Matt Fouch of Legacy Five, and Aaron Hise of the Whisnants.
The atmosphere of the Thanksgiving season is surrounded by things we all love: food, family, and more food! We can throw in some football for all who love sports, and the day just can't get much better. Family traditions often are born during this time of the year. "We always get together on Thanksgiving Eve. It's such a fun night!" Matt shares. Aaron added, "Our family's tradition has always been to get together an extra day to celebrate the holiday. We love the tradition of just having more family time."
As many readers have probably experienced, having more family around usually provides some free entertainment. Aaron's story is too good not to share: "The most memorable Thanksgiving that I have ever experienced was when my mom had fixed the most beautiful dinner for me, my dad, and my brother. I was nine years old and my brother was 13. We both had been playing ball outside and came in for dinner. When we got to the table, the turkey had been placed on the edge of the table before we said the blessing. As we were praying, my brother was trying to make me laugh by poking my side. Well, when I tried to get away, I bumped the table just hard enough to make the turkey fall right onto the ground. Needless to say, we called the 'ten second rule' and enjoyed a great turkey!"
I haven't had that kind of experience but one memorable experience for me, was as a boy with my cousin. We were given the daunting task of being the Thanksgiving-trash-taker-outers. We wore that badge with pride all day long. We were taking out one set of bags filled to the top and I opened one of the trash cans, when like a SCUD missile, the biggest opossum I'd ever encountered shot out of the trash can with every tooth in his face showing as he flew right by me. I'll never forget it, and I'll never blindly open a trashcan again!
Naturally, the subject of Thanksgiving-themed songs came up, and I asked Aaron and Matt what some of their favorite songs were along the theme of thankfulness. "The Easter Brothers put it best when they said, 'There's a roof up above me, I've a good place to sleep, there's food on my table, and shoes on my feet. You gave me Your love, Lord, and a fine family, thank you, Lord, for Your blessings on me!'"1 Aaron said. Matt added, "Soul'd Out Quartet recorded a song called, "Thank You Lord." My wife Candice and I had a beautiful moment one day just driving in the car and listening to this song."
Obviously, when you get three grown men talking to each other, the subject of food came up. Aaron laid it all out for us. "All of the traditional items will be served this year: turkey, ham, green bean casserole, homemade yeast rolls, dressing, gravy, homemade macaroni and cheese, sweet potato casserole, deviled eggs, and the list keeps going on!" Matt added many of the same traditional menu items, but said that there was one thing he couldn't live without on Thanksgiving: "Cool Whip for the pumpkin pie. I like a little pie with my Cool Whip."
We could all put down a mile-long list of all the blessings we've enjoyed this year, but Matt Fouch and Aaron Hise each added specific things that they were thankful for. Matt tells us, "I'm thankful for the peace that passes all understanding! In the midst of a crazy life in a crazy world, as believers, we can have a peace beyond our human comprehension." Aaron added, "I'm especially thankful this year for the family that God has blessed me with. Suzanne (Aaron's wife, who sings with The Taylors) and I are expecting our first child in March (2016). We're beyond excited!" That's definitely something to be grateful for!
I mentioned as we began the article about the word Thanks-Living. Are we just saying "thank you," or are we living  "thank you?" My prayer for myself and for each of our readers is that we won't just take one special Thursday that's set aside, and rattle off an impromptu prayer to God for the many blessings He's given us, but that we, like David the Psalmist, will take time to meditate and think upon the Lord's goodness to us. His mercy endures forever, and his faithfulness is sure. My sincere thanks to Aaron Hise of the Whisnants and Matt Fouch of Legacy Five for their time and effort this month. Happy Thanks-Living, everyone!
By Matt Baker
First published by SGNScoops Magazine in November 2015
"Thank You Lord For Your Blessings On Me," Easter, James and The Easter Brothers. Copyright 1975. Renewed 2003. LeFevre- Sing Publishing Company/BMI. (website c.October 21, 2015). www.musicnotes.com/sheetmusic/mtd.asp?ppn=MN0085124
Tags:
Aaron Hise
,
Legacy 5
,
Matt Fouch
,
thanksgiving
,
The Whisnants
Posted in
announcements
,
christian entertainment
,
Christian interest
|
Comments Off

on Thanks living with Matt Fouch and Aaron Hise