Written by Staff on August 6, 2019 – 10:19 am -
Johnson City, Tennessee – Prominent concert promotions company, IMC has announced plans to present a new Praisefest event in Branson, MO, in the fall of 2020. Eight years ago the successful promotions team conceived the idea of presenting an exciting weekend of Gospel music in the Ozark Mountains town of Branson, Missouri, a city that is famously known for its diverse entertainment theaters. That first year the event took place at the state-of-the-art Mansion Theatre.
Due to the overwhelming success of the event, which has been held annually each Spring for the past seven years, IMC Concerts has announced plans to  produce a Praisefest event that will also take place in the Fall of the year. The new Praisefest Branson Fall Retreat will take place October 26 through 28, 2020, and will also be held at the Mansion Theater.
"We think this new event will be a great choice for people who have told us their schedules simply will not allow them to come to our Spring event," states IMC President Landon Beene. "We also believe many of the people who attend Praisefest Branson every year in March will want to come back again for the Fall Retreat because they love it so much."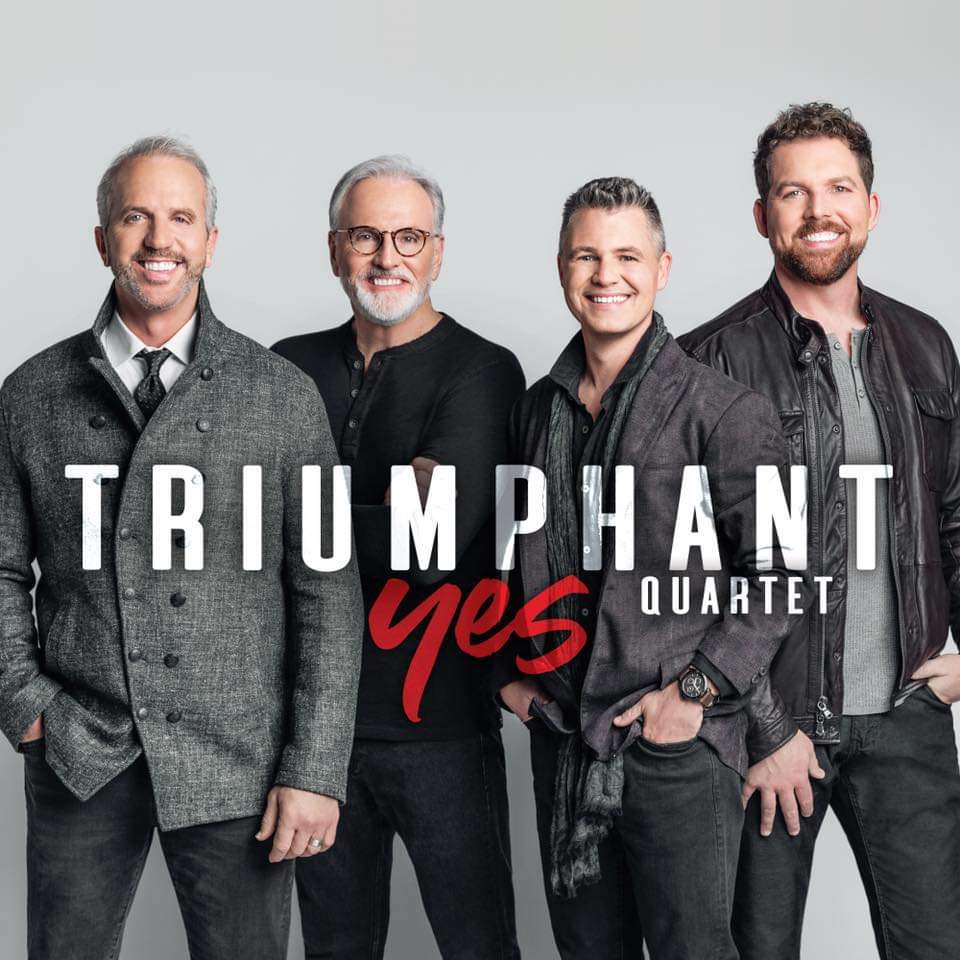 The 2020 Praisefest Branson Fall Retreat will include performances by such popular recording artists as Greater Vision, The Triumphant Quartet, The Hoppers, The Isaacs, The Whisnants, The Perrys, Brian Free & Assurance, The Nelons, The Ball Brothers, Joseph Habedank and The Erwins. Renowned speaker, Jim Cymbala, Pastor of The Brooklyn Tabernacle in Brooklyn, N.Y., will also be featured, as well as popular singer/songwriter and Christian comedian, Mark Lowry. "We're really excited to be able to provide another opportunity for people to get together for a few days to enjoy some great Gospel music, lots of laughs, great fellowship and wonderful worship experiences in a unique atmosphere," states Greater Vision's Gerald Wolfe.
"This event has the potential to be the largest Gospel music event of its kind in the Midwest during the Fall season," Beene states. "We are expecting seating to fill quickly so we are recommending people reserve their seats sooner, rather than later." Registrations for this new event will begin Monday, October 7, 2019.
For more Gospel Music news read the latest issue of the SGNScoops Magazine HERE.
Download the latest SGNScoops Magazine PDF Here
Find SGNScoops Magazine On Facebook Here
Listen To Today's Gospel Music Here
Tags:
branson
,
Brian Free & Assurance
,
Greater Vision
,
Joseph Habedank
,
Missouri
,
Praisefest Branson Fall Retreat
,
The Ball Brothers
,
The Erwins
,
The Hoppers
,
the isaacs
,
the nelons
,
the perrys
,
The Triumphant Quartet
,
The Whisnants
Posted in
announcements
,
artists
|
Comments Off

on IMC CONCERTS ANNOUNCES PLANS FOR PRAISEFEST BRANSON FALL RETREAT
Written by Staff on August 12, 2014 – 8:14 am -
By Joshua Heston – Special to SGN Scoops
"Precious memories how they linger / How they ever flood my soul / In the stillness, of the midnight / Precious sacred scenes unfold." — J.B.F. Wright, 1925
Branson, MO —Traditional gospel music and Ozark Mountain culture go together mighty well. From brush arbor singing schools to pine-enshrouded churches where country folks sang from well-worn hymnals every Sunday morning, the sweet sounds of gospel music form an emotional basis for many of us; reminders of childhood, dinners on the ground, exciting tent revivals, and for some, simple evening singings as the family would gather together and let their voices ring.
But times change. People change. The world, it seems, simply picked up its pace and recordings, radio, TV, internet, and job and family responsibilities removed the opportunity to spend time with family and friends. The chance to leave an industrious world outside — even for just a few hours — was lost. Tattered hymnbooks were replaced by projection screens and four-part harmony swapped for an endless stream of praise and worship songs. Families didn't gather around a piano anymore and besides, the music on the radio, then the entertainment on TV, then the library of digital music, was all more professional, more polished, and never required practice but simply the touch of a button.
Gone for most was the shape note singing, the tent revivals, and the conventions. Conventions? No, not Tupperware conventions. A generation or two ago, gospel music conventions, specifically quartet conventions, were commonplace. Small and large, these gatherings originated from 19th century songbook companies' efforts to sell books. This was after the Civil War and the population was ready to embrace music that spoke of hope and peace.
Professional quartets traveled from church to church, then from convention to convention, stunning largely rural audiences with the now-trademark sounds of a powerful, rumbling bass, soaring tenor, lead and baritone vocals. As quartets polished their skills and styles, white Southern gospel music was born. With it, of course, came those singing conventions, the largest of which ultimately became the National Quartet Convention, an event that packed out the Ellis Auditorium in Memphis for many years. Here was the equivalent of a rock concert arena. Thousands of fans pouring into the venue to see gospel music greats like J.D. Sumner, James Blackwood of the Blackwood Brothers, and more.
"When we've been there ten thousand years / Bright shining as the sun / We've no less days to sing God's praise / Than when we've first begun." — John Newton, Amazing Grace
Like many other elements of our rural population, Southern gospel conventions became fewer and farther between in the last generation. Now, the words "singing convention" are typically met with a bit of bewilderment. Southern gospel is still a small but powerful genre of music but many of the artists now travel from church to church, not from convention to convention.
The National Quartet Convention is still going strong, moving this year from Louisville to Pigeon Forge, Tennessee, but Southern gospel singing west of the Mississippi? Western region groups have struggled for years, honing their styles, their harmonies, their ministries, but laboring largely in the shadow of "top tier" groups with more convention affiliation in the east. Now, the efforts of Branson-based Jonathan Edwards (of Faith's Journey), Donnie Williamson (of Wetumka, Oklahoma-based The Williamsons), Ava Kasich (Texas-born Beacon award winning soloist) and Rob Patz (of the Seattle-based SGN Scoops Digital gospel music magazine) teamed up to create a heartland Southern gospel convention here in Branson.
"For most of us who do gospel music, the goal is to see lives changed. But we can't do that if we don't have people to sing to. One of the goals of the convention is to expose more groups of the Midwest to an audience," says Williamson. "That's why we honored The Lesters during the first night of the convention. We want to highlight the quality of groups from this area."
"Near the cross I'll watch and wait / Hoping, trusting ever / Till I reach the golden strand / Just beyond the river." — Fanny Crosby, Jesus Keep Me Near the Cross Read more »
Tags:
Ava Kasich
,
branson
,
Brian Lester
,
Donnie Williamson
,
Faith's Journey
,
jonathan edwards
,
Joshua Heston
,
Missouri
,
Ozark Gospel Music Convention
,
rob patz
,
sgn scoops
,
State Of The Ozarks Magazine
,
THE LESTERS
,
The Williamsons
Posted in
announcements
,
gospel events
,
sgn scoops magazine
|
Comments Off

on Ozark Gospel Music Convention 2014
Written by SGN Scoops Staff on July 24, 2014 – 10:17 am -
July 11, 2014: A few hundred lucky people were in the presence of a gospel music legend. Mr. Michael English blessed our socks off in St. Joseph, Missouri as part of a series of upcoming concerts at Brookdale Presbyterian Church.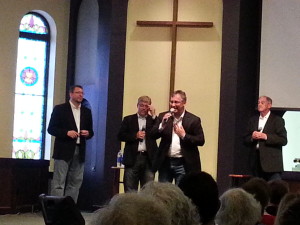 A local quartet, Soul Harvest, opened the concert with some great four-part harmony. Songs such as "I've Never Been This Homesick Before," "I Believe in a Hill Called Mt. Calvary," and "The Lighthouse" fed our desire for the classic Southern Gospel songs of yesteryear. Their rendition of a favorite by the Hoppers, "Jerusalem," brought the crowd to their feet. And I'm sure somewhere up above, George Younce and Glen Payne were singing along with Soul Harvest as they performed the acapella version of "Wonderful Grace of Jesus." These guys were wonderful and I personally am looking forward to hearing them at the next exciting concert in this series on August 23!
Next, the incredibly talented Steve Ladd took the stage. What a privilege to hear this talented artist belt out tunes such as "Everlasting God," "One More River To Cross," "Through It All," and "We Shall See the King." He also sang one of my favorite songs previously recorded by Michael English, "That's What Heaven Will Be Like." Steve's enthusiasm is contagious, and if he ever comes to your area, I would highly encourage you to get yourself to one of his concerts!
Michael English….what can I say. There are no words. He is an amazingly blessed vocalist and I don't feel like that description even remotely does justice to his talent. He started off with "I Don't Want To Get Adjusted," "Waking Up The Dawn," "Let's Make A Baby King," and "Great Day." Steve joined him in singing a toe-tapping, hand-clapping crowd favorite, "I'll Fly Away."
Michael talked about his father who recently passed away, and sang "Go Rest High On That Mountain" in his honor. He then went into an acapella version of "What A Day That Will Be," and I'm not sure there was a dry eye in the place. "Blessed Assurance," "In Christ Alone," "Molecule of Faith"….I know I'm missing some of the songs that were shared because I think we all were caught up in the moment. He ended the concert with what I like to call his "signature" song, "I Bowed On My Knees."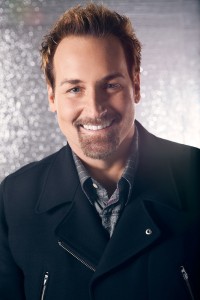 Michael shared his heart and he shared his testimony; he's been through trials that most of us cannot fathom. Yet, there he stood, still amazed by God's grace, still loving his Master, still praising God for bringing him through each circumstance, still professing his faith and his reliance on God to take him through each day. Michael is a living, breathing picture of God's grace. And Michael, if you are reading this, know that there are a bunch of people in this old town of St. Joseph, Missouri who love you, love your heart, and pray for you continually. You will always be welcomed back with open arms. What an impact this man has made on my life and the lives of hundreds of thousands of people around the world.
Have you attended any of concerts that have been offered the past couple of years in St. Joseph, Missouri yet? If you have, you can testify to the blessing you received each and every time you walked through the door. If you haven't, you're missing out big time, to put it bluntly. For this next upcoming concert (and believe me, you will not want to miss it!) you can check the Brookdale Presbyterian Church's website at www.brookdalechurch.com, and scroll down to News and Events. A very special thanks to Scott Peek, of Speek Ministries, for organizing and promoting these wonderful southern gospel concerts in Northwest Missouri.
Until next time, keep on keeping on!
By Sheri Witt
For more concert reviews and artist features, see the current SGN Scoops digital magazine on https://www.sgnscoops.com/
Tags:
Christian artists
,
concert review
,
Gospel concert
,
gospel music
,
Michael English
,
Missouri
,
Soul Harvest
,
Steve Ladd
Posted in
artists
,
concert reviews
|
Comments Off

on Michael English Concert Review
Written by Staff on April 10, 2014 – 2:16 pm -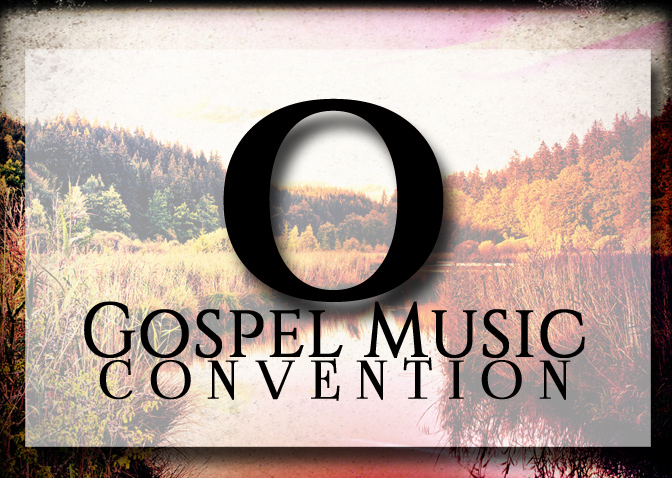 Branson, Missouri (April 10, 2014) – It was announced this morning that the very first Ozark Gospel Music Convention (OGMC) in Branson, Missouri is 
sold  out
. This event will take place May 5th -7th at the beautiful Stone Castle Hotel and Conference Center in Branson.
OGMC Board Member, Jonathan Edwards, states: "I am overwhelmed at the response to this event in its first year and look forward to having these great fans and artists in my home town!"
Rob Patz of Coastal Media is also thrilled to be a part of this new event. "It is great to see how the fans and artists have caught our vision and are as excited as we are about this new Convention. I can't wait to hear some of my favorite artists like The Lesters, Omega, and Weston and Christy Hinson. Great speakers, terrific singers, eager fans…you can't have a better recipe than that for an exciting event!"
The Ozark Gospel Music Convention will be a yearly event. Fans are encouraged to make plans now to attend the Ozark Gospel Music Convention 2015. More information can be found at 
www.ozarkgospelmusicconvention.com
Tags:
branson
,
jonathan edwards
,
Missouri
,
Ozark Gospel Music Convention
,
rob patz
Posted in
announcements
|
Comments Off

on Inaugural Ozark Gospel Music Convention Sold Out!