Written by Staff on January 24, 2020 – 8:53 am -
Arden, North Carolina (January 24, 2020) — "Come Sunday Morning," from The Old Paths' It's Real EP, has reached No. 1 on both the Singing News and SGNScoops charts.
The closing song of It's Real, "Come Sunday Morning," features tenor singer Steve Ladd. The ballad about the Resurrection story has a strong hook and chorus and uses a common, unspectacular phrase to describe a miraculous story.
"On Friday, the Savior died on a cross / Saturday it seemed like all hope was lost / But soon, there would be cause for rejoicing / 'Cause everything changes, come Sunday morning!"
The Old Paths' Tim Rackley said the group is thankful that listeners and radio DJs connected to the song.
"When we came back on the road full-time last year, we didn't realize how much we would be welcomed back with open arms," says Rackley. "And for that we are so thankful, not only for the support from fans, friends, song writers and Crossroads Music but also from gospel radio."
Listen to "Come Sunday Morning" HERE.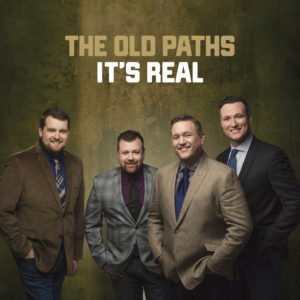 About The Old Paths
In 2003, The Old Paths began its ministry taking the group's name from Jeremiah 6:16 which says, "Thus saith the Lord, Stand ye in the ways, and see, and ask for The Old Paths, where is the good way, and walk therein, and ye shall find rest for your souls." With this vision in mind and a heart for ministry, founding members Douglas Roark and Tim Rackley started The Old Paths as a trio.
The group morphed into a quartet shortly after. They signed with Crossroads Music's Sonlite Records in 2012. Their album Right Now was a breakout project for them producing two #1 hits, "Battlestand" and "God's Great," within a six-month span. In 2013, the group was named Favorite New Quartet in the Singing News Fan Awards, and songs like "Love Them to Jesus" and "Ordinary People" also quickly became fan favorites.
The quartet made the decision in 2015 to come off the road for a while due to family circumstances. While the decision was not easy, they left the door open for a possible return to gospel music and touring. When God opened that door for them in 2017, they were ready to walk through it. With a renewed passion for ministry, The Old Paths took the stage again at the Memphis Quartet Show in June 2017.
The group now consists of founding members Tim Rackley and Douglas Roark, longtime bass singer Daniel Ashmore and tenor Steve Ladd.
Tim, Doug and Daniel found the right blend with Steve to be able to come together as The Old Paths again. The goal of the group has stayed the same after all these years to see people come to know Jesus Christ as Savior and to encourage fellow believers. They are thankful that God gave them the chance to return to the platform again to sing and encourage. They could not be more excited about this new stage of their ministry and to see what God has for the group in the future.
About Crossroads:
Crossroads (website here) is a market leader in the Southern Gospel, Bluegrass, and Americana fields. Established in 1993, following the combination of Horizon Music Group and Sonlite Records, Crossroads now operates several divisions including Crossroads Label Group (Horizon Records, Sonlite Records, Mountain Home Music, Skyland Records, Pisgah Ridge Records, Crossroads Records, and Organic Records), Crossroads Distribution, Crossroads Radio Promotions, and Crossroads Recording Studios. Led by a strong executive team of Christian music and Bluegrass music veterans, Crossroads combines cutting-edge technology with creative innovation to connect fans with our artists' music.
Read the latest Gospel Music News in SGNScoops Magazine online HERE
You Can Download SGNScoops Magazine
Here
Find SGNScoops Magazine On Facebook
Here
Listen To Todays Gospel Music
Here
Tags:
Come Sunday Morning
,
crossroads
,
gospel music
,
Horizon Records
,
It's Real
,
Old Paths
,
Southern Gospel Music
Posted in
announcements
,
artists
|
Comments Off

on The Old Paths' 'Come Sunday Morning' goes No. 1 on multiple charts
Written by Staff on May 20, 2019 – 8:36 am -
The Old Paths began as a trio in 2003 with a great sound but when they transformed into a quartet sometime later, this sound led them to the top of the charts. "Battlestand" and "Love Them to Jesus" made the group popular until 2015, when the momentum of the group formed by Tim Rackley and Douglas Roark ground to a halt.
"Changes in life come at times when we least expect them," explains Daniel Ashmore, bass singer with the Old Paths since 2011. "When we felt the Lord leading us to come off the road, we didn't know where we would end up or how we would get there. I can remember feeling led to come off the road and wondering how my wife and I would make it. God had already done some amazing things through the ministry of the Old Paths and all of a sudden, he told us to go home.  The hardest part about coming off the road was trusting that God would provide and open the door for the next step in my life. It was also difficult to see how God could continue to use me without singing on a normal basis. It is easy to have faith when everything is going well, but even harder when that faith is put to the test."
The group's faith was certainly put to the test when Tim Rackley's daughter, Brianna, underwent a kidney transplant in December, 2014. Just a few months later, the Old Path's tenor, Jeremy Peace, left the group. In mid-2015, the group announced they would be retiring in December, 2015. Health issues and family obligations, as well as the knowledge that the Lord was asking them to hit the pause button, caused the members to decide to park the bus for awhile.
"My wife and I just trusted God with His leading and just as he has always done, he provided more than I could've imagined," Ashmore states. "He opened up a door for me to have a job where spiritual growth and serving others is encouraged. This, in turn, led to opportunities to talk with people on a everyday basis. Spiritually, it helped me learn to trust God even more and once he did as he always does – provide – my faith in him grew stronger. Coming off the road also provided the rest and refreshment that I needed at that time in my life. During the time off the road, God grew me personally in ways I didn't know I could grow. God gave me a deeper passion to reach the lost through witnessing. I don't know that I would've grown the way I did had we kept singing when the Lord told us to come off the road. God used that time off the road to do a work in me that he could apply when we hit the road again."
As for the Rackleys, things have come full circle for their daughter. "Brianna is now 21 years old and since her kidney transplant she is doing 'super fantastic,'" says father Tim. "The Lord has really been real in her in all different ways. She is attending her first year of college and since back on the road I tell folks the best part is she has her first job."
"I am so excited to be back doing what I loved to do and that is singing the Gospel of Christ," Tim continues. "I also am glad that I get to see the friends we have met over the years before we stopped in December of 2015. The biggest thing that has changed since we stopped touring in 2015 is I got more sleep since I was home every week and with being on the road every week you don't sleep as much."
Tags:
Daniel Ashmore
,
Douglas Roark
,
gospel music
,
Old Paths
,
Scripture verse
,
Southern Gospel Music
,
Steve Ladd
,
The Old Paths
,
Tim Rackley
Posted in
artists
,
sgn scoops magazine
|
Comments Off

on New roads for the Old Paths
Written by Staff on April 15, 2019 – 6:32 am -
Jantina de Haan went Beyond the Song to ask The Old Paths about the song "Lord Knows." It is an awesome tune that gets the listener's fire burning.
"When we heard this song for the first time, we had the same feeling! Wow! What really drew us to pick this song for the album was the theme of God knowing what we are all going through along, with the fun tempo. That first line of, 'I see you walking down that dead end road,' brings conviction to those going down that path.
"People all around us are headed down a dead end road, thinking there is no hope. They think they are too far gone for God to intervene and work a miracle. Their 'heartaches are like a ball and chain,' is such a good line expressing the
pains of this life. Many people have prayed and prayed for Heaven to move on their behalf and feel that God isn't there. The song then reminds us about the power of what God can do and what kind of situations He can deliver us from. He delivered the Hebrew three from a fiery furnace, which was seemingly impossible. He knocked down the walls of Jericho. He is all-knowing and is anxiously waiting to help those who are facing the fiery furnace of life's trials. This song is loaded with truth, but is also a ton of fun to sing! The track turned out great with the help of Crossroads and their great musicians."
The Old Paths are: Tim Rackley, Daniel Ashborn, Douglas Roark, and Steve Ladd. Their new album is entitled, "It's Real." Find out more about the old Paths on their website HERE. The album will be available everywhere March 22 from Sonlite Records.
We don't have a complete video of the song, but you can hear part of it here. The song is available for purchase at your favorite outlet.
For more Gospel Music news, read the latest SGNScoops Magazine HERE
Download The PDF Of SGNScoops Magazine
HERE
Find SGNScoops Magazine On Facebook
HERE
Listen To The Best In Today's Gospel Music
HERE
Tags:
Christian Music
,
gospel music
,
Lord Knows
,
Old Paths
Posted in
announcements
,
artists
|
Comments Off

on Beyond the Song: The Old Paths sing "Lord Knows"
Written by Staff on October 2, 2015 – 7:37 am -
At SGN Scoops, we love Southern Gospel music and its artists; not sure if you knew that or not! NQC has a lot of them and we have pictures.
Canton Junction, Greater Vision, Old Paths, the Perrys, Mark Trammell Quartet, the Mylon Hayes Family, Joseph Habedank, Nick Trammell, Loren Harris, Bryan Walker, Mike Bowling, Troy Peach, Libbi Perry Stuffle, Tracy Stuffle and the Voices of Lee are all shown here!
SGN Scoops is so proud of all of our contributors every month. Do you know we have artists that share their hearts with us in every issue? Kelly Nelon Clark, David Staton, Dusty Wells, Sherry Anne, Laurette Willis, and the legendary Lou Wills Hildreth all have monthly articles.  We are so thankful for them! If you see them at NQC, tell them how much you enjoy their writing.
The group whose picture is on the top of this feature, Canton Junction, was
the cover feature in our August edition. Craig Harris wrote the feature and he also provides us with these terrific photographs.
We have many wonderful writers that do their very best to bring the best of the Gospel music world to you every month. Bethany Cook, Candi Combs, Dan Duncan, Dean Adkins, Erin Stevens, Jaquita Lindsey, Jennifer Campbell, Justin Gilmore, Justin McLeod, Lorraine Walker, Lynn Mills, Marcie Gray, Matt Baker, Paige Givens, Randall Hamm, Robert York, Roger Barkley Jr., Roger Speers, Rhonda Wooten, Selena
Day, Sheri LaFontaine, Timmy Williamson, Tina Wakefield, Vivian Belknap, and Vonda Easley all share their talents with us. We are so proud of all that they do!
Thank you for reading SGN Scoops magazine every month. Be sure to share each edition with your friends and family, and to let all of our contributors know how much you enjoy their features!
For the September edition of SGN Scoops magazine with the cover story on the super Gaither Vocal Band, click
here. Look for the October edition
coming soon!
Tags:
Bryan Walker
,
Canton Junction
,
Greater Vision
,
Joseph Habedank
,
libbi perry stuffle
,
Loren Harris
,
mark trammell quartet
,
mike bowling
,
Nick Trammell
,
nqc
,
Old Paths
,
sgn scoops
,
the Mylon Hayes Family
,
the perrys
,
Tracy Stuffle
,
Troy Peach
Posted in
artists
,
christian entertainment
,
Christian interest
,
gospel events
,
sgn scoops magazine
,
special feature
|
Comments Off

on SGN Scoops at NQC on Thursday Night: Canton Junction, Greater Vision, Mark Trammell Trio, More!
Written by SGN Scoops Staff on May 26, 2015 – 10:15 pm -
Over the past several years, after accepting the calling on my life to preach the Gospel, I've wrestled within myself to step out on my own, following the Lord in the direction he would have me go. Through that period of time, I've said no, I've tried to reject the notion that the Holy Spirit was leading me into evangelistic ministry, and all but ran from any open doors the Lord would open for me. I've lived in my "comfort zone" for so long that I was content where I was at. But within the last few months, the Lord has revealed Himself in such mighty ways; answering prayers for our family and opening doors that we had no choice but to walk through. As we sat back and watched the Lord worked within our family, it became apparent that He was waiting on me to take the first step of faith, in obedience to his Word, so that He could use me and my family in ministry together. We live in a world of chaos and despair. Everyone searching to fill the empty void inside them that only the Holy Spirit can fill. While we as Christians send a majority of our missionaries overseas to other nations, our country is crumbling to ruins. Jennifer and I feel its time to follow the Lord, step out on faith and become missionaries to our great nation! Our heart is to lead the lost to a loving Savior, and disciple them in truth and biblical teachings. To go into churches; preaching, and singing to hurting people who need the message of hope that Jesus will never leave them nor forsake them.
The children of Israel couldn't see what was in front of them when they were set free from Pharos' bondage, but they had faith and took the first step…and the Lord parted the red sea for them to walk across on dry ground. That is where we are at now. We have taken the first step, and we are watching as the Lord is parting the red sea for us to walk across.
So, as I transition from being a quartet man, spending the last 8 years on the road with one of the top quartets in the nation, it is with a humbled heart that I announce a new ministry: Peace Ministries; preaching, singing, missionary and evangelistic work throughout the United States. We will also be putting together couple's, men, women and teen retreats, sharing our testimonies; individually and together, of how the Lord has delivered us and worked through us, and how he can do the same for others!
We are currently working on putting our website, Facebook and Twitter accounts together so that we can be available to those in need and for everyone to keep up with the ministry, as well as filing for a 501c3 non-profit status, to accommodate the necessary requirements for ministry funding and to be able to be an outreach to those in need.
We are available for Wednesday, Saturdays, and Sunday Services, revivals and retreats, to minister through song and the preaching of the Word.
If you are interested in having Peace Ministries, we are now scheduling for this year. You can contact us through our e-mail: jeremyandjenniferpeace@gmail.com or call/text at: 706-766-9216
We ask that everyone pray for our families as we move forward with the Lord as our guide. Pray now that people will be touched, lived changed, souls saved, and our nation reached through this new ministry. It's time to STAND and BOLDLY proclaim the Gospel of Christ.
Tags:
Old Paths
Posted in
announcements
|
Comments Off

on Jeremy Peace To Leave Old Paths
Written by Staff on January 26, 2015 – 12:44 pm -
WATC-TV 57 out of Atlanta, GA airs "Gospel Music USA," hosted by Mike
LeFevre (The LeFevre Quartet), Danny Jones (Singing News) and Karen Peck
(Karen Peck & New River). This 30-minute segment is filled with your favorite
Southern Gospel music from top artists from all over the USA. Mike, Danny and
Karen bring you face-to-face with the artists as they share their testimonies and
their ministries with their viewers.
Upcoming guests on Gospel Music USA include Jeff Stice, Lauren Talley, Freedom Quartet, Old Paths, Ivan Parker and Archie Watkins. Some of the artists who have appeared on the show are Karen Peck and New River, The LeFevre Quartet, Greater Vision, Triumphant Quartet and The Blackwood Brothers, just to name a few.
Gospel Music USA airs Saturdays at 2:30 pm on WATC TV and Saturday nights at 9 pm as part of the "Saturday Night Gospel Sing" on WATC TOO. Watch Gospel Music USA from the comfort of your own home via live stream here: http://watc.tv/gospelmusicusa/
Tags:
Archie Watkins
,
Atlanta 57
,
Christian Music
,
Danny Jones
,
Freedom Quartet
,
gospel music
,
Gospel Music USA
,
ivan parker
,
Jeff Stice
,
Karen Peck
,
Lauren Talley
,
Mike LeFevre
,
Old Paths
,
WATC-TV
Posted in
announcements
,
artists
,
christian entertainment
,
Christian interest
|
Comments Off

on Mike LeFevre, Danny Jones and Karen Peck on the set of Gospel Music USA!
Written by SGN Scoops Staff on August 30, 2013 – 12:23 pm -

SIGNAL MOUNTAIN, TN AUGUST 30, 2013: This week's Harmony Road celebrates family harmonies. The program features family groups and includes a special introduction of the Perry's "Celebrate Me Home" by Tracy Stuffle. Also included are the Dills, Bowlings, Hoppers and Jeff and Sheri Easter.
Hosted by Les Butler and originating from the James D. Vaughn Museum in Lawrenceburg, Tennessee, this program is part of the Harmony Road Summer Special series which has included shows dedicated to quartets, concept videos and the National Quartet Convention. Special guest co hosts this summer have included
singer/songwriter Phil Cross, Old Paths and Kingsmen Bass singer Ray Dean Reese.
Harmony Road can be found each week on TNN, The Nashville Network on Sunday mornings at 8:00 Eastern as well as WATC TV57 in Atlanta on Saturday afternoons at 2 where it's also streamed online at www.watc.tv. The Harmony Road Television Network also includes theWALKtv, WMJN29.com, TV24 in Anniston/Gadsden, AL, Charter cable in Clarksville and Jackson, TN and others. More information can be found at www.harmonyroadtv.com or www.watchtnn.com. Other members of the Harmony Road team include Cody McVey with interviews and insights from the Road, Allen Rhodes, Technical Director and Roger Spears, Producer.
Tags:
Christian TV
,
hoppers
,
Kingsmen
,
Old Paths
,
phil cross
,
Southern Gospel Music
,
Southern Gospel News
,
Tracy Stuffle
Posted in
announcements
|
Comments Off

on THIS WEEK'S SPECIAL HARMONY ROAD TO FEATURE FAMILY GROUPS
Written by SGN Scoops on August 14, 2013 – 6:43 am -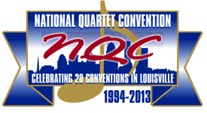 Louisville, KY  During the week of September 8 through September 14 over 40,000 Southern Gospel Music fans, representing at least 40 states and more than a half dozen foreign countries will converge on the city of Louisville, KY, for the 56th Annual National Quartet Convention. This will be the 20th and final Convention in Louisville in Louisville, and over the past two decades, while in Louisville, the National Quartet has grown to become Christian entertainment's largest annual event. In 2014, the event moves to the city of Pigeon Forge, TN, and the state where the event originally organized over five decades ago.
The very first Quartet Convention was held in the city of Memphis, TN, and was founded by Gospel Music legend and former Elvis Presley backup singer, JD Sumner. The first Convention featured the brightest and most popular quartets in Gospel Music. Over the years the event has since grown to encompasses a variety of Gospel recording artists, including quartets, trios and even soloist, yet it still continues to feature the industry's brightest names and faces.
This year, many of the most popular names in Gospel Music will be featured throughout the seven-day event, including artists like The Gaither Vocal Band (pictured in attached jpg),  The Hoppers, The Kingdom Heirs, Gold City, Greater Vision, The Booth Brothers, Legacy Five, Triumphant Quartet and many others, including multi-award winning international recording artist, The Gatlin Brothers.  In addition to the many popular quartets, trios, duets and soloists featured throughout the week, some of the most prominent keynote speakers in the country will be featured, including Dr David Jeremiah and Johnny Hunt.
The National Quartet Convention offers fans of Gospel Music something no other event can…the convenience of "one stop shopping." The NQC is the only event of the year where fans can see and hear their favorite groups at a single event, then meet group members and purchase music, videos, clothing apparel and much more at any one of the 500 exhibit booths which span throughout 175,000 square feet. Gospel Music lovers can enjoy their favorite music all day long, as music spectaculars begin each morning and continue until nearly midnight each evening.
Nightly concerts will be held at the Kentucky Fair & Expo Center's Freedom Hall, with afternoon concerts and worship services also scheduled throughout the grounds of the Fair and Expo Center. Complete information about the 2013 National Quartet Convention, as well as a complete schedule of events scheduled throughout the week may be obtained by calling 
1-800-846-8499
 or log on to 
www.nqconline.com.
Tags:
booth brothers
,
Elvis Presley
,
Greater Vision
,
hoppers
,
Kingdom Heirs
,
Legacy 5
,
nqc
,
Old Paths
,
Southern Gospel Music
,
Southern Gospel News
Posted in
announcements
|
Comments Off

on City of Louisville To Host 56th Annual National Quartet Convention
Written by SGN Scoops on July 18, 2013 – 3:59 am -
Goodlettsville, TN- One of Christian music's leading booking agencies, The H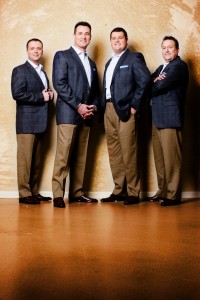 arper Agency, has announced the signing of popular quartet, The Old Paths. The announcement comes on the heels of the group's recent Number One national hit, "God's Great," their second Number One national hit from their Right Now recording on Crossroads Music's Sonlite Records label. The song peaked at Number One in the June issue of The Singing News Magazine. Sonlite Records President, Chris White is thrilled with the success of the group's debut release on the Sonlite label. "When I first heard the Old Paths, I knew immediately that these guys were not just another quartet," White says. "It's a rarity these days to discover an artist who you believe possesses all the main ingredients to succeed quickly.  Now with two Number One songs to their credit in less than a year, they have drawn the attention they deserve.  I trust and believe that their talents will be relevant in our business, for years to come and, I'm glad the Harper Agency will be a part of this process."
Based in Atlanta, GA, Old Paths is actually paving a new path into national prominence with numerous hit songs, as well as national award nominations. Most recently, the group received five nominations when the 2013 Singing News Fan Awards' Top 5 nominations were announced, including New Traditional Quartet. The group also received seven nominations for the 2013 NQC Music Awards, including Favorite Male Group.
The Harper Agency is pleased to add The Old Paths  to their roster of fine artists, which also includes numerous other notable quartets.  "My dad, who founded The Harper Agency in 1986, was a member of  The Oak Ridge Boys for 12 years," Ed Harper, President of The Harper Agency, states. "As a result of Dad's love for four-part harmony, our agency has a rich tradition of representing quality quartets. The Old Paths help us continue that tradition. They have been around for quite a while, but they have recently begun to make a real impact in so many areas. They have received major endorsements from such prominent pastors as  Dr Jerry Vines and Dr Charles Stanley, which is a great testament to their desire for ministry, as well as their exceptional talent. We are honored to have the opportunity to work with and represent such an outstanding group of young men. We look forward to being a part of their future for many years."
For Old Paths, joining the Harper Agency is just one more step in the right direction for this talented quartet. "We are honored and humbled by the recent success of our ministry, and all the glory is given to the Lord, Jesus Christ," Old Paths' baritone, Douglas Roark shares. "We are thankful for the support of our families, friends, fans and diligence of the Crossroads Music team. Along with that success there's been a greater demand for scheduling. We're delighted to announce an agreement with the renowned Harper Agency! With their shared interest in keeping the Gospel of Christ at the forefront, we have every confidence that we can better focus on the day to day task of the ministry and allow more time with our families when we're home. We are so looking forward to what we believe God has in store."
* * *
Tags:
crossroads music
,
Harper Agency
,
Old Paths
,
Southern Gospel News
Posted in
announcements
|
Comments Off

on HARPER AGENCY ADDS OLD PATHS TO ARTIST ROSTER
Written by SGN Scoops on December 21, 2012 – 10:34 am -
ARDEN, NC – December 19, 2012 – Rodney Birch has signed a long-term exclusive publishing contract with Asheville Music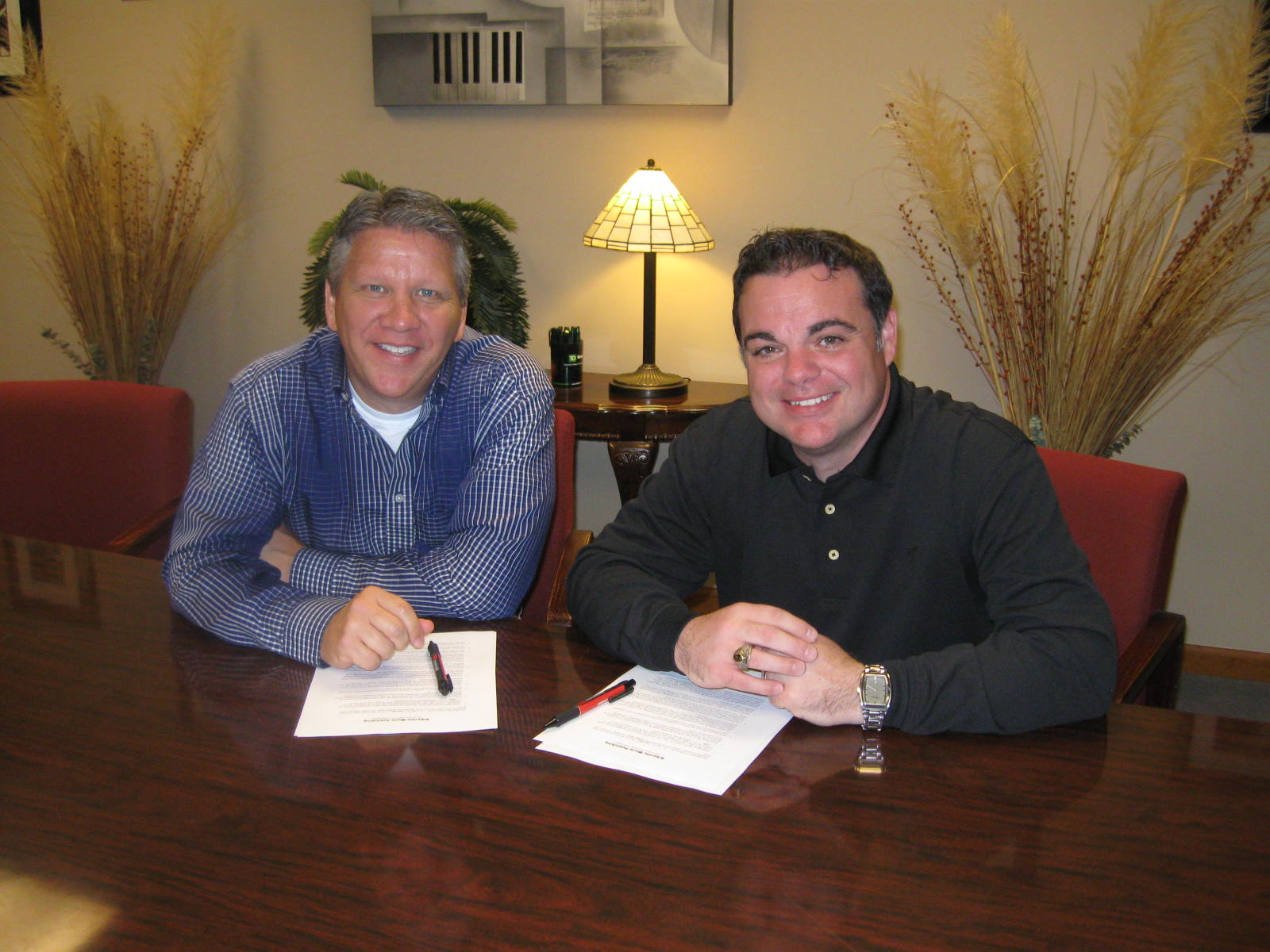 Publishing (BMI), an imprint of Crossroads Music Publishing, a division of Crossroads Entertainment & Marketing.
Birch recently garnered his first #1 song, "Battle Stand" (The Old Paths). The song is #1 on the December 2012 Singing News Radio Airplay charts. He also wrote two currently climbing hit songs, "God's Great" (Old Paths) and "Come and See" (The LeFevre Quartet).
Greg Bentley, Director of Publishing for Crossroads Music Publishing, states. "I've been working with Rodney for quite a few years now, and have seen his writing ability grow with each year. Rodney writes strong lyrics along with great melodies, and I can always count on him having some strong material when he is turning songs in to us. We are looking forward to many more hits from his pen."
Artists looking for new material to record can contact Greg Bentley at Crossroads Music by email at greg.bentley@crossroadsmusic.com or by phone at 828-684-3066 ext. 309.
IMAGE CAPTION – LEFT TO RIGHT – Greg Bentley, Rodney Birch.
Tags:
bmi
,
Crossroads music Publishing
,
Greg Bentley
,
Old Paths
,
Rodney Birch
,
Southern Gospel News
Posted in
announcements
|
Comments Off

on Rodney Birch Signs With Asheville Music Publishing