Written by scoopsnews on June 18, 2017 – 7:38 am -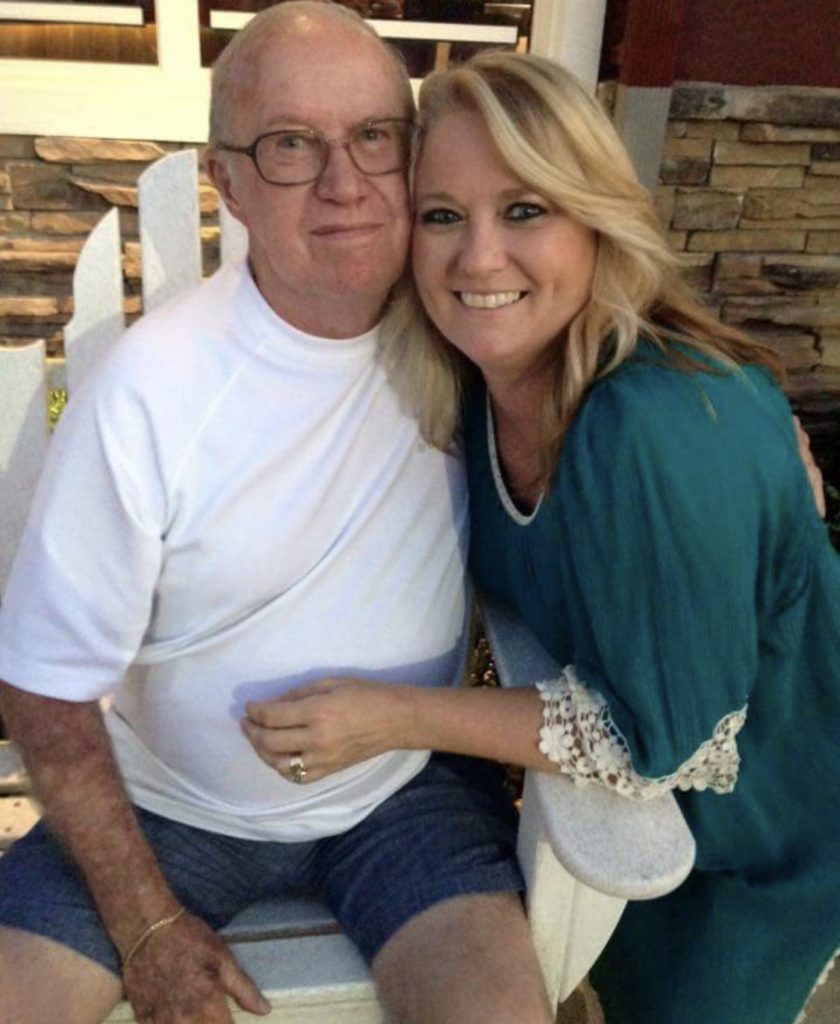 Father's Day – a time to remember our Daddy's! And oh, so many memories I have with my Daddy, and am still making with him today. For that, I am very thankful!!
A couple of childhood memories that stick out in my mind today as I think back. Times like when he would wake me up to go hunting with him, and I would be so excited. I'd get to wear his hunting vest, help him look for tracks, or be his "bird dog" and retrieve the birds he shot. Or even better yet, the times we'd set up the milk carton and Daddy would let me shoot his gun. Brings a smile to my face as I write this…..such special and fun times!
I also love the memories of our summer vacations camping on Deep Creek in Bryson City, NC. Daddy would load up his 4 girls, our Momma, and Daddy's Momma, and we'd head north way before sunrise. Daddy would always stop and get some Krispy Kreme doughnuts, and then stop at the Alabama rest area for breakfast – eating our donuts and juice/milk on the tailgate of the station wagon. Grandma would always sit behind Daddy on our trips, and if us girls needed a pit stop, she would start poking Daddy until he would stop haha!! We loved it! I probably could write a book on just the 2-week summer camping trips – so many memories of the places we visited, the stops we made along the way, and the fun we had! But the best part is the time we all spent together……laughing, fussing (remember there were 4 young girls in the car), and being a family!! I love you Daddy!!
Tags:
Pat and Michelle Drummond
Posted in
announcements
|
Comments Off

on Michelle Drummond Shares About Her Daddy…
Written by scoopsnews on January 22, 2016 – 2:43 pm -
The Drummond Family asks you to please join with them in prayer for Pat & Michelle's son and Meagan's Brother, Bo Drummond. Bo is in emergency surgery right now for an appendectomy. Thank you for joining with them for a quick and easy surgery and recovery.
More News
Tags:
Drummond Family
,
Pat and Michelle Drummond
Posted in
announcements
|
Comments Off

on Prayers for The Drummond Family
Written by Staff on September 30, 2014 – 12:26 pm -
Seattle, WA (September 30, 2014) – SGN Scoops recently welcomed a new couple to their Executive Sales Team. Pat and Michelle Drummond travel with their Southern Gospel group, The Drummond Family. Pat is the manager as well as a vocalist with the group and Michelle is a songwriter and the booking agent for the Drummonds. A vivacious and committed couple, Pat and Michelle have already proved to be an excellent addition to the SGN Scoops family.
The Drummonds noted, "Husband and wife team Pat and Michelle Drummond are so excited to be working with the SGN Scoops Advertising and Marketing Team. God has blessed us so much, and we are thrilled to be working with this great team. Being involved in the Southern Gospel field for more that 40 years we feel God has placed us here for this time. It's truly a great honor to be a part of this powerful team with a great vision."
"Pat and Michelle are good friends and I am exited that they have joined us at SGN Scoops," said Rob Patz of Coastal Media Group, publisher of SGN Scoops. "We are committed to expanding our reach with the message of Jesus through the stories of the artists we feature every month. I truly believe that Pat and Michelle will be an integral part of that expansion, just as they are committed to sharing the love of God in everything they do."
Tags:
Coastal Media Group
,
gospel music
,
Pat and Michelle Drummond
,
rob patz
,
sgn scoops
,
southern gospel
,
The Drummond Family
Posted in
announcements
,
artists
|
Comments Off

on SGN Scoops Digital Magazine Welcomes New Executive Sales Team Members