Written by Staff on June 24, 2020 – 6:24 am -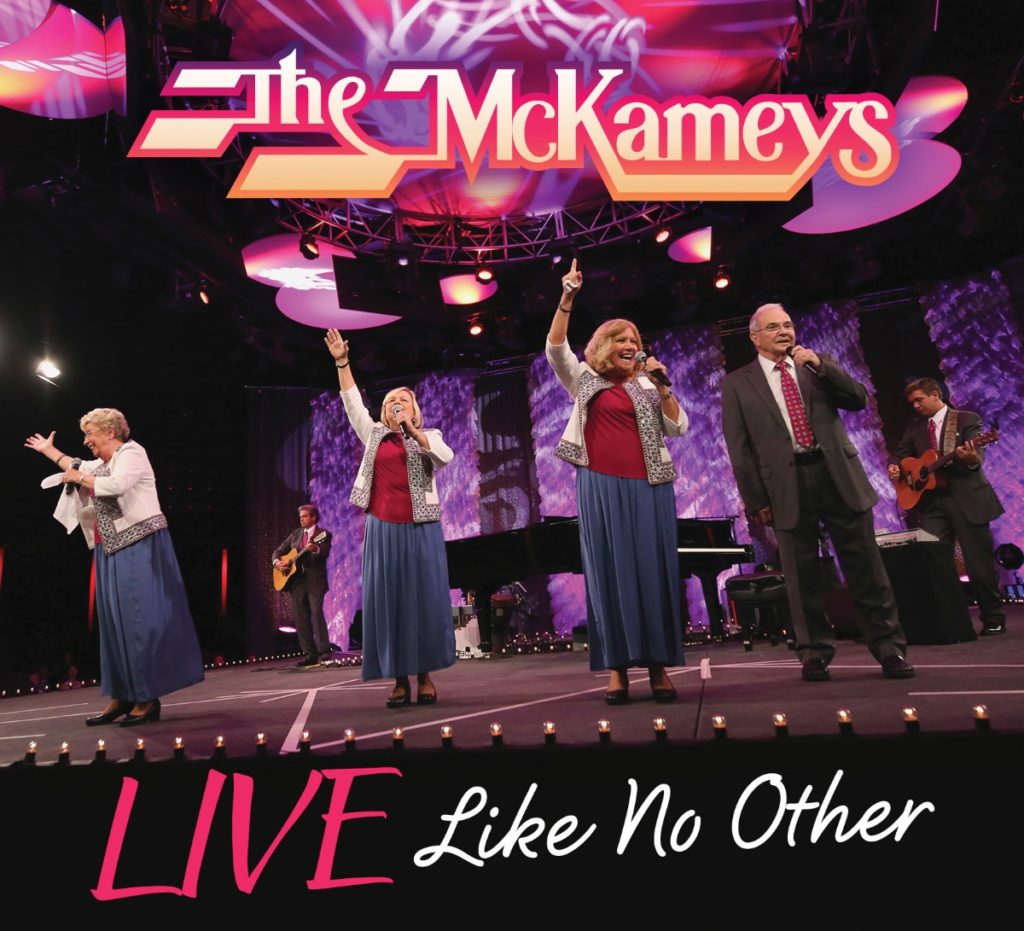 Arden, North Carolina (June 23, 2020) — Last spring, legacy Southern Gospel artist The McKameys (website HERE) announced they'd no longer be touring full time, and released The Crown, an album that continued to bring their message of faithfulness and the power of the Gospel to the world. In the fall, the National Quartet Convention paused to honor the group that's released 54 albums over the course of their career and has the most #1 hits in Southern Gospel history.
Thousands of fans and industry peers filled the LeConte Centre in Pigeon Forge, Tennessee to celebrate The McKameys' more than 60 years of singing. Now, fans of the group can relive that special afternoon with LIVE Like No Other, a CD and DVD featuring live music as well as behind the scenes interviews with The McKameys, to be released July 17. LIVE Like No Other is now available for pre-order, save and add.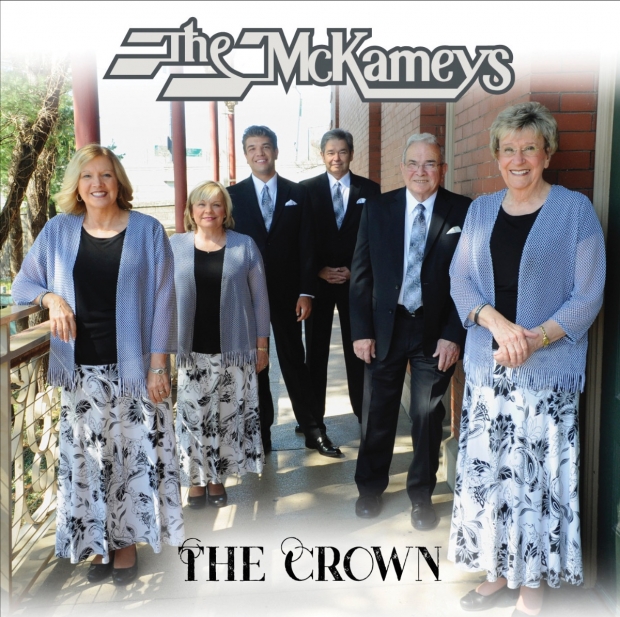 "We are excited about the release of LIVE Like No Other, which was recorded at The National Quartet Convention in September of 2019 during our Farewell Tour," say The McKameys. "What a great day, being with so many great friends, praising the Lord in song, and feeling the spirit in a special way! We can't wait for everyone to experience the excitement and emotions that were present that day."
Throughout the one-and-a-half-hour concert, The McKameys performed many of their #1 hits, like "God On The Mountain," "Roll That Burden On Me," "Unspoken Request" and "Do You Know How It Feels," and crowd favorites like "Trophy Of Grace," "There Is Jesus" and "For The Record" in a joyful celebration of a career many don't get to enjoy.
The album release also marks the first time The McKameys' rendition of "God On The Mountain" — which was #1 on the Singing News charts for five months in 1988-89 and became their most requested song of all time — will be released on streaming services.
The DVD includes videos of The McKameys sharing personal stories from their careers and a special moment when Horizon Records and the National Quartet Convention honored the group for its dedication to spreading God's word over the years.
With both parts of LIVE Like No Other, fans of The McKameys will always be able to enjoy the group's heartfelt performance and message, though they're no longer touring.
Pre-order, add or save LIVE Like No Other ahead of its July 17 release date HERE.
About The McKameys
The McKameys are a family group based out of Clinton, Tennessee, entering in their sixth decade of spreading God's message of love and hope through their music. There have been a few changes throughout the years after beginning as 3 sisters to the group now consisting of one of those original sisters, Peg McKamey Bean along with her husband, Ruben, their daughter Connie Fortner along with her husband, Roger Fortner, their son, Elijah Fortner; and Sheryl Farris, Peg and Ruben's younger daughter.
The wonderful harmonies of this family along with great songs give them a unique opportunity to share God's love as well as encourage the saints. Whether they are performing one of their classics like "Right On Time," "I've Won," "Unspoken Request," "There Is Jesus,"  their signature song, "God On The Mountain" or a new release, there is an undeniable energy that carries them through each performance.
The McKameys have been awarded several different Singing News Fan Awards through the years and Ruben and Peg are also recipients of The Marvin Norcross Award and Norcross/Templeton Award, respectively. In 2016, Peg McKamey Bean was inducted into The Southern Gospel Music Hall Of Fame. Ruben Bean will be inducted into the hall of fame as part of the 2019 class this fall. This family group remains devoted to their Lord, first of all, and to their call to spread God's Word to others through their music.
About Crossroads:
Crossroads is a market leader in the Southern Gospel, Bluegrass, and Americana fields. Established in 1993, following the combination of Horizon Music Group and Sonlite Records, Crossroads now operates several divisions including Crossroads Label Group (Horizon Records, Sonlite Records, Mountain Home Music, Skyland Records, Pisgah Ridge Records, Crossroads Records, and Organic Records), Crossroads Distribution, Crossroads Radio Promotions, and Crossroads Recording Studios. Led by a strong executive team of Christian music and Bluegrass music veterans, Crossroads combines cutting-edge technology with creative innovation to connect fans with our artists' music.
Tags:
crossroads
,
gospel music
,
Live Like No Other
,
Peg Mckamey bean
,
Reuben Bean
,
Southern Gospel Music
,
The Mckameys
,
The Southern Gospel Music Hall of Fame
Posted in
announcements
,
artists
|
Comments Off

on The McKameys to release CD/DVD, LIVE Like No Other
Written by scoopsnews on September 27, 2016 – 6:27 am -
Everyone loves this lady! Here is a moment from 2015 NQC. Take a look at The Mckameys singing a crowd favorite, "God on the Mountain."
Tags:
McKameys
,
Peg Mckamey bean
Posted in
announcements
|
Comments Off

on NQC Moment from 2015- The McKameys
Written by Staff on December 1, 2015 – 10:55 am -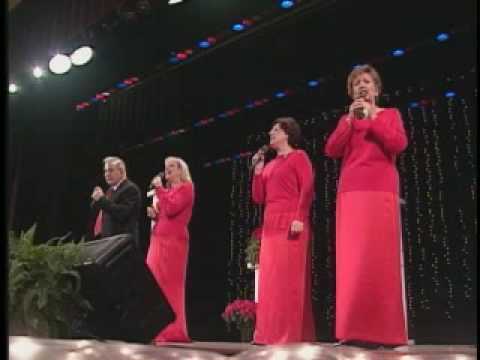 When it comes time for the holiday season, nothing is better than the time you spend with family. Around Christmas it seems as though we start to think back over the year and look at or accomplishments. Along with our reminiscing, most of the time this includes a house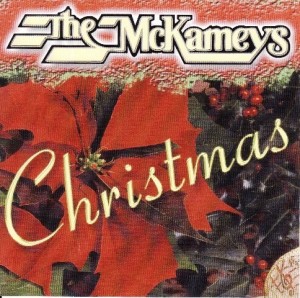 full of family that sometimes you only get to see certain times of the year.   We all cherish those special moments spent surrounded by the ones we love.
As for the McKameys – they are surrounded with family year round, and they wouldn't have it any other way!
In 1954 a group of sisters known as The McKameys started singing Southern Gospel Music. Bring them to the current year and now hailing from Clinton, Tennessee the McKameys have been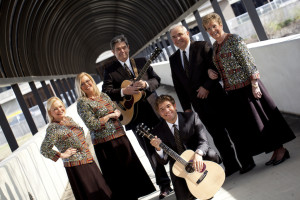 traveling full time since 1980. The Lord has been exceedingly great to this family and has blessed them with good health, good songs, and good dates. They travel approximately 140 dates a year, which means they spend more than half a year surrounded by family on a bus!
The McKameys now consists of Reuben and Peg Bean, their daughters,
Connie Fortner and Sheryl Farris, as well as grandson, Eli Fortner.  Since 1980 they have always traveled with family, and their mission has always been the same – to carry the good news of the gospel to a lost and dying world. They want to encourage the saints everywhere. If you were to ask any fan of this great family, there is no doubt that every single time they step on stage the Lord uses them to bless someone in their audience.   They have such a sweet spirit about them, and they are always ready and willing to take the time to speak to and pray with their fans.
They love traveling together as a family, and while on the road they frequent the shopping malls of nearby towns where they are singing. While the women do
the shopping, you'll typically find the men in the nearest bookstore!
The ladies also do Bible studies on the bus, as well as practicing songs while riding down the highways.
When traveling this close together with family all the time one might would think the holidays would be nothing new. That is definitely not the case with this close family. Peg stated that they love and treasure their time together. Christmas and Thanksgiving are no different for the McKameys when it comes to family. Even though they are always together on the road, there's no question that they take time to treasure the holidays together and no doubt that includes many more family members.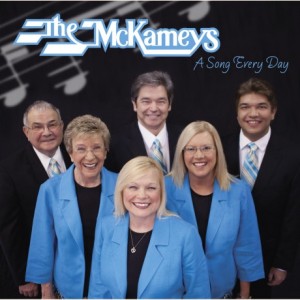 The McKameys are a true example of what it truly means to stand for what's right, and have your family by your side every step of the way.
There is no question in my mind that this amazing group cherishes fan time as much as family time. In fact, they have a hometown sing every year, and they invite you to come out and meet their family and enjoy a great time in the Lord.
Next year it will be on June 10-11, 2016. Reserved tickets go on sale through their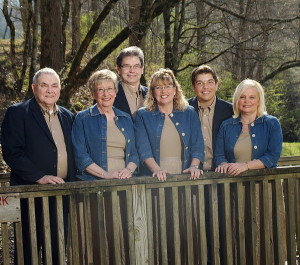 office the first Monday in April. Office hours are 8:30 to 4:30 Monday through Thursday with lunch from 11:30-12:30 EST.  You can reach them by phone at 865-457-3678, or check out their website www.mckameysonline.com.
By Bethany Cook
For more news visit SGN Scoops on Facebook.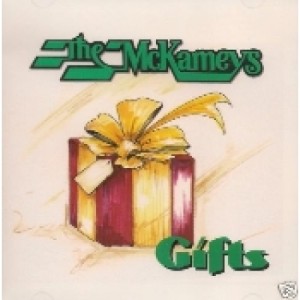 Tags:
Peg Mckamey bean
,
Reuben Bean
,
southern gospel
,
The Mckameys
Posted in
announcements
,
artists
,
Christian interest
,
sgn scoops magazine
|
Comments Off

on McKameys: Christmas Is About Family
Written by Staff on January 8, 2015 – 11:15 am -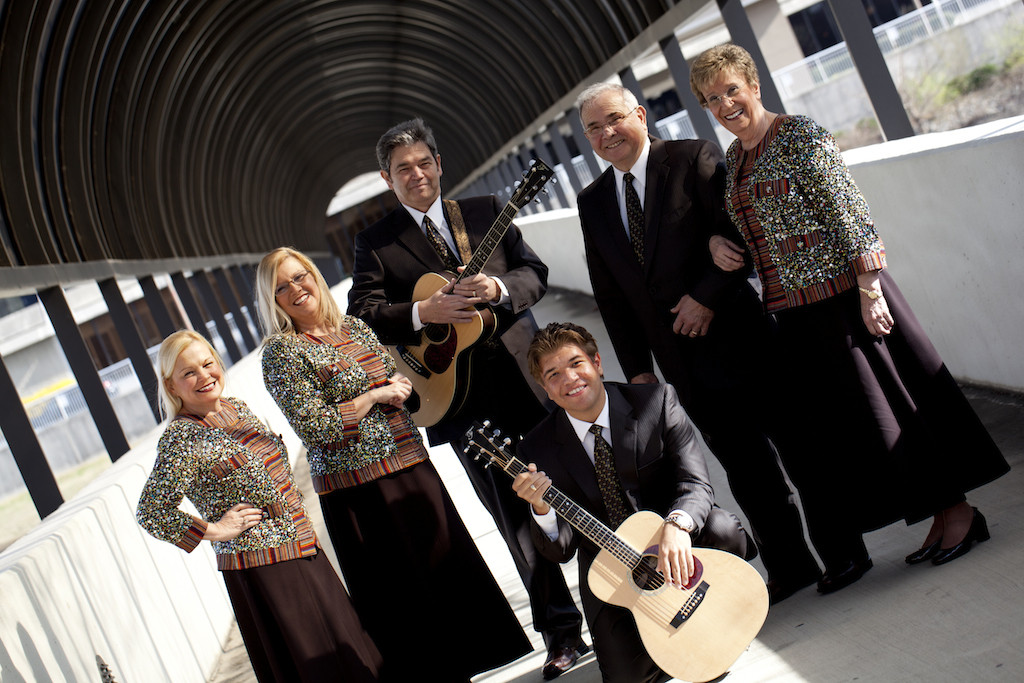 By Dixie Phillips
Big NEWS!
The McKameys will be performing at Southern Gospel Weekend- Texas. The event will take place April 14-16 , 2016 at Faith Church of Sherman Texas. The McKameys will sing on Friday night during the event. Don't  miss this event!
Check out this story on the McKameys written by Dixie Phillips………
Years ago my maternal grandmother introduced me to The McKameys. Grandma suffered from insomnia. To help pass the time she turned on her radio and listened to gospel music on a station out of Little Rock, Arkansas. The first time she heard The McKameys singing, "God On The Mountain" she grabbed the nearest pen and attempted to scribble down the lyrics. For the next several nights she had her radio on and her pen in hand, hoping to hear the song again and jot a few more lines down. (This was before Internet and Google.) This was repeated until she finally had written down all the lyrics. She appeared at my front door waving that piece of paper and saying, "You have got to hear this new song!"
Gospel music charts are proof Grandma's heart wasn't the only one touched by this legendary group's music. Multitudes of people have been blessed, strengthened, and encouraged by them. SGN Scoops decided to take a peek behind the hearts of this dynamic ministry to see if we could discover The McKameys' key to longevity and success.
Peg McKamey Bean is the first to admit she had a blessed childhood. "I was raised with a loving dad, stay-at-home mom, and 11 siblings. Mom and Dad loved the Lord and gospel music. Mom played the banjo and Dad was an ordained minister. He planted and pastored many churches, and preached at a lot of revivals."
As her parents led by example, Peg's small soul was shaped for Jesus. She still remembers the words her father told her mother when their family faced a financial crisis. "Don't worry, in some way or another, the Lord will provide."
In 1957, Peg was singing at Moran Baptist Church in Clinton, Tennessee, with her sisters, Dora and Carol, when she noticed a handsome young man. "Ruben and I met that night. We invited him to play the guitar for our group. We courted for a couple of years and married on June 29, 1959. We sang part-time until 1980. That's when Ruben and I went full time with our daughters, Connie and Sheryl."
Not only are The McKameys talented singers, but there is also a gifted songwriter in their group. Ruben and Peg's youngest daughter, Sheryl, wrote her first gospel song for the group when she was barely 12. Sheryl shared, "The words and music just started coming." And years later. . . the songs continue to come. Sheryl attributes her songwriting success to keeping her relationship with the Lord fresh and vibrant. "God continues to speak to me as my walk with Him continues to grow. He has walked me through some really tough times and I have always found Him faithful."
Although Sheryl has been writing songs for The McKameys for most of her life, she took a temporary hiatus from singing with the group for a few years and rejoined the group in 2009. Down through the years she has received numerous letters and emails from fans, telling how a particular song ministered to them. The family is always blessed by the testimonies that come in. Fan favorites of Sheryl's original songs have been "A Borrowed Tomb," "Prayer Changes Me," "I Will Trust the Lord," "I Keep Praying," and "When He Speaks." Sheryl said, "The Lord has used "I've Won" to strengthen the hearts of many cancer patients. It is very rewarding to write or sing songs that minister hope to people. God continues to stir my heart to encourage others and remind them of the hope we have in Christ."
The group ministers in concerts about 150 days a year, traveling all over North America. They have had 29 number-one singles and have been honored for having the most number-one hits in Southern Gospel Music. Peg has been voted the Favorite Female Vocalist and Sheryl has been nominated the Singing News Songwriter Award numerous times. The group has been awarded several Singing News Fan Awards throughout the years and the accolades continue to roll in.
Currently the group consists of Peg McKamey Bean, her husband, Ruben; their daughter, Connie Fortner; Connie's husband, Roger; Connie and Roger's son, Elijah; and Peg and Ruben's daughter, Sheryl Farris.
"The McKameys are authentic!" A pastor's wife from northern Iowa said after she had a personal encounter with the group in 2008. "My husband was diagnosed with end stage renal failure. The doctors said he would die without a kidney transplant. The day of surgery arrived and I was battling a lot of fear and 'what if's'. One of my friends contacted The McKameys and asked them to pray for our family. Not only did they pray, but Connie sent an email, sharing her personal story about her son's kidney transplant. As I read her email, the Lord's presence filled my heart with hope. Faith devoured fear and I knew my husband was going to be all right."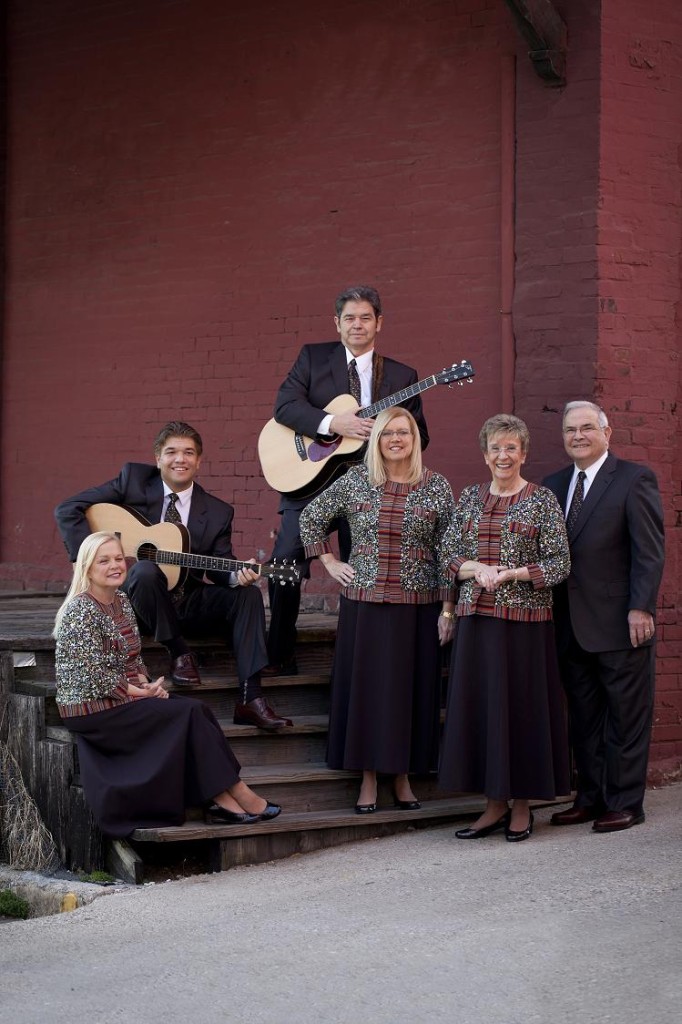 With ministry hearts like The McKameys, is it any wonder why God has blessed them? It's evident the reason for their longevity and success is because they always put Jesus first. This year they celebrate two ministry milestones—their 50th recording and Peg's 60th anniversary singing gospel music.
Peg stated, "We would ask the support of everyone to pray for our family. Keep your head up high. You belong to God. You are special to Him. We love you."
The group refuses to let the tight schedule and difficulties that come with life on the road detour them from the call God has placed on their lives. "We plan to be faithful to the end." Peg continued, "We want to encourage and help Christians in these last days. We plan to keep finding good songs and cheer up the people who come to hear us sing."
If you would like to know more about The McKameys or find out where they are performing next, go to: www.mckameysonline.com.
By Dixie Phillips
First published by SGN Scoops magazine, October 2014.
For current features and the latest issue of SGN Scoops digital magazine, visit https://www.sgnscoops.com/
Tags:
Christian Music
,
Connie Fortner
,
Dixie Phillips
,
Elijah Fortner
,
gospel music
,
January 2015
,
McKameys
,
Peg Mckamey bean
,
Roger Fortner
,
Ruben Bean
,
sgn scoops
,
Sheryl Farris
,
southern gospel
Posted in
announcements
,
artists
,
sgn scoops magazine
,
special feature
,
Uncategorized
|
Comments Off

on The McKameys: Our Secret To Longevity in Gospel Music
Written by SGN Scoops Staff on January 11, 2011 – 12:36 pm -
The staff of Crossroads Entertainment & Marketing held a celebration last Wednesday honoring the success of The
McKameys and their #1 song "The Shepherd's Point of View." The single topped the Singing News Chart in the month of December, making "The Shepherd's Point of View" the group's 17th #1 song and giving them the honor of having the most #1 singles on the Singing News Southern Gospel radio chart.
Horizon Records President Mickey Gamble offered a few words about the value of a group like the McKameys to radio listeners and music programmers. Jim Stover, Director of Radio Promotions, thanked the group for the way they carried themselves and conducted their ministry, and presented them a plaque in honor of the #1. Ruben Bean and Peg McKamey Bean thanked Mickey, Jim, producer Jeff Collins and the staff of Crossroads, calling the success a team effort.
Crossroads congratulates the McKameys on their continued success and thanks DJs and radio programmers for their support in placing the song at the #1 position.
Tags:
Jeff Collins
,
Peg Mckamey bean
,
southern gospel
,
The Mckameys
Posted in
announcements
,
industry news
|
Comments Off

on McKameys Celebrate Their #1 Single "The Shepherd's Point of View"