Written by Staff on September 28, 2019 – 12:18 pm -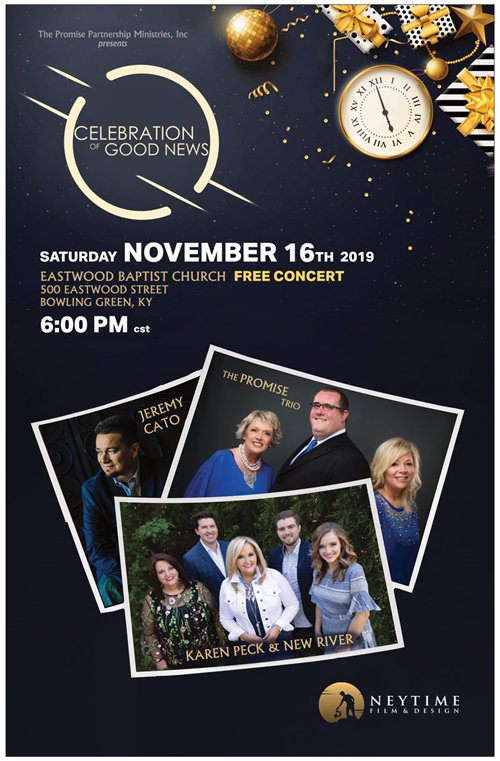 "The Celebration of Good News" featuring Karen Peck & New River, The Promise Trio, and Jeremy Cato
The Promise Partnership, Inc. has announced their first concert in a series of free gospel music concerts, "The Celebration of Good News." This concert will feature Karen Peck and New River, The Promise Trio, and a special guest appearance by Jeremy Cato. 
The concert will be held Saturday, November 16, 2019, at Eastwood Baptist Church at 500 Eastwood Street in Bowling Green, Kentucky. The concert starts at 6:00 p.m.; doors open at 5:00 p.m.
This event is free but tickets will be issued. Tickets are available via mail, social media, and on the website: HERE or HERE 
Tickets will also be available at Eastwood Baptist Church starting Sunday, September 15th, 2019 in the am services.
The purpose of this event is to provide a free, old-fashioned concert that brings people together to celebrate the good news of Jesus Christ.
Debra Carter Peele, Co-Chairman of The Promise Partnership's executive board, states, "We have been wanting to do a gospel music concert where everyone can attend and worship the Lord without being charged a ticket fee.  Everyone is welcome."
The event is hosted by The Promise Partnership, the parent company of the Promise Trio Ministry.  
About The Promise Partnership
The Promise Partnership, Inc. is a 501(c)(3) nonprofit organization whose ministry through The Promise Trio shares the gospel of Jesus Christ throughout the United States. Based in Nashville, Tennessee, the group is now in its 9th year of ministry. They have appeared on TBN and at Dollywood, Six Flags over Georgia,  the Kentucky State Fair and many more. Most recently, The Promise Trio won Best Vocal Group at the 2018 Crimson Music Awards. Visit www.promisetrio.com for more information.
For more Gospel music features, read the latest SGNScoops Magazine HERE.
Download SGNScoops Magazine In PDF 
Here
Find SGNScoops Magazine On Facebook 
Here
Listen To Todays Gospel Music Here
Tags:
gospel music
,
Jeremy Cato
,
karen peck and new river
,
promise trio
,
Southern Gospel Music
Posted in
announcements
,
artists
|
Comments Off

on Karen Peck and New River headline Promise Partnership Concert
Written by SGN Scoops on April 17, 2013 – 7:10 am -
Indian Trial, NC (April 16, 2013) Dynamic young trio, The Promise Trio has signed an extensive publicity agreement with AG Publicity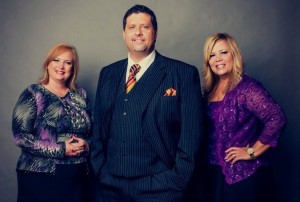 .
Deon Unthank of AG Publicity commented, "Though The Promise Trio has not been around a long time, I have watched them grow in their talents and status in Gospel Music. I feel they have a lot to offer with their various ministries and they have the ambition to go forward with what God has called them to do."
The trio consists of Rick Blessing, Debra Carter Peele and Tina McKinney Booth. Each individual reaches the hearts of people in different ways. Rick has been singing since he was a child in different arenas. He has a vast knowledge of how music outside of the church is performed. Debra reaches out to people who feel they do not belong anywhere. Her personal testimony of feeling not wanted and not fitting in allows her to reach multitudes of people who have similar problems with the solution that Jesus is the answer to their needs. Tina has a strong testimony of how God healed her as a child. Put all three of those together and you have one powerful ministering team.
Debra Carter Peele stated "Almost six years ago, I felt the Lord leading me to start a group that would sing praises to Him but I resisted. I do not read a note of music and I had a terrible fear of speaking in front of people, much less singing. Then, I lost my hearing in my right ear in an accident. How could the Lord use me? I was broken and unqualified. In an act of obedience, I started The Promise Trio. Praise goes to God; He delivered me from the fear. He sent me Tina McKinney Booth and Rick Blessing and we have been ministering ever since."
The Promise Trio can be reached to minister at your church or concert at http://www.thepromisetrio.com/trio, info@thepromisetrio.com, and you can also reach her at http://www.facebook.com/thepromisetrio.
Tags:
promise trio
,
Southern Gospel News
Posted in
announcements
|
Comments Off

on The Promise Trio Signs Agreement With AG Publicity
Written by SGN Scoops Staff on November 12, 2012 – 1:52 pm -
Promise has announced the signing of a booking/management agreement with Creative Vision Entertainment, owned by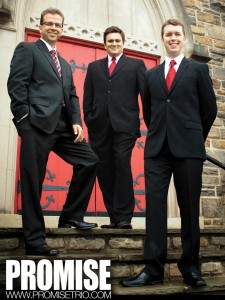 April Potter Holleman. The young trio has only been traveling a year, but has already begun making its mark with a NQC main stage appearance, a Diamond Award nomination, and great reviews from both fans and peers.
"I'm very excited, and thankful for this opportunity." Says group co-owner and lead singer, David Mann. "April is both a joy to work with, and highly respected in our industry. We're looking forward to a great business partnership!"
Co-owner and tenor singer, T.J. Evans shares, "April's enthusiasm and experience is exactly what we need, at this point in our ministry. I feel confident that Promise is in good hands."
You can visit Promise online at www.promisetrio.com, or they can be found on www.facebook.com/promiseministries and www.twitter.com/promisetweets.
Creative Vision Entertainment is a booking, management and publishing company with a passion to expand music to new areas and levels with a cutting edge, out-side-of-the-box, marketing approach. April Potter Holleman founder/president has worked in the music industry for 16 years. She owned her own booking agency, April Potter Agency from 2002-2006 and has worked eight years as an agent with the Harper Agency. Along with booking, April has worked in management, consulting, radio promotions and most recently publishing. CVE has a wide range of artists with unique musical styles creating 'a little something for everyone.' For more information on booking any of the CVE artists, call the office at 615-479-0954 or email at april@creativevisionentertainment.com. Please check out bios, sound clips and news at www.creativevisionentertainment.com.
Tags:
April Potter Holleman
,
Creative Vision Entertainment
,
David Mann
,
diamond awards
,
nqc
,
promise trio
,
southern gospel
,
southern gospel concerts
,
Southern Gospel News
Posted in
announcements
|
Comments Off

on Promise has announced the signing of a booking/management agreement with Creative Vision Entertainment
Written by SGN Scoops Staff on August 6, 2012 – 8:33 am -
Tags:
Declaration
,
Forgiven Quartet
,
Jonathan Wilburn
,
legacy five
,
nqc
,
promise trio
,
southern gospel concerts
,
Southern Gospel Music
,
Southern Gospel News
,
wilburn & wilburn
Posted in
video
|
Comments Off

on Gospel Music Today On SGNScoops.com