Written by scoopsnews on January 12, 2021 – 2:18 pm -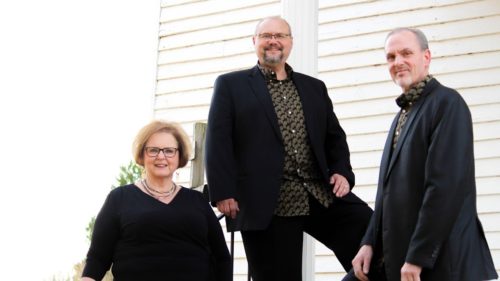 Russellville, Alabama – Chapel Valley Recording Artist, Purpose, is releasing a new lyric video and single.
Purpose officially began its ministry in July of 2011, and since its inception, the Lord has blessed Purpose by opening many doors, as well as expanding the group's territory of travel.  The members of Purpose consider themselves more than just a singing group, but they find themselves an evangelistic team. No matter what kind of stage they are on or no matter how many people are in the audience, the message of what the Lord has done does not change.  The members (Byron Gann, Paula McDougle & Tim Williams) have all been singing and playing gospel music most all of their lives, and each has a passion for sharing the gospel through the ministry of Purpose.
Be listening for the group's new single, "He Still Moves Mountains" which will be sent to radio this week. The song was written by Shane Roark (Chapel Valley) and will be promoted by Vonda Armstrong and Hey Y'all Media.
Check out the video below!
Tags:
Chapel Valley Music
,
Purpose
Posted in
announcements
|
Comments Off

on Purpose Releases New Single and Lyric Video
Written by Staff on January 17, 2019 – 6:35 am -
Sweet Water: What is your purpose?
By Amy Oxenrider
We all have a purpose for this life.
Stress, anxiety, depression, doubt – you fill in the blank – often causes us to lose focus and allow fear to enter our mind to make us feel worthless.  
The good news is Christ has already overcome all of these feelings.
Are they real feelings? Of course these feelings are real to you. Are we allowed to feel these things? The answer is yes.
But the key is we are not allowed to stay in the place these feelings take us. The darkness and hopelessness is not of God. He is light. He is love. He is peace.  
Philippians 1:3-6 says:"I thank my God every time I remember you. In all my prayers for all of you, I always pray with joy because of your partnership in the gospel from the first day until now, being confident of this, that he who began a good work in you will carry it on to completion until the day of Christ Jesus."
Your purpose in this life is to complete the good work that Christ has begun in you.  
What is your work? Have you become discouraged in your work for the Kingdom of God? Do you feel you can't do anymore without completely breaking?  
Look at the aforementioned scripture. This says He, speaking of Jesus, will, not maybe or perhaps, but he will complete this work in you.
Sometimes we need to rest. God is more aware of this than we are ourselves. He created our body and created it in a way that rest is a necessity.
Take some time for yourself and spend it with God. Do not allow guilt to sneak in and attempt to steal your joy and peace.
It is God's will for us to take time to rest. When we rest, our body rejuvenates and heals itself. Imagine how beneficial it will be for our body, spiritually and physically, if we take time to rest in God.  
The year 2018 has come and gone.  How are you going to react to your physical and spiritual needs in 2019?  Are you going to continue in your purpose and allow God to bring it to completion?  
One thing we all have to remember is that God's character enters each and every person he has created.  
Remember, we are created in his image. That includes you. He is more than willing to work in you to completion.  
When you allow God to work in you, then he works through you. Others are able to see his hands and feet go before them through your words and actions.  When you feel down and worthless, remember that Jesus lives in you and therefore he goes with you each step of your way.
You must have as much respect for yourself and your part in building God's kingdom as our creator has for you. He loves you beyond all measure. Don't ever think he will leave you. He will be with you until you have fully completed his purpose for you while living in this world.
I want to leave you with this scripture that I feel is perfect to meditate on especially while starting a new year.
Philippians 1:9-11: "And this is my prayer: that your love may abound more and more in knowledge and depth of insight, so that you may be able to discern what is best and may be pure and blameless until the day of Christ, filled with the fruit of righteousness that comes through Jesus Christ – to the glory and praise to God."
By  Amy D. Oxenrider 
Read the latest issue of the SGNScoops Magazine HERE.
Download SGNScoops Magazine PDF 
Here
Find SGNScoops Magazine On Facebook 
Here
Listen To Today's Gospel Music 
Here
Tags:
Amy Oxenrider
,
God's will
,
Purpose
,
Sweet Water
Posted in
Christian interest
,
sgn scoops magazine
|
Comments Off

on Amy Oxenrider: What is your purpose?
Written by SGN Scoops Staff on June 11, 2017 – 10:07 am -
M.A.C. Records is pleased to announce that the group, Purpose, from Russellville AL has joined the family under the Magnolia Records division of M.A.C. Records. Recently, Dennis and Leslie McKay of M.A.C. Records along with Bobby and Amy Richardson of Richardson Multimedia Group sat down at Studio 115A in Columbus, MS with the group. Purpose was the 2016 Vernon Alabama's Gospel Music Weekend Talent Search winners and has just released their new project, "A New Day With Purpose".
This project is really special for Purpose because it represents a couple of firsts. This is their first project with original songs written by members of the group. Some of the original songs that are fast becoming fan favorites include "I Know Me", "Never Be the Same", and "Not Gonna Give The Devil My Song." This project also has their first radio single called "Trust Him" that has been released through Hey Y'all Media. It too is an original that was written by Paula McDougle.
When Purpose began singing together in 2011, Tim Williams, Byron Gann, and Paula McDougle were known to some as "The Church Trio". Knowing they were not just a singing group, but an evangelistic team, they formed the group, "Purpose", and based it on Romans 8:28, "And we know that all things work together for good for those who love God and are called according to His purpose."
They had a full schedule of ministry events for the year when Vernon Alabama's Gospel Music Weekend Talent Search was announced. Tim said, "We had already signed up for the event, but we decided to enter the contest. Whether we won or not, we decided that we would not short-change the favor of God." Paula also commented, "Music is the venue that gets us into places. We feel like we have a story to tell and a ministry to share." Byron humbly expressed, "I'm still amazed that God would use me. God has fulfilled the desires of my heart and I'm amazed that He continues to open doors." You could feel the expression of humility as they commented that they are amazed that "anybody would ever want to come out and hear us sing." They share the gospel of Christ through Southern Gospel and Praise songs as well as sharing what God has done in their lives.
Leslie McKay of M.A.C. Records expressed that it is their music that you come to hear, but when coming to a service with Purpose, it's also an experience. "It's the total package. It's the Word, the Spirit…it's everything. It's much more than just the music. When people come to a worship service with "Purpose", people come with expectation because you know it's going to be something good."
For booking information or to get your copy of "A New Day With Purpose", contact Paula McDougle
at 256-627- 8784. You can find them on Facebook @Purpose.AL.
For more information about M.A.C. Records and Studio 115A, contact Dennis McKay at 662-889-2829 or by e-mail at info@studio115a.com. Contact them on Facebook @musicstudio115a.
Tags:
Purpose
Posted in
artists
|
Comments Off

on Purpose Joins M.A.C. Records & Releases New Project