Written by Staff on January 22, 2020 – 6:19 am -
NASHVILLE, TN – April Potter, President of the April Potter Agency announces the addition of Bluegrass, Country, and Gospel artist Nathan Stanley. April Potter Agency will be handling all booking and management duties for Nathan.
"I am very excited to work with such a music royalty with rich heritage such as Nathan," shares April. "I have the utmost respect for his grandfather and his influence on the world of music and I look forward to helping Nathan carry on that legacy."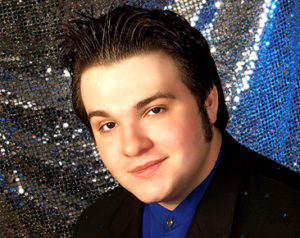 Nathan adds, "I'm thrilled to be working with April Potter and all of her wonderful staff. She has many years of experience with booking and management and I'm looking forward to seeing what the future has in store."
MORE ABOUT NATHAN STANLEY:
Nathan Edmond Stanley was born into a music royalty bloodline and rich family legacy. The grandson of the Bluegrass music icon Dr. Ralph Stanley, Nathan made his music debut at the young age of two playing the spoons for the Clinch Mountain Boys with his grandfather at the Grand Ole Opry in Nashville.
He later graduated to playing the mandolin, and from 2007 to 2016 became the last lead singer and rhythm guitar player for the Clinch Mountain Boys – one of the most highly acclaimed bands in the music industry.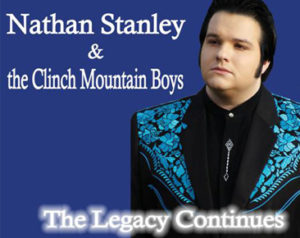 Nathan has spent most of his life on a 45-foot tour bus traveling across the United States and internationally collecting many awards and accolades along the way:
In 2006, Nathan had the great honor to perform for the Queen of England when Her Majesty visited the state of Virginia.

In 2011, he had a #1 song on the Inspirational Country Music (ICM) charts for the unforgettable song "White Dove" with Vince Gill.

In 2011, the National Traditional Country Music Association voted My Kind Of Country the Classic Country Album of the Year.

In 2014, Nathan signed a recording deal with Willow Creek Records Nashville, TN.

In October 2014, his album Every Mile garnered Nathan his first GMA Dove Award (Gospel Music's Highest Honor) nomination and win for "Bluegrass Album of the Year".

In January 2015, Nathan was featured on the Grammy Nominated Cracker Barrel album Ralph Stanley and Friends: Man of Constant Sorrow. Nathan performed two songs with his grandfather on the special project. One was the classic "Rank Stranger" and the other was a heartfelt performance of "Hills of Home."
In 2016 Nathan was voted "Best Bluegrass Artist" at the ICM AWARDS in Nashville, TN.

Also in 2016, Stanley made several cameo appearances in the award winning Christmas Movie Believe starring Ryan O'Quinn and produced by Billy Dickson.
From 2013-2016, Nathan Stanley hosted his own television show on Living Faith TV based out of Bristol, Tennessee. With close to one million viewers each month, The Nathan Stanley Show was the #1 show on the network for almost the entirety of its four years of airtime.
Stanley has nine solo albums to his credit, recording with artists such as Brad Paisley, George Jones, Vince Gill, Marty Stuart, Patty Loveless, Ricky Skaggs, Del McCoury, The Isaacs, Gene Watson, T. Graham Brown, and many more.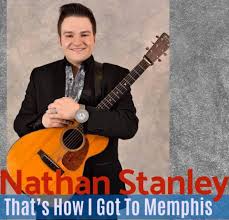 Nathan will release his 10th studio album in 2020. The project is real country music! The first radio single "That's How I Got To Memphis" will be released to Country & Americana Radio nationwide in February 2020. Stanley will tour with his country band in 2020 while still doing a select amount of his acoustic show concerts. Stanley is currently signed with J&T Entertainment and MC1 Nashville.
MORE ABOUT APRIL POTTER AGENCY:
April Potter Agency is a full-service, exclusive booking and management company located in Nashville, Tennessee serving a large selection of venues including arenas, auditoriums, churches, fairs, festivals, schools, city events, coffeehouses, theme parks and more with a variety of artists. April Potter brings to her agency 23 years of experience in the music industry. In 1996, she began working for The Harper Agency, and later formed her own company in 2002, where she represented some of the most popular names in gospel music. She returned to work for Harper in 2010 for two more years, before leaving to homeschool her daughter. Since that time, she's worked as a freelance agent and consultant in multiple areas of the industry, including management, marketing, radio, publicity, and booking both stateside and worldwide. In May 2016, she relaunched April Potter Agency expanding from Christian music to several genres including Country, Bluegrass, Rock, Corporate Speakers and Tribute Bands.  Potter is a Franklin County, Alabama native and Music Business graduate of the University of North Alabama. For more information click HERE.
Read the latest Gospel Music News in SGNScoops Magazine online HERE
You Can Download SGNScoops Magazine
Here
Find SGNScoops Magazine On Facebook
Here
Listen To Todays Gospel Music
Here
Tags:
April Potter Agency
,
christian country
,
gospel music
,
Nathan Stanley
,
Ralph Stanley
,
Southern Gospel Music
Posted in
announcements
,
artists
|
Comments Off

on APRIL POTTER AGENCY ANNOUNCES EXCLUSIVE BOOKING AND MANAGEMENT AGREEMENT WITH BLUEGRASS/COUNTRY/GOSPEL ARTIST NATHAN STANLEY
Written by SGN Scoops on November 1, 2011 – 3:06 pm -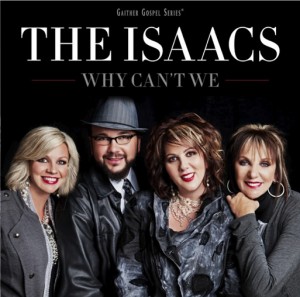 NASHVILLE, Tenn.—November 1st— Gaither Music Group celebrates today's release of Why Can't We, the all-new, studio recording by the award-winning Isaacs. Produced by group member and acclaimed producer Ben Isaacs, the new release, which was recorded in Nashville, follows the group's previous recording Naturally, which remained in the Top 10 BILLBOARD Bluegrass Chart for over 71 weeks following its debut.Group member Sonya Isaacs Yeary and husband, Jimmy Yeary, along with group member Becky Isaacs Bowman, penned nine of the songs for this release. One of those new songs, penned by the Yearys with songwriter Ben Hayslip, is "I'm Gonna Love You Through It," the current hit country single by country star Martina McBride. "I was writing with Ben Hayslip and Sonya," recalls Jimmy, "and Sonya had this idea of writing about her mom's (Lily's) story of surviving breast cancer. We threw around some thoughts as to how we'd approach it. We decided to let Lily tell her story, so we put her on speaker phone, and she just really told her story in detail. We based the song on that. It took us about three hours to write it. It can be difficult to put the word 'cancer' in a song, but we wanted to talk about breast cancer specifically and some of the hardships that come with that. We started writing it with no notion of what would happen with this song. We just loved writing it and getting it on paper. Then we got the call that Martina had heard it and loved it."Lily Isaacs and Becky Isaacs Bowman appear alongside Katy Couric, Sheryl Crow, Robin Roberts and Hoda Kotb, among others, in McBride's video for the song. "Sometimes when you record songs, what works in the studio may not translate to an audience," explains Becky. "When we started writing for this record, we really had that in mind. The more that you are transparent about yourself, the more your audience can identify with you. We wanted to share our stories of survival and victories, so we wrote songs that dealt with things that we want to be transparent about in concert."For Becky that includes the song "Waiting in the Water," a song based on the Bible story of the blind man who had an encounter with Jesus and who was told to go to the pool and wash. "It was a two- mile journey to that well according to commentaries," Becky describes, "and Jesus wasn't about showmanship; but for some reason, He told the blind man to find his way to the water. I think Jesus wanted to see how strong the blind man's faith was and how obedient he was. Jesus would be waiting in the water."Some people are instantly healed," continues Becky, who was diagnosed herself for ten years with a rare case of Crohns' disease causing inflammation to her eyes and nerve endings, "and some people have to take a journey of faith. I prayed and prayed for healing and felt hopeless so many times. I felt that, like the blind man, I would have to take a step of faith and believe that He would be 'waiting for me in the water.' This song is my healing story, and I have found that I can talk to people in a hopeless stage, whether it's from a long-term illness or something else, because I have been there."The Isaacs continue their vulnerability on the release with the song "Why." "I think we are sometimes afraid to ask 'why' because we don't want to question God," explains Becky, "but when you look at David [in the Bible] and all of his mistakes and questions, you see that in the end God called him 'a man after His own heart.' I don't think God minds us asking questions. Sometimes they come from the heart…that is what God wants–a heart for Him. We all make mistakes like David did, but it's not how you start the race; it's how you finish the race with God."Why Can't We also includes the cover tunes "I Still Trust You," "Hallelujah Turnpike" and "I Believe in a Hill Called Mount Calvary." The group created a rendition of "I Believe in a Hill Called Mount Calvary" to perform at the Tribute to the Songs of Bill and Gloria Gaither event that was held this year at Nashville's Schermerhorn Symphony Center. The audience as well as Bill Gaither liked it so much the group knew it would be featured on the new recording."We like to put our twist on songs to make them sound like us," says Ben. "You can copy others, but the things that make an impression in most any kind of music are the things that have been different. It's ok to get the basics from inspiration; but from that, you need to be an original and find what makes a song sound like you."The group did just that with the bluegrass tune "Hallelujah Turnpike," a song they were asked to learn for a tv special/tribute they were doing for the legendary Lewis Family. "We thought it was a fun song and down to the styling of the fiddle, we tried to emulate Buddy Spicher, really creating a tribute to The Lewis Family legacy."We thought it was time for a true 'Isaacs' band record,'" continues Ben, "I really like the title cut that says, 'If God can forgive, then why can't we?' People may forgive, but we don't often forget, and we find it hard to let go. Musically, I think the track marries this song perfectly…sometimes you only get close to that during a recording."The Isaacs have a long history, however, of doing more than "getting close" while creating moving music. The group has received a GRAMMY® nomination, three GMA DOVE Award nominations including a win for Bluegrass Album of the Year and a 2011 nod for Christmas Album of the Year (Christmas, Gaither Music Group), two IBMA Award nominations, an ICM nom and an SPBGMA Award. They have also received fan award nominations for Band of the Year, Song of the Year, Favorite Mixed Group and Instrumentalist of the Year (Sonya); and Ben has won two IBMA Awards as a producer.
Why Can't We is available everywhere Christian music is sold and is being distributed at retail and digitally through EMI CMG Distribution. The new recording will be positioned heavily at retail throughout the fall and winter alongside other Gaither Music Group releases and will be aired as part of a direct tv campaign on networks including GAC, RFD, INSP, GMC, TBN, FamilyNet, CTS, CTN, TCT, TLN, Airtime 1, GMTN, Grace, Legacy, Miracle and Vision.
For further information regarding The Isaacs, please visit www.TheIsaacs.com  or www.gaither.com , Follow them on Twitter at www.twitter.com/IsaacsMusic  and on Facebook at www.facebook.com/TheIsaacs .
About The Isaacs
The Isaacs is a multi-award-winning family group that blends tight harmony with contemporary acoustic instrumentation, winning the praise of critics and the loyalty of audiences all over the world. The Isaacs, known for their hair-raising arrangements, perform frequently at The Grand Ole Opry and are favorites on the Gaither Homecoming video and concert series. The group has performed with legendary performers such as Dolly Parton, Trace Adkins, Brad Paisley, Paul Simon, Vince Gill, Randy Owen, Trisha Yearwood, Ralph Stanley, Mark Lowry and many more.
Tags:
Becky Isaacs Bowman
,
Ben Isaacs
,
bluegrass
,
Gaither Music
,
Jimmy Yeary
,
Mark Lowry
,
Ralph Stanley
,
Randy Owne
,
Sonjay Isaacs Year
,
Southern Gospel Music
,
the isaacs
,
Trisha Yearwood
,
Vince Gill
Posted in
announcements
,
new music
|
Comments Off

on The Award-winning Isaacs Release All-new Studio Recording Why Can't We
Written by SGN Scoops Staff on June 8, 2011 – 9:15 am -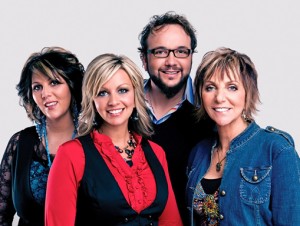 NASHVILLE, TENN.  – The Isaacs are tuning up for their debut appearance on the nightly concert stage at the CMA Music Festival. The Isaacs will perform the National Anthem as part of the opening festivities for the Nightly Concerts at LP Field on Thursday, June 9, as part of 2011 CMA Music Festival. The evening concert also includes Jason Aldean, Easton Corbin, Sara Evans, Brad Paisley, Ricky Skaggs, Zac Brown Band and more!
Lily Isaacs, vocalist and matriarch of the group, says: "My mother and father were survivors of the Holocaust and I still remember with pride becoming an American citizen on Ellis Island in New York when I was a child. It is an honor to sing the National Anthem with my children – Ben, Sonya and Beckie – at the CMA Music Festival."
ABOUT THE ISAACS
The Isaacs are a multi-award-winning family group that blends tight, family harmony with contemporary acoustic instrumentation, winning the appraise of critics and the loyalty of audiences all over the world. The Isaacs have been making jaw-dropping music for more the 30 years and perform frequently at the Grand Ole Opry, are favorites on the Gaither Homecoming video and concert series, perform frequently with legendary performers such as: Dolly Parton, Trace Adkins, Brad Paisley, Paul Simon, Vince Gill, Randy Owen, Trisha Yearwood, Ralph Stanley, Mark Lowry, and many more.
Tags:
Brad Paisley
,
dolly parton
,
Easton Corbin
,
Gaither Homecoming
,
Jason Aldean
,
Mark Lowry
,
Paul Simon
,
Ralph Stanley
,
Randy Owen
,
Ricky Skaggs
,
Sara Evans
,
the isaacs
,
Trace Adkins
,
Trisha Yearwood
,
Vince Gill
,
Zac Brown Band
Posted in
announcements
,
christian entertainment
,
Christian interest
|
Comments Off

on THE ISAACS TO PERFORM NATIONAL ANTHEM AT CMA MUSIC FESTIVAL OPENING NIGHT CONCERT