Written by Scoops Staff on April 26, 2010 – 2:18 pm -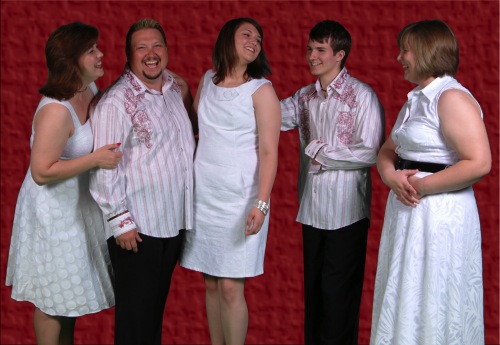 Fans and Industry Insiders Encouraged To Speak Up
BARNESVILLE, Ga. – (April 26, 2010) – Georgia-based family group and Mansion Entertainment recording artist The English Family is seeking the help of friends, family, fans, and industry professionals with choosing their new single.
The group currently has a poll on their website and on Facebook where they are encouraging individuals to cast their vote for the group's new single. The choices are between "Out of the Wilderness" and "Built On Sand" – both from the group's critically acclaimed release Out of the Wilderness.
"We love both of these songs, but we thought who better to help us choose the next single than those that actually listen to the radio and drive this industry," mentioned Phillip English of the English Family. "So far, we've gotten such positive feedback from this."
The English Family hopes the new single will hit the desks of radio programmers all across the country next month. It will be the follow-up to the group's Top 40 hit "Send Down Your Angels."
To hear the songs and vote, head over the group's webpage at http://www.englishfamilyonline.com .
The English Family recently scored their latest Top 40 hit. The group's current single, "Send Down Your Angels," recently cracked the SoGospelNews.com Top 40 Weekly Chart – the industry's most watched weekly radio report. "Send Down Your Angels" spent five weeks on the chart – peaking at #33 – an impressive run for an independently promoted song without major label backing. The song has also been a regular fixture on the popular SouthernGospelTimes.com Top 40 Fan Chart.
"Send Down Your Angels" was written by 16-year old group member Jacob English, and it features stellar vocal performances from Jacob and group patriarch Phillip English. The song is the group's debut single from their Mansion Records recording Out of the Wilderness.
For more information on The English Family – visit them online at http://www.englishfamilyonline.com.
About The English Family
The English Family is a multi-faceted evangelistic ministry based out of Barnesville, Georgia. In addition to being talented in the vocal department, this family is deeply engaged in ministry. The English Family ministers at concerts, conferences, workshops, and even on cruises. The group's current release is titled Out of the Wilderness and features the hit single "Send Down Your Angels."
Tags:
english family
,
fans
,
random cool stuff
,
songs
Posted in
artists
|
Comments Off

on The English Family Seeks Help In Choosing New Single
Written by Scoops Staff on February 11, 2010 – 9:06 am -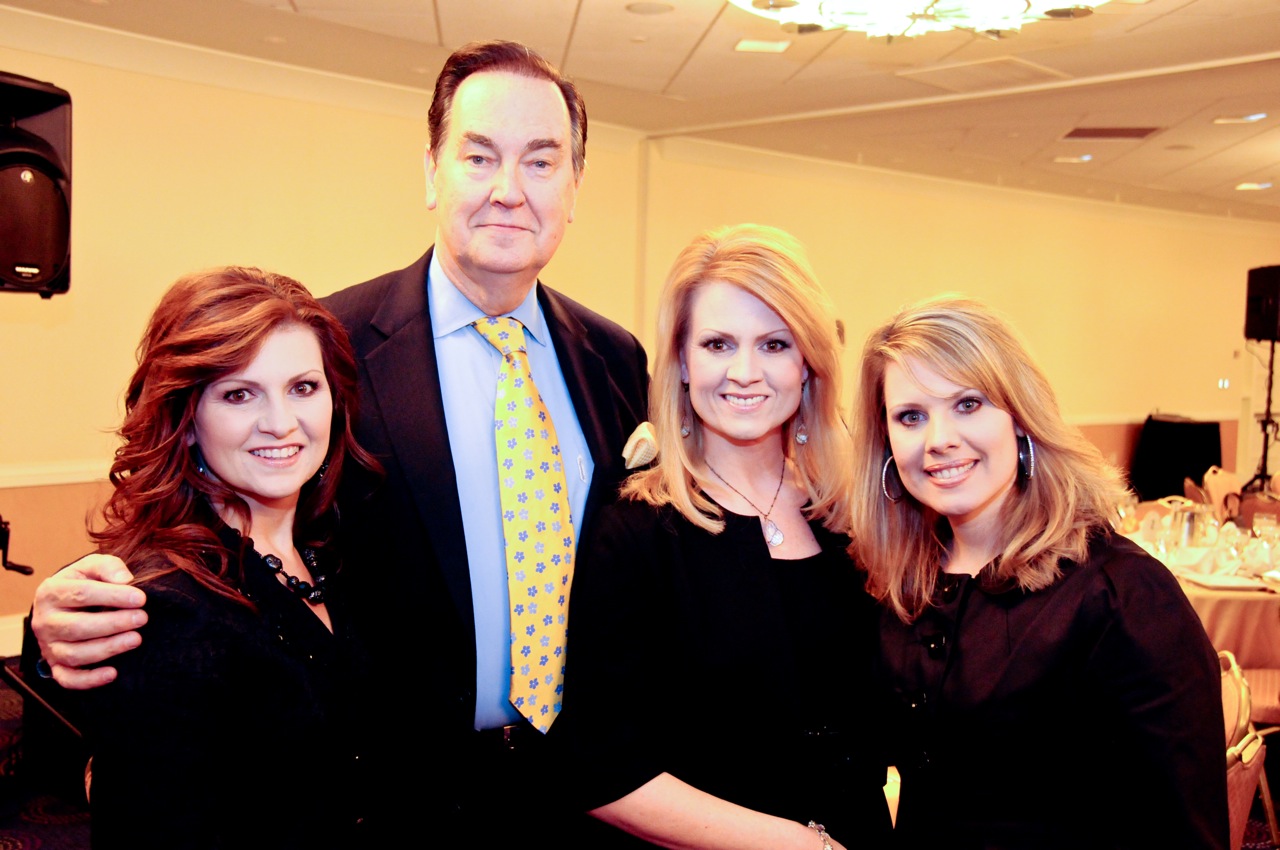 Hendersonville, TN (February 11, 2010) – Daywind Records artist, Sisters, recently sang at a prestigious media dinner in Washington D.C.  They were invited by syndicated columnist and Fox News analyst, Cal Thomas.
The opportunity came as a result of Thomas seeing a performance from Sisters on Facebook.  The impact led him to offer the invitation to them to sing at the dinner. They were then asked to attend the National Prayer Breakfast the following morning. The President, Vice-President, and Prime Minister of Spain were in attendance.
Group member, Heather Ruppe Day, shared, "It was an incredible honor for Sisters to be a part of these events. We've seen many of these reporters and government representatives on television, so to stand before them and sing was very humbling.  The prayer breakfast was equally amazing. We met some wonderful people and look forward to what God is going to bring about as a result of this opportunity."
The video clip seen by Thomas can be found on YouTube.com: www.youtube.com/watch?v=FmUGekcTuLM
Sisters are currently in the studio, recording a brand new CD for Daywind Records.  Their debut single, "Mercy Leads Us Home," is impacting radio now.
For more information on Sisters, visit sistersmusic.org. For more information on all the talented artists at Daywind, visit daywindrecords.com.
Daywind Records is based in Hendersonville, TN, and is distributed worldwide through New Day Christian Distributors. In addition to Sisters, Daywind is home to such great artists as Austins Bridge, Karen Peck & New River, and Greater Vision, among others.
Photo: (l to r): Kim Ruppe Lord, Cal Thomas (syndicated columnist and Fox News analyst), Heather Ruppe Day, and Valerie Ruppe
Tags:
artists
,
random cool stuff
,
sisters
Posted in
artists
|
Comments Off

on Vocal Trio, Sisters, Sing At Prestigious Washington D.C. Media Dinner
Written by Scoops Staff on October 8, 2009 – 5:17 pm -
NOTE TOC.S. LEWIS FANS: OUR COLUMNIST USES SCREWTAPE & WORMWOOD TO DISCUSS THE DAN BROWN NOVEL ANGELS AND DEMONS IN THIS MONTHS SCOOPS > CHECK IT OUT ON PAGE 14 OF THIS MONTH'S SCOOPS.
'The Screwtape Letters' Stars Andy Serkis from 'The Lord of the Rings'
Colorado Springs, CO – The Devil is back in time for Halloween in C.S. Lewis' The Screwtape Letters, an audio production from Peabody-award-winning Focus on the Family Radio Theatre®. The full-cast dramatization of the diabolical classic debuted worldwide today.
Hosted by C.S. Lewis' stepson, Douglas Gresham, and starring Andy Serkis (Gollum, The Lord of the Rings) as the voice of Screwtape, The Screwtape Letters was recorded in London by world-class actors with an original score and motion picture quality sound design, and includes a "making of" DVD that features footage from C.S. Lewis' home, church and other frequented locations. Also included are a bonus CD of 10 original songs and a collector's booklet.
The Screwtape story centers around correspondence shared between Screwtape, a senior demon, and Wormwood, his apprentice, as Screwtape mentors Wormwood in the skills necessary to entrap, dominate and torture humans. Most of the 31 letters lead into dramatic scenes set either in hell or World War II-era London. In writing this masterpiece, Lewis re-imagined hell as a gruesome bureaucracy with demons laboring in a vast enterprise. Avoiding their own painful torment, as well as a desire for control, is what drives demons to persecute their "patients."
Anticipation for the release of Screwtape has been building among audio enthusiasts as well as Lord of the Rings and C.S. Lewis fans. An entire Web site (www.screwtape.com) was built to support the production's debut, providing downloadable ringtones, avatars and wallpaper. Fans can also follow conversations between Screwtape and Wormwood on Twitter.
"Bringing The Screwtape Letters to the world of audio drama has been a career dream," said director Paul McCusker. "To work with this caliber of cast and crew on such a beloved classic is an unparalleled experience. And the themes are timeless. The struggles, fears and failures addressed in this work still plague humanity today. In our culture, we're hesitant to talk about evil. Here, in the character of Screwtape, evil speaks for itself."
The Screwtape Letters was produced by Focus on the Family Radio Theatre® and is distributed by Tyndale, with full authorization from the C.S. Lewis estate. For more information on The Screwtape Letters, or to schedule an interview with a member of the Radio Theatre team, contact Lisa Anderson at 719-548-5883 or lisa.anderson@fotf.org.
Tags:
random cool stuff
,
scoops
Posted in
christian entertainment
,
sgn scoops magazine
|
Comments Off

on Focus on the Family Radio Theatre® introduces first-ever full-cast dramatization of the C.S. Lewis classic
Written by Kelly on September 3, 2009 – 8:55 am -
From, of course, the Facebook Files
Today I was doing my usual status-message-catchup and noticed this: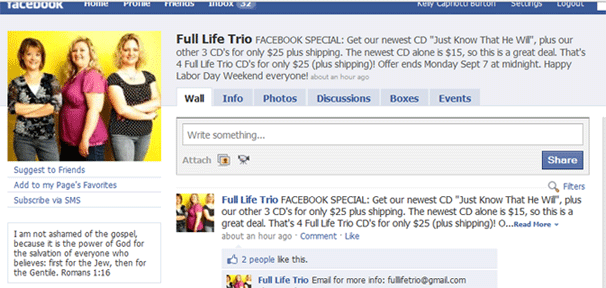 Text reads:
FACEBOOK SPECIAL: Get our newest CD "Just Know That He Will", plus our other 3 CD's for only $25 plus shipping. The newest CD alone is $15, so this is a great deal. That's 4 Full Life Trio CD's for only $25 (plus shipping)! O…ffer ends Monday Sept 7 at midnight. Happy Labor Day Weekend everyone!
I thought, 'Hey, that's cool!' I've seen groups invite people to concerts, advertise for bookings, celebrate chart successes, and even look for lodging using their Facebook status, but I had not yet seen CD specials.
So I asked Debbie Davis, owner of Full Life Trio: Why Facebook? Here's what she had to say:
I created the Full Life Trio fan page on Facebook as a way to let people know more about our ministry and to send updates. Within 1 month of creating the page, we already have over 350 people signed up.
Many of them had never heard of Full Life Trio before now, so we wanted to give them a chance to get our product in their hands for the lowest price possible. We'll probably be having more specials on FB throughout the year.
Kudos to Debbie and other groups who are utilizing FREE social networking to spread the word about their ministries.. this, inevitably, spreads the word about the Gospel!
Is your ministry utilizing a website or tool in this way? Let us know about it.
Happy Networking!
Visit Full Life Trio here.

Tags:
artists
,
facebook files
,
random cool stuff
Posted in
artists
|
Comments Off

on Full Life Trio tries Facebook marketing