Written by Staff on May 5, 2015 – 2:23 pm -
By Rebecca Little Burke
Many years ago a quartet was formed known as The Cathedral Quartet. This quartet was one of the greats and has paved the way for many in Southern Gospel music, including this month's featured artist. As the recipient of the Singing News Fan Awards 2007 Horizon Individual and 2008 Favorite Young Artist, as well as an accomplished songwriter, there is no doubt that God has been at work behind the scenes over many years preparing for this young man to step on stage and share the Gospel message through song. It is my absolute pleasure to introduce you all to my friend, Mr. Nick Trammell.
RB: Tell us about your start in Southern Gospel music.
Nick: I was born in 1984 when my dad (Mark Trammell) was with the Cathedral Quartet. I was blessed to grow up around some of the most influential people in the industry and didn't even realize it until I was grown. I watched my dad get on the bus to leave every weekend and always dreamed of someday getting to do the same thing. In 2006, I got my first opportunity to sing with some of my favorite people, The Perrys. Joseph Habedank called me in August of 2005 and asked me if I would be willing to fill in for him for a couple of nights while he attended his best friend's wedding. Of course I accepted! I was scared to death both nights, but after that weekend, I was hooked. I prayed when I got home for God to allow me the opportunity to do this. Almost one year to the day later, in August 2006, I stepped on the stage in Seminole, OK again with The Perrys, my first full time group. Read more »
Tags:
gospel music
,
Jessica Trammell
,
mark trammell quartet
,
Nick Trammell
,
Rebecca Little Burke
,
southern gospel
Posted in
christian entertainment
,
Christian interest
,
SGM Radio
,
special feature
|
Comments Off

on Young Gospel: Nick Trammell
Written by Staff on September 4, 2014 – 12:52 pm -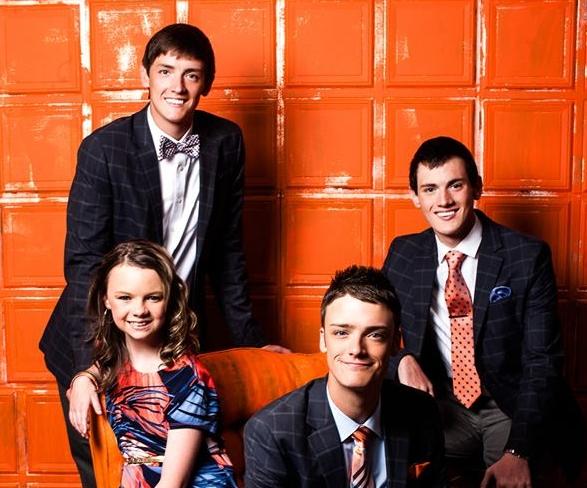 By Rebecca Little Burke
Family groups make up some of the best talent in the Southern Gospel industry. It is true that family harmony is hard to beat, and The Erwin family is no exception to this notion. The Erwins are a full-time evangelistic ministry based out of Edgewood, Texas. Their parents preach in many revivals across the nation and the Erwin siblings accompany in song.
I had the chance to interview the baby of the family, Miss Kathryn (Katie) Erwin, whom I think is one of Southern Gospels sweethearts. If she hasn't captured your heart yet in person, she is sure to by the time you finish reading all she has to say about the Lord, singing, and life on the Erwin bus.
RB: Tell me a little about yourself and how you were introduced to Southern Gospel music.           
KE: "I am 13 years old and have been singing as long as I can remember.  My dad has been in full-time evangelism for 40 years, so church is all I have known.   I remember my brothers always singing and as soon as I started talking, my brothers would place me on the platform at church and have me sing, bow and tell everyone that I liked to "shop at Dillards at the Mall".   As my brother's voices started changing and getting lower, they started teaching me harmony so I could sing the high parts.  I truly love music.  When I'm not singing in church, I play piano and sing.  Singing is all I ever want to do!"
RB: What are some of the most significant milestones for you and the Erwins?
KE: "My brothers were the first group chosen as "Best of the Week" out of all Regional Artists at the 2011 National Quartet Convention (NQC).  That was a HUGE honor.  Then when I joined them full-time, we were chosen to go to Main Stage on Saturday from the Featured Artist Showcase at National Quartet Convention, 2013.  That was the first time for me to sing on Main Stage and I was only 12 years old.  I will never forget that, especially with it being the last year in Louisville, KY.  In 2013, my brothers were nominated Top 10 "New Trio" for Singing News Magazine (that was right before I joined them).  Also in 2013, we were nominated in the first round for "Mixed Group of the Year" for the NQC Music Awards and this year, we are currently nominated for Top 5 "Breakthrough Artist of the Year" for the Absolutely Gospel Music Awards.  We also have been invited to sing on Main Stage on Friday night of this year's National Quartet Convention for its first year in Pigeon Forge. These award nominations and being asked to sing on Main Stage at such a young age is a wonderful opportunity, but without Christ being first in my life, it would all be for nothing.  No award or earthly achievement will ever compare to the night that Christ SAVED my soul.  That is when everything finally "made sense" to me.  My life finally had purpose.  Christ is everything to me, and the reason I sing!"
Katie was saved in a revival meeting this past November 6, 2013. God is good!
RB: What's road life like being the baby girl with three big brothers?  
KE: "Being the only girl on the bus can be a challenge.  We only have one mirror and I have to fight for mirror time.  I try to run in the bus right after sound check so I can be the first one in front of the mirror.  If I don't make it, I have to use the reflection from the microwave or use my cell phone.  When that happens, there is no telling what I will look like on stage! Sometimes I only get one eye complete with make-up.  My mom says I'm the messiest on the bus, but that's just because there is not enough closet space for my shoes, clothes, belts, jewelry and purses.  I'm asking for my own bus for Christmas! Ha ha!  In all honesty, it is great. My brothers spoil me and I pretty much get my way."
RB: What are some of your goals and ambitions for your future?
KE: "It seems like as soon as I have a desire in my heart, the Lord allows it to happen.  I have always loved Jason Crabb and it's always been a dream to sing with him.  Last April, while singing in Myrtle Beach, SC at Singing In The Sun, we were chosen to sing on Main Stage and Jason Crabb was the host for that night.  After we sang, Jason asked Mike Bowling and me to sing "The Lighthouse" with him.  WOW!!!  I was so "star struck" that Kelly Bowling had to feed me the words.  That was a night I will never forget!  Another one of my heroes is Taranda Greene. This past August we had a CD premier concert and to our surprise Taranda was in the audience.  She came up at the end of the concert and sang "Stand By The River" with Kris and me.  I still have to pinch myself when I think about that.   I know I am still so young, and I'm truly thankful for every opportunity the Lord had given me, but, one day, I would love to sing at the Brooklyn Tabernacle and be on a Gaither Video. That's just a couple of my "big dreams." But I get to live a dream everyday I get to sing with my brothers and travel with my family."
RB: What advice do you have for other younger guys and girls that are in the industry or want to be in the industry?
KE: "Proverbs 3:5-6 is what I would tell them. "Trust in the Lord with all your heart and lean not on your own understanding; 6 in all your ways submit to him, and he will make your paths straight."   IT MUST ALL BE ABOUT JESUS!!!  The only way the Lord can guide you is if you make it all about HIM!  The Lord has given me a voice to sing and I hope to point many young people to the only One that can give us a reason to sing and a reason to live!"
RB: What are some things that you want people to know about you as a person that you feel they may not get because of the age, and the nature of you being the baby girl of four siblings?
KE: "I want them to see that I hope my singing points people to Christ.  I hope people will look past my young age, past my ability and see straight to my heart.  My heart has been taken over by Christ.  Before I was saved, it was just another church service or just another concert.  Now it's a lot more than that.  When I sing, I look in people's faces and wonder if they are saved or lost.  I wonder if I'm going to be the last voice they hear before they meet the Lord.  I pray something I say or sing will bless them enough that they will want to know the same Lord that I know, the One who changed everything about me."
RB: What is the Lord currently teaching you as you walk with Him? 
KE: "Over the past three months I have been fighting allergies and congestion.  It's been really hard on me vocally.  However, the Lord has been teaching me to be dependent on Him.  He is teaching me that it's ok if I miss the note.  If I give it all I have and lift up His Name, He is still honored by it.  Please don't get me wrong, I want to be the best I can be for Christ and that includes taking care of myself and my voice, however I'm learning that in my weakness He is made strong.  The times I feel as though I have done my worst, that's when God gets more Glory, and that is what it is all about."
That certainly is what it's all about. I am personally just so proud of Katie and the decision she made to follow Christ. Sometimes it is hard to see that even though you have lived in church your entire life and spend your time sharing the Gospel with others, there is still the need for a personal relationship with the Lord, Jesus Christ. Katie is such a testimony to others and is certainly taking advantage of the wonderful opportunities she is given to share the love of Christ to younger generations.
Editor's note: The Erwins have recently signed with StowTown Records and the Dominion Agency.
For more information on The Erwins: www.erwinministries.com
Facebook.com/theerwinfamily
Rebecca Little Burke writes for the SGM Radio website.
First published March 2014 on SGM Radio website. For current features, click on to http://www.sgmradio.com/
Tags:
Christian Music
,
Dominion Agency
,
gospel music
,
Jason Crabb
,
Katie Erwin
,
mike bowling
,
Rebecca Little Burke
,
sgm radio
,
SGM Radio website
,
southern gospel
,
StowTown Records
,
The Erwins
Posted in
artists
,
SGM Radio
|
Comments Off

on Katie Erwin Of The Erwins
Written by Staff on June 12, 2014 – 8:53 am -
Young Artist Spotlight
By Rebecca Little Burke
Some people come into your life for a short season. Others come into your life and take up residence. You know the kind…they become your lifelong friends. This month's Young Artist Spotlight happens to be one of those lifelong friends of mine. In 2006 my path crossed with a young man in college at Campbell University.   Little did I know that he and his siblings would become some of my dearest friends. Honestly, a much better description would be 'family'.   In my opinion, he is one of the finest young men in our industry. His walk matches his talk, and at the age of 27 he gives himself tirelessly for the cause of Christ. I am so excited to introduce to you all the lead singer of The Taylors, Mr. Jonathan Taylor.
RLB: Tell us a little about you and your family. How did you get started in Southern Gospel music?
JT: I grew up as a preacher's kid in a small country church in North Carolina. I came from a large family of four brothers and two sisters, so there was never a dull moment growing up!   I come from a strong Christian heritage and I honestly don't remember a time when I didn't love the Lord. I remember giving my heart to Christ at VBS when I was seven years old and it's the best decision I ever made.
Mom has always led the music at our church and had us singing in her choir since we were old enough to start talking. I sang just about every Sunday at church. When someone suggested I attend the Steve Hurst School of Music in Nashville, I jumped on the opportunity. That was nine years ago and I have been hooked on Gospel Music since! I went back home and talked my younger siblings into starting a quartet, and the rest is history.
RLB: When you're not out on the road, where can we find you?
JT: When I'm not on the road, you can find me in the great outdoors. I love fishing, kayaking, hiking, and camping. I also love to travel and see new places. Every year I make plans to visit a different country. God created such a beautiful world, and I'd like to see as much of it as I can!
RLB: Since I know you are quite the traveler, tell everyone about your trips. What has been your favorite one?
JT: My favorite trip has been to Alaska. My family went three years ago, and there is so much to see there. We drive all over the state and saw Denali National Park, glaciers, and a lot of other cool things.   My favorite thing about the trip was going salmon fishing. The river was beautiful, and we caught a ton of fish. After we got off the boat, we went straight back to the cabin to grill our catch. It was the best salmon I've ever had!
RLB: Many of our readers may remember the earthquake and tsunami that hit Japan in 2011. What they may not know is that you and your sisters were visiting Japan when it hit. Tell us about that experience.
JT: My two sisters and I found ourselves in Japan three years ago when the tsunami and earthquake devastated the northern part of the country. We had planned to visit that area close to earthquake, but God changed our plans at the last minute. Instead, we traveled in the opposite direction. We were on Mount Fuji when the earthquake hit. We felt the ground move, and buses began to sway back and forth in the parking lot where we had stopped. It took us 14 hours to get back to the city, and our parents had no idea if we were dead our alive. We finally made contact and we had an emotional reunion on the phone.
When we finally got through to the airport, we were amazed that there were only three seats left on the only flight back to the US.   God orchestrated it all in a way that only He could. He sent us help through strangers who took us all the way to the airport and gave us their spots in the long lines so that we wouldn't miss our flight. God heard the cries of His children and took care of us, and my faith was strongly impacted on that day in 2011.
RLB: What are some of your goals in the coming years?
JT: Ministry-wise, our goal has always been to see people come to know Christ at our concerts. I suppose that my biggest goal for the coming years is that God would open doors for us to minister in places that would have the greatest impact on The Kingdom. Sure, it's nice to sing in churches with large crowds, but I'm not just talking about numbers. I want to see lives changed, including my own. Sometimes that means going places that are out of our comfort zone, which leads me to my personal goal: to continue to trust God wherever he may take us.
RLB: Who are some of the people you look up to in our industry? Why?
JT: Because we started traveling and singing at such a young age, I value the advice of people who have spent their entire lives in the industry. First on the list would be Mike Wheeler from Kankakee, IL. Mike and his family have promoted concerts for over 26 years and he has been gracious enough to promote our family over the last few years. Tracy Stuffle and Jeff Easter have also been encouragers of our ministry. Over the years, those two guys have given some great advice!
RLB: What advice do you have for other young people in the SG industry or aspiring to be in it?
JT: My advice to younger singers in our industry would be to avoid comparing your ministry to the ministries of other singers and groups.   If God has called you to sing, just sing. Don't worry about trying to measure up to the standards of this industry, because God's standards are the only thing that matter. He wants your best, but that doesn't mean you will always be the best. God has humbled me so many times over the last eight years when He has moved in services where I thought I did my worst.   God loves a willing heart, and He tells us that in our weakness, He is made strong. Don't get discouraged when you see other singers on bigger platforms. God has ordained you to share your gift with the audience that He has provided.   Don't forget that He has a plan, and He knows what's best.
RLB: What is the Lord currently teaching you?
JT: I know this seems strange, but the Lord is teaching me to have more confidence. I'm a type-A perfectionist, and I have always been driven to do my best. The motivation to try to be perfect is unrealistic most of the time, and God has been teaching me to stop worrying about it so much. God doesn't need me to hit every note, and He doesn't need me to always be the best emcee…He only needs me to make myself available for His purpose. I'm learning that if I trust Him completely, He can do great things through me even when I feel like I haven't measured up.
Fortunately the Lord uses us in spite of us. We will never see perfection on this side of Heaven, but somehow through His mercy and grace, He uses imperfect people to accomplish His perfect plan! What a good God He is! Thank you Jonathan for sharing your heart and ministry with us!
For more information about the ministry of The Taylors, visit http://www.thetaylorsmusic.com/home.
Facebook: https://www.facebook.com/thetaylorsmusic
Twitter: @thetaylorsmusic
Written by Rebecca Little Burke. First published May 2014 by SGM Radio Website
For current features on SGM Radio website, visit http://www.sgmradio.com/
Photos courtesy of Jonathan Taylor
Tags:
Christian music artist
,
gospel music
,
Jonathan Taylor
,
Rebecca Little Burke
,
sgm radio
,
SGM Radio website
,
The Taylors
Posted in
SGM Radio
|
Comments Off

on Jonathan Taylor of The Taylors