Written by Staff on April 27, 2020 – 3:50 pm -
She is referred to as the, "Queen of Bluegrass." And, you know what? She is. Go ahead and listen for yourself. Most artists in bluegrass will record a gospel song or two on about every recording project. And they'll sing one or two in concert. Not Rhonda. She records entire gospel albums and always features multiple gospel songs every time she hits the stage. Why? Because it's important to her. This month's feature is on the Queen of Bluegrass, Rhonda Vincent.
Les Butler: What is your earliest musical memory?
Rhonda Vincent: My earliest musical memory was performing when I was probably five years old, on what was known as the Jerry Lewis Telethon. I grew up in a musical family in Greentop, Missouri. Music is traced back five generations, and now six generations, as Sally is carrying on the tradition. We had driven up to Ottumwa, Iowa, to be on the telethon at 3:00 a.m. Our performance was around 5:00 a.m., and I decided I wasn't going to sing. Well, my Dad took me in the back room and convinced me that I was going to sing. I can remember seeing myself in the TV monitor. Tears were streaming down my face, but I was singing the Bicycle Song, and people thought I was just acting out the wreck in song.  
LB: What's the first instrument you tried to play?  
RV: My Dad gave me a snare drum, stand, and a set of brushes for my sixth birthday. I became the drummer for my family band The Sally Mountain Show.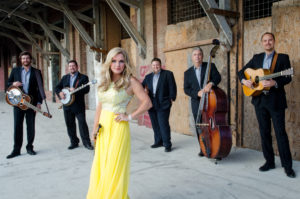 LB: State the instruments you play?  
RV: I started playing snare drum at six. Started the mandolin at eight. Fiddle at 12, guitar at 16, and throughout my teen years, I would get take turns learning many other instruments like the banjo and bass. I played autoharp on an award show. I play most any stringed instrument. Some better than others. The mandolin is my main instrument. 
LB: If you could only have one instrument on a desert island, which one would it be?  
RV: I would take my mandolin. I am most comfortable with that instrument, and I can play rhythm or pick out a tune on the mandolin.
LB: Who are your favorite musicians on each of the instruments you play?  
RV: Buck White is my favorite mandolin player, as well as my favorite piano player. Stuart Duncan, is my favorite fiddler. He just has a sweet tone. Kevin Grant is my favorite bass player. Ron Stewart is one of my favorite banjo players. Tony Rice is my favorite guitar player.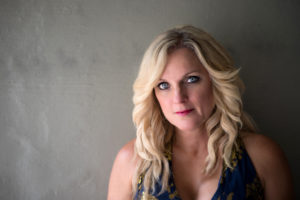 LB: Growing up in a musical family, did you ever have a desire to do something else? 
RV: I really didn't know anything else. I majored in accounting in college, and I also took a few photography classes. I loved learning about new things that I had interest in. I loved photography, and even ruined the white carpet in my parents bathroom by setting up a dark room in their bathroom. 
LB: Who dubbed you as the Queen of Bluegrass?  
RV: January 2000, the Wall Street Journal named me The New Queen of Bluegrass. Later, the National Old Time Music Organization held a ceremony and gave me a crown, deeming me the Queen of Bluegrass. 
LB: You've done it all…or have you?  What are a couple of the biggest/coolest things you've ever done?  What haven't you done that you'd like to do?   
RV: I'd love to meet and record with James Taylor. I love his music. I feel very blessed and thankful to have been given many opportunities. I'm honored to have performed on the Grand Ole Opry 214 times. Love working with Dolly (Parton) and pinch myself remembering how she came to my house in Missouri. I value her friendship very much and admire her kindness and humbleness. So many things, and I look forward to every new opportunity that comes my way.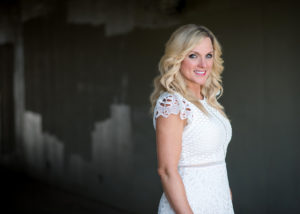 LB: Which do you enjoy the most: Playing live or in the studio?     
RV: I love performing live and having the chance to meet the audience. The studio is a necessity. I can't say I enjoy it as much. I love when a recording is completed. The process usually gives me a bit of stress, trying to make the best musical creation we can make. 
LB: You are a great singer.  Do you recall the first song you ever sang in public? 
RV: Thank you very much. I think my first song was the Bicycle Song. I also recorded with my family band in 1967, and I sang two songs for the recording. 
LB: What is your favorite song to play and why?
RV: I really enjoy performing the song "Please," which is a duet with Dolly Parton. I just never get tired of singing that song, and I love the message it says, which is, "Please….let me grow old with you." 
LB: Do you write? If so, what's the favorite song you've written?     
RV: I write on occasion. The song that always gets a consistently amazing response, and usually a standing ovation in the show, is titled, "His Promised Land," a gospel song I wrote, ironically, while visiting Las Vegas. 
LB: When you're not picking and singing, what are you doing?   
RV: I'm always doing something. Usually catching up on bills, email, computing royalties, and any other business-related work.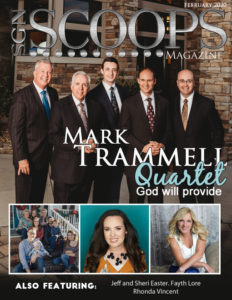 LB: Give us a brief testimony…
RV: I was saved when I was eight years old during a youth meeting in Greentop, Missouri.  The preacher gave an invitation. I remember feeling an urgency to go to the altar. God was speaking to my heart. We have been through so many trials and difficulties. I am so thankful I have a Savior who never fails me. No matter the situation I'm going through, God is always the answer. My daily prayer is asking God to strengthen my walk in faith, and his will for my life, and my acceptance of that will.  
By Les Butler
First Published by SGNScoops Magazine February 2020
Did you know that you can receive the printed, full-color version of SGNScoops Magazine by subscription? Find out more 
HERE
.
Find SGNScoops Magazine On Facebook 
HERE.
You can download the latest edition of SGNScoops Magazine 
HERE.
Read the latest edition of SGNScoops Magazine online
HERE
.
Listen To Today's Gospel Music
HERE
Tags:
bluegrass
,
gospel music
,
Les Butler
,
Rhonda Vincent
,
SGNScoops Magazine
Posted in
artists
,
sgn scoops magazine
|
Comments Off

on Les Butler and Friends: Rhonda Vincent
Written by Staff on February 29, 2020 – 3:00 pm -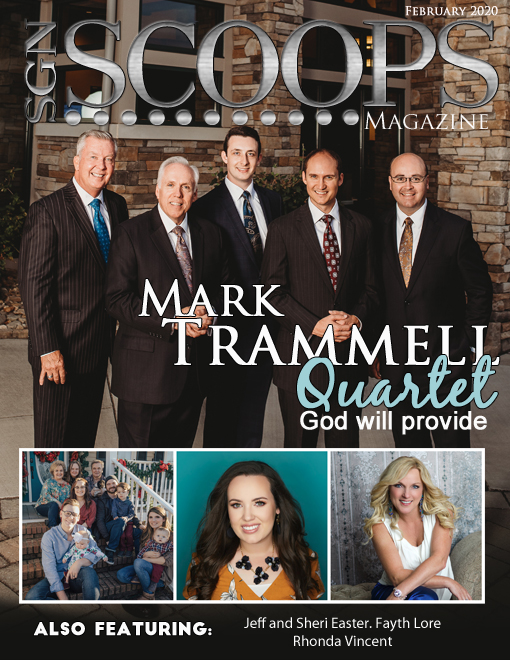 Editor's Last Word for February 2020 SGNScoops Magazine by Lorraine Walker
Thank you for reading the February, 2020, edition of SGNScoops Magazine. Whether you are looking at the online version, or the condensed print version, I do hope that you have enjoyed reading about some of my favorite people. What better way to celebrate February, the month of love, than to celebrate the artists that love their savior, his music, and his people? I need to bring your attention back to the story of Kirsten Alting, and make sure you have prayed for her today. 
I remember hearing Mark Trammell with the Cathedral Quartet years ago when I was only little, well maybe a little more than a baby, and then forming an acquaintance with him in his Gold City days. I have always regarded him as one of the most committed men of God in Southern gospel. His advice was always spot on. As is his dry sense of humor. I've kind of lost connection with him but I'm glad Justin Gilmore was able to connect with him and his men, to draw them to our attention again. 
Jeff and Sheri Easter and their family are some of the nicest people you will meet, and I so enjoyed Jennifer Campbell's article about them and their love for each other and for Jesus. I have to say, it was a toss-up between the Easters and Mark for the cover story, as they were both timely. I hope you enjoyed both and were able to sense the love of God throughout those features.
Special thanks to Lynn Whitely for sharing the story of the Turn Around Church. It's great to read such positive results for a church family when so many of the smaller ones are fading away. 
Dixie Phillips brought us the story of Kirsten Alting, and I knew this was something we all needed to read. Life is fleeting and we need to treasure it. To Kirsten and all who live with chronic, debilitating pain, I understand and urge you to look to Jesus for peace and strength.
I hope you enjoyed the rest of our artists: Fayth Lore, Jimmy Reno, Sammy Ward, and the uber talented Rhonda Vincent. Our writers are also some of the best, and we thank Lyndsey Chandler, Jantina Baksteen, Les Butler, Vonda Armstrong, and Rob Patz. Special thanks to my proofer and encourager, Joan Walker. Of course, you wouldn't see any of this without our creative and design team, Staci and Pete Schwager, and Stephanie Kelley.
How are your resolutions going as we head into month number two of 2020? Are they touch-and-go like mine? Why is it so much easier to create bad habits than to create good ones? I think it may be because bad habits usually come with instant gratification. You eat chocolate, you get a burst of happy juice, also known as serotonin. However, this bad habit usually comes with delayed bad results, such as weight gain. 
Developing good habits is more difficult, I guess, because often the immediate result is discomfort or pain. You begin new exercises, your muscles become sore. Of course, there is the delayed gratification of a stronger body, happier heart, and perhaps weight loss. 
What about that new spiritual habit you are trying to form? More consistent prayer life, more in depth study of the Bible, or perhaps more regular church attendance? Does it interrupt your screen time or sofa time, or perhaps it disturbs some of your predetermined thoughts about God? However, does it also provide the immediate gratification of feeling closer to Jesus, more grounded in your belief, or developing a different outlook on the church family? Be watching for the delayed gratification too, which is experiencing a closer relationship with your Lord. A win-win for sure.
I do hope your habits are good ones to form. By this time next month, they may almost be ingrained in your lifestyle. March on, Christian soldier!
By Lorraine Walker, Editor SGNScoops Magazine
Tags:
Fayth Lore
,
gospel music
,
Jeff and Sheri
,
Lorraine Walker
,
mark trammell quartet
,
Rhonda Vincent
,
SGNScoops Magazine
,
Southern Gospel Music
Posted in
Christian interest
,
sgn scoops magazine
|
Comments Off

on SGNScoops Magazine: Remember making those Resolutions?
Written by SGN Scoops Staff on July 2, 2018 – 9:03 am -
NASHVILLE, Tenn  – Anyone who knows Rhonda Vincent knows one thing – she stays busy! And that's exactly what she's doing this summer. Between her extremely busy touring schedule, recording new music and working on a few more projects yet to be announced, Rhonda is heating up the radio charts and she's doing it with a beloved friend.
Recently, Rhonda and dear friend, Dolly Parton, collaborated on the song "Please" for the project, Restoration: Reimagining the Songs of Elton John and Bernie Taupin. That song is heating up the charts in the Bluegrass world and beyond – hitting the No. 1 spot on the Bluegrass Today chart just last week.
Rhonda debuted the live performance of the song on the Grand Ole Opry not long ago with her daughter, Sally Berry, taking the 'Dolly parts' and the crowd received the song with thunderous applause – clearly loving every single moment!
You can stream "Please" by Rhonda Vincent & Dolly Parton on all music services –
Apple Music
,
Spotify
, Google Play, Amazon Music and others. To purchase the entire project,
Restoration: Reimagining the Songs of Elton John and Bernie Taupin,
on Rhonda's website at
www.RhondaVincent.com
.
Tags:
bluegrass
,
Rhonda Vincent
Posted in
announcements
|
Comments Off

on RHONDA VINCENT & DOLLY PARTON's "PLEASE" HEATING UP THE CHARTS!
Written by scoopsnews on February 13, 2016 – 10:03 am -
Lake Wales, Florida was the place to be last night as The Wine Family hosted their annual homecoming concert at Lake Wales First Baptist Church.
On the program last night was the Wine Family, Jeff & Sheri Easter, and Josh and Ashley Franks. A wonderful time was had by all! Each group performed a top notch set, and the second half was something special! Everyone took the stage together as Jeff Easter hosted and a few songs were sung unrehearsed. Bill Bailey even took the lead on "Jesus Found Me," the old Hinsons Classic.
The church was full of Southern Gospel Music lovers, including Rhonda Vincent, who stopped by to hear her friends Jeff and Sheri sing last night.
More NEWS
Tags:
Bill Bailey
,
jeff and sheri easter
,
Josh and Ashley Franks
,
Rhonda Vincent
,
Wine Family
Posted in
announcements
|
Comments Off

on Wine Family Homecoming News
Written by SGN Scoops on November 12, 2012 – 8:00 am -
BRISTOL, TN  — Doyle Lawson has been voted the President of Bluegrass Music this week in a poll sponsored by Bluegrass Today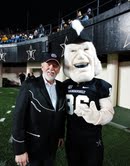 Magazine.  The poll numbers stayed neck-and-neck between Doyle and Del McCoury, with no one else in close contention for the top spot in the first-ever race for President of Bluegrass. The final numbers reflected 37% of votes for Doyle Lawson and 30% for McCoury. 

Lawson's website praised McCoury for running a strong race and Bluegrass Today for sponsoring the good-spirited election whose other nominees included such artists as the Grammy-winning Allison Krauss and Rhonda Vincent.

Of the honor, Lawson wrote:
"Well folks, I am just about speechless (and that's not good for a President) but I want to thank everyone for this extinguished – I mean distinguished honor. And now I must be about my duties as your President, for there is much to be done, and I have quite a mess on my hands.  My intentions are to make all roads lead to Bluegrass music venues, all hit recordings be by a Bluegrass artist, all awards be won by Bluegrass artists, and mainstream Airplay across the board to be BLUEGRASS! That should keep me busy for the first term, and by the end of it I should have a new platform to stump with, should I decide to run for re-election.  And finally, look on the bright side, I am taking no salary for any of this!  Thank you again, my fellow bluegrass music lovers, and Long Live this Music from the Heart!"
 
Doyle Lawson
President of Bluegrass Music
Lawson's acceptance speech was tongue-in-cheek for a fun victory in an election-week themed poll, but his influential reach in helping to build Bluegrass music is very real. Testaments of his devotion and success in Bluegrass range from being a founding member of the IBMA (International Bluegrass Music Association) to helping build the genre with a style embraced for nearly 50 years and almost 40 albums.  The trailblazing Lawson was recently inducted into the International Bluegrass Music Hall of Fame at the Ryman Auditorium in Nashville in September, and Doyle Lawson & Quicksilver were crowned the Inspirational Country Music Association (ICM) Vocal Group of the Year in October at Nashville's Schermerhorn Symphony Center.
For daily photos and updates on Doyle Lawson & Quicksilver, please visit their new official Facebook page at:  https://www.facebook.com/doylelawsonofficial?ref=hl
Photo by Sherri George:  President-elect Doyle Lawson with Mr. Commodore at Vanderbilt Stadium, following Doyle Lawson & Quicksilver's recent National Anthem performance at the Vanderbilt Football Homecoming Game with Massachusetts in Nashville. (Children's Hospital & Arena Tour performance)

Tags:
Allison Krauss
,
Bluegrass Music
,
Doyle Lawson
,
Doyle Lawson & Quicksilver
,
Inspirational Bluegrass
,
Rhonda Vincent
,
vanderbilt
Posted in
announcements
|
Comments Off

on Doyle Lawson Elected President of Bluegrass
Written by SGN Scoops on July 30, 2012 – 1:27 pm -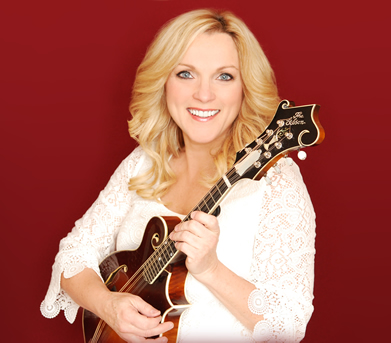 July 30, 2012 ( Nashville, TN) – Grammy® nominated and multi-award winning Bluegrass Queen Rhonda Vincent will join Twitter Queen Jessica Northey as a guest on the very popular Country Music Chat (#CMchat) tonight, Monday, July 30, 2012 from 8:00-9:00 PM CST. The chat, hosted by Jessica Northey, will offer Twitter followers a rare personal glimpse into the woman that is Rhonda Vincent.
Country Music Chat, founded by Jessica Northey, has generated more than 500 million impressions and reached an audience of over 30 million people. The forum is Twitter's first and only registered live country music chat.
"I am very excited to be joining Jessica on Twitter for this very special chat! I can't wait to have a fun time tweeting with everyone!" said Rhonda Vincent.
Northey says, "I am a huge Rhonda Vincent fan and I am beyond ecstatic to welcome her to #CMChat." said Jessica Northey. "This is going to be an extra-special treat for all of us at #CMChat."
To join the Twitter #CMchat on Monday, July 30, 2012 visit: 
www.cmchat.net
About #CMchat
Since it's beginning in May 2011 on Twitter, Country Music Chat (aka #CMchat) has generated over 500 million impressions on Twitter. It is the only registered chat devoted to country music on Twitter. Past guests have included The Oak Ridge Boys, Ronnie Milsap, Barbara Mandrell, Trent Tomlinson, Billboard Magazine, All Access, and more. #CMchat goes live every Monday at 6 PM PST / 9 PM EST.
About Rhonda Vincent
Famously crowned as "the new queen of bluegrass" by the Wall Street Journal, and the most decorated artist in that field. Vincent's music incorporates savvy contemporary touches while drawing deeply from the authentic traditions of classic bluegrass, with a flawless band that can execute break-neck instrumentals to heart wrenching ballads. Her latest project Taken features special guests Dolly Parton, Richard Marx and more. With over eighty awards to their name, Rhonda Vincent and the Rage are the most celebrated band in bluegrass.
Tags:
Bluegrass Music
,
CM Chat
,
Country Music Chat
,
Jessica Northey
,
Rhonda Vincent
Posted in
announcements
|
Comments Off

on THE QUEENS UNITE!
Written by SGN Scoops Staff on July 5, 2012 – 2:44 pm -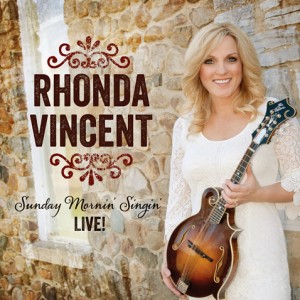 Nashville, Tenn. (Thursday, July 5, 2012) – The Queen of Bluegrass, Rhonda Vincent, has always dreamed of releasing an all-gospel CD and that dream is about to come true! Sunday Mornin' Singin' LIVE!, the first all-gospel release from five-time Grammy® nominee Rhonda Vincent, will be available in retail stores and online on July 10, 2012.
Recorded live at Rhonda's childhood home church, Greentop United Methodist Church in Greentop, MO, this release captures Rhonda, along with her multi-award winning band The Rage, singing gospel classics alongside new favorites with exquisite musicianship and heavenly harmonies resounding through the over 100 year old church.
Seven-time International Bluegrass Music Association (IBMA) Female Vocalist of the Year Rhonda Vincent is known for including Gospel music into her performances and grew up singing Gospel music with her family band, The Sally Mountain Show. Rhonda shared: "This is the music I grew up on – the music that shaped who I am today. My family sang this music all our lives and I've always included Gospel music in every performance. Going back to my childhood church to record this very special project made this moment in time unforgettable and I/m so excited to share this with all my friends."
AOL® Music is currently featuring the CD as part of their weekly Full CD Listening Party along with the soundtracks to the movies The Amazing Spider Man, Abraham Lincoln: Vampire Hunter and more. You can preview the entire CD online at http://music.aol.com/new-releases-full-cds. The free preview will last until July 15, 2012.
Additionally, the CD was featured on Sirius/XM's Bluegrass Junction on a special July 4th edition of Track-By-Track at 11:00 AM EST. It will rebroadcast Thurs. 7/5 at 9:00 PM EST, Sat. 7/7 at 8:00 AM EST and Sun. 7/8 at 11:00 AM EST. Rhonda is featured in magazines such as Country Weekly, Homecoming Magazine, SGN Scoops and on the TV show Inside Music Row sharing thoughts and details about each song on the new CD.
If all that wasn't keeping Rhonda busy enough, release week will find her celebrating her birthday with a special show during the Ryman Bluegrass Series presented by Springer Mountain Farms on Thursday, July 12, 2012. She will also be featured on several Nashville TV shows and on the radio on WSM.
Sunday Mornin' Singin' LIVE! is available on the Upper Management Music label and distributed by Universal Music Distribution. The CD will be available on July 10, 2012 at Best Buy, Walmart, Target, online at iTunes, Amazon and everywhere that great music is sold! You can order an autographed copy at www.RhondaVincent.com.
Connect with Rhonda online at Facebook.com/RhondaVincentOfficial and Twitter @RhondaVincent13
Sunday Mornin' Singin' Live! Track Listing:
1. I Feel Closer To Heaven Everyday
2. Blue Sky Cathedral
3. His Promised land
4. Where We'll Never Say Farewell
5. Silent Partner
6. Just As I Am
7. God Put A Rainbow In The Clouds
8. Prettiest Flower There
9. The Last Best Place
10. Walking My Lord Up Calvary's Hill
11. Fishers Of Men
12. Homecoming
13. Where No Cabins Fall
14. Help Me To Be More Like Him
15. Joshua
16. Old Rugged Cross
Tags:
AOL® Music
,
bluegrass
,
International bluegrass Music Association
,
Queen of Bluegrass
,
Rhonda Vincent
,
Sirius/XM
,
Southern Gospel News
Posted in
announcements
,
christian entertainment
,
Christian interest
|
Comments Off

on Rhonda Vincent Returns To Her Roots!
Written by SGN Scoops Staff on July 2, 2012 – 7:13 pm -
It's a good thing our magazine is digital, you just might burn your hands on this one! Remove your hats, grab a a box of Kleenex and enjoy a Patriotic influenced, Southern Gospel loaded issue of Scoops Magazine!
The Queen of Bluegrass, Rhonda Vincent shares about her latest GOSPEL release! Also in this edition read the latest on Beyond The Ashes,The Sneed Family, The Crist Family, Logan Smith, Libbi Perry, Larry Ford and songwriter, Sue C. Smith! Lorraine Walker offers information about the location of Creekside Gospel Music Convention, Sandi reveals new music- including a review on the Oak Ridge Boys' latest release! Charlie Sexton moves us with an INCREDIBLE story- sure to warm hearts. And…Rhonda Frye tracks down Ernie Haase & Signature Sound on the road.
Between the covers you'll find encouragement and memories from John Mathis Jr. and Jennifer Campbell. Ms. Lou Hildreth shares lyrics to a patriotic song she penned a few years ago, too! Celebrate our Nation's Independence with Laura Kennedy, and get a snap shot of Rhonda's Washington DC Experiences. Rob Patz shares a "Media Minute" with his friends at Good News Radio With Woody Wright and Sandi Duncan Clark shares Karen Peck & New River's Homecoming! Don't miss the latest from KP&NR's by Jeff Hawes either! As if it isn't hot enough outside, our staff has turned the heat up even more! Grab some lemonade and enjoy July's Edition! Please share with your friends! As always…. We're digital- and yes….Always free!
Check Out This Magazine Here
Tags:
Beyond the Ashes
,
Charlie Sexton
,
Creekside Gospel Music Convention
,
jeff hawes
,
Jennifer Campbell
,
john mathis jr
,
Karen Peck & New River
,
Larry Ford
,
Laura Kennedy
,
Libbi Perry
,
Logan Smith
,
Lorraine Walker
,
Ms. Lou Hildreth
,
oak ridge boys
,
Rhonda Frye
,
Rhonda Vincent
,
rob patz
,
Sandi Duncan Clark
,
southern gospel
,
southern gospel concerts
,
Southern Gospel News
,
The Crist Family
,
The Sneed Family
,
Woody Wright
Posted in
announcements
,
christian entertainment
,
sgn scoops magazine
|
Comments Off

on July 2012 SGNScoops Magazine
Written by SGN Scoops Staff on June 15, 2012 – 1:43 pm -
Bluegrass is all about passing the torch. During last week's CMA Music Festival there was a special gathering filled with
songs and inspiration during "Bluegrass Generations," hosted by Sharla McCoy of McCoy and Associates. Award-winning Bluegrass duo The Roys joined Ricky Skaggs, Rhonda Vincent, Dailey + Vincent and Jimmy Fortune during a special in-the-round performance for a large group of radio programmers at Nashville's Tracking Room studio. Each artist discussed their background and musical heroes, and then performed a couple of songs. The one hour event has been packaged for radio.
Tags:
bluegrass
,
CMA Music Festival
,
dailey & vincent
,
Faith
,
Rhonda Vincent
,
Ricky Skaggs
,
Southern Gospel News
,
The Roys
,
Tracking Room studio
Posted in
christian entertainment
,
Christian interest
|
Comments Off

on Bluegrass Generations Come Together In Nashville – Ricky Skaggs, Rhonda Vincent, Jimmy Fortune, Dailey & Vincent and The Roys
Written by SGN Scoops Staff on June 8, 2012 – 1:13 pm -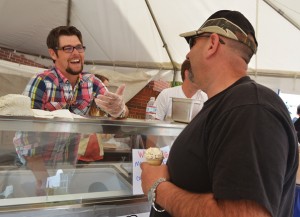 Nashville, TN – June 8, 2012 – Grammy award-winning vocalist, Jason Crabb, partnered with Denali Flavors, developers of the legendary Moose Tracks Ice Cream flavor and Purity Dairy to participate in the 10,000 Scoop Challenge to give away 10,000 scoops of Moose Tracks ice cream during the first day of the CMA Music Festival in Downtown Nashville, TN. Ten thousand scoops of Moose Tracks was given away on Thursday, June 7, 2012 at the First Baptist Church in Nashville, TN with "celebrity scoopers" Jason Crabb, Scott Hamilton (Olympic Gold Medalist Figure Skater), Rhonda Vincent (Award Winning Queen Of Bluegrass), The Roys, and others. For every scoop of ice cream, Denali Flavors donated $1 to Rocketown, a teen center started by Michael W. Smith, with a grand total of 10,000 scoops eaten and $10,000 raised! "We had a great time scooping ice cream," Jason Crabb said. "To be able to support Michael W. Smith and the work he does at Rocketown by giving away some free ice cream was a lot of fun! I was honored to be a part of the event today and I even ate some Moose Tracks myself!"
For more information on Jason Crabb, visit www.JasonCrabb.com, facebook.com/JasonCrabbMusic and twitter.com/JasonCrabbMusic. For more information on Moose Tracks Ice Cream, visit www.Facebook.com/MooseTracks. For more information on Rocketown, visit www.rocketown.com
Tags:
bluegrass
,
CMA Music Festival
,
Denali Flavors
,
First Baptist Church in Nashville
,
Grammy award
,
Jason Crabb
,
Michael W. Smith
,
Moose Tracks Ice Cream
,
Rhonda Vincent
,
Rocketown
,
Scott Hamilton
,
Southern Gospel News
,
The Roys
Posted in
christian entertainment
,
Christian interest
|
Comments Off

on Jason Crabb Partners with Denali's "Moose Tracks Ice Cream" and Purity Daries To Raise $10,000 For Michael W. Smith's Rocketown