Written by Staff on January 21, 2016 – 9:45 am -
SGN Scoops wishes Rick Webb of the Rick Webb Family and Michael Sykes of the Goodman Revival a very very Happy Birthday today!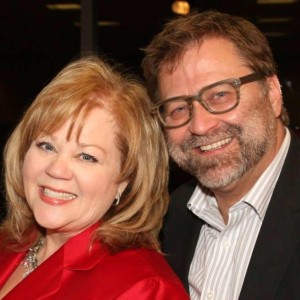 Michael Sykes is the husband of Tanya Goodman Sykes, and is a well-known vocalist, producer, and everything-about-music man. We are so happy that he and his wife and Johnny Minick brought back the sound of the Goodmans with their group, Goodman Revival! The group released its first album last year and the singles have been on the charts ever since! Email goodmanrevival@gmail.com ; Press contact cwinstead@springhillmusic.com
Rick Webb and the Rick Webb Family, consisting of his wife Phyllis, son Parker Webb and daughter Hannah Webb, has been singing for over 34 years. 15 recordings, many number one songs, and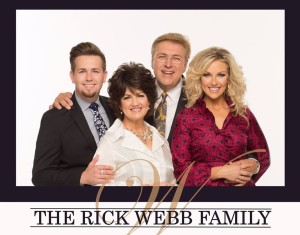 a sound that encompasses all generations, the Rick Webb Family continue to move to the forefront of the Christian music scene! Email RickWebbFamily@aol.com ; Press contact publicity@rickwebbfamily.com
Happy Birthday to these two fine gentlemen!
For more news click here.
Tags:
Goodman Revival
,
Michael Sykes
,
Rick Webb
,
Rick Webb Family
Posted in
announcements
,
artists
|
Comments Off

on Michael Sykes and Rick Webb Celebrate Birthdays!
Written by SGN Scoops Staff on February 6, 2015 – 1:40 pm -
This week's program on "Good News Music Radio with Woody Wright" features Part 2 of our interview with Rick Webb of The Rick Webb Family and music from The Booth Brothers, The Goodman Revival, Rachel West Kramer, Willie Wynn, The Gaither Vocal Band, The Martins and MORE!
Tune-in to one of the stations listed on our site or listen online for an hour of great gospel music, inspiring ministry and fun with Woody Wright and D. Scott Kramer at:
http://GoodNewsMusicRadio.com/
Find Good News Music Radio On Facebook Here
Tags:
Good News Music Radio with Woody Wright
,
Rick Webb
,
Southern Gospel Music
,
Southern Gospel News
Posted in
announcements
|
Comments Off

on This Week on Good News Music Radio with Woody Wright! With Special Guest – Rick Webb
Written by Staff on January 27, 2015 – 9:40 am -
By Candi Combs
In a quaint historic church in southern Virginia, the Rick Webb family recently raised their voices to the rafters. The family of four shares that special harmony reserved for those closely related. The group is lead by Rick Webb and his wife Phyllis. The couple has been singing together most of their adult lives. They are joined with son Parker and daughter Hannah who all hail from North Carolina.
In Rick's opening remarks, he introduced Hannah as a beauty queen who recently appeared with Jeff Foxworthy on American Bible Challenge. "Not only can this gal sing, she is also pretty smart!" quipped her father. Parker is responsible for managing the group's road schedule as well as contributing his smooth vocals. Phyllis introduced herself as a theologian offspring to self-describe her childhood as the daughter of a pastor.
Much of the music preformed comes from the Rick Webb Family's newest release from Committed to the Call. "Heaven's Bells are Ringing" is a song with a happy tempo that was the Webb's choice to open the evening concert. In a tribute to the many challenges of a local church, the Webb's performed, "Let the Church Roll On." Definitely a favorite of the crowd was the performance of "Unclouded Day" from the Cokesbury Hymnal. Rick followed by using his smooth voice to deliver, "I Have Found Him."   Parker then took center stage with his own arrangement of Squire Parsons' "Beulah Land."
The Webb couple shared great stories from their early pre-marital days traveling with Disney's Sounds of Liberty.   The travel schedule was brutal
during that time but they met each other and learned much about this great country called America. These experiences were an excellent introduction to a stirring rendition of "God Bless America."
A unique area of ministry for the Rick Webb Family is a production of Glory and Majesty they direct during the Christmas holiday season in Indiana. Phyllis told the
story of a cast member with special needs who for many years performed his role flawlessly. The Webb's have learned that the man came to a saving knowledge of Jesus though the production and had recently passed away. "Saved through the simplicity of salvation," Phyllis said as she introduced, "If Not for the Old Rugged Cross." "Please don't leave here tonight without being sure you know Him", she cautioned.
The simple call to salvation was highlighted with the song, "Every Knee Shall Bow," as the group opened a time of invitation.   With the room focused on the Cross, the group asked promoter and songwriter, Dawn Smoot Moss to join them on stage to close the night with "Behold He Comes."
The Rick Webb Family has a beautiful gift
of song that is obvious. Perhaps the most intriguing aspect of this group is their sweet spirit as they share what being a Christian really means. Each member of the group warmly welcomes each person they see. Their love for the Gospel does not stop when they step down from the stage. The genuineness of The Rick Webb Family ministry goes from the product table to the local Mexican restaurant where they enjoy baskets of chips.
As owners of Song Garden Music, Rick and Phyllis Webb are committed to developing young artists to carry on the gospel through music. In addition to the project featured at the concert, the Rick Webb Family has also recently released a project targeted at children. Rick stated, "We must be committed to telling the youngest of children about how much Jesus loves them." With great focus, this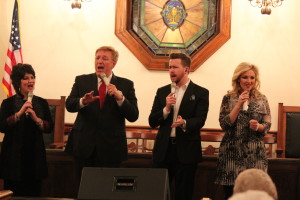 dual-generational family group is making a strong investment in future generations.
Watch for an exciting announcement forthcoming in regard to future plans for the Glory and Majesty production. The Rick Webb Family is seeing doors open to new goals with this ministry. These folks are clearly looking for opportunities from above!
Rick Webb Family music is available on line and at most Christian music outlets. http://rickwebbfamilymusic.com/
Tags:
Candi's Catch Ups
,
Christian Music
,
gospel music
,
Hannah Webb
,
Parker WEbb
,
Phyllis Webb
,
Rick Webb
,
Song Garden
,
southern gospel
,
The Rick Webb Family
Posted in
announcements
,
artists
,
christian entertainment
,
Christian interest
,
concert reviews
|
Comments Off

on Candi's Catch Ups: The Rick Webb Family
Written by SGN Scoops on October 4, 2013 – 6:31 am -
Colfax, NC (October 3, 2013) The multi-talented Rick Webb Family has entered into an agreement with AG Publicity. Traveling from their home town of Colfax, NC the Rick Webb Family travels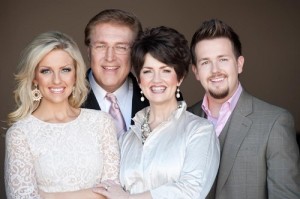 most weekends sharing the Gospel in song to thousands near and far.
Rick and Phyllis Webb began their professional music journey in 1978 with the internationally acclaimed vocal group ReGeneration directed by vocal orchestrator Derric Johnson. From there they sang for Disney and became The Voices of Liberty, the host group for EPCOT Center's American Pavilion.
Rick Webb stated "I have been singing Gospel Music since I was a kid and have never lost my love for the music and what it does for peoples lives. When I discovered that my family wanted to sing with me. Well, it was one of the most joyful and satisfying things to ever happen to me."
Deon Unthank co-founder of AG Publicity said, "It is always a thrill to find a young group who has as much talent as the Rick Webb Family. I have no doubt that they have the ability to go to the top of the Southern Gospel Music genre. The one thing that has really impressed me is their work ethic. They are some of the hardest working individuals I know. Put that hard work together with all that talent and they present a winning combination."
The Webbs have sang in some of the most prestigious churches in the country, including for such respected pastors as Dr. Charles Stanley, Dr. Charles Colson, Dr. David Jeremiah, Dr. Mac Brunson, Dr. D. James Kennedy just to name a few.
Rick Webb has recently taken over the day to day operations of Song Garden Records. This is a huge step that will open many doors for further ministry.
Today, The Webb Family Ministry consists of Rick and Phyllis Webb with daughter Hannah and oldest son Parker .
You can learn more about the Rick Webb Family at http://rickwebbfamilymusic.com or https://www.facebook.com/pages/Rick-Webb-Family .
You can reach the Rick Webb Family by E-mail at webbsinger@aol.com .
The Webbs are booked through Parker Webb and Associates at www.parkerwebbandassociates.com .
Tags:
Rick Webb
,
Southern Gospel News
Posted in
announcements
|
Comments Off

on Rick Webb Family Signs Agreement With AG Publicity