Written by SGN Scoops Staff on August 8, 2012 – 9:10 pm -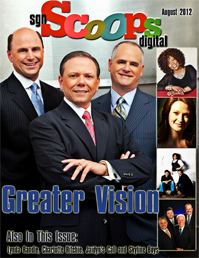 We're serving up another sizzling hot summer issue! This packed August edition unveils the list of the 2012 Diamond Awards Nominees! Also this month, Lorraine Walker, Sandi Duncan Clark, Jennifer Campbell, Charlie Sexton and Laura Kennedy presents the latest happenings in the ministries of Greater Vision, Charlotte Ritchie, Lynda Randle, The Skyline Boys, Jeff Steele and Jaidyn's Call. Look behind the music with Rob Estep as he talks with Ben Storie, and focus on the young with Victoria Shirey as she shines the spotlight on Rebecca Reynolds. Don't miss Rob Patz' Publisher's Point and enjoy a Media Minute with him along with Sylvia Green. Charlie Sexton covers the Lari Goss Celebration and Rhonda Frye catches up with Union Street, Roy Webb and Bruce Taliaferro on the road. Lou Wills Hildreth shares legendary memories, John Mathis Jr. offers a word of encouragement and Laurrette Willis' reminds us to eat healthy! Jeff Hawes shares memories from his home town, and special guest writer, AJ RINALDI offers post-trauma faith sharing tips. We also share our excitement regarding 2 major upcoming events: The National Quartet Convention and Creekside Gospel Music Convention! See what songs are topping the charts and who is releasing new music in this all-digital, all free August Edition! And… Share with your friends!
Download The Magazine Here
Tags:
AJ RINALDI
,
Ben Storie
,
Bruce Taliaferro
,
Charlie Sexton
,
Charlotte Ritchie
,
Greater Vision
,
Jaidyns Call
,
jeff hawes
,
Jeff Steele
,
Jennifer Campbell
,
Lari Goss
,
Lorraine Walker
,
Lou Wills Hildreth
,
LYNDA RANDLE
,
national Quartet Convention
,
Rebecca Reynolds
,
Rob Estep
,
rob patz
,
roy webb
,
Sandi Duncan Clark
,
Sylvia Green
,
The Skyline Boys
,
Union Street
,
Victoria Shirey
Posted in
announcements
,
sgn scoops magazine
|
Comments Off

on August 2012 SGNScoops Magazine
Written by SGN Scoops Staff on April 6, 2012 – 9:11 pm -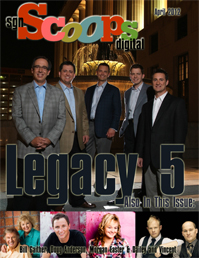 We are excited to present a PACKED April Edition of Scoops Magazine!  Thanks to Lorraine Walker for a fabulous cover story featuring, Legacy Five. We have stories on your favorite artists to include: Doug Anderson, Declaration Trio, Dailey & Vincent, Harold Reed, Jordan Wilburn, Gene McDonald and Morgan Easter. Rob Estep gives us a "behind the scenes" look with promoter, Rhonda Thompson and Lou Wills Hildreth tells us about the very first Dove Awards! Jennifer Campbell shares a very special conversation with living legend, Bill Gaither as he tells the story behind "Because He Lives!" Angela tells us what songs are topping the charts and Jonathan Edwards talks with Rich Crist of the Crist Family. Sandi Duncan Clark reviews brand new music and Rhonda Frye reviews a concert featuring The Greesons, McKameys, Michael Combs and the Singing Cookes.Scott Rhoades and Jennifer Campbell share their thoughts regarding Easter, John Mathis Jr encourages with words of wisdom and Laurette reminds us of the benefits of exercise. We were saddened at the news of the death of southern gospel promoter and friend to many, Jim Arneson. Rob Patz and several friends share the thoughts of Jim. We appreciate you reading our magazine and sharing the link with your friends, family and friends!
Read the Magazine Here
Tags:
bill gaither
,
Crist Family
,
dailey & vincent
,
Declaration Trio
,
Doug Anderson
,
Dove Awards
,
Gene McDonald
,
Greesons
,
Harold Reed
,
Jennifer Campbell
,
Jim Arneson
,
john mathis jr
,
jonathan edwards
,
Jordan Wilburn
,
legacy five
,
Lou Wills Hildreth
,
McKameys
,
Michael Combs
,
Morgan Easter
,
Rhonda Frye
,
Rhonda Thompson
,
Rich Crist
,
Rob Estep
,
rob patz
,
Sandi Duncan Clark
,
Scott Rhoades
,
SGNScoops Magazine
,
Singing Cookes
,
Southern Gospel News
Posted in
announcements
,
christian entertainment
,
sgn scoops magazine
|
Comments Off

on April 2012 SGNScoops Magazine
Written by SGN Scoops Staff on February 7, 2012 – 9:04 pm -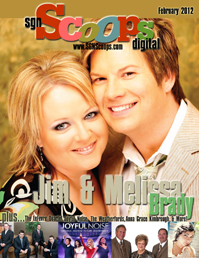 Presenting… The February Edition of SGNScoops Magazine! Jim and Melissa Brady share their sweet love story and their ministry! This month we are also featuring part two of Brian Free and Assurance, The Goldens, Anna Grace Kimbrough and The Lefevre Quartet. Special thanks to our features writers, Lorraine Walker, Laura Kennedy, Sandi Duncan Clark, Victoria Shirey and Angela Griffin!  And….Rob Estep gives a look behind the scenes with Wayne Haun!
We are excited about two special interest stories this month: Karen Peck and Joyful Noise as well as 2nd Generation's Brenda Denney's experience on The Price Is Right. Be encouraged by Lou Wills Hildreth, John Mathis Jr, Jennifer Cambpell and from our newest staff writer, Scott Rhoades.  We've kicked off a series of foreign mission stories too!  This month Angela Griffin shares "Love A Child!"
Don't miss Sandi Duncan Clark's DVD reviews as well as Rhonda Frye's Crabb Family Concert Review. Enjoy a full and exciting issue of SGNScoops Magazine- Home of THE DIAMOND AWARDS!
Download the magazine here
Tags:
2nd generation
,
Angela Griffin
,
Anna Grace Kimbrough
,
booth brothers
,
brenda denney
,
brian free and assurance
,
diamond awards
,
Faith
,
Jennifer Cambpell
,
Jim and Melissa Brady
,
Jim Brady
,
john mathis jr
,
Joyful Noise
,
Karen Peck
,
Laura Kennedy
,
Lorraine Walker
,
Lou Wills Hildreth
,
Rhonda Frye
,
Rob Estep
,
rob patz
,
Sandi Duncan Clark
,
Scott Rhoades
,
sgn scoops magazine
,
Southern Gospel Music
,
Southern Gospel News
,
The Goldens
,
The LeFevre Quartet
,
The Price Is Right
,
Victoria Shirey
Posted in
announcements
,
christian entertainment
,
scoops
,
sgn scoops magazine
|
Comments Off

on February 2012 SGNScoops Magazine
Written by SGN Scoops on December 20, 2011 – 12:21 pm -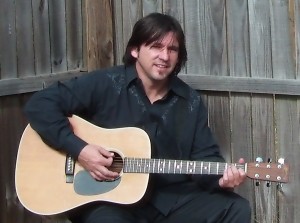 We hope everyone is enjoying December's issue of Scoops Magazine! We are blessed to have a talented staff of writers who love gospel music, ministry and the Lord.  This year, we welcomed several new team members to the staff and all of them have done an exceptional job. John Mathis Jr. shares encouragement and inspiration each month in his "A Mathis Moment" column, Rob Estep gives us a glimpse at what goes on behind the scenes in gospel music, Victoria Shirey shines the spotlight on the younger generation in gospel music and Pete makes our work beautiful by doing a fantastic job with our layout and design!  John, Rob and Victoria have been a great addition to our team. Make sure you read their articles and let them know how much they are appreciated!  For now- they share their favorite Christmas songs!
John Mathis Jr. Says: "My favorite Christmas song is 'Joy To The World' because it just exudes joy and elation about the birth of Jesus, both in the words and its melody. If I had to pick one song to play on Christmas Eve while sitting in the
quiet of my living room with only the Christmas tree lights glowing and the ornaments reflecting their various colors …this would be the one!" 
Rob Este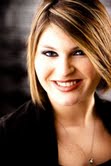 p says:"By far my favorite Christmas Song is 'We Are The Reason!' it was a song that my dad use to sing every Christmas at church! And the message it sends is truly amazing! What better gift at Christmas than the promise of our Father's unending love for us! I love how that song starts off and talks about how we view Christmas as children and then it changes when we realize what the true meaning of Christmas is!" 
Victoria Shirey says: "I like 'Grownup Christmas List,' It speaks of peace and restoration. Especially now more than ever, this world needs that and needs to be shown the love of God."
Pete Schwager says: "My favorite Christmas song is 'Little Drummer Boy' and my favorite version of it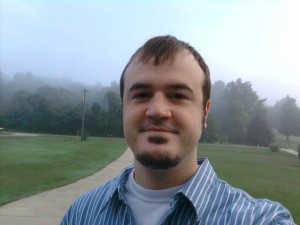 is by Family Force Five. The song itself represents our own gifts that we have to bring to God. He gave us all something(s) that we are talented in, will we recognize it and use it (or them) for His glory?
 Merry Christmas from the staff of SGNScoops Magazine!
Tags:
John Mathis Jr. SGNScoops
,
Pete Schwager
,
Rob Estep
,
Victoria Shirey
Posted in
announcements
|
Comments Off

on More Favorite Christmas Songs From The Scoops Staff
Written by SGN Scoops Staff on October 24, 2011 – 7:18 pm -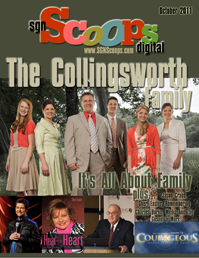 We are proud of this month's issue of SGNScoops Magazine. In the October edition, read the inside Scoop on the Collingsworth Family, Jason Crabb, Sheri LaFontaine and Adam Brown. This month's album reviews feature new music from Russ Taff, Selah, Four Fold and Crawford Crossing.  Be sure to read a review on Sheri Easter's new book, "Hear My Heart."  Staff writer, Lorraine Walker has written part one of a three part series concerning the media and the gospel. This month, the focus is on the Christian Film Industry and  the new movie "Courageous" is highlighted. Publisher, Rob Patz shares his thoughts about NQC  and the late Charles Burke is remembered by many friends in this issue. As always, this edition offers plenty of inspiration and encouragement to lift spirits. We are proud of our experienced staff of writers for bringing the latest developments in the Southern Gospel Industry with integrity. This month's contributors include Sandi Duncan Clark, Lorraine Walker, Stephanie Kelley, Rob Estep, Jeff Hawes, Lou Wills Hildreth, Jennifer Campbell, Victoria Shirey, Laurette Willis, Rhonda Frye, Rob Patz and our newest addition- John Mathis Jr.  We also welcome our new layout/ graphic designer, Pete Schwager to the staff. Thank you for reading SGNScoops magazine and please remember to share it with your friends! Click Here
Tags:
Charles Burke
,
collingsworth family
,
Courageous The Movie
,
Four Fold
,
Jason Crabb
,
jeff hawes
,
Jennifer Campbell
,
Laurette Willis
,
Lorraine Walker
,
Lou Wills Hildreth
,
Rhonda Frye
,
Rob Estep
,
rob patz
,
russ taff
,
Sandi Duncan Clark
,
Selah
,
Sheri LaFontaine
,
southern gospel
,
Southern Gospel News
,
Stephanie Kelley
,
Victoria Shirey
Posted in
sgn scoops magazine
|
Comments Off

on October Issue of SGNScoops Magazine
Written by SGN Scoops on August 1, 2011 – 2:58 pm -
"Often times our fans, friends and loved ones think life on the road is a glamorous lifestyle, and that it is all perfect and such.  Of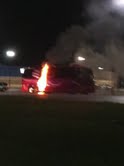 course there are so many blessings daily of being able to go out on the road and share the good news with the powerful tool of music, so the good always outweighs the bad.  This last weekend was one of those "growing and maturing" weekends and a time where we saw and experienced the hand of God mightily in spite of what is a disastrous time. 
On Friday July 29th, Beyond The Ashes started out on another normal weekend of traveling and ministering.  This weekend would be a little more fun because we were headed to the Tri Lakes Center in Branson, MO to be with our friends the Martins. After a great concert and all of us saying our goodbyes we left Branson around 10:30pm.  Anthony started driving our seven and half hour trek towards Owensboro, KY for our concert on Saturday night.  After driving for a little over two hours, he decided to pull over at the closest Walmart. We were in the small town of Marshfield, MO for the night, just down the road from Springfield.  He parked the bus and he, our dear ministry friend Dusty Wells, and I sat in the front lounge discussing ideas and sharing our hearts in regards to the ministry of Beyond The Ashes.  Kellan and Casey had already headed to bed for the evening. Around 1:15 AM Dusty and Anthony decided to call it a night, and so Anthony went to his bunk and Dusty went to the back of the bus to lay down on the back bed,  and I went into
WalMart to grab a few groceries. I finally laid down and remembered looking at my phone for the last time at 1:58AM.  I quickly drifted off to sleep.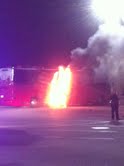 At about 2:20AM I was abruptly awakened to see Dusty run to the front of the bus in a panic saying that he smelled a funny burning smell.  Then Anthony came flying out of his bunk and ran to the front of the bus and looked out the doors and that funny smell was smoke billowing out of our bus around the battery bay.  Anthony quickly yelled "fire" and everyone was out of their bunks in a split second. I don't remember much but thinking to grab my phone, wallet, and t-shirt. We all had safely made it off the bus and were standing about 20 feet away from the bus on the opposite side of where the smoke was coming from.  Then I remembered  looking under the bus and seeing a bright orange glow! As we all ran to other side of the bus we saw the flames coming out of the battery bay.  The next instinct for all of us was to call 911, and to notify the people that were in the surrounding vehicles and get them moved away from the bus in thoughts that the bus may explode. Casey took off across the parking, shirtless and barefoot, and went into WalMart in hopes they could make an announcement. I was on the phone with the 911 operator at 2:35AM. The fire department arrived minutes later as we watched our home on the road going up in flames. To say each of us were in shock is a understatement.  The feeling of hopelessness and so many thoughts in each of our heads, especially Anthony who has worked so diligently and faithfully to guard and protect the ministry of Beyond The Ashes. 
The firemen quickly put the fire out on the side of the bus where it apparently had begun.  So strange to see that only fiberglass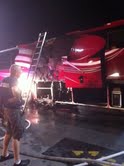 separated that fire and the bunk area where Kellan and I's bunks were! One of the firemen went on the bus and gathered shoes for us to put on. After a little bit of time to make sure there was no danger for us, we were then allowed to go into a  very smoke filled bus and grab our and computers.  Each of us were so quiet and filled with a wide range of emotions as we began to survey the damage.  
We all finally got to bed around six am on Saturday morning and we got a little sleep or at least tried to!   The fire department, police and WalMart staff were so helpful and called a Holiday Inn a few blocks away to make sure we could get a room.  They even took us over there with our smoke filled luggage and salvageable belongings.
Later that morning we all woke up to a tremendous out pouring of texts, emails, and phone calls.  While this very scary experience we learned several things. I think the two greatest things that I learned is that our God is more faithful to protect His children than I could ever realize! The other thing I learned is that we have some wonderful friends, who all just started doing what they could to help any way they could! We did have to cancel our Saturday evening concert but with encourage words from many we felt very strongly that God wanted us to go on to our two services for Sunday. We were able to rent a vehicle one way after several hours and then a 11 hour drive to Eastern Kentucky, we did make the dates.
 While we are so thankful and extremely grateful that we made it out  of this very scary situation,  we now start the process of seeing what is salvageable if anything!  The insurance claims, the ruined product, the damaged sound system and then to find another means of transportation so we can continue to press on in the ministry with what we KNOW AND BELIEVE God has entrusted us with.  We simply ask that you keep Beyond the Ashes in your prayers and thoughts. Again, thank you…thank you… all for the tremendous love, care, concern, encouragement and support that you have shown and are still showing to us! We love you!   We cannot do this without you!"
Tags:
Beyond the Ashes
,
bus fire
,
Rob Estep
,
sgnscoops
,
Southern Gospel News
Posted in
exclusive report
,
Prayer Requests
|
Comments Off

on Rob Estep From Beyond The Ashes Talks to Scoops about Bus Fire