Written by Staff on October 18, 2015 – 8:48 am -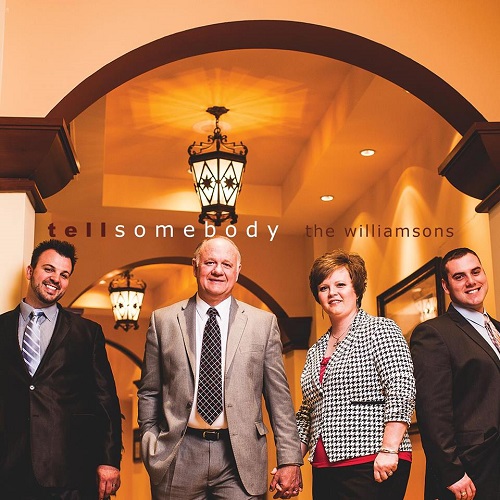 Weleetka, Oklahoma (October 16, 2015) Excitement is the best description for the Williamsons today as they have earned their first #1 on the Singing News Magazine Monthly Chart for the month of December 2015. [Editor's note: The Williamsons also acheived Number One with "Shout" on the SGN Scoops Top 100 Chart for October 2015.]
Penned by Lee Black and Gina Boe, and sent to radio by Family Music Group,"Shout" is a joyous song taking you through history from Joshua to Gideon and on to the our King coming again. Something special happens when God's people "Shout".
The Williamsons have become one of the most polished mixed quartets in the entire Southern Gospel Music genre. Coming from their latest album Tell Somebody, this may not be the only #1 song you will see and hear from this dynamic young group.
Group manager Donnie Williamson stated, "What a blessing we have received with our first #1 song. This is certainly a group effort. I believe we have the greatest singers in the Gospel Music world with Karl Rice, Darin Hebert, and my wife Lisa. It's also the hard work of Donna King who produced this song and Les Butler who did so well with radio promotions. Also a big thank you to the radio DJs who helped by playing this song. This is truly a blessing from the God we serve and sing about each week."
If you would like to interview the Williamsons contact AG Publicity at info@agpublicity.com .
You can learn more about the Williamsons by going to http://www.williamsonsmusic.com or https://www.facebook.com/pages/The-Williamsons .
To book the Williamsons contact scheduling@thedominionagency.com .
####

About The Williamsons
The Williamsons began sharing the Gospel through music in 1998 as The Homesteaders Quartet. The dream of Donnie Williamson was to form a group to sing classic Gospel music on a limited basis. What he wanted to do never occurred. From the group's onset their demand was overwhelming. Soon they were performing more than 100 dates a year. For the past several years The Williamsons have been in full time Christian ministry and entertainment and have traveled across the United States, Canada, and Mexico. Their music has been in national charts and were they honored to be nominated to the Gospel Music Association for a Dove Award.
Their high energy musical style appeals to people of all ages. The versatility of The Williamsons is evident through the wide variety of musical styles they perform. There is always something for everyone. The marketing of their performances targets families and not just fans of any particular type of music. Spending an evening with The Williamsons is sure to be one that will lift you up, bless you, and entertain you all at the same time. Their primary desire is to share the Gospel in such a way that those in attendance who do not know Jesus Christ will come to know him before the program is over.
The Williamsons will be appearing at the 2015 Creekside Gospel Music Convention, November 2-5, Pigeon Forge TN at the Smoky Mountain Convention Center. Read more here and on the Facebook page. Get your free tickets HERE.
For more artist news and information, read the SGN Scoops Facebook page and LIKE us today.
Tags:
Donnie Williamson
,
Family Music Group
,
Shout
,
Southern Gospel Music
,
Williamsons
Posted in
announcements
,
artists
|
Comments Off

on The Williamsons Achieve First Number One Song
Written by Staff on October 9, 2015 – 2:19 pm -
In 1969, The Williamsons Gospel music group had its beginning when Woody Williamson, a Baptist pastor, brought his wife Eula Mae – nicknamed Pinky because her hair was red, his son Donnie and his daughter, Tennie to the platform to sing. They sang for their church and began singing at other churches in the area and this was the root that helped to grow into the current group.
The Williamsons continued with the occasional singing dates until about 1979 at which time Donnie joined the Antone Indian Family, a Native American group from Canada singing Southern Gospel music. He traveled with them for a couple of years and came back home to go to college. After returning to college however, he was always singing or playing with various groups. Donnie states, "You kinda get the Gospel music bug and you can't get rid of it."
In 1998, Donnie organized The Homesteaders Quartet, not intending to do much traveling; but Donnie was surprised at how popular they became and before long they were doing over 100 dates a year.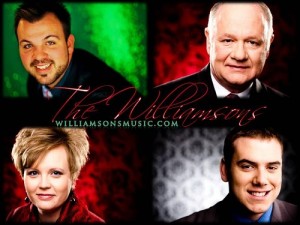 In late 1999, Donnie's sister felt she needed to stay home because her husband had recently been saved and she was also having some health issues. Although Lisa was singing with another group, Donnie asked her to fill in for his sister and she accepted the position. On New Year's Eve 1999 Donnie asked Lisa to join the group permanently. Lisa says, "We decided we liked each other so much we would stay together forever," and they were married in 2003. They traveled as The Homesteaders Quartet until 2010 at which time Donnie returned to his roots by renaming the group The Williamsons. Now the music of The Williamsons continues.
Tags:
Antone Indian Family
,
Creekside Gospel Music Convention
,
Donnie Williamson
,
Shout
,
southern gospel
,
The Homesteaders Quartet
,
Williamsons
Posted in
artists
,
sgn scoops magazine
,
special feature
|
Comments Off

on The Williamsons: The Music Continues