Written by scoopsnews on December 15, 2018 – 7:26 am -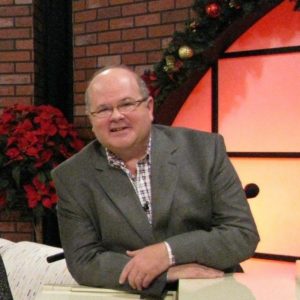 December is a time for sharing. At Christmas, we (Christians) celebrate The Greatest Gift of All, Jesus Christ.
Over the next few weeks we will be talking with many industry leaders, artists, pastors, promoters, etc. and asking them questions.  They will "share" the answer to the question in 10 seconds or less. We are asking for their best advice on many different topics.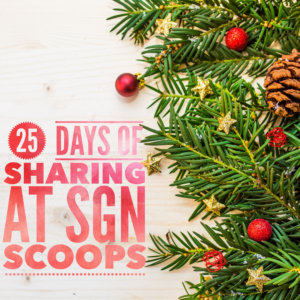 Question #15  goes to Danny Jones, Publisher of the Singing News Magazine.
Danny, you've been around gospel music for a long time. You have emceed many concerts.
In 10 seconds or less, do you have an unforgettable moment you can tell us about? 
Tags:
Danny Jones
,
Singing News Magazine
Posted in
announcements
|
Comments Off

on "25 Days of Sharing"- Danny Jones
Written by SGN Scoops on April 10, 2014 – 10:18 am -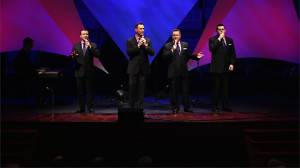 Ringgold, GA 04-10-2014- In conjunction with Sagemont Church, Houston Texas, The Old Paths Quartet have released their first "Live" music video featuring their hit radio single, "Long Live The King." This video is part of a complete concert DVD and was produced by veteran producer Ron Ingram, best known for his involvement with previous Crabb Family video productions and the famous Cathedrals, Alive Deep in the Heart of Texas Video.  The song, "Long Live The King,"  written by Dianne Wilkinson and Chris Binion, tells of the crucifixion, the mockery of Jesus, the judgement of sinful man, and the return of Christ to reign forever as King! The song currently sits at #3 on the Singing News Charts, and is an amazing, timely song for this Easter season.
Photo: From left to right: Josh Townsend, Jeremy Peace, Tim Rackley, Doug Roark, and Daniel Ashmore
Tags:
Gospel Music Videos
,
Singing News Magazine
,
Southern Gospel News
,
The Old Paths
Posted in
announcements
|
Comments Off

on Live Music Video Release By The Old Paths Quartet
Written by SGN Scoops Staff on July 18, 2012 – 10:56 am -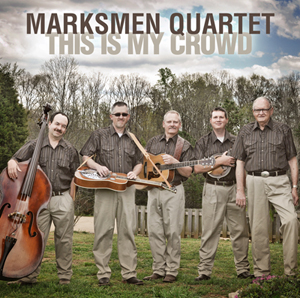 Nashville, TN (July 18, 2012) — Rural Rhythm Christian is proud to announce the upcoming July 31, 2012 new album release, THIS IS MY CROWD by the multi-award winning group, the MARKSMEN QUARTET. "In their decades of recording, I must say this new release tops them all. Amazing," said Les Butler, Syndicated Radio Show Host, Front Porch Fellowship and Singing News Magazine.
There are numerous highlighted tracks on the album including the first gospel single, "Don't Take Your Life (Take Mine)" that has already been released to Gospel radio, plus the first Bluegrass single, "Stack Them Stones" releasing to Bluegrass and Bluegrass Gospel radio programmers today.
THIS IS MY CROWD is a diverse collection of songs designed to reach as many people with the gospel message as possible including Bluegrass Gospel, Country Inspirational, Old-Time Southern Gospel, with a touch of Convention Singing and even some Blues. Band member, Mark Wheeler explained, "THIS IS MY CROWD contains some of the best songs we have ever recorded."
The album was produced by Earle Wheeler and Mark Wheeler and mastered by Steve Gulley. THIS IS MY CROWD contains some special guests including Les Butler, Bryan McDowell and Jon Edmisten who have assisted the MARKSMEN QUARTET in creating a fresh new album of 14 songs that will delight their fans and surely make many new ones.
Tags:
bluegrass
,
Faith
,
Les Butler
,
marksmen quartet
,
new music
,
Singing News Magazine
,
Southern Gospel News
Posted in
announcements
,
christian entertainment
,
Christian interest
|
Comments Off

on MARKSMEN QUARTET Gearing Up for New Album Release THIS IS MY CROWD releasing July 31, 2012
Written by SGN Scoops on August 17, 2011 – 4:26 am -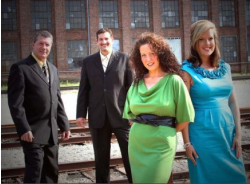 NASHVILLE, Tenn. – Powerful Country/Southern Gospel group Heavens Highway continues their winning streak at radio this month. The group's new single, "God Has a Champion," has become their lastest to be one of the most added songs at Southern Gospel radio.
 
"God Has a Champion" ranked #7 on the upcoming September 2011 edition of the Singing News Magazine's Top 10 New Releases Chart. That particular chart highlights the biggest new singles to hit Southern Gospel radio during the reporting period.
 
"We are so excited to see that radio has gotten behind this song," mentioned Heavens Highway's David Timms. "Southern Gospel radio has been so kind to us, and we are so grateful for the response we have seen all over the country at radio."
 
"God Has a Champion" is the debut single from the group's much-anticipated Homeland Entertainment debut album – Revived. The single was written by Dove Award-winning songwriter Gerald Crabb.
 
The group's four previous singles have also had strong runs at Southern Gospel radio. "Longing to Go" broke the Top 40 on both the Singing News Magazine Top 80 and AbsolutelyGospel.com Top 40 Chart. "When God Makes a Promise," "Set Me Free From Me," and "Back On Top Again" were all regular charting singles on the AbsolutelyGospel.com Top 40 Weekly Chart.
 
Heavens Highway's debut for Homeland Entertainment will be released in the coming weeks.
 
For more information on Heavens Highway, visit their website at http://www.heavenshighwaymusic.com .  You can also visit the band on MySpace at http://www.myspace.com/heavenshighwaygospel .
 
About Heavens Highway
Heavens Highway is one of the most powerful Country/Southern Gospel Groups in North Mississippi. Heavens Highway ministers to literally thousands each year in churches and benefits. For over seven years, their primary goal is to see lost souls saved and the lonely, hungry and misguided people of this world find peace in the Lord Jesus Christ.
Tags:
Absolutely Gospel
,
David Timms
,
gerald crabb
,
heaven's highway
,
homeland entertainment
,
Singing News Magazine
,
Southern Gospel Music
,
Southern Gospel Music Charts
,
Southern Gospel News
Posted in
announcements
|
Comments Off

on Heavens Highway Continues Winning Streak at Radio with New Single