Written by Staff on February 12, 2020 – 5:26 am -
In this edition of Sweetheart Stories, Marcie Gray, of Gray Dove Ministries,  tells us about how she met – and remet –  and married the love of her life, Donovan Curtis.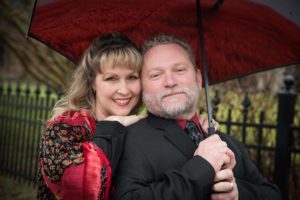 The Most Unlikely Couple By Marcie Gray
If there had been a class vote, Donovan and I would have been voted "most unlikely couple!" We both attended Los Angeles Baptist High School in California and have known each other since middle school.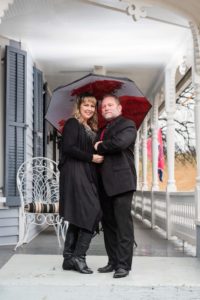 We were acquaintances and had many mutual friends, but never dated in school and had lost touch after we graduated. Both of us married and had families, moved out of California and experienced both joy and heartache along life's journey.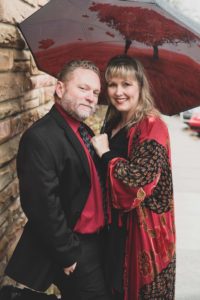 Thanks to social media, we reconnected about 10 years ago. We watched each other's children grow, prayed for one another and even met for coffee with our families a couple of times over the years.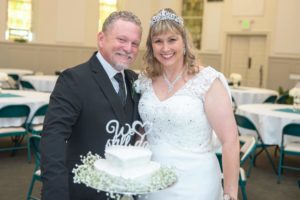 It wasn't until I was diagnosed with cancer that Donovan realized that his feelings of devastation were based on more than just concern for my health. There was a spark there that took him by surprise.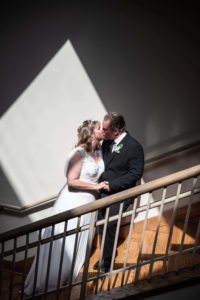 When he shared his feelings with me, I was in the midst of raising my teenaged daughters alone while battling cancer, so I friend zoned him. An entire year later, after things settled down a little, I wondered if he had moved back out west, so I reached out to him. I reluctantly agreed to meet him for a "get together," thinking of how awkward it would be if there was no chemistry and he still had feelings for me.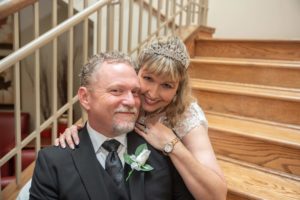 Donovan went all out! We met on a beautiful spring day, and he surprised me with a picnic in the park under a giant shade tree – complete with a bouquet of flowers. After just a few minutes of visiting, I noticed his adorable Irish grin and sparkling blue eyes and wondered how I had never seen him in that way before. Such a gentleman, yet so hilarious and full of mischief. We knew instantly that God was up to something special.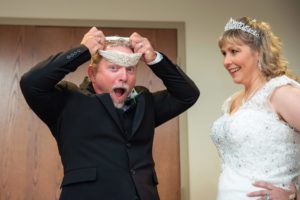 Both of us had our hearts broken in the past, so there was much to discuss, but after praying about God's will for our lives, it was evident immediately that He had prepared both of us for such a time as this. What a beautiful thing God did, growing the hearts of childhood friends into a bond that made us best friends instantly.
We made two road trips out to California and back, taking turns driving so we could drive straight through. That amounted to almost 7,000 miles of conversation and prayer time together, as Donovan helped me move my parents from California to Tennessee. The question quickly changed from "if," to "when" we would tie the knot.
One of our favorite memories was meeting a couple of mutual friends from high school for coffee. They had no idea we dating, so we came up with a plan to surprise them with the news. The problem was, they were deep in conversation about something and when I was supposed to say something outrageously flirtatious toward Donovan, we couldn't even get their attention. He ended up just planting a big, wet kiss on me, which stopped them in their tracks and they both started yelling and hollering right in the courtyard at Starbucks. Their reaction was hysterical! Sharing with friends from high school has been a lot of fun, and our classmates have all been supportive and happy for us.
Donovan travels with me when I sing and speak at events and is an amazing audio engineer, so I'm spoiled rotten with a husband that supports my ministry in so many practical ways. I did it for many years alone, so I will never take this partnership for granted!
Life takes us on some interesting journeys. Some roads we travel are exciting and fun, others heartbreaking and exhausting. We are so very thankful that God has connected these two California kids as soul mates, and we look forward to many years of serving the Lord together, encouraging people wherever the Lord takes us that God has a terrific sense of humor and when you trust Him with your life, He may very well surprise you in ways you can't imagine! Happy Valentine's Day, everyone! 
Photo credit: Wendy Ivens Photography
Marcie Gray is a singer-songwriter, speaker, writer, and occasionally appears in SGNScoops magazine. Marcie is also the producer of Smoky Mountain Gospel Jubilee.
Do you have a sweetheart story you would like to tell us about? Please write to me at Lorraine@sgnscoops.com
Tags:
gospel music
,
grey Dove ministries
,
Marcie Gray
,
Smoky Mountain Gospel Jubilee
,
Southern Gospel Music
,
sweetheart stories
,
Valentine's Day
Posted in
artists
,
Christian interest
|
Comments Off

on Sweetheart Stories: Marcie Gray and Donovan Curtis
Written by SGN Scoops Staff on December 3, 2019 – 1:08 pm -
For the past eight years, Gospel Music Recording Artist, JP Miller has hosted the Smoky Mountain Gospel Jubilee. The show is live on Praise 96.3FM radio and taped for television that airs four times a week both locally and regionally.  Miller invites guests and gospel music industry friends to appear on the program in front of a live audience at Ogle Furniture Outlet on Dolly Parton Parkway in Sevierville.
Many local and national artists have appeared on the show such as Lu Lu Roman, Triumphant Quartet, The Kingdom Heirs, and Michael Combs.  Artists perform songs and are interviewed by JP.  Fans enjoy the show sitting in recliners in the furniture store.  The most comfortable seats in town!
This Monday, December 9, 2019 is a rare treat!  SNL Alumni, Victoria Jackson will appear on the show! Victoria and JP Miller met while hosting an awards show at the Grand Ol Opry in Nashville two years ago. They quickly became friends as they discussed their faith and their passion to share Christ during their careers. When Victoria had an opening in her schedule, she agreed to appear on the show.
Born in 1959, Victoria Jackson grew up in a Bible-believing, piano-playing, TV-free home in Miami. Her father coached gymnastics so she competed from age 5-18. Her gymnastic skill led to a college scholarship to Furman University, where she was cast in her first play and was bitten by the acting bug.
When Johnny Crawford (The Rifleman) met her at a Birmingham summer stock production, he bought her a one-way ticket to Hollywood to be in his night club act. For two years, she held odd jobs in the show-biz capital — as a cigarette girl, waitress, and typist — until Johnny Carson noticed her stand-up routine and put her on The Tonight Show… twenty times. After that, she starred in many movies and TV shows, most notably six seasons on Saturday Night Live.
Jackson was reunited with and married her high school sweetheart, helicopter pilot Paul Wessel in 1992 and when he retired in 2013 from the Miami Dade Police Department, they moved to Nashville to be near their daughters and grandchildren. Jackson still appears in occasional films, does stand-up comedy, sings her original ukulele songs around town and currently plays Eric Estrada's wife in the new Pureflix sitcom "Malibu Dan Family Man." (Release January, 2018.)
The public is invited to attend this special program of the Smoky Mountain Gospel Jubilee. Ogle Furniture Outlet is located at 1063 Dolly Parton Parkway in Sevierville. The show starts at 6pm. For more information, visit: www.smokymountaingospeljubilee.comor https://www.facebook.com/smokymtngospeljubilee/
Photo Captions:
Victoria Jackson, Saturday Night Live Alumni
Victoria Jackson and JP Miller pictured at the Grand Ol Opry in Nashville, TN hosting an awards show for Inspirational Christian Country Music.
Tags:
Smoky Mountain Gospel Jubilee
,
Southern Gospel News
Posted in
announcements
|
Comments Off

on Saturday Night Live Star, Victoria Jackson to appear locally on the Smoky Mountain Gospel Jubilee!
Written by Staff on March 22, 2019 – 12:46 pm -
Sevierville, TN – Eight years ago, J.P. Miller got a call from his friend, Ron Ogle. Ron asked J.P. to host a live radio show from Ogle Furniture Outlet every week and to invite his gospel music friends to perform on the program. Although J.P. had his reservations, he accepted the task and created the Smoky Mountain Gospel Jubilee. Life for J.P., Ron and Betty Ogle and Ogle Furniture Outlet has never been the same.
J.P. Miller stated, "When my phone rang and I saw it was Ron, I got nervous. You never know what Ron is calling about. When he first presented his idea, I thought it would fail. Who would want to come to a furniture store during the week and hear gospel music? Nothing like this has been done before. Because Ron and Betty Ogle were such good friends and helped me in so many ways, I told him I would try to make it happen. I called Jamie Lewis at Praise 96.3 to set up the show and began to call my gospel music friends. When it came time for our first show I thought maybe 10 people would show up. It was standing room only and things have grown so much from that night."
They were on to something! The Smoky Mountain Gospel Jubilee has become a fixture for locals and tourists alike. Each Monday at 6:00 p.m. guests enjoy sitting in their favorite recliner and watching gospel singers perform on a stage constructed from a 200-year-old grist mill Ron Ogle salvaged several years ago. They have done over 300 live shows and over 25,000 guests have attended the show in person. A couple of years into the show's success they added television to their production with over 100 shows taped to date.
Ron Ogle shared, "Betty and I wanted to showcase J.P.'s talent in singing and his natural ability to talk and interview guests. We not only have singers perform, but we have also featured and advertised many local and national ministries and non-profit organizations. The show is J.P.'s. I told him I wanted something to benefit the community and something that lifted up the name of Jesus. I think the show has done that over the years. People stop me every day because they see me in my Ogle shirt. They don't have any idea that I'm the Executive Producer. They tell me how much they enjoy the program and how much it means to them. I like that they don't know me so they really tell me what they think."
It has become a life changer for show host, J.P. Miller. Miller celebrates 20 years of working in gospel music this year. He started working at Dollywood's Southern Gospel Music Hall of Fame fresh out of college and then took a position hosting a weekly television show on Gospel Music Television with gospel music icon, Lou Wills Hildreth. Miller has toured extensively throughout the United States and abroad with several recordings to his credit. With the show's success, he has cut back singing to two weeks a month because of the demand of the weekly program.
"I can't do it alone anymore!" Miller states. "I have added staff and sponsors to the program to keep up with all the details and allow the program to expand."
Marcie Gray acts as Miller's Producer as well as his Business Manager and Agent. Landree Brotherton is the Assistant Producer. Jack Allen serves as the Audio Engineer and Dale Burress is in charge of television production. The entire show is paid for by Ron and Betty Ogle and Ogle Furniture Outlet. In recent years, additional sponsors have been added such as Tony Gore's Smoky Mountain Bar-B-Que, Wedding Bell Chapel, KARM Thrift Stores, and Riverbend Campground.
"I'm so grateful for the show. It has become such a big part of my life. I would have never dreamed we would last this long and it doesn't look like we are close to stopping now! As long as people are blessed by the program and stay interested, I think we will stay on the air. I am truly thankful for Ron and Betty's support and the store's manager, Nathan Costerisan who allows us to come into his store each week and turn it into a church!"
To celebrate their 8th anniversary, The Smoky Mountain Gospel Jubilee will feature performances by J.P. Miller and the Kingdom Heirs on Monday, March 25, 2019, at 6:00 p.m. There will be a silent auction before and during the show and prizes will be given away when the show ends. They will be taping the show for television that night and a big crowd is expected to attend. The show is free and open to the public. Ogle Furniture Outlet is located at 1063 Dolly Parton Parkway in Sevierville.
Tags:
gospel music
,
J.P. Miller
,
Ogle Furniture
,
Ron and Betty Ogle
,
Smoky Mountain Gospel Jubilee
,
Southern Gospel music. Kingdom Heirs
Posted in
announcements
,
artists
|
Comments Off

on Smoky Mountain Gospel Jubilee celebrates 8 years