Written by SGN Scoops on February 10, 2014 – 12:10 pm -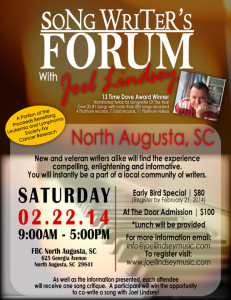 Nashville, TN (February 10, 2014) Multi- Award winning songwriter, Joel Lindsey will present "Songwriter's Forum With Joel Lindsey" on February 22, 2014 in North Augusta, South Carolina. With over 20 number one songs and more than 800 songs recorded, plus 13 Dove Awards, 4 Platinum records, 7 Gold records, and 11 Platinum videos to his credit, Lindsey will share songwriting wisdom and experience with new and veteran songwriters. In addition to learning songwriting skills, attendees will benefit from one constructive songwriting critique.  One person will also be given the opportunity to co-write a song with Joel Lindsey.
"I love spending time with other songwriters talking about the ins and outs of what makes some songs connect with people more than others," Lindsey stated.  "I've been doing this for 25 years now and it's a never-ending pursuit of trying to figure out how to communicate a song idea effectively.  So for me, to have the chance to get in a room with other songwriters and to be able explore and examine all of that is a great opportunity.  I have learned some tricks of the trade that I love to share, for sure, but I also find that every time I do something like this I learn great lessons as well. Songwriting is a great passion of mine but also, as a cancer survivor, raising money for cancer research is a great passion as well.  So, doing forums like this gives me a chance to combine two great interests of mine in one day."
The "Songwriter's Forum With Joel Lindsey" will be held at the First Baptist Church of North Augusta, 625 Georgia Avenue, North August, South Carolina and will last from 9:00 AM to 5:00 PM.  A portion of the proceeds will benefit the Leukemia and Lymphoma Society for Cancer Research.  For registration costs and more information, visit http://joellindseymusic.com
Tags:
Christian Music
,
Joel Lindsey
,
songwriting
Posted in
announcements
|
Comments Off

on Songwriter's Forum With Joel Lindsey
Written by SGN Scoops on October 24, 2013 – 8:38 am -
The Farm Hands Bluegrass Quartet is rich in songwriting talent. Bass player Daryl Mosley, banjo player Bennie Boling and guitarist Kevin Williamson have each had successful careers writing songs recorded by numerous bluegrass, country, and Christian artists. Now, the band is offering an exciting opportunity for an up-and-coming songwriter to have a song recorded and released nationally on the next Farm Hands CD.

Daryl Mosley, writer of one of the biggest songs in gospel music history- 'He Saw It All', says the band empathizes with the struggling songwriter.  "We remember what it was like, as a young songwriter, to have songs you really believe in, but not have the relationships necessary to get the songs to recording artists. We want to be proactive in helping songwriters get a real start."

From now until December 15th, the band is asking songwriters who have never had a song recorded by a national, touring artist to submit their best song. "We will listen to all of the songs submitted and select one that will be included on our next CD," says Bennie Boling, writer of songs recorded by The Oak Ridge Boys, Gene Watson, and others.  "I'm excited to hear them. I know there are some real gems out there."

Kevin Williamson, who has written songs for Claire Lynch and others, is hopeful this will help someone get a head start on their dream. "We owe a debt of gratitude to those who helped us along when we were first getting started. The best way to pay that debt is to do the same for others."
Tags:
bluegrass muisic
,
farmshand quartet
,
songwriting
,
Southern Gospel News
Posted in
announcements
|
Comments Off

on FARM HANDS BLUEGRASS QUARTET OFFERS OPPORTUNITY FOR NEW SONGWRITERS
Written by SGN Scoops on September 3, 2012 – 9:29 am -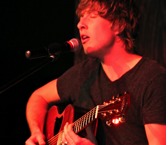 Whether you're a beginner or a seasoned songwriter, you'll be equipped, encouraged, and inspired at Write About Jesus, a workshop for Christian songwriters, held each October in the St. Louis, MO area. This year's workshop is October 11-13 at First Baptist Church, Harvester, MO.
The workshop was founded and is hosted each year by 5-time Dove Award winning songwriter Sue C. Smith and her husband John. Sue is the writer of 8 number one songs and more than 50 musicals sung at churches all over the world.
Write About Jesus is 3 days of learning, opportunity, and fun. Registrants from throughout the United States gather to attend classes, network with other songwriters and publishers, and get advice from music business professionals. Registration for the workshop includes all the classes, taught by many of today's top writers and publishers, meals on Friday and Saturday, a workshop t-shirt, the WAJ notebook, the Friday evening Writers in the Round concert, and one song entered in the songwriting competition. The grand prize winner of the competition receives a prize package worth more than $1000.
Now in its 13th year, Write About Jesus receive high praise from registrants and industry professionals alike:
"This conference is amazing. I thought it was going to be good but I was unprepared. It was so much more than I could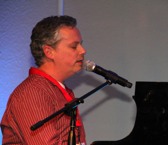 have imagined. I felt God's presence here and have a renewed sense of purpose with my ministry. Thank you. I will take the tools you have given me and go write great songs. See you next year!"
"Most bang for my buck I've ever known! Expectations exceeded in so many golden comments presented by seasoned writers and their free friendship both in and out of sessions. It's so good to be within a group where everyone present values you."
"This is family. These are my people. Even the clinicians make you feel like family. Everyone is so kind and encouraging. WAJ will always be on my calendar."
"There is nothing that can compare with the WAJ experience! It is a must for all Christian songwriters. It changes everything. A part of my heart has opened like never before."
For more information and to register, go to: www.writeaboutjesus.com, or email: sue@writeaboutjesus.com.
Tags:
Joel Lindsey
,
John Smith
,
songwriting
,
Songwriting Conferences
,
Southern Gospel News
,
St. Louis
,
Sue C. Smith
,
Write About Jesus
Posted in
announcements
|
Comments Off

on WRITE ABOUT JESUS WORKSHOP, October 11-13, 2012
Written by Scoops Staff on April 14, 2011 – 11:35 am -
Song Placement Opportunity
| | |
| --- | --- |
| | Wednesday, April 13th – Thursday, June 1st 2011 |
| | Jessica Ford & Children's Christian Choir ~ Christmas Alubm |
| | Submissions are open now! |
| | Fri June 1st 2011 |
| | $0.00 |
Jessica Ford & Children's Christian Choir is Non Profit 501(c)3 A.C.T. Intl and is looking for songs for Ministry and to outreach for the Christmas season. These songs are for recordings and live performances, a benefit album that will be sold for the Christmas Season (November – December 31st). Jessica Ford and Children's Christian Choir "C3" are offering you the opportunity to be a part of this one-of-a-kind compilation. This is your chance to be included on a compilation and be involved in a much needed Ministry effort and outreach.
If your song is selected, C3 will message you through your email and will ask that you sign a royalty waiver form. Then ask that you submit the selected song in a MP3 format. This MP3 must be of master quality (even if it's not mastered). Faith based Christmas Songs and Christian Songs will be accepted and you must own the rights to your song. You will also have the opportunity to gift merchandise like signed CD's and gain notoriety and awareness to you as a songwriter/Publishing Company. You will receive CD's to give away as an extra incentive to raise funds and have credits.
We will contact the selected songwriters and receive the proper MP3 file along with the backing tracks. You will receive the paperwork so please check your inbox as often as possible once your song has been selected.
We request that any selected songwriters tweets/blogs/posts on Facebook, or otherwise lets their fans know about this compilation and great cause. C3 will provide sample copy and information for anyone who would like it.
To learn more about Children's Christian Choir, click the links below
How do I increase my chances of being selected?
Syncing your Facebook and MySpace pages to our website http://www.ChildrensChristianChoir.com and http://www.LetFreedomSingTour.com page and adding  us on Facebook http://www.facebook.com/ChildrensChristianChoir will boost your Fan Totals instantly. Also, providing us with background tracks for your demo is a huge plus and will increase your chances of being selected. None of this is mandatory of course, but showing the Talent Buyer more about you is always a plus.
http://www.facebook.com/pages/Let-Freedom-Sing-Tour/168627059845436
http://www.facebook.com/jessicafordfans
Email: childrenschristianchoir@gmail.com
Tags:
chrildren's christian choir
,
contests
,
songs
,
songwriting
Posted in
contests
|
Comments Off

on Children's Christian Choir – Song Submission
Written by Scoops Staff on November 30, 2010 – 12:29 pm -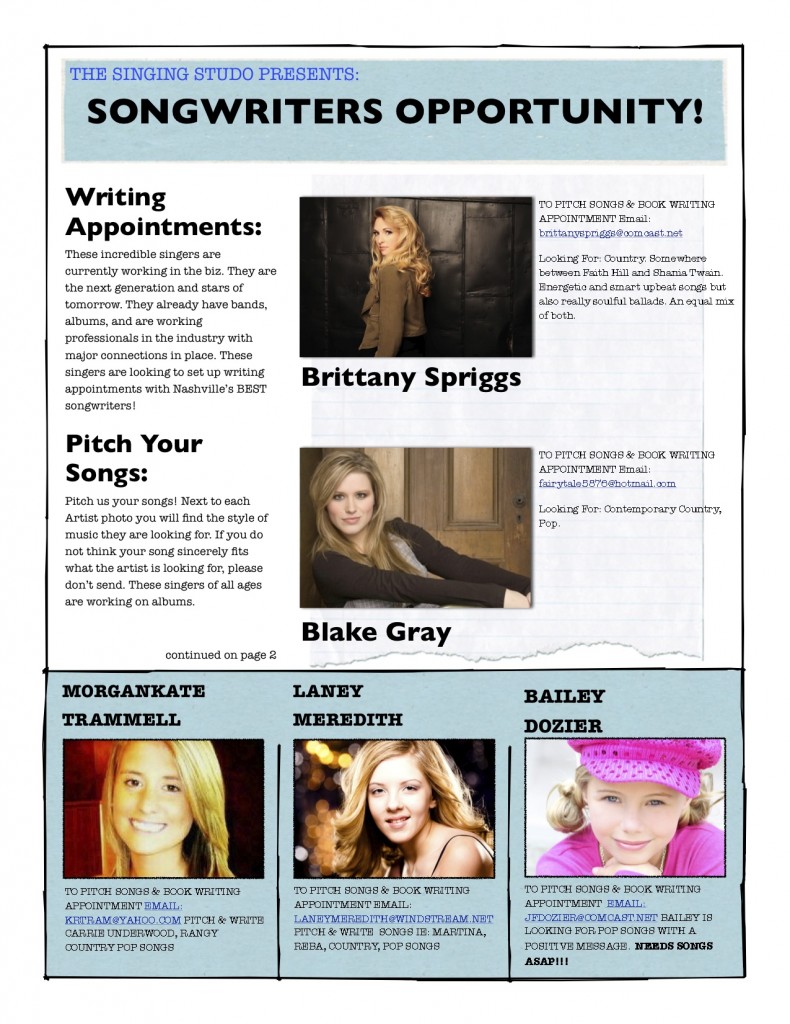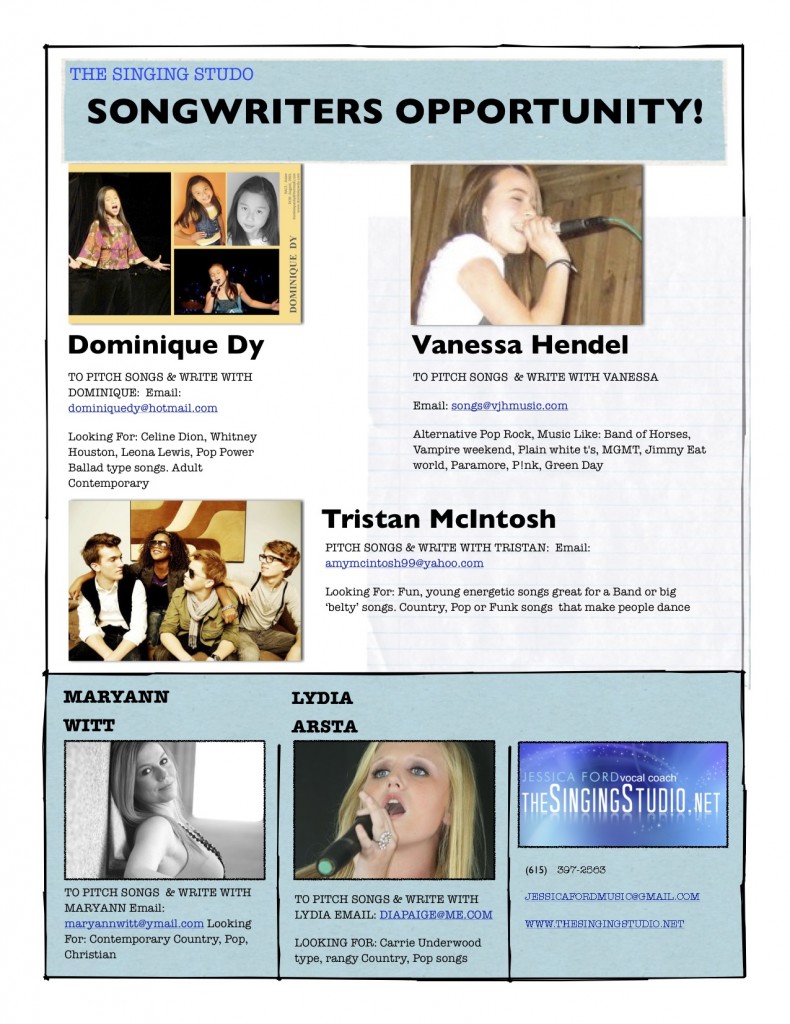 Tags:
singing studio
,
songwriting
Posted in
announcements
|
Comments Off

on Songwriters' opportunity from The Singing Studio
Written by Scoops Staff on October 22, 2010 – 12:09 pm -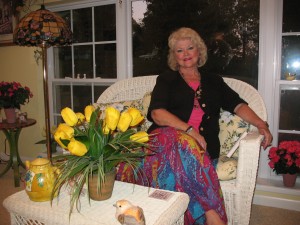 Branson, MO – For the fourteenth consecutive year the American Society of Composers, Authors and Publishers (ASCAP) has recognized local songwriter Lynda Lynn for her works.  A letter addressed to Lynda from New York stated, "We are pleased to announce that Lynda Lynn is the honorable recipient of an ASCAPlus Award for 2010-2011."
Lynda received the award honoring her for more than 500 presentations of her songs which were performed this year on stage, in churches and for television and radio programs.  Ken Cicerale, Coordinator of ASCAP Awards stated, "This is an award presented to writer members who have a substantial amount of performances of their songs by them and other artists.  The award has unique and prestigious value honoring the songwriter for outstanding writing and performances."
ASCAPlus Awards are based on panel review of recent activity of writer applicants.  Each writer is considered on merit and in the context of all others applying.  The primary basis for panel determinations is the activity generated by each member's catalog.  ASCAPlus Awards are determined annually by a panel of distinguished music experts who are neither members, nor employees of ASCAP, and are completely independent in their Award adjudication.
ASCAP President & Chairman Paul Williams stated, "This program, established back in 1960, has consistently provided deserving music creators with something meaningful and tangible in the form of recognition and money.  We are greatly indebted to each of our hard-working panelists for giving their time and effort to this important endeavor."
The members of the ASCAPlus Awards Panel include:  Judith Clurman, noted choral conductor and arranger; Peter Filichia, drama critic for the (Newark) Star-Ledger; Brian Mansfield, country music authority and Nashville correspondent for USA Today; Melinda Newman, well-known music journalist; Pat Prescott, veteran radio personality who currently co-hosts the morning show on KTWV ("The Wave") in Los Angeles; H. Robert Reynolds, Professor Emeritus at the University of Michigan; and Steve Smith, Classical Music Editor for Time Out New York.
This is the fourteenth consecutive year that Lynda has received an ASCAP award.  "This award is significant because ASCAP is the most credible society in the music industry, it really doesn't get any better than this," Lynda said, "The award gives me credibility as a songwriter, but most importantly I know that our Lord is showing me that I am working for Him, that I am doing this for His glory."
Established in 1914, ASCAP is the first and leading U.S. Performing Rights Organization (PRO) representing the world's largest repertory totaling over 8.5 million copyrighted musical works of every style and genre from nearly 350,000 songwriter, composer and music publisher members.  ASCAP reported that in 2009 collections rose to $995 million, a $48 million increase from the $947 million collected in 2008.
A recent news statement from ASCAP stated, "Music is performed more often, in more places, in more ways by more businesses than ever before.  That expanded music use, combined with dramatic ASCAP membership growth, market share increases and effective strategic management have led to the stunning revenue and distribution growth."
Lynda is an award winning songwriter and poet that began writing music in 1992.  She wrote a
song, Ozark Mountain Christmas, on a napkin at Opryland in Nashville.  That song ignited the fire in
her songwriting spirit to write numerous songs sung by artists throughout the United States.  Many
artists perform Lynda's songs on stage and in concerts all over the world.  Many have recorded
Lynda's songs and have released them on their own CD's.
Lynda has produced five CD's Ozark Mountain Christmas, The Touch of the Master's Hand, Seeking Jesus, Lynda Sings Her Songs and Reach Out For Him.  Many well known Branson artists have recorded Lynda's songs and are featured on these CD's.  They include nationally known Country and Gospel recording star Barbara Fairchild, one of the most respected names in gospel music The Blackwood Singers, Glory-Anne Prophet who travels in concert throughout America with her husband Ronnie, Larry Moore who is Branson Gospel Music Association's Male Vocalist of the Year, Randy Brooks who performs Gospel music concerts with his brother Bill ("The Brooks Brothers") worldwide, Gregg Busch who was Master of Ceremonies for Branson's Showboat Branson Belle is now a music instructor at the College of the Ozarks and others.  Many of these recordings have been hits on national charts such as the Powersource Magazine chart out of Nashville and The Music Review out of New York.
Lynda's songs have also been featured on worldwide Sky Angel Network programs including God Answers Prayer, Texas Country Gospel, How To Beat The Odds, Unfolding Majesty, Babbie's House and Faces Of Abortion. These programs also feature Lynda as an author as she has co-authored a book with her son, Rory, titled The Turning Point, A Teenager's Rebellion. The book focuses on trusting God to bring families with troubled teens through rebellious times allowing family restoration.  Lynda and her husband Bud have been recognized as Country Gospel Music Association's International Media Personalities of the Year.  Lynda also co-hosts Quest For Character with Mike Dunn on KJSL Christian radio, St. Louis.  Many of her songs are featured on that program.
Lynda stated, "My heart's desire is to touch hearts and reach the multitudes through my music. From God's heart to my heart to your heart I want to raise a praise for Jesus. Music is the universal language and so it is a wonderful opportunity to reach out and give hope to everyone all over the world about the good news of Jesus Christ."
Through her publishing company, On Angel's Wings Publishing, Lynda pledges twenty-five per cent of proceeds to Christian Associates of Table Rock Lake.  Christian Associates of Table Rock Lake was founded in 1974 as a private, nonsectarian 501(c)(3) non-profit organization.  Its mission is to provide immediate, responsive assistance in needful and crisis situations throughout Branson's Table Rock Lake area.
Dr. Lynda Lynn and On Angel's Wings Publishing can be reached by phone at 417-338-2586 or e-mail her at angelswings@centurytel.net.
Tags:
ascap
,
branson
,
lynda lynn
,
Sky Angel
,
songwriting
Posted in
artists
,
awards
|
Comments Off

on Local Songwriter Lynda Lynn Receives 14th ASCAP Award News Story
Written by Scoops Staff on March 17, 2010 – 8:30 pm -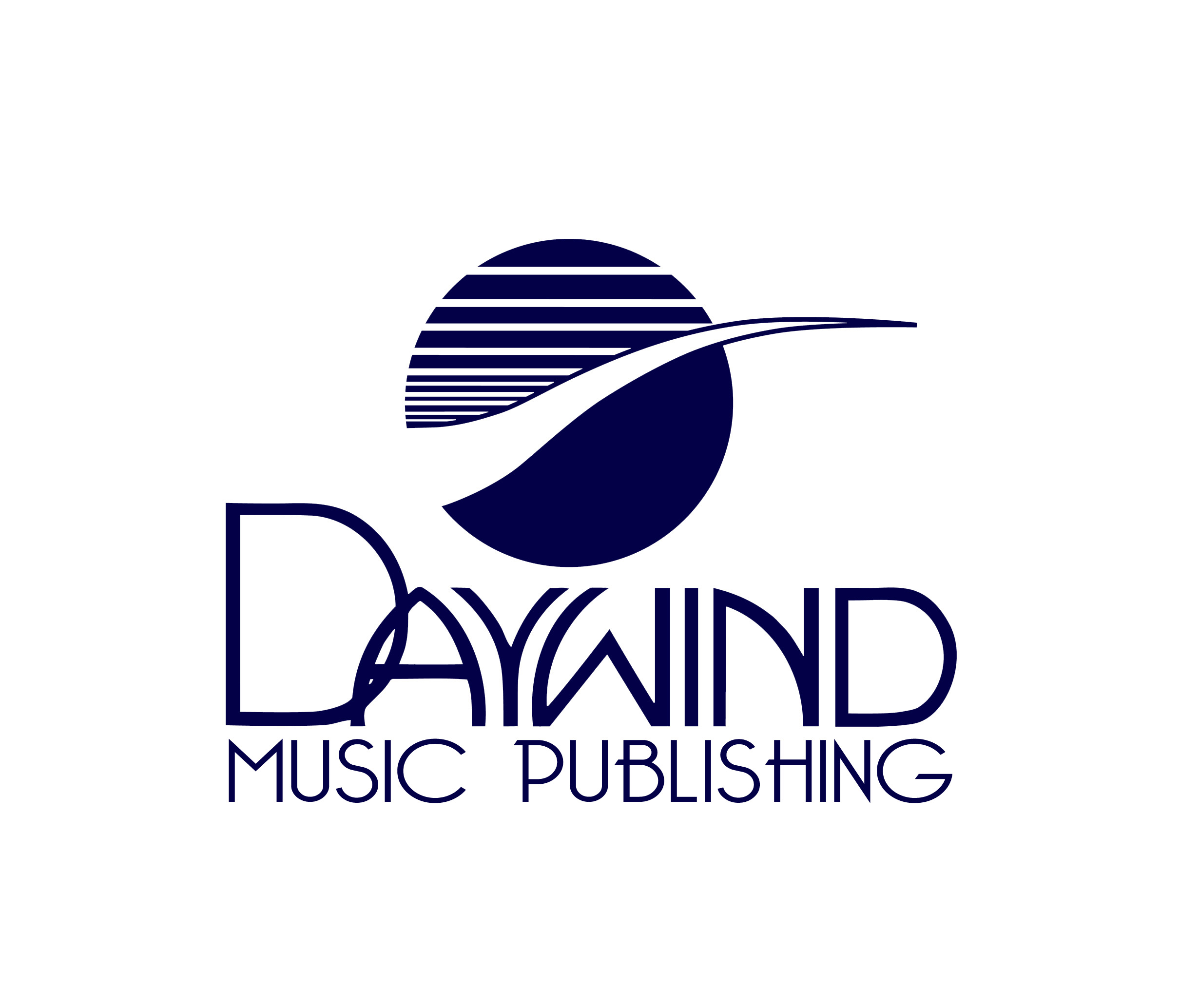 (Songwriters, enter soon.  Deadline is April 8, 2010)
Nashville, TN (March 17, 2010) – Daywind Music Group and the Gospel Music Association (GMA) have partnered to host the Southern Gospel Song Contest with the intent of finding the best-unknown Southern Gospel songs and offer a chance to have them recorded by a nationally recognized artist. Unpublished songwriters (currently unaffiliated or unsigned to a publishing company) are encouraged to submit their Southern Gospel song(s) for review (see "Submission Instructions" below).
Songs submitted will be judged by Daywind Music Publishing's staff, a team of publishers working daily with top songwriters and artists such as Gerald Crabb, Ronny Hinson, Marty Funderburk, Austins Bridge, Karen Peck & New River, Triumphant, The Perrys, and many other award winners.
The Southern Gospel Song Contest opened March 12, 2010 and runs through April 8, 2010. Any submission after April 8, 2010, 5:00 PM CST will not be included in the judging. A valid entry will include a Song Submission Form found below and the $25 entry fee (per song). Songs should be limited to 4 minutes and 30 seconds. No more than two songs per person will be accepted.
One Grand Prize winner and two Runner-Up winners will be chosen and announced by April 30, 2010. Winners will be contacted by the GMA.
The Grand Prize winner will receive:
-One free registration to GMA's Immerse event in July 2010
-Automatic semi-final place in the Immerse song contest
-Single song publishing agreement with Daywind Music Publishing
-CD stack from Southern Gospel music's top names
-Opportunity to be recorded by a nationally recognized artist
The two Runner-Up winners will receive:
-One free registration to GMA's Immerse event in July 2010
·    -CD stack from Southern Gospel music's top names
Each song submission will also receive an individualized critique by one of the Daywind Music Publishing judges, complete with invaluable feedback and advice. It's not just a contest; it's a chance to learn something, too!
SONG SUBMISSION INSTRUCTIONS
Print out the Southern Gospel Contest Song Submission Form (found here) and fill in all fields.
Mail completed form with payment to:
Gospel Music Association
The Southern Gospel Song Contest
1205 Division St. Nashville, TN 37203
(615) 277-1376
Once payment and submission form are received, an email will be sent to you with instructions on where to send your song(s) and typed lyric sheets.
You are welcome to send your song recorded on a CD and your typed lyric sheet (one page per song) with your paid registration. If you are submitting multiple songs, please include a separate CD for each song and write your name and the song title on the front of the CD.
For a complete listing of contest rules and in-depth submission instructions, visit gospelmusic.org and click on the Daywind contest logo.
For questions or customer service, please contact Scott at (615) 277-1376.
Tags:
contest
,
daywind
,
songwriting
Posted in
Christian interest
,
contests
|
Comments Off

on Daywind Music Group And The Gospel Music Association Partner In Southern Gospel Song Contest