Written by SGN Scoops Staff on September 10, 2014 – 9:39 am -
For the past 15 years, the Write About Jesus Workshop has been fulfilling its mission to "Inspire and Equip the Community of Christian Songwriters." Each year, at its annual 3-day event in St. Charles, MO, songwriters from around the country gather for an intense and fun time of learning and motivation.
Sue C. Smith, the workshop's founder and director says, "We like to say the workshop is part conference, part obstacle course, and part family reunion! Over the years, our registrants and faculty have developed a strong bond with each other. It's always fun for me to see new registrants arrive on Thursday evening a little uncertain of what to expect, but by the time the first few classes are over, they have jumped in with both feet and are part of the WAJ family."
Sue is a long-time staff writer with Capitol CMG and has written 9 #1 songs over the years, as well as over 50 musicals that are performed in churches around the world. Each year she brings other writers, publishers, and producers to Write About Jesus to devote 3 days to helping each registrants go to the next level in their writing. These include many Dove-Award winning songwriters who have over 100 #1 songs to their credit.
Over the years, dozens of registrants have used the workshop as a springboard to starting to land cuts on albums, publishing deals, and award nominations. One registrant says, "I came to learn about songwriting, which I did. But I took away so much more. The worship, teaching, songs, and all the people I met filled a drained soul with hope and a renewed realization of God's amazing love."
The weekend also includes a songwriting competition. The Grand Prize winner receives a prize package that is worth well over $1000, but the real prize is the chance to co-write with Christian music veteran writers and meet with major publishers. Previous Grand Prize winners are now writing musicals for top publishing houses as well as getting cuts with major label artists.
This year for the first time, a track for kids 9-14 years old is being launched. It's called "Kids Write About Jesus" and is being hosted by WAJ veterans Nick and Allie Lapointe. Sue says the kids' track is nearly filled ,and she is incredibly excited about the chance to raise up the next generation of Christian songwriters.
Whether you are just beginning on your songwriting journey or you're a seasoned writer, you will be encouraged, inspired and motivated by attending the Write About Jesus Workshop.
Several discounts are available and are described on the Workshop link. For more information or to register on line and pay through the site's secure shopping cart go to www.writeabout.jesus.com.
Tags:
Southern Gospel Music
,
Southern Gospel News
,
Sue C. Smith
,
Write About Jesus
Posted in
announcements
|
Comments Off

on "WRITE ABOUT JESUS" – TAKE YOUR SONGWRITING TO THE NEXT LEVEL
Written by SGN Scoops Staff on June 9, 2014 – 1:50 pm -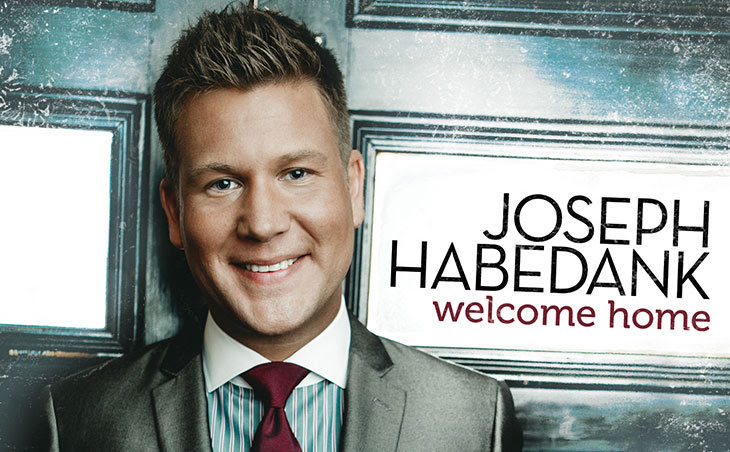 (Hendersonville, TN) Award-winning singer/songwriter Joseph Habedank will give fans a preview of his debut project with Daywind Records before it's even released to the public. Nashville's Rocketown will be the venue as Habedank holds a pre-release concert for "Welcome Home" on Tuesday, July 1 at 7 p.m.
Habedank co-wrote all 11 songs on the project, which was produced by Ricky Free. "Welcome Home," is set to be released on July 22.
Free, legendary songwriter Dave Clark, and co-writers Tony Wood, Sue C. Smith, Kenna West, Benji Cowart and Lee Black will all be in attendance at the pre-release concert, with behind-the-scenes glimpses of the stories behind the songs being conveyed to those in attendance. In addition to those well-respected individuals, there will also be a special surprise guest who will join in on the festivities.
"Excited does not even begin to express how much I am looking forward to this night," emphasized Habedank. "I have spent so much time pouring myself into this project, from the birth of the songs with an unbelievably-talented cast of co-writers that I have been blessed to work with to watching them come alive musically in the studio. I look forward to sharing my heart through the unveiling of these songs, and what's going to make that even better is that I'm going to get to spend this special evening with my colleagues, family, friends, and fans."
Tickets for the event are limited as less than 100 will be sold. Each ticket will include a free pre-release version of "Welcome Home."
Tickets are available by visiting www.josephhabedank.com.
Tags:
Benji Cowart
,
Joseph Habedank
,
Kenna West
,
Sue C. Smith
Posted in
announcements
|
Comments Off

on Joseph Habedank "welcomes" fans to get any early glimpse of "Welcome Home"
Written by SGN Scoops on August 15, 2013 – 1:19 pm -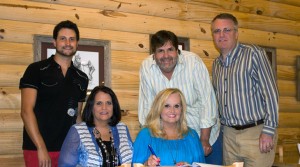 (Hendersonville, Tenn.) August 14, 2013 – Karen Peck and New River has signed a multi-year recording and publishing agreement with Daywind Records, continuing a relationship between the two that has resulted in many wonderful achievements.
The most recent collaboration "Revival," releases on 8/27/13 and is perhaps the group's best recording to date. The songwriting was amped up with the addition of Michael Farren, Kenna Turner West, Jason Cox, Sue Smith, and more. Most exciting is that Karen Peck herself co-wrote songs on the album, including the first single, "Revival." The Wayne Haun production features wonderful songs about the love and grace of Christ in New River's award-winning southern and country style. Karen Peck, accompanied by Michael Farren and Kenna Turner West, performed another song from the recording, "Finish Well," to a standing ovation at the recent BMI Songwriter's Showcase at the Gospel Music Association's Immerse event.
"We are thrilled to continue our relationship with Karen, Susan, and Jeff. They are about ministry and are spilling over with talent. God continues to bless their steps and find ways to use them for His glory. We are excited about the future," said Ed Leonard, president of Daywind Records.
Karen Peck added, "we are very honored to be a part of the Daywind family. We are excited about what The Lord has in store for our future together!"
Karen Peck and New River have been blessed with numerous awards and nominations. The group won two Dove Awards in 2012 and has several Singing News Fan Awards and Absolutely Gospel Awards to their credit. Recent years have seen multiple albums nominated for Grammy Awards, many appearances on the Gaither Homecoming tour, and a feature film role for Karen ("Joyful Noise").
For more information on Karen Peck and New River, please visit www.karenpeckandnewriver.com.
Daywind Records is home to great artists such as Brian Free and Assurance, Adam Crabb, and the Perrys. Daywind is distributed to retail through New Day Christian Distributors, Select O Hits and all major digital outlets. For more information, visit www.daywindrecords.com.
Tags:
bmi
,
daywind
,
Karen Peck
,
karen peck and new river
,
Kenna West
,
Michael Farren
,
Southern Gospel Music
,
Southern Gospel News
,
Sue C. Smith
,
Wayne Haun
Posted in
announcements
|
Comments Off

on Karen Peck and New River Signs Long Term Recording and Publishing Agreement with Daywind Records
Written by SGN Scoops Staff on November 14, 2012 – 2:16 pm -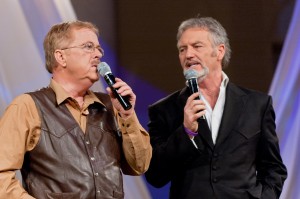 Larry Ford: Little Is Much When God Is In It
By Sandi Duncan Clark
One of the nicest, most gracious couples in Southern Gospel music is Larry and
Sherryl Ford. No matter where you meet this charismatic couple, they greet you with a
smile, a hug and a warm handshake. This IS Larry and Sherryl Ford. More than forty
years of marriage, six children and eight grandchildren, have melded this couple into a
ministry of faith and family that God has used all around the world.
Larry's first performance was on the stage of his home church in Levelland,
Texas. Standing on a chair, singing "How Great Thou Art," and accompanied by his
Mom at the piano, Larry began an illustrious music career. Larry credits his mother for
instilling in him and his brother, Bruce, a love for God and a love for music.
"Our musical training began at home and at church. We learned to sing shaped notes;
the old fashioned way to read music. Mom saw to it that we were also trained by an
Italian vocal coach, who began our formal, classical training" Larry stated. Later, Larry
attended Eastern New Mexico University on a music scholarship.
During those years, the family; Larry, his brother Bruce, along with his Mom and Dad,
would sing and his Mom would play piano. On Sunday mornings, they often sang for
their church's live radio program before going to the morning service and singing. "More
importantly, my mom and dad modeled for us a life of faith and trusting God." Larry
adds.
From that early beginning to some of the grandest stages all around the world, Larry
Ford has ministered and entertained thousands of people with his testimony and vibrant
tenor voice. Larry has appeared at many Gaither Homecoming events and on a number of
videos. As an ordained minister, former pastor and evangelist, he has shared the love of
God and the plan of salvation wherever he is called.
Tags:
Because He Lives
,
Gaither Homecoming
,
John Lemonis
,
Ken Turner
,
Kenna West
,
Larry Ford
,
Southern Gospel News
,
Sue C. Smith
Posted in
special feature
|
Comments Off

on Larry Ford: Little Is Much When God Is In It
Written by SGN Scoops on October 1, 2012 – 6:40 am -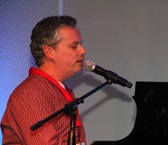 More than 100 people have already signed up for this year's "Write About Jesus" songwriters workshop.  The conference will be held October 11-13 in St. Louis, Missouri. Attendees will learn from songwriting experts such as Jennie Lee Riddle, Michael Farren, Joel Lindsey, Belinda Smith, and Tony Wood.  Topics will include "Qualities and Habits of Successful Writers," "Co-writing Strategies and Etiquette," Where Great Ideas Hide," Rewriting: When, Why, and Most Of All How?," Getting Your Foot In The Door: How To Get From Here To There" plus more.
A line up of worship leaders that will be helping at each group session: has been announced.  On Thursday evening James Tealy, David Myers, and Phil Mehrens. On Friday morning, Michael Farren and Jennie Riddle. On Friday evening, Gina Boe and Lee Black. On Saturday morning, Carl Cartee and Allie Lapointe.
Plans continue as well for the songwriting competition. Sue C. Smith shares, "I've also paired off our clinicians for the competition groups. We'll be dividing entries by genre and have groups (as needed) for the following categories: worship, CCM, southern gospel, country, print and choral, kids, novelty and special occasion. Be sure to read the rules and guidelines for the competition on the Write About Jesus web site. They will be very helpful as you decide what song you're going to enter."

Tags:
Christian Music
,
Christian Music songwriting
,
Christian Songwriting Conference
,
Jennie Lee Riddle
,
Joel Lindsey
,
Songwriting Workshop
,
St. Louis
,
Sue C. Smith
Posted in
announcements
|
Comments Off

on Plans Continue for "Write About Jesus" Songwriter's Workshop Oct 11-13
Written by SGN Scoops on September 10, 2012 – 6:01 am -
Write About Jesus, a workshop for Christian Songwriters, announces two new faces for this year's conference:
Jennie Lee Riddle and Michael Farren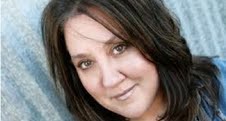 Jennie Lee Riddle is a passionate worship leader, team trainer, songwriter, and conference speaker. She is honored as a three-time Dove award winner, top five CCLI songwriter, and BMI award winner for top 25 radio. Jennie is best known for authoring "Revelation Song" which had a 17 week run at #1 and current radio hit, "When The Stars Burn Down." Numerous artists have covered Jennie's songs, including, Kari Jobe, Gateway Worship, Phillips, Craig & Dean, Selah, Newsboys, Travis Cotrell, and many others. We're thrilled that Jennie will be coming to Write About Jesus this year!
Michael Farren is the other new face at Write About Jesus. Texas native Michael Farren was lead vocalist of the worship band Pocket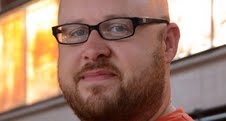 Full Rocks for 16 years. He's received Dove award nominations for Worship Album of the year, for both Song to the King and Manifesto, and for New Artist of The Year.
As a songwriter, Michael's work has been recorded by  Michael W Smith, Jackie Velazquez, Big Daddy Weave, Phillips Craig and Dean and many others. "Let It Rain" (Michael W. Smith) and "Let the Worshipers Arise" (Phillips Craig and Dean), are used in congregations worldwide. WAJ registrants will love Michael!
Returning this year:  Belinda Smith, Tony Wood and Joel Lindsey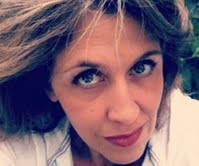 Belinda Smith is a Dove Award winning songwriter who has been part of Write About Jesus since the beginning! In addition to being a successful songwriter, she owns a BMI Award winning publishing company, teaches songwriting, and is a creativity mentor.
The world famous Bluebird Cafe in Nashville, Mountain Stage, and the TN Young Writer Workshop are just a few places she is proud to have been recently.
Belinda is a sought after presenter at workshops and festivals all over the country. Through Belinda Smith Creative courses, she is now able to work with the best aspiring writers from around the world and guide them to their absolute best.
Tony Wood, a 2009 Dove Award nominee for Songwriter of the Year and the writer of 22 #1 songs,  has had over 400 songs recorded
in the CCM market, including singles by Francesca Battistelli ("This Is The Stuff"), Hawk Nelson ("Crazy Love"), Mandisa ("My Deliverer"), Royal Tailor ("Hold Me Together"), and the Martins ("Unredeemed").
He is a two-time Dove Award winner for Inspirational Song of the Year: "Find Your Wings" by Mark Harris and "Joseph" by Jason Crabb. Other artists recording his songs include Selah, Michael W. Smith, Point of Grace, 4-HIM, Avalon, Phillips, Craig and Dean, Sandi Patty, Larnelle Harris, Gaither Vocal Band, Booth Brothers, and many others. Tony is a staff writer for SONY Music Publishing.
Joel Lindsey is one of Christian music's most prolific and enduring songwriters, having over 800 songs recorded in the last 20 years by artists in nearly every genre, including over 20 #1 Songs.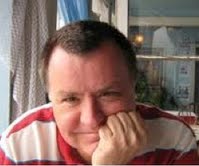 A ten-time Dove Award winner, he has been nominated for Songwriter Of The Year twice. His songs have been recorded by artists such as Point of Grace, Sandi Patti, Ernie Haase & Signature Sound, Ty Herndon, Avalon, Joy Williams, The Perrys, Gaither Vocal Band, Michael English and many others.
Some of his song titles include "Celebrate Me Home," "Gather At The River," "Orphans of God," "Reason Enough," "Life, Love & Other Mysteries, "Born To Climb," and "He Made A Change."
Early Registration:
Register before Wednesday, September 12, and receive a $25 discount.  Check the website for various other discounts.  The conference is scheduled for October 11-13 in St. Louis, Missouri. For more information and registration, visit http://www.writeaboutjesus.com/
Tags:
Belinda Smith
,
Christian Songwriting
,
Jamie Lee Riddle
,
Joel Lindsey
,
Michael Farren
,
songwriters
,
Songwriting Workshops
,
St. Louis
,
Sue C. Smith
,
Tony Wood
,
Write About Jesus
Posted in
announcements
,
Christian interest
,
industry news
|
Comments Off

on Two New Faces Coming To Write About Jesus…
Written by SGN Scoops on September 3, 2012 – 9:29 am -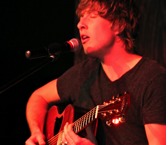 Whether you're a beginner or a seasoned songwriter, you'll be equipped, encouraged, and inspired at Write About Jesus, a workshop for Christian songwriters, held each October in the St. Louis, MO area. This year's workshop is October 11-13 at First Baptist Church, Harvester, MO.
The workshop was founded and is hosted each year by 5-time Dove Award winning songwriter Sue C. Smith and her husband John. Sue is the writer of 8 number one songs and more than 50 musicals sung at churches all over the world.
Write About Jesus is 3 days of learning, opportunity, and fun. Registrants from throughout the United States gather to attend classes, network with other songwriters and publishers, and get advice from music business professionals. Registration for the workshop includes all the classes, taught by many of today's top writers and publishers, meals on Friday and Saturday, a workshop t-shirt, the WAJ notebook, the Friday evening Writers in the Round concert, and one song entered in the songwriting competition. The grand prize winner of the competition receives a prize package worth more than $1000.
Now in its 13th year, Write About Jesus receive high praise from registrants and industry professionals alike:
"This conference is amazing. I thought it was going to be good but I was unprepared. It was so much more than I could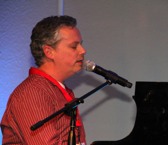 have imagined. I felt God's presence here and have a renewed sense of purpose with my ministry. Thank you. I will take the tools you have given me and go write great songs. See you next year!"
"Most bang for my buck I've ever known! Expectations exceeded in so many golden comments presented by seasoned writers and their free friendship both in and out of sessions. It's so good to be within a group where everyone present values you."
"This is family. These are my people. Even the clinicians make you feel like family. Everyone is so kind and encouraging. WAJ will always be on my calendar."
"There is nothing that can compare with the WAJ experience! It is a must for all Christian songwriters. It changes everything. A part of my heart has opened like never before."
For more information and to register, go to: www.writeaboutjesus.com, or email: sue@writeaboutjesus.com.
Tags:
Joel Lindsey
,
John Smith
,
songwriting
,
Songwriting Conferences
,
Southern Gospel News
,
St. Louis
,
Sue C. Smith
,
Write About Jesus
Posted in
announcements
|
Comments Off

on WRITE ABOUT JESUS WORKSHOP, October 11-13, 2012
Written by SGN Scoops Staff on November 11, 2011 – 11:28 am -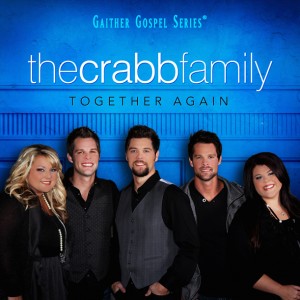 NASHVILLE, Tenn.—November, 11th, 2011–Gaither Music Group has announced its plans to release an all-new studio recording from the multiple award-winning Crabb Family. Together Again, which coincides with a limited run of national touring dates for the group, will hit the streets on February 7th, 2012. Produced by lead singer and GRAMMY® Award-winning solo artist Jason Crabb, Together Again offers fans new music recorded with a unique vocal approach.
"In the past, when it came time to select songs for a project, part of the process was our deciding who would be featured on what song," describes Jason. "Basically, we all had 'our individual songs' that we took the lead on. With Together Again, the songs aren't centered around 'who is singing lead.' Our vocals are intermingled as never before. I'm especially excited about this, not only for the record, but for this run of concerts."
Together Again includes three songs written by the award-winning country writer Neil Thrasher (who co-wrote Jason's solo hit "Somebody Like Me") in addition to tunes written by such industry pacesetters as their father, Gerald Crabb; Sue C. Smith; Lee Black; David Moffitt; Gina Boe; Don Poythress; Ronnie Freeman; Stephanie Lewis and Caleb Collins. The recording also features two songs co-written by Jason alongside longtime friend Sonya Isaacs Yeary, country tunesmith Jimmy Yeary, as well as Carl Cartee and Barry Weeks.
"One of my favorite songs on the new record is 'If There Ever Was a Time,'" describes group member Kelly Crabb Bowling. "When our longtime friend and great songwriter Sue Smith began to quote the lyric from this song, I knew immediately it was a song someone had to record. This song takes me back to my childhood when I would hear people stand up in church and say how much they needed the Lord to be there and to hear and answer their prayers. This song's style is a bit more modern than those days, yet it still connects with every emotion I had as a child."
"If There Ever Was a Time," the first radio single from the new release, has just been sent to radio stations nationwide, just in time for the concert tour which began Thursday, November 10, in Huntsville, Ala. The Front Porch: A Crabb Family Celebration Tour will hit over 20 cities nationwide, ending in January in Lexington, NC. (A working list of tour cities can be found below.)
"We're heading into such a special time of year with the holidays, and I'm so happy that the tour allows me to spend this season with my family," describes Jason. "We love making great music together, and we hope that people who come out to see the tour will be reminded of just how important spending time together as a family is."
Siblings Jason, Adam, Aaron, Kelly and Terah, known as The Crabb Family, took the Christian music industry by storm in the 90s with their signature brand of country-tinged Gospel, live stage band and powerhouse musical arrangements. The Crabb Family took home 11 GMA DOVE Awards, garnered three GRAMMY® nominations and blurred the lines between Christian music genres with recordings and accolades ranging from bluegrass to black Gospel.
Their family blends became a hit on platforms varying from the Gaither HOMECOMING stages and "The Grand Ole Opry" to the Brooklyn Tabernacle and Carnegie Hall. Their downhome appearances, highlighted by songs written by the group's original founder Gerald Crabb, made them a household name in the southern Gospel music community and a "new favorite" across several genres. Heralded by the industry and fans alike, the group produced numerous Top 10 singles and 16 number one hits.
Together Again will be available digitally and at retail stores everywhere. It will be distributed exclusively by EMI CMG Distribution. For further information regarding The Crabb Family, visit www.thecrabbfamily.com. For updated tour information, connect with Jason Crabb online at www.JasonCrabb.com, www.FB.com/JasonCrabbMusic and on twitter @JasonDCrabb.
Tags:
Christian music industry
,
Crabb Family
,
Gaither Music Group
,
gerald crabb
,
GRAMMY®
,
Jason Crabb
,
Kelly Crabb Bowling
,
Lee Black
,
southern gospel
,
Southern Gospel News
,
Sue C. Smith
Posted in
announcements
,
christian entertainment
|
Comments Off

on CRABB FAMILY TOGETHER AGAIN FOR NEW RECORDING
Written by SGN Scoops on July 12, 2011 – 8:51 am -
Hendersonville, TN (July 12, 2011) – Daywind Records is excited to present the newest release from the GRAMMY® nominated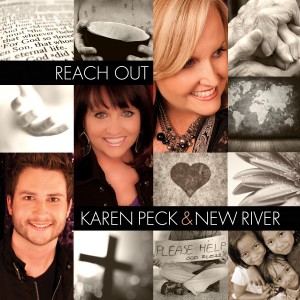 group, Karen Peck & New River, entitled Reach Out.  This project, which is the first to feature new male vocalist, Jeff Hawes, will hit stores nationwide this week.
Produced by Wayne Haun, Reach Out features songs from writers such as Sue C. Smith, Twila McBride LaBar, Kenna West, Sonya Isaacs, Jimmy Yeary, and others.  Every lyric carries a message of hope and grace meant to uplift and encourage the listener. Every melody is presented with the true excellence consistently delivered by Karen Peck & New River.
Both the first Southern Gospel single, "On The Banks of the Promised Land," and Soft AC single, "This Is What Mercy Does," have already received a positive response from DJs and are expected to become favorites among listeners.
Reach Out is available at Christian retail stores across the country and digitally at iTunes and other outlets.  Bulk purchasing for gift and ministry purposes is available by calling 1-800-635-9581.
Daywind Records is based in Hendersonville, TN, and is distributed worldwide through New Day Christian Distributors.  In addition to Karen Peck & New River, Daywind is home to many other great artists such as Marshall Hall and Greater Vision, among others.  For more information on Karen Peck & New River, visit karenpeckandnewriver.com.  For more information on Daywind Records, visit daywindrecords.com.
Tags:
Daywind Records
,
Greater Vision
,
jeff hawes
,
Jimmy Yeary
,
karen peck and new river
,
Kenna West
,
marshall hall
,
New Day Christian Distributors
,
sonya isaacs
,
Sue C. Smith
,
Wayne Haun
Posted in
new music
|
Comments Off

on Daywind Records Announces Release of Reach Out From Karen Peck & New River