Written by SGN Scoops on May 6, 2014 – 4:58 pm -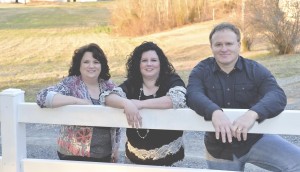 Nashville, TN (5/5/14) – Awarded nominated and winning trio Back Home (Jimmy and Jennifer Layne and Stacy Pearcy) from South Pittsburg, TN has released a brand new CD that have many saying is the best CD they have heard in the Southern Country Gospel genre in years.
"Back Home has released some great CD's in the past, but this CD is the best I've heard to date from them and that's saying a mouthful," says Chris Latham/Back Home producer and Grammy winning engineer.
The new CD titled "It's Not Over" is loaded with award winning writers such as Jimmy Yeary, Tony Wood, Sue Smith, Kenna Turner West, Jerry Salley, Mark Narmore, Josh Turner, Jason Cox, Jeff King and Jennifer Layne.  Each and every song tells of the love of God and forgiveness He gives us and that we should give to each other.
Things are going great for Back Home.  Coming off a great end of the year in 2013 singing on the main stage at NQC and just recently receiving 4 Diamond Award nominations and 1 Singing News Nomination for Favorite New Trio.
Jeff King and Chris Latham, owners and producers of Cross Country Records, (Back Home's label), are completely hands on in the record making process. They each play, engineer, and produce each song on every album. They are both Nashville veterans, with major accolades of their own. Jeff is touring with Reba McEntire and is one of music's most in demand session players. And as always, Back Home's CD is full of Nashville veteran player's who year after play on their records.  Players include, Jeff King, Steve Brewster, Mike Johnson, Jason Webb, Chris Latham, Tammy King and Joel Key.
"We feel like God deserves the best that we can give him and that Gospel music needs to be quality in sound and words"  It's about Him and reaching the folks that are hurting," says Jimmy and Jennifer.
"I'm so happy to be working on my 6th year now with Back Home. Their music is fresh and real, telling powerful stories we can all relate to in some form. Their ministry brings comfort to those in need, and hope for people trying to change their lives. They've been through it, now they sing about it. If you haven't experienced a live concert.. 
Do it!
" said Jeff King/Producer of Back Home and Cross Country Records Producer and Owner.
Sheri Easter stated, "I remember the first thing Jeff ever told me about Back Home.  We were working a concert with them and he came back on the bus bragging on the harmonies, their vocals and what a wonderful writer Jen was.  Immediately, I was hooked."  Jeff and Sheri are appearing on Back Home's new CD, with a duet slated to be the next single written by Jennifer and Sheri Easter called "One Prayer Away", it will be hitting radio this month.
To learn more about Back Home, you can visit them on the web at 
www.backhomesings.com
. You can also purchase a new Back Home CD on their website.
Tags:
Back Home
,
Jason Cox
,
Jennifer Layne
,
Jimmy Layne
,
Jimmy Yeary
,
Kenna Turner West
,
Southern Gospel News
,
Stacy Pearcy
,
Sue Smith
,
Tony Wood
Posted in
announcements
|
Comments Off

on Back Home Releases New CD On The Cross Country Records Label
Written by SGN Scoops Staff on January 5, 2012 – 2:59 pm -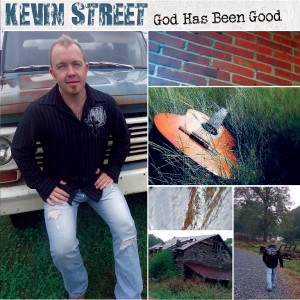 Bessemer City, NC (Son Sound Studios, Inc.) — Son Sound West Records is excited to announce the release of the first ever solo release by Kevin Street, of the Dove award Nominees, The Far City Boys. The recording, which is now available for digital download and direct from Son Sound, combines Country and Southern Gospel influences to produce a top-quality project that features the soon to be released single, "God Has Been Good."
"God's Still Been Good", produced by Street and Holly Robinson-Blanton, features songs penned by such wonderful writers as,Mike Upright, Greg Day, Sue Smith and many others.
"This project has been a long-time in coming, and I am thrilled to finally let folks hear it," shares Holly. "It really has a lot of Kevin's heart in it – I am sold out to what the songs speak to, and believe that we all need to hear these messages. Now we'll see what God's planning to do with it."
"God's Still Been Good" is available digitally at iTunes, cdbaby and other popular outlets as well as on www.sonsoundstudios.com. You may also call Son Sound direct at (704)868-4807. For more information on Son Sound Studios, visit sonsoundstudios.com. For more information on Kevin Street and The Far City Boys
visit farcityboysonline.com.
Tags:
Country
,
Greg Day
,
Holly Robinson-Blanton
,
southern gospel
,
Southern Gospel News
,
Sue Smith
,
The Far City Boys
Posted in
announcements
,
christian entertainment
,
Christian interest
|
Comments Off

on KEVIN STREET RELEASING SOLO RECORDING
Written by SGN Scoops Staff on January 28, 2011 – 5:43 pm -
This new year will bring a new wave of CD releases from various groups.  But none will make the impact than what you will find when you hear "Treasures Unseen" from Beyond the Ashes.  This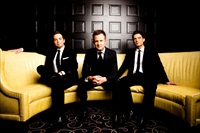 latest CD release comes from a group of guys who are transforming the genre of southern gospel by appealing to a wider audience base.  This project features the tight harmony sounds and
progressive styles you have come to expect from Beyond The Ashes.  Simply put, this is no ordinary project.  This is a defining moment for this trio according to group owner, Anthony Facello, "I've have known and worked with Wayne Haun for many years and have done various small projects with him but have always wanted to do a full CD under his direction. I never would have dreamed that many years later with my own group that it would come to fruition.  We are absolutely thrilled about our new CD and how it is going to define the ministry of Beyond The Ashes."
For these guys, the songs were more than words on a page or tracks from awesome musicians.  While you get all of that, newest member of the trio Kellan Monroe says this project brings so much more.  In fact, it has made a direct impact on his life, "The beauty of this record is that it showcases all of what BTA embodies…good harmonies, heartfelt songs and our love for Christ! "
says Monroe.
This is a must have CD if you enjoy greatly produced projects that features the songwriting skills of  Joel Lindsey, Wayne Haun,  Sue Smith and Ernie Haase. Group member Casey Rivers sums up the project in this way, "I believe Beyond The Ashes has found their identity with this new CD and we finally got what we wanted … music for the Church!" Project is set to release early spring so visit www.beyondtheashesonline.com and become a fan on their FACEBOOK to get exact release dates of release.  You can also sign up for a fan membership that will allow you to purchase the project before it hits the streets.
Beyond the Ashes has just recently been nominated for Breakthrough Artist and Fan Favorite in the Absolutely Gospel Fan Awards.
Tags:
Beyond the Ashes
,
Casey Rivers
,
Ernie Haase
,
Joel Lindsey
,
Sue Smith
,
Wayne Haun
Posted in
announcements
,
christian entertainment
,
industry news
|
Comments Off

on Beyond the Ashes – New CD