Written by Staff on November 7, 2017 – 1:23 pm -
What does it take to get this Canadian girl to go to some place called Bell Buckle, Tennessee? Well for starters, a getaway weekend simply titled: Russ and Tori Taff's weekend in Bell Buckle, consisting of some of the best Gospel music there is today. Throw in some of the best southern cooking, hospitality, and charm. Think it is hard to fit all of this into a charming hamlet of 500+ inhabitants? Well, it is possible because that's exactly what happened. To quote our weekend host Tori Taff, "A joyful oasis from your daily routine," and that's what this amazing weekend delivered.
What I am referring to? The 2nd Annual Russ and Tori Taff 's Weekend in Bell Buckle, Tenn., on Oct. 7 and 8. From the moment I stepped into the Bell Buckle Banquet Hall on the Friday for early registration, I was greeted with open arms, which quickly got filled with the warmest and most sincere hug from our greeter
Tori herself. As a guest, you get treated to a registration bag filled with goodies; name tag/badge, lovely commemorative mug, a professional and gorgeous autographed 8×10 picture of Russ Taff, yummy moon pie samples, Bell Buckle bumper sticker, and an exclusive CD by Russ of never before released songs. In addition, a list of shops indicating their discounts especially for the weekend guests, all packed into a nice yellow tote bag. Tori is definitely in her wheelhouse, hosting, greeting and scheduling this annual event. Leaving Russ, who has been called "the introvert in an extroverts career," to do what he does best: sing. And that he did, in spades.
Tags:
Bonnie Keen
,
Christian Music
,
Dony McGuire
,
gospel music
,
Mark Lowry
,
Reba Rambo- McGuire
,
russ taff
,
Susan Werchonowicz
,
tori Taff
,
Weekend in Bell Buckle Tennessee
Posted in
artists
,
christian entertainment
,
concert reviews
|
Comments Off

on BELL BUCKLE WEEKEND WITH RUSS AND TORI TAFF
Written by SGN Scoops Staff on February 5, 2013 – 9:22 pm -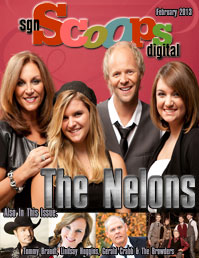 We are excited to present February's edition of SGNScoops Magazine. On the cover this month is a name we've all grown to love over the years, "The Nelons!" We're sure you'll be blessed as the Nelons share about their legacy, family and ministry. Also this month, we're highlighting the ministries of The Browders, Midnight Cry and Lindsay Huggins as well as Tommy Brandt, Jimmy Davis and Gerald Crabb. Enjoy concert stories on Palmetto State Quartet and a get replay of recent concert with Wes Hampton and Marshall Hall. Sandi Duncan Clark reviews February's music, John Mathis has a spiritual challenge and Lou Hildreth shares more great memories. We are officially announcing the opening date for round one nominations for Diamond Awards is February 18th! The Diamond Awards will be held at the Creekside Gospel Music Convention in Pigeon Forge, TN. Get the latest news on Creekside in this issue as well. We are welcoming a few new writers this month! Make sure you let Dixie Phillips, Eva Wilson and Susan Werchonowicz know you appreciate them as well as the rest of our dedicated and talented staff. Special thanks to Sherri Whitt for sharing a concert experience. Remember, SGNScoops All Digital Magazine is free! Please share with your friends, family and fans!
Download SGNScoops Magazine Here
Tags:
Creekside Gospel Music Convention
,
diamond awards
,
Dixie Phillips
,
Eva Wilson
,
gerald crabb
,
Gospel News
,
Jimmy Davis
,
John Mathis
,
Lindsay Huggins
,
Lorraine Walker
,
Lou Hildreth
,
marshall hall
,
Midnight Cry
,
palmetto state quartet
,
Rhonda Frye
,
rob patz
,
Sandi Duncan Clark
,
Sherri Whitt
,
southern gospel concerts
,
Southern Gospel News
,
Susan Werchonowicz
,
The Browders
,
the nelons
,
Tommy Brandt
,
Wes Hampton
Posted in
announcements
,
sgn scoops magazine
|
Comments Off

on February 2013 Editon Of SGNScoops Magazine