Written by Staff on May 9, 2019 – 10:47 am -
Sweet Water by Amy Oxenrider
Who's Your Daddy – Part One
Christians often refer to the Almighty God as their Heavenly Father, Abba Father, or Daddy… but do we really know who he is? Amy Oxenrider takes us on a journey to delve into the "who" of the God of the universe…
Exodus 3:11-15
"But Moses said to God, "Who am I, that I should go to Pharaoh and bring the Israelites out of Egypt?"
And God said, "I will be with you. And this will be the sign to you that it is I who have sent you: When you have brought the people out of Egypt, you will worship God on this mountain."
Moses said to God, "Suppose I go to the Israelites and say to them, 'The God of your fathers has sent me to you,' and they ask me, "What is his name?' Then what shall I tell them?'
God said to Moses, "I AM WHO I AM. This is what you are to say to the Israelites; 'I Am has sent me to you."
God also said to Moses, "Say to the Israelites, 'The Lord, the God of your fathers – the God of Abraham, the God of Isaac and the God of Jacob – has sent me to you.' This is my name forever, the name by which I am to be remembered from generation to generation."
Sitting back and looking over my life, I can see how God's finger has led me from place to place to bring me to this point. I can also see how God was so many things to me; he was and is what I needed, and continue to need, at any particular time.
Throughout history, one can clearly see the hand of God, the physical presence of God, and the Spirit of God dwelling among us and taking care of those who trust and believe in him wholeheartedly. He is and continues to be "I Am;" all we need. Christians often need to be reminded of all God is each and every day. Let us begin at the beginning.
Jehovah-Bara means Lord creator. Do you realize that there was nothing at all desirable of the earth until God worked upon it? But, when God works, life takes place. Dead things become alive. Void things become filled. When God works, things change for the better.
Jehovah-Bara was at the beginning of creation and before we were created in our mother's womb. Jeremiah 1:5 says, "Before I formed you in the womb I knew you; before you were born I set you apart; I appointed you as a prophet to the nations."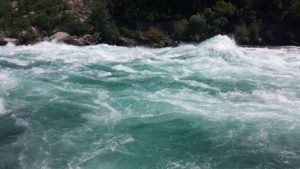 He is our creator as well as the creator of the universe. When was the last time you chose to praise God for just who he is? Do you praise him only for what he can do for you? Do you praise him only when things go wrong? We should have praises on our lips throughout the day, each and every day for just who he is, and not for the sole purpose of what he can do for us.
This may seem very minute to some, but I find myself saying, "Thank you Lord for allowing me to see this mistake." When I find myself typing an article or a psycho-educational evaluation, I often thank God for allowing me to see my mistakes. And this tends to happen several times throughout the day.
Sometimes I wonder, how often do I praise him, instead of praying and asking for something he can provide. Please do not misunderstand this statement. I believe God wants his children to come to him with our needs. However, I also believe he wants to be loved and hear prayers of thanksgiving.
The Hebrew word for Bara means to create out of nothing. God spoke the world, universe, and all our finite brains cannot understand into existence. All he had to do was speak, and it occurred. What power and authority our God has. Our lives were as an empty canvas until God took control. He then molded us and made us into what he has planned for our lives. He is patient with his creations and loves us all so much that his mercies are new each and every day.
I want to close part one with a little humor. Three scientists had a conversation with God and indicated mankind no longer needed him because we have reached a point in our intelligence that we can do all he can. These cocky, arrogant scientists told God they could prove it to him. God simply said, "Ok, I will take your challenge." The scientists told God they were going to make a man out of dirt. As they knelt down and began forming the image of a man, God spoke up and said, "Gentleman, I believe you need to get your own dirt. All of this belongs to me."
Something out of nothing, that is what he has done with my life. That is what he does with all true believer's lives. He takes a void and empty place and fills it with love, peace, and compassion for others. He takes simple pieces of clay and makes them the most beautiful creations in his eyes. And remember, God doesn't make junk!
Much love,
Amy Duncan Oxenrider
Amy Duncan Oxenrider, the daughter of Grant and Shelia Duncan, is married to Jason Oxenrider and they have three sons, Brady, Weston, and Rylan.  Amy works as a psychometrist for the Mississippi Department of Education. She also writes for Pure Gospel Magazine and is now a member of SGNScoops.  A former member of the Riders, Amy continues to minister through singing and speaking engagements.  She is excited to see what her future holds and longs to uplift the name of Jesus Christ wherever the doors may open.  Find Amy on Facebook HERE.
Download the latest edition of SGNScoops Magazine
HERE
Tags:
Amy Oxenrider
,
Daddy
,
God
,
Jesus
,
Jesus Christ
,
Sweet Water
Posted in
Christian interest
,
sgn scoops magazine
|
Comments Off

on Amy Oxenrider asks, "Who's Your Daddy?"
Written by Staff on January 17, 2019 – 6:35 am -
Sweet Water: What is your purpose?
By Amy Oxenrider
We all have a purpose for this life.
Stress, anxiety, depression, doubt – you fill in the blank – often causes us to lose focus and allow fear to enter our mind to make us feel worthless.  
The good news is Christ has already overcome all of these feelings.
Are they real feelings? Of course these feelings are real to you. Are we allowed to feel these things? The answer is yes.
But the key is we are not allowed to stay in the place these feelings take us. The darkness and hopelessness is not of God. He is light. He is love. He is peace.  
Philippians 1:3-6 says:"I thank my God every time I remember you. In all my prayers for all of you, I always pray with joy because of your partnership in the gospel from the first day until now, being confident of this, that he who began a good work in you will carry it on to completion until the day of Christ Jesus."
Your purpose in this life is to complete the good work that Christ has begun in you.  
What is your work? Have you become discouraged in your work for the Kingdom of God? Do you feel you can't do anymore without completely breaking?  
Look at the aforementioned scripture. This says He, speaking of Jesus, will, not maybe or perhaps, but he will complete this work in you.
Sometimes we need to rest. God is more aware of this than we are ourselves. He created our body and created it in a way that rest is a necessity.
Take some time for yourself and spend it with God. Do not allow guilt to sneak in and attempt to steal your joy and peace.
It is God's will for us to take time to rest. When we rest, our body rejuvenates and heals itself. Imagine how beneficial it will be for our body, spiritually and physically, if we take time to rest in God.  
The year 2018 has come and gone.  How are you going to react to your physical and spiritual needs in 2019?  Are you going to continue in your purpose and allow God to bring it to completion?  
One thing we all have to remember is that God's character enters each and every person he has created.  
Remember, we are created in his image. That includes you. He is more than willing to work in you to completion.  
When you allow God to work in you, then he works through you. Others are able to see his hands and feet go before them through your words and actions.  When you feel down and worthless, remember that Jesus lives in you and therefore he goes with you each step of your way.
You must have as much respect for yourself and your part in building God's kingdom as our creator has for you. He loves you beyond all measure. Don't ever think he will leave you. He will be with you until you have fully completed his purpose for you while living in this world.
I want to leave you with this scripture that I feel is perfect to meditate on especially while starting a new year.
Philippians 1:9-11: "And this is my prayer: that your love may abound more and more in knowledge and depth of insight, so that you may be able to discern what is best and may be pure and blameless until the day of Christ, filled with the fruit of righteousness that comes through Jesus Christ – to the glory and praise to God."
By  Amy D. Oxenrider 
Read the latest issue of the SGNScoops Magazine HERE.
Download SGNScoops Magazine PDF 
Here
Find SGNScoops Magazine On Facebook 
Here
Listen To Today's Gospel Music 
Here
Tags:
Amy Oxenrider
,
God's will
,
Purpose
,
Sweet Water
Posted in
Christian interest
,
sgn scoops magazine
|
Comments Off

on Amy Oxenrider: What is your purpose?
Written by Staff on September 15, 2018 – 6:59 am -
Mrs. Amy D. Oxenrider is the newest member of the SGNScoops team and we are pleased to present her first devotional article here. A former member of the 'Riders, Amy continues to sing and has also taken on several speaking engagements. She continues her ministry through writing articles, speaking at revivals, conferences, and one-on-one counseling. The Sweet Water article will be written monthly by Amy, and she will also be conducting live interviews throughout the country, keeping everyone up to date on their favorite artist. Amy, we are pleased to have you as a member of the SGNScoops family.
Sweet Water by Amy Duncan Oxenrider
According To Your Faith
Imagine a woman sitting in her home day after day wishing she could be normal. An illness prevents her from engaging with her peers and family because she is considered unclean. She has no control. She has spent all of her money on herbs and rituals in hopes of being healed so she could be normal.
She sits thinking to herself, "What do I have now? I'm still sick and have no money for medicine. I am bound to my home, away from friends and family. How long will I have to suffer? How long will I be isolated form society?"
As she sits feeling hopeless, she hears through her small window the crowd becoming excited. She walks closer hoping to hear the cause of the commotion.
Then she hears the name "Jesus."
She remembers what she has heard about this mysterious man they call "Teacher," "Son of David," and "Healer." "Is it true he has so much power," she says to herself. "Could it be possible that he could actually heal my disease?"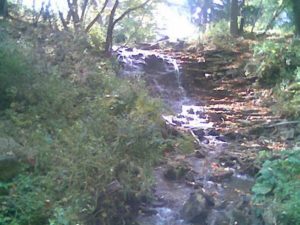 Suddenly, without a second thought, she grabs her cloak, wraps it tightly around her upper body and rushes out the door. She begins to follow the crowd but soon realizes she is not the only one that's heard Jesus is in town. There are so many people running towards him, will she ever make it before he is out of reach?
She sees him from a distance but can't seem to get close enough to ask him for help. He begins to walk further away and the crowd is getting thicker. She thinks this is her one and only chance and she is not going to let him get away from her. She pushes, steps over the fallen, presses her way through the crowd but he is still too far ahead of her.
She thinks to herself, "This man has so much power, if I can only touch his cloak, I will be well."
Again, she becomes more and more determined to make her way to him. Finally, she gets close enough to touch the very edge of his cloak. She falls on the ground and reaches between others to touch the very hem of his garment.
Jesus stops.
He turns and looks to her, asking, "Who touched me?"
She knew he was referring to her. Scared and timid, she quietly says, "It was I."
Jesus did not have to ask her what was wrong or why she felt the needed to touch him, he already knew. He saw the faith she had in him and loving said, "Take heart, daughter, your faith has healed you."
She was instantly healed. After twelve years of suffering, it all went away once the Healer spoke.
One thing I would like for you to notice: Jesus told the woman that her faith was the reason for her healing. We can pray and pray and pray 24/7, but if we do not have the faith that God is able and willing to answer us when we call on him, our prayers will be in vain.
In the same chapter of Matthew 9, Jesus told two blind men, "According to your faith will it be done to you." He did not say your mother's or father's faith, he said your faith. These blind men believed and were healed. The woman with the blood disease had enough faith in Jesus that she would do anything to get to him. What was her result? Healing. According to her faith, she was healed. Remember, for twelve years this woman was considered untouchable.
Isn't it amazing that our Savior can change a situation that seems unending in less than a second? Immediately, she was healed. Immediately, our bad situations can change when we touch Jesus, knowing he is able to take care of us.
When we completely submit to his will, giving our future to him and being led by his sweet Holy Spirit, the changes that we will see take place in lives will be amazing.
In times of desperation, don't worry about the correct way to reach God, just reach him. That's all that matters.
According to your faith will it be done to you.
God Bless You All
By Amy D. Oxenrider
More on Amy Oxenrider:
Amy was raised in a conservative Christian home, being one of two children of Reverend Grant and Shelia Duncan. She and her sister were on the stage singing as soon as they were old enough to hold a microphone. This legacy continues to be passed on through Amy to her three sons. She has recently signed with Green Family Ministry Promotions as a solo artist and will be sharing the love of Christ wherever the doors may open. Amy has also signed with Holland Management Productions (HMP) as a model. Understanding that beauty is not standard, it is Amy's desire to express to women that we are all created in the image of God and are beautiful in his sight.
Read the full SGNScoops August  Magazine Here.
Download the PDF of SGNScoops Magazine HERE
Find SGNScoops On Facebook HERE
Listen To Today's Gospel Music Online HERE
Tags:
Amy Oxenrider
,
Christian life
,
Devotional
,
God
,
Jesus
,
sgnscoops
,
Sweet Water
Posted in
artists
,
sgn scoops magazine
|
Comments Off

on New SGNScoops writer Amy Oxenrider drinks "Sweet Water"