Written by SGN Scoops Staff on February 3, 2016 – 2:21 pm -
After a gospel music ministry that spans over 26 years together, gospel group The BRADYS from Dothan, AL has announced that they are retiring the group effective immediately. Group member Keith Brady recently underwent open-heart surgery, however Keith has stated that it is important that their friends across the country know that this is not the reason they are disbanding. He recently conveyed in an interview, "We had felt for over a year now that things were winding down but we never wanted to stop until we were sure in our hearts it was in God's timing. After much prayer, I feel a release in my spirit that the time is now. If not, trust me, I would be doing everything in my power to aim toward the goal of returning to the road as quickly as possible singing the music we love so much!" Group member Sylvia Green stated, "It's very bittersweet because we've met so many wonderful people, and music ministry has been what our entire life has been geared around for all these years, but I do realize that ultimately being in God's will is what matters most!"
The group asks that you keep each of them; Alan Brady, Keith Brady, and Sylvia Green in your prayers as they go their different ways. As Keith said, "We all as Christians should be ministers of God each and every day in some way and we will continue doing that. It may not always be through music but God just needs a vessel and I aim to be one He can use!" The group offers their heartfelt thanks to the Promoters, Pastors, Music Ministers, Radio stations and friends across the country that believed in their ministry and supported or helped them in any way. Sylvia states, "We've always known it was a giant GROUP effort through many people that kept us on the road! We've always considered them all as a part of our ministry, and anyone who helped us in any way will always have a special place in our hearts!"
There is a limited amount of remaining BRADY product available but anyone wishing to obtain a copy of the Bradys last CD "ENTIRELY POSSIBLE" may do so by calling their recording label, TenTOP Music Group (at the offices of Big "Mo" Ministries) 334-693-3091; or by ordering online at Springside Marketing at www.springside.com If you would like to send cards or letters to any of the Bradys, please send to: PO Box 534 Columbia, AL 36319
Tags:
The Brady's
Posted in
artists
|
Comments Off

on GOSPEL GROUP THE BRADYS RETIRE FROM THE ROAD
Written by Staff on September 23, 2015 – 10:31 am -
After a heart CATH procedure on Monday September 21st, Keith Brady of The BRADYS was told that he needed to make immediate plans for open heart surgery that included 5 bypasses! The surgery was done on Tuesday September 22! It was a lengthy surgery but the Heart Surgeon declared it to be a definite success! However, the Surgeon did indicate that only 3 bypasses were able to be performed out of the five that were needed, due to the fact that the other two remaining damaged arteries were too far gone to be repaired! In spite of this fact, the Surgeon stated he was very pleased with the outcome! In his words, the three arteries that were repaired were already producing a far greater increase in blood flow than Keith's pre-surgery condition! As with all surgeries of this type, the first 48 hours are very critical and there is a rather lengthy recovery period!
There were literally thousands of people praying for Keith and in fact in the few moments before surgery there were 6 preachers from three different states in the room praying with he and the family! PRAYER made the difference! The Bradys have had to cancel several weeks of bookings and it is undetermined at this time how many weeks may yet have to be canceled. This will be a weekly decision based on Keith's continued progress, but they are believing that through the prayers of God's people Keith will soon be back on the road ministering in song for the Lord as he so desires to do!
The BRADYS are asking for their friends across the country to keep Keith and the group in their prayers! Those wishing to send cards, letters, or financial donations to help with expenses, may send them to: Keith Brady, C/O The Bradys, 210 Crossing Lane #C-23, Dothan AL 36303.
Tags:
Keith Brady
,
Prayer
,
southern gospel
,
The Brady's
Posted in
announcements
,
artists
|
Comments Off

on KEITH BRADY OF THE BRADYS UNDERGOES BYPASS SURGERY
Written by SGN Scoops Staff on January 10, 2013 – 5:59 pm -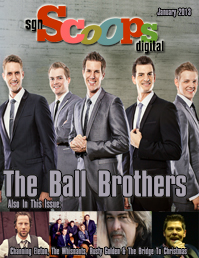 We're kicking off 2013 with a jammed packed exciting issue of SGNScoops Magazine! Get to know the Ball Brothers this month as our cover story. Other ministries highlighted this month are The Whisnants, Rusty Golden,Woody Wright, Richard Kiser, The Brady's and Sylvia Green. In this edition, SGNScoops shares details regarding the Sandi Patty, Jason Crabb Christmas Tour, the Brooklyn Tabernacle Christmas and The Bridge Ministry's "The Bridge To Christmas." Rhonda shares behind the scenes to Channing Eleton's new music video and Stephanie Kelley shares her Disney On Ice/Wigs for Children With Cancer experience. Sandi Duncan Clark reviews new music and Angela tells how the Williamsons are involved with spreading the Word of God in Kazakhstan. Other articles of interest include a devotion from John Mathis Jr, memories from Lou Hildreth, a challenge to develop professionally with special guest writer, Sheri Thrower. Rhonda begins a new series called, "Whatever It Takes" focusing on the importance of effective faith sharing. Get fit with Laurette Willis, catch up with Jeff Hawes on the road with Karen Peck and New River and read about plans for the 2013 Creekside Gospel Music Convention! Thank you for making 2012 a great year, and help us make 2013 even better. Please share SGNScoops Magazine with your friends, fans and family. Always Digital, Always Free, Always Good!
Download SGNScoops Magazine Here
Tags:
Ball Brothers
,
Brooklyn Tabernacle Christmas
,
Channing Eleton
,
Creekside Gospel Music Convention
,
Disney On Ice
,
he Whisnants
,
Jason Crabb
,
jeff hawes
,
john mathis jr
,
karen peck and new river
,
Kazakhstan
,
Lorraine Walker
,
Lou Hildreth
,
Rhonda Frye
,
Richard Kiser
,
rob patz
,
Rusty Golden
,
Sandi Duncan
,
Sandi Duncan Clark
,
sandi patty
,
Sheri Thrower
,
Southern Gospel News
,
Stephanie Kelley
,
The Brady's
,
The Bridge Ministry
,
The Bridge To Christmas
,
The Williamsons
,
Woody Wright
Posted in
announcements
,
scoops
,
sgn scoops magazine
|
Comments Off

on January 2013 Edition Of SGNScoops Magazine