Written by Staff on March 26, 2018 – 3:19 pm -
All-new CD and DVD Recordings Commemorate the Music of The Chuck Wagon Gang, Gaithers, Happy Goodman Family, Rambos and Speer Family
NASHVILLE, Tenn.—March 26th, 2018—Gospel Music Hall of Fame members and award-winning family group The Hoppers have just recorded an all-new CD and DVD in commemoration of some of gospel music's legendary pioneers who paved the way before them. Produced by gospel music icon Bill Gaither, along with award-winning, veteran producer Michael Sykes, The Hoppers: Honor the First Families of Gospel Music (Gaither Music Group), which is scheduled to release on April 6th, pays tribute to classic hits originally recorded by The Chuck Wagon Gang, Gaithers, Goodman Family, Rambos and the Speer Family.
"This was Bill Gaither's idea and it was a good one!" stated group matriarch Connie Hopper as she remembered these groups' impacts on The Hoppers. "The Chuck Wagon Gang was the first gospel music I heard on the radio growing up. Later, after we began traveling and singing, I had the opportunity to meet Rose, Anna and Roy Carter. It is our privilege to honor The Chuck Wagon Gang on one of their great classics 'Lord, Lead Me On.'"
Other classic tunes chosen for the release include "God Walks the Dark Hills," "Gentle Shepherd," "I'd Rather Have Jesus," "I Wouldn't Take Nothing for My Journey," the first radio single "Be an Overcomer," "He Looked Beyond My Fault" and more.
"Bill [Gaither], along with all The Hoppers, agreed we should musically stay true to the songs as they were first recorded by the original artists," stated soprano Kim Hopper. "Vocally we are very different from these artists, so naturally we gave these songs a different sound."
That acclaimed Hoppers' sound was inspired by many of these pioneering gospel music families. Connie recalled, "We were in concert with the Rambos in SC. I was in my seat listening intently when Buck stepped to the mic to tell the crowd that Dottie had just written a new song—'He Looked Beyond My Fault.' It was indeed a special moment."
"I was fortunate at a young age to be traveling with my family during the years these honored family groups were in their prime," said Dean Hopper. "You might say I had a front row seat to greatness. I spent time on their buses, and some even visited our home to sit down for my mom's home cooking. We had many conversations before the concerts, and then I watched the crowd respond as these honored families brought life to these great songs. These are treasured memories."
Group leader and bass singer Claude Hopper shared another special moment inspired by the Speer Family, "In 1956 I attended my first concert in Winston Salem, NC. The Speer Family was among the featured artists that night. Dad Speer was singing the song 'I'm Bound for That City.' He walked the stage rubbing his hand through his white hair and singing with such passion and conviction I thought he was going to that city that night, and I wanted to go with him. That concert inspired me to sing this music. Sixty-one years later I'm still doing it."
A family group who has been blazing musical trails for over 60 years, The Hoppers are a mainstay in gospel music. For decades their recording and performing have been inspiring new generations of up-and-coming artists. They have garnered over 25 Favorite Groups Awards, six Favorite Alto Awards, 40 Female Vocalist Awards and five Favorite Musician Awards. Their talents have taken them from the stages of Carnegie Hall and the Gaither HOMECOMING tours to platforms in Israel, Europe and Africa; and their radio hits are a mainstay at the top of The Singing News radio charts.
The group's DVD release The Gaither Gospel Series: The Best of The Hoppers (Gaither Music Group) soared to #2 on Billboard's video chart while the CD entered the Billboard Heatseeker chart at #4. Additionally, the CD entered the Nielsen SoundScan Southern Gospel chart at #1 and the Contemporary Christian chart at #10.
The group, led by Southern Gospel Music Association Hall of Fame members Connie and Claude, maintain a heavy touring schedule, performing on the Gaither HOMECOMING video series, at the National Quartet Convention, at the Great Western Gospel Music Fan Festival, at the Cove and at Singing in the Sun, in addition to around 180 solo dates annually.
The Hoppers: Honor the First Families of Gospel Music is distributed by Capitol Christian Music Distribution and Universal Music. The 90-minute DVD features a behind-the-scenes interview with the group hosted by Gaither. The DVD and CD will be available at retail and digital outlets worldwide including iTunes, Amazon, www.gaither.com and www.thehoppers.com. It is available for pre-sale now at www.amazon.com, www.cbd.com, www.gaither.com and www.thehoppers.com.
The new recording will air as a television special on RFD-TV, TBN, Gaither Television Network, PBS, DISH TV, DirecTV, FamilyNet, CTN, GMC, GMTN, Guardian, Liberty, TCT and TLN. It will air in Canada on Vision TV, CTS, The Miracle Channel and Hope TV. It will be promoted via a social media campaign, positioned in retail/e-tail outlets everywhere, featured in the Gaither Catalog Collection and on the Gaither web site and aired on the "HOMECOMING Weekly" program on Sirius XM.
The LIVE performance video of "Be an Overcomer" is also featured on the recent CD and DVD release A Few Good Men (Gaither Music Group), which features the Gaither Vocal Band, The Gatlin Brothers and The Oak Ridge Boys. For a preview of "Be an Overcomer" visit: https://www.youtube.com/watch?v=dAmJpP2SnYY
For further information regarding The Hoppers website.
The Hoppers: Honor the First Families of Gospel Music Song Listing (CD and DVD):
1. Be an Overcomer
2. Lord, Lead Me On
3. God Walks the Dark Hills
4. I'm Longing for Jesus to Come Back
5. One More River
6. He Is Mine and I Am His
7. I Wouldn't Take Nothing for My Journey
8. I'd Rather Have Jesus
9. He Looked Beyond My Fault
10. Some Glad Day
11. Gentle Shepherd
Download The PDF Version Of SGNScoops Magazine HERE
Find SGNScoops Magazine On Facebook HERE
Listen Online To The Best In Todays Gospel Music HERE
Tags:
gaither
,
Gaithers
,
Goodman Family
,
hoppers
,
Rambos
,
Speer Family
,
The Chuck Wagon Gang
Posted in
announcements
,
artists
|
Comments Off

on GMA Hall of Fame Members The Hoppers Pay Tribute to Gospel Music Pioneers
Written by SGN Scoops on July 23, 2012 – 5:36 pm -
Plans are underway for the 42nd Annual Seminole Gospel Sing! The Seminole Music Park, one mile south of Seminole Oklahoma, is the site of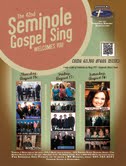 Oklahoma's largest gospel music event, hosted by The Gospel Station Network and the Seminole Gospel Singing Association.
This year's talent line-up is great, with some of the legends of gospel AND several new quality artists, including: The Dove Brothers, The Freemans, The Williamsons, Chris Hester, The LeFevers, The Blackwood Brothers, The Chuck Wagon Gang, Charlotte Richie, Gordon Mote, The Nelons, Masters Voice, Palmetto State Quartet, and Gold City.   Save $10 on Tickets if you buy them before August 13th at www.TheGospelStation.com
Over the years, the Seminole Sing and the Konawa OK Gospel Singing have attracted people from all over the U.S.  – people who love real gospel music – people who believe in the message of Jesus Christ, and love this style of singing.  "We are honored to be working with the association in Seminole to keep this wonderful singing alive and moving forward.  God is working all over the world through Gospel Music and we feel so blessed to be a part of it," said Randall Christy, President of The Gospel Station Network.
Tags:
Blackwood Brothers
,
Charlotte Ritchie
,
chris hester
,
gordon mote
,
palmetto state quartet
,
Seminole Gospel Sing
,
Southern Gospel Music
,
The Chuck Wagon Gang
,
the freemans
,
The LeFevres
,
the nelons
,
The Williamsons
Posted in
announcements
,
gospel events
|
Comments Off

on 42nd Annual Seminole Gospel Sing!
Written by SGN Scoops on May 7, 2012 – 5:15 am -
Chapel Valley recording artist Michael Wayne Smith is the guest on the current edition of Gospel Music Today.  The Feature Group is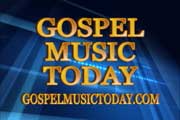 Terry Luna & Another Day, and Ken and Jean Grady host southern gospel news   and concert updates. Ken and Jean visit The Civic, in Neosho, MO, to hear The Chuck Wagon Gang sing. Jean reviews a new CD by The Duncans, and the show features singing by The Bowling Family and a vintage video by The Speer Family. The latest edition of Gospel Music Today is online now at the Gospel Music Today website,
www.gospelmusictoday.com
.
__________________________
Tags:
chapel valley
,
Gospel Music Today
,
Ken & Jean Grady
,
Southern Gospel Music
,
Southern Gospel News
,
The Bowling Family
,
The Chuck Wagon Gang
,
The Duncans
,
The Speer Family
Posted in
announcements
,
christian entertainment
|
Comments Off

on Michael Wayne Smith Special Guest on Gospel Music Today
Written by SGN Scoops Staff on November 30, 2011 – 11:28 am -
Nashville, TN: Saturday afternoon, fans from all over the Country gathered in Nashville, TN at the world famous Earnest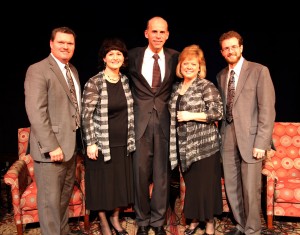 Tubb Record Shop to be a part of a weekend long celebration honoring the music and career of The Chuck Wagon Gang. This past Friday, November 25 marked the 75th Anniversary of the group's first recording. In recognition of this historic occasion, WSM Radio and the Ernest Tubb Record Shop hosted a live appearance by The Chuck Wagon Gang. WSM broadcasted the hour and a half event as the Gang performed songs that have contributed to over 40 million records sold world-wide.
Their next stop was later that night when they opened the legendary radio show, "The Midnight Jamboree" on WSM Radio. There were two more middle Tennessee concerts on Sunday and the Nashville celebration ended up on Monday evening in the Ford Theater inside The Country Music Hall of Fame. They took center stage as the featured artist on "An Intimate Evening with Eddie Stubbs". The 2 hour WSM Radio broadcast (Going to 35 states and Canada) featured an in depth interview and live performances of songs from the past 75 years. Eddie Stubbs who has been known for yearsas "The
Voice of The Grand Ole Opry" commented, "In all my years of doing this show, this is the first act to receive that many standing ovations and the first to bring me to tears".
The Chuck Wagon Gang is currently working on a documentary to mark their 75 years of music that will
be a must have item for all Chuck Wagon Gang fans and traditional American music lovers.
Tags:
75th Anniversary
,
Ernest Tubb Record Shop
,
southern gospel
,
Southern Gospel News
,
The Chuck Wagon Gang
,
The Midnight Jamboree
,
WSM Radio
Posted in
announcements
,
christian entertainment
|
Comments Off

on Nashville Celebrates 75 Years of Great Chuck Wagon Gang Music
Written by SGN Scoops Staff on October 29, 2011 – 3:48 pm -
Nashville, TN –   The Chuck Wagon Gang will celebrate 75 years of recording and performing on November 25, 2011.   A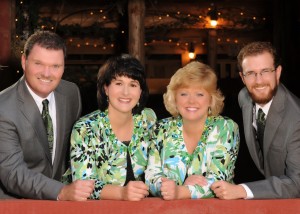 special 75 Year Celebration Concert will take place on Saturday, November 26, from 3:00-4:30 PM at the historic Ernest Tubb Record Shop, 417 Broadway, Nashville, TN.  Several presentations are expected and the Celebration will be broadcast live over WSM, 650 on the AM Dial.  Later that night, the Gang will perform on the Midnight Jamboree at the Texas Troubadour Theater in Nashville.  On Monday night, November 28m The Chuck Wagon Gang will be special guests on the Eddie Stubbs Show to be held at the Ford Theater at the Country Music Hall Of Fame from 7:00-9:00 PM.  Both the Midnite Jamboree and Eddie Stubbs Show will be broadcast on WSM, and the Midnight Jamboree will be webcast.
On November 25 and 26, 1936, The Chuck Wagon Gang recorded their first recordings in a small studio set up in a hotel room at the Gunter Hotel in San Antonio, Texas.  This was the beginning of a 39-year association with Columbia Records (now Sony Music) where 39 Million records were sold.  Their 1948 recording of the Albert E. Brumley classic, "I'll Fly Away," is believed to be the first million seller by a Southern Gospel group.  Today, the Chuck Wagon Gang is the oldest mixed recording gospel group, still recording and performing, with ties to the original founding.
Congratulatory cards and letters may be emailed to chuckwagongang@comcast.net or mailed to The Chuck Wagon Gang, PO Box 140416, Nashville, TN  37214-0416.
Tags:
Albert E. Brumley
,
Country music Hall of Fame
,
Ernest Tubb
,
Southern Gospel Music
,
Southern Gospel News
,
texas troubadour theater
,
The Chuck Wagon Gang
Posted in
announcements
,
Christian interest
|
Comments Off

on Chuck Wagon Gang to Celebrate 75 Years!
Written by SGN Scoops Staff on May 6, 2011 – 10:48 am -
(Press Release – Nashville, TN  – May 6,  2011) Dave Emery, long-time bass singer and guitarist for The Chuck Wagon
Gang will be leaving the group  effective May 31st.  Dave and his wife, Phyllis, plan to pursue their life-long dream of moving to Florida in the near future.  "Although I will be leaving the Gang, don't be surprised if you see me singing again someday, as Gospel Music is in my blood", said Dave Emery of Seymour, TN.  "To have been a member of The Chuck Wagon Gang has been a great honor, and to have sung their songs has been a real thrill.  I have had a wonderful time and great experience with The Chuck Wagon Gang, and wish the group well as they continue a 75-year legacy, but I can't wait to move back to Florida!"
Replacing Dave will be 26-year-old Jeremy Stephens, who will also be performing double duties as guitarist and bass singer.  Many of you have already met Jeremy, as he filled in for tenor singer Stan Hill, who was away from the group for some time during his wife's recent illness and surgeries, and also played guitar for the group during that time.
Jeremy was born in Lynchburg, VA and raised in Danville, VA. Having fallen in love with traditional bluegrass and old time music at an early age, he began playing fiddle and banjo at age 5, and sometime later picked up the guitar. He began playing with a bluegrass band at age 10. For years, banjo has been Jeremy's primary instrument. He has played banjo with several bluegrass groups over the last 17 years. Jeremy graduated from Liberty University in Lynchburg, VA with a Bachelor's Degree in Graphic Design, but has chosen to pursue music, his lifelong passion.
Jeremy first heard the Chuck Wagon Gang at age 12 when he started listening to his grandparents' gospel records, and he has been in love with their music ever since. Being a bluegrasser at the core, his favorite version of the Gang is the original group: Rose, Anna, Dad, and Jim. One of his biggest hobbies is record collecting, and one of his main record collections is The Chuck Wagon Gang. Jeremy also loves the guitar playing of Howard Gordon, Anna's husband who played for the Gang in the 50s and 60s.
Speaking from her home in Hertford, NC, Owner/Manager Shaye Smith stated:  "Dave has done a great job for several years in handling many positions.  He performed as guitarist, bass singer, and MC, while also overseeing many administrative duties.  We will miss him, but wish him well in his future endeavors.  There there is great excitement as we bring on board a very talented, young man, a dedicated CWG fan, and one who can play the style of my late Grandfather, Howard Gordon".
Jeremy says, "I am so excited to be working for my favorite gospel group. I have loved their music for years, and I'm so thankful to God for putting me here at this place in my life." Jeremy currently lives in Nashville, TN.
Booking duties have been assumed by Harold Timmons, who can be reached at 817-944-2538.
Today, the Chuck Wagon Gang holds the distinction of being the oldest recording mixed gospel group still performing with ties to the original founding. The Chuck Wagon Gang records for Song Garden Music Group, and their latest single release, "Bare Hands" is being well received by radio listeners all across the country.  Their latest recording, "My Soul Shall Live On" remains true to their famed tradition of old favorites, yet freshness comes out in several new songs. The Chuck Wagon Gang is committed to preserving the integrity of the it's great legacy by continuing the simple style that Dad Carter established nearly 75 years ago. They will continue to do as Dad Carter instructed, "Sing the old songs, and sing them the way I taught you."
Tags:
Dave Emery
,
Harold Timmons
,
Jeremy Stephens
,
The Chuck Wagon Gang
Posted in
announcements
,
Christian interest
|
Comments Off

on The Chuck Wagon Gang Announces the Departure of Dave Emery