Written by scoopsnews on January 20, 2019 – 10:16 am -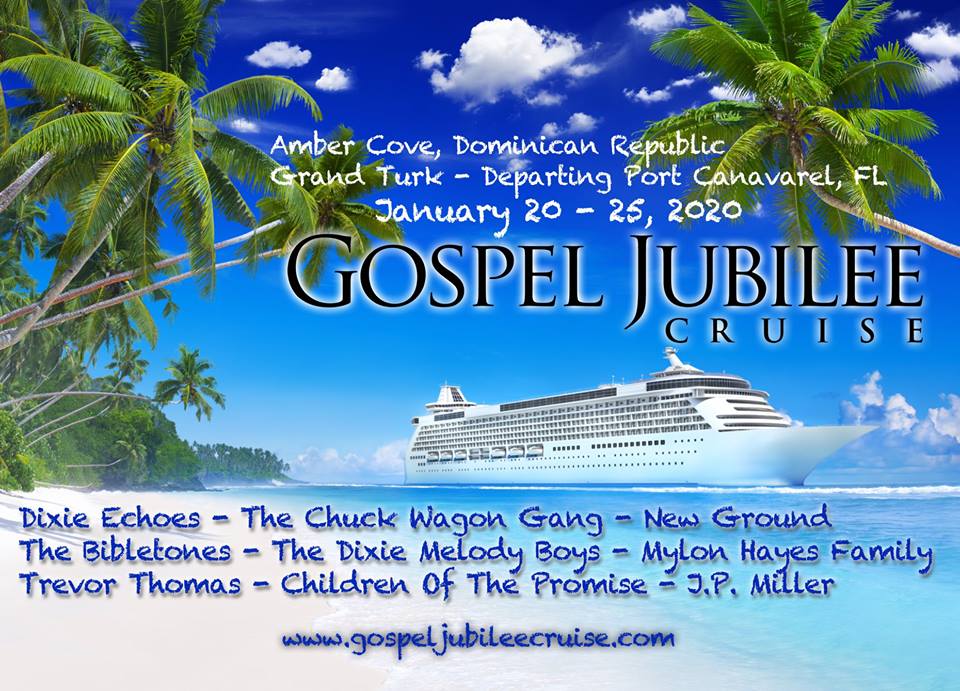 Join The Dixie Echoes, The Chuck Wagon Gang, New Ground, The Bibletones, The Dixie Melody Boys, Mylon Hayes Family, Trevor Thomas, Children Of The Promise, and JP Miller on the 2020 Gospel Jubilee Cruise! Set sail on a 5 day cruise to Amber Cove, Dominican Republic, and Grand Turk. SAVE SAVE SAVE! From now until Valentines Day, Feb. 14th, get $50 off your total cabin price, PLUS your deposit will only be $150 per person. After February 14th, the deposit will be $250 per person. You have until November to pay off your cruise, so why wait?
Contact Sandy at 800-993-8785, and sign up with your favorite Southern Gospel Artist today!
Tags:
Gospel Jubilee Cruise
,
The Dixie Echoes
Posted in
announcements
|
Comments Off

on "The Gospel Jubilee Cruise 2020"
Written by SGN Scoops Staff on May 17, 2014 – 4:19 pm -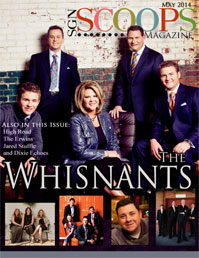 Welcome to the May issue of SGN Scoops digital magazine! We are thrilled to bring to you the best stories in Christian music, from features to devotionals to concert reviews. This month, our cover story is the beloved family group, The Whisnants, as they allow SGN Scoops to come with them backstage and in the bus. Be sure to read this captivating feature by Jennifer Campbell. Erin Stevens' Younger Perspective shines the spotlight on The Perrys' artist, Jared Stuffle. Other artists featured include The Erwins by Marcie Gray, new Christian female trio High Road III by Lorraine Walker, and Sandi Duncan Clark catches up with the Dixie Echoes.
Craig Harris reviews a concert event by the indescribable Mark Lowry along with the award-winning Martins. Rob Patz tells America what they want to know about family group The Hoggles. Rhonda Frye reflects on Mother's Day. Legendary staff writer, Lou Wills Hildreth shares the taping of the SGMG 2014 Harmony Honors.
We are happy to have our participating artists sharing their hearts with you, including Dr. Jeff Steele, David Staton, Sherry Anne and Kelly Nelon Clark.
Also included in this month's issue are CD reviews, SGN Scoops Top 100 songs for May and our monthly Health Feature by Laurette Willis, who discusses the enjoyable topic of regular exercise!
We hope you take a moment to read the uplifting and encouraging articles this month. Pass the link along to family and friends and don't forget to tell your favorite artist that you saw their feature in this month's SGN Scoops magazine!
Tags:
David Staton
,
High Road III
,
Jeff Steele
,
Kelly Nelon Clark
,
Lorriane Walker
,
Mark Lowry
,
rob patz
,
Southern Gospel News
,
The Dixie Echoes
,
The Martins
,
Whisnants
Posted in
sgn scoops magazine
|
Comments Off

on May 2014 SGNScoops Magazine
Written by SGN Scoops Staff on August 29, 2012 – 9:21 am -
.
Jordan James will be filling the bass slot. He is from Verda, LA. and has attended, and taught at the Stamps School of Music. Jordan has a dynamic voice that has drawn comparisons to the great George Younce.
Craig Thomas will be singing the tenor part. He is from DeFuniak Springs, FL. and has one of the smoothest tenor voices you will ever hear. His smile and personality has already won the hearts of Dixie Echoes fans everywhere.
Ben Hart will be the new pianist for the group. Ben comes to us from Peoria, Ill. and is one of the most talented young musicians in gospel music. Ben also plays the guitar, harmonica, bass guitar, and quite a few other instruments.
Each of these man have felt the calling on their lives to share the gospel, and we are very thankful that God has chosen to place them with the Dixie Echoes.
Be sure to check dixieechoes.com for our schedule, and come meet Jordan, Craig, and Ben next time we're in your area.
God Bless,
Randy Shelnut Jr.
Tags:
Ben Hart
,
Craig Thomas
,
Dixie Echoes
,
Jordan James
,
Randy Shelnut Jr
,
southern gospel
,
Southern Gospel News
,
Stamps School of Music
,
The Dixie Echoes
Posted in
announcements
,
breaking news
|
Comments Off

on The Dixie Echoes are happy to announce that we have filled the positions of bass, tenor and pianist
Written by SGN Scoops on July 28, 2011 – 7:10 pm -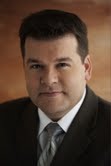 Nashville, TN – Palmetto State Quartet manager and bass singer, Larry Strickland has announced the addition of Wesley Smith  to the popular quartet. Smith will fill the tenor position for the Nashville-based group.
Smith, the youngest of four sons, grew up in and around Gospel music, as his dad, who also served as a pastor, sang in a regional quartet. At a very young age, Smith was smitten with the smooth, rich quartet sounds and became hooked on four-part harmony. He admits that his favorite groups are The Cathedrals, The Statesmen and The Oak Ridge Boys.
At a young age, he learned to play guitar and piano and by the time he reached the age of 15 was singing and playing bass guitar with his first quartet. He spent several years traveling and singing with regional groups before accepting his first full-time position, ironically with Palmetto State. He traveled with PSQ for two years, and later began singing with The Dixie Echoes. Smith says, while he enjoyed his time with The Dixie Echoes, he is thrilled to return to PSQ. "I love Randy and all The Dixie Echoes," Smith states. "They are a great bunch of guys, and I thoroughly enjoyed my time with them, but I'm thrilled to be back with Palmetto State, and look forward to rekindling many friendships I made with their many friends and fans."
Riding high on the success of their latest Top 20 single, "Don't That Sound Like Heaven," Palmetto State is traveling throughout the States and are also featured on a number of events featuring the multi-award winning duo, The Judds. Visit www.psqworld.com for complete touring information.
Tags:
Cathedrals
,
larry Strickland
,
palmetto state quartet
,
Southern Gospel News
,
The Dixie Echoes
,
The Judds
,
The Oak Ridge Boys
,
the Statesmen
,
Wesley Smith
Posted in
announcements
|
Comments Off

on Palmetto State Quartet Welcomes New Tenor