Written by scoopsnews on August 9, 2020 – 6:53 am -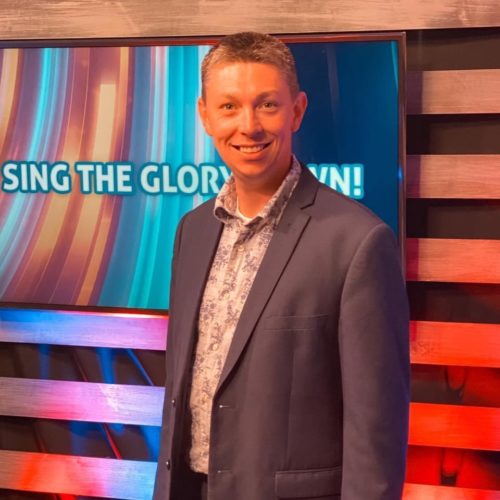 From Pastor Josh Franks:
Join us Tonight!
FREE Homemade Ice Cream will be served following the service!
#peoplestabernacle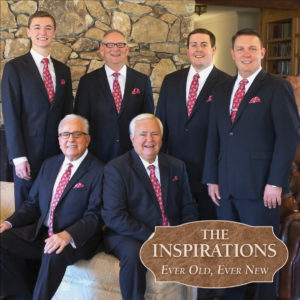 Tags:
Josh Franks
,
People's Tabernacle Church
,
The Inspirations
Posted in
announcements
|
Comments Off

on The Inspirations In Savannah, Tennessee Tonight!
Written by SGN Scoops Staff on February 14, 2020 – 10:20 am -
Arden, North Carolina  — For decades, The Inspirations have served God, using their music to minister and spread the gospel. Though the Biblical messages stay the same, the stories never get old for those who hear them and are uplifted by God's promises. On their latest album, Ever Old, Ever New, The Inspirations once again tell that good news with their signature sound. The album, now available for pre-order, will be released April 10 on Horizon Records.
Inspiring the album's title, the first single "Forever Settled" captures that theme of God's truth never changing. Featuring Roland Kesterson on the verses, the song then breaks into a true traditional quartet style, with Marlin Shubert stepping out on the bass vocal.
The Inspirations sing about keeping the Church traditions alive on "1945" and "I Like The Songs That Mama Sang The Best." A reminder of a simpler time, "1945" features Archie Watkins singing about keeping the tenets of church alive, and not losing the power of services. "I Like The Songs That Mama Sang The Best," a remake of an Inspirations classic, takes listeners back in time with vivid memories of hymns that have become traditional in church.
On Ever Old, Ever New, The Inspirations also explore how to live a faithful life that will get us to heaven. "Show Them Love," written by Sandy Knight and producer Jeff Collins, explains that the best way to answer the call to share the gospel is to act in the image of Jesus and love everyone you meet. The upbeat "Enter In" features a country sound and Wyatt Austin on bass vocals. After living a faithful life, Jesus will welcome you as you enter into heaven. "Then What" caught Watkins' ear because of how it tells life's story. People plan and work hard throughout life, but rarely do they give life after this one much thought, even though it is inevitable.
The only instrumental on the album, the classic "I'll Fly Away" features Luke Vaught playing guitars, keyboards, pedal steel, upright bass, mandolin, dobro and fiddle.
Other songs include "He Turned When I Touched Him" about reaching out to God to be made whole; "Home Is Sounding Sweeter," written and sung by Kesterson; "Knowing You're There" a reminder to thank God for blessings featuring Eddie Deitz; and "On The Right Side," which closes the album with the crucifixion story and finding salvation through Christ.
While keeping their signature style, The Inspirations have crafted a collection of songs that speak powerfully to those who hear them. Ever Old, Ever New reaffirms The Inspirations' place as one of Southern Gospel's most beloved groups.
Pre-order Ever Old, Ever New HERE.
Tags:
Southern Gospel News
,
The Inspirations
Posted in
announcements
|
Comments Off

on The Inspirations share their signature style on Ever Old, Ever New
Written by Staff on July 11, 2019 – 7:20 pm -
This month, those inspiring Inspirations are back from the mountains with a new release and an up-and-coming regional group will soon be known nationally with their latest release. Justified Quartet from Akron, Michigan wants you to "Take A Stand" and request it at your local gospel station.
As always, if you enjoy the reviews, pick up this music, or download it, wherever you get good gospel music.
Please send your latest releases for review to Randall Hamm, c/o Q-100 WFLQ-FM, P.O. Box 100, French Lick, Ind., 47432

Randall Hamm


Now…Let the Reviews begin
I
nspirations
"Right Where He Is"
Producer: Jeff Collins
2019 Horizon records

Songs: "He's Coming Again" (Matthew Browder BMI); "There'll Never Be A Giant" (Roland Kesterson BMI); "Lord I Want To Be A Blessing" (Squire Parsons BMI); "Wouldn't Change The End" (Dixie Phillips-Mark Mathes BMI); "She Gets Another Prayer Through Again" (Steve Moss BMI); "His Hand Reached Further Down" (Don Johnson BMI); "Obey The Spirit of The Lord" (Joyce Croft-Colbert Croft BMI); "That's Right Where He'll Be" (Rebecca J Peck-Megan Sorelle Mulnix BMI); "The End of Time Is Near" (William Carter BMI); "Judas Kissed The Door" (Sandy Knight BMI)

This is now the second album with Archie Watkins at the helm of ownership of the group. As you know, Martin Cook retired and sold all interest and ownership of the group to Archie, to lead the Inspirations and continue their brand of gospel music. This album brings Roland Kesterson to the front as their new lead singer, as Matt Dibler retired, and Wyatt Austin, former bass with the Chuckwagon Gang, was brought on as utility musician and occasional bass singer. 
This album is a marked improvement, over "The One In the Water," the blend is tighter and the musical selection is a better choice as well. From top to bottom, this lineup of the Inspirations has struck pay dirt with this project. "He's Coming Again" leads off the project with the traditional Inspiration sound we've all come to know and love, featuring Roland on lead. Eddie Dietz gets the lead on a Squire Parsons tune "Lord I Want To Be A Blessing" and shines as always. One of my favorites that I hope will be pulled as a single, "His Hand Reached Further Down," features Archie. In his earlier days, he could not have sung this as he sings here. Archie's voice has aged like a fine wine and with a little age, he sings this to perfection, and I'm thankful he reached further down for me. 
The current single climbing the charts is "That's Right Where He'll Be." From the pen of Rebecca J Peck, no matter where we are that's "Where He'll Be." You'll instantly recognize the single, as it has one of the catchiest intros on radio today. But my true favorite is a re-recording of "The End Of Time Is Near." This classic Inspirations' song, first recorded in 1969, sparkles as two of the current Inspirations were on this particular cut, Archie and Eddie. In 50 years the message of this song is even clearer and truer today. This is worthy as well of being a single.
 Overall, the Inspirations and all those involved have crafted a CD that has not left my player for a while. Great songs, the classic Inspiration sound, and some great studio musicians make for an album that is a pure delight. Visit the Inspirations at https://www.facebook.com/theinspirations/ and get a copy of "Right Where He Is" wherever and however you get good gospel music.

Strongest Songs: "Right Where He'll Be," "His Hand Reached Further Down," "The End of Time Is Near," "Obey the Spirit Of The Lord"
Justified Quartet
"Take A Stand"
Producer: Bob Caldwell
2019 Independent

Songs: "Take A Stand" (Scott Inman-Daryl Williams); "Come, Lord Jesus" (Dianne Wilkinson); "Don't Be Caught Dead Without Jesus" (Mike Payne-Vic Clay); "We've Got Our Ways" (Rebecca Peck-David Jenkins); "It Should Have Rained" (Dianne Wilkinson-Rusty Golden); "We're In The Same Boat" (Rebecca Peck-Kenna Turner West); "Heaven Is The Place Where Dreams Come True" (Dianne Wilkinson-Janice Crow); "Can't Wait To Hear The Sound" (Carl Ledford); "It Took A Lamb" (Geron Davis); "I Still Cling To The Old Rugged Cross" (Marty Funderburk-Buddy Mullins)


For the past six years, this group has been Michigan's pride and joy. Based out of Akron, Mich., Justified is about to no longer be Michigan's secret. Lead, Carl Ledford; baritone, Mark Jacoby; tenor, Dave Potts and bass, Tim Caldwell, have crafted a album that is pure joy and straight ahead Southern gospel. The album produced by Bob Caldwell, who you may remember as the bass singer with Won By One, Brian Free and Assurance, and Kingdom Heirs, has brought the best out of Justified. By the way, Tim Caldwell is Bob's brother. "Take A Stand" leads off this project, and in this day and age we must "Take A Stand." This is their current single and could be the group's first national Top 20. 
Justified sings the fire out of "Come Lord Jesus," the first of three Dianne Wilkinson songs on the album.  "It Should Have Rained," penned by Dianne, is an absolute gem that deserves a possible single release. Featuring their tenor, this was formerly recorded by the Kingsmen, but changing the lead to tenor, markedly changes the song and makes it more powerful. Closing out the CD is another lead vocal for tenor Dave Potts on "I Still Cling To The Old Rugged Cross", a powerful song of where our belief lies. In between "Take A Stand" and "I Still Cling," is one of the best new projects of the year. You may not have heard of Justified, but in a few more single releases, you will remember their name. Take a stand and get a copy of this CD. Visit Justified at https://www.facebook.com/JustifiedqtMI/ and get a copy of "Take A Stand" wherever and however you get good gospel music.
Strongest Songs: "Take A Stand," "I Still Cling To The Old Rugged Cross," "It Should Have Rained," "Don't be Caught Dead"
 Reviews by Randall Hamm
First published by SGNScoops Magazine in May 2019
Read the July SGNScoops Magazine Online HERE
Download July SGNScoops Magazine On PDF
HERE
Find SGNScoops Magazine On Facebook
HERE
Listen To Todays Gospel Music
HERE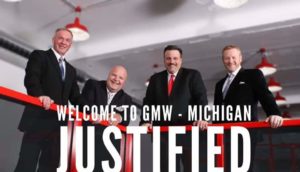 We are excited to have Justified Quartet oining us in Ann Arbor next June 4-6 for Gospel Music Weekend Michigan! Make your plans now to join us for a weekend of great gospel music featuring over 30 artists.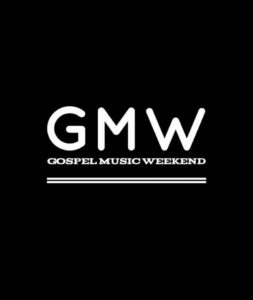 For more nformation, send us an email to events@sgnscoops.com #GMWM2020 #AnnArbor #DestinationAnnArbor
Tags:
gospel music
,
Justified Quartet
,
Randall Hamm
,
Randall Reviews It
,
Southern Gospel Music
,
The Inspirations
Posted in
artists
,
reviews
,
sgn scoops magazine
|
Comments Off

on Randall Hamm Reviews It: The Inspirations and Justified Quartet
Written by Staff on April 25, 2019 – 8:27 pm -
Event set to take place April 25-28 
Carthage, TN – The Jackie Wilburn Memorial Spring Sing kicks off April 25 at the Smith County Agricultural Center in Carthage, TN, with several of Southern Gospel Music's most popular and talented recording artists taking the stage to honor the memory of the late Jackie Wilburn. The event will take place four straight days, April 25 through 28, and will be hosted by Jackie's son, Jonathan.
"My dad was not only a wonderful, anointed preacher of the Gospel for many years but he was the patriarch of the Wilburns," Jonathan shares. "He truly 'walked the walk' and set a tremendous example for my brothers and me, and it is an honor to carry on the rich heritage that  he set for us."
In honor of this exciting event, Smith County has deemed the week of April 22 as Southern Gospel Week for Smith County.
In the 1980s, Jackie and his wife, Elaine, began touring and singing with their sons, as The Wilburns. The family achieved national prominence throughout two decades, enjoying such hit songs as "Outside The Gate," When Dust Shall Sing" and "Resting Place."
Throughout the four-day event, joining popular soloist Jonathan Wilburn, will be Elaine Wilburn, as well as the dynamic duo of Wilburn & Wilburn, which features Jonathan and son, Jordan, marking three generations of Wilburns together on stage for the event. Thursday night's line-up will feature Gold City and Jay Parrack, with Jonathan Wilburn, as well as a Gold City Reunion as both Jonathan and Jay were members of the popular quartet for more than a decade. Other talented recording artists scheduled to appear throughout the weekend will include The McKameys, The Perrys, The Inspirations and talented pianist, James Rainey. No tickets are required for the event; however, the requested donation for general admission seating is $10 per person at the door. A love offering will also be received.
Concerts Thursday, Friday and Saturday will take place beginning at 7:00pm each evening, with Sunday's matinee starting at 2:30pm. The Smith County Agricultural Center is located at 159 AG Center Lane in Carthage. The Ag Center is located on Hwy 53 North, just off I-40, a short drive from Music City, USA, Nashville, TN. Plenty of camping is available on the grounds of the Smith County Ag Center.
Complete information regarding the Annual Jackie Wilburn Memorial Spring Sing is available at 
www.jonathanwilburn.com
 or by calling 256-459-4769.
Download the latest edition of SGNScoops Magazine
HERE
Tags:
gospel music
,
Jonathan Wilburn
,
Southern Gospel Music
,
The Inspirations
,
The Mckameys
,
the perrys
Posted in
announcements
,
artists
|
Comments Off

on JONATHAN WILBURN TO HOST JACKIE WILBURN MEMORIAL SPRING SING DURING SOUTHERN GOSPEL WEEK IN SMITH COUNTY
Written by SGN Scoops Staff on March 8, 2019 – 7:54 am -
Arden, North Carolina  — Carrying on their long ministry, The Inspirations are returning with Right Where He Is, a collection of gospel music that tells of the many places Christ can be found in everyday life.
Jesus shows Himself to us through life's great battles, in the middle of sorrows and trials, or through the kind smile of a stranger. All of these are stories The Inspirations tell on this album, due out from Horizon Records on April 26.
"Picking the right songs is one of the hardest things about being an artist. We literally go through hundreds of songs to get to the 10 or so that are on an album," says Archie Watkins, The Inspirations' tenor vocalist. "We feel this album has the strongest lineup of songs we've had in a long time. Each one has a great message."
Right Where He Is starts with "He's Coming Again," a song about the Resurrection story that sets the scene of amazement at the power of Christ, and the joyful anticipation of His return. The album continues with a mix of tales about personal experiences with God and retellings of Bible stories illustrating His ability to see people through valleys and over mountains.
"Lord I Want To Be A Blessing" encourages people to share Christ's message through service, with a helping hand or friendly smile. "She Gets Another Prayer Through Again" is the story of a woman who overcomes the devil's best efforts to derail her life by talking to God like a friend.
A true quartet tune, "Wouldn't Change The End" features bass vocalist Marlin Shubert, and compares stages of life to the pages of a book, reminding us that at the end is heaven.
"That's Right Where He'll Be," the first single to radio and the song that inspired the album title, is upbeat and joyful. Nothing will stop God from helping those in need. "Where there's a life in need of changing, that's right where He'll be," say the lyrics, written by Rebecca Peck.
"There'll Never Be A Giant" is the David and Goliath story, reminding anything is possible with God. The album closes with "Judas Kissed The Door," written by Sandy Knight, who's penned some of Southern Gospel's biggest hits. It's a cautionary tale of what can happen if you let the temptation of Earthly riches take over and you lose your chance at salvation.
With Biblically backed lyrics and traditional arrangements, The Inspirations stay true to the foundations of quartet music that have led to success for more than 50 years. Right Where He Is is cohesive from start to finish, delivering what fans of the group have come to expect.
"We want to thank all the writers who sent us so many wonderful songs," says Watkins. "We are very excited for everyone to hear this album."
Pre-order Right Where He Is HERE.
Tags:
Southern Gospel News
,
The Inspirations
Posted in
announcements
|
Comments Off

on The Inspirations tell stories of God's presence on Right Where He Is
Written by Staff on November 23, 2018 – 8:59 am -
Frankfort, Kentucky  –The Kentucky Senate and House has issued a citation declaring this week "Southern Gospel Music Week" in the Commonwealth of Kentucky. The citation was presented to the Sneed Family at their annual Homecoming event held tonight at the Cave City Convention Center in Cave City, KY.
Rep. Steve Riley of the 23rd District representing Barren and parts of Warren County made the presentation on behalf of himself and Sen. David Givens, Senate District 9.
The citation was issued to help the Commonwealth to be aware of the heritage and deep roots this type of music has embedded in the hearts of the citizens.
The citation further reads:
"The message of hope and salvation this music brings has influenced the lives of many with great joy and has inspired people with the encouragement needed to handle the trials that life presents each one of us."
"We are honored that members of the KY legislature would take the time to acknowledge the artists and musicians who touch our lives with the message of salvation through Southern Gospel Music," said Jeff Sneed, leader and patriarch of the Sneed Family.
The Sneed Family hosted the Primitive Quartet, the Inspirations, and the Singing Cookes at their annual Homecoming concert.
The Sneed Family is a favorite to their southern Kentucky fans. They provide an honest worship experience while providing encouragement.
Watch for them on stage as well as on television with their production of "Sneed Family Music." The program is seen in over one million homes each week. The Sneed Family brings music, and interviews from the best in Southern Gospel Music.
For more information on the Sneed Family, visit sneedfamily.com
Tags:
Kentucky Senate and House of Representatives
,
Sneed Family
,
Southern Gospel Music Week
,
The Inspirations
,
the Primitive Quartet
,
The Singing Cookes
Posted in
announcements
|
Comments Off

on Kentucky Senate Declares Southern Gospel Music Week during Sneed Family Homecoming
Written by SGN Scoops Staff on July 5, 2016 – 8:37 am -
The members of The Inspirations are the guests on Gospel Music Today for the week of July 3 and Ken and Jean Grady host southern gospel news and concert updates. The Feature Group is The Rangers Quartet, and Jean reviews new recordings by The Ascension Quartet and Gerald and Verna Edwards.  An article from SGN Scoops magazine is the subject of this week's News Notes. In the News this week is Master's Voice, the Kingsmen, the Perrys and Allegiance Trio.  The show features a Diamond Award nominated music video by The Isbell Family, exclusive concert video of The Williamsons, recorded by Gospel Music Today's cameras in Del City, OK, and a visit to the Gospel Music Today Archives for an exclusive video of The Ascension Quartet, recorded by Gospel Music Today's cameras in Broken Arrow, OK.
The show is on KWHB TV47 in Oklahoma every Sunday at
4:30 PM
, and on Roku on FFE TV Monday at
8:00 PM
and AllNations TV
Tuesday
and
Wednesday
at
6:30 PM
. Check local TV schedule for Phenix City, AL, Pontotoc, MS, Beaumont, TX, Tyler, TX. Atlanta, TX, and Morrilton, AR. The current edition of Gospel Music Today is online now at the Gospel Music Today website, 
www.gospelmusictoday.com
.
Tags:
Gospel Music Today
,
Southern Gospel News
,
The Inspirations
Posted in
video
|
Comments Off

on The Inspirations On Gospel Music Today
Written by scoopsnews on January 18, 2016 – 4:28 am -
What a great night in Gadsden, Alabama. The Mckameys & Inspirations returned for the 47th Annual sing at Gadsden Convention Hall. The venue was filled with hundreds of fans ready to hear some Southern Gospel music. Momma Peg was kicking off shoes and waving her white handkerchief.
Thanks to Sadie Matthews for pictures and reporting!
More Gospel NEWS  
Tags:
The Inspirations
,
The Mckameys
Posted in
announcements
|
Comments Off

on The McKameys and Inspirations in Gadsden, Alabama
Written by Staff on February 19, 2015 – 2:10 pm -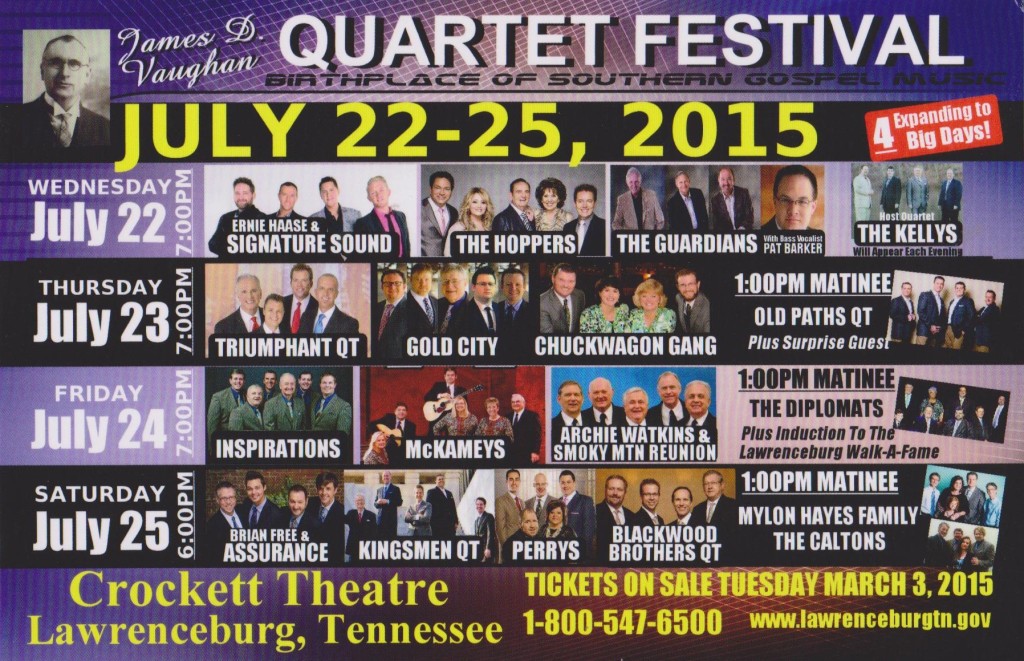 The birthplace of southern gospel music, Lawrenceburg, TN will play host once again to the annual James D. Vaughan Quartet Festival. This year, the festival expands to four big days, beginning onWednesday July 22 and continuing through Saturday July 25.
Over the four days, there will be with nightly performances by Ernie Haase and Signature Sound, the Hoppers, Triumphant Qt, the McKameys, Gold City, Brian Free & Assurance, Chuck Wagon Gang, the Inspirations, Kingsmen Quartet, the Perrys, Archie Watkins and Smoky Mountain Reunion, Blackwood Brothers and many more. There will be FREE matinee shows on Thursday–Saturday at 1:00pm with quartets such as; Old Paths Qt, Diplomats, Mylon Hayes Family, and the Caltons. The Lawrenceburg Walk-A-Fame will also be presented again this year by Main Street Lawrenceburg, on Friday, July 24.
Host Quartet and Lawrenceburg's own, the Kellys, will once again appear each evening and Josh Franks will be the Master of Ceremonies. The Vaughan Quartet Festival will be held at the historic Crockett Theater. Tickets will go on sale to the public on Tuesday, March 3 at 10:00AM. For more information, tickets, or a complete line-up visit www.lawrenceburgtn.gov or call 1-800-547-6500.
Tags:
Archie Watkins and Smoky Mountain Reunion
,
Blackwood Brothers
,
Brian Free & Assurance
,
Chuck Wagon Gang
,
ernie haase and signature sound
,
gold city
,
JAMES D. VAUGHAN QUARTET FESTIVAL
,
Kingsmen Quartet
,
The Hoppers
,
The Inspirations
,
The Mckameys
,
the perrys
,
Triumphant Qt
Posted in
announcements
,
artists
,
christian entertainment
,
Christian interest
|
Comments Off

on TICKETS GO ON SALE FOR THE JAMES D. VAUGHAN QUARTET FESTIVAL, TUESDAY MARCH 3 AT 10:00AM
Written by SGN Scoops Staff on October 1, 2013 – 12:20 pm -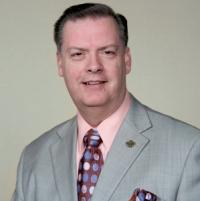 Folks, we have an announcement to make. Today, October 1st, Mike Holcomb has announced that he is resigning from The Inspirations. Mike has been singing bass for 42 years with us, and is one of the greatest bass singers to ever step on the stage. However, not only is Mike an incredible singer, but he is an amazing preachers as well! He feels that it is time for him to begin a "new season" in his life, and will be hitting the road full time in preaching and singing evangelism. We know God will use he, and his sweet wife Bavaria, in a tremendous way, but we are devastated to lose him. We love Mike and Bavaria dearly. If you would like to book Mike Holcomb at your church, conference, or camp meeting (and we HIGHLY recommend that you do) here is his contact info:
Mike and Bavaria Holcomb
"Heart's Desire Ministries"
PO Box 1007
Bryson City, NC 28713
(828) 488-2025
heartsdesiremin@frontier.com
Tags:
Mike Holcomb
,
southern gospel
,
Southern Gospel News
,
The Inspirations
Posted in
announcements
|
Comments Off

on Mike Holcomb Resigns From The Inspirations