Written by scoopsnews on June 12, 2020 – 6:20 pm -
Southern Gospel Weekend takes place September 3rd thru the 5th at the beautiful Oxford Civic Center in Oxford , Alabama.
Join the Journeys on Thursday June 25th at 6:00 PM (CST) as they share information about the event and give you a free concert.
Here is a full lineup of the event… See YOU there!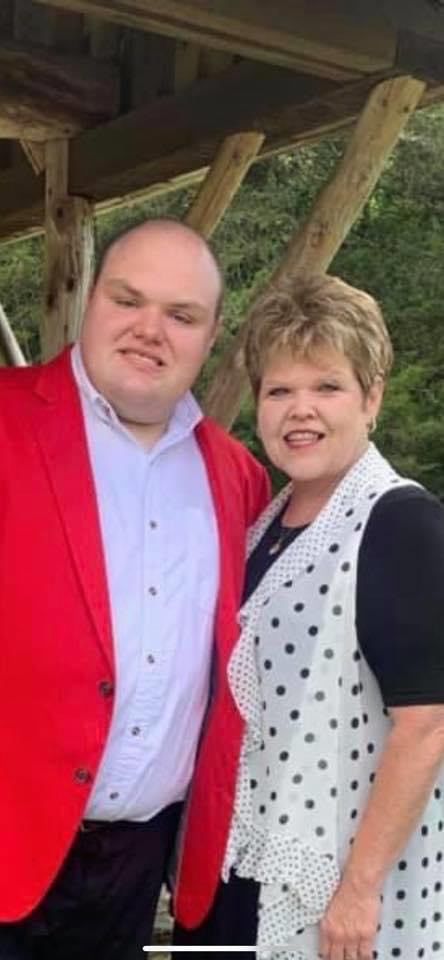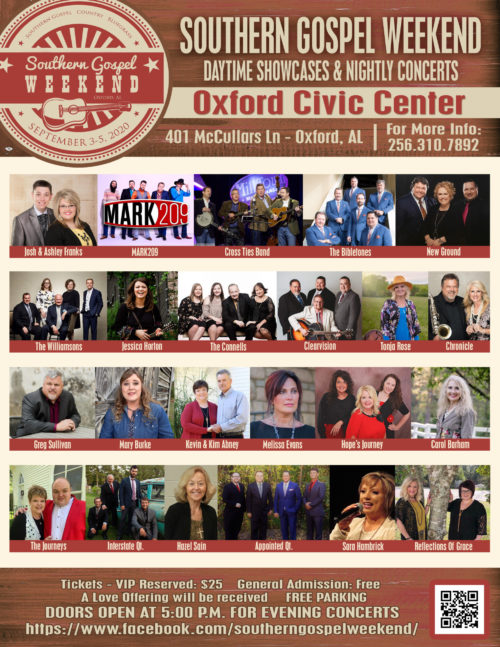 Tags:
Southern Gospel Weekend 2020
,
The Journeys
Posted in
announcements
|
Comments Off

on Southern Gospel Weekend Facebook Live With The Journeys
Written by Staff on January 15, 2020 – 10:38 am -
Dobson, NC – The Journeys share a message with audiences all over the country that people with special needs can be used by God in powerful ways. Greg and Donna Journey, along with their Autistic son, Ben, have made some remarkable appearances, encouraging families near and far that God has a plan and a purpose for everyone!
The Journeys appeared at the commencement ceremony for the Helen Keller School for the Blind in Talladega, Alabama on May 23, 2019. Donna Journey shared, "This was such a unique opportunity for us. As we stood on stage, we felt such a sense of pride for the graduates and all of the struggles they had overcome. It was such an honor to bring a message of hope in Christ to young people who had worked harder than most of us can imagine to achieve independence in this life."
Greg and Donna were devastated when their beautiful son was diagnosed with Autism at just two-and-a-half years old, but they have embraced Ben's needs and allowed God to use their family to encourage others that we are all created uniquely. As they travel, sing and minister, the joy in Ben's heart is evident when he plays the piano or guitar and sings. He may not communicate often verbally, but musically, his passion for the Lord is unmistakable!
One of the sweetest memories for The Journeys was
when Vince Gill and Amy Grant invited Ben to visit with them in their home for his 21st birthday. They were so gracious and Ben was thrilled to spend some time playing guitar with Vince as we all sat around and sang. What made it even more special was that Ben wasn't even aware that he was playing guitar with a celebrity. To Ben, Vince was just a friend who invited him to come and spend some time worshipping the Lord. Ben is a beautiful example of God's purpose for creating each one of us to be unique and to serve Him with every breath we take.
The Journeys host a radio show called The Blue Ridge Gospel Network that airs weekly on WIGN in Saltville, VA, SOGR Internet Radio (www.sogrradio.com), Pure Gospel Radio in GA, WSPR Radio, SBB Radio and Country and Southern Gospel Radio in Northern Ireland and Canada. Their brand new live radio program will air on Wednesday nights on the New Journey Radio App and on Facebook Live beginning in February. Their new radio single, "Fearfully and Wonderfully Made" recorded at Chapel Valley, paints a beautiful picture of God's purpose for each and every life.
Learn more about The Journeys at www.thejourneysgospel.net, and be sure to visit Ben's Facebook page: https://www.facebook.com/Through-Bens-Eyes-113444550072733/ to view his paintings and experience how fearfully and wonderfully made this talented young man truly is.
For more Gospel Music news read the latest SGNScoops Magazine HERE.
You Can Download SGNScoops Magazine
Here
Find SGNScoops Magazine On Facebook
Here
Listen To Todays Gospel Music
Here
Tags:
autism
,
Ben Journey
,
gospel music
,
Helen Keller School for the Blind
,
Southern Gospel Music
,
The Journeys
Posted in
announcements
,
artists
|
Comments Off

on THE JOURNEYS – "WE ARE FEARFULLY AND WONDERFULLY MADE!"
Written by scoopsnews on August 27, 2019 – 11:53 am -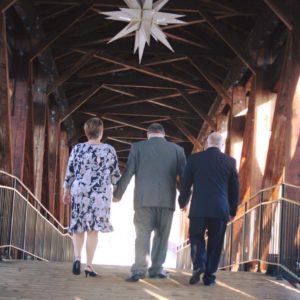 (SGN SCOOPS)
Tell us about The Journeys.
(Donna)
The Journey's from Dobson,NC travel, sing, and testify about God's miracle working power and hope that only comes from knowing Jesus Christ as their personal Savior. Donna traveled and ministered with her family, The Bledsoe Family until her Father's death in 1986. From 1986 until 2004 she traveled, taught school ,and sang with Heaven Sent then in 1997 the Journeys received the devastating news that their 2 1/2 year old son Ben had moderate Autism.Doctors were not very optimistic about Ben's future development. Donna and Greg were told that Ben would more than likely never be able to communicate with them or interact with others.The Journeys were devastated and Donna stopped traveling to be at home with Ben. Donna says " I remember just clinging to scriptures and claiming the promises God had for Ben." Greg and I would pray every night for God to use this difficult circumstance in some way and give us the grace and wisdom we needed to help Ben."
As Ben began to grow, Greg and I began to notice that music would immediately calm Ben down and he had a love for all musical instruments, especially the guitar. Family would buy Ben child sized instruments to encourage Ben to play. Some friends purchased an instrumental cd on how to play the guitar and he completed all the lessons on his own and in no time Ben was playing.. Another close friend helped Ben with timing and strumming. Donna showed Ben some chords on the piano and before long he was playing piano also.
(SGN SCOOPS)
Tell us about your music.
(Greg)
The first CD The Journeys would record in 2012 featured Ben on one song playing his guitar. The second cd recorded would feature Ben on 7 songs, playing both piano and guitar and their latest Cd, Blessed, features Ben on all  ten songs. Against all odds and numerous expert opinions,Ben had found his love and even though his communication is very minimal, he communicates through his music. "His happiest times are when he is on stage playing music"says Greg.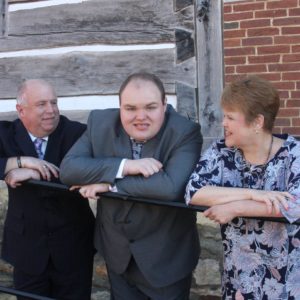 (SGN SCOOPS)
Donna, So you are a Daddy's girl. In fact, like your Dad, you are a DJ. Tell us about that.
(Donna)
The Journeys also have a radio program,"The Blue Ridge Gospel Showcase" My Father instilled the love of radio in me at an early age when I would go to the station with him and cue up records and watch him as I learned the art of being a DJ. Ben and Greg also have a place on the program with Greg doing word of the day and Ben occasionally announcing some of his favorite songs.
(SGN SCOOPS)
Tell us about some of the accomplishments and goals for the group.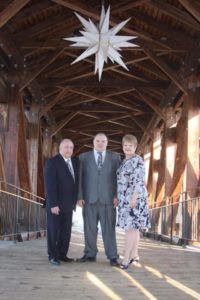 (Donna)
As the Journeys look back on the past 7 years of their ministry they are amazed at how God has used a difficult diagnosis and has blessed so many people.The challenges and obstacles have been worth it to them to see the looks on people's faces when they see what God has blessed Ben to do. Donna says "We have seen so many breakthroughs in Ben's condition and we use those for a witness for God. God has allowed us to see Ben graduate from High School, learn to play several instruments on his own, and give his heart to the Lord and be baptized, God has opened so many doors for us the past seven years and we believe He will continue to do that as long as we keep Him first in our lives." The Journeys song "You're Looking More Like Your Father," is currently #8 on SGN Scoops Christian Country chart for the month of September (October Magazine). We will also be appearing in the New Artist Showcase at The National Quartet Convention in September and will be singing on Mainstage at Creekside Gospel Music Convention in Pigeon Forge, TN in October.
(SGN SCOOPS)
Please share with our readers how to book The Journeys.
(Donna)
If you would like to book The Journeys at your church or organization, visit the website at  www.thejourneysgospel.net  or call 336-710-3851
Also visit The Journeys on Facebook.
Thank you Greg and Donna for sharing with us about your talented family.
Tags:
The Journeys
Posted in
announcements
|
Comments Off

on Fast Five- The Journeys
Written by Staff on August 21, 2019 – 9:34 am -
By Jantina de Haan-Baksteen
Once again, I had the pleasure of doing an interview for a Beyond the Song article, and this time I talked with Donna Journey of the Journeys.
They recently released a video of the song 'Looking More Like Your Father." That production made me want to get them for this edition of Beyond the Song.
Jantina: Please share a short introduction of your singing Career as The Journeys.
Donna Journey: The Journeys started their ministry in 2012, after realizing that (our) son Ben, who had been diagnosed with Autism at the early age of 2 had taught himself to play guitar. (I) had sung all my life with my family and other groups but decided it was time to come off the road and care for Ben. I began to notice Ben's love for music and encouraged him to explore that love.
In 2011, Ben taught himself, without any lessons, to play the guitar. A friend of the family's helped Ben with timing. In 2012, they recorded their first CD and started accepting appointments to sing and play in local churches.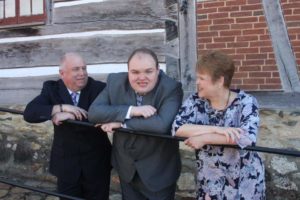 Jantina:What year did you start as a duet?
Donna: We started to become a duet in 2012, myself together with Ben who takes the instrumental part of the ministry, playing the gitar or the piano.
Jantina: Can you share your testimony?
Donna:When Ben was diagnosed with Autism in 1996, we felt like our world was torn apart. We couldn't even begin to know how God would use this test as a testimony for our family. Doctors told us that Ben would not be able to communicate with us or function socially in society. But God had another plan! 
And now we are traveling in 14 different states and sharing hope with families with special needs children.
We think it is safe to say that God is in control.
Ben now plays keyboard, piano, drums, bass guitar, acoustic guitar and is leaning banjo. Ben has played on all three of our albums.
Jantiy: Tell us about the latest release to radio?
Donna: We just got finished making a video with our current release to Radio, "Looking More Like Your Father," written by Carolyn Connor.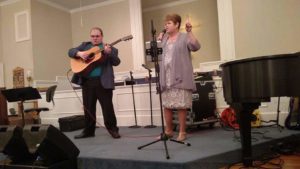 Jantina: What is the message of this song?
Donna: This song has been a blessing to so many people. It talks about looking like your earthly Father, but then states how we all are to strive to look like our Heavenly Father every day. This song is on the SGNScoops Country Gospel and Southern Gospel Chart, Magazine charts.
Jantina: What is the horizon for the Journeys?
Donna: We are looking forward to going back in the studio within the next year to record our fourth project with Chapel Valley Recording, and looking forward to sharing our ministry in many other states next year.
Jantina:Where can they find you on the web?
Donna: They can find us on the web at www.thejourneysgospel.net 
You can also purchase our music on all major media markets.
Thank you to the journeys for sharing the song with us. We hope you travel safely on your journey.
We hope all our readers enjoy the following song, by the Journeys, entitled, "Looking More Like Your Father."
For more Gospel music features read the latest SGNScoops Magazine HERE.
Download SGNScoops Magazine In PDF
Here
Find SGNScoops Magazine On Facebook
Here
Listen To Todays Gospel Music
Here
Tags:
autism
,
Beyond the Song
,
Faith
,
gospel music
,
Jesus
,
Southern Gospel Music
,
The Journeys
Posted in
artists
,
Beyond the Song
|
Comments Off

on Beyond the Song: the Journeys sing "Looking More Like Your Father"
Written by scoopsnews on February 8, 2018 – 2:19 pm -
From Donna Journey
As many of you know Ben suffers from Autism and many times it is hard for us to know what he understands. We were at Oakland Baptist Church in Maryville TN . Sunday, Feb 4th. , to sing for their service. The congregation was singing I MustTell Jesus and Ben stood up and with tears in his eyes, raised his hands and looked toward Heaven. We knew something was different, not just the usual standing up that we had witnessed because of Autism. After about 3-4 minutes he sat down. Pastor Gary Hawley and many members of the congregation noticed too. God had touched Ben and this morning as Greg was helping Ben get dressed he looked at Greg and said "Jesus my Savior! Needless to say there was some shouting going on at The Journeys house. Never underestimate the power of God and that He definitely speaks in a special way to His special children.
Tags:
The Journeys
Posted in
announcements
|
Comments Off

on From The Journeys- Ben's Personal Experience With Christ
Written by scoopsnews on February 7, 2018 – 7:28 am -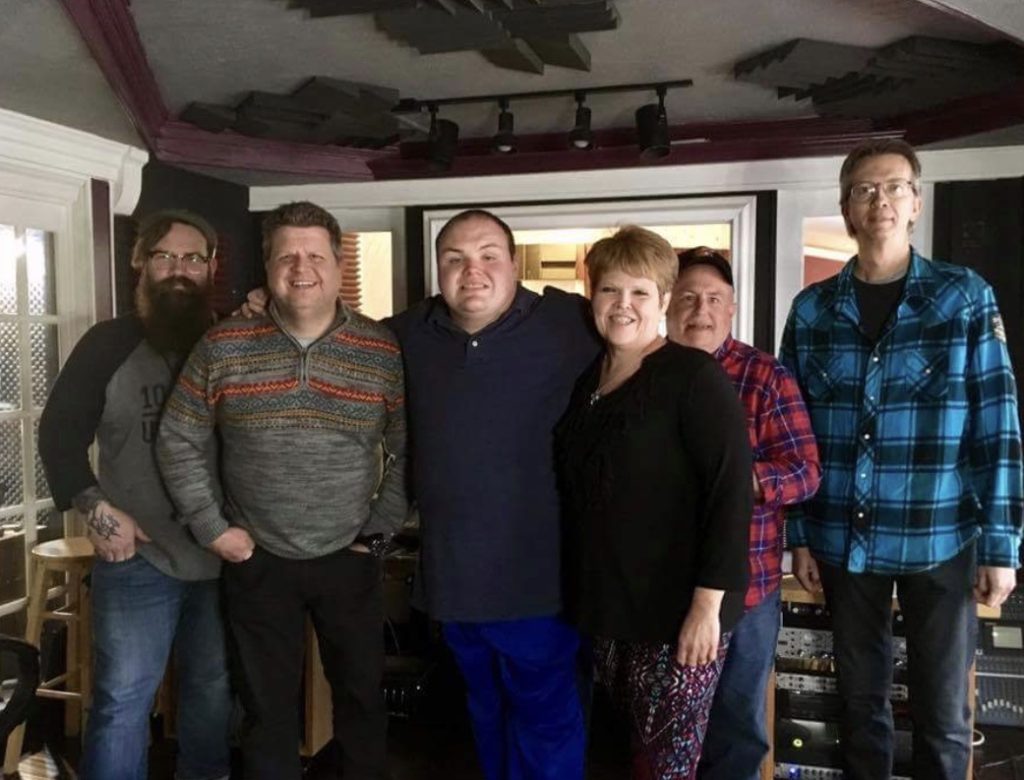 New from Chapel Valley:
IN THE STUDIO:
The Journeys, from Dobson, North Carolina, were in the studio this week. They have an amazing testimony! Visit their website to learn more about them:
Tags:
Chapel Valley Music
,
The Journeys
Posted in
announcements
|
Comments Off

on Chapel Valley News
Written by scoopsnews on February 20, 2017 – 6:35 pm -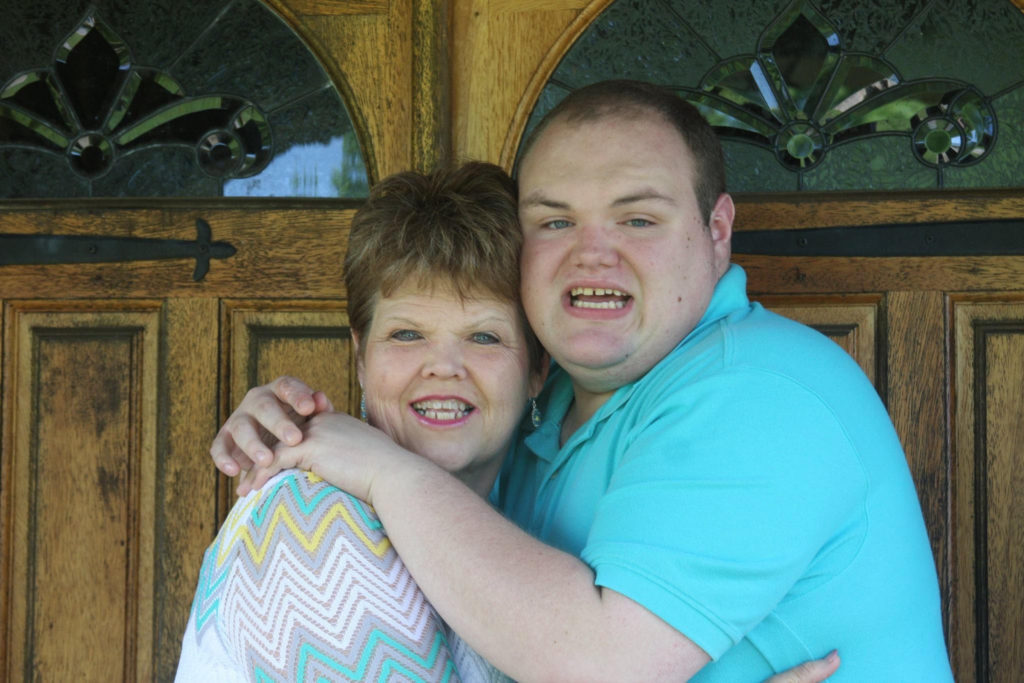 Fast Five Questions with The Journeys…..
1. Share with us the testimony of your ministry.
First and foremost we love the Lord and praise him for sending us His Son. We are a family ministry that started 3 years ago. Our son was diagnosed with Autism at age 2 1/2 and we were basically told that he would never be able to communicate with us or others. We were devastated to say the least and after digesting the diagnosis we completely turned everything over to the Lord. Gospel music has been an intricate part of Donna's life since the early age of three, singing with her family and after the passing of her father, singing with Gabriel and Heaven Sent. When Ben was diagnosed she went off the road for several years to take care of Ben and get him the help he needed. Ben began to show interest from a young age in music and musical instruments, especially the guitar. We encouraged this and at the age of 16 he had learned some chords and was playing along with tunes on the radio and CD's. Donna had also showed him some chords on the piano and he would play along with her and listen to songs and immediately go to the piano and duplicate what he had heard. In 2011 Ben performed along  with Donna for the school board in our county and other events in the area. We felt the strong call to share Ben with others and go to area churches and give our testimony about raising a child with Autism We were blessed to get to record our first CD in 2012 and Ben played on one of the songs with his electric guitar. We just released a new CD with Butler Music Group in October of 2016. Ben is amazing and he surprises us daily. We take none of the credit for his musical abilities…..It's all God. Without Go nothing is possible but with God the possibilities are ENDLESS.
2. Tell us about your new radio single.
Our new single is a song called Mercy On Me and was written by Dave and Becky Williford. Ben is playing acoustic guitar on it and Scat Springs is singing background vocals with  me Scat was a good friend I sang with some in college and we have remained friends over the years. The song talks about the amazing mercy that God has for all of us. His Mercy sets us all free!  Ben loves the song and loves to perform it when we go to churches. It is our first top 80 single and we are super excited that it's message is getting out!
3.
We can be booked by visiting our website at
www.thejourneysgospel.com
or you can give us a call at
336-710-3851
or you can just e mail me at
djourney1@surry.net
. We are also on Facebook as The Journeys. Visit our page and like us and you can send me a message that way. We will ship CD's to you upon request ,so just message us if you would like to buy one.
4. When you all are traveling and singing,what is your favorite place to eat?  We LOVE Cracker Barrel.   Ben loves McDonalds.
5, Tell us about a special concert…any that stand out.
We had the opportunity  in October of last year to sing at a Blaise Baptist Church in Mocksville, NC. It was a special night because we got to sing to a church full of special needs children and their families. We LOVE to minister to families who sometimes feel like there is no hope and let them see what God can do when you turn it all over to Him.
Tags:
The Journeys
Posted in
announcements
|
Comments Off

on Fast Five with The Journeys