Written by scoopsnews on March 5, 2019 – 4:59 am -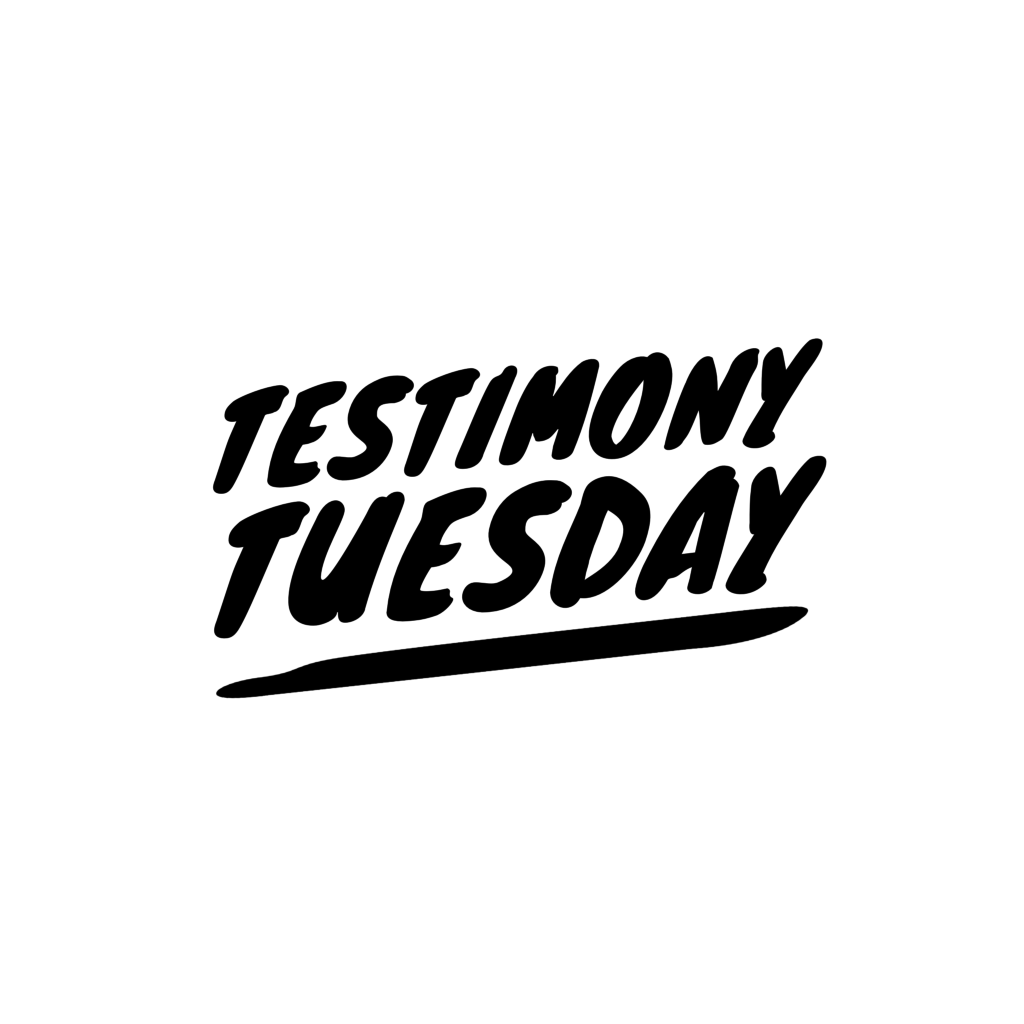 Happy Tuesday.
You may be struggling today. You may feel like you have gone too far.
Let this Throwback from The Kingsmen remind you that just like The Prodigal son, You too can come back home.
Tags:
The Kingsmen
Posted in
announcements
|
Comments Off

on Testimony Tuesday ….. When God Ran
Written by SGN Scoops Staff on January 24, 2018 – 10:22 am -
The Kingsmen are the guests on Gospel Music Today for the week of January 21. Ken and Jean Grady host southern gospel news and concert updates. The Feature Group is Westward Road, and Jean reviews  new recordings by Chapter 2 and The Pine Ridge Boys.  An article from AbsolutelyGospel.com is the subject of this week's News Notes. The show features a new music video by Andy Calderwood, singing by Triumphant Quartet, exclusive concert video of Gold City Quartet, recorded by Gospel Music Today's cameras in Siloam Springs, AR, and a visit to the Gospel Music Today Archives for an exclusive video of Donnie Sumner, recorded by Gospel Music Today's cameras in Broken Arrow, OK.
The show is on KWHB TV47 in Oklahoma every Sunday at
4:30 PM
, and on Roku on FFE TV Monday at
8:00 PM
and AllNations TV Tuesday and
Wednesday
at
6:30 PM.
Check local TV schedule for Atlanta, GA, Bruce, MS,  Phenix City, AL, Pontotoc, MS, Beaumont, TX, Tyler, TX. Atlanta, TX, Morrilton, AR, and West Plains, MO. The current edition of Gospel Music Today is online now at the Gospel Music Today website,
http://www.gospelmusictoday.com./
Tags:
Gospel Music Today
,
The Kingsmen
Posted in
announcements
|
Comments Off

on Kingsmen On Gospel Music Today
Written by Staff on January 2, 2018 – 11:03 am -
Chris Jenkins Rejoins The Kingsmen Quartet
Asheville, NC (Dec. 31, 2017) — Ray Dean Reese is happy to announce that former Kingsmen tenor Chris Jenkins has re-joined the award-winning quartet effective December 31, 2017.Chris has continued to stay in the gospel music industry in last 2 years, serving in other capacities and spent more time at home with his wife, Stephanie and son, Ryan.

Chris states, "Being a quartetman at heart, it's hard to imagine myself as anything else. I am beyond honored to have the opportunity to climb back on The Kingsmen bus and reunite with this strong 61-year legacy. I want to thank Ray Dean and Brandon Reese and the rest of The Kingsmen for their friendship and welcoming me back to The Kingsmen family.

"What a joy it will be to see old friends I haven't seen in two years and most importantly sharing with people the message of the gospel through song! I am looking forward to great things from the Lord and the opportunity to make more life-changing music with this wonderful ministry."
Source: Brandon Reese/Kingsmen Quartet// singingnews.com
More Gospel music news here.
Newest SGNScoops Magazine featuring your favorite artists here.
Listen to our Online Gospel music station here. 
Tags:
Chris Jenkins
,
gospel music
,
The Kingsmen
Posted in
announcements
,
artists
|
Comments Off

on Mighty Kingsmen regain Chris Jenkins
Written by scoopsnews on June 30, 2016 – 5:27 am -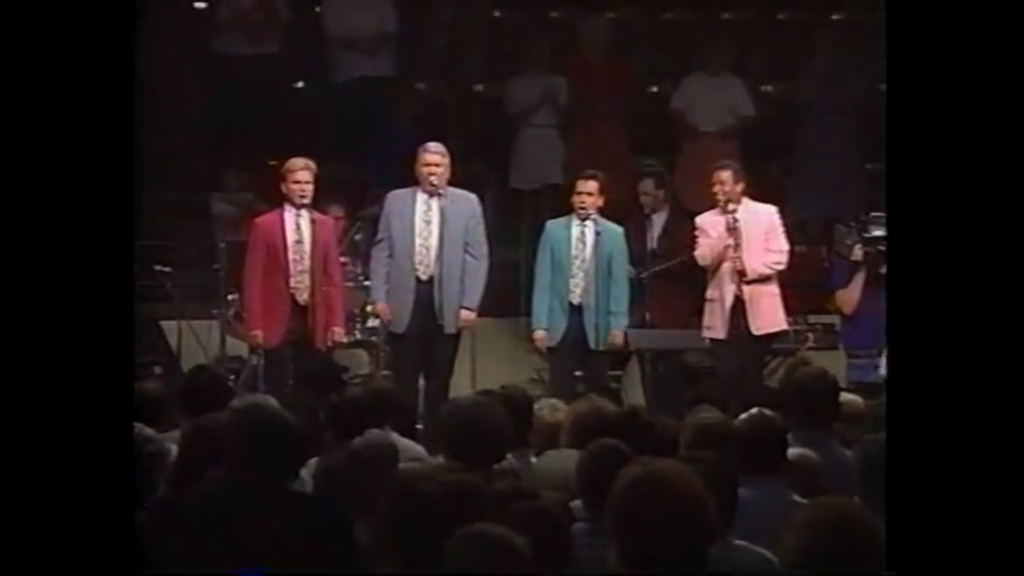 1991
"Salute to the Troops"
Watch this;
Tags:
Anthony Burger
,
The Kingsmen
Posted in
announcements
|
Comments Off

on Throwback Thursday – Kingsmen, Anthony Burger
Written by Staff on August 18, 2015 – 9:09 am -
Few groups in any genre of music have been able to enjoy such a longstanding presence in their industry as The Kingsmen Quartet. Since their beginning in 1956, this beloved group of singers has continued to bring us songs of hope for the Christian life. Their quartet harmonies have provided a constant soundtrack for decades in a world that is continually changing. Listeners have enjoyed their Southern Gospel style, their incredible musical talent, and their powerful testimonies for almost 60 years.
If you ask any member of this much-loved quartet what their secret is for remaining such a strong influence in Gospel music, they will tell you that there is actually no secret at all – The Kingsmen Quartet is simply following the call that God has placed on their hearts to minister for Him through song, and He is doing the rest!
Started by the three McKinney brothers in the hills of North Carolina, The Kingsmen would go on to steadily gain a large following in Christian music. Many renowned artists have been blessed to call The Kingsmen home for a time. Such artists include Eldridge Fox, Big Jim Hamill, Squire Parsons, Johnny Parrack, Anthony Burger, Ernie Phillips, Ed Crawford and Gary Sheppard. The group has received numerous awards, including Dove awards, Hall of Fame awards, and Singing News awards.
The Kingsmen have five members past and present in the Southern Gospel Music Hall of Fame, which are Eldridge Fox, Jim Hamill, Anthony Burger, Squire Parsons, and Ray Dean Reese. The group is also in the Gospel Music Hall of Fame and the Christian Music Hall of Fame. The Kingsmen Quartet currently consists of Ray Dean Reese, Brandon Reese, Bob Sellers, Chris Jenkins, and Randy Crawford. Read more »
Tags:
Bob Sellers
,
Brandon Reese
,
Chris Jenkins
,
gospel music
,
Paige Givens
,
Quartet Music
,
Randy Crawford
,
Ray Dean Reese
,
sgn scoops
,
southern gospel
,
The Kingsmen
Posted in
artists
,
christian entertainment
,
Christian interest
,
sgn scoops magazine
|
Comments Off

on The Kingsmen Quartet: Decades of Following the Call
Written by Staff on July 9, 2015 – 2:17 pm -
"Ring out the old, ring in the new,
Ring, happy bells, across the snow:
The year is going, let him go;
Ring out the false, ring in the true."
~~Alfred Tennyson In Memoriam (1849)
For many people, New Year's Eve means a time to party or to go out with friends and celebrate. My New Year's Eves were usually spent in a different way. When I was young, I would attend a service at a nearby church where local groups would sing out the old and sing in the new. As I grew older, and was able to drive, I started to attend New Year's Eve concerts featuring professional groups. One of the biggest sings was promoted by Cecil "Sonny" Simmons and held at the Charleston (WV) Municipal Auditorium. Over the years I was able to see many of the top groups.
One of those concerts that stands out, was held December 31, 1976. This particular concert was one that I recorded on my portable tape recorder so I can relive it via the recording. There were a number of reasons that this concert was memorable to me. The lineup was very diverse and along with the national groups, some regional groups were also featured. So let me give a recap of this concert.
The concert opened with "Sonny" Simmons introducing the Telestials. The Telestials at this time were featuring their lead singer Jim Wood on "One Way Flight" and "Here They Come". Both of these were well received by the capacity crowd.
The next group was a Charleston-based group, the Calvarymen Quartet. The Calvarymen had recently undergone a couple of changes. Squire Parsons had left to join the Kingsmen Quartet and Conrad Cook had left to form his family group, the Calvary Echoes. The Calvarymen still used songs written by Parsons and Cook, including "When My Feet Touch the Streets of Gold", "There Is Joy In Serving Jesus" and "I Get A Little Heaven."
Naomi and the Segos were the next group to hit the stage. They sang "Thank God I Am Free" and "Learning to Lean." The highlight, at least for me, was when they sang "The Dearest Friend" and James Sego gave a moving testimony. He told how he had been delivered from alcoholism and also described his recent stroke. He admitted his voice wasn't what it used to be, but he was blessed to be able sing at all.
The group to follow the Segos was Conrad Cook and the Calvary Echoes. A lot of fans were happy to see Conrad since he had previously been a favorite with the Calvarymen. Conrad's daughter, Robin, was featured on "I Came On Business For The King" and Conrad's unique style was manifested on "Sweet Holy Spirit." The crowd definitely loved this group.
Willie Wynn and the Tennesseans were the next group. Willie was featured on "My Soul Has Been Set Free" and "I Am A Seeker." Ron Hutchins, formerly of the Inspirations and LeFevres, did a masterful job on "He Is So Precious To Me." The other selections were fast, hard-driving songs that had the crowd clapping along.
Roger Horne began his professional career as tenor for the Gospel Harmony Boys and later joined the Cathedral Quartet. He also spent some time with the Scenicland Quartet. However, on this night, he was joined by his wife Becky and Eddie Burns as the Roger Horne Trio. They sang: "He Kept On Loving Me," and "I Can Feel The Spirit," both written by Roger Horne.
The group that most fans were waiting to see was the Kingsmen. Many would be seeing Squire Parsons for the first time with this group. The Kingsmen began with "Beyond the Clouds," and followed that with "I'd Rather Be An Old Time Christian." Squire was featured on "The Land of Beulah." They also did "When I Wake Up To Sleep No More," and "Gloryroad." Their set concluded the first part of the concert.
Each group came back after intermission and sang a couple of songs. A couple of songs from the second part really stood out. One was Willie Wynn being featured on "You'll Never Walk Alone" and the other was the Kingsmen singing and encoring "I've Made A Covenant."
There were other songs besides those I mentioned, but I hope this will give you a taste of what this concert was like.
By Dean Adkins
First published by the SGN Scoops magazine in January 2015. For more features, see the latest issue on the SGN Scoops mainpage.
Tags:
Conrad Cook and the Calvary Echoes
,
Dean Adkins
,
gospel music
,
Gospel music history
,
sgn scoops
,
the Calvarymen
,
The Kingsmen
,
The Segos
,
Willie Wynn and the Tennesseans
Posted in
artists
,
christian entertainment
,
Christian interest
,
sgn scoops magazine
|
Comments Off

on Dean Adkins' Gospel Music Memories: New Year's Eve 1976
Written by SGN Scoops Staff on June 5, 2015 – 10:26 am -
Summer is finally here! Happy June and welcome to another edition of SGNScoops Magazine. We start off with a bang by featuring 11th Hour on our cover. This trio is on the charts and on the lips of Gospel music fans. You will enjoy getting to know them in this article by Marcie Gray!
We are also thrilled to feature both old and new musical guests The Kingsmen, Goodman Revival and Adam's Call. We welcome Jeff Hawes to the Younger Perspective by Erin Stevens. Father's Day is highlighted by articles featuring Tommy Brandt and Tommy Brandt II as well as a devotional by Jennifer Campbell. Our writers are all terrific so don't miss the features by Vonda Easley, Jaquita Lindsey, Paige Givens, Tina Wakefield and Vivian Belknap.
Thanks to all of our creative columnists, including Jeff Steele, Dusty Wells, Kelly Nelon Clark, Sherry Anne, Laurette Willis and Lou Hildreth. Justin Glimore and Cyndi Lavonne review new music by Ernie Haase and Signature Sound. SGN Scoops Top 100, Creekside Update, so much more to see and read!
Have a great summer. Take time to relax and read the June issue of SGN Scoops. Thank you for your support and appreciation! Write us today at
sgnscoops@gmail.com
or send a note to our editor at
lorraine@sgnscoops.com
. Let the Son-shine of Jesus light your summer this year!
Find SGNScoops On Facebook
Here
Tags:
11th Hour
,
Goodman Revival
,
SGNScoops Magazine
,
Southern Gospel News
,
The Kingsmen
,
Tommy Brandt
Posted in
sgn scoops magazine
|
Comments Off

on June 2015 SGNScoops Magazine
Written by Staff on March 2, 2015 – 12:22 pm -
Tags:
11th Hour
,
Bill Bailey presents
,
Chuck Wagon Gang
,
gospel music
,
jeff and sheri easter
,
karen peck and new river
,
southern gospel
,
The Hoppers
,
The Kingsmen
,
The Mckameys
,
the perrys
Posted in
announcements
,
artists
|
Comments Off

on Bill Bailey Presents The North Louisiana Gospel Music Weekend
Written by SGN Scoops Staff on November 24, 2014 – 11:23 am -
DECLARATION of Nashville, Tennessee in conjunction with two of Michigan's finest artists have come together to announce a benefit concert for one of the most beloved figures in the Michigan Southern Gospel scene. Victor Seaton is the owner of Encore Productions in Roseville, Michigan. For well over three decades, Seaton has been one of the main promoters of not just Southern Gospel concerts, but numerous Christian Events in the state of Michigan, as well as in regions throughout Ohio, Illinois, Indiana, and West Virginia. Through Seaton's efforts and support, audiences spanning generations have enjoyed the artistry of legendary groups including The Cathedral Quartet, Gold City, The Kingsmen, and Bill Gaither; the region has also come to know such talented artists as Greater Vision, Legacy Five, The Booth Brothers, and many others active in the industry today.
In recent years, Seaton's health has been in decline and he has suffered numerous health related complications. This concert has been organized to help raise funds for these bills. The concert will take place on Friday December 12th, at the Liberty Missionary Baptist Church in Monroe, Michigan. The Special Guests for the evening will be one of Southern Gospel's most exciting and energetic new groups, DECLARATION, of Nashville, TN. Also appearing on the program that evening will be two of Michigan's finest groups; The Sammons Family of Wyandotte and Matchless Grace of Monroe.
All of the artists on the program are thrilled to take part in this wonderful concert. Jake Sammons of Declaration, a Michigan native who has enjoyed a friendship with Seaton for years, states, " For over thirty years, Victor Seaton has kept the light of Gospel Music burning brightly. His legacy is one of integrity, class and top tier talent all for God's Glory." Brian Fuson of The Sammons Family shared, "Victor Seaton has had a profound impact on my life since I first met him. It is my honor and privilege to give back to a great friend who has been such a blessing in my life."
Admission for the concert is free, no tickets will be needed. A love offering will be received. All funds collected will go directly to Victor Seaton. For those unable to attend who would like to donate, please send your donations to Victor Seaton Concert, PO Box 38, Roseville, Michigan. For more information on this concert, please contact Brian Fuson at 734-626-0376, or visit www.sammonsmusic.com.
Tags:
Declaration Trio
,
gold city
,
Liberty Missionary Baptist Church
,
Southern Gospel Music
,
Southern Gospel News
,
The Cathedral Quartet
,
The Kingsmen
,
Victor Seaton
Posted in
announcements
|
Comments Off

on DECLARATION TRIO TO HOST BENEFIT CONCERT FOR VICTOR SEATON OF ENCORE PRODUCTIONS
Written by Staff on November 18, 2014 – 12:53 pm -
Today's Southern Gospel music is a range from traditional quartets to country-styled family groups to edgy trios and everything in between. The shift can be heard as radio deejays play an early Statesmen record followed by The Booth Brothers and then perhaps an Isaacs' song. One group that has survived this evolution of sound is The Kingsmen and they have done it with flare, winning Dove Awards, being nominated for Grammy Awards and becoming members of the Gospel Music Hall of Fame. The Kingsmen came on strong in the '70's and '80's with several live albums, showing that they were the best in live performances that engaged the audience.   Now they are back with a new live album, demonstrating that the Kingsmen of today are still the masters of live quartet performance. [Editor's note: Feature first published in July 2013 in SGN Scoops.]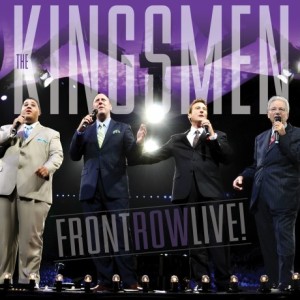 Front Row Live showcases the best of the current Kingsmen lineup, including Bob Sellers, Chris Jenkins, Randy Crawford and the patriarch of the group, Ray Dean Reese still belting out a powerful bass. Ray's son Brandon, who serves as the drummer and bandleader whenever the group appears with a live band, handles their live sound and co-produced this recording. The recording was made during the 2012 National Quartet Convention and highlights some older favorites like "Traveling Home" to newer ones like "He's Everything I Need", a number one song and song of the year nominee from their 2010 recording, Grace Says. The Kingsmen's current radio single off the live recording is "Land Of The Free", written by Phil Cross, a patriotic anthem that is garnering a lot of airplay.
Live Kingsmen albums have always had their own place in Southern Gospel history and Front Row Live is long overdue. Brandon Reese says, "I think people have wanted a great live recording from the Kingsmen for a long time and the best way to give them that live Kingsmen sound is to mix some old and some new music that everyone will love."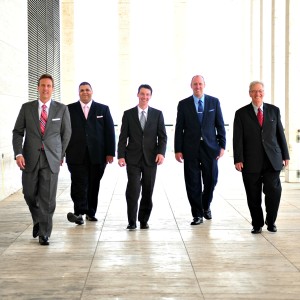 Kingsmen fans know that the group's sound is still much the same as it was when the group became known as the Ton of Fun in the 1970's, and baritone Randy Crawford says that is not just by chance. "The Kingsmen have always been filled with excitement," says Crawford, "Excitement for the music and the message.  The reason the style has changed so little over the years is because it works!  You find a formula and stick with it.  Each group must find its own style and sound to really set themselves apart.  The Kingsmen established theirs in 1973 with Big and Live and have never looked back.  Because of the excitement in the music and message it continues to ring with old and young listeners alike."
Ray Dean Reese explains that the reason the music still clicks with so many is a mixture of several ingredients. "The Kingsmen have a 57-year heritage of spreading the Gospel," says Reese. "We have always tried to keep the presentation of the message of the Gospel as a priority, down through the years. As for our sound, we try to stay in touch with what the people want to hear and would open their hearts to the message of Jesus. We have been blessed to have talented singers through the years who have each added their particular gifts to the mix."
Tags:
Bob Sellers
,
Brandon Reese
,
Chris Jenkins
,
Christian Music
,
gospel music
,
Lorraine Walker
,
Randy Crawford
,
Ray Dean Reese
,
sgn scoops
,
southern gospel
,
The Kingsmen
Posted in
announcements
,
artists
,
sgn scoops magazine
|
Comments Off

on The Kingsmen: Alive and Well