Written by Staff on June 15, 2019 – 4:30 pm -
The Lesters have requested prayer for Brian's wife, Sandra. See this partial note from their Lestergram:
"Do not be anxious about anything, but in everything by prayer and supplication with thanksgiving let your requests be made known to God. And the peace of God, which surpasses all understanding, will guard your hearts and your minds in Christ Jesus."
  ⁃  Philippians 4:6-7
Dear Friends,  
Our family has never taken lightly the fact that so many of you pray for us daily. Brian has said so many times from stage, "if nothing else, please pray for us". And once again we are coming to you, as our brothers and sisters in Jesus Christ, asking for your prayers. 
Brian's wife, Sandra, has been diagnosed with stage 2 breast cancer and is starting treatments this week to begin her fight against this terrible disease. We hear the stories all the time. We know so many of you have been where we are right now. With that in mind, we covet your prayers…
For more of the letter from the Lesters, go to their Facebook page HERE.
Please join us in prayer for Sandra Lester.
Read the May SGNScoops Magazine Online HERE
Download SGNScoops Magazine On PDF
HERE
Find SGNScoops Magazine On Facebook
HERE
Listen To Todays Gospel Music
HERE
Tags:
Brian Lester
,
cancer
,
gospel music
,
Sandra Lester
,
THE LESTERS
Posted in
announcements
,
artists
|
Comments Off

on The Lesters need prayer
Written by SGN Scoops Staff on April 13, 2016 – 2:48 pm -
The Lesters of St. Louis Mo have a new look these days. After the departure of Matt Felts last winter, The Lesters had to shift into high gear. They had a 2 week tour scheduled for January and only 2 members. Jonathan's wife of 4 years, Bailee, had traveled with the group off and on helping with the product table. In November 2015 she gave birth to their 2nd child.  Life was a little too hectic with 2 babies under the age of 2 on the bus at that time, so she came off the road.  Bailee knew every song they sang and almost everyone's part. She also loved to sing………..in the car.  She was pretty good, so her high school music teacher said. Brian and Jon put their heads together and ask Bailee to help them out for just this one time. She agreed after a day or so, and Grandma Sandra Lester agreed to go along and help with the babies.  The new sound of the group was a hit down in the Southwestern states. When they returned home they ask Bailee to continue full time in the gospel ministry. She agreed to give it a try.  So the group from St. Louis, MO, with a 91 year history in gospel music, is once again a family group, just as it was in 1925. The group now features Brian Lester, Jonathan Lester and new comer Bailee Lester. They are already working on a new project to be released soon.
Tags:
Southern Gospel News
,
THE LESTERS
Posted in
artists
|
Comments Off

on The Lesters Have A New Look
Written by Staff on June 23, 2015 – 10:10 am -
Matt Felts, vocalist with the Lesters, is in the process of recording a new solo CD. Here is the link to the project www.gofundme.com/mattfelts where you can preorder. All of the proceeds of this project will go to Matt's daughter's medical needs.
Abby Felts is six years old and has had numerous surgeries so far in her young life. She will have to undergo several more. We are praying that the Gospel music family will reach out to the Felts' family with love, prayers and financial support. For more information on Abby and how you can help, go to the link above.
Matt tells us, "Gospel music is truly a family and it's been a blessing to see how several people have reached out to us. Through this album, friends and fans are impacting not just my life, but more importantly, my daughter's."
Tags:
Abby Felts
,
gospel music
,
Matt Felts
,
southern gospel
,
THE LESTERS
Posted in
announcements
,
artists
|
Comments Off

on Matt Felts Needs Our Help!
Written by Staff on April 2, 2015 – 12:29 pm -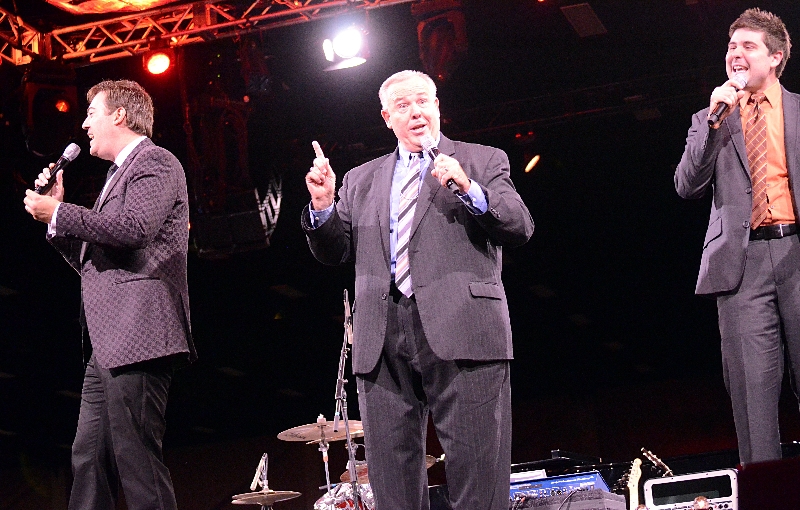 By Craig Harris
Veteran tenor singer Matt Felts joins his hometown brethren
When the Lesters were in search of a tenor singer last fall, the long-time family group couldn't have envisioned all of the pieces to the puzzle fitting together as seamlessly as they did. Into the picture stepped Matt Felts.
"It truly is like coming home," Felts says. "I joke because we're all from St. Louis. We all get each other's humor. We all get each other's food connections. We are watching Cardinals (baseball) games non-stop on the bus.
"You can watch people how they treat people on and off the bus. The way they treated me and my family coming in has been unbelievable. The ministry is why they do it … period. I've traveled with lots of great guys, lots of great singers. These are without a doubt the best. Every week feels like a family vacation. I've never had more fun."
Felts spent the previous five years with the Dixie Melody Boys. "When they were looking for a tenor (when the Lesters became a male trio), I heard they were looking, and I instantly called my wife (Jennifer)," Felts remembers. "I said, 'The Lesters are looking, and I want to take this job.' It wasn't the right season (at that time), so I said, 'We'll just wait.'
"Justin (Wells, the group's previous tenor singer) actually texted me and said he was resigning. We were in the car, and I looked at my wife and said, 'That's it.' I felt the season (with the Dixie Melody Boys) was coming to an end. I texted Brian (Lester) right then and said, 'I'm interested in the job.' He asked me to come up the next week."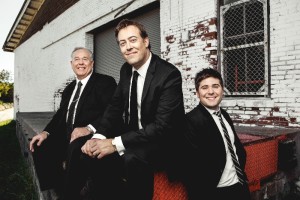 Felts – a St. Louis native – was born less than a mile from the Lesters' residence. "We were amazed to watch God's plan unfold as we began to search for a new tenor," group manager and lead singer Brian Lester – who stands alongside his son Jonathan as the other vocalists in the trio – shares. "Matt and our former tenor, Justin Wells, have been close friends for years, so they already had a connection, which is how Matt first learned we were looking. Matt is not only from St. Louis but lived just a couple miles away from our home. It was truly a perfect fit. He has fit in so well very quickly."
Felts adds, "The Lesters were in our house. We knew who they were. They were a household name for us. The earliest group I knew was the Lesters."
Felts' first experience in Southern Gospel Music came as a member of the Ohio-based GloryWay Quartet. That was followed by one year with the Skyline Boys, three years with the Monument Quartet and a six-month stint as part of Perfect Heart. Then, he joined the Dixie Melody Boys. Felts admits that those past experiences have helped shape him as an artist.
"I've tried to glean vocally – but not just vocally, also life – I've tried to look at how they did it in this industry for a lifetime," Felts shares. "It's been positive for the most part. Ernie Haase has been a like a brother, and there's Allison Speer and Mike Allen.
"Ed O'Neal gave me free reign. He said, 'You have ideas … go.' Not everything works, but you learn." That creative freedom was essential for Felts, who has a background in marketing. "They (the Lesters) knew my background," Felts says. "I had a great support staff around me, and what we were able to accomplish with Ed was great.
"They (the Lesters) basically said, 'What are your ideas? What can we do?' That's something (positive) for a guy who is in marketing. We'll just be talking and new ideas will come. There is a momentum swing right now for new opportunities and new growth."
One of those new opportunities involved the Lesters filming a live CD and DVD in Boston, a project that is now available. "It's exciting to bring Southern Gospel to Boston," Felts points out. "They eat it up every time."
Felts' marketing foundation was molded while he was a student at the University of Missouri. Felts also played baseball for the Tigers, graduating in 2001. Felts – a first baseman and relief pitcher – had the opportunity to play professional baseball, spending time in the minor leagues as part of the Kane County (Ill.) Cougars, Springfield/Ozark (Mo.) Mountain Ducks and Canton (Ohio) Coyotes. Felts is related to former New York Yankee great Don Mattingly – who is now the manager of the Los Angeles Dodgers – and his wife's family is related to Major League Baseball Hall of Fame member Honus Wagner. "We are a baseball family," Felts says.
However, that coveted opportunity on the diamond proved to be a trying period of time for Felts. "I grew up a pastor's son," Felts explains. "That lifestyle in baseball is very different. I felt that was what I wanted to do, but I knew that wasn't for me. Music was always at the front. I always wanted to be in music. The Lord was in music."
Included among Felts' favorite Lesters songs are "He Is," "It's Gonna Be Wonderful," "My Savior First of All" and "He Didn't Throw the Clay Away."
"Clay was my testimony," Felts points out. "Coming out of baseball, I felt like I had thrown my life away. I felt like I had made too many mistakes. That song just ministered to me."
While Felts changed careers at that time, he most recently transitioned from a career with male quartets to becoming a third of a male trio now. "It's stretching your wings artistically," Felts says. "I love quartets. It's nothing against that, but that's all I've ever done. In some ways, you become stagnant. The arrangements they (the Lesters) do, it awakens something in you. It's exciting."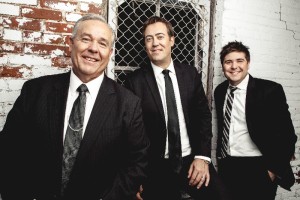 The 37-year-old Felts admits that the support he has received has been overwhelming. "We are thrilled to have Matt and his family join the Lester family," Brian Lester shares. "He has already been such as great addition, and our fans have embraced him."
Felts adds, "It breathes new life into your career. The entire industry, the day I announced I was going over to the Lesters, I had people all over the industry congratulating me. A lot of quartet fans couldn't understand how excited I was, but I knew there would be a lot of variety to the program. That's exciting."
Be sure to see The Lesters when they are in your area. For more information visit the Lesters website. 
Written by Craig Harris.
First published by SGN Scoops magazine in February 2015. For the current issue of SGN Scoops go to the homepage. 
Tags:
baseball
,
Brian Lester
,
Christian Music
,
Craig Harris
,
Dixie Melody Boys
,
Jonathan Lester
,
Justin Wells
,
Matt Felts
,
sgn scoops
,
southern gospel
,
St. Louis
,
THE LESTERS
Posted in
artists
,
christian entertainment
,
Christian interest
,
sgn scoops magazine
|
Comments Off

on Lesters Hit A HOME RUN!
Written by SGN Scoops Staff on December 16, 2014 – 10:04 am -
The Lesters, "St. Louis's First Family of Gospel Music", will celebrate 90 continuous years as a musical group in 2015. The legendary group has recently been verified as the oldest continually running musical group of any genre in the world. Started in 1925 by Harvey and Opal Lester, this musical family is now into their fourth generation with grandson Brian Lester and great-grandson Jon Lester proudly carrying on this rich heritage of ministry. "If my grandparents would have been told that 90 years later their ministry would still be going strong, I don't know if they would have believed it." said Brian Lester.
As the group began preparations for their 90th anniversary celebration tour they learned that their run as a musical group was at the top of all genres of music. "We began to research it through several organizations and found that no other musical group as been continuously running for this long. Some started earlier such as the Speer Family but ended, some that started earlier or around the same time have taken breaks from time to time. The Lesters are incredible an example of faithfulness." stated tenor singer Matt Felts.
The Lesters  are currently working with the Guinness Book of Worlds Records. An official verification and media tour will be announced soon. Next year's celebration will include many incredible events such as "Lesters Night" at Busch Stadium, the home of the St. Louis Cardinals and special concert events. "This is an exciting time for The Lesters. Next year is going to be full of historic moments." said Jon Lester. For more information you can visit the official website of The Lesters at
The official website of The Lesters
Tags:
Guinness Book of Worlds Records
,
southern gospel
,
Southern Gospel News
,
THE LESTERS
Posted in
announcements
|
Comments Off

on The Lesters Set World Record
Written by SGN Scoops Staff on August 26, 2014 – 2:00 pm -
Through their group newsletter, Facebook and through a video shot at Silver Dollar City, the announcement was made today that the Lester's have hired Matt Felts as their new tenor. " We are grateful to The Lord for sending Matt our way and we're looking forward to what God has in store for this ministry as we continue our journey for Him. Matt will be joining the week of September 8th so be watching our tour schedule and come out to a concert to welcome Matt to the Lesters."
Matt Felts has been a mainstay in Gospel music for a number of years having been a member of the Dixie Melody Boys and other groups. He had this to say about joining the Lesters. " Growing up in St. Louis, our home was filled with great Gospel music from groups like the Cathedrals and the Happy Goodmans. One group stood out to us above the rest, The Lesters. I'm thrilled to be apart of such a rich legacy of ministry and music. Joining the Lesters is truly like coming home."
The Lesters will be in the studio soon and will make an appearance on the main stage at the National Quartet Convention next month. You can find out more and see their tour schedule by going to their website at www.thelesters.com
Tags:
Matt Felts
,
Southern Gospel Music
,
Southern Gospel News
,
Southern Gospel Update
,
THE LESTERS
Posted in
announcements
|
Comments Off

on THE LESTER'S ANNOUNCE MATT FELTS AS NEW TENOR
Written by SGN Scoops Staff on August 16, 2014 – 9:34 am -
(Nashville, TN) The Gould Family a releases new hit song to radio from their new recording "Love Beyond Measure." Tim and his daughters Christa and Kelsey are the new up and coming artists with their tight family harmony that touches the hearts of the young and old alike.
Their song "Lord, I'm Ready to Fly" is what they believe got them on the main stage at the National Quartet Convention and is the song they think will get them on the charts.
"We love this song because of the message it tells. No matter how old you are God has a plan for your life and if you are willing to trust Him and let Him guide you, you can soar to new heights. Before you can soar you must first be 'Ready to Fly'" Tim said.
Penned by Amber Maxwell, "Lord, I'm Ready To Fly" is and uptempo song that radio is sure to enjoy.
The Goulds are a family who enjoy spreading the Good News of Jesus Christ through song. They are based out of Joplin, Mo. and travel the country wherever God opens doors. The Goulds have sung alongside many groups including The Lesters, The Mark Trammell Quartet, The Isaacs, The Blackwood Brothers, the Kingsmen, the Crist Family and many others.
Be looking in the near future for new music and dates from The Gould Family.
To learn more about the Gould Family visit their website www.gouldmusic.com or https://www.facebook.com/gouldsmusic .
If you are interested in booking the Gould Family contact them at Signature Artist Agency / Duane Garren (417) 236-9090 .
Tags:
Gould Family
,
southern gospel
,
Southern Gospel Radio
,
the isaacs
,
THE LESTERS
,
The Mark Trammell Quartet
Posted in
announcements
|
Comments Off

on Gould Family Releases New Song To Radio
Written by Staff on August 12, 2014 – 8:14 am -
By Joshua Heston – Special to SGN Scoops
"Precious memories how they linger / How they ever flood my soul / In the stillness, of the midnight / Precious sacred scenes unfold." — J.B.F. Wright, 1925
Branson, MO —Traditional gospel music and Ozark Mountain culture go together mighty well. From brush arbor singing schools to pine-enshrouded churches where country folks sang from well-worn hymnals every Sunday morning, the sweet sounds of gospel music form an emotional basis for many of us; reminders of childhood, dinners on the ground, exciting tent revivals, and for some, simple evening singings as the family would gather together and let their voices ring.
But times change. People change. The world, it seems, simply picked up its pace and recordings, radio, TV, internet, and job and family responsibilities removed the opportunity to spend time with family and friends. The chance to leave an industrious world outside — even for just a few hours — was lost. Tattered hymnbooks were replaced by projection screens and four-part harmony swapped for an endless stream of praise and worship songs. Families didn't gather around a piano anymore and besides, the music on the radio, then the entertainment on TV, then the library of digital music, was all more professional, more polished, and never required practice but simply the touch of a button.
Gone for most was the shape note singing, the tent revivals, and the conventions. Conventions? No, not Tupperware conventions. A generation or two ago, gospel music conventions, specifically quartet conventions, were commonplace. Small and large, these gatherings originated from 19th century songbook companies' efforts to sell books. This was after the Civil War and the population was ready to embrace music that spoke of hope and peace.
Professional quartets traveled from church to church, then from convention to convention, stunning largely rural audiences with the now-trademark sounds of a powerful, rumbling bass, soaring tenor, lead and baritone vocals. As quartets polished their skills and styles, white Southern gospel music was born. With it, of course, came those singing conventions, the largest of which ultimately became the National Quartet Convention, an event that packed out the Ellis Auditorium in Memphis for many years. Here was the equivalent of a rock concert arena. Thousands of fans pouring into the venue to see gospel music greats like J.D. Sumner, James Blackwood of the Blackwood Brothers, and more.
"When we've been there ten thousand years / Bright shining as the sun / We've no less days to sing God's praise / Than when we've first begun." — John Newton, Amazing Grace
Like many other elements of our rural population, Southern gospel conventions became fewer and farther between in the last generation. Now, the words "singing convention" are typically met with a bit of bewilderment. Southern gospel is still a small but powerful genre of music but many of the artists now travel from church to church, not from convention to convention.
The National Quartet Convention is still going strong, moving this year from Louisville to Pigeon Forge, Tennessee, but Southern gospel singing west of the Mississippi? Western region groups have struggled for years, honing their styles, their harmonies, their ministries, but laboring largely in the shadow of "top tier" groups with more convention affiliation in the east. Now, the efforts of Branson-based Jonathan Edwards (of Faith's Journey), Donnie Williamson (of Wetumka, Oklahoma-based The Williamsons), Ava Kasich (Texas-born Beacon award winning soloist) and Rob Patz (of the Seattle-based SGN Scoops Digital gospel music magazine) teamed up to create a heartland Southern gospel convention here in Branson.
"For most of us who do gospel music, the goal is to see lives changed. But we can't do that if we don't have people to sing to. One of the goals of the convention is to expose more groups of the Midwest to an audience," says Williamson. "That's why we honored The Lesters during the first night of the convention. We want to highlight the quality of groups from this area."
"Near the cross I'll watch and wait / Hoping, trusting ever / Till I reach the golden strand / Just beyond the river." — Fanny Crosby, Jesus Keep Me Near the Cross Read more »
Tags:
Ava Kasich
,
branson
,
Brian Lester
,
Donnie Williamson
,
Faith's Journey
,
jonathan edwards
,
Joshua Heston
,
Missouri
,
Ozark Gospel Music Convention
,
rob patz
,
sgn scoops
,
State Of The Ozarks Magazine
,
THE LESTERS
,
The Williamsons
Posted in
announcements
,
gospel events
,
sgn scoops magazine
|
Comments Off

on Ozark Gospel Music Convention 2014
Written by SGN Scoops Staff on October 14, 2013 – 9:56 am -
The staff at SGNScoops proudly presents the October Edition of SGNScoops Magazine. Gracing our cover this month is Ed O'Neal and the Dixie Melody Boys. We will be honoring Ed later this month at the Creekside Gospel Music Convention in Pigeon Forge, Tennessee. You can find out how to be a part of that in the latest Creekside update in this issue. Other ministries highlighted are, The Lesters, 11th Hour, Ivan Parker and the Dove Brothers. Catch the Younger Perspective with Amber Nelon, and Christian Country News featuring Mikayla Lynn. This month we congratulate our publisher, Rob Patz for twenty years in the Gospel Music Industry. Don't miss this story- especially the side-bar containing notes of congratulations from industry professionals, friends and peers. This issue wraps up an era of Quartet Conventions in Louisville and also re-caps a recent Women of Faith conference. Believe it or not….There is more! Don't miss encouragement from Dr. Jeff Steele, Reflections With Sherry Anne, Life, Love and Legends by Lou Wills Hildreth and with get the latest music reviews by Sandi Duncan Clark. The latest in Southern Gospel Music is tastefully presented and laid out professionally, by Pete and Staci Schwager and is tucked behind a beautiful cover designed by Stephanie Kelley. SGNScoops Magazine is free! Please share with friends, family and fans.
Tags:
11th Hour
,
Amber Nelon
,
christian country
,
Creekside Gospel Music Convention
,
Dixie Melody Boys
,
Dixie Phillips
,
dove brothers
,
Ed O'Neal
,
ivan parker
,
Jeff Steele
,
Lou Wills Hildreth
,
louisville
,
Mikayla Lynn
,
National Quartet Convetion
,
Rhonda Frye
,
rob patz
,
Sandi Duncan Clark
,
southern gospel
,
Southern Gospel News
,
THE LESTERS
,
Women of Faith conference
Posted in
announcements
,
scoops
,
sgn scoops magazine
|
Comments Off

on October 2013 SGNScoops Magazine
Written by SGN Scoops Staff on September 30, 2013 – 7:42 am -
Tags:
blake bolerjack
,
Brian Free & Assurance
,
southern gospel
,
Southern Gospel Concert
,
Southern Gospel News
,
The Dove Brothers Band
,
The Downing Family
,
The Florida Boys
,
THE LESTERS
,
The Taylors
Posted in
video
|
Comments Off

on Gospel Music Today On SGNScoops.com