Written by SGN Scoops Staff on November 3, 2011 – 11:09 am -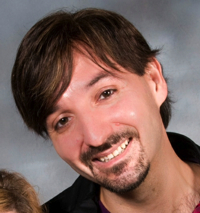 Dove Award nominated HisSong is proud to announce as their new Baritone singer/songwriter Michael Frost. Michael has a long history in southern gospel music.
HisSong owner/manager Dennis Humphries states, "We are very excited to have Michael a part of this ministry and team. I have known Michael for several years and have always loved his singing, songwriting and his spirit. I'm excited to see what God has in store for this ministry."
Michael Jason Frost grew up singing gospel music with his family in upper East Tennessee. By the time he was a teenager, he was harmonizing with his cousins and traveling on weekends across the southeast with a family band, The Frost Family. That band evolved into a vocal trio, The Frosts, that did well in the southern gospel music industry with widespread radio airplay and charting singles. The trio enjoyed success from 2002 – 2005 and earned a Singing News Fan Award nomination in 2005.
As a songwriter, Michael has had cuts by several of gospel music's most popular artists, including a new release on Ivan Parker's latest project HisSong, The Wilburns, Heirline and more. Many of his songs have climbed The Singing News Top 40 chart. Michael was named "Songwriter of the Year" in 2007 by the Eddie Crook Company.
In 2006, Michael was cast in an original musical production about the life of Christ called "The Miracle" at The Miracle Theater in Pigeon Forge, TN. Michael signed on for every season of The Miracle, where he played various roles from John the Baptist to Judas, and as an understudy to the role of Jesus. He also served as host and pre-show soloist. Michael appeared in more than 2,000 performances of The Miracle until the show ended its run in October 2011. Michael also appeared in the theater's production of "Joseph and the Amazing Technicolor Dreamcoat," starring alongside American Idol's Melinda Doolittle.
After The Miracle ended it's run, Michael officially joined popular southern gospel trio, HisSong in October 2011 as their full-time baritone singer.
"I'm amazed by God's timing. Just when The Miracle closed after six years, God opened the door for me to sing with HisSong. I've known these guys for years, and I've always loved their sound and their songs. It's an honor to join their ministry and I'm excited to see where God will take us from here," Michael said.
Michael and his wife Jen have one daughter, Jael Esther Frost. They reside in Sevierville, TN.
HisSong is currently working on a brand new project with multi Dove Award winning producer Wayne Haun on the Vine/Crossroads label. This will be the 4th project with Wayne. This is HisSong's 10 year anniversary and the new record will be called "Decade."
Tags:
Dove Award
,
heirline
,
hissong
,
Joseph and the Amazing Technicolor Dreamcoat
,
Michael Frost
,
Southern Gospel News
,
The Miracle
,
The Miracle Theater
,
The Wilburns
Posted in
announcements
,
christian entertainment
|
Comments Off

on HisSong Announces Michael Frost As New Baritone Vocalist
Written by SGN Scoops Staff on March 22, 2011 – 4:00 pm -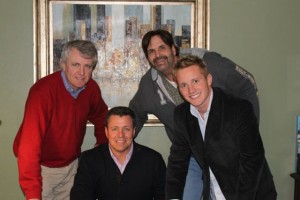 Hendersonville, TN (March 22, 2011) – Daywind Records is excited to announce the addition of Wilburn & Wilburn to its list of talented artists. After singing with his family, the Wilburns, for 16 years, Jonathan Wilburn went on to become the lead singer for one of Southern Gospel's most beloved groups, Gold City.   Following a short break from life on the road, Jonathan has recently decided to return to the world of Southern Gospel music full-time, this time joined by his 24-year old son, Jordan.  With their first project of fan favorites already available and a full schedule of concert appearances, this father-son duo has already captured the attention of fans across the country with the unique combination of valuable experience and a fresh, new sound.
Jonathan is thankful for the opportunity to once again share and minister to long-time supporters and new fans alike.  He also looks forward to sharing the stage with Jordan, whose vocal talent and conviction in delivery of the message is sure to bless the hearts of audiences.  Backed by the team at Daywind Records, Wilburn & Wilburn is eager to get their ministry started.  "Jordan and I are very honored to be a part of the Daywind family of artists," shares Jonathan Wilburn.  "In my years of experience you cannot beat hard work, and Daywind has a great work ethic.  Starting from the top to the bottom, this company is a great example of what it takes to be successful.  We are blessed to get started with the best!"
Wilburn & Wilburn will begin recording their debut release with Daywind Records in the coming weeks.
Daywind Records is based in Hendersonville, TN and is distributed worldwide through New Day Christian Distributors.  In addition to Wilburn & Wilburn, Daywind is home to such great artists as the Perrys, Legacy Five and Brian Free & Assurance, among others.  For more information on Daywind Records, visit daywindrecords.com.  For more information on Wilburn & Wilburn, visit wilburn2.com
Tags:
Daywind Records
,
Jonathan Wilburn
,
The Wilburns
,
wilburn & wilburn
Posted in
announcements
,
christian entertainment
,
Christian interest
|
Comments Off

on Daywind Records Welcomes Wilburn & Wilburn To Its Growing Roster Of Artists
Written by SGN Scoops Staff on January 31, 2011 – 12:09 pm -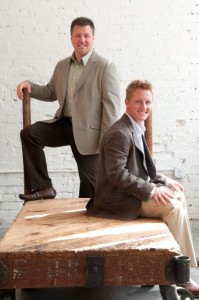 Jonathan Wilburn recently announced that he and his son, Jordan, will be traveling full-time as "Wilburn and Wilburn". The duo is currently recording their first CD and will release another new project in time for the 2011 National Quartet Convention.
Wilburn and Wilburn will be doing select dates with Jonathan Wilburn's former group, Gold City Quartet, as well as performing with Jonathan's parents, The Wilburns.
For more information, please call (256) 504-4396
Tags:
Gold City Quartet
,
Jonathan Wilburn
,
national Quartet Convention
,
The Wilburns
Posted in
announcements
,
christian entertainment
|
Comments Off

on Jonathan Wilburn Announces Formation of "Wilburn And Wilburn"