Written by scoopsnews on September 30, 2015 – 10:27 pm -
Current and former members of Gold City are bringing their highly successful  Heritage Of Gold Reunion Tour to Ozark, AL!  This exciting event reunites several Gold City alumni for an evening of music and memories.  The concert is slated for
Friday, December 4, 2015
at the Ozark Civic Center and will begin at
7 p.m.
The Ozark Civic Center is located at 320 E. College Street in Ozark, AL.
The Heritage of Gold Tour features three of today's most exciting groups–Gold City, Wilburn and Wilburn, and The LeFevre Quartet.  For this special evening in Ozark, AL, Jay Parrack and Vocal Event will be joining these three artists, along with legendary bass vocalist, Hall of Fame Member Tim Riley.  Together, these men will relive some of the great music and moments in not only the 35-year career of this much-awarded quartet, but in all of gospel music.  Gold City takes its rightful place as one of the all-time great gospel quartets to ever step on stage, and this reunion concert will pay tribute to many of those industry standard-setting moments.  This tour celebrates the rich heritage of Gold City, while showcasing the talents of the many men who have stood on the stage as part of this group, those who are carrying on the grand Gold City tradition today, and will also highlight the achievements of their patriarch, Tim Riley.
For more information about this concert or to purchase tickets, call
877-595-1778
. Office hours are
9 a.m. to 5 p.m.
Monday
through
Friday
.
Tags:
Gold City Quartet
,
Heritage of Gold Tour
,
Tim Riley
Posted in
announcements
|
Comments Off

on HERITAGE OF GOLD TOUR COMES TO OZARK, AL
Written by Staff on September 24, 2015 – 5:10 am -
In 1980, five men in Dahlonega, Georgia came together to form what is now one of the most celebrated and most beloved Southern Gospel groups, Gold City. The original lineup consisted of Bob Oliver (Tenor), Jerry Ritchie (Lead), Ken Trussell (Baritone), Dallas Gilliland (Bass) and Larry Goddard (Piano). Gilliland would be replaced shortly after formation with a man who has since become synonymous with the group, Tim Riley.
A multiple Singing News Fan Award winner and Gospel Music Hall of Fame member, Tim Riley is well known for his incredibly rich and clear bass voice. Riley became a stalwart member (until 2004, and later 2014) of the group whose lineup has experienced many changes over the years.
Tags:
Daniel Riley
,
gold city
,
gospel music
,
Tim Riley
Posted in
announcements
,
Christian interest
,
concert reviews
|
Comments Off

on 24 Karats: A Look At The Legendary Gold City Quartet
Written by Staff on February 22, 2015 – 7:08 am -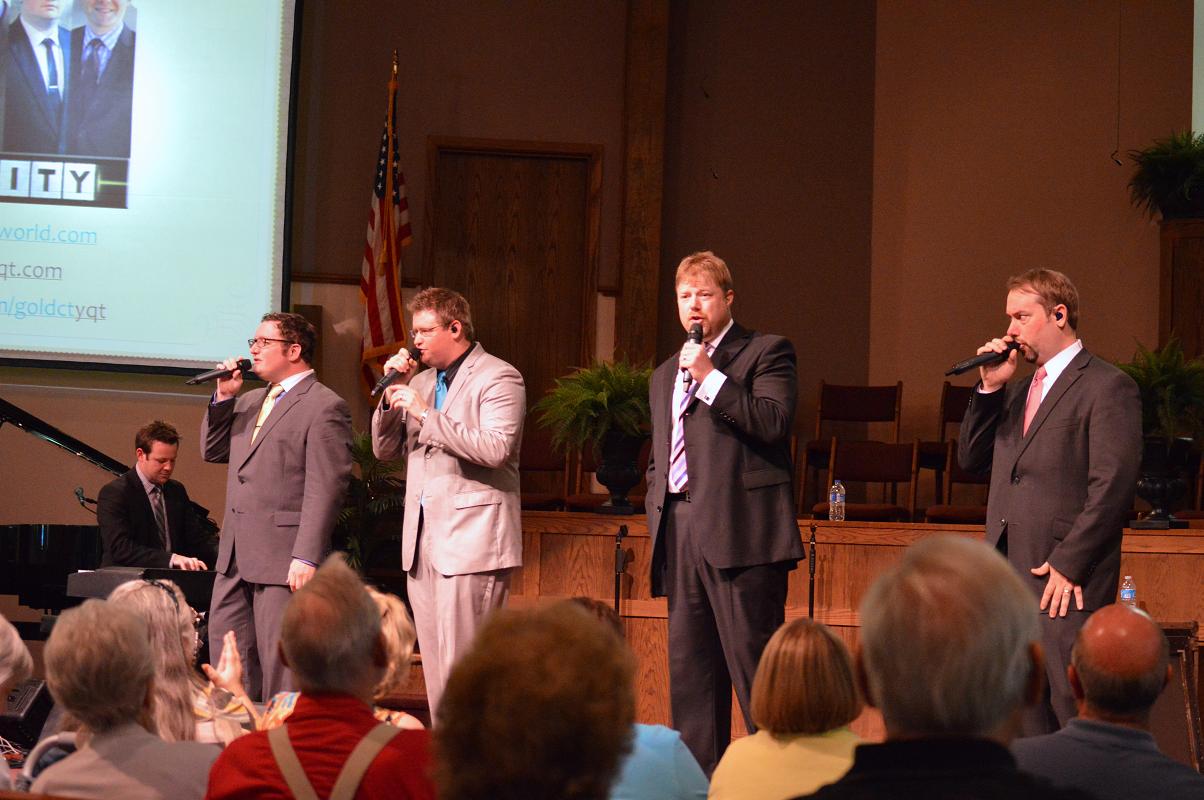 By Melissa Joy Wright
Since the group's inception in 1980, Gold City Quartet has become the standard to which all other quartets strive to meet. This Quartet's legacy is rich and deep with talent, ministry and love for the Lord. The current line-up is no exception. If you ask these guys each other's best attributes, they'll tell you first that their success in ministry is a collective team effort. They are a great team as a whole.
One part of that team is Chip Pullen. Chip sings lead for the group and is a down-to-earth guy who is a great friend to have. He brings energy and excitement to the Quartet both on the stage and off. He is an asset to the group and you can see his heart for Christ with every word that he sings.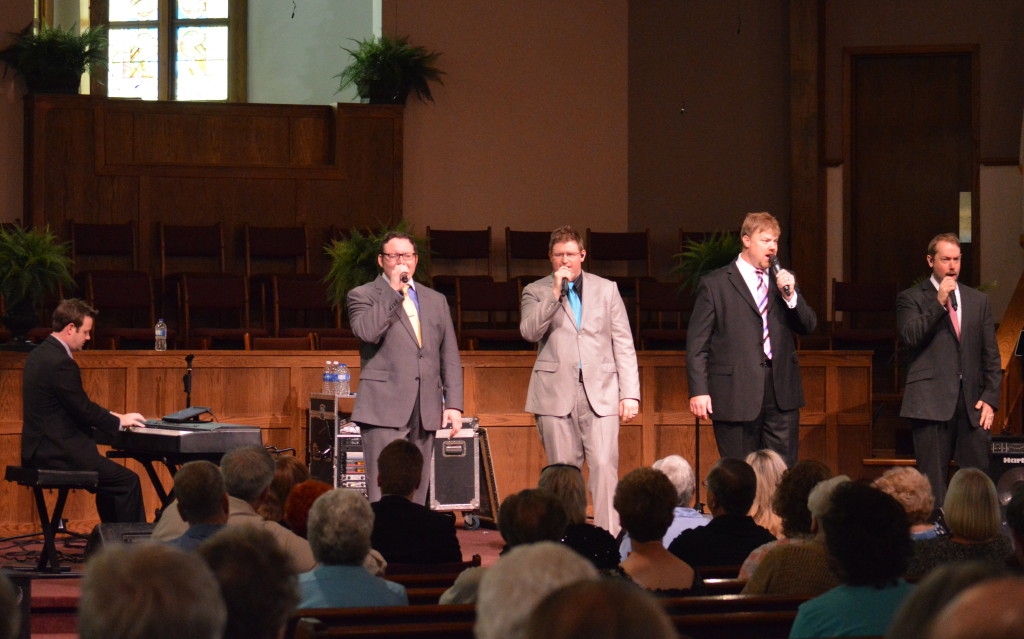 Robert Fulton is another part of this team. Robert sings the tenor part and is a self-professed nerd who loves trivia and game shows. He is the go-to guy if you want to be in the know on world events. He has a tender heart to serve and you can hear that when he shares the gospel from the stage.
Daniel Riley sings the baritone part and manages the group. Daniel is a constant source of encouragement for these guys. Not only does he pray for them, but he prays with them, as well. Daniel builds confidence in the lives of others and truly has a heart for ministry, in addition to being the man behind the details of running this successful quartet.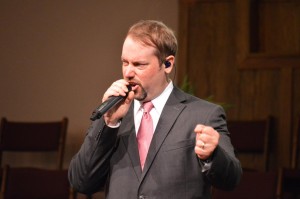 If you were asked to name an icon in southern gospel music today, the name Tim Riley would be on your short list. This Hall of Fame inductee has truly been famously singing the bass part for Gold City. He is the mentor of the group, resonating with each member as the ultimate voice of experience. The other group members all agree they seek Tim's advice and wisdom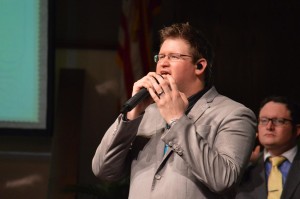 in all things, and his road stories can't be rivaled. He has a real desire to reach the lost. Tim wants to see others make great music and perpetuate Southern Gospel. Reports of his progress since his recent stroke are positive. He is at home, in good spirits, and making great strides toward recovery.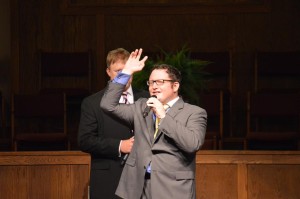 Chris West is helping to hold down the bass part while Tim is recovering. Chris is a long time Riley family friend who has filled in beautifully. The guys say Chris is great to travel with and has become a real friend. He has a laid back personality and he really enjoys serving the Lord.
Another important member of this team is Bryan Elliot. One of the very best musicians in this business, Bryan makes the piano sound fabulous day in and day out while bringing glory to God. He is a devoted family man who has a wonderful sense of humor, and he genuinely cares for people and truly desires to see others come to a personal relationship with Christ.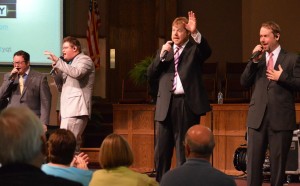 The sound for this quartet has never been better and part of the reason the mix is always perfect is because of Chuck Howe, Gold City's sound engineer and road manager. He is their resident MacGyver, fixing the most difficult problems with nothing more than a rubber band and drinking straw. Chuck is willing to help do anything and help anyone at anytime. He is invaluable to Gold City Quartet.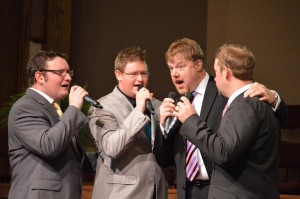 These men love their job and they love their Lord. They all share a firm desire to see people come to the salvation of Christ. They strive to encourage believers in their faith and further Southern Gospel music. Gold City Quartet has an historic legacy and a bright future, in fact; you could say it's as bright as…gold.
For more information on Gold City, visit http://www.goldcityqt.com/
Photographs courtesy of Kimberly Roberts
By Melissa Joy Wright
First published October 2014 by SGN Scoops magazine.
For current issues of SGN Scoops visit www.sgnscoops.com
Tags:
Daniel Riley
,
Gold City Quartet
,
gospel music
,
Melissa Joy Wright
,
sgn scoops
,
southern gospel
,
Tim Riley
Posted in
artists
,
sgn scoops magazine
,
special feature
|
Comments Off

on 35 Golden Years for Gold City Quartet
Written by SGN Scoops Staff on September 30, 2014 – 8:34 am -
The annual Diamond Awards recognize the best in Southern, Country and Bluegrass Christian music and are hosted by SGNScoops digital magazine and Coastal Media Group. Originating in 1991, they were the first Southern Gospel fan-based awards and are still open to everyone, no subscription required.
Since January 2014, voting has been held to select the nominees for this year's Diamond Awards, to be held at Creekside Gospel Music Convention at Pigeon Forge on November 3rd through 6th. Artists were selected by voters from across the internet to become a top-ten nominee and then a top-five nominee. Voting commenced on the top-five selections and has now closed.
SGN Scoops would like you to meet our top-five finalists for each category of the 2014 Diamond Awards. Today's category is the JD Sumner Living Legend Award.
J.D. SUMNER LIVING LEGEND AWARD: A once-in-a-lifetime honor to recognize the living performer for whom the fans feel has made the greatest contribution to Southern Gospel music over a career spanning 25 years or more. (Note: previous winners are no longer eligible for this award)
2014 Top Five Finalists:
1. Michael English
2. Karen Peck Gooch
3. Tim Riley
4. Ed O'Neal
5. Gerald Crabb
Get Your Free Tickets For The Diamond Awards At Creekside 2014 Here
Tags:
Diamond Award
,
Ed O'Neal
,
gerald crabb
,
Karen Peck Gooch
,
Michael English
,
Southern Gospel News
,
Tim Riley
Posted in
announcements
|
Comments Off

on Getting To Know The 2014 Diamond Award Nominees
Written by Staff on September 22, 2014 – 1:39 pm -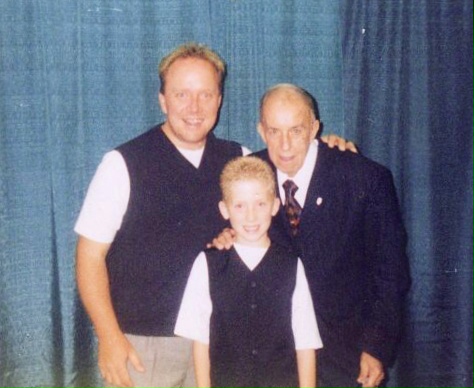 I remember when I was 11 years old at the 2001 NQC.  I was so excited to see the quartets I loved and the chance to meet them.
I got to meet some of my heroes that week like Jake Hess, Tim Riley, Howard and Vestal Goodman, Ray Dean Reese, Ed O'Neal, Bill Gaither, and others!
The moment that stands out the most from that week was when I got to meet my favorite singer of all time, George Younce, who was with the Old Friends Quartet at the time. He was so kind and joked around with me like George would always do.
About a year or two after that, he called to encourage me to keep on singing and follow the Lord's guidance. He has made a lasting impact on my life.
I believe God used George Younce to influence me to sing in Gospel music. I will never forget that NQC!
Submitted by Aaron Perkins, Sound Technician/Bass Vocalist at The Taylors
Please submit your NQC memories to sgnscoops@gmail.com
Tags:
Aaron Perkins
,
Christian Music
,
George Younce
,
gospel music
,
Jake Hess
,
nqc
,
sgn scoops
,
The Taylors
,
Tim Riley
Posted in
announcements
,
artists
,
christian entertainment
,
Christian interest
,
sgn scoops magazine
|
Comments Off

on My NQC Memories: Aaron Perkins
Written by SGN Scoops Staff on September 1, 2014 – 5:06 pm -
Gold City's legendary bass vocalist Tim Riley continues to make great improvement following a stroke that sidelined him in late July. He was released from inpatient rehab in mid–August, nearly 2 weeks ahead of schedule and is now again speaking normally and walking independently with no assistive devices. While still not up to the demands of a full-time touring schedule, Tim was able to attend his 50th high school reunion recently, the first class reunion he has ever been able to attend due to Gold City's schedule. Tim has felt every prayer and thanks you for all the cards and encouragement everyone has sent his way. The entire Riley family and all the men of Gold City ask you for your continued prayers for Tim and the group and thank you for your support!
Tags:
gold city
,
Southern Gospel News
,
Southern Gospel Update
,
Tim Riley
Posted in
announcements
|
Comments Off

on Update From Gold City About Tim Riley
Written by SGN Scoops Staff on July 30, 2014 – 9:46 am -
Tim Riley continues to rest and recover following a mild stroke this past weekend. Daniel Riley of Gold City says, "Dad is in good spirits and working hard in rehab to regain strength and increased mobility on his right side. Mentally, he is 100 percent and is thankful for all the prayers and well wishes. Doctors are optimistic for a full recovery."
For those who wish to send get-well cards or notes of encouragement to Tim, send them in care of Gold City, P O Box 2100, Gadsden, AL 35903.
Tags:
gold city
,
Southern Gospel Music
,
Southern Gospel News
,
Tim Riley
Posted in
announcements
|
Comments Off

on Update On Tim Riley
Written by SGN Scoops Staff on July 27, 2014 – 2:21 pm -
Tim Riley, legendary Hall of Fame bass vocalist of Gold City, is resting comfortably after suffering a mild stroke.
Saturday afternoon, July 26, Tim began experiencing some abnormal symptoms while on tour and was taken to the hospital. After numerous tests Saturday evening and Sunday morning, including an MRI, a mild stroke was confirmed. There is no paralysis, and Tim is fully alert and able to communicate. At this time, neurologist consultation is pending, and additional testing will be done to better determine proper treatment.
The Riley family and Gold City appreciate all the prayers that have gone up on behalf of Tim, and they appreciate your continued prayers for a speedy recovery. Thank you also for your patience as the family confirmed the most accurate information about Tim's condition before sharing official word. Gold City will report updates as they become available.
Tags:
gold city
,
Southern Gospel Music
,
Southern Gospel News
,
Tim Riley
Posted in
announcements
|
Comments Off

on Tim Riley Suffers A Mild Stroke
Written by SGN Scoops Staff on May 9, 2013 – 3:39 pm -
We are proud of the May issue! In fact, it's not even summer yet, but this issue sizzles! Aaron and Amanda Crabb spice up the cover, and their interview will most definitely melt hearts! Also in this issue, catch the latest from Red Roots, the Pine Ridge Boys, and Mark Bishop. Get the scoop on Devin McGlamery and also Greater Vision's new music projects, and catch the Younger Perspective with Adam Brown. Get to know Christian Country's rising star, Abby Paskvan, and the West Coast's Keepers of the Faith. You heard the news about the upcoming Cathedral Reunion, but get the inside scoop from Ernie Haase, Mark Trammel and Scott Fowler. Dr Jeff Steele delivers a word of encouragement, Lou Hildreth honors Tim Riley and Jeff Hawes honors his mom. Catch up on the latest Creekside Gospel Music Convention plans, see who made the top ten list for Diamond Awards and see what songs are topping the charts. As always….digital, free and good! The scoop is nestled inside a beautiful magazine and is now available in in two formats. You choose- PDF or flip-style and please share with friends, family and fans.
Tags:
Aaron and Amanda Crabb
,
Adam Brown
,
Creekside Gospel Music Convention
,
Devin McGlamery
,
Dixie Phillips
,
Dr. Jeff Steele
,
Erin Stevenson
,
Ernie Haase
,
Greater Vision
,
jeff hawes
,
Keepers of the Faith
,
Lorraine Walker
,
Lou Hildreth
,
Mark Trammel
,
Red Roots
,
Rhonda Frye
,
Sandi Duncan Clark
,
Scott Fowler
,
southern gospel
,
southern gospel concerts
,
Southern Gospel News
,
the Pine Ridge Boys
,
Tim Riley
Posted in
announcements
,
sgn scoops magazine
|
Comments Off

on May 2013 SGNScoops Magazine
Written by SGN Scoops Staff on April 21, 2013 – 6:53 pm -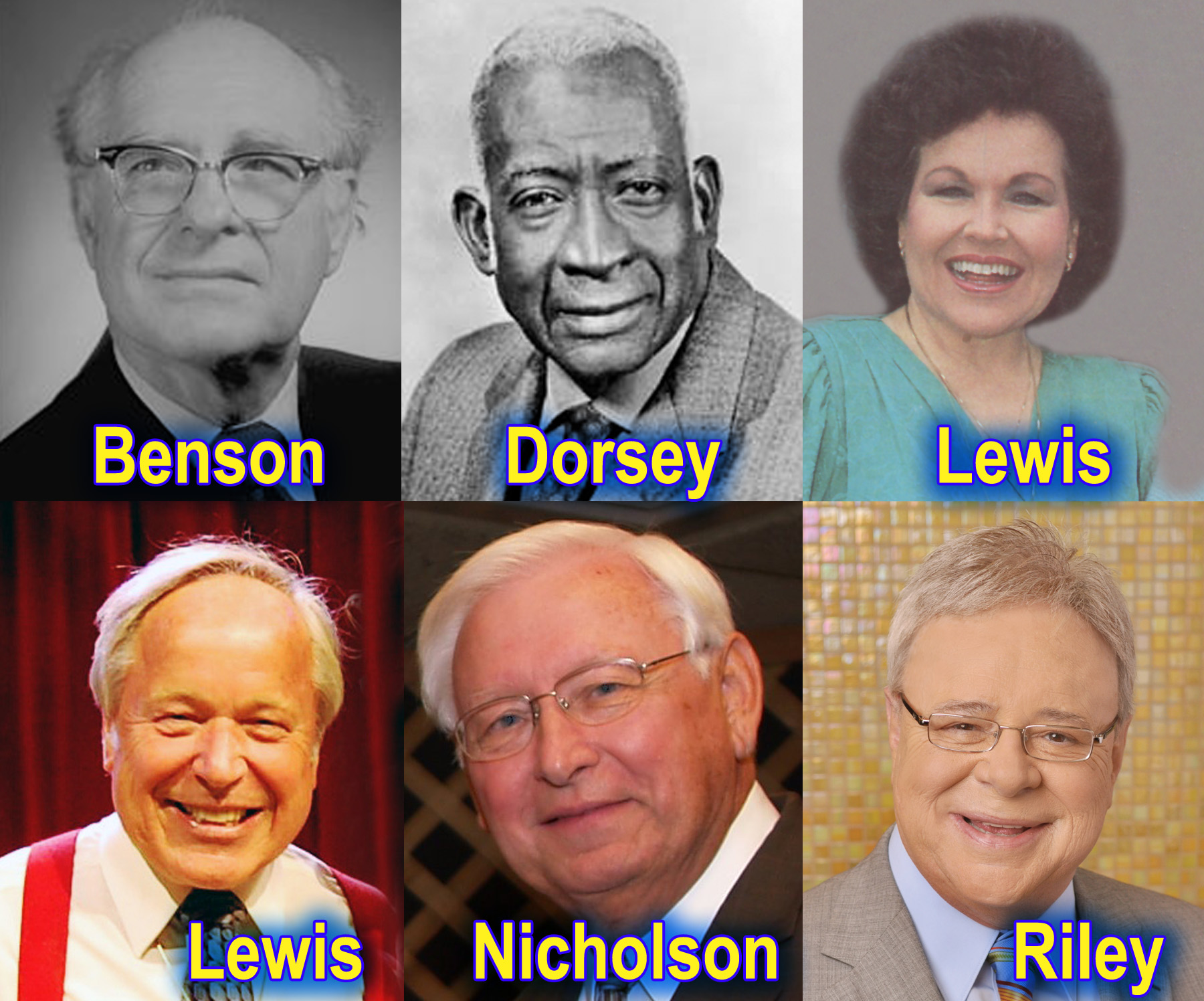 The Southern Gospel Music Association's (SGMA) announced April 19 the 2013 inductees to the SGMA Hall of Fame.
Dr. Jim Goff, induction committee chairman, made the announcement.
In the living category are Polly Lewis Copsey, "Little" Roy Lewis, Duane Nicholson and Tim Riley; and in the deceased category – John T. Benson, Jr. and Thomas A. Dorsey.
"Recognizing the careers and contributions of our newest inductees this fall at Dollywood will bring some wonderful opportunities to mark their legacies," said SGMA Executive Director Charlie Waller.
The 2013 Induction Ceremony and Singing News Fan Awards is Oct. 2 at Dollywood in Pigeon Forge, Tenn. Tickets for the event are on sale now available from the SGMA office by calling 865-908-4040.
The SGMA is a non-profit organization that maintains the Southern Gospel Music Museum and Hall of Fame, the only facility honoring Southern gospel music and dedicated to the historic preservation of the genre's accomplishments, both for the music and the people. Museum hours coincide with Dollywood's operating schedule. Donations are tax-deductible. For more information about the museum or its inductees, visit www.sgma.org.
Tags:
"Little" Roy Lewis
,
Duane Nicholson
,
Polly Lewis Copsey
,
sgma
,
Southern Gospel Music
,
Southern Gospel News
,
Tim Riley
Posted in
announcements
|
Comments Off

on SGMA announces the class of 2013 Hall of Fame Inductees