Written by Staff on September 28, 2015 – 2:27 pm -
Title Cut "Time Machine" Sixth Consecutive Number One
Hiltons, Virginia (September 25, 2015) Claiming the #1 spot on both the Absolutely Gospel Music Weekly Chart and the Singing News Monthly Chart for the title cut from their latest CD Time Machine, the Browders are living up to their name as a group who consistently produces number one songs.
Sitting at the number one spot for four consecutive weeks on the Absolutely Gospel Music Weekly Chart and landing at the number one spot for the month of November in the Singing News Monthly chart, "Time Machine" is a song straying from their usual Southern Gospel format, but still strong enough to climb to the top of both charts. Perhaps it's because the message of the song is so strong, encouraging us to remember that we cannot go back in a time machine and we need to love our kids and family now and do what we are going to do for Jesus now, before our time runs out.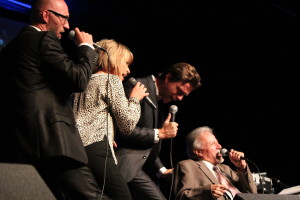 Lead singer for the group, Matthew Browder commented, "The overwhelming support we have received in radio the last few years has been nothing short of miraculous. We are thankful for His favor on our lives and ministry."
In addition to the success of their songs, the Browders are pleased to announce the addition of a live band now traveling with them. Sonya Browder has already been playing the keyboard on select song as well as Matthew, David, and Tommy Browder playing guitars on select songs now the addition of Burton Ludwig playing electric and acoustic guitar andDerek Cress on drums, they are displaying a full band and the sound is terrific.
Sonya stated, "For many years, we have had the desire to carry a full band on the road, but knew it would have to be in the Lord's will and timing. Among the four of us, we already had acoustic lead, rhythm guitar, bass, and keyboard. So the addition of drums and electric lead is just the icing on the cake. It has given us the flexibility of playing songs completely live, and in the coming months, you will see us do even more of that."
Burton Ludwig is 23 years old and Sonya's brother, hailing from the great state of Maine. He started spending the summers with Matt and Sonya in Tennessee when he was just 15 years old. He would go on the road with The Browders, carrying equipment and help in any way he could. The summer he was almost 17, just before he went back home, Matt and Tommy showed him a few chords on the guitar. By the time he came back down the next summer, he had advanced tremendously and they found out he had been practicing nearly every day, teaching himself by watching YouTube videos. When he graduated high school, he joined the Browders full-time, for about 3 years. He took a year's sabbatical to spend time with his mom and dad (who are nearly 80) back in Maine, but is now back on the road, more sure of his calling now than ever before.
Matt said "Burton joyfully did the menial tasks of loading equipment in and out and assisting us in any way he could for several years. I believe God saw his effort and heart and has gifted him and promoted him for his humble service. We're thrilled he is part of the team."
Derek Cress is 25 years old and has been in full-time ministry for over 5 years with an evangelistic team and Christian theater in our local area of Kingsport, TN. While the Browders were praying about adding a full-time drummer to their band, they had no idea that God was also speaking to Derek about taking his talent on the road. He contacted David Browder via Facebook stating that fact, and within a few months, he joined the group. He came highly recommended by the ministry he was formerly with and you can see why. He has a servant's heart, and a genuine love for the Lord, as well as an undeniable calling.
Patriarch of the group, Tommy Browder added, "We are thrilled he is part of the team and it already feels like he's one of the family."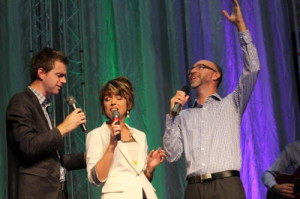 If you would like to interview the Browders contact AG Publicity at info@agpublicity.com .
You can find out more about the Browders by going to http://www.thebrowders.com orhttps://www.facebook.com/pages/The-Browders-Friends .
Contact the Browders by E-mailing sonya@thebrowders.com or Twitter at https://twitter.com/browdersmusic .
To book The Browders contact Beckie Simmons Agency at http://www.bsaworld.com or call615-595-7500 .
####
About The Browders
From their beginning traveling together as a family in a Dodge Omni car, to a successful music ministry with national hits, The Browders of Hiltons, Virginia are one of the most exciting groups to step on stage in many years. This family group consists of Tommy Browder, his sons, Matthew and David, and Matthew's wife, Sonya. They travel year round, keeping a full concert schedule as well as holding revivals across the country. One of their most captivating qualities is that The Browders play much of their music live with Tommy on acoustic lead, David on bass, Matthew on rhythm guitar Burt on electric guitar, Derek on drums, and Sonya on piano. They also write most of their own music.
In recent years, they have been steadily expanding and improving their ministry for the glory of God. The were voted "Breakthrough Artist of the Year" in the prestigious 2013 AGM Awards. They have enjoyed Absolutely Gospel Music and Singing News #1 song charting success with their original songs.
Though things change throughout the years, their mission has remained the same—to bring hope to a lost and dying world and to encourage and challenge believers. They're real and they're anointed. We hope that in the near future you are able to attend or host a Browders' concert to experience how God is working through this team.
For more artist information and news, read the latest SGN Scoops digital magazine.
Tags:
Browders
,
David Browder
,
Matthew Browder
,
singing news
,
sonya browder
,
southern gospel
,
Time Machine
,
Tommy Browder
Posted in
announcements
,
artists
|
Comments Off

on Browders Land Fifth Number One From Time Machine Project
Written by Staff on May 14, 2015 – 8:58 am -
By Paige Givens
Twenty-five years ago, in the hills of Hiltons, Virginia, a unique and beautiful sound was born. It was a sound full of harmonies so close and sweet that they could only be connected by the blood of family. The sound produced words and songs that are full of hope and new life, words that point others to Jesus Christ. This sound became the music and ministry of The Browders, a family group that is rapidly gaining recognition and admiration in gospel music.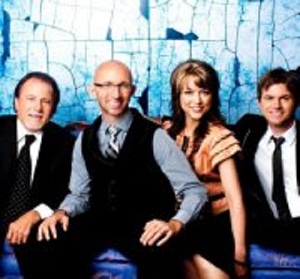 Tommy Browder, patriarch and founder of The Browders, grew up singing and writing gospel songs from a very early age. As an adult, he felt God leading him to start a ministry. "He felt the call to minister with his family. He prayed about it and God showed him what to do. We began singing in 1990," says son Matt. "Actually, it all started in a 1990 Dodge Omni!"
Matt and David Browder were young when they began traveling and ministering with their dad in 1990. Matt recalls, "At the age of 10 or 11, I began singing with Dad. Then, at the age of 13 or 14 I began to learn to sing three part harmony with the group. The Hinsons, Happy Goodmans, The Rambos, The Paynes, and The Crabb Family were huge influences throughout my life." David notes several influences of his early years, too. "The people that influenced me the most musically were The Original Hinsons, The Happy Goodman Family, Teddy Huffam and The Gems, The Spencers, The Crabb Family, The Paynes, Charles Johnson and The Revivers, Singing Cookes, Elvis, Johnny Cash and Carman." Just to name a few! David recorded his first song at the young age of eight.
In 2005, Sonya, Matt's wife, joined the group. Sonya says, "I started piano lessons at age four due to my interest in a piano we were storing at our house for our pastor's wife. I began singing and playing in church shortly thereafter. I started singing full time with a group based out of my home state of Maine at age 15. We were booked for a concert with the Browders in Tennessee around the year 2000, and our families became friends.   Matt and I married five years later." Read more »
Tags:
Christian artist
,
David Browder
,
gospel music
,
Matthew Browder
,
Paige Givens
,
sgn scoops
,
sonya browder
,
southern gospel
,
The Browders
,
Tommy Browder
Posted in
artists
,
christian entertainment
,
Christian interest
,
guest
,
scoops
,
sgn scoops magazine
,
special feature
|
Comments Off

on The Browders: How Sweet The Sound