Written by SGN Scoops Staff on January 18, 2012 – 11:01 pm -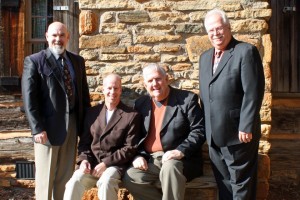 Statesville, NC- Ken Turner & Valor III are excited to release their first radio single as a quartet. The song
released to radio on January 17, 2012 is the Stuart Hamblen classic, HOW BIG IS GOD? Ronnie Moore
of the group says, "Ken brought us some material that he had sung with previous quartets. We looked at
several to release but this song kept coming back to the top." Ken joined Valor III in November of 2011
and Jeff Rowland of the group says it was truly God's timing.
The quartet is currently working on their first recording with Ken that will be available in the next few
months. Mark Moore of the group says, "It's a dream come true for us that Ken decided to join Valor III.
He has introduced songs to us that we enjoyed while growing up and we are falling in love with that type
of quartet music all over again." Ken is just as excited as the rest of Valor III about joining the group and
releasing this single. "As many know, I have had the opportunity to travel and sing with true legends in
Gospel Music but in recent days, I have been doing various solo dates so I am honored that God would
allow me to sing with a quartet again and I'm grateful that these guys asked me to join this exciting trio
and make it a quartet. I believe that Gospel music fans will love this song as much as we do!"
Be listening for HOW BIG IS GOD by Ken Turner and Valor III and don't forget to request this song at
your favorite radio station.
For additional information, interviews, photos, etc., contact: James Vaughan, James Vaughan Media Relations,
www.valoriii.com , and www.facebook.com/valoriii
Tags:
Ken Turner
,
Southern Gospel News
,
Southern Gospel Radio
,
Valor III
Posted in
announcements
,
christian entertainment
|
Comments Off

on Ken Turner & Valor III Release A Gospel Classic To Radio
Written by SGN Scoops on October 26, 2011 – 9:52 am -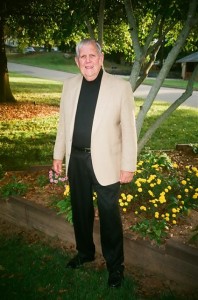 Statesville, NC- Valor III has announced that beginning on November 26, 2011; legendary bass singer Ken Turner will be joining the group as their bass singer. Ronald Moore, tenor for Valor III says, "We have had the privilege of working with Ken for a few years at the Streets of Gold Concert Series with Joe Chioda. The last time that we were there, Ken sang with us on a quartet song and the rest they say is history." Ken Turner says, "I have been in a solo ministry for 6 years and never had an interest to join another group until I heard these men. Their blend and harmonies were so tight and I knew that if I was going to sing with another group, the time was now and I am excited about joining these guys on the bus as well as on stage."
Ken is no stranger to Southern Gospel music. He sang 25 years with James Blackwood as part of the Blackwood Brothers. He celebrates his 61st year singing professionally this year! Jeff Rowland of Valor III comments, "This is a great day for Valor III. We are excited to have Ken Turner's heart for ministry and love for music. He is a gentleman and does everything first class and we are so excited to welcome him to the group." The group will now be called Ken Turner and Valor III beginning November 26, 2011 at the 1st Annual Harvest Fest in Statesville, NC with the Harvesters Quartet.
Tags:
Blackwood Brothers
,
Harvesters Quartet
,
Jeff Rowland
,
Ken Turner
,
Southern Gospel Music
,
Southern Gospel News
,
Valor III
Posted in
announcements
,
christian entertainment
|
Comments Off

on Legendary Bass Singer Ken Turner Joins Valor
Written by SGN Scoops on August 15, 2011 – 5:46 pm -
                                                                                     Statesville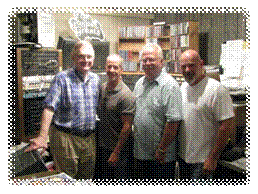 , NC- Noted trio, Valor III have been informed that they have the honor of being showcased on the "artist spotlight" portion of The Gospel Greats Program with Paul Heil during the weekend of August 19-20.  Mark Moore, songwriter and baritone vocalist says," it's a dream come true for us. We've been listening to the radio program for years and now we actually have the opportunity to be on the show. It is a real honor."  Valor III spent some time last month in Lancaster, PA where the Gospel Greats headquarters are located.  During their visit, they ministered at a campground facility as well as local churches but took time to visit with Paul and Shelia in their studio.  "It's one thing to listen to Paul on the program and see how genuine he is, but to meet him in person, that was icing on the cake!, says Ronald Moore, tenor vocalist for the group.Valor III continues to travel and sing on a full time basis and would love to visit your area soon!
Tags:
gospel greats
,
Mark Moore
,
Paul Heil
,
Ronald Moore
,
Southern Gospel Music
,
Southern Gospel News
,
Valor III
Posted in
announcements
|
Comments Off

on Valor III To Be On The Gospel Greats Program With Paul Heil
Written by SGN Scoops on July 25, 2011 – 3:30 pm -
Statesville, NC- On a recent trip to Pennsylvania, popular trio, Valor III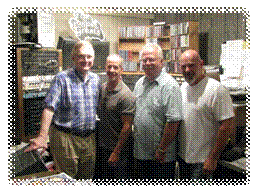 had the opportunity to meet with Paul and Shelia Heil of The Gospel Greats Program.  "It was really a dream come true of mine, to see where the radio program that I have listened to for so long is produced," says Mark Moore, baritone vocalist for Valor III.  The ministry of Valor III is unique in that lead vocalist, Jeff Rowland is an ordained minister and preaches several revivals each year in the midst of the trio's busy schedule.  Jeff says, "It is truly a humbling experience to travel and be able to do what I love and what God has called me to do, sing and preach!"  Valor III spent Friday evening in Lancaster County at the nearby Landisville Campground where the group sang and Jeff preached.  The trio is quickly gaining popularity in the Midwest as well as the Southeast.  They have been promoting their latest recording, Keep On Singing and their current single, "When The Heavens Opened".  Be on the lookout for Valor III and their new single soon to hit radio stations, "How Great Is Our God."
Tags:
Gospel Greats Program
,
Jeff Rowland
,
Paul Heil
,
Southern Gospel News
,
Valor III
Posted in
announcements
|
Comments Off

on Valor III Visits The Gospel Greats Studios With Paul Heil