Written by Staff on September 21, 2019 – 11:30 am -
"It's happened to all of us in the business," the group's iconic bass singer, Ray Dean Reese, says with a smile. 
As they are proving night after night in 2019, the Kingsmen are doing just fine, just as they have been since 1956. Actually, they're doing more than just fine as they continue to pack people in for concerts and challenge listeners with a mix of some of their classic hits and new songs off their latest CD, "Victory Shout."
Reese, who first hit the Kingsmen's low notes in 1967, says it is all about what the group brings night after night. "People are thirsting for the message," he says. "(Like with the Kingsmen) we've been singing for so many years. I feel like we (have) set a standard down through the years of live recordings and different songs. It's like going to hear a preacher, in a sense. They have heard him before and what he's presenting. What we present is encouraging to them. They enjoy it. It's a  message, so therefore they continue." What they are hearing is a new twist to the familiar Kingsmen sound and message.
Last June, lead Bob Sellers left the group to pursue a solo career from his home in Alabama. In July, baritone Randy Crawford retired due to health considerations. Losing longtime members could have created a void, but the Kingsmen are still going strong. 
The newest guys are Chris Bryant, who took Sellers' spot onstage and is new to singing full time, and Alan Kendall, who has traveled in the past before pursuing other interests. "We were longtime fans of this music coming into it," Kendall says. "We have a passion for this kind of music." 
Kendall, 36, says the opportunity has been more than he could have imagined. "I got my feet wet a few years ago singing with another group, but I got married and spent some time singing part time. To be able to come back really is a dream come true. It has been wonderful!"
The Georgia native grew up a fan of the Statesmen, Oak Ridge Boys, Cathedrals and Singing Americans and now stands next to Reese, sharing the message through song with a Hall of Famer every time the Kingsmen sing.
"The thing about this music is it tells stories," Kendall says. "It tells stories probably better than any other form of Christian music out there. We still have people in their fifties hearing Southern gospel for the first time. We are seeing people who first saw the Kingsmen in the '70s or '80s and were kids then. They are coming now and bringing their kids to hear us."
Kendall, who had been singing solo when the Kingsmen came calling, brought the house down with a stirring rendition of "Battle Cry" when we saw them at Christiansburg Baptist Church, near Bagdad, Ky. 
Bryant, two years younger than Kendall, had been working in paint sales while singing part time with The Bibletones in Mississippi. "I had been doing that for 18 or 19 years when God opened this door," Bryant says. Reese remembers how Bryant came aboard. "We already knew of Alan but didn't know Chris Bryant," Reese says. "Some guys in other groups told him we were looking for a lead singer and they thought he could qualify for us." Bryant submitted some tapes and the group found some YouTube videos of his work. Bryant met with the Kingsmen while they were touring in Alabama and soon after, he was offered the job. 
"It's just a good fit for me," Bryant says. "They are good guys and I grew up a fan of the Kingsmen, since they are one of the classic quartets. But it was a big move for me." Bryant's powerful lead is on display in many of the group's classics such as "Wish You Were Here."
The new guys agree that the old message is what keeps the Kingsmen at the top of Southern gospel after 63 years. "I think one thing that has kept them relevant through the years is great songs," Bryant says. "You have to have great songs, and the Kingsmen have a list of fantastic songs they have introduced to gospel music. Songs like 'Look for Me at Jesus' Feet' and 'Wish You Were Here,' to some of the newer songs."
And the Kingsmen have been pioneers in the industry. "The Kingsmen really set themselves apart from other groups back in the '70s with their song choices, their style of singing and their stage presentation," Kendall says. "They were never afraid to take a stand on certain things. Their 'Big and Live' album is an example. The recording had the shouts from the crowd. The record company wanted to take that off. They said, if you take it off, take us off. That was a pivotal moment really, that album. People got to listen to a live worship experience."
That cutting edge attitude lives on in a group that features three singers — Bryant, Kendall and tenor Chris Jenkins — who were not born until at least 10 years after the release of "Big and Live." 
"Back in the '60s and '70s you can see the evolution of the Kingsmen," says Jenkins, who is 32 and in his second stint with the group. "They took on that certain Kingsmen sound. Then in the '80s and '90s they kept that going. They started doing things out of the box that most quartets wouldn't have been doing at the time. 
"We don't sit back and rest on our laurels. We have been there 63 years and are still trying to make great music, great music that people will like and music that will be relevant. It's music that people will hear and will be life changing."
Jenkins is featured on "Victory Shout," the title cut of the latest CD, a song that was added just before going into the studio. The CD, which is the quartet's first with Bryant and Kendall, had been in the works for about a year. Among the cuts are "Running to Win," featuring Kendall and "That's Where You'll Find Me," a ballad that tells of meeting at Jesus' throne and features Bryant.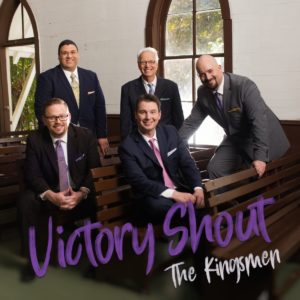 The CD also contains a Kingsmen classic, "The Prodigal Son," written by Larry Gatlin and originally recorded by the group in 1991. "We wanted a song to really feature Ray," Jenkins says. "We found several on this album but we wanted something to really feature him. Our record executive kind of pulled that out of the hat.
"We had picked out the songs, then two more songs came in. 'Victory Shout' was one of those. I thought it would sound great with a choir behind it. Then one day Brandon (Reese, Ray's son and the group's sound engineer and road manager) and I were sitting at the front of the bus and I said, 'I'm pretty sure that's a radio hit.' It's an anthem-type song. Something about the song just jumps out at you."
The latest single reminds Christians that God is still in control, regardless of life's circumstances.
The Kingsmen learned that, again, in the past year, just as they have repeatedly learned since 1956. "Victory Shout" expresses those lessons.
"It's a lot of encouragement," Bryant says. "It talks about the different trials we have been through, trying times we don't know exactly what's going on or why God's doing what he's doing, but we have to trust him. The CD as a whole has that kind of feel from start to finish. It's an uplifting CD."
Ray Dean Reese plans to keep singing
Ray Dean Reese's Hall of Fame career with The Kingsmen began in 1967 and he doesn't see it coming to an end any time soon. "It's a great heritage and I am thankful to be part of it," he says of his work with the Kingsmen. 
Reese turned 80 in May. "That's just 40 twice over," he grins.
How long will he continue singing?
"As long as I can!" he says with a big smile. "My momma lived to be 99 years old. I expect to be singing at 98."
By John Herndon
First published by SGNScoops Magazine in July 2019
For more Gospel music features, read the latest SGNScoops Magazine HERE.
Download SGNScoops Magazine In PDF 
Here
Find SGNScoops Magazine On Facebook 
Here
Listen To Todays Gospel Music Here
Tags:
Alan Kendall
,
Chris Bryant
,
Chris Jenkins
,
gospel music
,
Kingsmen Quartet
,
Southern Gospel Music
,
Victory Shout
Posted in
announcements
,
artists
|
Comments Off

on Kingsmen deliver shout of victory with new members, new CD
Written by Staff on June 21, 2019 – 1:30 pm -
Jantina de Haan Baksteen goes Beyond the Song to talk to the Kingsmen about their latest hit, "Victory Shout.'
I reached out to the Kingsmen and got in contact with Chris Jenkins. He responded immediately and was willing to answer these few questions about the Kingsmen and the song "Victory Shout" that's currently on radio.
1. Please tell us about the Kingsmen lineup as there have been some changes lately.
Chris Jenkins:The Kingsmen have been blessed, for 63 years, to have some of the most talented and dynamic vocalists pass through the ranks of the group. Chris Bryant and Alan Kendall are no exception.
Chris brings a powerhouse and smooth lead vocal to that Kingsmen sound. He is from Mississippi originally and now makes his home in East Tennessee.
Alan has been here since August of 2018 following the retirement of Randy Crawford. Alan makes his home in Hiawassee, Georgia, with his wife and two daughters. Alan's booming baritone voice and high energy is reminiscent of former members such as Squire Parsons, Wayne Maynard, and Parker Jonathan. Alan is being received well as he gives his take on Kingsmen No  1 songs such as "Battle Cry", "The Next Cloud", and recent radio hit, "Don't Underestimate God's Grace".
2. Please share some history of the Kingsmen. You have celebrated over 60 years already!
Chris: The Kingsmen started in the mid-50's in Asheville, N.C. Through the 70's and 80's, they made their mark on Christian music with award winning albums such as "Big and Live", "Chattanooga Live" and "Live Naturally", garnering four Dove Awards, Grammy nominations, numerous Singing News Fan Awards, and an induction into the Gospel Music Association Hall of Fame in 2000. The Kingsmen have performed on the south lawn of the White House and at the 1982 World's Fair in Knoxville, TN.
3. "Victory Shout" is on the "Victory Shout!" album. Tell us about this song. Why was it picked for this album?
Chris: "Victory Shout" was one of the last songs we picked for the new album. Written by Kenna Turner West and Jason Cox, who have written many recent hits in Christian music, we fell in love with it's powerful message and worshipful chorus. When Kenna had the idea, it was 22 years ago, and began with the Bible story of Miriam waiting and praising God in the midst of oppression by Pharaoh, before Moses led the children of Israel across the Red Sea.
4 From the first note it gets your attention. What makes this song so special?
Chris: Being from a choral background, I immediately felt like it needed a big choir in the background and we had Wesley Pritchard and friends help us lay down a choir arrangement and backing vocals. It's special to us because The Kingsmen have never really recorded a worship anthem until now and it's being received so well.
5. You are the lead on this song and doing an amazing job! What is the message you want to share with the audience?
Chris: It's a message of hope and encouragement. If you're waiting on an answer from God, sometimes he doesn't always send the answer in our time. God's will is perfect and his ways are much higher than ours. The Bible says, "He inhabits the praises of his people," so we should give God praise in the midst of our storm while we're waiting for Him to send the miracle our way.
6. Is there something more you 'd like to share with the SGNScoops readers?
Chris:"Victory Shout" became available worldwide and on all your favorite digital music platforms on June 7. You may get your copy by visiting our website at www.kingsmenquartet.com. You may also visit us on Facebook and Twitter. Visit our website to see where you can catch the Kingsmen in a city near you.
Thanks Chris Jenkins for taking us Beyond The Song with the KIngsmen.
The entire SGNScoops team wish you many more years spreading the Gospel and safe travels on the many miles you make.
By Jantina de Haan-Baksteen
Read the May SGNScoops Magazine Online HERE
Download SGNScoops Magazine On PDF
HERE
Find SGNScoops Magazine On Facebook
HERE
Listen To Todays Gospel Music
HERE
Tags:
Chris Jenkins
,
Kingsmen
,
Victory Shout
Posted in
artists
,
Beyond the Song
|
Comments Off

on Beyond the Song: the Kingsmen give a "Victory Shout"
Written by Staff on June 20, 2019 – 10:27 am -
The Kingsmen and the Chandlers featured in the April 2019 SGNScoops edition of Randall Reviews It, by Randall Hamm
Friends:

April showers bring May flowers and also bring new gospel releases. This month brings only two, but they are dandies. One is a pre-release review of the new Kingsmen CD "Victory Shout," and the other is a new album, "Seasons," from an up-and-coming family group, the Chandlers.

Make sure to visit these groups at their Facebook homes and find out more about them. Also get copies of their albums to enjoy for yourself.

As always, if you enjoy the reviews, pick up this music, or download it, wherever you get good gospel music.
Please send your latest releases for review to Randall Hamm, c/o Q-100 WFLQ-FM, P.O. Box 100, French Lick, Ind., 47432.


Randall


Now…let the reviews begin!
The Kingsmen
"Victory Shout"
2019 Horizon Records
Songs: "Running To Win" (Sandy Knight BMI); "Just Climb" (Karen Gillespie-Adina Bowman-Gene Ezell BMI); "I've Ever Been Glad" (Regina Walden BMI); "Victory Shout" (Kenna Turner West – Jason Cox BMI); "Dear John" (Jason Cox – Joseph Habedank – Kenna Turner West BMI); "It Still Changes Me" (Chris Binion – Matthew Lawson BMI); "King Of Kings" (Rebecca J Peck – Dianne Wilkinson BMI); "Prodigal Son" (Larry W Gatlin BMI); "You'll Move Mountains For Me" (Karen Gillespie – Rachel McCutcheon BMI); "That's Where You'll Find Me" (Kenna Turner West – Jason Cox BMI)

It's been two years since the Kingsmen released "They Don't Know," and since then three quarters of the quartet has changed. Josh Horrell who had replaced tenor Chris Jenkins, has now gone and has been replaced once again by Chris Jenkins. Bob Sellers, lead, left to start a solo ministry and is singing select dates with the Old Time Preachers Quartet. Randy Crawford, baritone, resigned due to health reasons. In Bob and Randy's place, the quartet welcomed new baritone Alan Kendall and lead Chris Bryant.
Songs from established songwriters such as Sandy Knight,  Kenna Turner West and Dianne Wilkinson, and newcomers Karen Gillespie and Rachel McCutcheon, make this Kingsmen album a must listen.
The album opens with a mid tempo Sandy Knight composition "Running To Win," that will make you want to keep in the race. "Just Climb," slows down the pace to feature what could be a single down the road. "I've Ever Been Glad," features Kingsmen bass Ray Dean Reese and he sings the fire out of it. "Victory Shout," is the first single pulled and is off to a fine start.
One of the highlights of the CD is the re-recording of the "Prodigal Son," that was first recorded in 1980 for their "Chartbreakers" LP. Listening to the new version and the original, Ray has not lost a step or a note. This, I hope, will become a single; it's so good.
Some strong songs and some strong singing from a new batch of Kingsmen will thrill longtime fans, and make fans of folks who may not have been fans before now. Visit the Kingsmen at facebook.com/kingsmenquartet/ and get a copy of "Victory Shout" when it's released and request "Victory Shout" at your local Gospel radio station.

This CD is not available yet; it will be released on June 7th and will be well worth the wait.

Strongest Songs: "Victory Shout," "Prodigal Son," "Just Climb"
The Chandlers
"Seasons"
Producer: Shane Roark
Executive Producers: Tim and Lana Chandler
2019 Upper Room Records

Songs: "Anchor Of My Soul" (Jackie Jellison Nichols BMI);  "He Made A Way" (Tim Chandler BMI); "Who Would You Be" (Tiffany Chandler  BMI); "All The Way" (Tim Chandler – Lana Jellison Chandler – Tiffany Chandler BMI); "I Don't Deserve" (Tim Chandler BMI); "Better" (Tiffany Chandler BMI); "Turn Back To Jesus" (Lana Jellison Chandler BMI); "Go Answer The Door" (Tim Chandler – Lana Jellison Chandler – Tiffany Chandler BMI); "Seasons" (Tim Chandler BMI); "My Savior First of All" (Fanny J. Crosby PD)


The Chandlers are a family group based out of Greenfield, Tennessee. They are: mom, Lana Chandler; dad, Tim Chandler; and their daughters, Lyndsey and  Tiffany Chandler. Many may know Lana as Lana Jellison of the group the Jellisons in the 80's and 90's. This group as such has been around a few years, but Tim and Lana have been around since 1992 as Tim and Lana Chandler, their daughters have joined the group in the last few years, and they are now known as the Chandlers.
I first became aware of the Chandlers in the early years of N.Q.C. at Pigeon Forge, seeing them at the showcase. They absolutely blew me away, and that same year they were signed by Chapel Valley, to the Upper Room Record division.
This is another great album the Chandlers have recorded with Chapel Valley. All songs but one are written by the Chandlers.
Great family harmony right off the bat with the first song "Anchor of My Soul," that tells us that "the one I'm serving, he's the 'Anchor of My Soul.'" Tim is featured on "He Made A Way," a bluesy number of the one who always makes the way.
"Who Would You Be," asks the question: If I had lived in Christ's time, who would I be? Lana is featured on "All The Way," and the sound that the Chandlers are known for, which is "get with it McGruders-style music," is heard on this song, and that's quite a compliment.
"Better" is my first choice for a radio single; upbeat and a wah-wah guitar make for a great retro sound. It's catchy, plus has a great message to boot.
"Turn Back To Jesus," "Go Answer The Door," "Seasons," and an a cappella reading of Fanny Crosby's "My Savior First of All," close out the CD. There's nothing finer than when the Chandlers go a cappella. Their last release featured an a cappella version of "Softly and Tenderly" with a new part, and that made it a fresh, new song that sparkled.
Since the passing of Priscilla and Carroll McGruder, I thought that the style of the McGruders would no longer be around. Boy, was I wrong. The Chandlers have a great anointing to carry on this style, both in their writing and singing.
Make sure, DJs, if you're looking for someone fresh to add to your playlist, may I recommend the Chandlers. If you as a fan of Southern gospel music are looking for someone new to discover, may I recommend the Chandlers.
Visit the Chandlers at facebook.com/TheChandlersMusic and get a copy of "Seasons" at thechandlersmusic.com/

Strongest Songs: "He Made A Way," "Who Would You Be," "Better"

Reviewed by Randall Hamm for April 2019 SGNScoops Magazine
Read the May SGNScoops Magazine Online HERE
Download SGNScoops Magazine On PDF
HERE
Find SGNScoops Magazine On Facebook
HERE
Listen To Todays Gospel Music
HERE
Tags:
Chandlers
,
gospel music
,
Kingsmen
,
Randall Hamm
,
Randall Reviews It
,
Seasons
,
Southern Gospel Music
,
Victory Shout
Posted in
artists
,
new music
|
Comments Off

on Kingsmen and Chandlers reviewed by Randall Hamm