Written by SGN Scoops Staff on March 22, 2012 – 3:53 pm -
Nashville, TN (March 22, 2012) —  The new single, "I've Seen What He Can Do" by Grammy® award winning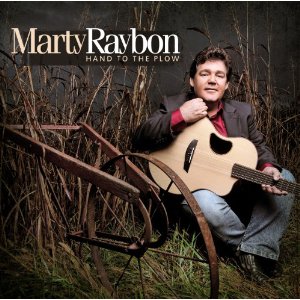 artist, Marty Raybon has entered the Top 40 on the New Music Weekly Country Chart (3/23/12).  This beautiful new song also reached the #1 spot on the Christian Music Weekly Top Singles Chart (3/7/12) and debuts at #8 on the Cashbox Magazine Top Christian Country Singles chart.
Two other songs from the HAND TO THE PLOW album are charting on other Christian Voice Magazine charts including "Working On A Building" appearing at #3 on the Country Christian chart and "You've Got To Move" at #25 on the Southern Gospel chart.
HAND TO THE PLOW releases Monday, March 26, 2012 and was produced by veteran Nashville producer Mark Carman.  The album is available at all major retail outlets including:  iTunes, Walmart, LifeWay, Family Christian, Amazon.com, ChrisianBook.com,County Sales and more.
Marty is now on tour with numerous upcoming performances including this weekend's South Florida Music Fest in Jupiter, FL.  You can also catch Marty on numerous upcoming TV and Radio shows including but no limited to:  March 27 at 8:30 am on WSM Radio with Bill Cody; upcoming interview with Jim Ed Brown on Country Music Greats; feature interview on INSIDE MUSIC ROW; and later this spring on the Jason Crabb Show – Southern Gospel Review on the Trinity Broadcast Network.
Marty has been nominated for several Country Gospel Music Fan Awards including "Favorite Soloist", "Favorite Crossover Artist," and "I'm Working On A Building" from HAND TO THE PLOW for "Favorite Song."  Awards will be given as winners are announced at the 2012 Country Gospel Music (CGM) Awards Program presented by Christian Voice Magazine at the Smoky Mountain Convention Center in Pigeon Forge, TN on April 28, 2012.  CGM Fan Award recipients are decided upon solely by Country Gospel Music fans through a simple, two-phase voting process.   Fans can vote at ChristianVoiceMagazine.com. The Top 5 Finalists ballot appears in this month's issue.
Please visit MartyRaybon.com for more information including Marty's upcoming album SOUTHERN ROOTS & BRANCHES releasing on Rural Rhythm Records, April 10, 2012.
Tags:
Christian Country Music
,
Christian Country News
,
HAND TO THE PLOW
,
Mark Carman
,
marty raybon
,
Rural Rhythm Records
,
WSM Radio
Posted in
announcements
,
christian entertainment
,
Christian interest
|
Comments Off

on Marty Raybon Enters the Top 40 Country Charts with "I've Seen What He Can Do"
Written by SGN Scoops Staff on November 30, 2011 – 11:28 am -
Nashville, TN: Saturday afternoon, fans from all over the Country gathered in Nashville, TN at the world famous Earnest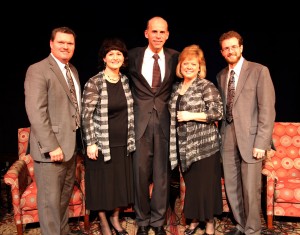 Tubb Record Shop to be a part of a weekend long celebration honoring the music and career of The Chuck Wagon Gang. This past Friday, November 25 marked the 75th Anniversary of the group's first recording. In recognition of this historic occasion, WSM Radio and the Ernest Tubb Record Shop hosted a live appearance by The Chuck Wagon Gang. WSM broadcasted the hour and a half event as the Gang performed songs that have contributed to over 40 million records sold world-wide.
Their next stop was later that night when they opened the legendary radio show, "The Midnight Jamboree" on WSM Radio. There were two more middle Tennessee concerts on Sunday and the Nashville celebration ended up on Monday evening in the Ford Theater inside The Country Music Hall of Fame. They took center stage as the featured artist on "An Intimate Evening with Eddie Stubbs". The 2 hour WSM Radio broadcast (Going to 35 states and Canada) featured an in depth interview and live performances of songs from the past 75 years. Eddie Stubbs who has been known for yearsas "The
Voice of The Grand Ole Opry" commented, "In all my years of doing this show, this is the first act to receive that many standing ovations and the first to bring me to tears".
The Chuck Wagon Gang is currently working on a documentary to mark their 75 years of music that will
be a must have item for all Chuck Wagon Gang fans and traditional American music lovers.
Tags:
75th Anniversary
,
Ernest Tubb Record Shop
,
southern gospel
,
Southern Gospel News
,
The Chuck Wagon Gang
,
The Midnight Jamboree
,
WSM Radio
Posted in
announcements
,
christian entertainment
|
Comments Off

on Nashville Celebrates 75 Years of Great Chuck Wagon Gang Music