Written by SGN Scoops Staff on November 30, 2019 – 8:40 pm -
Nashville, TN  – Main Street Music & Entertainment is happy to announce the addition of songwriter Tery Wayne to Broad Street Music Publishing.
A well-seasoned writer with years of experience, including writing exclusively for the Gaither Music Group, Dove-nominated, award-winning songs such as "If We Ever Got A Look" (The Hoppers), "The Answer Is Christ" (The Talleys), "Don't Wanna Go Back" (Kingdom Heirs), "Anything But Ordinary" (Dove Brothers), and "Mountain Moving Faith" (11thHour) are products of Tery's pen, and his songs have seen the tops of the radio charts on several occasions.  Although his offerings in the Southern Gospel genre have been a highlight, the talented tunesmith has produced a range of quality work that spans into many other genres as well.
"I am beyond excited about this new venture and my expectancy is off the charts wondering what great and mighty things God has in store. I want to thank God for the gift of song and for role models like Dottie and Reba Rambo," shares Tery Wayne. "I love shouting what God whispers and I am so thankful, and grateful, for this opportunity."
"One of the first things I noticed when I initially spoke with Tery about coming on board was his eagerness to write," adds Q Phillips of Broad Street.  "His passion is to create songs and his excitement to do so is contagious.  We look forward to a long and successful partnership together!"
Tags:
Southern Gospel News
,
Tery Wayne Wilkins
Posted in
announcements
|
Comments Off

on Broad Street Music Publishing Welcomes Tery Wayne Wilkins
Written by scoopsnews on November 30, 2019 – 6:17 am -
Happy Saturday! I hope you all had a great Thanksgiving. It was a week of fun with my grandbabies for me and I loved every minute of it.
However, I woke up yesterday and took a trip to Urgent care in Savannah, Tennessee . I have been experiencing foot and hip pain for several weeks  and it seemed to just be getting worse.
Seems I may have damaged a tendon around my ankle. The doctor gave me meds and I was a happy camper until he looked at me and said, "you have got to rest."  "Rest, I replied, What's that? "
I don't know if any of you are this way or not but when I set my head to get something done, I have the tendency to not  rest until it's completed. And how am I supposed to train myself to think differently at 53 years old?
God's word says in Psalm 127, that God "gives to His beloved in his sleep." The nights that I sleep well lead to mornings when I am most refreshed and days that I am most productive.
So today I'm asking you to pray for me that I do better on the resting so I can be more productive for Him.
Do you have any prayer requests? If so, please post them in the comments below. I would be honored to pray for you. The older I get, I realize that true friends and the little things in life are at the top of the "Things that Matter" list.
And speaking of things that matter, YOU are on that list as well! You matter. I don't know what you may be going though, but "If it matters to you, It matters to the master."
If you are that person today, this song is just for you.
Listen to the testimony of Olivia Collingsworth and this great song by The Collingsworth Family!
Until next week,
Bye Y'all!
Vonda
Tags:
Weekend Word- Vonda Armstrong
Posted in
announcements
,
Weekend Word
|
Comments Off

on Weekend Word With Vonda Armstrong
Written by Staff on November 29, 2019 – 4:11 pm -
Editor's Last Word by Lorraine Walker for November 2019 SGNScoops Magazine
Here is is, the second-to-last month of 2019 and I'm still writing 2010 on my notes. I know I will catch up sometime. It's hard to fathom entering another decade. I hope you are ready for it and if you aren't, you do have a few days to wrap your mind around it. With November comes the holiday season and I am happy about that. I love Christmas and the decorations and music. We are working on the December issue and I can't wait to introduce you to lots of great Christmas music!
This month, I'm glad we had the opportunity to highlight the Troy Burns Family with a great feature by Justin Gilmore. Troy Burns was honored at Creekside Gospel Music Convention on October 28, 2019, with the Dr. Jerry Goff Lifetime Achievement award. I understand that the whole week was a terrific time of fellowship and music and fun. Next month, we will share with you some of the artists' best moments of Creekside 2019. I hope you had a chance to check out the winners of the 2019 Diamond Awards which were also presented at Creekside. Don't forget to vote next year!
Special thanks to all of our November artists, including the Hoppers, Jordy Hinson, the Sheltons, Bonita Eileen, Alan Bibey and those who performed at the Vernon Alabama Gospel Music Weekend. We appreciate our writers and hope that you had a chance to read all of their offerings. Charlie Griffin, Lyndsey Chandler, John Herndon, Jantina Baksteen, Les Butler, Leslie McKay, Vonda Armstrong, Justin Gilmore, and also our publisher, Rob Patz. Each has their own unique style and calling to use their gifts for the Lord through the printed word. Thank you so much.
November is also the month of Thanksgiving and we want to extend our thanks to all of you who have read through our pages this month and all year. We want to present a magazine that is interesting, entertaining, perhaps thought-provoking and even educational, but most of all, we want to present words that are life giving. Words that extend our love for the Lord Jesus Christ, our faith in his saving power, our enjoyment of his abundant life, from our hearts to yours. We hope you have experienced some of that this month.
In this month, you might also extend your thanks to the service men and women who protect the country you live in. Veterans Day presents a moment for us to think about the dedication of those who have given their lives for their country, and those who have returned to this land to resume a life forever changed by their experiences. 
You might also take a moment to thank the spiritual leaders in your life, perhaps your pastor or other members of the church family that have led you a little farther along in your journey. Maybe it's a friend or family member whose Christ-filled life is one that makes you want more of the Lord in your world. Whoever the people are that draw you to Jesus, perhaps they need to know that their prayers and walk are not in vain. Take time to thank them this month.
Finally, and most importantly, we need to take time this month to thank the Lord Jesus Christ for all of his good and perfect gifts to us. The obvious gifts are physically in front of us, but perhaps the better gifts are things like family, friends, music, the printed word, fellowship with like-minded people, health, love and hope. The best gift of all is the gift that God the Father gave when his son, Jesus Christ came to this earth to offer us eternal, abundant life; salvation from an eternity without God, cleansing from sin, light in our darkness and freedom from bondage. Thank Jesus this Thanksgiving for the greatest gift of all. Life.
If you have any questions or comments about anything in this magazine, please write to me at lorraine@sgnscoops.com.
By Lorraine Walker
First published by SGNScoops Magazine in November 2019
Read more Gospel Music News in the latest SGNScoops Magazine Online HERE.
Tags:
November
,
November 2019
,
SGNScoops Magazine
,
thanksgiving
Posted in
announcements
,
artists
|
Comments Off

on Lorraine Walker: So this is November with Thanksgiving and Christmas
Written by SGN Scoops Staff on November 29, 2019 – 3:14 pm -
Nashville, TN  – Upon returning from performing on IMC's Gospel Music Celebration Mexican Riviera Cruise, StowTown Records artists, Tim Lovelace and Geron Davis, along with Ronnie Booth of The Booth Brothers and Royce Mitchell of Liberty Quartet had a unique opportunity to tour the Taylor Guitars factory in El Cajon, CA.
What made this tour extra special was the fact that Taylor Guitars founder, Bob Taylor, took time out of his busy schedule to lead the tour himself. Taylor humbly shared the history of his renowned company and how he and his business partner, Kurt Listug, have made it a priority to create quality instruments since their 1974 beginnings. He walked the tour group through many areas of the El Cajon factory and explained the detailed process and intricacies of building these magnificent instruments. Comedian/musician Tim Lovelace was impressed with the company's environmental endeavors and shared, "I have owned a Taylor guitar for many years. Guitar players all around the world are fully aware of the quality and innovation of this stellar guitar company. But what really thrills me is the Taylor reforestation projects happening around the globe. We could hear Bob's heart as he discussed the subject of balance and sustainability of the world's precious forests. Giving back more than you take is definitely music to my ears. Many thanks to Bob and Cindy Taylor for all of the time they took with us!"
Acclaimed songwriter/musician Geron Davis had this to say about Bob and Cindy Taylor, "What a joy to spend time with my longtime friends, the amazing guitar guru, Bob Taylor, and his incredible wife, Cindy. Bob has built a staggering global business, and he and Cindy have remained some of the most down-to-earth, precious people I know. I am honored to call them friends and thankful to be able to spend several hours together!"
From beginners to popular touring artists of all genres to world-class studio musicians, Taylor guitars are loved by countless players of all levels of proficiency. For more information about Taylor Guitars, visit their website at www.taylorguitars.com.
Tags:
Gospel Music News
,
Taylor Guitar
Posted in
announcements
|
Comments Off

on StowTown Artists Tour Taylor Guitar Factory
Written by Staff on November 28, 2019 – 7:19 am -
2019 Thanksgiving Thoughts from the Classic Artists Music Group family.
THE PINE RIDGE BOYS:
The Pine Ridge Boys are thankful for the many blessings that God has given us. We saw tragedy turn into a newer bus. We have seen lives changed through a song. We are blessed over and over again, too much to mention.
Notice that in Psalms 118 it starts with this verse and ends with the same thing:
Psalms 118: 1 O give thanks unto the Lord; for he is good: because his mercy endures forever.
Psalms 118: 24 This is the day which the Lord hath made; we rejoice and be glad in it.
Psalms 118: 28 Thou art my God, and I will praise thee: thou art my God, I will exalt thee.
Psalms 118: 29 O give thanks unto the Lord; for he is good: for his mercy endures forever.
We don't say this lightly, but we are grateful for what God has done in our own lives.
THE SHELTONS:
This year has been a joyous and blessed year for the Sheltons. We are blessed with family and friends that have been with us every step of the way. We have met so many wonderful people in our travels and concerts. This year we count every mile a blessing as we have seen God touch people through our songs. Since 1959 that has been our mission; to be a blessing with our songs. But today through our songs you bless us with your prayers, support, encouragement and friendship. Thank you!
CHARLIE GRIFFIN:
This year I am more aware of how fluid life can be. Our family and traditions are different with the passing of Mom and others in our family. Today, I hold family and friends a bit closer and relish the moments we share. We laugh and play harder; we truly make memories to cherish. In my music and shared word events, I appreciate those who take time to come visit with me. I appreciate their love, friendship, support and encouragement. In my daily journey, I find more blessings than I deserve from God's saving grace, forgiveness and mercies to having my needs and even desires met in real time. Jeremiah 29:11 holds true on this journey. "For I know the plans I have for you, declares the Lord, plans for welfare and not for evil, to give you a future and a hope."
THE CHORDSMEN QUARTET:
We are so thankful for the grace, love and mercy that God has bestowed upon The Chordsmen Quartet in 2019. We have seen folks saved and blessed through our ministry. He has touched us all in our families,  our health and given us the opportunity each day to proclaim the good news of Jesus in song. Our prayer is: "God, hide us behind the cross, so that you can be seen in everything we do."
Read more Gospel Music News in the latest SGNScoops Magazine Online HERE.
Tags:
Charlie Griffin
,
Chordsmen Quartet
,
Classic artists music group
,
gospel music
,
Pine Ridge Boys
,
Southern Gospel Music
,
thanksgiving
,
The Sheltons
Posted in
announcements
,
artists
|
Comments Off

on Happy Thanksgiving from Classic Artists Music Group
Written by scoopsnews on November 27, 2019 – 9:33 pm -
Wishing you blessings of health, happiness and prosperity on Thanksgiving and every day.
As we reflect on all of the things we are thankful for this year, we want you to know that you are one of them!
From our homes to yours, have a wonderful day spent with family and friends.
From the entire staff at SGNScoops…..
Tags:
Happy Thanksgiving
Posted in
announcements
|
Comments Off

on Happy Thanksgiving From SGN Scoops
Written by Staff on November 27, 2019 – 3:30 pm -
Happy day before Thanksgiving 2019! It seems like we get so busy with our everyday lives; we buy what we need, we consume what we get, and then we take out the trash. Some things just last a little longer than others. So much in our lives gets taken for granted, including the intangible things, like family relationships, love, friendships, church families, joy, good neighbours, and so much more. As we give thanks this week for what we can see, let's remember to give thanks for that which we can't see. Let's remember that every good and perfect gift comes from our Heavenly Father.
We asked some of our SGNScoops friends and family to share what they are thankful for and they have given some great responses. See if you can relate to any of these comments below. Have a blessed Thanksgiving!
I am thankful for God's faithfulness… how He always knows just what we need and how He always has a plan. The times that He shows up when all seems lost… the moments that happen when you just have to stop and say, "thank you, Lord" because you KNOW that it was HIM working in your situation. Even when things might seem hopeless to us, He's busy working things out for our good. He loves us- even when we're unlovable and He is Faithful even when we aren't. — Tammy Sumner
Salvation, family and friends! — Nancy Carollo
I'm am thankful that God is so Faithful and he never leaves us nor forsakes us. — Mary Burke
JESUS! — Elisangela Defreitas
I am thankful for Gods Amazing grace that gives me the opportunity and honor to serve him daily. He has blessed me over and above anything I deserve with family, friends and a ministry that has seen lost souls come into the kingdom. My prayer is that he continues to use us all and that we have the courage to let him do his will and not us doing our will. God bless and HAPPY THANKSGIVING. — Jerry Jennings
I'm thankful for God's answered prayers. The ones He said yes too and the ones He said NO too… — Penny Walters
I am thankful for the Lord Jesus Christ my savior, my wife, Brenda Duke Barber, our daughter Rebecca Dempsey & Jesicca Prath, their husbands and our three grandsons and soon to be granddaughter, several other family members, several friends, the saints from the First Pentecostal Church of Gainesville, GA, Several new friends from Creekside and Southern Gospel Music weekend. — James Barber
I'm so thankful for God's unconditional love and forgiveness. I fail Him everyday but He still loves me. He is always faithful, even if I don't see it in that moment. I'm thankful for my health, cancer could have taken me BUT GOD had another plan. He has a purpose for me. I'm thankful for my home, family, true friends and too many blessings to list. Thankful that Heaven will be my eternal home and that's priceless. — Paula Hendrick
I'm thankful for salvation that Jesus gave, as he died on the cross. I'm thankful for my family, friends. My church, Pastors Dale and Sharon Cox, Brad and Julie Cox. God has given me a wonderful man of God who lives what he preaches. My mentor Rev, Dr. Vanessa Milligan, some time a woman needs another woman to talk to, she encourages me, and no matter what shes always been there for me. I'm thankful to the word of God, I can always find my answers. Thankful for a roof over my head, food to eat, and clothes on my back. I could go on and on. So I'm gonna sum it up in one word. THANKFUL… — Phyllis Schofield
Thankful I wake up to new mercies every morning. If it wasn't for that mercy, I wouldn't be here to be thankful for all the other things my blessed life offers: my family, my friends, my church family, the roof over my head, the clothes and shoes I wear, the car I drive, the music I'm privaleged to sing, and the list goes on… — Rebecca Dempsey
We hope you have enjoyed these expressions of thanks. Stay tuned for more gratitude on Thanksgiving Day!
Read more Gospel Music News in the latest SGNScoops Magazine Online HERE.
Tags:
Christian Music
,
gospel music
,
Thanksgiving 2019
,
Thanksgiving Day
Posted in
announcements
,
Christian interest
|
Comments Off

on Thanksgiving 2019: Are you thankful? Day 3
Written by Staff on November 27, 2019 – 11:49 am -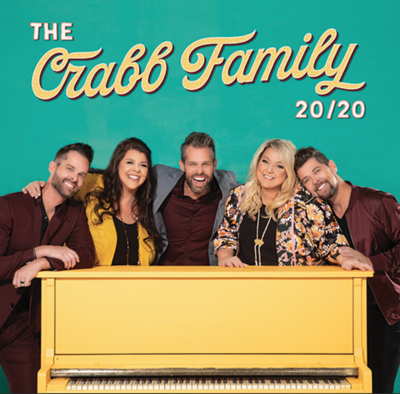 Iconic Family Group Drops First Single in Eight Years, "I See Revival," on Streaming Platforms Thanksgiving Morning!
NASHVILLE, Tenn. (November 27, 2019) – The Crabb Family will be all over the media landscape this week showcasing new music from their upcoming Daywind Records release, 20/20. The iconic family group is set to appear on TBN for a rare concert special on Thanksgiving night, Thursday, November 28, 2019 at 8 PM ET / 7 PM CT.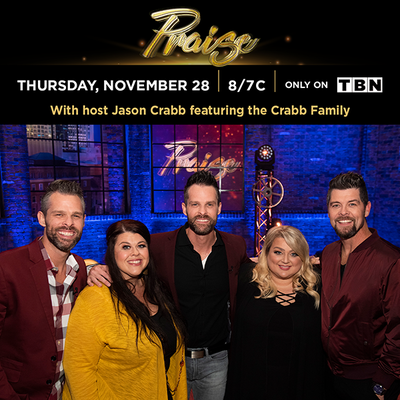 "I See Revival," the family's first single in eight years, drops on all music streaming platforms at 12:01 AM ET on Thanksgiving morning, with special placement on Apple Music, Pandora, Spotify, and Amazon.
The song released to national radio early this week and has been picked up immediately for airplay. Streaming radio app, TheTreeRadio, is playing the new single every hour on the half hour this week in celebration of the first new music by this iconic family group in eight years.
The single and the album, 20 /20, produced by Jason Crabb and Scott Godsey, prove that there is nothing like the Crabb Family songs and sounds.  They are in a league of their own and have not lost a single step since retiring from full-time performing as a group. This new projects marks the return of The Crabb Family to their longtime label home, Daywind Records, with a refreshed and renewed vision to impact the future with great gospel music!
In early 2020, the Crabb Family will hit the road on a national tour to promote February 28, 2020, album release.  The 2020 Vision Tour will journey through Louisiana, Texas, California, Arizon, Oklahoma, Alabama, Georgia, Tennessee, Ohio, Kentucky, Virginia, Florida, South Carolina and North Carolina.
Daywind president, Ed Leonard, was effusive in his praise for the new music, "I have never seen Jason and the family work as hard as they did on this record. With their amazing career filled with achievements from Dove Awards to Grammy® recognition to international appearances, that says it all."
Pre-orders for The Crabb Family: 2020 will begin in early January 2020 and the project will be available wherever you listen to music including on CD and limited-edition vinyl.
Tags:
Adam Crabb
,
Christian Music
,
Crabb Family
,
gospel music
,
Jason Crabb
,
thanksgiving
,
Thanksgiving Special
Posted in
announcements
,
artists
|
Comments Off

on The Crabb Family Debuts New Music from Forthcoming Project 20/20 on TBN Thanksgiving Evening Special
Written by Staff on November 26, 2019 – 2:59 pm -
Thanksgiving day is fast approaching and it's time to stop and think about that for which you are grateful. Some people think that they need not be thankful for the money they have, the food they eat, the clothes on their back, because they work hard for it. I disagree. Every good and perfect gift comes from God, including the job you have, the strength you have to do it, the breath you breathe in every morning, the blood that courses through your body. Let's remember to be thankful right now for this moment.
Some of our SGNScoops friends have shared what they are thankful for this Thanksgiving Day. Please enjoy these thankful posts as we lead up to Thanksgiving 2019. Can you relate to any of these expressions of thanks?
I am thankful for the Lord saving me at a young age. Thankful I was raised to know the Lord. Thankful for my family and country. Thankful for health and strength to carry out the call of God on my life. Amazing Grace says it all! Blessings — Jan Harbuck
My lovely wife and kids and grandson. A few of many. — Tim Kinchen
We are thankful for our health, family, friends and all the doors God has opened up for our ministry in the past year. We are thankful to live in a country where we can worship the way we choose and share our testimonies with others. — Donna Journey
I am thankful that Jesus went the distance and provided me salvation. I am thankful that God has allowed me to stand on stages and proclaim His Holy Name once again when I thought that He was done with me. I am thankful that my wife Lisa now travels with me and that He has delivered our daughter from an addiction that almost took her life. I am so thankful for our Family, our Church and the Friends that we have. Vonda said it best. It's the little things that hold my life together. — Greg Sullivan
I'm so grateful that Jesus saved me! He truly knows my name. Hes been my healer, provider, and He brought my marriage back from the brink of divorce; and pulled me from the depths of clinical depression. Everyday, He is my breath, my life! I'm so truly blessed beyond anything I could have imagined! — Cheryl Thompson
As a group we are thankful for improving health, added members, greater exposure to radio and other states as well as a deeper evangelistic approach. God continues to bless and open doors and the year ahead looks so promising! God is good – ALL the time! Bruce Yates
I'm thankful I'm saved. — Steve Black
I'm thankful for Gods amazing grace and mercy! He saved me at age 9 and gave me a desire to live for HIM and to sing HIS praises. I am also so thankful to have had the beautiful opportunity to meet so many of you who share the same passion to sing.
I cherish each memory and connection I had at Creekside. Sadly, some health issues tprevented me to sing a couple of times but I am truly blessed to have had this wonderful experience. I love y'all and hope our paths will cross again soon! — Sherry Whitson
I'm thankful that God has given me another year on this earth. Another year to show Him to others. Another year to spend with my family and friends. I'm thankful to have a Godly, Faithful and Unfaltering man of God as my husband. He could have so easily been taken from me but God allowed us more time. More time to share what God has done in our lives. Thankful for Grace, Forgiveness, Salvation and Love. Thankful God never gave up on me. — Tonja Rose
Thankful for God's never ending love, His goodness and blessings in my life. Without Him I would be one most miserable. I could never thank Him enough for my cherished family. God is good all the time. — Donnie Stevens
We hope you have enjoyed these expressions of thanks. Stay tuned for more gratitude tomorrow!
Read more Gospel Music News in the latest SGNScoops Magazine Online HERE.
Tags:
gospel music
,
sgnscoops
,
Southern Gospel Music
,
thanksgiving
,
Thanksgiving Day
Posted in
announcements
,
artists
|
Comments Off

on Thanksgiving 2019: What are you thankful for? Day 2
Written by SGN Scoops Staff on November 26, 2019 – 1:37 pm -
Abraham Productions, Inc. announced today that Brian Free of Brian Free and Assurance has
accepted an invitation to join Abraham Productions, Inc. effective immediately. Brian Free will
serve on the Board of Directors and play an intricate role in future planning and initiatives for
Abraham Productions, Inc.
Brian Free is one of the most recognizable names in Christian music and has a career that spans
for more than 39 years. He is the most-awarded tenor in history and continues to amaze
audiences nightly. As one of the most premier groups in the industry, Brian Free is loved by fans
in the United States and around the world.
Abraham Productions, Inc. President, Ray Flynn, states "We are extremely pleased to have Brian
Free to join the Abraham Productions team. Brian Free's music, integrity, and his heart for
ministry certainly make him an ideal candidate for our organization. In a changing world, one
thing that never changes is our need to reach people for Jesus Christ. I truly believe that Brian
Free is the perfect fit for Abraham Productions, Inc. and our mission to present top quality
concert events that are life changing, encouraging and highly ministry focused."
Brian Free will continue his heavy scheduled concert tour with BFA (Brian Free and Assurance)
throughout the United States and abroad and be a part of all Abraham Productions events to
include Singing In The Sun at Myrtle Beach, the Gatlinburg Gathering, the Crystal Caribbean
Cruise and other tours and opportunities.
Abraham Productions, Inc. was founded in 1998 and is one of the largest and most respected
concert production companies in the gospel music industry.
Tags:
Abraham Productions
,
brian free
,
Southern Gospel News
Posted in
announcements
|
Comments Off

on Brian Free Joins Abraham Productions, Inc.