Written by Staff on December 8, 2018 – 11:41 am -
Lonesome Road Ministries recently hosted their sixth annual 3 Fold Cord Conference in Carmi, Illinois, to celebrate the life changing work that God is doing on the highways throughout the country.
Lonesome Road Ministries was started by Gary Rayburn as a tape ministry to truck drivers in early 2000. It has evolved into a "whosoever will" ministry that distributes thousands of free CDs each month with music, testimonies, and messages about the love of Jesus through their mailing list and the network of 150 plus Channel 21 chaplains around the country.
The ministry has expanded to also include radio programs on several stations around the country plus a television show. Lonesome Road Ministries is truly "a church without walls" as they receives calls and messages daily about the life changing effects of sharing the gospel through the various ministry outlets.
Six years ago Lonesome Road Ministries (formerly RIG Ministries) decided to start the 3 Fold Cord Conference in Carmi, Illinois as a way to bring drivers from around the country together and those partnered with the ministry for a few days to celebrate the life changing work that God is doing through the CD ministry. They decided on the name 3 Fold Cord Conference because of the principle found in Ecclesiastes 4:12 which says, "And if someone overpowers one person, two can resist him. A cord of three strands is not easily broken."
The 2018 conference was held recently at Trinity Assembly of God which is the new home to Lonesome Road Ministries.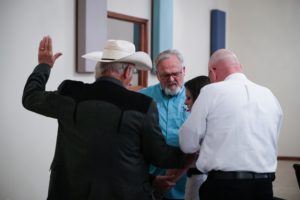 "It is an honor to partner with Lonesome Road Ministries, Chaplain Gary, and his staff. The work they do daily to spread the gospel around the USA is in line with our mission at TAG (Trinity Assembly of God). When Lonesome Road needed a new home for their ministry, it was a NO Brainer for us at Trinity Assembly of God to step up to the challenge. Soul winning is their heart. Soul winning is our heart. Most importantly, soul winning is GOD's heart!!" The 3 Fold Conference was exactly what we prayed it would be: uplifting, inspiring, and challenging. Soul winning through sharing personal testimonies is the Gospel at its best!" – Pastor Lee Hicks, Trinity Assembly of God
The 3 Fold Cord Conference was jammed packed with music, prayer, testimonies, preaching, fellowship, food, laughter, celebration and so much more. The conference kicked off on Friday at noon and continued through Sunday at noon. The weekend featured artists and speakers from around the country such as Barbara Fairchild and Roy Morris, James Payne, McKay Project, Joe Arview and family, Dan Duncan, Roger Barkley, Jr., Sonshine Road, Jim and Ann Davenport, Jackie Bowling, and Bill Schell.
There were many amazing moments throughout the weekend. Gary Rayburn shared recorded testimonies and we heard personal testimonies from those in attendance about the impact of Lonesome Road Ministries on their lives. Thousands of letters were laid out on the altar and we were called on to come up and pray over those needs and thank God for the blessings. On Saturday, Pastor Lee Hicks of Trinity Assembly of God, challenged everyone to go deeper and get out of our comfort zone.
Other highlights during the weekend included a Friday night session with music and testimony by Barbara Fairchild and Roy Morris. Saturday night was a double feature with the combined music, testimony, and preaching of McKay Project and James Payne. The conference wrapped up on Sunday with worship and a dynamic message by James Payne.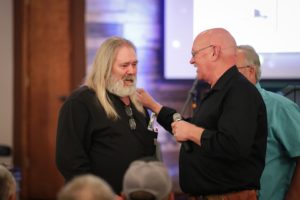 Of course, a gathering such as this wouldn't have been complete without great food and volunteers. A team of wonderful ladies from Trinity Assembly of God provided food for everyone on Friday night, Danny and Roda Dennis of Rodan Trucking provided lunch for everyone on Saturday, and Kevin Whitten of God's Grill provided lunch on Sunday. We honor those wonderful volunteers for giving of their time and resources to bless everyone that attended the conference.
"We had some great participation from my new church family – Trinity Assembly of God. They went above and beyond anything I expected from them.  We had great participation from our youth in our church. The ladies were great with decorating the church and gymnasium to making sure the hospitality room was stocked up. I can't say enough good things about Trinity. The men were great in helping set up tables, parking, security, cleanup crews, and shuttle drivers for our truckers who had to park about a mile away.  The sound crew was excellent and we appreciate Jack Baker Photography for all the great pictures.
Of course, I want to say a very special thanks to my Pastors Lee and Robin Hicks. Without their support and bringing Lonesome Road Ministries to Trinity, we couldn't have continued this conference.  This was our sixth year and by far the best as far as participation.  I am looking forward to our seventh 3 Fold Cord Conference in June 2019." – Gary Rayburn, Lonesome Road Ministries
For more information about Lonesome Road Ministries, check them out online at one of these locations:
Lonesome Road Website: www.lonesomeroad.org
Lonesome Road TV: www.rigtv.org
Lonesome Road Podcast: https://rigpodcast.podomatic.net/
*Photos Courtesy of Jack Baker Photography (www.jbakerphotos.com)
Tags:
Barbara Fairchild
,
Bill Schell
,
Dan Duncan
,
Jackie Bowling
,
James Payne
,
Jim and Ann Davenport
,
Joe Arview and family
,
McKay Project
,
Roger Barkley
,
Roy Morris
,
Sonshine Road
Posted in
announcements
,
artists
|
Comments Off

on Lonesome Road Ministries Hosts Sixth Annual 3 Fold Cord Conferenc
Written by Staff on January 26, 2016 – 7:27 am -
Jammin' for Jesus closed out their season on Sunday, December 6th, at the beautiful Doug Gabriel Theater in Branson, Missouri. Jammin' for Jesus is held the first Sunday afternoon of every month from April to December. The final show of the 2015 season was hosted by a wonderfully talented group of entertainers that included theatre host, Doug Gabriel, Kevin Shorey, and Tammy Joplin. The audience enjoyed a variety of gospel music performances by artists such as saxophonist, Gary Dooms, Billy Hale, McKay Project, Kevin Rowe, David Mays, Anita French-Kidd Stahl, David Wood, and Mike McAdoo. The audience was also treated to a special surprise appearance by country music legend, Barbara Fairchild.
"Jammin' is always lots of fun and we enjoy coming back and being a part of the show. It is everything you would expect from a Branson event", commented Dennis McKay of McKay Project.
Jammin' for Jesus is produced by Phyllis Rotrock and each month they partner with local charities and organizations to provide support and give back to the community. Instead of charging an admission fee, Jammin' for Jesus asks those that attend to bring items to meet a need. The Jammin' for Jesus held in December partnered with Jesus Was Homeless and collected Christmas gifts for children.
If you are ever in the Branson area on the first Sunday between April and December, check out Jammin' for Jesus at The Doug Gabriel Theatre (behind Olive Garden).
For more news click here.
Tags:
Barbara Fairchild
,
branson
,
McKay Project
Posted in
announcements
,
artists
|
Comments Off

on Barbara Fairchild and McKay Project at Jammin' for Jesus
Written by SGN Scoops Staff on July 5, 2012 – 9:38 pm -
Heart To Heart, the multi-award winning singer/songwriter duo based out of Branson, MO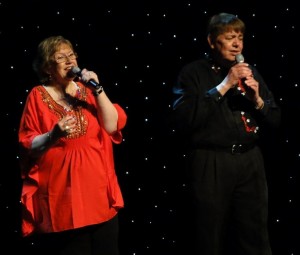 (and formerly of Malden, MO), known as "The Heart and Soul of Branson" was honored on June
23, to be awarded the National 2012 AGAPE Fan Award for Duo of the Year during ceremonies
held near Dallas, Texas.
Sharon and Jerry Mays, 2010 GMA/IMMERSE-Nashville Duet & Vocal Group of the
Year and 2011 Country Gospel Int'l. Choice Awards Duo of the Year, brought home the coveted
AGAPE Fan award after performing several times during the week to crowds with rousing
applause and standing ovations. Sharon and Jerry said with a smile, "It's a God thing! We
couldn't sing a note or write a word without Him working through us. We are so thankful to our
fans for believing in us. Without them as well as the radio DJs, theaters, churches, community
events and industry folks, we could not do what we do.
Heart To Heart are currently on several national Top 20 Charts with their songs "If That
Don't Make You Wanna Go Home" and "Pieces To Peace;" and their original "Pieces To Peace"
hit No. 1 on the RadioActive Airplay Charts in June. They were also honored to write "Father
Who Cares" for America's Got Talent Top 5 Group, Voices of Glory.
Heart To Heart are regularly featured artists in Branson at The Night Light Theater (owned
by the Barbara Fairchild Family); Treasure Lake Resort and Branson Radio Live. When not in
Branson, they are Winter Texan/Snowbird Artists in the Rio Grand Valley each winter and spend
the remainder of their full-time Gospel and Family Music Ministry time serving churches and
community events throughout the nation and songwriting.
If that is not enough, Heart To Heart are Dove and Grammy nominees and host their own
radio show, "The Branson Gospel Groove." airing on several internet stations to include
LCInternetRadio.com; ToPraiseHim.com; ActsRadio.com and CGCRadio.com to name a few.
Sharon also writes a monthly feature article in the Country Gospel Connection Magazine
called "An A-Mays-Ing Report."
Tags:
AGAPE Fan Award
,
Barbara Fairchild
,
branson
,
GMA/IMMERSE-Nashville
,
Heart to Heart
,
Jerry Mays
,
southern gospel
,
Southern Gospel News
Posted in
christian entertainment
,
contests
|
Comments Off

on HEART TO HEART, MULTI-AWARD WINNING SINGER/SONGWRITER BRANSON DUO WINS COVETED 2012 AGAPE FAN AWARD FOR DUO OF THE YEAR
Written by SGN Scoops Staff on February 28, 2011 – 12:55 pm -
Franklin, TN (Mansion Entertainment) February 28th, 2011 – Mansion Entertainment's Music Publishing
Division has signed award winning songwriter John Lemonis to an exclusive songwriting agreement.
The songs of John Lemonis include radio hits such as "Live to Worship", "Forever Changed", "Die Another Day" and numerous others. The artists who have recorded John's songs cross several genres of music and include Michael W. Smith, Brian Free & Assurance, Point of Grace, The Talley Trio, The Kingdom Heirs, The Greenes, Scott Krippayne, Barbara Fairchild, Reggie and Ladye Love Smith and many, many others.
John's talent in composing has covered musicals, choral pieces, and special projects (videos and collections) such as 'One Bethlehem Night', 'Once Upon A Time Shop', 'Eyes of Faith: The Fanny Crosby Story', 'For the Lord Alone', 'From Sea to Shining Sea', 'The New Jerusalem Makeover', 'In God We Trust', 'Tails from the Ark', 'Invitation to Worship (I & II)', 'America's Favorite' Series, 'Once and For All', 'Grace Covers All', 'The Precious Name of Jesus' and more.
John's own recording projects include: 'Love One Another', 'Living Proof', 'The Power and The Grace', 'In My Own Words' and 'The Glory of You'.
John Mathis of Mansion Entertainment's Music Publishing Division states, "John Lemonis is such a versatile and experienced writer and artist. His background covers so many areas from writing and performing his own songs, to decades of working as a Minister of Music, writing conferences and his involvement with Gospel Music Association and Nashville Songwriters Association International. All this has given him such a broad view in fulfilling what the artist and the church are looking when it comes to songs that relate and encourage the Christian listener. He has such a great heart and vision for conveying a message through a song! We're looking forward to our new endeavor together and where that will lead."
For more information regarding John Lemonis visit www.johnlemonis.com. For more information regarding Mansion Entertainment visit their website at www.themansionentertainment.com.
Tags:
Barbara Fairchild
,
Brian Free & Assurance
,
John Lemonis
,
Michael W. Smith
,
Point of Grace
,
Reggie and Ladye Love Smith
,
Scott Krippayne
,
The Greenes
,
The Kingdom Heirs
,
The Talley Trio
Posted in
announcements
,
christian entertainment
|
Comments Off

on Mansion Signs John Lemonis To Exclusive Songwriting Agreement