Written by SGN Scoops Staff on January 18, 2021 – 1:34 pm -
Nashville, TN – Few names are as synonymous with Gospel music as Blackwood.  For nearly nine decades, generations of Blackwood Brothers have shared the Gospel around the globe, having recorded over 200 albums and toured in 47 countries, earned GRAMMY and Dove Awards, and appeared on countless stages and events.
While honoring the long-standing tradition of this legacy, the Blackwood Brothers have decided to scale back from touring full-time, continuing to play select concerts in 2021 and beyond.
In anticipation of the upcoming changes, lead singer Jonathan Mattingly has announced that he will be joining forces with the up and coming trio, Avenue. Mattingly was first introduced to Gospel music fans with his family, the Mattingly Family, before uniting with the Blackwood Brothers in 2017.
"Jon has been a tremendous blessing to the ministry of the Blackwood Brothers and will continue to be as we move forward. We look forward to working with Kasey and Avenue, coordinating our schedules to allow both groups to utilize the great gift that Jon brings to the platform and the ministry as a whole.
Kasey Kemp shares his excitement for welcoming Jonathan into the Avenue family, "Jon and his wife Sarah have been dear friends of our family for many years, so I feel very blessed to have the opportunity to sing together. We are excited about the future and what God has for us going forward!"
To stay up-to-date on current happenings, follow the Blackwood Brothers Quartet, as well as Avenue on social media, or visit blackwoodbrothers.com and avenuemusic.net.
Tags:
Blackwood Brothers
,
Southern Gospel News
Posted in
announcements
|
Comments Off

on Future of the Blackwood Brothers: Changes for Jonathan Mattingly
Written by Staff on September 8, 2018 – 2:05 pm -
Bill Shaw, former tenor singer with the Blackwood Brothers,  passed away on September 7, 2018. He was 94.
Mark Blackwood posted the following on Facebook :
From Robert Shaw, Bill Shaw's son: "I'm sorry to say that my Dad, Bill Shaw, passed away this morning. Although this comes as no surprise, it's hard to see him go. The good news is that he was in no pain and in his own way, seemed ready to leave this earth to be with his Lord.
A Memorial Service in his honor has been scheduled for Sunday, September 16th, 3:00 PM at Forest Hill Baptist Church, 909 Plantation Road, Anderson SC 29621. Thanks again for all of your love, support and prayers.
BILL SHAW, THE GREATEST SOUTHERN GOSPEL TENOR OF ALL TIME.
Tags:
Bill Shaw
,
Blackwood Brothers
,
gospel music
,
southern gospel
Posted in
announcements
,
artists
|
Comments Off

on Bill Shaw to be remembered on Sunday September 16
Written by Staff on September 7, 2018 – 10:05 am -
Bill Shaw, gospel music artist and legendary tenor singer for the Blackwood Brothers has passed away. More recently, Shaw appeared at the Grand Ole Gospel Reunion.
The Blackwood brothers posted this morning on facebook:
Bill Shaw, long-time tenor for the Blackwood Brothers Quartet passed away this morning.Please pray for his children and their families. Further details will be posted as they become available.
Enjoy this song by the Blackwood Brothers featuring the late Bill Shaw:
Tags:
Bill Shaw
,
Blackwood Brothers
,
gospel music
Posted in
announcements
,
artists
|
Comments Off

on Prayers requested for the family of Bill Shaw
Written by SGN Scoops Staff on September 18, 2017 – 3:37 pm -
The members of The Blackwood Brothers are the guests on Gospel Music Today for the week of September 17 and Ken and Jean Grady host southern gospel news and concert updates. The Feature Group is The Bunkleys, and Jean reviews new recordings by The Coffmans and The Old Paths.  An article from AbsolutelyGospel.com about Nick Trammell is the subject of this week's News Notes. In the News this week is Trey Ivey, Gerald Crabb, Jason Crabb and Endless Highway.  On the show, we wish a Happy Birthday to Mike LeFevre. The show features singing by The Skyline Boys, exclusive concert video of Soul'd Out Quartet, recorded by Gospel Music Today's cameras in Memphis, TN, and a visit to the Gospel Music Today Archives for an exclusive video of Freedom Quartet, recorded by Gospel Music Today's cameras in Pigeon Forge, TN.
The show is on KWHB TV47 in Oklahoma every Sunday at
4:30 PM
, and on Roku on FFE TV
Monday
at
8:00 PM
and AllNations TV
Tuesday
and
Wednesday
at
6:30 PM
. Check local TV schedule for Bruce, MS,  Phenix City, AL, Pontotoc, MS, Beaumont, TX, Tyler, TX. Atlanta, TX, Morrilton, AR, and West Plains, MO. The current edition of Gospel Music Today is online now at the Gospel Music Today website, 
http://www.gospelmusictoday.com/
Tags:
Blackwood Brothers
,
Southern Gospel News
Posted in
announcements
|
Comments Off

on Blackwood Brothers On Gospel Music TV
Written by Staff on August 12, 2016 – 6:31 pm -
Bros. 4 Announce Annual Mississippi Homecoming Weekend
Featuring Soul'd Out Quartet and Blackwood Bros.Quartet
Coming in September 2016, Bros. 4 (pronounced Brothers 4) will have the unique opportunity to host two great quartet groups that display great harmony and a great heart for the Lord. It will be a three-day event called "A Mississippi Homecoming Weekend", that will feature Soul'd Out Quartet and The Blackwood Brothers Quartet.
This special event will bring together three Jackson, Mississippi family members again: Butch Owens (from Blackwood Brothers Quartet) who is the father of Ian Owens (Soul'd Out Quartet) and the uncle of Adam Dungey (from Bros. 4). This is the second year this event has been offered.
Each group would be glad to see you at the following locations:
September 23, 2016- Petal- Harvey Baptist Church- Petal, MS
September 24, 2016- Bel Air Baptist Church- Gulfport, MS
September 25, 2016- Lakeshore Church- Byram, MS.
For more information about this great event or the group, you can visit their website at http://www.bros4.net or if you are interested in having the group at your church, give Adam Dungey a call at 601-259-6553
For more Gospel music news click here.
Tags:
Blackwood Brothers
,
Bros.4
,
gospel music
,
Soul'd Out
Posted in
announcements
,
artists
|
Comments Off

on Soul'd Out, Blackwood Brothers, Bros. 4 to appear at Homecoming Weekend
Written by Staff on May 4, 2016 – 6:30 pm -
Anyone who has been associated with Southern Gospel Music for any length of time will know the name Big John Hall.   This great baritone/bass singer has been around the Gospel music circuit since the early 1960's and probably before that.
In the early days, he was probably best known for his great bass singing with the Stamps Quartet.  This was before J.D. Sumner bought the group, and changed it to J.D. Sumner and the Stamps Quartet.  He also sang bass for the Blackwood Brothers from 1965-1968.   After leaving the Blackwood Brothers, John Hall began a solo career and has been featured on many of the Gaither videos.
One of my favorite moments on one of the Gaither videos was watching the faces of some of the younger bass singers, when John Hall was asked to come and sing "How Big Is God."   You could see them looking with admiration and awe.
John Hall has recorded many great records.   Included in the list are: Here Come The McDuff Brothers with Big John Hall; I Don't Know Why; If God is Dead; I am Loved; Life In Jesus Name; Light of the World; The Lord Liveth; Portrait In Sound; Reason I Praise; Rise And Be Healed; and many more.
There are many great bass singers singing today. My own personal opinion is that many bass singers can really hit those low notes, but they are not great soloists. George Younce was an exception and so is John Hall. Big John can take a song and give it his own personal touch, and you can understand every word.
My late father was not too knowledgeable on Southern Gospel Music but every once in a while he would ask me, "What's that Big John Hall doing these days?"  He loved John Hall's singing.
I was asked to run the audio for Big John at a concert a few years back at my home church in Peterborough and I was struck by his professionalism. I had set up a microphone for him, an SM57. On the pulpit was another mic, I can't remember the brand, but John asked me if he could use that microphone instead. After hearing the sound that came out of that mic during practice, well, let's just say, the man knew what he was doing.
I had the privilege of talking with John Hall recently and he told me that he had been in London, Ontario, with the new Blackwood Brothers with Jimmy Blackwood. John had been asked to attend as well as Bill Shaw and to join in with the group! John said, "It sounded as good as the old Blackwood Brothers."  Wow! I wish I had been there!
What is Big John Hall doing these days?   He is still very busy, traveling and singing in many churches.
John Hall has a heart for ministry, and was quoted by Jerrell Millar, editor of the Remnant magazine, as saying,  "he has a voice sent from Heaven for days such as this"(1) (referring to a revival meeting, that John Hall was asked to sing at). In 1989 he was asked to come to Dothan, Alabama, to participate with Dudley Hall in a series of meetings at the Auditorium there. What happened in that meeting had a long-lasting effect on the body of Christ in the Southeast Corner of Alabama. John was asked to come and be the worship leader.
John Hall then led the worship in what was supposed to be just a few meetings organized by the local churches in that southern city. It was as predictable as afternoon thunderstorms in Alabama but the lightening was supplied by God. Night after night Big John took the mic and led people into the realm of the spirit where they had never been. It was revival as they had never seen it before.  That was in 1989 and the flow and move of God has only increased.
You can hear John's deep baritone voice as it sings in a majestic rhythm but what is coming through that voice is not just a normal deep voice. Big John will tell you it takes more than talent to sing before thousands of hungry people each week. The responsibility of change and the mantle of freedom comes along with the voice these days. (2)
Big John Hall considers his voice secondary to his ministry. Sharing Christ and leading a congregation in worship is first in his life. John and his wife Judy attend Calvary Cathedral, in Fort Worth Texas.
I'm not a bass singer. I've tried. I'm a baritone. But if I were a bass, I would want my voice to sound like Big John Hall.
By Philip Foster. Find out more about Phil here.
First published 2012/09/17 on www.sgmradio.com
Tags:
Big John Hall
,
Blackwood Brothers
,
Stamps Quartet
Posted in
artists
,
SGM Radio
|
Comments Off

on Big John Hall: A Voice Sent From Heaven
Written by Staff on March 13, 2016 – 2:45 pm -
Another one of our Gospel music family is in need of prayer. Michael Helwig of the Blackwood Brothers has been dealing with issues that call for Godly intervention.
Earlier today, Mike's band mate,  Butch Owens posted the following :
"IF I WIN I WIN, IF I LOSE I WIN".
Michael Helwig
02/26/2016
In 60 years, to my knowledge, I've never been part of a "movement". Today I'm not only going to be a part of one, I'm going to start it.
Nine months ago, Mike was diagnosed with MS. Three weeks ago, the doctor told him it was not MS, but ALS. (Lou Gehrig's disease) As you may or may not know, there is no cure for this disease.
The above quote was made by Mike to a pastor on our latest tour. It was during a conversation regarding Mike's circumstances, and this was Mike's response to his situation. He later referenced (to me) Matthew 26:39, and said that Jesus' prayer for God's will over his own, was no less than he could ask for himself. He said that would be his example in dealing with his circumstances.
I want you to be a part of this movement. I would ask three things of you.
1) Pray for Mike and his family.
2) like this post and leave a comment of encouragement for Mike.
3) Share!!! Not just on Facebook, but with your churches, prayer groups, and friends.
We believe in the power of prayer!
Mike, we at SGNScoops want you to know that we are praying for you and your wife Leslie and your family.
Leave a comment on Mike's Facebook page.
Tags:
Blackwood Brothers
,
Michael Helwig
Posted in
announcements
,
artists
|
Comments Off

on Michael Helwig: "If I win, I win; if I lose, I win!"
Written by Staff on January 21, 2016 – 9:09 am -
The name Blackwood is
synonymous with Southern Gospel music. In 1934, three brothers and a son from Choctaw County, Mississippi formed one of the most popular quartets in the history of Southern Gospel Music. The original group consisted of bass singer Doyle; lead James, tenor Roy, and Roy's son R.W. singing baritone. The quartet was formed in the midst of the Great Depression in the US, which was a time when Americans were struggling to provide for themselves and their families. The American people needed hope and that was what the Blackwood Brothers Quartet was all about: bringing hope to the world and spreading the Good News of Jesus Christ. The group, dedicated to the cause, developed a loyal fan base that would only continue to grow.
Billy Blackwood recalls, "They got a break that catapulted them to a national level overnight when, on June 13th, 1954, they appeared on and won the most popular television show of the day, Arthur Godfrey's Talent Scouts, the 1950's version of today's American Idol. Outside of the south and the loyal fan base they had established in the upper Midwest, most of the US hadn't been exposed to gospel quartet music. Well, that changed overnight when the Blackwood Brothers won Arthur Godfrey's Talent Scouts with a rousing tune called, 'Have You Talked To The Man Upstairs?"
Read on for more on the Blackwood Brothers, for this triumph for the quartet was soon eclipsed by a terrible tragedy…
Tags:
Blackwood Brothers
,
gospel music
,
Quartet Music
Posted in
announcements
,
artists
,
sgn scoops magazine
|
Comments Off

on Gospel Music Pioneers: A Look at the Legendary Blackwood Brothers Quartet
Written by Staff on March 6, 2015 – 8:22 am -

Hendersonville, Tenn. (March 5,2015) Daywind Music Group brings quartet music to the prestigious Greenbrier Resort on
March 9th-11th, 2015
. Quartet fans from across North America will gather in White Sulphur Springs, WV to take part of this three-day event.  The inaugural DMG Concerts event will feature performances from Legacy Five, Brian Free & Assurance, Tribute, and the Blackwood Brothers, as well as Gold City, Kingsmen, Triumphant Quartet and Guardians, and special appearances by Gene McDonald, Jay Parrack and Paul Heil from the Gospel Greats radio show. Fans will enjoy quartet music from the most awarded quartets on the road today, as well as impromptu scrap iron quartets, and the premier of Quartet Night Across America.​
The Greenbrier is an award-winning resort located in White Sulphur Springs, West Virginia. As a National Historic landmark, The Greenbrier's classic architecture, exquisite interior design, carefully sculpted landscape, impeccable service and outstanding amenities have hosted distinguished guests from around the world since 1778.For more information, call
1.800.635.9581
or visit 
dmgconcerts.com
, or click on the picture above.
Tags:
Blackwood Brothers
,
Brian Free & Assurance
,
Daywind Music Group
,
Gene McDonald
,
gold city
,
gospel greats
,
Greenbrier Quartet Festival
,
Guardians
,
Jay Parrack
,
Kingsmen
,
legacy five
,
Paul Heil
,
Tribute
,
triumphant quartet
Posted in
announcements
,
artists
|
Comments Off

on Greenbrier Quartet Festival: Daywind Music Group brings Quartet Music to the prestigious Greenbrier Resort
Written by Staff on February 19, 2015 – 2:10 pm -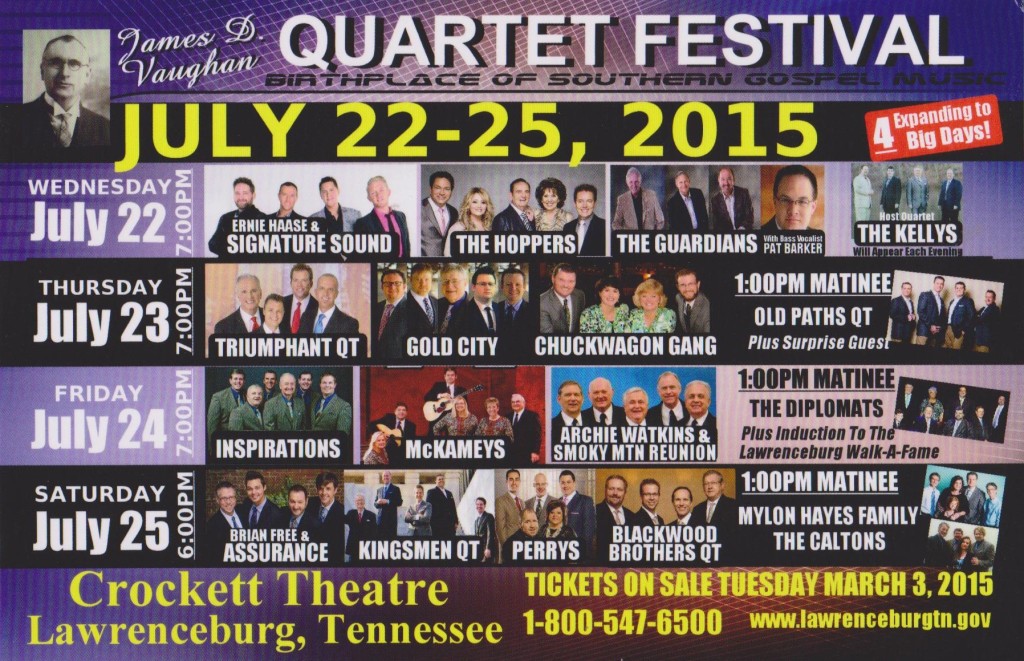 The birthplace of southern gospel music, Lawrenceburg, TN will play host once again to the annual James D. Vaughan Quartet Festival. This year, the festival expands to four big days, beginning onWednesday July 22 and continuing through Saturday July 25.
Over the four days, there will be with nightly performances by Ernie Haase and Signature Sound, the Hoppers, Triumphant Qt, the McKameys, Gold City, Brian Free & Assurance, Chuck Wagon Gang, the Inspirations, Kingsmen Quartet, the Perrys, Archie Watkins and Smoky Mountain Reunion, Blackwood Brothers and many more. There will be FREE matinee shows on Thursday–Saturday at 1:00pm with quartets such as; Old Paths Qt, Diplomats, Mylon Hayes Family, and the Caltons. The Lawrenceburg Walk-A-Fame will also be presented again this year by Main Street Lawrenceburg, on Friday, July 24.
Host Quartet and Lawrenceburg's own, the Kellys, will once again appear each evening and Josh Franks will be the Master of Ceremonies. The Vaughan Quartet Festival will be held at the historic Crockett Theater. Tickets will go on sale to the public on Tuesday, March 3 at 10:00AM. For more information, tickets, or a complete line-up visit www.lawrenceburgtn.gov or call 1-800-547-6500.
Tags:
Archie Watkins and Smoky Mountain Reunion
,
Blackwood Brothers
,
Brian Free & Assurance
,
Chuck Wagon Gang
,
ernie haase and signature sound
,
gold city
,
JAMES D. VAUGHAN QUARTET FESTIVAL
,
Kingsmen Quartet
,
The Hoppers
,
The Inspirations
,
The Mckameys
,
the perrys
,
Triumphant Qt
Posted in
announcements
,
artists
,
christian entertainment
,
Christian interest
|
Comments Off

on TICKETS GO ON SALE FOR THE JAMES D. VAUGHAN QUARTET FESTIVAL, TUESDAY MARCH 3 AT 10:00AM