Written by Staff on July 28, 2020 – 11:26 am -
History of London, Ontario, Canada's Christian Country band, the New Covenant Children (1972-1977)
It all began with Nashville and the Grand Ole Opry
Like a lot of good musical stories in North America, the history of London, Ontario's, Christian Country band, the New Covenant Children's story began in Nashville, Tennessee. Young Neil Degraw, a 17-year-old resident of London, Ontario would listen at night to AM radio broadcasts of the Grand Ole Opry from Nashville, Tennessee, as well as the Jamboree out of Wheeling, West Virginia. He was inspired to play steel guitar, and at the age of 19, obtained a rare Fender 400 pedal steel guitar.
Somehow he befriended Gary Spicer, a player from Nashville who taught Degraw how to replicate that unique Nashville sound on the pedal steel. Degraw began playing in local country bands and would often travel to Nashville where he would attend Evangel Temple. The church was pastored by Rev. Jimmy Snow, the son of the legendary Hank Snow. Johnny Cash and Kris Kristopherson also attended the same church.
Soon, Degraw was feeling the call to use his special talent for the Lord back in his hometown of London, Ontario.
The formation of the New Covenant Children in London, Ontario
While attending Faith Tabernacle, his home church in London, Ontario, Degraw would sometimes accompany three female vocalists singing harmony on gospel songs like "The King is Coming". Degraw was still performing with a traveling country band when he decided he needed to use his talent exclusively for the Lord.
The New Covenant Children were formed with Neil on pedal steel and Darlene St. Pierre on piano. The harmonies of the three singers, Donna Harris, Elaine Weurch, and Julie Sholtanuk made for the sweetest sounds this side of heaven!
In an effort to expand the musical appeal of the group, Degraw added his brother Don Degraw on bass and Dan Mailer on rhythm guitar. The group was dedicated to spreading the gospel and performing meaningful inspirational gospel songs that touched the lives of many. The popularity of the band continued to increase and it was time to record an album.
In early 1973, the group was headed to Nashville to a recording studio owned by Opry lead guitar player, Joe Edwards, where the band recorded "Reaching Out." This album featured some of their most popular and well-liked tunes such as "The Lighthouse." The album only helped increase the band's popularity back in Ontario and surrounding areas. A drummer, Ron Mills was added and over time, lead singers Nancy and Sharon Degraw replaced departing singers. Every member of the band volunteered their time and effort and tirelessly practiced their music and instruments to polish their presentation. By 1974, the band was traveling almost every weekend and some weekdays, performing at churches, coffeehouses, picnics, parades, sings, concerts, as well as on radio and TV.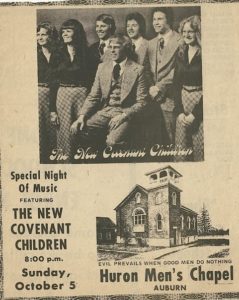 In November 1974, they were back in the studio, this time at the Masters' Workshop in Toronto, recording their second album "That's Just Like Jesus," which soon sold 2000 copies on vinyl, cassette, and 8 track tapes (remember those?). The band performed some of those songs on Cam Shillington's nationally syndicated television program "Gospel Singing Time," which reached as many as 10 million viewers at times. The Lord was using the band in a powerful way to touch thousands of lives. For a while, the band also had a monthly newsletter that they sent to keep in touch with their fans.
In April 1975, it was time to record another album titled, "I'll See You in the Rapture." This was the band's final and most popular album. All 2000 copies sold out quickly. In late 1975, the band underwent a few line up changes but continued to travel. Cam Shillington invited the band to perform at the Summer World Olympics held in Montreal and Kingston, in August 1976.
The band disbanded in 1977 but all members continued to perform gospel music in one form or
another together or on their own.
Formation of the CGMA and awards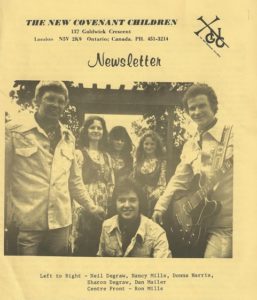 In November 1974, Neil Degraw, working with Cam Shillington and the Hisey family, formed the Canadian Gospel Music Association known as the "CGMA." The stated purpose of the CGMA was to promote unity among Canadian gospel music groups and to provide an incentive to groups to improve musically and spiritually.
The first CGMA convention was held in Waterloo, Ontario, during a weekend in May 1975, and the New Covenant Children and numerous other high quality Canadian gospel bands performed. Rev. Jimmy Snow traveled from Nashville to give the inaugural address at the banquet. A trophy was awarded to the Hisey Family as Group of the Year, and the New Covenant Children also received industry recognition. Their album "That's Just Like Jesus " was voted Album of the Year in 1975, and "I'll See You in the Rapture," album of the year in 1976.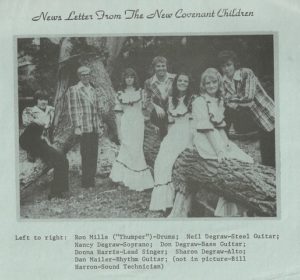 I think that the band would all agree that these awards pale in comparison to the blessings that each member received as a result of sharing the gospel and inspirational music to so many in Ontario and the surrounding areas of the United States. Each member volunteered their time and effort free of charge to do what they strongly believed was the Lord's work. It was a very precious honor to be part of something so special that touched the lives of so many. And now you know the story!
By Dan Mailer, with assistance from Torrey Antone
In memory of Cam Shillington, May 17, 1946 – January 12, 2016
Note by Lorraine Walker, editor of SGNScoops Magazine: If it weren't for the singers who have gone before us, many of us whose lives have been touched and shaped by gospel music would not be the same people we are today. Having just started to listen and learn about gospel music in Ontario in the '80s, I missed the heyday of the NCC, but I do remember others who were traveling the Ontario backroads every weekend…there were few fulltime gospel singers in Ontario. I could start to name the groups I remember but I would leave out half, so please just accept this shout-out from a former member of the CGMA and one who enjoyed several CGMA Conventions. I would love to hear from other members of groups and of the CGMA from that time period. Please write to me at lorraine@sgnscoops.com
Did you know that you can receive the printed, full-color version of SGNScoops Magazine by subscription? Find out more 
HERE
.
Find SGNScoops Magazine On Facebook 
HERE.
You can download the latest edition of SGNScoops Magazine 
HERE.
Read the latest edition of SGNScoops Magazine online 
HERE
.
Tags:
canada
,
Canadian Gospel Music Association
,
Neil Degraw
,
New Covenant Children
,
Ontario
,
Rev. Jimmy Snow
Posted in
artists
,
Christian interest
|
Comments Off

on The New Covenant Children and the start of the Canadian Gospel Music Association
Written by Staff on May 14, 2020 – 12:43 pm -
Arden, North Carolina (May 14, 2020) — Like the message it serves, Southern gospel music knows no geographical boundaries. Kaiziah, Kayandra, Jesse, Jayden and Karlainah Chitan and their parents, Layne and Karen, spend most of the year traveling the world and serving the communities they stop in through ministering in churches, hospitals, nursing homes, senior homes, community centers, prisons, slums and on the streets — and though they're based in Canada, the foundation of their musical ministry is the Southern gospel style they've listened to all their lives.
Now, The Chitans (website HERE) have signed with Horizon Records to extend that ministry through the release of "Set Apart," their latest album produced by Roger Talley and recorded at Crossroads Studios in Arden, North Carolina.
"The first time I heard The Chitans sing, I was struck by how the audience responded to them. They made an instant connection that rarely happens," says Talley. "I knew then that they have the potential to minister to people of every race and culture with their angelic voices and pure hearts. I'm excited about helping them broaden their ministry by partnering with them and Crossroads on this new release."
"We, The Chitans, believe that God has set us apart for a special purpose. With that in mind, we are forever grateful to Him for the provisions, visions and directions that he has given to us daily," the family adds. "We are very fortunate to meet and work with some great people that God has placed on our path. Crossroads/Horizons Records is one such entity. God knew what sort of help we needed as a family in ministry and he provided it through Crossroads."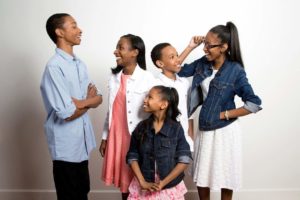 Though Southern Gospel is their chosen musical "home," the sound of The Chitans has room for other influences, ranging from the accents of their native Caribbean region to the soulful rhythms of African-American congregations found across the northern continent. But whether they're belting out an up-tempo song of joy, or offering a contemplative ballad, their music is always expressive, and always rooted in faith and tradition.
"We appreciate all the prayers, encouragement, support and hard work that everyone has given us as we labor together building up the kingdom," say The Chitans. "With a new and organized team working alongside us, we know that the journey will become more exciting yet challenging, so, we solicit your prayers and support as we see where God is taking us."
The Chitans will be releasing two singles — "Set Apart" and "Jesus Is Moving" — on May 22 ahead of a worldwide day of prayer they're hosting.
Both songs can be pre-saved/added ahead of release on Spotify and Apple Music. Pre-save "Set Apart" HERE and "Jesus Is Moving" HERE.
Also titled "Jesus Is Moving," the live-streamed worldwide day of prayer event will be May 30. Hosted by The Chitans, Jesus Is Moving will feature artists Brian Free and Assurance, The Talleys, The Whisnants, The McNeils from the United States; LYNC, The Cuffeys, Paschal Kalumbi, Tiffany Campbell-Dailey Smith from Canada; The Foster Triplets from Jamaica; Xclusive from South Africa and many others to be announced. Fans can tune in throughout the day on The Chitans' website, YouTube and Facebook.
About The Chitans
Kaiziah, Kayandra, Jesse, Jayden and Karlainah Chitan and their parents, Layne and Karen, travel the world singing wherever they are called upon to do so, to share Jesus's love with all people, especially the children of the world.
Based in Toronto, Canada, the family travels the world, serving the communities they stop in through ministering in churches, hospitals, nursing homes, senior homes, community centers, prisons, slums and on the streets (feeding the homeless). The family has sung at religious, cultural, human rights and civic gatherings throughout Canada, the United States — including at The White House and on Capitol Hill — Kenya (Africa), the United Kingdom, the Caribbean including Bermuda and to heads of state in Jamaica, Grenada, Bermuda and Canada.
In July of 2012, the family received a Congressional Award from the United States of America, for volunteer work done on the streets of Brooklyn, New York.
The Chitans have ministered with Lynda Randle, Woody Wright, The Nelons, The Collingsworth Family, The Talleys, Mark Bishop, Gordon Mote, Guy Penrod, Bobby Jones on Bobby Jones Presents, RussTaff, Wintley Phipps, Bill Gaither and his Homecoming Friends, and have sung at Singing in the Sun, Gatlinburg Gathering, National Quartet Convention and Gaither's Fall Fest.
About Crossroads:
Crossroads is a market leader in the Southern Gospel, Bluegrass, and Americana fields. Established in 1993, following the combination of Horizon Music Group and Sonlite Records, Crossroads now operates several divisions including Crossroads Label Group (Horizon Records, Sonlite Records, Mountain Home Music, Skyland Records, Pisgah Ridge Records, Crossroads Records, and Organic Records), Crossroads Distribution, Crossroads Radio Promotions, and Crossroads Recording Studios. Led by a strong executive team of Christian music and Bluegrass music veterans, Crossroads combines cutting-edge technology with creative innovation to connect fans with our artists' music.
Did you know that you can receive the printed, full-color version of SGNScoops Magazine by subscription? Find out more 
HERE
.
Find SGNScoops Magazine On Facebook 
HERE.
You can download the latest edition of SGNScoops Magazine 
HERE.
Read the latest edition of SGNScoops Magazine online
HERE.
Tags:
canada
,
crossroads
,
gospel music
,
Horizon Records
,
roger talley
,
Southern Gospel Music
,
The Chitans
Posted in
announcements
,
artists
|
Comments Off

on The Chitans sign with Horizon Records
Written by Staff on February 4, 2020 – 12:59 pm -
With the New Year came big changes for the Torchmen Quartet from St. Catharines, Ontario, Canada.
Last fall, long time lead singer of this beloved quartet, Jeff Tritton, announced that he would be stepping down after 10 years. The group made a bit of a shuffle, with Sandy MacGregor taking the lead part, and newcomer, Eric Lovell, assuming the tenor position. Jon Hisey will continue as bass singer.
Mike Moran, the longest serving member of the group, will be remaining at the baritone position. Mike has been with the group for 50 years, and was nominated for the 2019 J.D. Sumner Living Legend Diamond Award, presented by SGNScoops Magazine. To nominate Mike or any of the gentlemen for the 2020 Diamond Awards, click HERE.
The Torchmen have announced that they will be heading into the studio next month to work on a fresh project with the new lineup.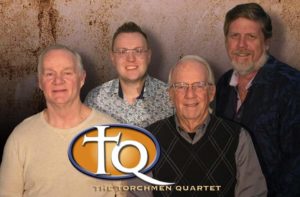 The Quartet would like to encourage as many of their fans and friends to hear their new lineup, so to facilitate this, the Torchmen are booking free will offering concerts during May and June. Their schedule is filling quickly, so look for them in your area this spring. For churches or other groups looking to invite the Torchmen to sing at their venue, please contact them quickly as openings are limited.
The Torchmen can be contacted at: frontporchgospel887@gmail.com
Look for the Torchmen on Facebook HERE
For more Gospel Music News, read the latest issue of the SGNScoops Magazine HERE.
Download SGNScoops Magazine PDF 
Here
Find SGNScoops Magazine On Facebook 
Here
Listen To Today's Gospel Music 
Here
Tags:
canada
,
Eric Lovell
,
gospel music
,
Jeff Tritton
,
Jon Hisey
,
Mike Moran
,
Ontario
,
Quartet Musicc
,
Sandy MacGregor
,
Southern Gospel Music
,
Torchmen
Posted in
announcements
,
artists
|
Comments Off

on The 2020 Torchmen welcome Eric Lovell
Written by Staff on March 30, 2018 – 8:40 am -
The Torchmen Quartet: Faithful
Recorded at Crossroads Recording Studio, Grant Ave Studios
Producers: Chris Allman, Amy King, Jon Hisey
Label: Independent
Review by: Lorraine Walker
It was a pleasure to receive the latest album from the Torchmen Quartet, entitled "Faithful." Appropriately named, this recording talks about being faithful to the Lord Jesus every day, through every difficulty, and in every circumstance. I have known the TQ's members, Mike Moran, Jon Hisey, Sandy MacGregor and Jeff Tritton for a long time and can attest to the fact that these gentlemen have been faithful to their call and to the Lord.
From the very first play of the first cut on the project, this CD feels like the TQ you know and enjoy, but upscaled to an even better version of themselves. "It's An Everyday Thing," has the type of instrumentation and vocals that listeners of Torchmen projects are used to, with violin and steel guitar, and the melody line seems perfect for MacGregor, who handles the song with ease. Special note that the drums on this track were played by Michael Booth, who has an excellent touch on the toms. This tune was written by Rebecca J. Peck, who also wrote two more cuts on this album.
"Faithful Father" is an easy-listening quartet song, written by Rodney Griffith and Chris Binion. It's a good reminder that no matter what, our Heavenly Father is faithful; much more so than we can possibly be. I enjoy Tritton's vocals regardless of what he sings, and he adds his smooth tones to this song which is polished and so comforting to the ear and the heart.
"Crown Him King," a quartet favorite by Luther G. Presley and Wally Varner, is handled effortlessly by this seasoned group. So well, I'm almost positive they have recorded it before. The quartet has recorded over 30 projects and I don't claim to have every project, so it could well be that they have. Regardless, it is an excellent track.
"What If Someone" is another smooth Tritton song, written by Lanny Wolfe. It will make you wonder what if you had never been told about Jesus…and who you should be telling about Him today that may not hear about the Lord in any other way.
"I Want to Live Like Jesus," written by Ernie Haase and Dianne Wilkinson, has the flair and instrumentation of a Cathedral Quartet cut. I so enjoyed the precision and thought behind this tune.
Torchmen listeners may not be overly surprised at some song choices by MacGregor, but I have to admit, when I heard the opening strains of this song and realized what it was, I couldn't believe my ears. But what a treat! If you listened to Christian music in the '80s, you couldn't help but hear Twila Paris sing, "The Warrior is a Child." MacGregor takes this song to new places and it truly becomes a quartet song. Great job, gentlemen. Kudos to your producer, Chris Allman.
"Good Things" is another Rebecca Peck song, this time with David Jenkins. Another finger-snapping tune shows the men's crisp timing and more great vocals by Tritton.
"Reunion with You" begins with a melancholy tone in both lyric and notes, but sadness changes to hope with the chorus which reminds us that there will be an eternal reunion with our loved ones someday. This song by Tim Lanier immediately reminded me of my mom who passed away almost 8 years ago; however, the pang of separation never seems to diminish. Mike Moran tells this story with finesse and the ability to communicate emotion, thought and lyric, that has made him a favorite with Canadian audiences.
"Wonder Working God" lists among its writers the husband/wife team of Zane and Donna King. I prefer to listen to a new project without reading the liner first, so I knew this was a special cut even before reading that Donna was a part of it. She is one of the most talented people in Christian music and it seems that anything she is a part of becomes touched with a special sparkle that is all her own. One of my favorite cuts.
"I'm Gonna Keep Praying," another Rodney Griffith song, reminds us what a privilege it is to be able to talk to God any time, anywhere. Another easy-listening song that has powerful, understated lyrics. That may sound like an oxymoron but when you listen to the song, you will agree.
"What Kind of Man," another Dianne Wilkinson song, helps us look at the humanity of Jesus, which is not a subject often addressed by preachers, let alone Christian music. Well done, Dianne and Janice Crow. Well sung as well, as the harmonies are lovely.
"When the Preacher Gets to Preaching," written by Rebecca Peck and Christine Degazio, is a fun song that reminds me of the old-time pastors you hear about, the kind who preaches it so straight that the listeners' hair is parted. Those of us who have been privileged to sit under that kind of sermon totally get this song. Jon Hisey, great vocals! Totally enjoyed this song.
"Oh, What a Price," the last Peck/Jenkins song, is a beautiful ballad that should be picked up by those churches who present an Easter choir performance. Lyrically and melodically, this song catches the enormity and solemnity of the cost of salvation.
Chris Allman's comments on the liner indicate that he understands this quartet and his work on this project confirms it. Amy King and Jon Hisey, your talents are also greatly appreciated. For the rest of the album information, the reader is encouraged to buy a copy for themselves.
If you are a fan of Southern gospel music, or just like well done music of any kind, please pick up this album. Thanks so much, Torchmen Quartet, for continuing to raise the bar on your recorded music. Here's to another 50 years!
For more Reviews of Gospel Music, Download The PDF Version Of SGNScoops Magazine HERE
Find SGNScoops Magazine On Facebook HERE
Listen Online To The Best In Todays Gospel Music HERE
Tags:
Amy King
,
canada
,
Canada's premier gospel group
,
Chris Allman
,
Jon Hisey
,
Quartet Music
,
Rebecca Peck
,
Torchmen
,
Twila Paris
Posted in
artists
,
reviews
,
special feature
|
Comments Off

on The Torchmen Quartet prove "Faithful" after almost 50 years
Written by SGN Scoops Staff on July 17, 2014 – 8:21 am -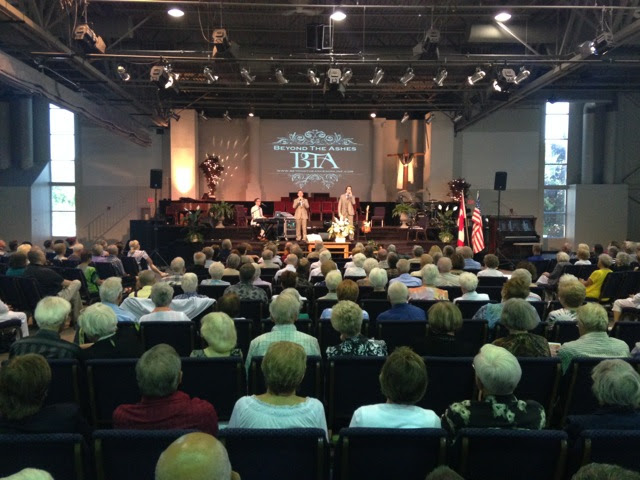 Nashville, TN (July 16th, 2014) – Beyond The Ashes made their very first Canadian concert appearance last month.  The group, who has traveled and sung all across the United States, had yet to take their ministry across the border until now.  The trip proved to be an amazing success and the guys look forward to many more opportunities to visit and sing in the Great White North.
Concert promoter, Richard Daniel, of the Henley Christian Music Festival expressed,  "I have never seen a better first set by a Southern Gospel group. Their harmony was impeccable, their stage presence was welcoming, their instrumentation was spot-on, and their love for the Lord was truly sincere.  They blessed us with 55 minutes of music during their first set alone."
But, the story gets more interesting.  Daniel continues, "As the first set was wrapping up we experienced a power outage and the alarms went off!  It's never a dull moment at the Henley.  With the safety of those in attendance at hand, we were forced to evacuate the building until we could determine the root cause of the electrical outage and the reason the fire alarm sounded.  Turns out an electrical line had come down in the vicinity and affected quite a number of homes and buildings…one being ours."
However, that didn't stop Beyond The Ashes.  Everyone came back in and the concert continued.  Even with no power in the building, the group ministered with an intimate acoustic set around an antique piano.
Daniel concludes, "And the Lord was there.  I had someone approach me and shared they felt the second set was better than the first. I didn't think that was possible!  Two sets, two completely different feels, one amazing God!  Thank you, Lord, for allowing us to host Beyond The Ashes and for allowing us to continue to steward this ministry for your Glory and Praise."
Beyond The Ashes' tenor singer and ministry leader, Anthony Facello, shared, "We had an absolutely fantastic first tour to Canada.  The scenery was beautiful and more than that the people greeted us with warm hearts and spirits of expectation.  We are already scheduled to return in 2015 and we can't wait."
Baritone, Tyler Vestal, adds "I loved going to Canada for the first time.  The people were so warm and friendly and loved the style music we did.  I cannot wait to go back next year."
Tags:
Beyond the Ashes
,
canada
,
Canadian appearance
,
Christian artists
,
gospel music
,
Henley Christian Music Festival
,
Ontario
Posted in
announcements
|
Comments Off

on Beyond The Ashes Impacts Canadian Audiences
Written by Scoops Staff on November 26, 2010 – 8:56 pm -
Special feature by Lorraine Walker
The Canadian Thanksgiving holiday has traditionally been known as a Celebration of Harvest. Occurring earlier in the year than the United States' holiday, the Canadian Thanksgiving has been celebrated in my country regularly since 1879. In 1957, it was instituted as a national holiday with the following declaration of Canadian Parliament: "A Day of General Thanksgiving to Almighty God for the bountiful harvest with which Canada has been blessed – to be observed on the 2nd Monday in October."
The very first Canadian Thanksgiving was held in 1578, 43 years before the pilgrims gave thanks in Plymouth, Massachusetts. Martin Frobisher, an explorer trying to find the illusive Northwest Passage for trade, returned safely to Newfoundland and held a feast to celebrate his homecoming. Prior to this time, the First Nations of Canada held festivals of thanks, and later, French settlers began to share their Thanksgiving Festivals with the First Nations. Thanksgiving has historically been a time of thanks and rejoicing with friends and neighbours.
Traditionally, Canadians make the most of the entire weekend and often family gatherings occur on Saturday or Sunday as well as the statutory Monday holiday. Sunday morning services at churches across Canada are times of praise for the harvest and sanctuaries are often decorated with produce, grains and coloured leaves.
My early memories of Thanksgiving revolve around family, friends and of course, food. A turkey with all the trimmings is the most common meal and of course, pumpkin pie for dessert. For those of us who are not pumpkin-eaters, each family has their own alternatives, but our family usually serves cheesecake!
This year, I had the privilege of sharing a Thanksgiving meal held for the ladies and children at a Women's Shelter. I was humbled once again by the sheer bounty of food, which mirrored the bounty of gifts given to us by our God. I ate with women who literally have nothing but were able to partake of a wonderful meal with their children because of the generosity of the donors of our Mission. We are so blessed in my Country. As we get more secularized, I pray that the basic traditions of this wonderful holiday are never lost and that somewhere at this time of year, God's children will be thanking Him for every good and perfect gift.

Tags:
canada
,
sgm radio
,
thanksgiving
Posted in
special feature
|
Comments Off

on Thanksgiving in Canada