Written by SGN Scoops Staff on July 17, 2011 – 5:00 pm -
Nashville, TN (July 17, 2011) —- Centricity Music artist Andrew Peterson will bring his thought provoking lyrics and
storytelling when he joins Steve Curtis Chapman's upcoming fall tour, Song & Stories, presented by Show HOPE.  The 24-city tour will run September 29-November 3, 2011 and will also feature Chapman's labelmate Josh Wilson.  The concept of the tour is a comfortable one for Peterson, as it will feature individual artist segments with a collaboration finale of all three artists "in the round," which is sure to be a once-in-a-lifetime treat for audiences.
"I can't think of a tour I'd rather be a part of," says Peterson. "I've long admired Steven (can I call him Steven? Really?), and it's a huge honor to share the stage with him."
Peterson is a tour favorite and his performances are a hit whether in a theater, church or arena.  His songs and stories evoke the wonder and beauty of everyday life and resonate with fans in multiple genres of music.  His current CD, Counting Stars, is the highest selling album of his career and debuted at #1 on iTunes and #6 on Billboard magazine.  The Top Ten single from the project, "Dancing In The Minefields," remains a popular song and video with over 500,000 views online.
Peterson is also a master storyteller with the written word, as he has published three books in the Wingfeather Saga series.   The second book, North! Or Be Eaten won the 2010 Christy Award for Young Adult Fiction and the third installment, The Monster In The Hollows is already being hailed a classic after releasing in May.  According to Examiner.com, "The storyline grabs you from the opening line and doesn't let go until the 'I didn't see that coming!' twist of an ending. Be forewarned; don't start this book if you don't have a full weekend set aside." The fourth and final book of the series will release in 2012.
As if all of this creativity activity doesn't keep Peterson busy enough, he will host the second annual Hutchmoot conference in Nashville September 22-25, 2011, which sold out in six hours!   This year's event will once again spotlight live music, great food and a series of discussions centered on art, faith, and the telling of great stories across a range of mediums.  The special guest will be the New York Times best-selling author, Sally Lloyd-Jones, who wrote The Jesus Storybook Bible.
Tags:
andrew peterson
,
Centricity Music
,
Christian News
,
Josh Wilson
,
New York Times
,
Steve Curtis Chapman
Posted in
christian entertainment
,
Christian interest
|
Comments Off

on CENTRICITY MUSIC ARTIST ANDREW PETERSON TO JOIN STEVEN CURTIS CHAPMAN FALL TOUR SONGS & STORIES PRESENTED BY SHOW HOPE
Written by Scoops Staff on June 8, 2010 – 12:23 pm -
New CD Streets July 27, 2010 And Features 12 New Songs From Peterson
Nashville, TN (June 7, 2010) —- The eagerly-awaited new album from singer/songwriter Andrew Peterson, Counting Stars, will release July 27, 2010. The CD, produced by the artist's long-time collaborators, Ben Shive and Andy Gullahorn, is the second project from Peterson to be released by Centricity Music.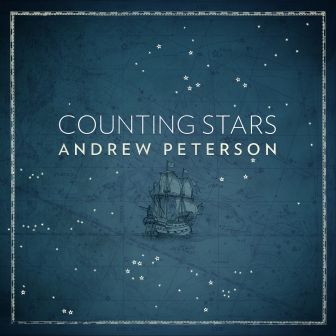 "We at Centricity Music feel like it is such a privilege to partner with Andrew Peterson," says Steve Ford, Vice President of Sales/Marketing, Centricity Music.  "When he delivered 'Counting Stars,' it reminded the entire staff of why we love Andrew.  The twelve finely crafted songs are produced in a way that draws the listener into a place of revelation, a place where you see your life through Andrew's eyes. This is a gift few songwriters have and that's why we are excited about 'Counting Stars.'"
The bulk of material for Counting Stars was recorded within eight days in Washington State during January 2010, as Peterson camped in a recording studio with Shive, Gullahorn, Gabe Scott and engineer, Todd Robbins.  They loaded up their guitars, hammered dulcimer, accordion, dobro and banjo, flew from Nashville to the Northwest and started collaborating.  The twelve new songs were written over a two-year period by Peterson, who is one of the most respected songwriters in several genres of music.  Counting Stars gives intimate glimpses of everyday life that is so important to everyone's heart….family, friendship, community and home.
The first single from the new album is "The Reckoning," which has just gone for radio adds and is already receiving airplay from such stations as, KCRN/San Angelo, TX and KNLB / Phoenix, AZ.  Peterson wrote the song while sitting on the porch of his home outside of Nashville when a severe thunderstorm was rolling into the area.
"I love the humility that a big, dangerous storm system gives us," Peterson explains. "Everyone remembers they're quite small and powerless in the scheme of things. In the twenty-first century, with jumbo jets and air conditioning and high-speed internet, we still sometimes have to run for our lives and hide in the closet under a blanket."
"Dancing In The Minefields" is already becoming a favorite tune from the CD, as it is a thought provoking song that despite the title is a positive love song. And we're dancing in the minefields/We're sailing in the storms/This is harder than we dreamed/But I believe that's what the promise is for. "World Traveler" addresses the wander-lust that lives in all of us and lets us know that the grand adventure can be in our own backyard. "In The Night" celebrates how hope lives on even through our daily pain and struggles, while "Fool With A Fancy Guitar," reminds us that we are all priests who live in the Kingdom of God.
"The title Counting Stars ties the themes of relationship and hope together in the hope of God's promise to Abraham," says Peterson.  "We're a part of the cloud of witnesses, passing the promises of God to our children and their children, building this Kingdom that has no end."
Tags:
andrew peterson
,
ccm
,
Centricity Music
,
new music
Posted in
new music
|
Comments Off

on INGER/SONGWRITER ANDREW PETERSON TO RELEASE HIS SECOND PROJECT ON CENTRICITY MUSIC….COUNTING STARS
Written by Staff on January 9, 2010 – 6:26 am -
 
NEW PROJECTS COMING UP THIS YEAR INCLUDE; ME IN MOTION, SIXTEEN CITIES, HIGH VALLEY, ANDREW PETERSON
AND DOWNHERE
 
Nashville, TN (January 8, 2010) —– One of the most respected labels in the Christian genre, Centricity Music, reaches the landmark of five successful years in 2010.  The prestigious and innovative label was started in October 2005 with one artist, Jaime Jamgochian, and has quickly grown with ten artists on their label that includes; Downhere, Andrew Peterson, Jason Gray, Lanae' Hale and Matt Papa.
 
"I guess a lot of folks thought we were crazy at the time we started Centricity Music and rightly so," says John Mays, Vice President, A&R, Centricity Music.  In 2005, in the middle of the worst time in the history of the music business, I think there were times we thought we were crazy too! But God was leading and we did our best to remain faithful in those foundational days. Now, five years later, with the blessing of a staff and roster that I never dreamed we would be able to have, I'm happy we can look back and see that all of our ideas, strategies, successes and failures have all been used by God to help us toward accomplishing our mission, of enabling our artists to create life-changing experiences for the world."
 
Gearing up for their five-year anniversary, Centricity will be introducing three new artists, Me In Motion, Sixteen Cities and High Valley, while releasing new projects from Andrew Peterson and Downhere this year. 
 
Me In Motion – releases their first self-titled Centricity album March 23rd and their current single, "Losers," is already at #28 and climbing on the CHR chart.  The song is a banner for anyone who has felt rejected by their peers and was immediately embraced by audiences on the Newsboys fall tour, which featured Me In Motion.  The group is now gearing up to hit the road with Red Pillar later this month.  Me In Motion played an incredible 165-dates in 2009.
 
Sixteen Cities – a popular northwest band, Sixteen Cities releases their debut self-titled CD April 20th and their song "Sing Along," will be playing  nationally in several name-brand stores, including Gucci, Nike, Prada, Hollister & AE early this year.  The group's ministry focuses on the unchurched in public high schools and the band was formed while they were still in high school.  This means they have become tour veterans in their early twenties and they have been on the road with such acts as Kutless, Building 429, Fireflight and Sanctus Real.
 
High Valley – this trio of Canadian brothers has already generated quite a buzz after their performance in the Centricity suite during GMA last year.  Known for their three-part harmony, high-energy stage performances and combining the best of the contemporary Country sound with faith based lyrics, High Valley has already demonstrated a strong mass appeal.   They have played with such high-profile artists as Michael W. Smith and Carrie Underwood, and made their debut performance on the CCMA Awards show in the fall with Country singer/songwriter, Paul Brandt.  Their self-titled debut full-length project releases May 18th. 
 
Andrew Peterson – one of the most respected singer/songwriters in the business will release his second album on Centricity Music, July 27th.  His critically acclaimed first CD on the label, Resurrection Letters, Volume II, received a 4 ½ stars review from Christian Single magazine and JesusFreakHideOut.com says, "….he is never miserly when it comes to producing quality albums that are honest, poignant, and relatable."  The CD resulted in a Top 20 hit with, "The Good Confession," and, "Invisible God," has just been released and is climbing the charts.  We can expect more vibrant music arrangements and thought-provoking lyrics on the new forthcoming album from one of Christian music's favorites.
 
Downhere – Last year proved a significant time for this well-respected group.  They dominated the charts with their hits, "Hope Is Rising," "My Last Amen," and the ever popular, "How Many Kings."  They also released their first Christmas project, How Many Kings: Songs For Christmas, that the Tennessean said, "…the album shines with the thoughtful touches of a band that refused to make a sing-by-numbers holiday disc." The band also added NINE CCMA Awards, out of ELEVEN nominations, to their accolades.  Downhere will head back into the studio this spring and will release their fourth CD on Centricity Music this winter.
 
The popular singer/songwriter, Jason Gray, had his CD, Everything Sad Is Coming Untrue, listed as the #8 best faith-based album for 2009 on the Top Ten critic's list for CCM Magazine.  Matt Conner said, Most unheralded songwriter in the entire industry shines again.  Gray spent most of the year on the road supporting the project, as he played 150-dates across the country with such acts as Sanctus Real.  He also visited thirty-three radio stations in the latter half of last year promoting of his new single, "More Like Falling In Love."  Jason will join WAY-FM's and World Vision's Speaking Louder Than Before 2010 Tour with Jeremy Camp, The Afters and Chasen on January 20th in Charleston, South Carolina. 
 
Lanae' Hale closed out 2009 being selected as the #7 best faith-based album for 2009 on CCM Magazine's Top Critic list.  Andrew Greer said, Creative production. Unique voice. Stellar songs. Loads of talent. The best new artist debut of the year by far.  Hale's talent shined on the recent Bethlehem Skyline Tour with Downhere and Jason Gray.  She introduced a new Christmas song, "Starving Artist Christmas," that delighted fans on the fifteen-date tour.  Misconception that musicians have money 'cause I've got two jobs and a full-time honey/I can't even feed a cat because my husband doesn't even have an ounce of fat.  Hale remains one of the most unique female artists in the Christian genre and new exciting announcements will be coming later this year.
 
Matt Papa released his debut project on Centricity Music, Your Kingdom Come, last summer and currently his single, "Open Hands," is New & Active on the CHR chart and #2 on the national radio outlet, Air1.  The unique talent of Papa generated great reviews and appearances on Daystar's, Celebration and Soundcheck. On Course Magazine said, "Surprisingly, Matt brings purity and edginess to his music that I found instantly appealing yet familiar. This guy has talent."  After playing 120-dates last year, Papa will be touring the southeast in the first quarter of this year.
 
For more information on all Centricity Music artists please visit, www.centricitymusic.com. 
 
Centricity Music is an independent recording and publishing company based in Bellevue, Washington and Nashville, Tennessee.  The company's mission is to enable our artists to create
life-changing experiences for the world. Centricity Music's artist roster includes Jaime Jamgochian, Downhere, Jason Gray, Daniel Kirkley, Lanae' Hale, Andrew Peterson, High Valley, Matt Papa,
Sixteen Cities and Me In Motion.
###
Tags:
Centricity Music
,
High Valley
Posted in
breaking news
|
Comments Off

on CENTRICITY MUSIC REACHES FIVE-YEAR COMPANY LANDMARK IN 2010