Written by Staff on September 4, 2019 – 2:27 pm -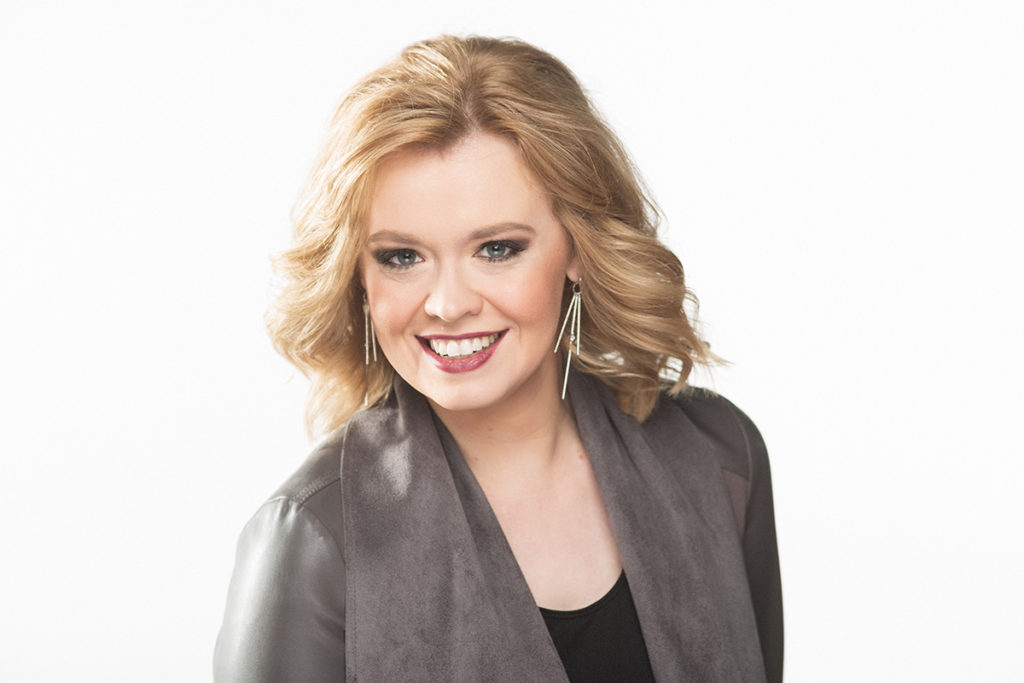 Arden, North Carolina (September 4, 2019) — On the heels of two new releases, Lauren Talley (website HERE) has joined the Gospel Music Association Hall Of Fame Nominations Committee, joining a prestigious list of industry veterans and fellow artists.
In her role,  Lauren Talley will help choose Hall Of Fame candidates from the Southern Gospel industry for GMA voters' consideration. The other committee members are Ed Harper (The Harper Agency), Dusty Wells (New Day), Charlotte Ritchie (artist), Elliott McCoy (artist), Gerald Crabb (songwriter), Becky Isaacs Bowman (artist), and Rick Sandridge (industry).
The 2020 class will be announced January 15, 2020 with the official GMA Hall of Fame induction ceremony taking place May 6, 2020.
"I love history, and I want to be part of it. The icons of this music poured so much into me as a young artist, and to be able to help honor them and publicly appreciate what they've accomplished is quite an honor for me," Talley says.
In August, Talley released two collections of music inspiring heartfelt worship and praise of the Lord. Each features her powerful and soulful voice.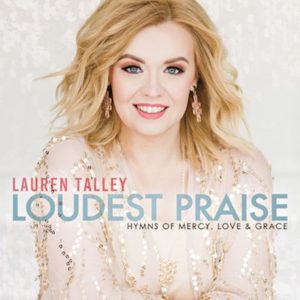 Talley brings her talent to beloved hymns, reminding of their timelessness and eloquence for worship on Loudest Praise: Hymns of Mercy, Love And Grace.
The album begins with the hopeful "Come Thou Fount Of Every Blessing," and Talley inspires awe of Christ with her vocals. Serving as inspiration for the album's title, this hymn sings of God's never-ceasing mercy and grace.
Other hymns include "When God Dips His Love In My Heart," "When I Survey The Wondrous Cross," "What A Friend We Have In Jesus" and "Does Jesus Care." Loudest Praise closes with the first single, "His Eye Is On The Sparrow."
Talley's voice fits the power of the cherished hymn's lyrics, as the song builds to a mighty end.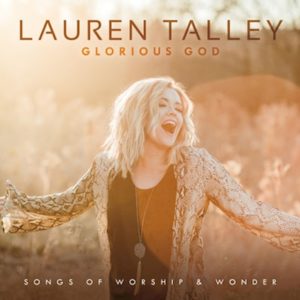 On Glorious God: Songs of Worship and Wonder, Talley captures the awe Christ inspires on this album of some of today's most loved worship songs, beginning with the first song which inspired the title.
"Glorious God" shares the creation story and recognizes all God created to give us the lives we live. It's a reminder that God's presence is all around, everywhere we go.
Other songs include "What A Beautiful Name/Agnus Dei," with Talley backed by the Voices of Lee Choir; "Let The Glory Come Down," featuring Amber Eppinette and Chris Allman; "Mercy Tree," "The Heavens Are Telling," "Jesus At The Center" and "Jesus Only Jesus."
Glorious God closes with "A Wretch Like Me," a worship song penned by Talley and based on the lyrics of "Amazing Grace."
While the music of these two albums is different in feeling, both accomplish the same thing: A moving sense of God's presence and His role in our lives.
Listen to Loudest Praise: Hymns of Mercy, Love And Grace HERE and Glorious God: Songs of Worship and Wonder HERE.
About Lauren Talley
Lauren Talley is one of Christian music's most dynamic talents and has inspired a generation of young people to serve the Lord.
Born into a rich musical heritage, Lauren sang her first solo at age 2 when she toddled onto the stage, interrupted her family's concert and announced she wanted to "thing." Lauren went on to make her own mark on the gospel music world as a member of her family group, The Talleys, with whom she received numerous awards, including a 2015 Dove Award for their song, "Hidden Heroes." Lauren's lead vocals shine on eleven number one hits for the group.
She has recorded five solo albums, her most recent being the highly touted 2017 release, "The Gospel," which displays her skills as singer, producer, and songwriter. She is also the author of "Songs In The Night," a companion devotional book to her 2010 album of the same title. Lauren performs solo concerts and is a featured singer and speaker for many women's conferences and special events across the country. She is frequently recognized for her appearances on numerous Gaither Homecoming videos and concerts, RFD-TV's "The Music City Show" and "In Touch" with Dr. Charles Stanley. In 2014 she was awarded an honorary doctorate degree in Worship Arts from John Wesley University.
When not traveling or recording her own music, Lauren often serves as studio background singer and producer for other recordings and works with emerging artists as a voice and performance coach. Lauren is a busy lady but always finds time to cheer on her beloved Tennessee Volunteers, drink sweet tea and spend time laughing with family and friends.
"My job as a communicator is to give people the truth of the Gospel," Lauren says. "I want people to know that Jesus is everything – He's the Answer the world is searching for, He's the solution to all problems and He's the only One in whom we have real hope. He called me to give people His message when I was 12 years old, and fulfilling that call is all I've ever really wanted."
About Crossroads:
Crossroads is a market leader in the Southern Gospel, Bluegrass, and Americana fields. Established in 1993, following the combination of Horizon Music Group and Sonlite Records, Crossroads now operates several divisions including Crossroads Label Group (Horizon Records, Sonlite Records, Mountain Home Music, Skyland Records, Pisgah Ridge Records, Crossroads Records, and Organic Records), Crossroads Distribution, Crossroads Radio Promotions, Crossroads Publishing Group and Crossroads Recording Studios. Led by a strong executive team of Christian music and Bluegrass music veterans, Crossroads combines cutting-edge technology with creative innovation to connect fans with our artists' life-changing music.
For more Gospel music features read the latest SGNScoops Magazine HERE.
Download SGNScoops Magazine In PDF 
Here
Find SGNScoops Magazine On Facebook 
Here
Listen To Todays Gospel Music 
Here
Tags:
Becky Isaacs Bowman
,
Charlotte Ritchie
,
crossroads
,
Dusty Wells
,
Ed Harper
,
Elliott McCoy
,
gerald crabb
,
Gospel Music Association Hall Of Fame Nominations Committee
,
Lauren Talley
,
Rick Sandridge
Posted in
announcements
|
Comments Off

on Lauren Talley joins the Gospel Music Association Hall of Fame Nominations Committee
Written by Staff on January 30, 2019 – 10:29 am -
Rock Hill, S.C. (JANUARY 30, 2019) – Andrew Brunet and Friends is celebrating recent growth as the radio show now is a nationally syndicated show, reaching millions of listeners across the nation with the sound of Southern gospel music.
"Our goal is to reach the lost and dying souls in the world with the message of hope and encouragement, to share that no matter what trial they face, Christ is with them and will supply their needs according to His riches in glory," shared Andrew Brunet.

It all began in 2014 with a vision to share encouragement and to carry the light of Jesus in a lost and dying world.

Andrew said, "I started listening to gospel music by the Inspirations and the Gaither Homecoming Hour, among others, when I was 14 years old. I knew that this was the industry I wanted to become a part of. God put me in touch with a special friend in Alabama over at WZCT, Rejeana Leeth, who was willing to give this boy a shot at trying to spin the best of gospel music and the rest is history."
Major artists such as Gordon Mote, Rodney Griffin of Greater Vision, Les Butler, Charlotte Ritchie, Bradley Walker and Buddy Liles have made appearances on the show, and there is a strong lineup of artists on the calendar for 2019.
Artists wishing to schedule an appearance can call Andrew Brunet directly at (803) 374-4069 or send an email to abrunetandfriends@gmail.com
Listeners can tune in Monday through Friday from 10am to Noon on www.bikertv.org to watch the broadcast live online or can tune in to the radio broadcasts listed below:
Saturdays: 7:00 a.m. (PST) – RacMan Christian Radio
Sundays: 10:00 a.m. (CST) – WLDX – The River; 1:00 p.m. (EST) – AM 760 WCIS; 4:00 p.m. (EST) – Notespire Radio; 7:00 p.m. (EST) – Star99 Radio
Mondays: 4:00 p.m. (EST) – Appalachian Gospel Radio
Wednesdays: 6:00 p.m. (EST) – RacMan Christian Radio; 8:00 p.m. (EST) – WBNI Radio
For more Gospel Music news Read the latest issue of the SGNScoops Magazine HERE.
Download SGNScoops Magazine PDF 
Here
Find SGNScoops Magazine On Facebook 
Here
Listen To Today's Gospel Music 
Here
Tags:
Andrew Brunet
,
Andrew Brunet and Friends
,
Bradley Walker
,
Charlotte Ritchie
,
gordon mote
,
gospel music
,
Greater Vision
,
Les Butler
,
Rodney Griffin
,
southern gospel
Posted in
announcements
,
artists
|
Comments Off

on ANDREW BRUNET AND FRIENDS BECOMES NATIONALLY SYNDICATED
Written by Staff on December 10, 2016 – 3:28 pm -
The Gaither Christmas Homecoming Tour 2016 stopped in Nashville, TN at Lipscomb University on December 8th.
SGNScoops roving photojournalist, Craig Harris, was at the venue to capture every minute of excitement.
Many Gaither favorites were there including the Gaither Vocal Band, The Martins, The Isaacs, Buddy Greene, Landy and Joy Gardner and the Christ Church Choir, Russ Taff, Charlotte Ritchie, Gene McDonald, Matthew Holt and Kevin Williams.
We hope you enjoy the many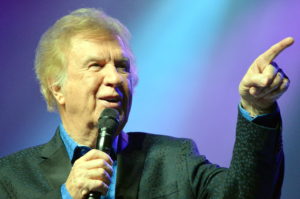 faces of the Christmas Homecoming Tour 2016!
More About Bill Gaither
An avid fan of gospel quartets throughout his childhood, Bill founded his first group, The Bill Gaither Trio, in 1956, while he was a college student. He began teaching English in 1959 because his musical aspirations couldn't support him full-time… yet. In 1962, Bill did one of the best things he has ever done. He married Gloria Sickal, who became the best writing partner Bill could have found anywhere. The couple spent the first five years of their married life juggling full-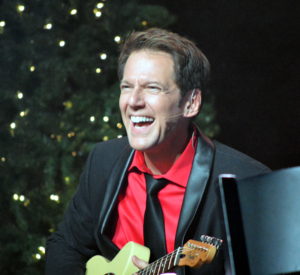 time teaching jobs, writing, singing, recording and publishing until music became their full-time career in 1967.
The collaborations of Bill and Gloria have resulted in more than 700 popular gospel songs, including the hymnal standard "Because He Lives," "The King Is Coming," "Something Beautiful," "He Touched Me," "It Is Finished," "There's Something About That Name," "Let's Just Praise The Lord," and "Loving God, Loving Each Other." Bill and Gloria have collectively won eight Grammy Awards and more than a dozen nominations, and they have received more than two dozen Dove Awards from The Gospel Music Association, earning the title of Gospel Music Association's "Songwriter of the Year" eight times.
After decades of unprecedented musical successes, Bill and Gloria still operate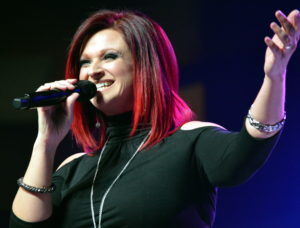 their business from Bill's hometown of Alexandria, Indiana, and they dwell in the same home in which they raised their family. They live a lifestyle focused on investing their resources into eternal things.
"Our calling is not just making music… but communicating the reality of Christ. That might mean birthing a song about Him or simply offering a cup of cold water to someone who needs it. Gloria and I have never claimed to have God figured out, but we do know that if He could use two imperfect people like us to communicate His Truth to the world, He can use everyone sitting in the audience, working on our staff or singing with us. If we have done anything right over the years, I hope we have built bridges where people could connect with God and with each other.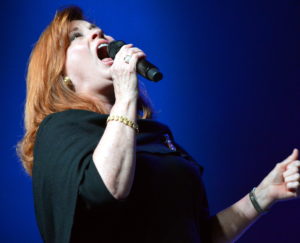 That is what started us writing and what will keep us going for the rest of our lives."  [From Gaither.com December 10, 2016. http://gaither.com/artists/bill-gaither]
For more Gospel music news, click here.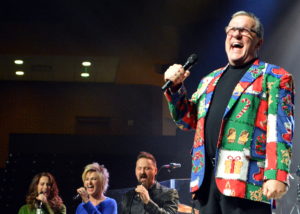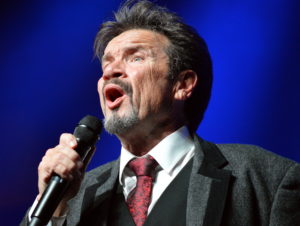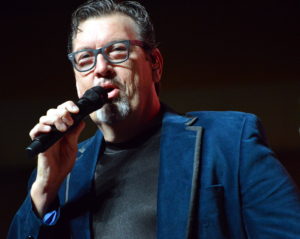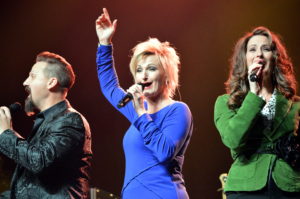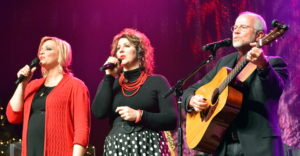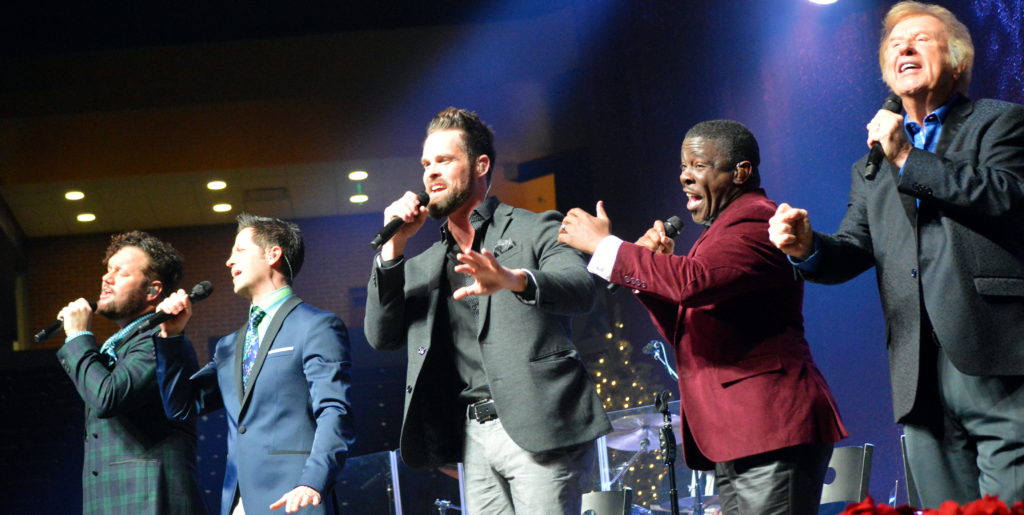 Tags:
Buddy Greene
,
Charlotte Ritchie
,
Gaither Vocal Band
,
Gene McDonald
,
Kevin Williams
,
Landy and Joy Gardner and the Christ Church Choir
,
Matthew Holt
,
russ taff
,
the isaacs
,
The Martins
Posted in
announcements
,
artists
|
Comments Off

on SGNScoops attends Gaither Christmas Homecoming
Written by Staff on September 23, 2015 – 4:07 pm -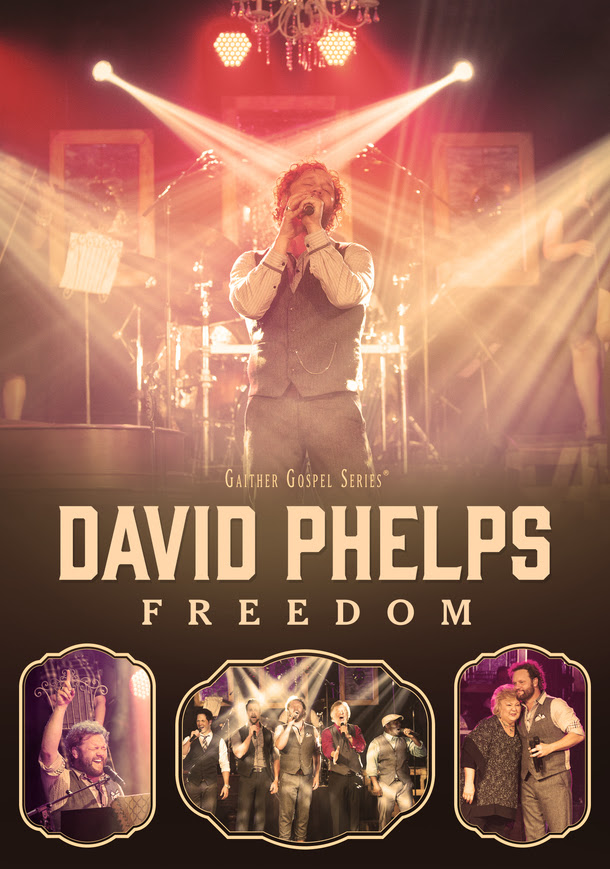 New Performance DVD Features Guest Appearances from the Gaither Vocal Band and Charlotte Ritchie
NASHVILLE, Tenn.—September 14th, 2015–GRAMMY®-nominated, classically-trained tenor David Phelps has just released an all-new DVD entitled Freedom (Gaither Music Group) featuring the songs from his latest recording, Freedom.
Recorded in The Phelps' barn just south of Nashville, Tennessee, and produced by Phelps, the LIVE concert DVD captures the powerhouse vocals one might expect from this three-octave, "who's who of vocalists," who was backed by a nine-piece band in addition to background vocals from acclaimed recording artist Charlotte Ritchie and his daughters, Callie and Maggie Beth.
Phelps also brought to the stage reverent, acoustic moments portraying some of the down-home musical styles found on the companion Freedom audio recording. Whether sitting at the piano singing a vulnerable lyric such as "What I Need Is You," penned by him, or energizing the crowd with the driving, country-flavored "Little White Church" or performing his own rendition of the gospel music classic "We Shall Behold Him," he poured himself into the evening, invigorated by an enthusiastic crowd of friends and longtime fans.
Those audience members were delighted to hear "Water," a new song penned by Gloria Gaither and Phelps, sung as a duet of David and daughter Maggie Beth; and the room cheered as the rest of the Gaither Vocal Band–Bill Gaither, Wes Hampton, Adam Crabb and Todd Suttles–took the stage to join Phelps for the toe-tapper "When We All Get Together with the Lord."
Phelps' vibrato rang out on the title cut of the new video, Freedom, as well as the stirring ballad written by Phelps for his daughter's graduation ceremony, "Your Time Will Come," which featured the Bethel University Drum Corps from McKenzie, Tennessee. Vocal Authority, also from Bethel University, was on hand to join Phelps throughout the evening, lending their poignant sound to the project's arrangements.
The evening ended in celebration as the entire audience followed Phelps, his band, choir and drum corps down the aisle and out the front door, singing and clapping to his soulful, Cajun-based adaptation of the gospel music standard "When the Saints Go Marching In."
Phelps, one of the most recognized artists on the Gaither HOMECOMING Series, sat down with longtime friend and mentor Bill Gaither for a behind-the-scenes interview for the video which will be positioned heavily at retail, via catalog placements and through a direct TV campaign, beginning this month on networks including Dish TV, DIRECTV, AT&T Uverse, PBS, GaitherTV, TBN, FamilyNet, CTN, GMTN, Guardian, Liberty, RFD, TCT and TLN. The campaign will also air in Canada on Vision TV, The Miracle Channel, Grace TV and CTS.
Freedom is distributed through Capitol Christian Distribution and is now available throughout general market stores and the Christian marketplace in addition to online retailers including iTunes, Amazon and www.gaither.com.
For a preview of the new DVD visit: https://www.youtube.com/watch?v=l9bE-FEiVEA.
For further information regarding David Phelps, please visit www.davidphelps.com, www.facebook.com/davidphelps or @DPhelpsMusic.
Freedom DVD Song List:
01. I'm Coming Home
02. Who Do You Say That I Am
03. Rain
04. Ghost Town (Freedom)
05. Little White Church
06. Ain't No Grave
07. Heaven's Shore
08. Doxology (Featuring the Phelps' children)
09. The Lily
10. Holy (Sanctus)
11. Revelation Song (Featuring Charlotte Ritchie)
12. If You See My Savior (Featuring Charlotte Ritchie w/ Maggie Beth and Callie Phelps)
13. Water (Duet with Maggie Beth Phelps)
14. When We All Get Together With The Lord (Featuring the Gaither Vocal Band)
15. Your Time Will Come
16. What I Need Is You
17. We Shall Behold Him
18. When The Saints Go Marching In
ABOUT DAVID PHELPS
David Phelps is blessed with a vocal instrument unlike any other. The multi-platinum artist first entered the national spotlight when he joined the Gaither Vocal Band and has since performed at Carnegie Hall, the White House and many other halls and churches around the world. Phelps has won two GRAMMY® Awards and four GMA DOVE Awards. His latest work, Freedom, showcases his talents as a singer, songwriter, arranger and producer. Phelps lives outside of Nashville, Tennessee, with his wife, Lori, and four children: Callie, Maggie Beth, David Grant and Coby.
Tags:
Adam Crabb
,
bill gaither
,
Charlotte Ritchie
,
david phelps
,
freedom
,
Gaither Vocal Band
,
Gloria Gaither
,
Todd Suttles
,
Wes Hampton
Posted in
announcements
,
artists
|
Comments Off

on Award-winning Tenor DAVID PHELPS Takes His All-NEW Recording FREEDOM to the Stage for a LIVE DVD
Written by SGN Scoops Staff on May 1, 2013 – 8:45 am -
Hendersonville, TN – Daywind Music Group is pleased to announce the signing of Ricky Free to its roster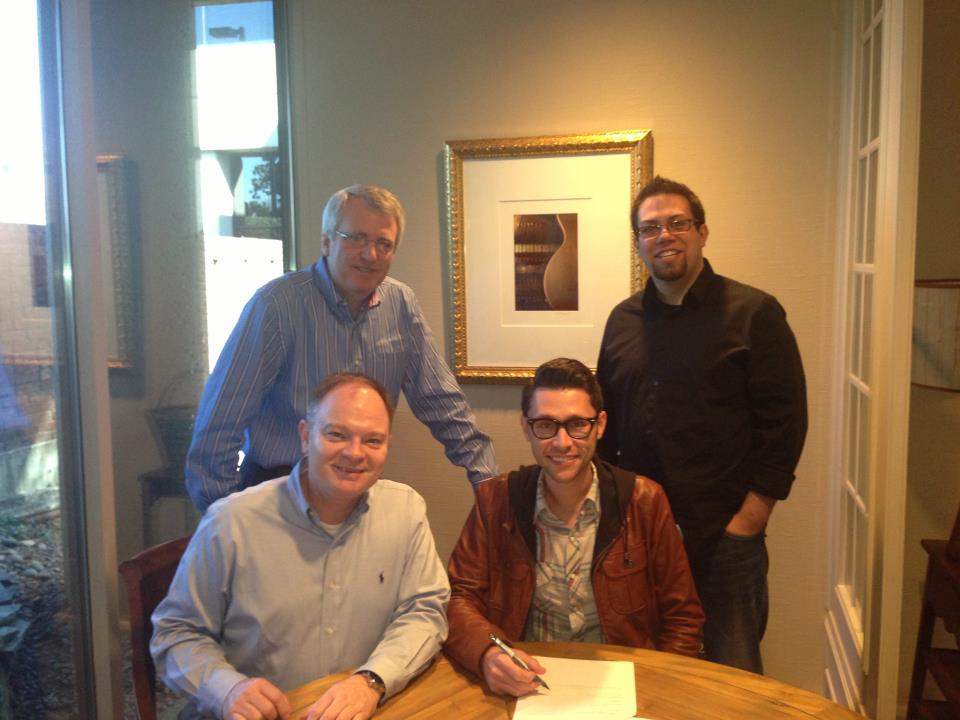 of exclusive songwriters. In Christian music since the age of 15, Ricky has 15 years and 3000 shows under his belt as a professional drummer, and many album and song credits as a songwriter, producer, and studio musician. His songwriting and producing has been recognized with multiple GMA Dove® Award nominations and several #1 and Top 10 songs. Ricky has had songs performed by Mandisa, Brian Free & Assurance, After Edmund, Crawford Crossing, Charlotte Ritchie and many others. He resides in Nashville, TN with his wife, Kelly, and son, Jude.
Rick Shelton, Vice President of Music Publishing, issued this statement, "Ricky Free is one of those "triple threats." He is a fantastic drummer. He is a creative and experienced producer. His songs are fresh and inspired. We are so very excited and grateful that he is bringing his talents to Daywind Publishing."
Ricky Free commented, "I'm so grateful to be just a part of Daywind Publishing. They are simply the best in the business, and I'm really looking forward to the years ahead as one of their writers."
Since its inception in 1995, Daywind Publishing has emerged as a premier source of new songs for the Southern Gospel, Church Print/Choral and CCM markets. DP boasts of an exclusive staff of 15 prestigious songwriters including Sam Tinnesz, Kenna Turner West and Jason Cox. Daywind Publishing has received more than 100 Singing News Song of the Year and Gospel Music Association Dove® award nominations including the Dove® award for the 2011 Song of the Year. Forty-three Daywind songs have achieved national number one status. BMI awarded DP's Christian Taylor Music, Christian Music Publisher of the Year 2002 and 2004. Daywind Publishing is where songs rise.
Tags:
After Edmund
,
Brian Free & Assurance
,
Charlotte Ritchie
,
Crawford Crossing
,
daywind
,
mandisa
,
Ricky Free
,
southern gospel
,
Southern Gospel Music
,
Southern Gospel News
Posted in
announcements
|
Comments Off

on Daywind Publishing and Ricky Free enter into Exclusive Songwriting Agreement
Written by SGN Scoops on December 6, 2012 – 10:25 am -
"Simply Charlotte"
Published in 2012 August Edition'
by Jennifer Campbell And Rhonda Frye
Some people are born with an innate love of music.  Others are blessed with the talent to be able to share their musical talent with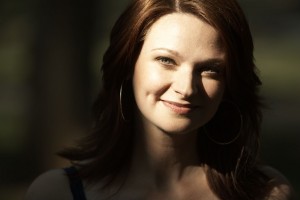 thousands of people.  A select few have the gift of being able to also balance the responsibilities of being a wife and mother, all the while maintaining a busy schedule of traveling across the country.  This artist is no stranger to Southern Gospel Music, having traveled with the Nelons for five years and then Jeff and Sheri Easter for 12 years.  Now, she enjoys her third year traveling as a soloist.  This special individual is none other than Charlotte Ritchie.
Charlotte says of her solo career, "I'm really enjoying the solo thing.  It is different, but I am enjoying it!"  She said you don't really realize how much planning goes into everything, since you are the only one planning your set, talking on stage, and seeming as if you have done all of this for years.  She said, "It's a LOT!  You can't turn to anyone else for help; you just have to do it."
Even so, she has definitely risen to the challenge.  People are embracing her with open arms and she is grateful for their support.  "It's really been amazing because even though I've been in the industry for a long time, when you start something new, you're starting over," said Charlotte.  "People have been so kind.   We have just been busy since day one and that's a huge blessing!  We've been very thankful for that."
If you ever have the opportunity to sit down and chat with Charlotte, you'll find out that her heart is as a big as the state of Texas.  Not only that, but her love for God is greater still.  She gives God all of the credit concerning her solo ministry.  "God has opened a lot of doors for us," Charlotte stated.  "That has been our prayer from the beginning.  God, You open the doors for us and we will go!  And He has, so that's what we're doing."  Read more »
Tags:
Charlotte Ritchie
,
christmas music
,
Jennifer Campbell
,
SGNScoops Magazine
Posted in
Christian interest
,
new music
|
Comments Off

on "Simply Charlotte" (Feature Story on Charlotte Ritchie)
Written by SGN Scoops Staff on August 8, 2012 – 9:10 pm -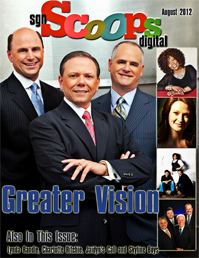 We're serving up another sizzling hot summer issue! This packed August edition unveils the list of the 2012 Diamond Awards Nominees! Also this month, Lorraine Walker, Sandi Duncan Clark, Jennifer Campbell, Charlie Sexton and Laura Kennedy presents the latest happenings in the ministries of Greater Vision, Charlotte Ritchie, Lynda Randle, The Skyline Boys, Jeff Steele and Jaidyn's Call. Look behind the music with Rob Estep as he talks with Ben Storie, and focus on the young with Victoria Shirey as she shines the spotlight on Rebecca Reynolds. Don't miss Rob Patz' Publisher's Point and enjoy a Media Minute with him along with Sylvia Green. Charlie Sexton covers the Lari Goss Celebration and Rhonda Frye catches up with Union Street, Roy Webb and Bruce Taliaferro on the road. Lou Wills Hildreth shares legendary memories, John Mathis Jr. offers a word of encouragement and Laurrette Willis' reminds us to eat healthy! Jeff Hawes shares memories from his home town, and special guest writer, AJ RINALDI offers post-trauma faith sharing tips. We also share our excitement regarding 2 major upcoming events: The National Quartet Convention and Creekside Gospel Music Convention! See what songs are topping the charts and who is releasing new music in this all-digital, all free August Edition! And… Share with your friends!
Download The Magazine Here
Tags:
AJ RINALDI
,
Ben Storie
,
Bruce Taliaferro
,
Charlie Sexton
,
Charlotte Ritchie
,
Greater Vision
,
Jaidyns Call
,
jeff hawes
,
Jeff Steele
,
Jennifer Campbell
,
Lari Goss
,
Lorraine Walker
,
Lou Wills Hildreth
,
LYNDA RANDLE
,
national Quartet Convention
,
Rebecca Reynolds
,
Rob Estep
,
rob patz
,
roy webb
,
Sandi Duncan Clark
,
Sylvia Green
,
The Skyline Boys
,
Union Street
,
Victoria Shirey
Posted in
announcements
,
sgn scoops magazine
|
Comments Off

on August 2012 SGNScoops Magazine
Written by SGN Scoops on July 23, 2012 – 5:36 pm -
Plans are underway for the 42nd Annual Seminole Gospel Sing! The Seminole Music Park, one mile south of Seminole Oklahoma, is the site of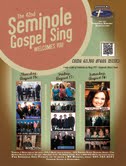 Oklahoma's largest gospel music event, hosted by The Gospel Station Network and the Seminole Gospel Singing Association.
This year's talent line-up is great, with some of the legends of gospel AND several new quality artists, including: The Dove Brothers, The Freemans, The Williamsons, Chris Hester, The LeFevers, The Blackwood Brothers, The Chuck Wagon Gang, Charlotte Richie, Gordon Mote, The Nelons, Masters Voice, Palmetto State Quartet, and Gold City.   Save $10 on Tickets if you buy them before August 13th at www.TheGospelStation.com
Over the years, the Seminole Sing and the Konawa OK Gospel Singing have attracted people from all over the U.S.  – people who love real gospel music – people who believe in the message of Jesus Christ, and love this style of singing.  "We are honored to be working with the association in Seminole to keep this wonderful singing alive and moving forward.  God is working all over the world through Gospel Music and we feel so blessed to be a part of it," said Randall Christy, President of The Gospel Station Network.
Tags:
Blackwood Brothers
,
Charlotte Ritchie
,
chris hester
,
gordon mote
,
palmetto state quartet
,
Seminole Gospel Sing
,
Southern Gospel Music
,
The Chuck Wagon Gang
,
the freemans
,
The LeFevres
,
the nelons
,
The Williamsons
Posted in
announcements
,
gospel events
|
Comments Off

on 42nd Annual Seminole Gospel Sing!