Written by Staff on April 14, 2020 – 8:32 am -
Franklin, Tennessee (April 14, 2020) – Award-winning and Billboard charting singer/songwriter Sherry Anne is set to release her second children's book, 'Quiet Wyatt is a Riot!'. 
'Quiet Wyatt is a Riot!' follows the adventures of a little boy, Wyatt, as readers discover he has a knack for getting into funny, yet mischievous situations. The book officially releases in May and is currently available for pre-sale at SherryAnne.com, with other online outlets (Amazon, Barnes & Noble) available soon. Sherry Anne's first children's book, 'How Are Ya, Arya?', released in the fall of 2019. Both books were inspired by the author's niece and nephew and were illustrated by Chris Strange.
Sherry Anne commented on the inspiration for the books, "At a young age, my niece and nephew lost their mother to cancer and I wanted to write something uplifting to bring joy to them and other children." Both books were written for pre-school and elementary age children.
Sherry Anne produced a children's CD, 'Storytime with Sherry Anne' that contains favorite children's songs such as "Jesus Loves Me", "What A Friend We Have In Jesus", "Kumbaya" and "He's Got The Whole World In His Hand". Audio readings of both 'How Are Ya, Arya?' and 'Quiet Wyatt Is A Riot!', along with story enhancing sound effects are included on the CD.
####
ABOUT SHERRY ANNE: 
Born with a bilateral hearing and speech impairment, Sherry Anne endured bullying and other obstacles to achieve scholastic and athletic awards, a Doctorate of Chiropractic, and to become an elegant singer. Today, Sherry Anne is an award-winning recording artist and songwriter, inspirational speaker, and author  inspiring people of all ages with her message of faith, hope and joy. 
Her "Sherry Anne LIVE!" DVD was a 
Billboard Music Video Sales Chart Top 5
. The vocalist has recently appeared in concerts with
Bill Gaither
 and the Gaither Vocal Band and the Dove award-winning 
Triumphant Quartet
. She has also recently performed at 
Liberty University's Thomas Road Church
.
ABOUT MANSION ENTERTAINMENT: Mansion is a Nashville TN based record label with distribution through The Orchard (a division of Sony Music). Mansion has distributed artist projects in Southern Gospel such as the Sherry Anne LIVE! DVD (Top 5 Billboard Music Video chart), The Griffith Family, The Ark Encounter resident artist Steve Hess & Southern Salvation, Triumphant Quartet, Palmetto State and others, Bluegrass and Country Music genres including the GRAMMY Nominated 'Forever Changed' album by T. Graham Brown (Billboard Album Sales Top 100), "Because You Love Me" by T.G. Sheppard and 'A Bluegrass Tribute To George Jones' by GRAMMY Winner Brad Davis. Mansion has partnered with charting radio singles by Triumphant Quartet, Palmetto State Quartet, Brad Davis, Steve Hess & Southern Salvation, Sherry Anne, The Griffith Family, Tonja Rose and multiple other artists across many formats, including Praise & Worship and the Spanish Market. 
Did you know that you can receive the printed, full-color version of SGNScoops Magazine by subscription? Find out more 
HERE
.
Find SGNScoops Magazine On Facebook 
HERE.
You can download the latest edition of SGNScoops Magazine 
HERE.
Read the latest edition of SGNScoops Magazine online
HERE.
Listen To Today's Gospel Music
HERE
Tags:
Childrens books
,
Christian Books
,
Christian Music
,
gospel music
,
Sherry Anne
Posted in
announcements
,
artists
|
Comments Off

on Sherry Anne Releases Second Children's Book
Written by Staff on November 16, 2016 – 2:56 am -
Grammy Winner's 'Dream Project' Now Available at Lifeway Christian Stores and Independent Retailers
NASHVILLE, Tenn. (November 11, 2016) – Grammy winner Jason Crabb has partnered with New Day Christian Distributers to make his "Jase® the Crabb" Children's book series available to the Christian retail market. Lifeway Christian Stores and independent
retailers will carry the series along with the "Jase® the Crabb" plush figure. The ten-book series follows the Ten Commandments and is a perfect way to teach children the basics of the Bible.
"For as long as I can remember, I've wanted to write children's books. It's been a dream of mine to impact the lives of our most precious gift – our children," says Jason. "Children are precious to us and to God! As a father, I know how important it is for those little eyes to read good, positive, material. The Jase® book series lets the reader know they are something special and that God created them with a purpose! I hope this will touch the hearts of children, parents, grandparents and anyone with a child in their life. All children need to know they are special!"
New Day President, Ed Leonard, comments: "New Day is excited to partner with Jason Crabb on the release of his new children's' books series. These beautifully illustrated books tell great stories about following God's commandments for our lives, and the plush Jase® the Crabb figure is a must for any Crabb fan."
The name of the character, Jase®, holds a special meaning to Crabb. Derived from the initials of his immediate family – J(ason) A(shleigh) S(hellye) E(mma) – the name is also what his late Grandfather would call him. "I would visit my grandfather in the summer months and help him around the farm. I can't even remember how many times I heard him call out to me – "JASE, come on over here and help me out!" – it just seemed like a natural fit and a way to honor my grandfather."
In addition to the ten-book series, children, parents and teachers can log on to 
www.JaseCrabb.com
 where they can print off curriculum, coloring pages, certificates of completion, learn about Jase® University and comment on the books. Along with Crabb, a team comprising of Donna Scuderi and Philip & Tina Morris played an integral role in contributing to the overall foundation and direction of the book series.
Award-winning illustrator Anita DuFalla's vibrant visuals display the heart and soul of Jase® the Crabb and his friends. Anita's clients include McGraw-Hill, Harcourt (Brace), Benchmark Education Company, and the Washington Post among others. "When I saw Anita's work and witnessed her heart for this, I knew God had brought the right person to this project," shares Crabb. "Her creativity and talent have brought my little buddy, Jase®, to life!"
Tags:
Childrens books
,
gospel music
,
Jase Crabb
,
Jason Crabb
Posted in
announcements
,
artists
|
Comments Off

on JASON CRABB PARTNERS WITH NEW DAY TO DISTRIBUTE JASE® THE CRABB CHILDREN'S BOOK SERIES
Written by SGN Scoops on December 5, 2011 – 6:32 pm -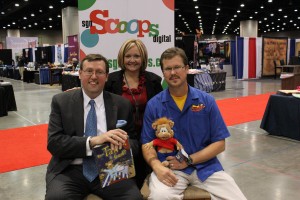 Attention SGNScoops readers! Join in the Holiday fun at SGNScoops! We want you to participate in our "Christmas Traditions" Contest. We're looking for traditions you've grown up with, carry out now and will pass along.  Here's what you do: Email us your favorite tradition and your contact information to connect@sgnscoops.com. The Scoops Staff will choose one winner on Monday, December 19th.
Our winner this year will win author, Phillip W. Rodgers' "Discovering God" series of Children's books. Each of the four autographed books answer important questions about God such as: How Tall is God?,  Does God Celebrate Christmas?,  When Was God Born? and When does God sleep?  The books are designed to encourage a God-centered worldview and focuses on a characteristic of God. The illustrations are colorful and the rhyming text is written in terms children easily understand. Ruth Graham says, "Phillip W. Rodgers' books are delightful-from the engaging illustrations to the clever poetry to the eternal truths they teach. I am using them with my grandchildren- and enjoying them as much if not more than the children. As I read them, I am reminded of the great realities about God that sometimes get forgotten in my busy grown-up world."
A children's book collection endorsed by Focus on the Family would be a GREAT gift for your children or grandchildren! SGNScoops says "Thank You" to Phillip W. Rodgers for your generous donation.  To learn more about Phillip W. Rodgers, visit his website at http://www.discoveringgodseries.com/
THE CONTEST STARTS NOW! Email us at connect@sgnscoops.com
Tags:
Childrens books
,
Childrens Ministries
,
Christian Children's Books
,
Phillip W. Rodgers
,
Rhonda Frye
,
rob patz
,
sgnscoops
Posted in
Christian interest
|
Comments Off

on SGNScoops Christmas Contest Starts Now!
Written by SGN Scoops on September 19, 2011 – 9:32 am -
BEVERLY HILLS, Sept. 19, 2011 /Christian Newswire/ — Some Angels soar the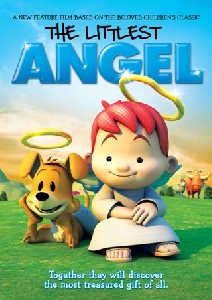 skies, and some fall a little short. Anchor Bay Entertainment presents the DVD release of the new animated feature film, The Littlest Angel, heading to retail on Tuesday, November 15th. A colorful adaptation of the fifteenth best-selling children's book of all time, The Littlest Angel takes us on a rousing adventure with a young, and sometimes mischievous, Angel, who must return to earth and earn his wings, a task that doesn't prove to be easy. Experience the love, laughter and magic of one of the most popular children's stories of all time. From the classic book by Charles Tazewell, comes this lively CGI animated version filled with both humor and heart.
The Littlest Angel tells the story of a young boy who arrives in heaven before his time. Home-sick and lonely, he will travel back to earth, with his friendly pup Halo, to retrieve a most selfless and precious gift for The Baby Jesus. First released in book form in 1946, The Littlest Angel became popular for its ornate words and phrases paired with beautifully muted oil paintings. Tazewell's book was adapted into a TV musical in 1969 starring Johnny Whitaker, and theatrical versions continue to be done by schools and church groups today. The author would follow-up with another childhood favorite, "The Littlest Snowman," that would be read annually on the "Captain Kangaroo" show.
"This is a story that has made so many people happy over the years," says Lance Thompson, one of the producers of the film. "We've added some new elements to this production, but this is still The Littlest Angel everyone remembers from their childhood, and one that parents will enjoy introducing to their kids. I think Tazewell would enjoy knowing his work lives on."
It's a modern twist on the timeless tale of an Angel that discovers the greatest gifts in life are faith, friendship and doing the right thing. This new version of The Littlest Angel features wonderful animation and great vocal talent, including Ron Perlman ("Beauty and The Beast," Tangled), and is sure to become a holiday favorite, much like the book it's based on. The Littlest Angel is a motion picture that will put a smile on everyone's face, and what better gift is there than that.
For more information about The Littlest Angel go to www.thelittlestangelmovie.com
Tags:
Anchor Bay Entertainment
,
Childrens books
Posted in
christian entertainment
|
Comments Off

on 'The Littlest Angel' on DVD 11/15