Written by Staff on February 6, 2015 – 10:00 am -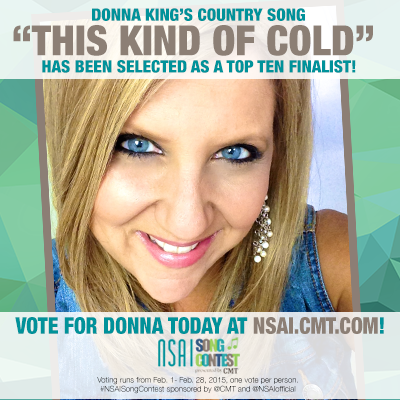 Last October, upwards of 2000 songwriters entered songs in the Nashville Songwriters Association International (NSAI) Song Contest presented by CMT (Country Music Television Network).
On February 1, 2015 the Top Ten Finalists were announced and among that select group was producer, songwriter, and artist in her own right, Donna King. Donna is well known in Christian music circles, having written, produced, and performed many hit Christian songs. However, this particular song is from Donna's Country music songwriting collection. The song is entitled "THIS KIND OF COLD."
Donna says, "I am still in complete shock over making it to the NSAI CMT Song Contest Top 10 Finalists. I know I have to write songs and nothing I am able to do is done in my own strength. I pray that each song I write will find the home it was meant to live in. Some of those songs are just meant to live in my own heart and others are meant to reach places that I can only imagine they might go.
"The most wonderful thing about this contest is the opportunity to expand the reach of my songs and to live fully in what I feel is God's most definitive call on my life. I congratulate every finalist for their achievement and I thank the NSAI and CMT for helping to create a path for songs that may never otherwise have an opportunity to be heard. I also thank every person taking the time to vote for "THIS KIND OF COLD" and to share it with others to vote as well. Finally, I thank God. He knows the plans He has for me…Jeremiah 29.11."
The GRAND PRIZE winner of the NSAI Song Contest is determined solely by fan vote. Right now through February 28th, 2015, Donna will need our help by voting and also by sharing/asking others to vote for her song, "This Kind of Cold," on the CMT website. You only need to vote one time per person and it's as easy as selecting Donna's song, entering your email address and submitting. The direct link to the NSAI CMT Song Contest page is www.nsai.cmt.com . When sharing on Facebook, Twitter, and the like, please use hashtags #NSAIsongcontest #VOTEThisKindOfCold when possible.
Also, to make it even easier, Donna's family has graciously set up a listening link to her song and a direct link to the CMT Voting site. You can find the links here:
Vote: http://www.cmt.com/asm/contests/nsai/cmt_choice/2015/
Listen: http://tinyurl.com/ListenDonnaKing
Good luck Donna and we are pulling for you!

Tags:
christian country
,
Christian Music
,
CMT
,
Donna King
,
NSAI
,
songwriter
,
This Kind Of Cold
Posted in
announcements
,
artists
,
breaking news
,
causes
,
christian entertainment
,
Christian interest
,
songs
|
Comments Off

on Donna King Lands in Top Ten of NSAI Song Contest
Written by SGN Scoops on January 28, 2014 – 5:35 pm -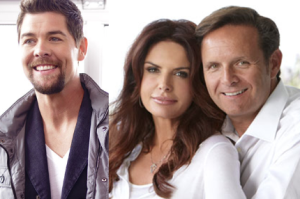 (NASHVILLE, TN) – Acclaimed vocalist, musician, songwriter, author, and television personality Jason Crabb will join Producer and Actress Roma Downey (Touched by an Angel, The Bible) and Producer Mark Burnett(The Voice, Survivor, Shark Tank, The Bible), for a very special taping of the Jim Bakker Show on Wednesday, January 29, 2014. Downey & Burnett will visit the show to talk about their new feature film, Son of God, set to release in February 2014.
Jason Crabb was personally selected by host Jim Bakker as the musical guest for this special taping. Bakker commented: "When I found out that Mark Burnett & Roma Downey were coming to our show, I knew I had to have the perfect musical guest and there's none better than my amazing friend, Jason Crabb! He is one of the most anointed artists of our time and loved by so many, not to mention one of my favorites!"
On Wednesday, January 29, 2014 at 8:30 AM CST, viewers can tune in online at www.JimBakkerShow.comto view the filming. A broadcast date and time will be announced at a later date.
Crabb's latest single release, "Love Is Stronger" – produced by Rascal Flatts' Jay DeMarcus – is heating up airwaves on both christian and country radio. The song's theme is striking a chord among the hearts of listeners. The video, which debuted on USAToday.com, is making an impact on video channels and online outlets including CMT.com, GACtv.com, UPtv among others.
ABOUT JASON CRABB
Jason Crabb is one of the most highly respected, versatile and talented artists to ever grace a stage. His soulful, heartfelt vocals have made him a critics' pick and a fan favorite on stages ranging from "The Grand Ole Opry" and the Brooklyn Tabernacle to arena platforms. Crabb is the reigning GMA Dove Awards' Artist of the Year and Male Vocalist of the Year and currently holds seventeen Dove Awards. With a string of number one hits and chart-topping singles, a tour schedule of over 150 dates annually, and ongoing high-profile TV appearances, this vocal powerhouse's talent is topped only by his genuine personality and concern for others. Love Is Stronger, his latest release, arrived onto the musical landscape with critical acclaim. Produced by musical heavyweights – Ed Cash (Chris Tomlin,) Jay DeMarcus (Rascal Flatts) and Wayne Haun (Celine Dion) – the 11-track project features Jason at his very best and garnered attention from Entertainment Tonight, The Associated Press, FOX News, AOL Music, The Boot, CCM Magazine, New Release Tuesday and more. Jason lives with his wife Shellye, and daughters Emma and Ashleigh just outside of Nashville, TN.
Tags:
CMT
,
Jason Crabb
,
Jay DeMarcus
,
Jim Bakker Show
,
Mark Burnett
,
Roma Downey
,
USATODAY
Posted in
announcements
|
Comments Off

on JASON CRABB JOINS ROMA DOWNEY & MARK BURNETT FOR SPECIAL JIM BAKKER SHOW TAPING
Written by SGN Scoops on May 21, 2013 – 6:39 am -
Nashville, TN (May 20, 2013) — APA Nashville has signed Bluegrass superstar duo Dailey & Vincent to their roster, it was announced today by APA's Cass Scripps.  The duo, celebrating its five-year anniversary, has earned two Grammy nominations, three consecutive IBMA (International Bluegrass Music Association) Awards for "Entertainer of the Year" and three awards for "Vocal Group of the Year," respectively, and over 40 other awards and honors.  They have multiple #1's and currently have two albums in the Top 10 on the Billboard charts.
"I am thrilled to have the opportunity to represent the award-winning and multi-talented Dailey & Vincent.  Adding them to our roster will open many exciting doors of opportunity in the future," comments Scripps.
Dailey & Vincent's current single, "Steel Drivin' Man," was the #1 most-played song on Bluegrass Today's monthly chart in April and marked Jamie Dailey's first #1 as a songwriter. The video premiered on CMT Pure and remains an ongoing top-trending clip.  Their new CD, BROTHERS OF THE HIGHWAY, is currently #2 on the Billboard Bluegrass Albums Chart.  In addition, THE GOSPEL SIDE OF DAILEY &  VINCENT is currently sitting at #7 in its 69th week of activity on the Billboard Gospel Albums Chart.
Notes Dailey, "We are excited to be working with some of Nashville's finest and hardest-working agents."   While Vincent adds, "We are looking forward to a great future with a fantastic group of folks at APA Nashville."
Dailey & Vincent are also represented by Zac Koffler / APEX Entertainment Management, attorney David Crow of Milom, Horsnell, Crow, Rose, Kelley, PLC. and Rounder Records.
Photo: From L to R: Zac Koffler (APEX Entertainment Management), Ray Shelide (APA), Jamie Dailey, Darrin Vincent, Cass Scripps (APA), Matt McGuire (APA), Michael Stevens (APA
Tags:
APA
,
Apex Entertainment
,
bluegrass
,
CMT
,
dailey & vincent
,
IBMA
,
Southern Gospel News
Posted in
announcements
|
Comments Off

on APA Nashville Signs Bluegrass Superstar Duo Dailey & Vincent