Written by SGN Scoops Staff on March 27, 2015 – 9:36 am -
Gospel Music Hall of Famers Celebrate Another Induction
NASHVILLE, Tenn. —At a press conference held Wednesday, it was announced that The Oak Ridge Boys will be inducted into the Country Music Hall of Fame in fall of 2015.  The group was selected as the 2015 Modern Era Artist Inductees.
A number of Country Music Association, Country Music Hall of Fame and other country music notables, including CMA CEO Sarah Trahern and Hall of Fame Director/CEO Kyle Young, gathered early Wednesday morning for the announcement.  The Oaks were introduced to media and industry executives in the Rotunda of the Country Music Hall of Fame by their longtime friend and fellow entertainer Brenda Lee.  Also present for the announcement was the Oaks' manager, Jim Halsey, members of The Oak Ridge Boys' staff and a few business associates.
The announcement to the media, which was followed by an industry luncheon where several hundred had gathered, was streamed live.
Primary on each of the Oak Ridge Boys' list of thank yous at today's announcement were their fans, who have supported them for more than 40 years while the group has made country and gospel music history.
Few country music groups have had the enduring popularity, cultural significance or crossover success of The Oak Ridge Boys, a vocal harmony quartet that started out in gospel music during World War II and evolved with the times to help popularize and modernize country and gospel music far beyond traditional genre and regional lines.
The group went through numerous lineup changes in its early decades before Duane Allen, Joe Bonsall, William Lee Golden, and Richard Sterban took control in the 1960s and early 1970s and turned it into a dynamic country music force. The alignment focused on high-energy vocal harmonies that brought crowds to their feet
The Oaks landed their first No. 1, "I'll Be True To You," on the country chart in 1978, and perhaps just as significantly Paul Simon asked the group to sing backup on what would become his hit "Slip Slidin' Away," opening the door to the pop world for the group. Simon wasn't the only one to lean on their harmony. They accompanied Brenda Lee on her GRAMMY® Award-nominated "Broken Trust" (1980) and George Jones on his country smash "Same Ole Me" (1982); and they also have harmonized behind Johnny Cash, Ray Charles, Billy Ray Cyrus, Bill Monroe and Leon Russell among many others.
National audiences learned the joy of The Oaks' harmonies when the group's biggest hit, 1981's "Elvira," became a crossover pop smash with bass singer Sterban's unforgettable "oom papa oom papa mau mau" refrain. The song brought them one of their five GRAMMY® Awards, went double platinum and helped bring much-needed fun to a genre that had a reputation for weepers and hard times.
The inescapable "Elvira" propelled The Oaks' 1981 album Fancy Free to double platinum. They followed a year later with another crossover hit, "Bobbie Sue," and the album of the same title went gold as have many others in the group's catalogue. Their 1980 and 1984 Greatest Hits albums are platinum. All in all, the current lineup has scored 17 No. 1 hits, released more than 40 albums and achieved sales in excess of $41 million.
The Oak Ridge Boys' "American Made" became a national ad jingle, and their "Thank God for Kids" is considered a country standard.
The group also helped open the doors for country music on network television with a number of national televised concerts including HBO and PBS specials and as hosts and performers on primetime. They hosted their own series, "The Oak Ridge Boys Live from Las Vegas," for TNN in the late 1990s.
The quartet is one of the most enduring in music and has had a long history and dozens of members before the tenures of Allen (born April 29, 1943 in Taylortown, Texas), Bonsall (born May 18, 1948 in Philadelphia), Golden (born Jan. 12, 1939 in Brewton, Ala.) and Sterban (born April 24, 1943 in Camden, N.J.) began. Founder Wally Fowler started the group in 1943 in Knoxville, Tenn., as part of The Georgia Clodhoppers. They were hired to perform for the restricted staff and their families at the nearby Oak Ridge nuclear research facility. They appeared there so often, they eventually changed their name to the Oak Ridge Quartet in 1945, the year they began performing on "The Grand Ole Opry." 
The Oak Ridge Boys – the rebranded group – have received 15 CMA Awards nominations and won two: Vocal Group of the Year in 1978 and Single of the Year in 1981 for "Elvira" (the group's backing band won CMA Instrumental Group of the Year in 1978 and 1986). The Oaks were inducted into the Gospel Music Hall of Fame in 2000; Bonsall and Sterban were inducted into the Philadelphia Music Alliance Walk of Fame in 1994. Golden received the Alabama Music Hall of Fame's Life Work Award for Performing Achievement in 1997, and Allen was honored with induction into the Texas Country Music Hall of Fame in 2014.
The Oak Ridge Boys have participated in decades of philanthropic endeavors including Feed the Children, the Boy Scouts of America and the National Committee for the Prevention of Child Abuse.
For further information visit www.oakridgeboys.com or www.facebook.com/oakridgeboys. 
Tags:
Country Music Association
,
Country music Hall of Fame
,
Country News
,
The Oak Ridge Boys
Posted in
artists
|
Comments Off

on The Oak Ridge Boys Set for 2015 Country Music Hall of Fame
Written by SGN Scoops on April 22, 2012 – 4:06 am -
NEW HAVEN RECORDS RELEASES COUNTRY'S GREATEST GOSPEL SONGS OF THE CENTURY
Two Volume Set Features Seven Decades of Country Gospel Performances
Nashville, Tenn. (April 17, 2012) – New Haven Records, in partnership with The Country Music Hall of Fame and Museum®, recently released two landmark anthologies featuring seven decades of legendary artists and heart-warming Country Gospel performances. The individually packaged CDs, Country's Greatest Gospel Songs of the Century: Gold Edition and Country's Greatest Gospel Songs of the Century: Platinum Edition, represent many of the genre's most popular inspirational performances, chosen by Country Music radio, retail and music history professionals.
In addition to digitally re-mastered tracks of the original performances, the CDs include extensive liner notes and photos from Country Music Hall of Fame historians chronicling the history of Country Music and detailing each song and artist.
"We are honored to be a partner in preserving and celebrating these performances for today's — and tomorrow's — fans," says Ken Harding, president of New Haven Records.
New Haven Records previously partnered with the Hall of Fame on three projects — Country's 20 Classic Gospel Songs of the Century, Country's 20 Classic Songs of the Century, and Sunday in the Country — which have sold more than 200,000 units collectively, Harding says, noting that Country's 20 Classic Gospel Songs of the Century was the No. 1 selling CD sold during 2011 at the Hall of Fame's Nashville location.
A number of new projects are currently in development between New Haven and the Hall of Fame.
Each edition of Country's Greatest Gospel Songs of the Century sells for $8.99, with a portion of the royalties benefiting the Country Music Hall of Fame and Museum®.
Track and artist listing:
GOLD EDITION:
1. "Go Rest High On That Mountain" – Vince Gill
2. "Farther Along" – Emmylou Harris, Linda Ronstadt & Dolly Parton
3. "Precious Memories" – Tammy Wynette
4. "Amazing Grace" – The Statler Brothers
5. "Precious Lord, Take My Hand/Jesus Hold My Hand" (Medley) – Merle Haggard
6. "Were You There (When They Crucified My Lord)" – Johnny Cash
7. "Wings of A Dove" – Ferlin Husky
8. "In the Garden" – Jim Reeves
9. "Peace In the Valley" – Red Foley
10. "Can the Circle Be Unbroken" – The Carter Family
PLATINUM EDITION:
1. "I Know Who Holds Tomorrow" – Suzanne Cox, Alison Krauss, and The Cox Family
2. "Children Go (Where I Send Thee)" – Ricky Skaggs
3. "Uncloudy Day" – Willie Nelson
4. "Coat of Many Colors" – Dolly Parton
5. "How Great Thou Art" – Connie Smith
6. "Crying In the Chapel" – Elvis Presley
7. "Life's Railway To Heaven" – Patsy Cline
8. "The Old Rugged Cross" – Tennessee Ernie Ford
9. "Angel Band" – Stanley Brothers
10. "I Saw the Light" – Hank Williams
About New Haven Records:
New Haven Records is a Nashville-based music corporation that includes label, publishing, and film companies. For more than two decades, they have focused on the uniquely American genres of Black Gospel, Southern Gospel, and Country & Bluegrass Gospel. New Haven's product is distributed to the mainstream through Sony and to the Christian marketplace through Provident Music Distribution. For additional information, go to www.newhavenrecords.com.
For more information or to schedule an interview, contact:
Julia Daily, Media Relations
New Haven Records
741 Cool Springs Blvd.
Franklin, TN 37067
Phone: 615-327-3300
jdaily@newhavenrecords.com
Tags:
Country Music
,
Country music Hall of Fame
,
dolly parton
,
New Haven Records
,
Southern Gospel Music
,
Tammy Wynette
,
Vince Gill emmylou Harris
Posted in
announcements
,
new music
|
Comments Off

on Country's Greates Gospel Songs of the Century
Written by SGN Scoops Staff on October 29, 2011 – 3:48 pm -
Nashville, TN –   The Chuck Wagon Gang will celebrate 75 years of recording and performing on November 25, 2011.   A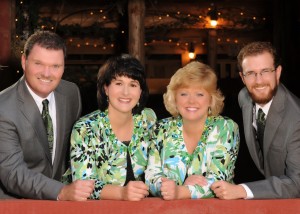 special 75 Year Celebration Concert will take place on Saturday, November 26, from 3:00-4:30 PM at the historic Ernest Tubb Record Shop, 417 Broadway, Nashville, TN.  Several presentations are expected and the Celebration will be broadcast live over WSM, 650 on the AM Dial.  Later that night, the Gang will perform on the Midnight Jamboree at the Texas Troubadour Theater in Nashville.  On Monday night, November 28m The Chuck Wagon Gang will be special guests on the Eddie Stubbs Show to be held at the Ford Theater at the Country Music Hall Of Fame from 7:00-9:00 PM.  Both the Midnite Jamboree and Eddie Stubbs Show will be broadcast on WSM, and the Midnight Jamboree will be webcast.
On November 25 and 26, 1936, The Chuck Wagon Gang recorded their first recordings in a small studio set up in a hotel room at the Gunter Hotel in San Antonio, Texas.  This was the beginning of a 39-year association with Columbia Records (now Sony Music) where 39 Million records were sold.  Their 1948 recording of the Albert E. Brumley classic, "I'll Fly Away," is believed to be the first million seller by a Southern Gospel group.  Today, the Chuck Wagon Gang is the oldest mixed recording gospel group, still recording and performing, with ties to the original founding.
Congratulatory cards and letters may be emailed to chuckwagongang@comcast.net or mailed to The Chuck Wagon Gang, PO Box 140416, Nashville, TN  37214-0416.
Tags:
Albert E. Brumley
,
Country music Hall of Fame
,
Ernest Tubb
,
Southern Gospel Music
,
Southern Gospel News
,
texas troubadour theater
,
The Chuck Wagon Gang
Posted in
announcements
,
Christian interest
|
Comments Off

on Chuck Wagon Gang to Celebrate 75 Years!
Written by SGN Scoops on September 28, 2011 – 10:04 am -

The father of songwriter, music publisher John Mathis Jr. passed away at his home on September 27th, 2011. 'Country' Johnny Mathis, not to be confused with the pop singer of the same name, was born September 28, 1930 and was known as both a singer and songwriter during his career in Country Music.
Johnny Mathis began his career as a recording artist on the record label, StarTalent, in 1949. He would go on to record for a number of record labels during the 50's, 60's and 70's including Chess, Columbia, D Records, Mercury, Decca, United Artists, Little Darlin', Hilltop and Stonegate. As a part of the duet, Jimmy and Johnny, he scored a Top 10 hit in 1953 with the song, "If You Don't Somebody Else Will" released on Chess Records. Johnny's highest charting single as a soloist, "Please Talk To My Heart"(Top 15), occurred while recording for United Artists in 1963.   He's appeared on the Louisiana Hayride, Big D Jamboree, The Grand Ole Opry, The Wilburn Brothers Show and  TNN's Nashville Now  to name a few. In fact, 'Country' Johnny Mathis was a regular performer on the Louisiana Hayride through much of the 50's.  
As a songwriter, Country Johnny Mathis has had songs recorded by George Jones, Tammy Wynette, Johnny Paycheck, Charlie Pride, Johnny Horton, Jimmy Dean, George Hamilton IV, Freddy Fender, Webb Pierce, The Whites, Elvis Costello and many, many others. Seven (7) Country Music Hall of Fame Inductees and two (2) Rock and Roll Hall of Fame Inductees have recorded his music. Johnny Mathis has been credited with writing over 400 songs. Johnny also fell into the story of many Nashville songwriters of those days as he would often sell his share of his rights to songs he had written, most still bare his name. His song accolades further include gold records, Country radio hits and  BMI airplay performance awards. There has been a revival of Mathis songs in recent years with cuts by Jim Louderdale, Kenny and Amanda Smith Band and Brad Davis.
Country Johnny Mathis spent most of his time during the 70's, 80's and 90's writing and singing Gospel music and spending time with his family. In 1999 Johnny suffered a massive stroke that left him incapacitated. More information regarding Johnny is available at  www.CountryJohnnyMathis.com .
Visitation and funeral arrangements are being conducted by Lawrence Brothers Funeral Home of Chapel Hill, TN (www.lawrencefuneral.net/) Johnny is preceded in death by one granddaughter, Kayla Michelle. He is survived by his wife of 43 years, Jeannie Mathis, one daughter, Sherie Craver of Marshall, TX, 3 sons, John Jr, Bill and James, 11 grandchildren and 7 great grandchildren and 2 great-great-grandchildren.
Tags:
Charlie Pride
,
Country Jonny Matthis
,
Country music Hall of Fame
,
Country Music News
,
George Jones
,
john mathis jr
,
nashville
,
Now
,
Tammy Wynette
,
The Grand Ole Opry
,
TNN
Posted in
announcements
|
Comments Off

on Father of songwriter, music publisher John Mathis Jr. passes away