Written by Staff on December 11, 2013 – 4:18 pm -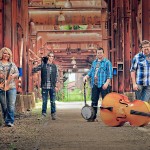 December 11, 2013 (Arab, AL) Song Garden Music Group artist Canaan's Crossing will be the featured artist on this week's Duggar Mountain Music Hall aired each Sunday at 10AM Central Time on Heartland TV (formerly known as TNN).  Group member Tim Maze stated "We had so much fun filming this TV show.  The live audience and relaxed setting made for a great experience for all of us". 
Heartland officially launched on October 9, 2013 with programming comprised of syndicated and first run shows.  The program lineup includes The Rick and Bubba Show, Gaither Gospel Hour, Harmony Road, Larry's Country Diner and classic episodes of Crook and Chase.  For a complete list of programs, visit www.watchheartlandtv.com .
Tags:
Canaan's Crossing
,
christian country
,
Christian Music
,
country gospel
,
Crook and Chase
,
Duggar Mountain Music Hall
,
Gaither Gospel Hour
,
harmony road
,
Heartland TV
,
Larry's Country Diner
,
Song Garden Music Group
,
southern gospel
,
The Rick and Bubba Show
Posted in
announcements
,
artists
,
breaking news
,
christian entertainment
,
Christian interest
|
Comments Off

on Canaan's Crossing on Heartland TV
Written by SGN Scoops Staff on June 5, 2013 – 4:54 pm -

SIGNAL MOUNTAIN, TN June 5, 2013, Harmony Road TV host, Singing News Publisher and Solid Gospel Radio
host Les Butler will be in the TNN/The Nashville Network booth on Saturday June 8, at noon during the 42nd Annual CMT Music Festival and Fan Fair. Butler will be available to visit with friends and fans,
sign autographs and take pictures. Others who will be in the booth over the weekend include artists such
as The Oak Ridge Boys, Ray Stevens, Lee Greenwood, Crook and Chase, Ralph Emery, Bill Anderson, Mark Chestnut and other TNN personalities.
CMT Music Festival and Fan Fair has been a destination for country music fans for over 40 years. This year the event runs from June 6th -9th. When TNN was re launched last fall, the network continued the
tradition of including Southern Gospel in their programming. TNN continues to grow, adding stations regularly, and is now in tens of millions of homes in locations such as Nashville, Chattanooga,
Birmingham, Chicago, Rochester, NY, Boise, Idaho, Dayton, Ohio, Asheville, NC and more.
"All of us at Harmony Road are happy to be on The Nashville Network. Having Harmony Road on TNN allows us to help share gospel music and its message to core gospel music fans as well as an audience new to Southern Gospel" said Roger Spears, Harmony Road producer. "The opportunities to reach a larger audience, including those who may be presented with the gospel through music for the first time, has been our focus as TNN grows and we continue to add new broadcast and streaming outlets", continued Spears. "We are excited about this opportunity for Les to represent Harmony Road at a high profile event such as the CMT Music Fest and Fan Fair and we thank TNN for the opportunity", he concluded.
In addition to Les Butler, other members of the Harmony Road team include gospel pianist Cody McVey, who does many of the interviews and special segments you see on the program. Randy Liner is Technical Director and Roger Spears is Producer. More info can be found at www.harmonyroadtv.com or on facebook at www.facebook.com/harmonyroadtv. You can also email Harmony Road at info@harmonyroadtv.com.
Tags:
Bill Anderson
,
Crook and Chase
,
Lee Greenwood
,
Mark Chestnut
,
Ralph Emery
,
Ray Stevens
,
southern gospel
,
The Oak Ridge Boys
,
TNN
Posted in
announcements
|
Comments Off

on Harmony Road Host Les Butler to be in the TNN Booth at the CMT Music Fest Fan Fair this Weekend