Written by SGN Scoops on July 18, 2013 – 3:59 am -
Goodlettsville, TN- One of Christian music's leading booking agencies, The H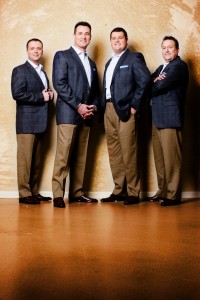 arper Agency, has announced the signing of popular quartet, The Old Paths. The announcement comes on the heels of the group's recent Number One national hit, "God's Great," their second Number One national hit from their Right Now recording on Crossroads Music's Sonlite Records label. The song peaked at Number One in the June issue of The Singing News Magazine. Sonlite Records President, Chris White is thrilled with the success of the group's debut release on the Sonlite label. "When I first heard the Old Paths, I knew immediately that these guys were not just another quartet," White says. "It's a rarity these days to discover an artist who you believe possesses all the main ingredients to succeed quickly.  Now with two Number One songs to their credit in less than a year, they have drawn the attention they deserve.  I trust and believe that their talents will be relevant in our business, for years to come and, I'm glad the Harper Agency will be a part of this process."
Based in Atlanta, GA, Old Paths is actually paving a new path into national prominence with numerous hit songs, as well as national award nominations. Most recently, the group received five nominations when the 2013 Singing News Fan Awards' Top 5 nominations were announced, including New Traditional Quartet. The group also received seven nominations for the 2013 NQC Music Awards, including Favorite Male Group.
The Harper Agency is pleased to add The Old Paths  to their roster of fine artists, which also includes numerous other notable quartets.  "My dad, who founded The Harper Agency in 1986, was a member of  The Oak Ridge Boys for 12 years," Ed Harper, President of The Harper Agency, states. "As a result of Dad's love for four-part harmony, our agency has a rich tradition of representing quality quartets. The Old Paths help us continue that tradition. They have been around for quite a while, but they have recently begun to make a real impact in so many areas. They have received major endorsements from such prominent pastors as  Dr Jerry Vines and Dr Charles Stanley, which is a great testament to their desire for ministry, as well as their exceptional talent. We are honored to have the opportunity to work with and represent such an outstanding group of young men. We look forward to being a part of their future for many years."
For Old Paths, joining the Harper Agency is just one more step in the right direction for this talented quartet. "We are honored and humbled by the recent success of our ministry, and all the glory is given to the Lord, Jesus Christ," Old Paths' baritone, Douglas Roark shares. "We are thankful for the support of our families, friends, fans and diligence of the Crossroads Music team. Along with that success there's been a greater demand for scheduling. We're delighted to announce an agreement with the renowned Harper Agency! With their shared interest in keeping the Gospel of Christ at the forefront, we have every confidence that we can better focus on the day to day task of the ministry and allow more time with our families when we're home. We are so looking forward to what we believe God has in store."
* * *
Tags:
crossroads music
,
Harper Agency
,
Old Paths
,
Southern Gospel News
Posted in
announcements
|
Comments Off

on HARPER AGENCY ADDS OLD PATHS TO ARTIST ROSTER
Written by SGN Scoops on June 20, 2013 – 8:57 am -
Cross Roads Music( 06-18-2013)  If there was ever a group that lived this verse with the intent to spread the gospel far and wide, it is The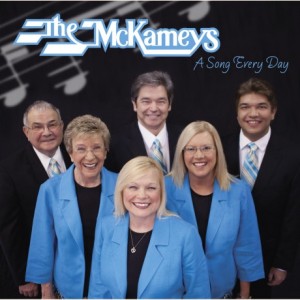 McKameys. A Song Every Day is the title of The McKameys' new release as well as a reference to their mission and ministry.
From the beginning note of the first song, "The Beatitudes Song," to the quiet, thoughtful ending notes of "There is A Refuge," The McKameys deliver what they are known for, Scripture-based lyrics with family harmonies unmistakable when you hit play. From Sheryl Farris' writing pen comes the powerful ballad "A Hill Worth Dying On." "If You Have The Robe On" is a more upbeat tune featuring Roger Fortner, and co-written by Steve and Annie Chapman, who wrote the #1 single "Unspoken Request."
This new recording will uplift and encourage you with the message in each song. There truly is A Song Every Day! Available now at iTunes, other digital retailers, bookstores across the country that stock Southern Gospel, and at: http://crossroadsmusic.com/mckameys/a-song-everyday/
Tags:
crossroads music
,
McKameys
,
Peg McKamey
,
Roger Fortner
,
Sheryl Farris
,
Southern Gospel Music
,
Southern Gospel News
,
Steve and Annie Chapmabn
,
The Mckameys
Posted in
announcements
|
Comments Off

on McKameys Release New Music
Written by SGN Scoops on August 28, 2012 – 11:17 am -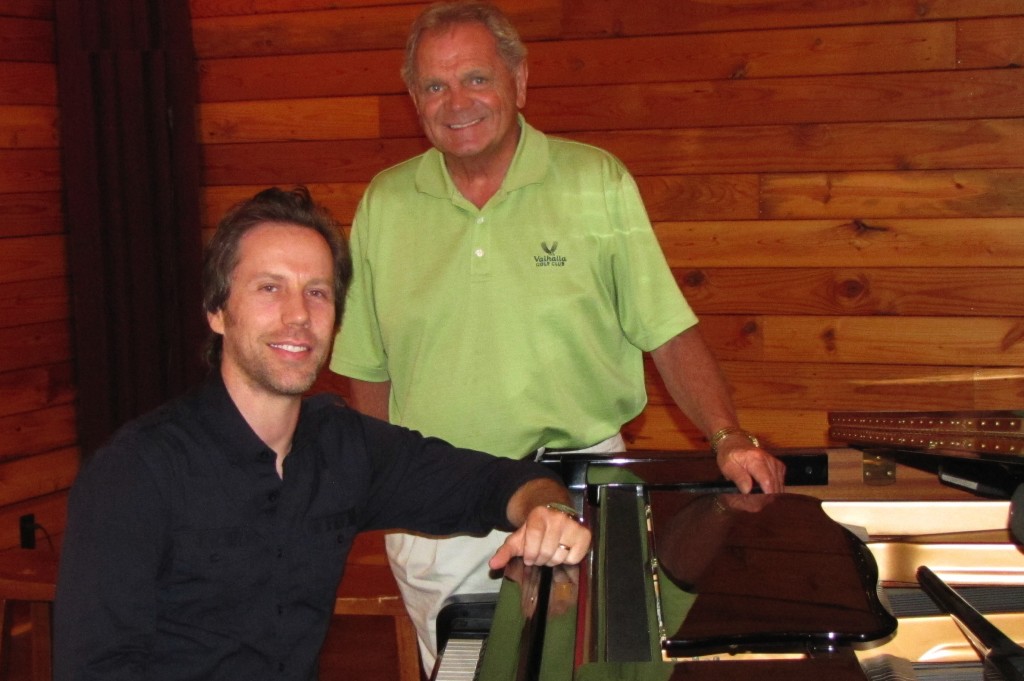 Arden, NC – August 28, 2012 – Channing Eleton, gospel music vocalist and keyboard wizard, and Crossroads Entertainment & Marketing have agreed to release Eleton's sophomore project.  Having played with some of the industry's top groups, such as Poet Voices and Gold City, Channing is finding great success since he launched his own endeavor.
"What I have found in Crossroads Music is a company that not only believes in me, but also shares in my vision of music and ministry.  Chris White is a longtime dear friend and mentor.  Plus, I have the utmost respect for Mickey Gamble and producer Jeff Collins.  To be partnered with these men and their amazing staff is really a dream come true."
Crossroads executive Chris White states, "I've known Channing since the day he took the job with Poet Voices in 1995.  What's funny is I didn't even know the guy could sing until he brought me his first record.  It's a pleasure to have such a class act and person as Channing in our company."
The new record is scheduled to be a spring 2013 release.
Tags:
Channing Eleton
,
Christ White
,
crossroads music
,
Jeff Collins
,
Mickey Gambell
,
Southern Gospel News
Posted in
announcements
,
new music
|
Comments Off

on Channing Eleton & Crossroads Agree On Sophomore Record
Written by SGN Scoops on July 31, 2012 – 11:35 am -

What is so great about family bands? They always seem to have a natural chemistry and the ability to fit together just right. Bluegrass has a tradition of great family groups, from the Carter Family to Cherryholmes. In this tradition, where great music is the norm, The Harper Family rises to the top. They exemplify what is so magical about a fine family Bluegrass outfit; seamless playing and singing and an effortless blend that make complex music seem easy.
But this group from Missouri has something extra. They can do all of the above better than most in the business. This first major release, Changes, is a stunning recording with a perfect mix of all Gospel songs that spotlight the incredible talent of this group.
Changes grabs your attention immediately with the opening mandolin/guitar duel on "Salt and Light." From an epic rendering of "King's Ransom" to a creative remake of the classic "I'll Live Again," this project will make Southern Gospel fans love their sound and bluegrass fans love their message.
We think you will agree—the Harper Family is the future of Gospel Bluegrass!
Changes will be available August, 21 at Crossroads, iTunes, and Amazon. You can preview samples here.
Tags:
bluegrass
,
crossroads music
,
Gospel Bluegrass
,
Southern Gospel News
,
The Harper Family
Posted in
announcements
,
new music
|
Comments Off

on New Music From the Harper Family
Written by SGN Scoops Staff on July 30, 2012 – 9:23 am -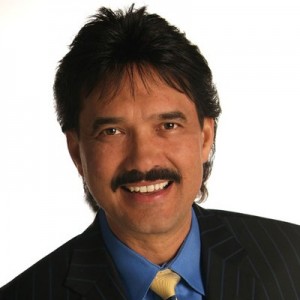 Ivan Parker was in the studio this past week working on an upcoming 'classics' project to include such greats as "Sweeter As the Days Go By", "I Go to the Rock", "Tell Me the Story of Jesus", "It Is No Secret", and more.
Reaching out for help from his fans to name this new project, Parker announced an 'Album Title Contest' which allowed fans to submit names for the album. The contest garnered such an overwhelming response, the deadline to submit the entries had to be extended and ended at 9 PM, EST on July 26, 2012
On Friday, July 27, 2012, Crossroads Music, Parker's record company, announced the winners who will each receive the very first autographed CDs pulled from the box. They are Rick Sheets and Angela Griffin. They both turned in the title "TIMELESS TREASURES" which sums up this great new release by Ivan Parker, perfectly. Release date is has not yet been announced.
Tags:
Angela Griffin
,
crossroads music
,
ivan parker
,
Rick Sheets
,
TIMELESS TREASURES
Posted in
announcements
,
christian entertainment
|
Comments Off

on Ivan Parker was in the studio this past week
Written by SGN Scoops on July 3, 2012 – 7:59 am -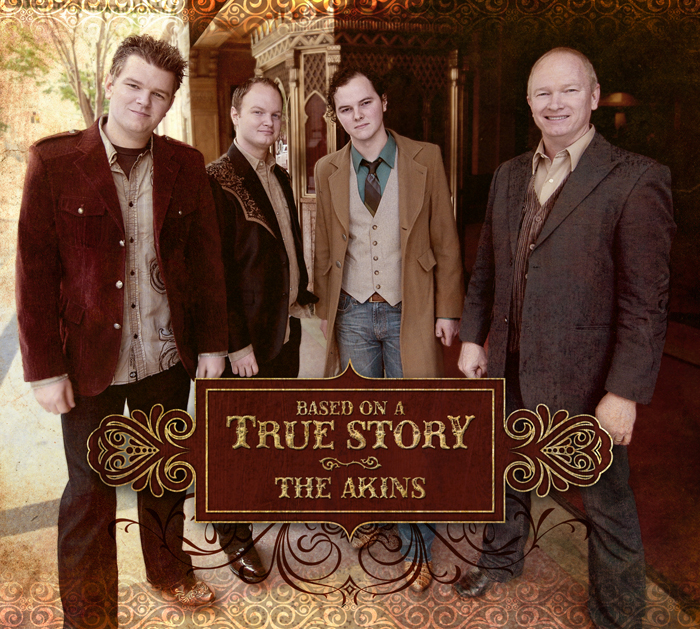 From the group who brought you the songs "I Want My Stage to be an Altar,"  "What if God Says No," and "Any Day Now" comes the highly anticipated follow-up release to their self-titled album.  The Akins- Based on a True Story hits retail on July 17!
Based On A True Story consists of ten new original songs based on truths found in God's word, and illustrate how those truths apply to events that happen in our everyday lives.  The first single, "Kneel" was released to radio by Crossroads Music on June 25th.  To hear the new single, visit www.facebook.com/theakins and click on the music tab.
About the Akins:
The Akins consist of  three brothers and a dad whose faith and family values shape everything they do.  Their musical talent, tight family harmonies, and live instruments create a unique sound that is enjoyed by all ages.
In recent years, God has nationally expanded The Akins' ministry with their fresh sound and original songs.  They have had multiple chart-topping songs including their #1 song, "I Want My Stage To Be An Altar."  They are two time "Horizon Group of the Year" nominees by Singing News Magazine, and have received multiple nominations at the Inspirational Country Music Awards, including "Entertainer of the Year," "Vocal Group of the Year," and "Christian Country Song of the Year."

To pre-order The Akins- Based On A True Story visit www.crossroadsmusic.com/akins/based-on-a-true-story/.  For more information about The Akins, visit www.theakinsonline.com.
Tags:
crossroads music
,
Southern Gospel Music
,
Southern Gospel News
,
THE AKINS
Posted in
announcements
,
new music
|
Comments Off

on New Music From The Akins! The Akins- Based On A True Story Releases July 17!
Written by Scoops Staff on May 5, 2010 – 10:40 pm -
Arden, NC – The heartwarming family group The Jay Stone Singers from Hope Mills, NC has joined the Pinnacle artist roster at Crossroads. They just completed recording the tracks this month for their upcoming project titled Fully Committed, set to release this summer. Bobby and Sharona Carter commented, "As we enter our 34th year, we are excited and so grateful for the opportunity to be a part of the Crossroads family and the Pinnacle label. We will continue to be FULLY COMMITTED to what God has called our family to do and that is to share the wonderful story of His love through song."
Jeff Collins, producer for the recording, states, "This is a wonderful family who is truly dedicated to growing their ministry. People will be drawn to them and will especially enjoy Emma and Stone, the very talented children of the family. You won't meet nicer folks."
Tags:
crossroads music
,
jay stone singers
,
record label signings
Posted in
artists
|
Comments Off

on The Jay Stone Singers Join The Pinnacle Family of Artists