Written by Staff on August 15, 2019 – 1:53 pm -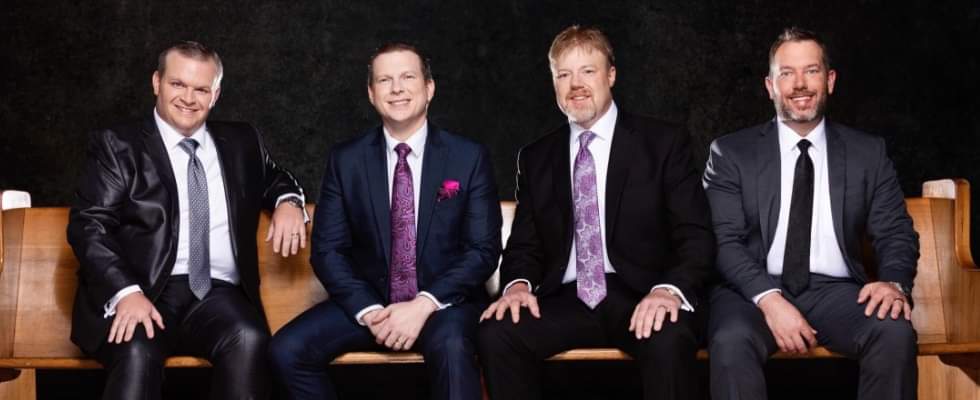 As many of you know, Daniel Riley of Gold City had a severe injury from a fall off of a ladder on July 23, 2019. He suffered a broken wrist and complicated broken ankle.
Daniel has already undergone surgeries and wound care and therapy for these injuries.
Today, he posted some good news on Facebook:
UPDATE Thursday, August 15, 2019
My surgery on Wednesday, August 14, was successful. The surgeon was able to work around the ankle wound and make the necessary repair to the left ankle fracture, and he feels a good result was achieved. As soon as the doctor says it's ok for me to travel, I plan to be back on the bus and stage with Gold City. I'm not sure how long that will be, but I am so very thankful for that light at the end of the tunnel from this accident. Thank you so much for praying for me and Gold City as they continue to tour and share the gospel. See you soon!
Please keep praying for Daniel Riley.
For more on Gold City quartet, click HERE.
Scott Brand of Gold City is featured in the August issue of SGNScoops magazine, in a story by Jimmy Reno.
For more Gospel music features read the latest SGNScoops Magazine HERE.
Download SGNScoops Magazine In PDF
Here
Find SGNScoops Magazine On Facebook
Here
Listen To Todays Gospel Music
Here
Tags:
Adams Call southern Gospel News
,
Christian Music
,
Daniel Riley
,
gold city
,
gospel music
,
Scott Brand
Posted in
announcements
,
artists
|
Comments Off

on Daniel Riley of Gold City gets good news
Written by SGN Scoops Staff on July 26, 2019 – 8:07 am -
Gold City and the Riley Family request your prayers for Daniel Riley, who suffered a fall off a ladder at his home on Tuesday, July 23, 2019. His injuries included a broken left ankle and a broken left wrist. Due to the severity of his injuries, he requires surgical repair of both joints, which is taking place today, July 26, around noon. Daniel will be recuperating at home and plans to return to the road as soon as medically possible. In the meantime, Gold City will be fulfilling all of their scheduled dates as planned. Daniel would like to thank everyone for their prayers as well as for supporting the group during his absence.
Tags:
Daniel Riley
,
Southern Gospel News
Posted in
announcements
|
Comments Off

on Please Pray For Daniel Riley
Written by Staff on December 24, 2018 – 11:09 am -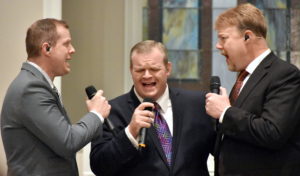 Gold City was in concert on Nov. 11 at Three Springs Baptist Church in Bowling Green, Kentucky.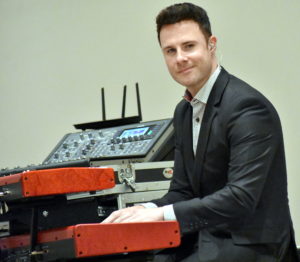 More about Gold City
(From About page on Gold City Quartet website)…Gold City is among those elite groups who continues to reach new audiences and consistently amass new fans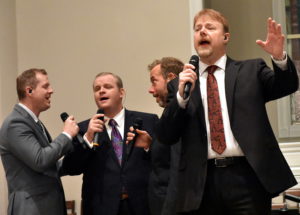 who fall in love with their distinct sound as soon as they hear it. Now into their 34th year…Daniel Riley, baritone, has assumed the management role and leads the group onward into the future. He provides a smooth baritone vocal that blends perfectly with the other voices in the group but also has the versatility to step out for a solo with power and soul. Chris West is singing bass and lead vocalist Scott Brand follows a long list of dynamic lead vocalists and takes a back seat to no one…Tenor (Thomas Nalley) puts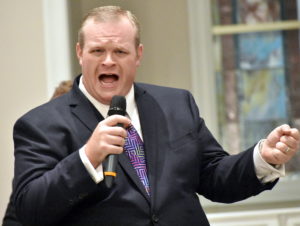 the top on the sound with his high clear tenor voice…Dillan West is the Sound Engineer…read more on Facebook here.
Craig Harris is a regular contributor to SGNScoops Magazine.
Read the latest issue of the SGNScoops Magazine HERE.
Download SGNScoops Magazine PDF 
Here
Find SGNScoops Magazine On Facebook 
Here
Listen To Today's Gospel Music 
Here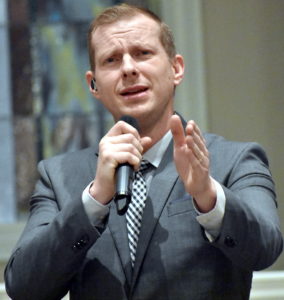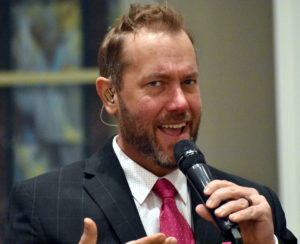 Tags:
Chris West
,
Christian Music
,
Craig Harris
,
Daniel Riley
,
Dillan West
,
gold city
,
gospel music
,
Scott Brand
,
SGNScoops Magazine
,
Thomas Nalley
Posted in
artists
,
sgn scoops magazine
|
Comments Off

on Through the Lens of Craig Harris – Gold City at Bowling Green, Kentucky.
Written by Staff on January 7, 2017 – 10:37 am -
By Paige Givens
In 1980, Gold City Quartet came together for the first time and added a new blend of voices that would change gospel music. Even though the group has undergone many changes in the past 36 years, with new voices coming and going, one thing has remained the same with this celebrated group: They still sing for the same One who brought them together in the first place! Their harmony on stage is only made sweeter by their harmony off stage.
Daniel Riley, baritone and owner of Gold City, explains the group's current lineup. "This is not a brand new group with four parts who just got together at once. Group members have come aboard to this already established group at various times. So, each member had a different start date. Joining me on stage now are tenor Thomas Nalley, lead Scott Brand, bass Chris West, and pianist Bryan Elliott.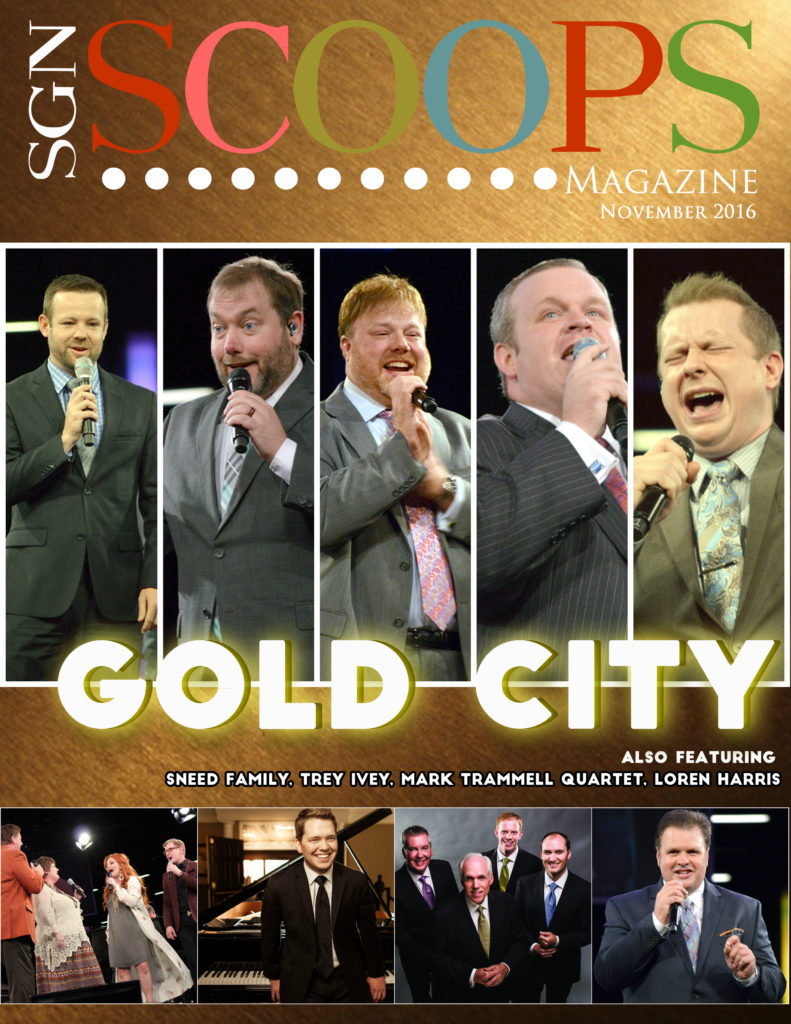 "Scott is our newest member. He had filled in a few weeks for us and auditioned in the process, but his first official date was at the Memphis Quartet Show on June 18, 2016. I think when we brought Scott on, we all knew there was something special happening, and it still feels like that now, on stage and in the studio as we're working on our next recording.  I'm excited about this current lineup and what I'm hearing each night. If the feedback from fans and our peers is any indication, they are excited too."
Since its inception in 1980, this Gadsden, Alabama, group has won numerous awards from fans and the Southern Gospel music industry, has sung and recorded many number one songs, and has received prestigious honors. Yet Gold City Quartet continues to remain grounded and points all success to the Lord.
Tags:
Bryan Elliott
,
Chris West
,
Daniel Riley
,
gold city
,
gospel music
,
Scott Brand
,
Thomas Nalley
Posted in
artists
,
diamond awards
,
sgn scoops magazine
,
special feature
|
Comments Off

on Gold City: Authentic and Unified
Written by SGN Scoops Staff on April 20, 2016 – 10:43 am -
Update From Daniel Riley: As most of you know, my mom unexpectedly passed away last night at the age of 69. We are devastated of course, but thankful for the peace God promised us in times like these. I was very close to her, she always had my back and I am so thankful that I got to visit this week and talk to her only hours before she passed. The last thing I said to her was "I love you," and I got to hear her tell me she loves me one more time. Please continue to pray for my dad, Tim and my sister Amy Riley Strickland. My mom was such a strong woman, and nobody will ever know just how instrumental she has been in the success of Gold City over the past 30+ years. All I ask from you, my many friends who I treasure so much, to pray for our family. Thank you so much! Arrangement details will be posted when they are finalized.
Tags:
Daniel Riley
Posted in
artists
|
Comments Off

on Update From Daniel Riley
Written by Staff on September 24, 2015 – 5:10 am -
In 1980, five men in Dahlonega, Georgia came together to form what is now one of the most celebrated and most beloved Southern Gospel groups, Gold City. The original lineup consisted of Bob Oliver (Tenor), Jerry Ritchie (Lead), Ken Trussell (Baritone), Dallas Gilliland (Bass) and Larry Goddard (Piano). Gilliland would be replaced shortly after formation with a man who has since become synonymous with the group, Tim Riley.
A multiple Singing News Fan Award winner and Gospel Music Hall of Fame member, Tim Riley is well known for his incredibly rich and clear bass voice. Riley became a stalwart member (until 2004, and later 2014) of the group whose lineup has experienced many changes over the years.
Tags:
Daniel Riley
,
gold city
,
gospel music
,
Tim Riley
Posted in
announcements
,
Christian interest
,
concert reviews
|
Comments Off

on 24 Karats: A Look At The Legendary Gold City Quartet
Written by Staff on June 2, 2015 – 10:49 am -
By Candi Combs
Daywind Music Group Hosts Greenbrier Quartet Festival 2015
Amongst the snow-topped mountains of White Sulphar Springs,West Virginia, Daywind Music Group held the first Greenbrier Quartet Festival at the extraordinary Greenbrier Resort. The event drew attendees from New Jersey to Florida and even a few Canadians. This endeavor marked an inaugural attempt by Scott Godsey and Daywind to host a multi-day event at a luxury resort. This geographic location is very different from the typical Southern Gospel venues that fans are accustomed to attending.
The Greenbrier welcomed each person with a smile and a large sweet tea! From that point forward, everything was presented on a whole new level. Even the seats in the concert hall were velvet covered while multiple stations in the room held pitchers of ice-chilled water.
Tribute Quartet, led by Gary Casto, started off the first night with their usual flair and energetic music. The lively group performed many charting songs and favorites, including, "Homesick Angel" and "Good News From Jerusalem," featuring Josh Singletary. Read more »
Tags:
Blackwood Brothers Quartet
,
brian free
,
brian free and assurance
,
Candi Combs
,
Daniel Riley
,
daywind
,
Gary Casto
,
Gene McDonald
,
gold city
,
Greenbrier Quartet Festival
,
Jay Parrack
,
Josh Singletary
,
legacy five
,
Quartet Night Across America
,
Scott Fowler
,
Scott Godsey
,
Tribute
,
triumphant quartet
Posted in
announcements
,
christian entertainment
,
Christian interest
,
sgn scoops magazine
|
Comments Off

on Candi's Catch-ups: Greenbrier Quartet Festival
Written by Staff on February 22, 2015 – 7:08 am -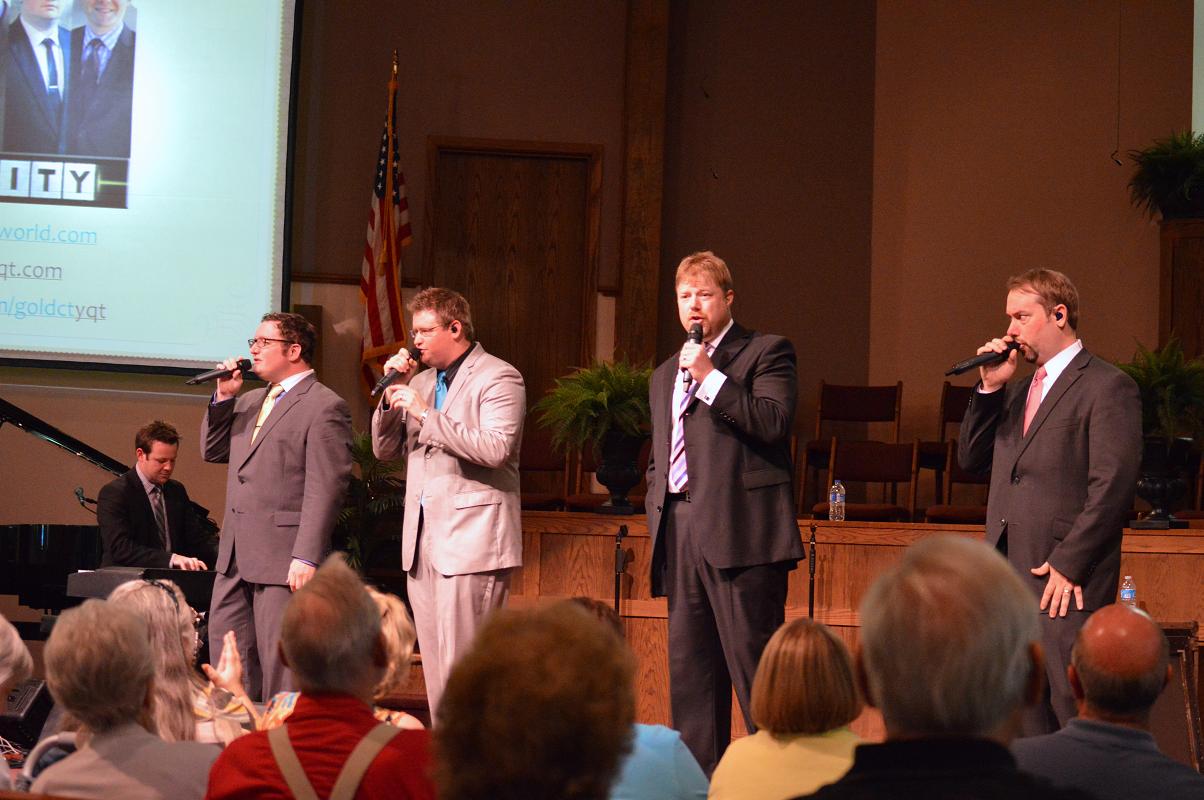 By Melissa Joy Wright
Since the group's inception in 1980, Gold City Quartet has become the standard to which all other quartets strive to meet. This Quartet's legacy is rich and deep with talent, ministry and love for the Lord. The current line-up is no exception. If you ask these guys each other's best attributes, they'll tell you first that their success in ministry is a collective team effort. They are a great team as a whole.
One part of that team is Chip Pullen. Chip sings lead for the group and is a down-to-earth guy who is a great friend to have. He brings energy and excitement to the Quartet both on the stage and off. He is an asset to the group and you can see his heart for Christ with every word that he sings.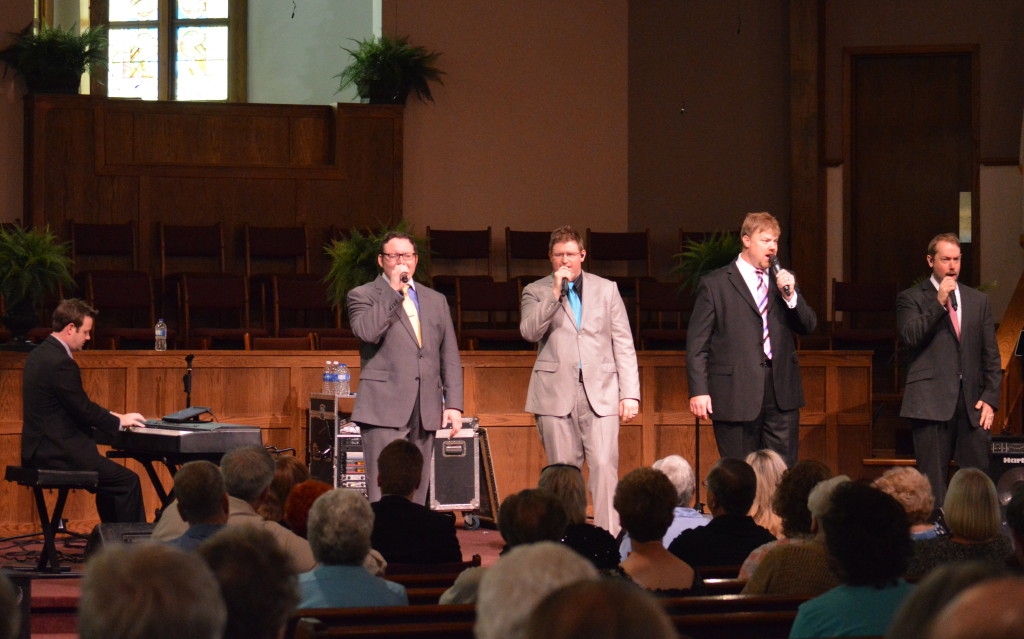 Robert Fulton is another part of this team. Robert sings the tenor part and is a self-professed nerd who loves trivia and game shows. He is the go-to guy if you want to be in the know on world events. He has a tender heart to serve and you can hear that when he shares the gospel from the stage.
Daniel Riley sings the baritone part and manages the group. Daniel is a constant source of encouragement for these guys. Not only does he pray for them, but he prays with them, as well. Daniel builds confidence in the lives of others and truly has a heart for ministry, in addition to being the man behind the details of running this successful quartet.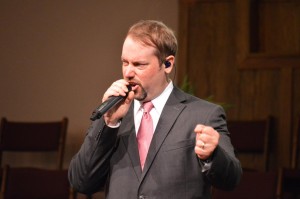 If you were asked to name an icon in southern gospel music today, the name Tim Riley would be on your short list. This Hall of Fame inductee has truly been famously singing the bass part for Gold City. He is the mentor of the group, resonating with each member as the ultimate voice of experience. The other group members all agree they seek Tim's advice and wisdom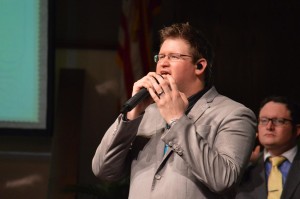 in all things, and his road stories can't be rivaled. He has a real desire to reach the lost. Tim wants to see others make great music and perpetuate Southern Gospel. Reports of his progress since his recent stroke are positive. He is at home, in good spirits, and making great strides toward recovery.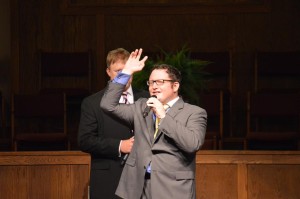 Chris West is helping to hold down the bass part while Tim is recovering. Chris is a long time Riley family friend who has filled in beautifully. The guys say Chris is great to travel with and has become a real friend. He has a laid back personality and he really enjoys serving the Lord.
Another important member of this team is Bryan Elliot. One of the very best musicians in this business, Bryan makes the piano sound fabulous day in and day out while bringing glory to God. He is a devoted family man who has a wonderful sense of humor, and he genuinely cares for people and truly desires to see others come to a personal relationship with Christ.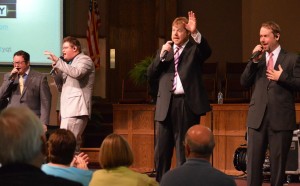 The sound for this quartet has never been better and part of the reason the mix is always perfect is because of Chuck Howe, Gold City's sound engineer and road manager. He is their resident MacGyver, fixing the most difficult problems with nothing more than a rubber band and drinking straw. Chuck is willing to help do anything and help anyone at anytime. He is invaluable to Gold City Quartet.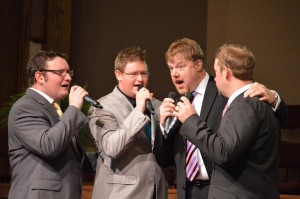 These men love their job and they love their Lord. They all share a firm desire to see people come to the salvation of Christ. They strive to encourage believers in their faith and further Southern Gospel music. Gold City Quartet has an historic legacy and a bright future, in fact; you could say it's as bright as…gold.
For more information on Gold City, visit http://www.goldcityqt.com/
Photographs courtesy of Kimberly Roberts
By Melissa Joy Wright
First published October 2014 by SGN Scoops magazine.
For current issues of SGN Scoops visit www.sgnscoops.com
Tags:
Daniel Riley
,
Gold City Quartet
,
gospel music
,
Melissa Joy Wright
,
sgn scoops
,
southern gospel
,
Tim Riley
Posted in
artists
,
sgn scoops magazine
,
special feature
|
Comments Off

on 35 Golden Years for Gold City Quartet
Written by SGN Scoops on February 27, 2012 – 11:00 am -
NASHVILLE, TN— Gold City, one of Southern Gospel's best-selling and most-beloved groups, returns to radio and retail in a big way with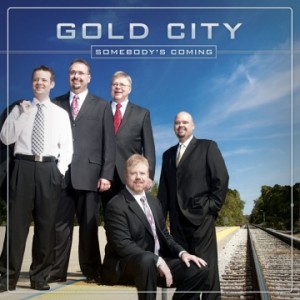 "Peter, James and John,"
the first single from their long-awaited New Haven Records CD,
Somebody's Coming
. The upbeat track, penned by renowned songstress Diane Wilkinson, will top the Singing News Magazine Top 80 Radio Chart for March 2012.
Southern Gospel radio promoter Jan Puryear, who worked Gold City's very first #1 single, "I Think I'll Read It Again," two decades ago, handles the promotion for "Peter, James and John." Puryear states: "There was unprecedented anticipation by radio and listeners alike for this new single. Not only is this one of Gold City's strongest songs ever, it's one of the fastest-rising Southern Gospel singles by any artist in recent memory."
Anchored by the father/son team of Tim and Danny Riley, today's version of Gold City holds fast to the unforgettable melodies, stellar vocals, and life-changing lyrics that has made them one of the genre's ultimate artists. With more than 60 Singing News Fan Awards, 40 recorded projects and multiple Dove Award nominations over the past 30 years, reaching this pinnacle is no less gratifying to group, who have faced their share of personal and career challenges in recent years. Gold City's Danny Riley dedicated this CD to everyone who has experienced feelings of brokenness and defeat: "I know first hand that He will bring you through whatever valley you are walking through if you trust Him."
Produced by award-winning vocalist Michael English, this new project has its roots firmly in tradition while spreading its branches with a musical relevance and sophistication that appeals to today's broad country and inspirational fan-base. The next single on the horizon is "Lord of Life," a thrilling ballad about the resurrected Christ that should be in heavy airplay in time for Easter 2012.
About New Haven Records:
New Haven Records is a Nashville-based music corporation that includes label, publishing, and film companies. For more than two decades, they have focused on the uniquely American genres of Black Gospel, Southern Gospel, and Country & Bluegrass Gospel. New Haven's product is distributed to the mainstream through SONY and to the Christian marketplace through Provident Music Distribution.  For additional information, go to
www.newhavenrecords.com
.
For more information, please contact:
Julia Daily, Media Relations
New Haven Records
741 Cool Springs Blvd.
Franklin, TN 37067
Tags:
Daniel Riley
,
Gold City Quartet
,
Southern Gospel News
,
Tim Riley
Posted in
announcements
|
Comments Off

on GOLD CITY SOARS BACK TO THE TOP WITH #1 SINGING NEWS SINGLE "PETER, JAMES AND JOHN"
Written by SGN Scoops on October 21, 2011 – 12:44 pm -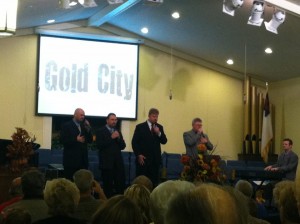 Southern Gospel fans in Ooltewah, TN received a blessing on October 20, 2011. Greenwood Baptist Church hosted the one and only Gold City Quartet in concert. This was a special night for Greenwood Baptist since Gold City's new lead singer, Jerry "Punkin" Pelfrey, grew up in this church. Fans packed the sanctuary, many sat in chairs down the center aisle. The audience consisted of a mixed group of all ages  including families with small children, teen-agers, and senior adults.
Pastor Toby Brogden opened with Psalm 150 and a prayer, and then the congregation was led in singing. The church choir did a great job preparing the hearts of the people for a great night of worship.  Kim VanHoozier, sister of Jerry Pelfrey, shared a beautiful song she had written with the full choir back-up. There was a sweet aroma of praise in the air before Gold City ever took the stage.
The acclaimed quartet began their set with "Where Is God" followed by "By His Grace For His Glory." The congregation, the young and the old alike, joined in with "I Cast My bread Upon The Water." Daniel Riley introduced the next song by reminding the congregation that it is okay for the children of God to have fun, and then treated the audience with a soulful- black gospel type of a song. The tune was an old Dixie Hummingbird number and will be included on Gold City's new album in November.  The crowd loved it as Daniel took the lead and sang from his soul while having a lot of fun!
Tenor, Dan Keeton turned up the heat taking the lead on "God's Building A Church" and Tim Riley charmed the audience with his deep bass voice as he sang his lead lines on the chorus.  The crowd went wild as the guys held on to the very last note for dear life.  "I'm part of a church and that makes me feel like something else besides Baptist," Daniel said.
Dan Keeton led the congregation from excitement to adoration with his performance of "Oh What A Savior" with only piano accompaniment.  People rose to their feet in praise, then the soft spoken, meek spirited tenor began to testify. He gave the congregation a glimpse of what the Savior had personally done for him.
 Keeton explained as he grew up in Detroit, he suffered abuse in a home afflicted with alcoholism and divorce.  He didn't elaborate, but just enough was said to paint a picture of his painful past. He went on to say he moved to his Grandmother's house in Kentucky and there discovered Southern Gospel Music in a box and also on the radio.
 Soon after his discovery of Gospel Music, he learned Gold City Quartet was coming to his town.  Keeton told how he was so excited; he got there four hours early. Gold City had not arrived yet, so he decided to leave for a while to get a drink. As he left, he passed the bus, so he whipped his car back around and headed back to the event.  As Keeton described to the Greenwood Baptist crowd, who all walked off the bus, a few in the congregation cheered.  "Getting off the bus, there was Brian Free, Ivan Parker, Mike LeFevre and Tim Riley," Keeton recalled.  That night as a youth, Keeton watched Gold City unload, set up and get a sound check, and then he took in every song and every word during the concert.  All the way home, Keeton explained to the Greenwood Baptist crowd, that he prayed asking God to let him sing in a quartet just like that someday. "And 26 years later," Keeton explained, "the Lord said 'How 'bout THAT one!'" Moved with emotion from a heart filled with gratitude, Keeton repeated the last verse and the congregation responded in praise.
Gold City blessed the crowd with tunes such as "Shouting Ground," "One Scarred Hand," "When I Get Carried Away," "Under Control," and "In My Robe Of White."  They also carried on the long term tradition of sharing their personal love for God.  They reminded the people of the great responsibility we all have in spreading the good news of Christ. There are many ways that all Christians can "preach"- no one has to be a so-called preacher to do so. The way we live, the way we conduct ourselves in public and in private "preaches." With that explanation, Gold City sang with Holy Spirit power and conviction, "Preach The Word."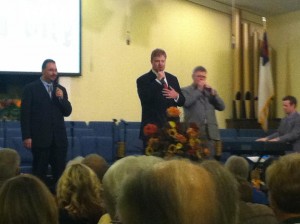 Following a brief intermission, Gold City sang a few more songs, and then closed out the night with Tim Riley reminding the congregation of the end times in which we are living. The newspapers validate the Word of God, the King is coming! After Riley's convicting comments, new lead singer, Jerry Pelfrey claimed the lead to the beloved song, "Midnight Cry" and nailed it as if had been singing it with Gold City for years.  The power in the message prompted the saints to rise and worship as the Holy Spirit whispered messages of conviction into the hearts of those not prepared for Christ's return. 
Pastor Toby Brogden took over the service by extending an invitation to pray as Gold City quietly sang "Just As I Am." Many responded to the invitation, including several youth.  There was a holy stillness in the room as people's hearts were aligned with the will of God.  It was truly a blessed night in Ooltewah, Tennessee.
Thank you, Gold City for your dedication to serve God and people through music. Thank you, Pastor Brogden and Greenwood Baptist Church for opening your doors on a Thursday night to the community providing an opportunity for the gospel to be shared in song!
To see where Gold City stops next, visit: http://goldcityqt.com/ and be watching for their new album to be released in November of 2011.
Concert Review- by Rhonda Frye
Pictures Provided by- Blake McAllister
Tags:
dan keeton
,
Daniel Riley
,
Gold City Quartet
,
Greenwood Baptist Church
,
Jerry Pelfrey
,
Rhonda Frye
,
southern gospel concerts
,
Southern Gospel Music
,
Southern Gospel News
,
Tim Riley
Posted in
exclusive report
|
Comments Off

on Concert Review: Gold City Quartet