Written by Staff on April 5, 2019 – 1:51 pm -
10,000 items donated to establish research library
Hendersonville, TN – The Southern Gospel Music Association is pleased to announce the acquisition of a massive Gospel Music collection from Harold Timmons of Nashville, TN. The collection consists of nearly 10,000 items procured over his 65-year association with the genre. This important contribution will form the foundation of the SGMA Research Library soon to be established.
The Timmons collection contains 19th-century songbooks and original recordings dating back to the 1920's and includes the best available copy of nearly 80% of releases by the major artists of the genre since its inception. In response to receiving this significant gift, SGMA President, Arthur Rice, stated: "We've always wanted a great library and a collection of artefacts. The SGMA looks forward to Harold's collection, his knowledge, and that of his associates.  Not only will this be good for our organization, it will be good for artists and fans as well, and anyone wanting to research anything related to Southern Gospel Music. We look forward to this new endeavor."
Mr. Timmons commented, "I wanted the collection to be displayed, and available for research and for me to be able to continue to be involved with this work as long as physically able." He continues, "The SGMA now has the possibility of developing a comprehensive historical online database. My long-term goal is that a song may be researched as a recording, video, or printed music, and every reference contained within the library will be displayed.  A large percentage of the materials are already cataloged, and I'm encouraged to know that effort will continue through the new SGMA Research Library."
Harold Timmons is recognized as a touring musician with The Hemphills and Gospel Music Hall of Fame inductees The Chuck Wagon Gang. He is also well known for the large exhibit that he operated at various music festivals, including 38 consecutive years at the National Quartet Convention where he provided fans the opportunity to peruse and purchase classic Gospel recordings and collectibles. His recent effort includes the establishment and management of "We Love Our Southern Gospel Music History," which is a Facebook page and community consisting of 42,000 members.
Established in 1994, the Southern Gospel Music Association (SGMA) is a professional preservation association of artists, songwriters, industry leaders and fans founded to preserve, protect and promote Southern Gospel Music, its history and heritage.
For more Gospel Music news, read the latest SGNScoops Magazine HERE
Download The PDF Of SGNScoops Magazine
HERE
Find SGNScoops Magazine On Facebook
HERE
Listen To The Best In Today's Gospel Music
HERE
Tags:
Aaron Rich
,
Arthur Rice
,
Dean Adkins
,
gospel music
,
Harold Timmons
,
Karen Peck
,
rick shelton
,
sgma
,
SGMA Hall of Fame
,
Southern Gospel Music
,
Southern Gospel Music Association
,
Travis Bridgeman
Posted in
announcements
,
artists
|
Comments Off

on SOUTHERN GOSPEL MUSIC ASSOCIATION RECEIVES THE HAROLD TIMMONS COLLECTION
Written by Staff on September 17, 2015 – 9:46 am -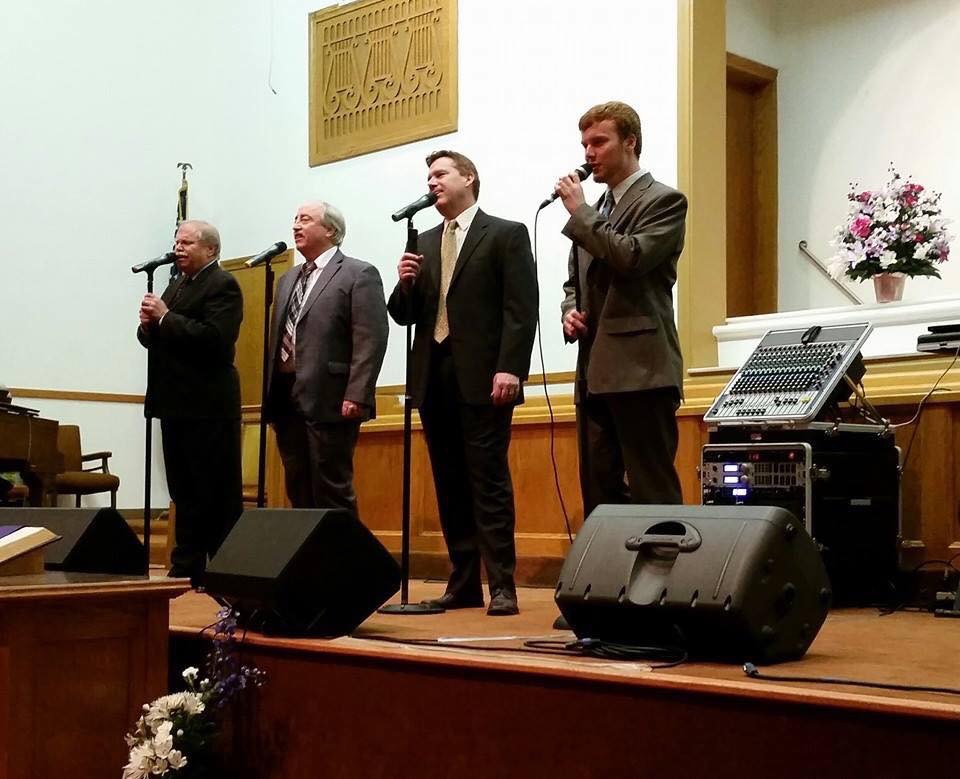 It's All About the Bass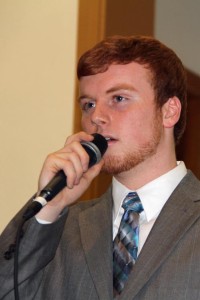 It is not that unusual to find a teenager in a Southern Gospel group but in most cases it is a family group. A teenager in a male quartet is more of a rarity and a teenage bass singer is probably the rarest addition to a group. So it is a unique combination to find a teenage bass singer in one of the oldest SGM groups, but such is the case with the current group comprising the Gospel Harmony Boys.
In 1952 the Gospel Harmony Boys were founded in Huntington, WV by SGMA Hall of Fame member, Harold Lane. Since that time they have been recognized as one of the most musically sound groups in the genre. In their 63 years of ministry, they have only had five bass singers up to this point. I would like to introduce their sixth bass singer, Brandon Stone, a 17 year old high school senior.
1. Can you please provide some background information: family, education, church affiliation?
I am 17 years old and am a senior at Winfield High School. I was raised by a single Mom, and we live in Nitro, WV. We are a small family but very close. Along with Mom, my Nana (Marie Lamont), Pawpaw (Bill Lamont) and Uncle David (David Lamont) are my biggest support system and are always in the audience no matter what I am doing. I am a member of Teays Valley Baptist Church under the direction of my senior pastor, Dr. John D. Smith.
2. What was your early introduction to Southern Gospel music?
My maternal great-grandparents loved Gospel music. They had tons of the Gaither homecoming videos, always went to local Gospel sings and attended the Grand Ole Gospel Reunion for as many years as I can remember.
3. What is your musical background and influences?
Since I was a toddler, I have always loved music. I always told my mom I wanted to be a choir director when I grew up. I started playing the trumpet when I was 11 years old for Andrew Jackson Middle School. I continued through the years and still play the trumpet today in the Winfield High School marching band, concert band, show choir band and pep band. I started singing in our church's youth choir when I was in middle school and sang my first solo in ninth grade at church. I also joined the adult choir at church when I entered high school.
4. When did you realize that singing was something you wanted to do?
I had never really put much thought into singing with a group like the Gospel Harmony Boys. I had no idea that I was qualified enough to sing for a Southern Gospel quartet. I was content on just singing at church. Now that the door has been opened for me to sing with the GHB, I realized that this was something I love and I hope to minister to people with gospel music for a long time.
5. How did you hear about the GHB opening? How was your audition?
I heard there was opening from Ron Peters, a man that attends my church. Ron works with Clacy Williams, and I guess one day he showed Clacy a YouTube video of me singing. The next thing I knew, I was getting a call from Clacy himself. The audition wasn't that bad, other than the fact that I was extremely nervous. The guys were kind, helpful, and encouraging. I guess it went well since I am still here.
6. How do you balance school, GHB activities and church?
The good thing about GHB is that most of our endeavors are on the weekends, so it doesn't affect my school time. While I sometimes have to miss service at my own church to be at an event or practice, I think of it as me working with my own ministry. Balancing it all hasn't really been that challenging so far.
7. Favorites – school subject, movie, book, any hobbies?
My favorite things to do are probably what you would predict… but I honestly love to hear a good preacher in church, sing, play my trumpet, spend time with my friends and family and listen to gospel music.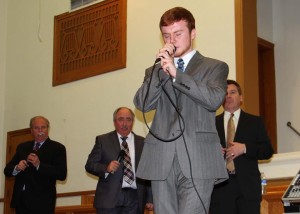 8. What are your plans after high school?
After high school, I plan to attend Andersonville Theological Seminary. God called me to preach in July, 2013 so I will further my education to go into the ministry. I plan to serve at my church and sing with the Gospel Harmony Boys while taking classes.
9. How are the GHB guys treating you?
The Gospel Harmony Boys are the classiest, most respectable, fun, helpful, and friendly group of people I have ever been around. I was worried about being the new young guy, but from the first day, all three of the men have taken me under their wings and made this experience awesome. I have only sung in a few concerts so far, but I am having the time of my life and am honored to be singing with role models that put Christ first in their lives. They are a great example to a young guy like me just getting started. I could not be any happier, and I look forward to the future.
Clacy Williams, tenor and manager of the group had this to say about Brandon: "Brandon is an extremely talented young man who has the potential of becoming one of SGMs finest bass singers. He has a great attitude and it's amazing how much quicker he learns, compared to the old codgers he's adopted as comrades. Singing with Brandon is just good fun as well as watching him improve every program and every rehearsal."
Clacy also adds, "We felt it was time to pay back and help a great young talent develop."
by Dean Adkins
For more information on the Gospel Harmony Boys click here.
First published by SGNScoops in March 2015.
For current artist features, read the latest SGNScoops digital magazine, posted on the SGNScoops mainpage.
Tags:
Brandon Stone
,
Dean Adkins
,
Gospel Harmony Boys
,
Gospel quartet
,
Southern Gospel Music
Posted in
christian entertainment
,
Christian interest
,
exclusive report
|
Comments Off

on Gospel Music Historian Dean Adkins talks to the Gospel Harmony Boys
Written by Staff on September 9, 2015 – 11:35 am -
Some of the better-known quartets spent a number of years as the resident church group. Besides providing songs for the congregation, members of the groups also served as part of the church staff. Although there were a number of groups that started as church quartets, the Weatherfords, Cathedrals, Landmarks, Monitors and Toneys were among those who moved on to become well-known names on the Gospel circuit.
In the early 1950's, the Weatherford Quartet were the resident group for WOWO radio in Ft. Wayne, Indiana. They also sang in churches and became acquainted with Rex Humbard who was preaching at Calvary Temple, in an old theater in Akron, Ohio. In 1953, WOWO decided to not use live music and as a result the Weatherfords had no radio contract. The Weatherfords joined Rex Humbard as the resident group for the Cathedral of Tomorrow, a new state-of-the-art facility.
One of the Weatherfords better-known alignments during this time consisted of Armond Morales, Earl Weatherford, Glen Payne, Bobby Clark and Danny Koker. The group also did some touring but Rex Humbard wanted a group that was active in the church. In 1963, three members of the Weatherfords: Danny Koker, Glen Payne and Bobby Clark, decided to stay and became the Cathedral Trio.
The Cathedral Trio performed at the Cathedral of Tomorrow and traveled with Rex Humbard. In 1964, they added George Younce and became a quartet. They continued as part of the Cathedral of Tomorrow staff until 1969. Although they were no longer a part of the Cathedral of Tomorrow, they kept the name Cathedral Quartet and maintained their home in Stow, Ohio. From this beginning, they ultimately became one of the best-known Southern Gospel groups.
The Landmark Baptist Church in Cincinnati, Ohio was (and is) a church that utilizes many of the touring Southern Gospel groups. The pastor, Rev. John Rawlings, loved quartet music and so did his son, Carroll. The Landmark Quartet was formed as the church's home group. Although members changed through the years, one of the better-known lineups consisted of Buddy Liles, Don Norman, Mack Evans, Lorne Matthews and Carroll Rawlings. This group also did some touring and recorded some quality albums.
​The Monitors Quartet was organized in Indianapolis, Indiana in 1957 by Horace Floyd, former member of the Swanee River Boys. He added Bill Nelson as lead, Ned Williman as baritone, Warren Holmes on bass and Din Ritter as pianist. The Monitors were affiliated with the Cadle Tabernacle, a large Christian church in Indianapolis, which seated over 10,000 people. The church also broadcast on WLW radio in Cincinnati and was heard in a multi-state area. The Monitors performed on radio seven days per week. The Monitors continued for several years before disbanding. The group was reformed as a part-time group around 1980 and consisted of Lem Kinslow, Bill Nelson, Hal Morrison, Ray Burdett (former Statesmen bass) and Jeff Stice.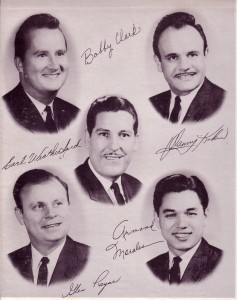 Alden Toney sang tenor with the Blackwood Brothers from 1949 through 1951 and then took a job in the automotive industry in Detroit, Michigan. Alden's brothers, Bob and Kyer were discharged from the Army in 1954. In 1955, brother Jim joined the others to form the Toney Brothers Quartet. Like other quartets that came after them, they became affiliated with a church, Gilead Baptist Church in suburban Allen Park. They began appearing on CKLW-TV in Windsor, Ontario, Canada as well. This group appeared on the first National Quartet Convention in 1957. When Alden retired in the early 1960s, he was replaced by Ron Booth Sr., father of Michael and Ronnie of the Booth Brothers.
The foundation of being associated with a church was manifested in the ministry and presentation in each of the aforementioned groups.
by Dean Adkins
First published by SGN Scoops in February 2015
For more great Gospel music columns and artist features, read the latest SGN Scoops digital magazine, located in the SGN Scoops mainpage.
Tags:
Cathedrals
,
Dean Adkins
,
Landmarks
,
Monitors
,
Quartet Music
,
sgn scoops
,
southern gospel
,
Toneys
,
Weatherfords
Posted in
announcements
,
artists
,
Christian interest
,
sgn scoops magazine
|
Comments Off

on Dean Adkins' Gospel Music History: From Church to Touring
Written by Staff on July 9, 2015 – 2:17 pm -
"Ring out the old, ring in the new,
Ring, happy bells, across the snow:
The year is going, let him go;
Ring out the false, ring in the true."
~~Alfred Tennyson In Memoriam (1849)
For many people, New Year's Eve means a time to party or to go out with friends and celebrate. My New Year's Eves were usually spent in a different way. When I was young, I would attend a service at a nearby church where local groups would sing out the old and sing in the new. As I grew older, and was able to drive, I started to attend New Year's Eve concerts featuring professional groups. One of the biggest sings was promoted by Cecil "Sonny" Simmons and held at the Charleston (WV) Municipal Auditorium. Over the years I was able to see many of the top groups.
One of those concerts that stands out, was held December 31, 1976. This particular concert was one that I recorded on my portable tape recorder so I can relive it via the recording. There were a number of reasons that this concert was memorable to me. The lineup was very diverse and along with the national groups, some regional groups were also featured. So let me give a recap of this concert.
The concert opened with "Sonny" Simmons introducing the Telestials. The Telestials at this time were featuring their lead singer Jim Wood on "One Way Flight" and "Here They Come". Both of these were well received by the capacity crowd.
The next group was a Charleston-based group, the Calvarymen Quartet. The Calvarymen had recently undergone a couple of changes. Squire Parsons had left to join the Kingsmen Quartet and Conrad Cook had left to form his family group, the Calvary Echoes. The Calvarymen still used songs written by Parsons and Cook, including "When My Feet Touch the Streets of Gold", "There Is Joy In Serving Jesus" and "I Get A Little Heaven."
Naomi and the Segos were the next group to hit the stage. They sang "Thank God I Am Free" and "Learning to Lean." The highlight, at least for me, was when they sang "The Dearest Friend" and James Sego gave a moving testimony. He told how he had been delivered from alcoholism and also described his recent stroke. He admitted his voice wasn't what it used to be, but he was blessed to be able sing at all.
The group to follow the Segos was Conrad Cook and the Calvary Echoes. A lot of fans were happy to see Conrad since he had previously been a favorite with the Calvarymen. Conrad's daughter, Robin, was featured on "I Came On Business For The King" and Conrad's unique style was manifested on "Sweet Holy Spirit." The crowd definitely loved this group.
Willie Wynn and the Tennesseans were the next group. Willie was featured on "My Soul Has Been Set Free" and "I Am A Seeker." Ron Hutchins, formerly of the Inspirations and LeFevres, did a masterful job on "He Is So Precious To Me." The other selections were fast, hard-driving songs that had the crowd clapping along.
Roger Horne began his professional career as tenor for the Gospel Harmony Boys and later joined the Cathedral Quartet. He also spent some time with the Scenicland Quartet. However, on this night, he was joined by his wife Becky and Eddie Burns as the Roger Horne Trio. They sang: "He Kept On Loving Me," and "I Can Feel The Spirit," both written by Roger Horne.
The group that most fans were waiting to see was the Kingsmen. Many would be seeing Squire Parsons for the first time with this group. The Kingsmen began with "Beyond the Clouds," and followed that with "I'd Rather Be An Old Time Christian." Squire was featured on "The Land of Beulah." They also did "When I Wake Up To Sleep No More," and "Gloryroad." Their set concluded the first part of the concert.
Each group came back after intermission and sang a couple of songs. A couple of songs from the second part really stood out. One was Willie Wynn being featured on "You'll Never Walk Alone" and the other was the Kingsmen singing and encoring "I've Made A Covenant."
There were other songs besides those I mentioned, but I hope this will give you a taste of what this concert was like.
By Dean Adkins
First published by the SGN Scoops magazine in January 2015. For more features, see the latest issue on the SGN Scoops mainpage.
Tags:
Conrad Cook and the Calvary Echoes
,
Dean Adkins
,
gospel music
,
Gospel music history
,
sgn scoops
,
the Calvarymen
,
The Kingsmen
,
The Segos
,
Willie Wynn and the Tennesseans
Posted in
artists
,
christian entertainment
,
Christian interest
,
sgn scoops magazine
|
Comments Off

on Dean Adkins' Gospel Music Memories: New Year's Eve 1976
Written by Staff on June 25, 2015 – 4:48 pm -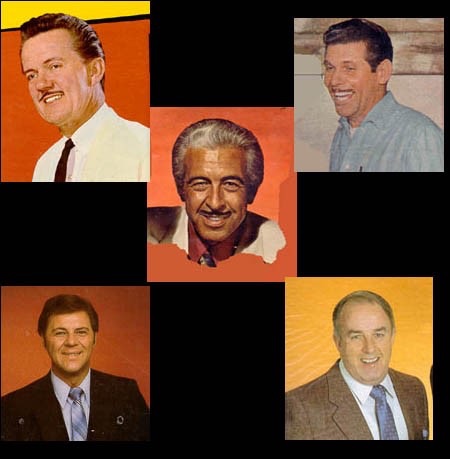 "Should you go first, and I remain …" is the beginning of the recitation accompanying "Beyond The Sunset." Anyone who watched George Younce as he recited this to his wife on a recent video could feel the depth of his emotions. Who can forget J.D. Sumner reciting "Old Man Death" not long before his own death?
The bass recitation was once a common addition to most quartets' programs and was also a part of many of their recordings. In fact, a statement on one of the Cathedral's early albums indicated that they would try to include a recitation on each that was produced. There is something about that deep resonant bass voice that can elicit an emotional response. There have been recitations by other quartet members, e.g., lead (Jim Hamill), baritone (John Matthews), but my preference is the bass.
Billy Todd, when he was with the Florida Boys, stirred many hearts on Sunday morning via the Jubilee with his rendition of "Beyond The Sunset." Later Buddy Liles of the Florida Boys did "The Apple Tree Song" and "IOU's to Mama." When he was a member of the Dixie Echoes, the Old Gospel Man – J.G. Whitfield – would recite "Father's Table Grace" and "Brother Ira."
George Younce was one of the best and also one of the most prolific. "The Touch of The Master's Hand," "Beyond The Sunset" (mentioned previously), "Steal Away," and "Brother Ira" were part of his repertoire. The live recording from Atlanta by the Cathedrals included "Forgive Me When I Whine." George's "I'm A Sick American" was also very moving.
When Bob Thacker was with the Harvester's Quartet, he would do "Mama Sang A Song" (which was also popular in the country market at the same time). He also had a great styling of "Father's Table Grace." Bob Thacker was one of those singers who didn't get the publicity of some others, but he was a tremendous bass.
London Parris could rattle the speakers with his low notes but on his recitations his voice was much higher. He didn't sound like one would expect from his singing, but his country dialect seemed to add realism to his recitations. London would do "Little Boy Lost," "He Took My Place," "This Is Our Land" and one of my favorites, "What Then."
Probably the most prolific at this was J.D. Sumner. Some of his recorded recitations were: "Back Home," "Mammy's Boy," "Sunday Meetin' Time," "Steal Away," "Lord It's Me Again," "Who Will Take Grandma," "Papa's Banjo," "The Three Nails," "Going Home," "My Prayer," "The Farmer and The Lord," "Thimble Full of Memories," "23rd Psalm" and "Thinking Out Loud". Of course his premonition of his own passing seemed to be evident in "Old Man Death."
"Now back in south Georgia, when I was just a lad …" is the beginning of "Little Boy Lost." When performed by "Chief" (James Wetherington), one can feel the urgency in the little boy – lost, stumbling in the darkness. Chief had a way of communicating that allowed the listener to become a part of his recitation as in: "Mother's Prayers Have Followed Me," "Sunday Meetin' Time," and "Prayer is the Key to Heaven." The last time I saw the Statesmen with Chief was not long before his death at a concert in Charleston, WV. One of the highlights was when the lights were turned down and a single spotlight would be on Chief as he recited "The Common Man." In his white suit and with his elegant gray/white hair, he was resplendent. One would have to be dead or an atheist not to be moved by his eloquent styling.
Are there any bass recitations today? A few can be found. Ed O'Neal of the Dixie Melody Boys did "I Love To Tell The Story" on a project several years ago. Why are there not more? My thoughts are this: it is difficult to do and that style is passé. But for me, there is nothing that compares to the deep resonant bass reciting a moving poem/chorus.
By Dean Adkins
First published by SGN Scoops in November 2014. For current issues visit the SGN Scoops mainpage.
Tags:
Billy Todd
,
Cathedrals
,
Dean Adkins
,
florida boys
,
George Younce
,
J. D. Sumner
,
Jim Hamill
,
John Matthews
,
London Parris
,
sgn scoops
Posted in
artists
,
christian entertainment
,
Christian interest
,
guest
,
sgn scoops magazine
|
Comments Off

on Bass Recitations by Dean Adkins
Written by SGN Scoops Staff on November 15, 2014 – 7:14 am -
It's November and we are thrilled to present the latest edition of SGNScoops for you to read and enjoy. Creekside Gospel Music Convention was a blast and we have lots of pictorial coverage in these pages, as well as on the fabulous front cover. Inside we have an update on the event with a list of the Diamond Award winners and so much more. We say an extra thank you to all of those who went above and beyond to help make Creekside the best ever. If we were to make a list, we might leave someone out, so to each and every one of you: we are so grateful to have you as part of our team.
Thanks to our artists for brightening our pages this month! Featured guests for November are: Soul'd Out, Tim Parton, Melanie Walker, the LeFevre Quartet, Triumphant, Hannah Webb, Canaan's Crossing, Sherry Anne, the Jordan Family, Quinton Mills and DJ Ron Foster.
Thanksgiving is quickly approaching and you will find several articles with different views on this holiday. We appreciate all of our artists for contributing what they are thankful for and also their favorite holiday food!
Our monthly devotional writers are back with more insights, as well as a new column entitled "Pastor's Corner". This month we welcome Music Pastor, Terry Snyder.
Since this is the month of giving thanks, we would like to thank all of our current authors that spend so much of their time and talents on SGN Scoops. Special thanks to Candi Combs, Chris Clay, Craig Harris, Dan Duncan, Dean Adkins, Dixie Phillips, Erin Stevens, Hannah Webb, Jennifer Campbell, Laura Kennedy, Lynn Mills, Marcie Gray, Paige Givens, Scott Rhoades, Tina Wakefield, Robert York, Sandi Duncan Clark and Vonda Easley. There are others who contribute in other ways and we are thankful to you as well: Vivian Belknap, Michelle Drummond and Bev Byrd.
We so appreciate all of our columnists, including Lou Wills Hildreth, David Staton, Laurette Willis, Jeff Steele, Kelly Nelon Clark and Sherry Anne.
SGN Scoops would look really dull without the artistic team of Stephanie Kelley and Staci and Pete Schwager. Joan Walker makes sure all of our i's are dotted and our t's are crossed. Lorraine Walker as acting editor pulls it all together. And of course, SGN Scoops' Publisher Rob Patz keeps us all focused and enthusiastic about the future of the magazine. And SGN Scoops would not exist without our founder, Dr. Allen Smith.
Above all we give thanks to our Lord Jesus Christ, for Whom we give our gifts and to Whom we give all praise and thanksgiving.
Happy Thanksgiving!
Tags:
Candi Combs
,
Chris Clay
,
Craig Harris
,
Creekside Gospel Music Convention
,
Dan Duncan
,
Dean Adkins
,
diamond awards
,
Dixie Phillips
,
Erin Stevens
,
Hannah Webb
,
Jennifer Campbell
,
Laura Kennedy
,
Lynn Mills
,
Marcie Gray
,
Paige Givens
,
Robert York
,
Sandi Duncan Clar
,
Scott Rhoades
,
SGNScoops Magazine
,
Tina Wakefield
,
Vonda Easley
Posted in
announcements
,
sgn scoops magazine
|
Comments Off

on November 2014 SGNScoops Magazine
Written by SGN Scoops Staff on October 9, 2012 – 8:56 pm -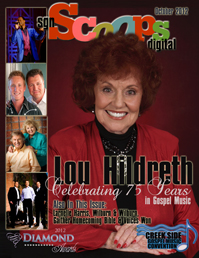 We are pleased to celebrate 75 years in Gospel Music with Ms. Lou Wills Hildreth in this edition of SGNScoops Magazine. Sandi Duncan Clark captured many of this living legend's memories in this month's cover story. Also in this edition enjoy ministry updates from Larnelle Harris, Voices Won, Freedom, Wilburn & Wilburn, the Hinshaws and Jim Mahalick. Get a peek inside the SGNScoops booth at the 2012 NQC as well as follow Charlie Sexton around as he talks to fans who attended this year's event. Laura speaks with Gospel Music Historian, Dean Adkins, Sandi shares a conversation with Greg Bentley regarding "talent competitions" and Rhonda Frye speaks with Gloria Gaither about the new Gaither Homecoming Bible. See who released new music and find out who is topping charts! Enjoy several inspirational articles including one from guest writer, Janene Dubbeld and keep up with Jeff Hawes as he travels the world with Karen Peck and New River! Don't miss the latest update on the Creekside Gospel Music Convention too! We excited to share about this year's outreach project! This month is packed with the latest news in the world of gospel music delivered by a dedicated staff with many years experience in the Industry. Please share with friends and remember- Always digital, always free…… always good!
Please Click Here
Tags:
Charlie Sexton
,
Creekside Gospel Music Convention
,
Dean Adkins
,
freedom
,
Gaither Homecoming Bible
,
Gloria Gaither
,
Gospel Music Historian
,
Greg Bentley
,
Janeen Dubbeld
,
Jennifer Campbell
,
Jim Mahalick
,
Karen Peck
,
larnelle harris
,
Laura Kennedy
,
Lorraine Walker
,
LYNDA RANDLE
,
Ms. Lou Wills Hildreth
,
national Quartet Convention
,
Rhonda Frye
,
rob patz
,
Scott Rhoades
,
southern gospel
,
Southern Gospel News
,
the Hinshaws
,
Voices Won
,
wilburn & wilburn
Posted in
announcements
,
christian entertainment
,
sgn scoops magazine
|
Comments Off

on October 2012 Edition Of SGNScoops Magazine