Written by Staff on September 28, 2019 – 12:34 pm -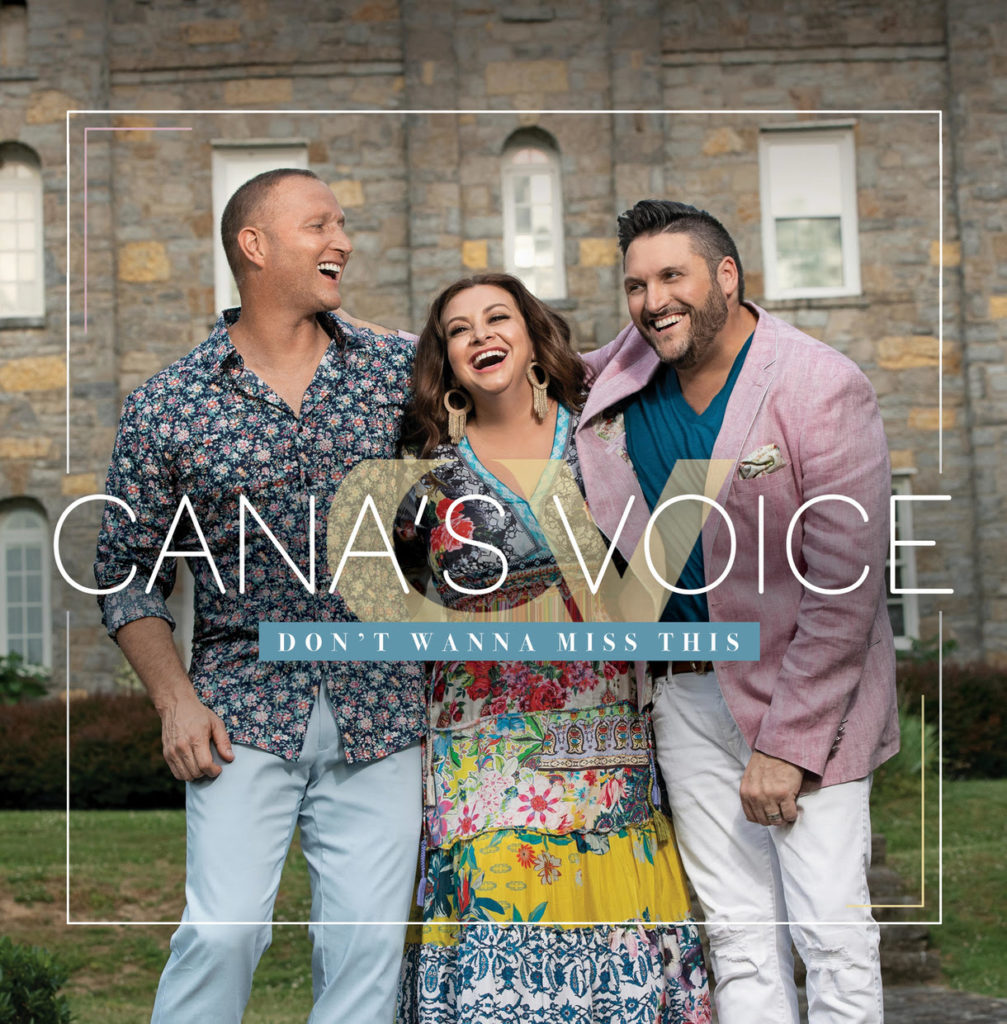 Nashville, TN — With countless live appearances behind them and the success of their chart-topping project, This Changes Everything, StowTown Records artist Cana's Voice is thrilled about the release of their highly-anticipated sophomore recording project, Don't Wanna Miss This, which is now available at all digital and retail platforms worldwide.
Drawing on the strengths of three of today's top, award-winning producers, Wayne Haun, Jim Hammerly and Jerard Woods, Cana's Voice couldn't be more excited about the production and arrangments on this project. But as amazing as this project sounds, it would be meaningless without the message of the carefully-selected songs they chose. Penned by an extremely talented group of songwriters including Don Koch, Andraé Crouch, Wayne Haun, Joel Lindsey, Jeff Bumgardner, Fred Hammond and Brian White, Don't Wanna Miss This is a collection of songs designed to offer hope to the hopeless. Fans will enjoy the fresh new sounds of songs like the upbeat title cut, "You Don't Wanna Miss This" and worshipful "Center Of It All," but they will also enjoy the Cana's Voice treatment of well-known CCM hit "There Is A Love" and Traditional Gospel song "Where Jesus Is."
While they want to send the message of God's love and redeeming grace to as many people as possible, they are particularly concerned for those who are on the edge of giving up on God, Christianity and the church. Jody McBrayer shares, "When we got together, the whole point of this group was to be something unique, genuine and real, and to be a part of something done with excellence. We didn't want to get in the studio and throw some songs together to have a project to sell. No, we've chosen to work diligently for these last 3 years to bring our listeners something that changes people."
With each of the three group members (Doug Anderson, TaRanda Greene and Jody McBrayer) having successful solo careers, Cana's Voice comes together for special events and 30-40 concert dates each year. They look forward to sharing Don't Wanna Miss This at the Brooklyn Tabernacle this Sunday as a launch to their 2019-2020 touring season.
Don't Wanna Miss This is distributed by Sony/Provident Distribution.
TRACK LISTING:
1. Where Jesus Is
2. You Don't Wanna Miss This
3. There Is A Love
4. Orphans of God
5. I Don't Have To Know
6. Again & Again
7. We're Blessed
8. I Stand Redeemed
9. Center Of It All
10. Hope
11. What Are You Waiting For
12. At Midnight
ABOUT CANA'S VOICE:
Cana's Voice has combined the multi-genre talents of Jody McBrayer, TaRanda Greene and Doug Anderson to create a unified message of hope for the hurting. Their awe-inspiring harmony, coupled with the beautiful ability to deliver their personal testimonies, has propelled the vocal group into the music industry spotlight. In addition to each member having well-established solo careers, Cana's Voice comes together 30 to 40 times a year for special events, as well as exciting concert tours with such artists as acclaimed tenor David Phelps and multi-Grammy award winner CeCe Winans. Among their many concerts over the last three years, they have performed at Brooklyn Tabernacle, Bellevue Baptist Church and Shadow Mountain Community Church. They have also been a part of the National Day of Prayer events in Washington, DC, been featured at the Southern Baptist Metro One Worship Conferences and have made regular appearances at Turning Point rallies. In 2020, they will be expanding their tour into Norway, Sweden, and Australia.
LINKS:
http://www.canasvoice.com/
https://www.facebook.com/canasvoice/
https://www.instagram.com/canasvoice/
https://twitter.com/canasvoice
https://www.youtube.com/channel/UCE1RQJI1NhGMofwJ0huCIrw
ABOUT STOWTOWN RECORDS:
StowTown Records was founded in 2011 by Ernie Haase and Wayne Haun and then expanded in 2014 with the addition of partners Landon Beene and Nate Goble. With each person bringing their individual expertise, StowTown has become a powerhouse independent Gospel Music label. As the creative home for many of today's top artists, the StowTown family of artists includes Ernie Haase & Signature Sound, Doug Anderson, Charles Billingsley, The Browns, Cana's Voice, Tiffany Coburn, The Collingsworth Family, The Erwins, TaRanda Greene, The Guardians, Trey Ivey, The Little Roy & Lizzy Show, Tim Lovelace, Jody McBrayer, Devin McGlamery, The Perrys, Southern Raised, The Taylors and Triumphant Quartet. Distributed worldwide through Provident/Sony Distribution, StowTown Records has garnered industry attention with multiple GMA Dove Awards and chart-topping releases from their highly respected roster of artists.
LINK: HERE
For more Gospel music features, read the latest SGNScoops Magazine HERE.
Download SGNScoops Magazine In PDF 
Here
Find SGNScoops Magazine On Facebook 
Here
Listen To Todays Gospel Music Here
Tags:
Cana's Voice
,
Doug Anderson
,
gospel music
,
Jody McBreyer
,
Taranda Greene
Posted in
announcements
,
artists
|
Comments Off

on Cana's Voice Releases Sophomore Project: Don't Wanna Miss This
Written by Staff on September 2, 2018 – 10:06 am -
For the past 19 years, Alan Godsey has been bringing gospel music to Indiana through the Northern Gospel Singing Convention, currently held in Marion, Indiana, each year at the beginning of August. Godsey is the owner of the Northmen & Cathy, a trio that has been on the gospel music scene for over 29 years, traveling across over forty states and into six foreign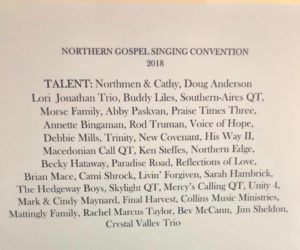 countries.  
But twenty-two years ago, God began speaking to Godsey about doing further than his involvement with the group.  "God spoke to me for three years to have an event that people enjoy coming to [in order to] hear gospel music singing and for artists to come together to fellowship," Godsey explained. "It took me three years for anybody else to believe it with me."    
For three years Godsey prayed for the right venue and sought God. Out of that vision, the Northern Gospel Singing Convention was born.
The NGSC first began as a two-day event but quickly moved to its present "five events in three days" format.  Throughout the years, gospel music fans have flooded the venue for both matinee and evening concerts, which feature both well-known and up-and-coming artists who
quickly became fan favorites and who now return year after year.
One of the crowd-pleasers each year is Indiana's own Doug Anderson. Formerly of Ernie Haase and Signature Sound, and currently doing both solo work and limited dates with Cana's Voice, Anderson brings his down-home personality to the event both on and off the stage. Other favorites over the years include Buddy Liles, Trinity, and the host group, the Northmen & Cathy.
This year at the Northern Gospel Singing Convention 2018, the event was held on August 2, 3 and 4, and the audience filled the hall to overflowing. The crowd also enjoyed the media exhibits and having the opportunity to chat with the artists.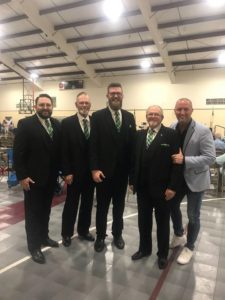 Next year will mark the twentieth anniversary of the event, and when asked if he had anything special planned, Godsey cryptically responded, "We definitely have a big year in the planning of our 20th Anniversary."  
For more information on being a part of next year's Northern Gospel Singing Convention taking place on August 1-3, 2019, in Marion, Indiana, contact Alan Godsey at  260-348-5164.
By Kristen Stanton.
Read the full SGNScoops August  Magazine Here.
Download the PDF of SGNScoops Magazine HERE
Find SGNScoops On Facebook HERE
Listen To Today's Gospel Music Online HERE
Tags:
Alan Godsey
,
Christian Music
,
Doug Anderson
,
gospel music
,
NGSC
,
Northern Gospel Singing Convention
,
Northmen and Cathy
Posted in
artists
,
exclusive report
|
Comments Off

on Northern Gospel Singing Convention 2018
Written by SGN Scoops Staff on January 17, 2018 – 9:17 am -
Nashville, TN (January 17, 2018) – StowTown Records artist Doug Anderson is thrilled to join The Covenant Agency roster. Bill Evilsizer and The Covenant Agency have been booking Gospel music performers for over 7 years and are based out of Indiana. They anticipate great things for Doug as they will handle booking him for solo dates. 
"I'm honored to be working with Bill and his staff at The Covenant Agency," Anderson said. "God has blessed me so much and this opportunity is one more testament of His faithfulness. I can't wait to see how God is going to use us in 2018 and beyond!"
Doug is currently touring in support of his current project, The Only One. To book Doug Anderson for a Back Porch Tour date, call The Covenant Agency at (812) 292-0069.
Tags:
Doug Anderson
,
Gospel Music News
Posted in
announcements
|
Comments Off

on Doug Anderson Signs With The Covenant Agency
Written by Staff on August 11, 2016 – 2:02 pm -
"On the third day a wedding took place at Cana in Galilee. Jesus' mother was there, and Jesus and his disciples had also been invited to the wedding. When the wine was gone, Jesus' mother said to him, 'They have no more wine.'…Nearby stood six stone water jars, the kind used by the Jews for ceremonial washing, each holding from twenty to thirty gallons. Jesus said to the servants, 'Fill the jars with water'; so they filled them to the brim. Then he told them, 'Now draw some out and take it to the master of the banquet.' They did so, and the master of the banquet tasted the water that had been turned into wine…What Jesus did here in Cana of Galilee was the first of the signs through which he revealed his glory; and his disciples believed in him." (John 2:1-3, 7-9, 11 NIV)
For this first recorded miracle, Jesus made what some may consider an interesting choice in the vessel that He used to perform the wonder. The jars often go unnoticed in the story of The Wedding at Cana. But they play an important role in the miracle. They are used by the Master to reveal His glory.
The significance of the vessels has not gone unnoticed by TaRanda Greene, Jody McBrayer, and Doug Anderson. All three powerhouse singers have sung before thousands and thousands of Christian music fans. And all three have had moments before an Audience of One when it seemed as if their broken pieces wouldn't hold any more miracles. But Jesus looked past the brokenness and saw three voices that He would use to restore hearts, to heal wounds, and to change lives.
He saw Cana's Voice.
TaRanda Greene's excellent vocal ability and powerful delivery has wowed listeners for years. She has been a regular vocalist on Grammy award-winning Brooklyn Tabernacle Choir projects, and has also been invited to sing at the United Nations, as well as in the largest churches across the world. She has been a regular on the In Touch Network, Gaither Homecoming Series, and Turning Point Ministries.
Jody McBrayer traveled 12 years with the highly acclaimed and multi-award winning Christian pop group, Avalon. His vocal abilities helped garner 21 number-one songs, three Grammy nominations, over four million records sold and three Dove Awards for the group. In 2003, Avalon earned the American Music Award for Best Contemporary Inspirational Artist.
Doug Anderson was a founding member of Signature Sound. As a member of this highly successful Southern Gospel quartet, Doug has traveled the globe, appearing in countless sold-out venues. He has earned a Grammy nomination and 13 Dove Awards as both a soloist and as a member of Signature Sound. During his time with the group, they had three videos and one CD attain Gold status in Billboard sales.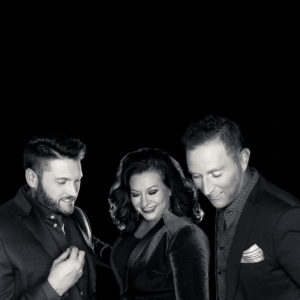 So how did these three extremely talented singers find themselves singing as one voice, Cana's Voice? Doug explains, "Landon Beene, President of IMC/StowTown Records (and TaRanda Greene's husband), TaRanda and I, along with our families, have vacationed together for years and have always joked and dreamed about putting something together where we could still keep our solo careers going, but be a part of something bigger. When I decided to leave Signature Sound the search was on, since we were searching for a third person to make this dream a reality. Landon contacted Jody whom we had all followed over the years, to see if he would be interested. We met at Wayne Haun's house, another StowTown Records executive and our producer, and just got around a piano and just did what singers do. I was all in within the first two minutes. I knew there was something special here and I wanted to be a part of it. And so Cana's Voice was born!"
Tags:
Cana's Voice
,
Doug Anderson
,
Jody McBreyer
,
Taranda Greene
Posted in
artists
,
sgn scoops magazine
,
special feature
|
Comments Off

on Cana's Voice: Once Broken, Now Restored
Written by Staff on August 11, 2016 – 12:57 pm -
August 11, 2016 (Nashville, TN)… In just its fifth year of existence, StowTown Records amassed a record-setting 9 nominations during the Gospel Music Association's 2016 Dove Awards Nominee Press Conference held Wednesday morning on the campus of Lipscomb University.
The 47th Annual GMA Dove Awards are scheduled to take place Tuesday, October 11 at Lipscomb's Allen Arena.
StowTown co-founder Wayne Haun once again was named as a nominee for the prestigious Producer of the Year award. One of Southern Gospel's most popular and well-known performers, producers, songwriters, and arrangers, Haun is a multiple Dove Award winner.
Ernie Haase & Signature Sound's recent popular album, Happy People, and The Collingsworth Family's fan-favorite project, That Day Is Coming, were each announced as a finalist for Southern Gospel Album of the Year.
Meanwhile, StowTown's Ernie Haase & Signature Sound along with The Perrys were each named nominees for Southern Gospel Artist of the Year.
"Jesus Changed Everything", the popular radio single by Ernie Haase & Signature Sound written by Haase, Haun, and Joel Lindsey as well as "Keep On", the 2016 powerhouse hit by The Perrys written by Haun and Lindsey were both listed as finalists for Southern Gospel Recorded Song of the Year.
For Country Recorded Song of the Year, "Love Covered My Sin" by Doug Anderson, written by Haun, Randall Garland, and Val Dacus was named as a 2016 nominee.
In the Special Event Album of the Year category, Blessed Assurance: The New Hymns of Fanny Crosby with producers Bobby Blazier and John Hartley earned a spot among the top nominations.
All winners will be announced at the awards show Tuesday, October 11th. The GMA Dove Awards, which will begin at 6:30 p.m. CT, will air globally on Trinity Broadcasting Network (TBN) on Sunday, October 16.
ABOUT STOWTOWN RECORDS:
Founded in 2011 and expanded in 2014, StowTown Records reflects the musical vision of Ernie Haase and Wayne Haun, in partnership with Landon Beene and Nate Goble. The independent label is the creative home for top artists including Ernie Haase & Signature Sound, The Perrys, The Collingsworth Family, Doug Anderson, Devin McGlamery, The Taylors, Cana's Voice, The Browns, The Little Roy & Lizzy Show, Triumphant, TaRanda Greene, The Erwins, Trey Ivey, Jody McBrayer, Rambo McGuire, Charles Billingsley and selected classic music from The Cathedrals, their legendary bass singer, George Younce, and The Cathedrals Family Reunion. Distributed worldwide through Provident/Sony Distribution, StowTown Records has quickly garnered industry attention with multiple GMA Dove Awards and chart-topping releases from their highly respected artist roster.
For more Gospel music news click here.
Tags:
collingsworth family
,
Doug Anderson
,
Ernie Haase & Signature Sound
,
Joel Lindsey
,
Perrys
,
StowTown Records
,
Wayne Haun
Posted in
announcements
,
artists
|
Comments Off

on StowTown Records amassed a record-setting 9 nominations for Dove Awards
Written by SGN Scoops Staff on July 6, 2016 – 10:06 am -
(Nashville, TN)… StowTown Records' popular soloist Doug Anderson recently capped off a weeklong tour through the United Kingdom, taking his vocal talents and powerful performances along with his brand new solo album, The Only One, across the Atlantic for the first time. "I was thrilled to take my first trip to the UK as a soloist," said Anderson. "I have been all over the world with Ernie Haase & Signature Sound, but this was the first time I had ventured overseas on my own. I'm very humbled and grateful in how it turned out."
The native and resident of Lapel, IN, is a three-time GMA/Dove Award winner, including both Country Album of the Year and Country Song of the Year for his standout work on his previous StowTown project, Drive.
Anderson and his daughters made their first stop in Belfast, Northern Ireland, on Tuesday, June 21.
"Along with my girls, we had a couple days to sightsee in one of my favorite cities in the world," Anderson exclaimed. "It included the Titanic Museum, Giants Causeway, The Dark Hedges, a very scary rope bridge over the coast, and, of course, shopping!"
The first show was at Glenmachen Church of God in Belfast a few days later.
"Our hosts, Joan and her husband, Jim, treated us like family in addition to another couple, Jim and Helen. I can't thank them enough for taking care of us and making this night a huge success. The people responded to our program very well and we will be back."
The Andersons then made the trek to Newcastle, England, for the second stop and were hosted by their longtime friends, the Christudas family.
"I performed with the praise team and band at Excel Church and it was a huge success. They were top notch," he added.
A four-hour drive followed, taking the Anderson family to the city of Chelmsford for a show at the historic Chelmsford Cathedral.
"We were hosted by Stewart and his wife, Jill, and we stayed in the quaint village of Pleshey at the House of Retreat, a retreat center for spiritual renewal," noted Anderson. "The show in that cathedral was something I'll never forget! Absolutely speechless!"
Finally, it was off to London for another day of sightseeing.
"We saw all the famous landmarks and even got to catch a show that evening," Anderson concluded.
"It's always good to be home, but I will never forget this trip with my family and friends, new and old. Thanks to everyone who made it special. We will be back!!!"
Tags:
Doug Anderson
Posted in
artists
|
Comments Off

on Doug Anderson Takes His Vocal Talents to the United Kingdom
Written by Staff on September 3, 2015 – 8:49 am -
From the Ernie Haase and Signature Sound Newsletter of September 1, 2015, Ernie Haase announced a couple of changes to the EHSS lineup. Here is what he said:
I'd like to take this opportunity to announce the newest member of the EHSS family.  His name is Tyler Vestal, and we are excited to have him on board!
If you have been to any of our summer concerts, I'm sure you've seen Tyler playing keyboards along with our own
Wayne Haun
on the piano.  Due to the success of
StowTown Records
, Wayne's producer duties for all of the StowTown projects, his additional duties as a committee member on both the Grammy and Dove Awards panels, AND his brand new daily radio show heard on
Solid Gospel Radio
, Wayne is a
very
busy man and will not be able to continue to go out with us
every weekend
.  So, you guessed it…this is where Tyler comes in!
Tyler has been learning the ropes from the best and he will be our new keyboardist.  But never fear…Wayne will continue to serve as our musical director and producer and will travel with us on the weekends when he is available to make sure we are continuing to do everything up to his standards!   He keeps us on our toes and we need that!
New Video featuring Dustin Doyle and Tyler Vestal
"Redemption Draweth Nigh"
So, here we grow again!  The EHSS family just keeps getting bigger and, in this case, MUCH YOUNGER!   I'm really enjoying having young Tyler and Dustin on the bus.  They bring back so many fond memories of my younger days with the Cathedrals, and I love the new and fresh ideas they are bringing to the table.
And in addition to all of this news, EHSS would like to wish young Tyler a
Happy 24th Birthday on

September 6th

!!
  I have socks older than that!!! (I've always wanted to use that joke!)
I know you're going to love getting to know Tyler, and to help you out with that, please check out his
full Bio HERE
.
Ernie Haase and Signature Sound recently added Dustin Doyle to the lineup after the departure of Doug Anderson. You can read more about Dustin HERE. 
Tags:
Doug Anderson
,
Dustin Doyle
,
ernie haase and signature sound
,
gospel music
,
StowTown Records
,
Tyler Vestal
,
Wayne Haun
Posted in
announcements
,
artists
|
Comments Off

on Ernie Haase and Signature Sound make Changes
Written by Staff on July 8, 2015 – 12:35 pm -
Special to SGN Scoops: By Natalie Cromwell
Imagine this: a darkened auditorium, a delicate cloud of swirling fog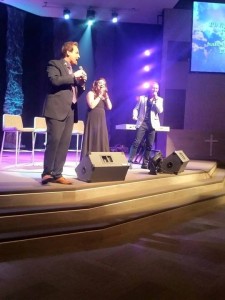 encompassing the stage, and a quiet yet excited murmur from hundreds of anxious fans. On Sunday night, June 28th, this was the exact scene that took place as the audience gathered to experience an evening with a never-before-heard trio comprised of Michael English (formerly of Gaither Vocal Band), Doug Anderson (formerly of Ernie Haase and Signature Sound), and myself, Natalie Cromwell. Fans gathered not just from all over the country, but from all over the world to witness this once-in-a-lifetime combination. Everyone anticipated what an explosive sound they were about to hear and it seemed that the night couldn't get started soon enough!
Finally, the pre-show music faded and the concert began. I got to kick the evening off with some of my original music from my newest project, Up To Something. I sing at these sorts of concerts a lot, and don't usually get nervous; but when you're singing in front of two of your musical heroes, I'd say it's pretty normal to get a small case of the butterflies! One of my favorite moments from my set was when I premièred a brand new song that was written with my friends Shane Dunlap and Keith Hill called "Remember Me." It's always fun to sing new music for the audience, and this was especially fun because it was just the piano and me.
After I sang a few songs, I had the privilege of introducing a man who is like a brother to me, not to mention an incredible singer: Doug Anderson. As usual, Doug won over the crowd within the first 10 seconds of singing. He has a way of making his audience completely forget anything else that's happening around them; everyone just wants to listen to the magic that is happening on stage. Doug has won a few Dove awards for Country record and Country song of the year, and his performance proved why. His heart for the Lord shines as he sings, and he loves his fans so much. If you know Doug, you know that he just wants to sing and give glory to the Lord.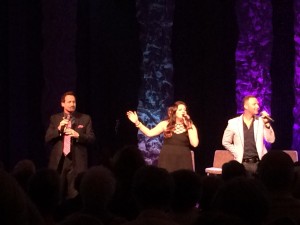 When Doug had finished with his first set, he brought out the final artist of the night, Michael English. Michael opened his set with the up-tempo song "I Don't Want To Get Adjusted," that he used to sing with the Gaither Vocal Band.  This man can sing! There has never been a time when I wasn't blown away by Michael's vocal performances, and he remained consistent this time! From the first time I heard him sing many years ago, he has always had a way of taking familiar songs and putting his own touch to them, and I think that's what has always fascinated me. I have never heard him sing a song the same way twice, and that's part of what makes his performances so captivating.
Michael sang a few familiar songs to get his set started, and then he previewed a few songs from his new worship project that will be releasing soon. People were able to join in singing with these worship songs because they had the words up on the screens, which encouraged participation. Not only is Michael a fantastic singer, but he's also a storyteller. If you've ever been to one of his solo concerts, you know he has many stories to share. One of the unique parts of Michael's set was that he sang a few songs, told a few stories, and sang some more. He did a great job of letting the audience into his life, and by the end of the night, everyone felt like they knew Michael a little better.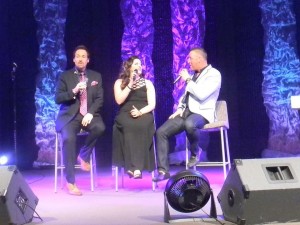 So by this point, you're probably thinking that Sioux Falls, SD, isn't quite your idea of a "hub" for Southern Gospel music, but because of the diligent efforts of Susie Cromwell from Corvex Productions, mid-westerners are now being presented with frequent opportunities to see many of the well-known Southern Gospel groups. This year, Doug Anderson returned for his fourth solo date in Sioux Falls. For the past four summers he has returned to do a benefit concert for local ministries in Sioux Falls, and is always joined by a different artist. In the past, he has been joined by Wes Hampton (Gaither Vocal Band) and the trio Beyond the Ashes. Of course, because my mother is the promoter, I also always have the opportunity to sing with whoever happens to be scheduled!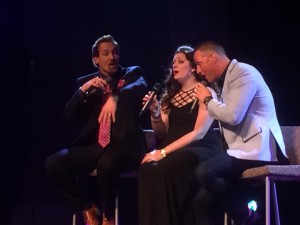 Doug and I have known each other for many years, and we always enjoy the chance to sing together. What makes it more exciting, however, is getting to throw another artist into the mix. Typically, the first half of the concert will consist of each artist doing his or her own solo music, followed by a break for an intermission to take a free-will offering for the ministry we are benefiting. This is always a well-received format, because the audience has come to highly anticipate the second half. When we return from intermission, no one (including the artists) knows what will happen. I have been part of this for four years now, and I can tell you that it is always a little daunting. We do know this, however: our goal is to sing as much music as a trio as we can! As artists, this is hands-down our favorite part of the program.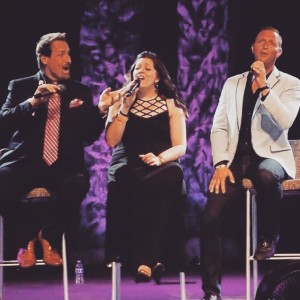 This year, we sang a lot of the good old Southern Gospel classics like the Goodman's tune "What A Lovely Name," and we also did a few a capella hymns like "The Old Rugged Cross" and "Victory In Jesus." These hymns were completely off the cuff (we took requests) and I was blown away by how easily everything fell into place without any sort of rehearsal. Another special part of the second half was when Michael gave his testimony. Many of you know the story of Michael's past, and if you don't, I encourage you to read his book, The Prodigal Comes Home. He shared a moving story about his life, and how he nearly became homeless because of some poor choices he had made. At the end of his testimony, we launched into an a capella trio version of his well-known hit "In Christ Alone." If there was a dry eye in the room before that, there sure wasn't after that!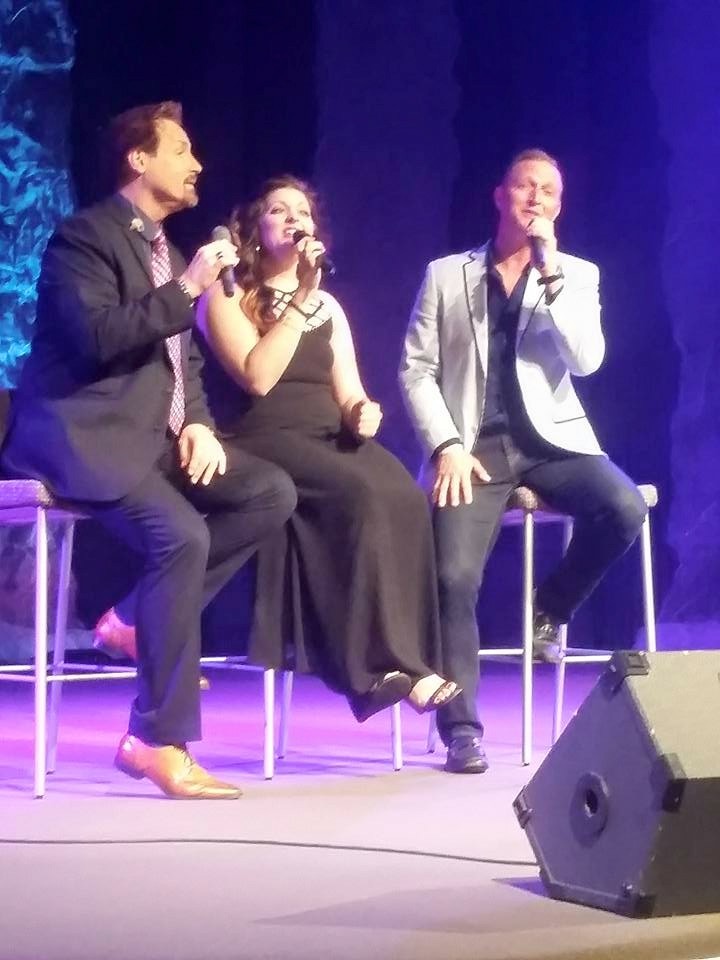 By this time, the concert had gone on for nearly two and a half hours, so we decided to do one final song that everyone was silently hoping for. Michael stood and started singing, "I dreamed of a city called Heaven…" and the audience breathed a collective sigh, and some even clapped. "I Bowed On My Knees," is easily Michael's most well-known song, and I still can't believe I got to sing it with both he and Doug. As we sang the final words "…glory to the Son of God," the audience swiftly stood to their feet in an overwhelming ovation. To say that it was an honor to be on the stage with Michael and Doug for this moment is a vast understatement. They welcomed me with open arms and we sang as if we have been singing as a trio since day one.
Fans came from several states, and even from Australia to hear this combination of voices, and as we heard (and are still hearing) over and over again, it was well worth their trip. We continue to see Facebook and Twitter posts about this memorable evening, and how fans wish they could hear this musical blend again. As artists, by the end of the night, all we could hope for is that people were moved by the music, that they experienced the Holy Spirit at work, and that God was glorified. It is because of HIM that we have voices to sing and ears to hear!
Be sure to check out these artists on the web: Natalie Cromwell, Doug Anderson and Michael English.
Tags:
Christian Music
,
Doug Anderson
,
gospel music
,
Michael English
,
Natalie Cromwell
Posted in
announcements
,
artists
,
christian entertainment
,
Christian interest
|
Comments Off

on An Evening with Michael English, Doug Anderson and Natalie Cromwell
Written by SGN Scoops Staff on June 21, 2015 – 9:12 pm -
Mark Davidson of Chosen Quartet is the guest on Gospel Music Today for the week of June 22 and Ken and Jean Grady host southern gospel news and concert updates. The Feature Group is Jordan's Bridge, and Jean reviews new recordings by The Balos Family and The Bowling Family. An article from Gospel Music Quarterly magazine written by Doug Anderson is the subject of this week's News Notes. In the News this week is Tracy Stuffle, Zach and Rodney and Landon Villines. The show features singing by The Greesons, exclusive concert video of Chosen Quartet, recorded by Gospel Music Today's cameras in Oklahoma City, OK, and a visit to the Gospel Music Today Archives for an exclusive concert video of Abundance Quartet, recorded in Broken Arrow, OK.
The show is on KWHB TV47 in Oklahoma every
Sunday
at
4:30 PM
, and on Roku on FFE TV
Monday
at
8:00 PM
and AllNations TV
Tuesday
and
Wednesday
at
6:30 PM
. Check local TV schedule for Pontotoc, MS, Beaumont, TX, Tyler, TX. Atlanta, TX, and Morrilton, AR. The current edition of Gospel Music Today is online now at the Gospel Music Today website, 
www.gospelmusictoday.com
.
Tags:
Doug Anderson
,
Gospel Music Today
,
Ken & Jean Grady
,
Southern Gospel News
Posted in
video
|
Comments Off

on Gospel Music Today For June 22 On SGNScoops.com
Written by SGN Scoops Staff on April 29, 2015 – 10:13 am -
Yesterday during a video announcement it was announced that ever-popular vocalist Doug Anderson would be leaving Ernie Haase & Signature Sound. Below is a statement from Doug Anderson regarding the changes. Feel free to use this statement in any coverage.
Since the news was announced yesterday, I've been overwhelmed at the amount of love and support shown to me. Ernie Haase is my friend and is like a brother to me. The journey with him has been an amazing one and I will never be able to repay him for all he has done for me and my family. The last 13 years have been wonderful and I am going to miss climbing on the bus every week with ALL my brothers.
This decision was not an easy one, but one that I have complete peace about. As you saw in the video, nothing is wrong, no one is mad at anyone. I want to spend more time with my wife and girls, and I want them to travel with me some. It really is as simple as that.
I am very blessed that I can forge a new path on my own because of what Ernie Haase & Signature Sound did for me – I will be forever grateful.
I can't wait to see you on the road! Please stay in touch with me on Twitter, Facebook and my website.
I LOVE YOU ALL and I will see you soon!
Doug
Tags:
Doug Anderson
,
Ernie Haase & Signature Sound
,
Southern Gospel Music
,
Southern Gospel News
Posted in
announcements
|
Comments Off

on Doug Anderson STATEMENT