Written by SGN Scoops Staff on February 24, 2020 – 8:47 pm -
Today started as a normal morning, waking up and not feeling that great… Turns out I have a virus and I can't kick it, alongside with extreme dehydration… i started feeling better so I got up to leave earlier and I got about 25 feet and almost passed out….. They immediately brought me a wheelchair and that's when it started happening…. Probably the scariest thing that's ever happened to me. All of my limbs started drawing up and my speech got slurred (orthostatic hypotension) I had 0 control over myself….. It eventually relaxed after some fluids, oxygen and the help of the wonderful staff here at the hospital. Was I scared? Yes, probably more scared than I've ever been. But did I know everything was going to be okay? Absolutely. Come what may, I'm in God's hands.
I'll Praise you when the sun is shining bright and and things are going right
I'll praise you when my life is full of rain and all I feel pain
When all I see are broken dreams, LORD I know you're all I need
I'll praise you, I'll praise you, for you are God.
Find Updates HERE
Tags:
Ethan Whisnant
Posted in
announcements
|
Comments Off

on Pray for Ethan Whisnant
Written by Staff on February 22, 2020 – 2:43 pm -
Imagine if you will, a teenage girl at a gospel sing in 1995. She's sitting on the right side, the middle pew, in a little Pentecostal church located in a small town in northern Florida. She's 17, and she wants to sing like them. She wants to be like them. They are her heroes at this point in her life.
She's ecstatic when she gets to meet them briefly and speak to them, but deep down, never knows if she'll ever be able to sing well enough to get where they are in gospel music.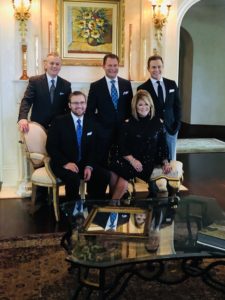 Now, imagine that same girl 25 years later at a Southern gospel concert hearing that same group. She has witnessed them accomplish so many amazing things since that little town of Cottondale, Fla. However, no achievement will ever compare to the lives they've helped lead to the Kingdom of Heaven. This young woman, now a mom, is watching them on stage with tears. She sees a new dynamic on the stage that she didn't notice as a teenager because she wasn't a mom yet. That young girl was me, and that group was the Whisnants.
The Whisnants have an incredible legacy and tradition that doesn't seem to be ending anytime soon. Both Jeff and Susan were born with it in their blood. Their sons, Austin and Ethan, have something special that came from both sides of their family, which will carry on for many years to come.
In 1970, around the old upright piano in John and Betty Whisnant's house, a family began singing in the Appalachian foothills of Morganton, North Carolina. The voices of children blended with their parents as the sound of a gospel song filled the house. From that time forward, they were known as the John Whisnant Family. Years passed as John, Betty, and their sons Jeff and John sang together, but as the family matured, change was on the horizon.
Susan started singing with her mother and father at the age of 12, and they were known as the Roland Dry Singers. She sang with them until she met Jeff when she was 20. 
"My daddy's a pastor, so we did many revivals. There were a lot of Friday and Saturday night concerts and stuff like that. That's how I met Jeff," says Susan.
They were singing together in Whitesburg, South Carolina during their first meeting. 
"Our hearts did not mesh there. Jeff had his girlfriend there. My momma would elbow me and go, 'Susan, you got to talk to him.' I'd say, 'Momma, he's got his girlfriend here.' I finally agreed, (and) on July 4th weekend of 1985 or 1986, Jeff and I went out for our first date, and then I knew he was it. I came home and I told Momma and Daddy that I was going to marry him. I told them there was only one problem. 'He doesn't know, and I don't know how I'm going to convince him to marry me.' Jeff didn't have that peace (at first). I had always prayed for God to give me that peace, so I wouldn't miss who God had for me. That's how I started singing with the Whisnants. Jeff and I married in May of 1988," Susan remembers.
The Whisnants signed their first record deal with Sunlight Records, in September of 1988. They went to the National Quartet Convention with Sunlight Records, and stayed with Sunlight Records until 1995. They then made a big move and started United Independent Artists (UIA). Their very first song was 'I'll Stand for the Lord'. It went to No. 7, and it was their very first Top 10 song. 
"God blessed us when we took that move. It was a total step of faith," recalls Susan. 
Tags:
Aaron Hise
,
Angela Parker
,
Austin Whisnant
,
Ethan Whisnant
,
gospel music
,
Jeff Whisnant
,
SGNScoops Magazine
,
Southern Gospel Music
,
susan whisnant
,
Whisnants
Posted in
artists
,
sgn scoops magazine
|
Comments Off

on The Whisnants: A Family Tradition
Written by SGN Scoops Staff on July 15, 2014 – 9:03 am -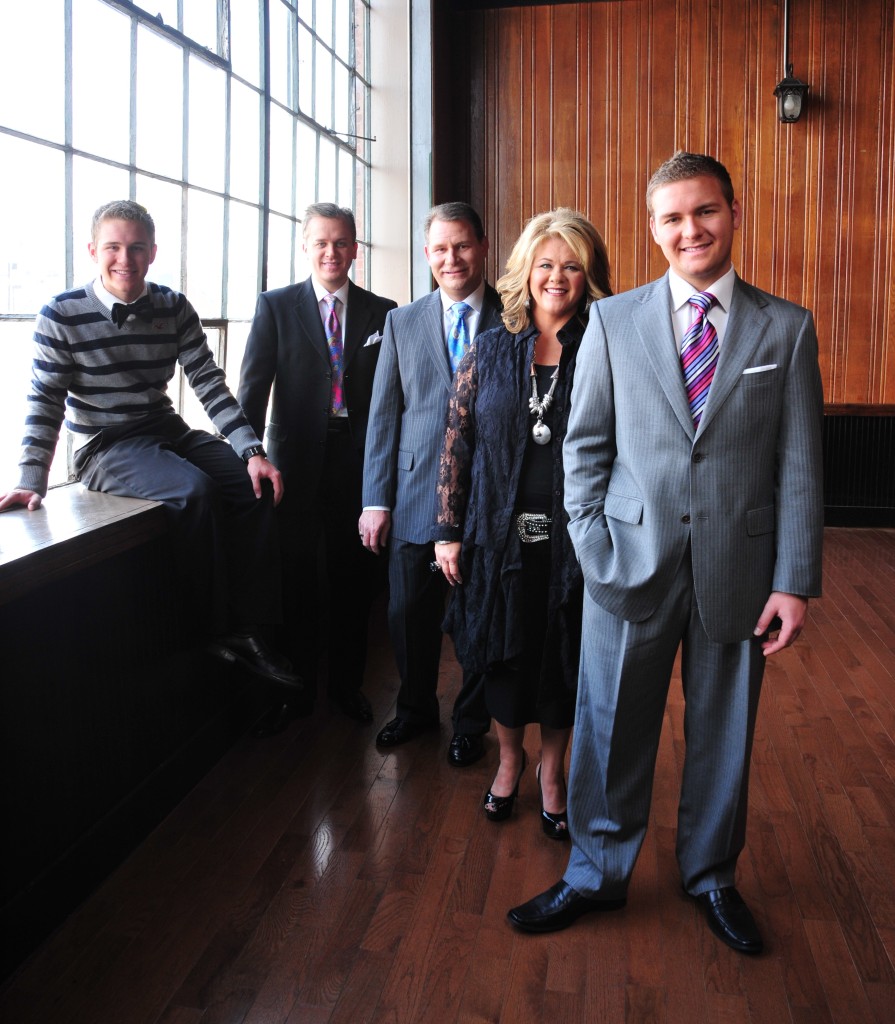 By Jennifer Campbell
Forty three years ago, God sought out a few individuals from Morganton, North Carolina for a special purpose. He knew they had a heart to minister to others. He knew they would tell others about Jesus. He knew they were up to the task, despite the long drives, the sleepless nights, and the struggles along the way. For more than four decades, these individuals have stayed true to the calling that God has placed on their lives. Through every bump in the road, The Whisnants know that God is in control and they can say with confidence, all is well.
Jeff Whisnant is the only original member of the group.   As owner and manager for the group, Jeff sings baritone and runs sound on stage. He said, "We placed our ministry in God's hands 43 years ago and have watched Him do miraculous things.  There is no doubt in my mind that God has His hand on this ministry."
Jeff's parents influenced his decision to enter into the Southern Gospel Music industry, along with Eldridge Fox, former owner of the Kingsmen. Jeff's wife, Susan says herdad is the one whom she says has been the greatest musical influence on her life. She said he taught her to love to sing. In fact, she sang with her dad up until she met Jeff.   She fell in love with this genre of music when the Singing Americans came to her church years ago. She said the Nelons also inspired her, including songs such as "Oh, For a Thousand Tongues" and "Come Morning." Susan stated, "That's when I fell in love with Southern Gospel Music."
Susan continued to say, her greatest life achievement so far has been raising their sons, Austin and Ethan.
"Being a mother is the greatest gift God ever gave me," Susan said.   "I'd do it again. I've got two of the finest boys that I could ever pray for.   And I love my mom. My mom is probably is my best friend. Being able to be a mom and watch these boys grow and become men of God is one of the most incredible things I've ever been able to do.   On this Mother's Day, I'm thankful for being able to be their mom and being able to be an example for them."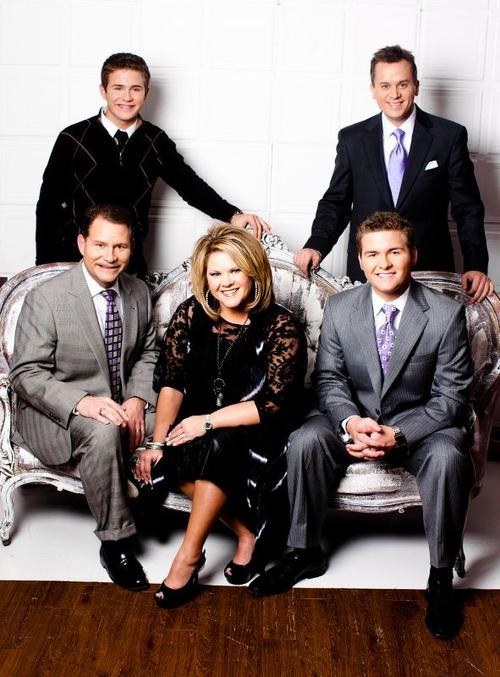 When asked how she balances time between family and ministry, Susan said it was about the same. "The boys love being home," Susan said. "When they were little, we'd just say that home is wherever mom and dad is, and if it's on the bus, then that's home, and if we're in Morganton, that's home.   Wherever we are is where home is.   It's tough balancing it out sometimes.   I missed my grandfather's funeral about two months ago. That was tough, because we were booked. I was going to cancel and my dad said, absolutely not. You go do what you've got to do. It's tough to balance, but at the same time, I could not imagine not doing it with my family. That has been a blessing."
For the Whisnants, the best part of traveling on the road together is just that: being together. Susan said her favorite part of singing with the Whisnants is being with her family.
"We watch movies together and just spend time together," Susan said. "I love it. We eat together. We do it all. I love it all. That's the best part, just being with my family. I couldn't do it if I had to dread getting on that bus, and I'm thankful I don't dread it."
Jeff added, "The Southern Gospel life is not an easy life, but it is an extremely rewarding life. As for traveling and singing, I am having the time of my life.  Getting to travel with our family and the guys who work with us, I consider myself a VERY blessed man."
Jeff and Susan will celebrate their 26th wedding anniversary on May 28. Their relationship with each other is evidence that they each have a relationship with Jesus Christ.
The Whisnants have had 13 number one songs, several Top 40 songs, and Singing News Song of the Year titles, including their latest nomination in 2013 for "All Is Well." They have been nominated for Trio of the Year nine times and have received multiple individual nominations. Their list of appearances is extensive, including 18 appearances at the annual National Quartet Convention, as well as appearances on the Gospel Music Southern Style Program (INSP Network) and at the Gaither Video Taping in Nashville in 2007. By earthly standards, they have achieved success in this industry. But the greatest success is the fact that none of this matters to them.
"We've always said if we never had a charting song, if the radio never played our music, or if we never sang at a big venue, we would still sing, because that is what God has called us to do," Susan commented. "Even if we were working full time jobs and singing on the weekends, we would do it because we love it that much. Back in 1988, we were interviewed and that was the one thing we said is that we want to be consistent and stay within the calling, being content with where we are."
Susan also gives the following advice to young artists just starting out: "Stay within your calling. There are a lot of people that want to sing, but they can't. If God's called you to do it, He's going to make a way. If that means singing in your church or wherever, stay within your calling. To a young group that is starting out, be consistent. Be content with where you are. Pray diligently that God will open the doors."
Having traveled with the group most of his life, Austin Whisnant is no stranger to life on the road. In 2009, he felt called to step onto the stage with his family as the group's bass player. At the young age of 19 years old, he loves traveling with his family. He gives the following advice to young artists just starting out: "Make sure you like traveling on a bus!"
Jeff and Susan's youngest song, Ethan, is 16 years old. He says that he is destined to be a gospel singer as he gets older.
Austin and Ethan are currently working on a new project and there are plans for a new Christmas project by the group, which is tentatively scheduled to be released before the National Quartet Convention.
The final member of the group has been singing lead with the Whisnants since 2001. Aaron Hise was saved at the young age of six years old. He says the best part of traveling with the group is seeing the country, being on the bus with people he loves, eating different foods, and seeing people encouraged by their music and hopefully coming to know the Lord.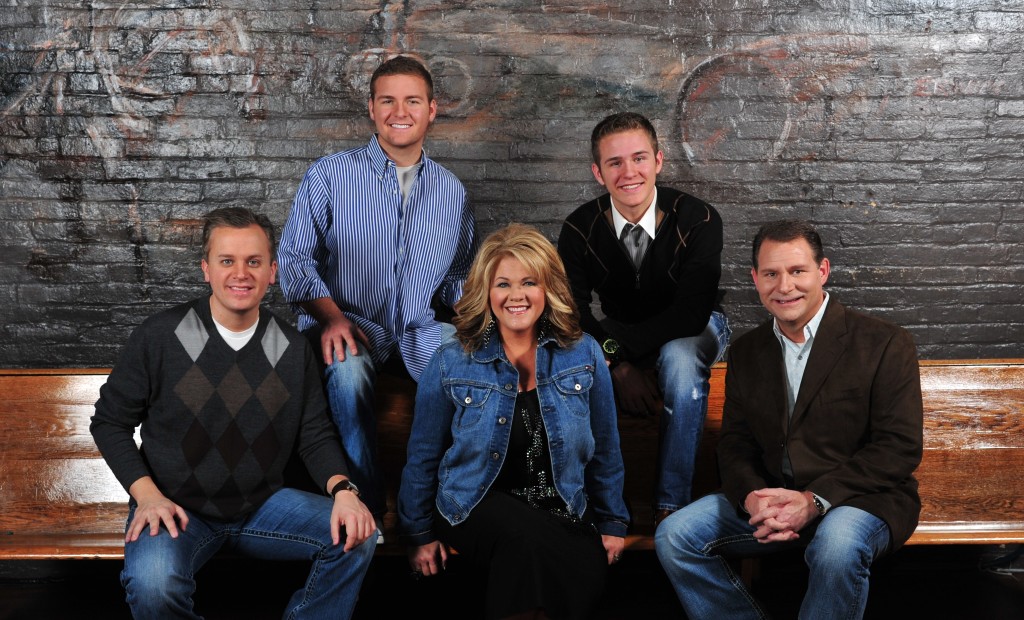 In 10 years, Susan said she hopes to be doing the same thing she is doing now.   She added, "Austin would be 30, so hopefully he is going to be married and maybe have a kid, maybe I'll be a grandparent. But I want to be doing the same thing I'm doing and loving every minute of it!"
The group sees a lot of things in their travels, but two things rank as the funniest incidents thus far. Susan said a woman came to them, asking for pray for her feet because they were hurting.   They looked down and the woman had her shoes on the wrong feet. Susan recalls another humorous encounter: "Another lady asked us if she could pray for our hearing because we all, she thought, wear hearing aids, but we all wear ear monitors. She was praying that God would touch our hearing. That was pretty funny."
So many wonderful songs have been written, but Susan would like to write a song titled, "Where Your Treasure Is, There Will Your Heart Be Also." She said, "I wish I could write a song about that.   I've always thought, there are so many people, their treasure is in the wrong place and if they only knew that that is where their heart is, there's no denying it. It's just simple, where your treasure is, there will your heart be.   And if our treasure is in the Lord, I want my heart to be there. I want to live daily like it's my last day. Jesus is my hope, my salvation, my whole world."
Susan's favorite scripture is Psalm 28:7: "The LORD is my strength and my shield; my heart trusts in him, and he helps me. My heart leaps for joy, and with my song I praise him." She commented, "I think I've always loved that scripture."
During the interview, I asked Susan what she would say to God if she could talk to him face to face. She said she would thank Him for loving her unconditionally. She added, "I would thank Him for dying for me. If I'd have been the only one, He would still have loved me that much. And I want to thank Him for that. Also, I was thinking about this yesterday: 'Delight yourself in the Lord and He will give you the desires of your heart'. I really want to thank Him for doing that for me, because every desire I've ever had. I've tried to delight in Him and He has proven His word is true.   It may not always be what I want, but He's given me the desires of my heart and I want to thank Him for that. Thank Him for my family, my parents, and my upbringing. For every aspect of my life, I want to thank Him. So if I could talk to Him face to face, I would thank Him for every blessing and every detail of my life."
The Whisnants would like to invite everyone to join them at the Gatlinburg Gathering in Tennessee this July. Mark your calendars now for the National Quartet Convention in Pigeon Forge for the first time this fall, and of course, don't miss Singing in the Sun in April 2015.
"We were recently part of an entire week of Singing In the Sun in Myrtle Beach, South Carolina," stated Jeff. "Eight-three people were saved.  There is no way to put a price on that type of reward.  Every once in a while God just blesses in such a way that there is no explanation except to say, that's God.  Those times keep us going."
It is in the difficult times of our lives that we need to remember that all is well. Susan said, "The song 'All is Well' is something I've had to come to grips with the fact that I want to say that. I want to try and fix everything, so when I can't fix it, I get frustrated. I don't care what problem it is or whose problem it is, I want to try to fix it. To stand and be able to say, even if the world's crashing in on me, that God's still God and all is well. I've had to really think through the words of that song and say, God help me to not only sing it, but to live it. I want to be able trust in Him in all things and even if it's coming unraveled, I can still put my trust in Him and know that all is well."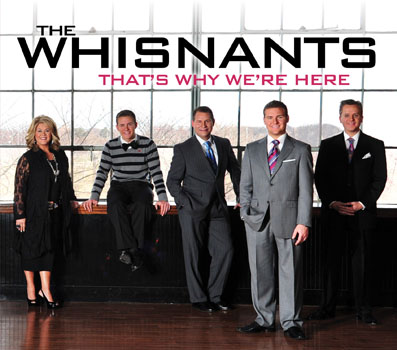 Without doubt, the Whisnants live their lives in an effort to spread the Good News of the Gospel through song. Susan, Jeff, Austin, Ethan, and Aaron realize that the days are short and that Jesus is coming soon. Susan said, "In these last days, it is imperative that we as Christians get a backbone about us and to realize that there's a lost and dying world out there. We think that we're infringing on their privacy when we share Christ with them, when the truth is they are longing for someone to share with them the Good News of Christ. It is time for us to tell the lady at Wal-Mart she needs Jesus.   We have a job to do, and we only have a little bit of time to do it. We need to encourage each other and to be bold and be strong."
No matter what is going on in your life, stand up for Jesus, even if you have to stand alone. Follow the lead of the Whisnants and share the message of Jesus Christ with everyone you meet. Tomorrow may be too late.   Put your trust in Jesus, lean on Him, and remember all is well.
For more information about the Whisnants, visit http://www.whisnants.com/.
Written by Jennifer Campbell.
First published by SGN Scoops digital magazine in the May 2014 edition.
For current issues of SGN Scoops, log on to https://www.sgnscoops.com/
Tags:
Austin Whisnant
,
Christian artists
,
Ethan Whisnant
,
gospel music
,
Jeff Whisnant
,
Jennifer Campbell
,
sgn scoops
,
southern gospel
,
susan whisnant
,
The Whisnants
Posted in
artists
,
christian entertainment
,
Christian interest
,
sgn scoops magazine
|
Comments Off

on The Whisnants: All Is Well
Written by SGN Scoops Staff on November 13, 2013 – 9:38 pm -
We are excited to present the November issue of SGNScoops Magazine! A picture is worth a thousand words, right? The cover this month captures the Spirit of this year's 2013 Creekside Gospel Music Convention! The spirit is certainly the spirit of Joy! The smiles almost tell it all, but catch the details of this year's event along with a listing of Diamond Award winners in this issue. Also, this month's issue is not the typical predominately Southern Gospel Music Magazine. We're just a bit on the COUNTRY side! This month, we're shining the spotlight on Christian Country like never before. Don't miss Rick Kiser's story, "Christian Country Gives Thanks," as well as features on Sharron Kay King, Steve Brown, Greg McDougal. This month also features Providence Quartet and Canaan's Crossing. Lorraine Walker and Rob Patz put together a fabulous Thanksgiving article allowing the Southern Gospel Community voice their gratitude. We all need our spirits boosted, so don't miss encouragement from Sherry Anne and Dr. Jeff Steele, and don't miss reading Lou Hildreth's special memories. A story on "Mary Anne Oglesby and The Veranda" is sure to warm hearts of families dealing with Alzheimer's and we hope will inspire other churches to care for the aged in their congregations. Award winning Songwriter, Belinda Smith shares her ministry and Ethan Whisnant shares his "Younger Perspective." Read about latest music, Christian Fitness, and more in this this well-crafted, beautifully designed online magazine. Remember, SGNScoops is digital and free! Please share with friends!
Tags:
Alzheimer
,
Belinda Smith
,
Canaan's Crossing
,
christian country
,
Christian Country Gives Thanks
,
Christian Fitness
,
Creekside Goispel Music Convention
,
Diamond Award winners
,
Dixie Phillips
,
Dr. Jeff Steele
,
Ethan Whisnant
,
facebook
,
gaither
,
Greg McDougal
,
Lorraine Walker
,
Lou Hildreth
,
Rhonda Frye
,
Rick Kiser
,
rob patz
,
SGNScoops Magazine
,
sharron kay king
,
Sherry Anne
,
southern gospel
,
Southern Gospel Music Magazine
,
Southern Gospel News
,
Steve Brown
,
Tina Wakefield
Posted in
announcements
,
diamond awards
,
sgn scoops magazine
|
Comments Off

on November 2013 SGNScoops Magazine