Written by SGN Scoops Staff on February 15, 2017 – 11:10 am -
NASHVILLE, Tenn.-—Gaither Music Group is set to release two all-new HOMECOMING DVD and CD recordings on February 24th.  Give the World a Smile and Sweeter As the Days Go By take fans "back to where it all began" as they were filmed at the famous Gaither Studio C at the company's home base in Alexandria, Indiana.
The two new releases feature over 125 members of the HOMECOMING family of artists, led by Bill and Gloria Gaither, enjoying an evening together of gospel singing, storytelling and a celebration of lifelong friendships. Gospel music fans will enjoy performances by the award-winning Oak Ridge Boys, the Gatlin Brothers, Jeff & Sheri Easter, the Booth Brothers, Russ Taff, Goodman Revival, the Gaither Vocal Band, Mark Lowry, Lynda Randle, David Phelps, The Isaacs, The Hoppers and more.  Performances from up-and-coming artists including Bradley Walker, the Martin Family Circus and others added to the excitement in this room of veteran performers.
"Several years had passed since we gathered the HOMECOMING family together in our hometown studio, so at last we were able to get the family together again and reignite the great memories we have shared over the years," stated legendary singer, songwriter and the brand's founder Bill Gaither.  "What an incredible time it was!  These new programs truly capture the spirit of those early gatherings that first started the HOMECOMING series. One powerful moment flowed into the next as we reminisced together and joined our voices to sing our favorite songs."
The top-selling Gaither HOMECOMING Series, known worldwide for its TV specials and arena tours, has become a household name among gospel music lovers since its early days when the concerts featured such legendary artists as Jake Hess, Vestal and Howard Goodman, George Younce, Glen Payne, Dottie Rambo, Hovie Lister and many more gospel music mainstays.
"It's been over six years since we had this many of our family of artists in one room to sing together," stated Paul Sizelove, vice president of Gaither Music Group.  "Recording in the home studio brought back many special memories from years gone by, and it's always good to see the camaraderie among these artists and experience the special moments when they join together in song."  
Those songs include timeless favorites such as "There Is Power in the Blood," "Working on a Building," "Sinner Saved by Grace," "Child of the King," "Holy Spirit, Thou Art Welcome," "It Is No Secret," "We'll Talk It Over," "Roses Will Bloom Again," the title tracks and more. (full track listing below)
Give the World a Smile and Sweeter As the Days Go By will air as a TV special on a large number of networks including PBS, DIRECTV, Dish TV, AT&T U-verse, TBN, RFD, GaitherTV, FamilyNet, CTN, GMC, GMTN, Guardian, Liberty, TCT and TLN. In Canada it will air on Vision TV, The Miracle Channel, CTS and Hope TV.
The DVD and CD recordings are exclusively distributed by Capitol Christian Distribution and Universal Music and will be available throughout general market stores and the Christian marketplace in addition to online retailers including iTunes, Amazon, www.cbd.com and www.gaither.com, where pre-sales are now available.  
To enjoy a promotional video from the taping sessions, visit:
For further information about the Gaither Homecoming family of artists and products visit:
Twitter:  @Gaithermusic
Tags:
Gaither Music
,
Southern Gospel News
Posted in
artists
|
Comments Off

on Gaither Music Group Set to Release Two All-New HOMECOMING Recordings
Written by SGN Scoops Staff on October 29, 2016 – 8:48 am -
NASHVILLE, Tenn —Gaither Music Group has just released an all-new docu-musical experience on DVD and CD featuring some of the most well-known talents from the Gaither HOMECOMING stage.
It's hard to imagine, sitting in our modern-day mega churches, that there was a time when towns had no church buildings. And if they did have a small building for church services, they often had no local pastor to speak of. Enter the Circuit Rider, usually on a weary horse straddling saddlebags that carried his hymnbook, Bible and a few personal items.
Circuit Rider, created by Suzanne Jennings and Woody Wright, is the real-life account of the spiritual formation of a nation and the church we have today shaped in part by the dedication and vision of these circuit riders. These musical performances and readings, sung and read by some of the most well-loved gospel artists, tell the story of these preachers who blazed the trail to share the gospel of Jesus with people of every race and nationality living in little towns and settlements across the nation. These brave men and women, from every denomination and creed, understood the meaning of perseverance and sacrifice. Their stories are not often told, but they are as much a part of the American landscape as Mt. Rushmore and the Grand Canyon.
That story of hardships, revivals, baptism, sanctification and suffering is captured through performances and readings by award-winning artists including Guy Penrod, Russ Taff, William Lee Golden, Gloria Gaither, Lynda Randle, Tanya Goodman Sykes, Mark Lowry, Benjy Gaither, Woody Wright, Buddy Greene, Judy Martin Hess, The Isaacs, Joy Gardner, Reggie Smith, Charlotte Ritchie, Angie Primm, Michael Sykes and more. The DVD is hosted by former governor of Arkansas, talk show host and presidential nominee Mike Huckabee.
"I had been a Baptist boy all of my life when I attended two Wesleyan congregations in Nashville," recalls co-creator Woody Wright. "I read a few books to study up on the theological differences. When I began to look at the history of where the different church groups came from, I began to read the autobiography of Peter Cartwright and I could not stop. His colorful detail of life as a circuit-riding preacher in the 1800s left me spellbound.
"I sent a copy of the book to my songwriting partner Suzanne Jennings, and after she read it I asked her if she would like to 'tinker' with the idea of a concept recording spotlighting those early, equestrian, Bible-toting preachers. I was thrilled when she said she would, and she began writing incredible lyrics. Her imagery dictated every melody I put to them. So we started recording…."
"We had such a wealth of artistry to draw from," stated Suzanne. "I'm familiar with all of these people, and I'm familiar with some of the things they've been through over the years, so I had certain people in mind for specific songs. It was interesting to match that up and then watch them bring their own experience to it. We later decided to hook it all together by using excerpts and actual quotes from some of the circuit riders, chronicling their own stories. So all of the pieces except for the introduction are from the people who actually lived this life."
"Suzanne and Barry Jennings (president of Gaither Music Group) had been listening to the project," recalls Wright, "and Barry thought we should enhance this concept CD with a video piece. In an impossible dream we had said it COULD be a video someday, maybe, or a musical, or a performance piece, or something. So when I got the call that the video crew was booked and that all the artists agreed to come shoot the video, it felt surreal. And the location was amazing! The process of selecting and adding a narrator and editing brought a whole new respect from me for the art of filmmaking."
Gaither Music Group brought in the acclaimed Michael Merriman to direct the filmmaking, and he and Stephanie Reeves produced the LIVE performances taped at Fiddler's Grove Historic Village in Lebanon, Tennessee. Suzanne and Michael Nolen teamed up for the screenwriting.
"My hope for the viewer is that they will find it uplifting, historically interesting and, to be honest, maybe even a little convicting," stated Suzanne. "When Woody originally called me to talk about doing this project he said, 'How many of us today sitting in our padded pews all over America would be willing to do something that drastic?' To be a circuit-riding preacher took dedication and perseverance; it took suffering and sacrifice. Their stories inspire me as a believer and cause me to reevaluate what I can do for the cause of Christ. They gave us a strong history to live up to."
The Circuit Rider TV special is currently airing on a large number of networks including PBS, DirecTV, Dish TV, AT&T U-verse, TBN, RFD, GaitherTV, FamilyNet, CTN, GMC, GMTN, Guardian, Liberty, TCT and TLN. In Canada it is airing on Vision TV, The Miracle Channel, CTS and Hope TV.
Circuit Rider is exclusively distributed by Capitol Christian Distribution and is available throughout general market stores and the Christian marketplace in addition to online retailers including iTunes, Amazon and www.gaither.com.
To enjoy a promotional video from the DVD, visit:

Tags:
Gaither Music
,
Southern Gospel News
Posted in
artists
|
Comments Off

on Gaither Music Group Releases All-new Circuit Rider Docu-musical
Written by scoopsnews on September 5, 2016 – 8:41 pm -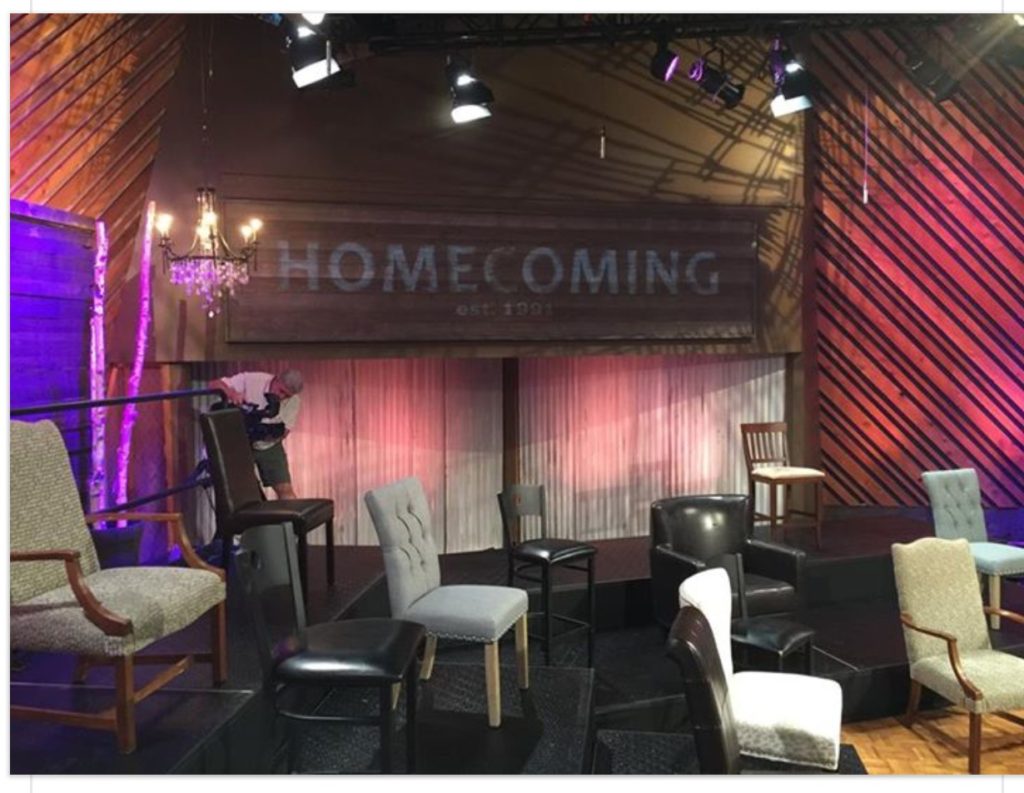 News from Gaither Music:
Have you heard? A Homecoming revival is happening back at Gaither Studios in Studio C this Tuesday, September 6. Bill Gaither and 130 artists are coming together for another spirit-filled gathering in the room where it all started for the Gaither Homecoming series. It's a closed set but you can get a front row seat if you are a subscriber to Gaither.TV! Join the fun on Tuesday starting at 12:30 p.m. Eastern and again at 7:00 p.m. Eastern. Visit Gaither.tv for more information!
Tags:
Gaither Music
Posted in
announcements
|
Comments Off

on News from Gaither Music….
Written by SGN Scoops Staff on September 4, 2014 – 8:29 am -
NASHVILLE, Tenn.— American legend Tennessee Ernie Ford's Amazing Grace CD and DVD recordings (Gaither Music Group) made another big impact this week on the Nielsen Soundscan chart. 
The DVD recording, Amazing Grace, 21 Treasured Hymns, claimed the #1 position again on this week's Billboard Music Video chart and on the Christian Music Video chart; and the audio recording, Amazing Grace, 14 Treasured Hymns, landed at #24 on the country chart, taking it back into the Country Top 30 for the second time in a matter of weeks.  It landed at #19 on the country chart in August, commemorating Ford's best-ever rank on Top Country Albums. 
Amazing Grace, 14 Treasured Hymns hit #1 on the Southern Gospel Albums chart again this past week, reaching the top of the sales chart more than half a century after Ford's groundbreaking performances and 20 years after the completion of the recording.  The audio recording also came in at #14 on the Christian Albums chart.
The audio recording will become available on the Gaither HOMECOMING product display on

September 9th

, in Cracker Barrel Old Country Store® locations.
During his career Ford garnered 17 Top 10 songs on Billboard country song surveys–a run that included three #1 hits:  1949's "Mule Train," 1950's "The Shot Gun Boogie" and 1955's "Sixteen Tons."  The Tennessee Ernie Ford exhibit has just opened in the Smithsonian's Birthplace of Country Music Museum located, in Bristol, Tennessee, in celebration of Ford's artistry, accomplishments and impact on our culture.
Known not only for his voice but for his contagious personality as an artist, radio personality, actor and TV host, the late Country Music Hall of Famer has been a beloved household name since the 1950s.  His talent as a singer has garnered sales of over 90 million albums sold worldwide.  Gospel music was one of his greatest career passions as seen on his prime-time variety tv program, evidenced by his chart-topping recording successes and captured on this timeless collection. 
The new CD and DVD are part of an ongoing tv special airing on Dish TV, DirecTV, AT&T Uverse, GaitherTV, TBN, RFD, FamilyNet, CTN, GMTN, Guardian, Liberty, TCT and TLN.  It will air in Canada on Vision TV, CTS, The Miracle Channel and Hope TV.
Amazing Grace is distributed by Capitol Christian Distribution and is available at retail outlets worldwide as well as through Amazon and www.gaither.com.  For more information regarding Tennessee Ernie Ford, visit www.ernieford.com.
Tags:
Gaither Music
,
southern gospel
,
Southern Gospel News
,
TENNESSEE ERNIE FORD's
Posted in
announcements
|
Comments Off

on TENNESSEE ERNIE FORD's Amazing Grace Tops DVD Sales Charts Again This Week
Written by SGN Scoops on February 19, 2013 – 12:40 pm -
GRAMMY® Winner Joins Hands with Three All-star Producers
for Love Is Stronger Release, Available Now for Pre-sale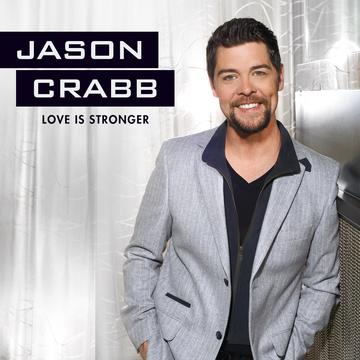 NASHVILLE, Tenn.— Jason Crabb, Christian music's reigning Artist and Male Vocalist of the Year, is set to release his all-new, sophomore studio release, Love Is Stronger (Gaither Music Group), on March 12th. The follow-up to his GRAMMY®-winning, self-titled debut, this 11-song collection finds Crabb working with an all-star cast of producers including Jay DeMarcus (producer and member of country super group Rascal Flatts), Ed Cash (Chris Tomlin, Kari Jobe) and Wayne Haun (Celine Dion, Earl Scruggs), each of whom produced Crabb for the first time.
"This is a dream come true!" exclaims a wide-eyed, smiling Jason Crabb. "I mean–to get to go into the studio with these three producers and to have them make you better at what you do is unbelievable to me. All throughout the recording process I would find myself thinking, 'Really? Is this happening? Am I getting to do this?' This is a record I've been waiting to do my whole life, and I've never been more excited about a group of songs."
That group of songs was written by some of the music industry's most respected writers including Ronnie Freeman, Tony Wood, Sarah Hart, Marc Byrd, Jimmy Yeary, Sonya Isaacs Yeary, Connie Harrington, Mia Fieldes, Seth Mosley, Michael A. Mobley, Geron Davis and Barry Weeks among others. The recording found Crabb taking a bit of a different role inside the studio.
"I wanted to be hands off this time," he recalls. "I'm usually involved directly or indirectly in the process, but this time I wanted to let people whom I respect guide me. The label and I discussed the song choices, of course, as well as what I wanted to say; but overall, I said, 'I'm going to let you take the reins.' I told all three of the producers, 'I want to walk out of here feeling like I've run not just a half-marathon, but the whole thing. I wanted to be put to the test–to go to the mat, so to speak. And they pushed me! Whether it was 'backing off' on some things or 'giving more' on others, they pushed me."
The result from this 17-time GMA DOVE Award winner is a body of work that finds Jason at the top of his game and making new friends along the way. "Working with Jason was just an absolute true joy," describes Cash. "He's one of my favorite people I've ever met. He's such a genuine guy and so real and sincere; and that's rare to find, particularly for someone who's had such great success. I was absolutely blown away by how Jason was so vocally flexible…not only was he technically able to stretch vocally, but I feel like the sincerity in his voice was absolutely maintained, and I think that's just a testament to his character. Whatever he's singing—whatever is coming out of his mouth–it's believable because he's believable."
Jay DeMarcus agrees, "As a producer, I've been fortunate to have had the opportunity to work with some of the best singers ever; I would certainly put Jason on that list! It is such a joy to work with someone that is so talented and driven. We've had a blast working together, and I think he has stretched himself creatively to the point to where he even surprised himself. I cannot wait for people to hear this record!"
One of the songs that DeMarcus produced was "There's Not a Crown," a song previously recorded by Michael English and later by The Martins with English producing them. This new rendition brings the story full circle as it features guest appearances by English and Joyce Martin Sanders, of the Martins, who join Jason for an all-new version of this song.
Crabb's voice has been heard on Christian AC radio in recent months surrounding "Let Mercy Hold You," a song produced by Cash and written by Fieldes, Mosley and Alexa Willis, that has turned heads at this format. "What the Blood Is For," produced by Haun, is a power ballad that includes a 40-piece orchestra and features an unmistakable vocal from Crabb indicative of the sound that has made him a household favorite. "What I've always loved about Jason's vocal performance is the passion you hear and feel from the first note of each song," describes Haun. "You have no doubt that he really believes what he's singing. You can't miss that powerful interpretation with this song."
The title cut is a favorite of Crabb because of his own family's journey over the past two years when his wife, Shellye, suffered some health issues that led her to several specialists to seek advice before she was able to get back on her feet. Jason recalls what day-to-day life looked like for their family as he describes this song, "This was a hard road for us. There were days she couldn't get out of bed, and I watched her struggle as she was having trouble being the wonderful mother that she is. It was difficult and heartbreaking. But then I watched her fight back. I watched what happens when love is stronger. I watched God move and her persevere. When I heard the lyric to 'Love Is Stronger,' I knew immediately this song was for us. It was like the writer knew our story."
And that story continues to unfold as Crabb's career continues to reach new heights. In 2012 he toured over 150 dates; released Together Again (Gaither Music Group) with The Crabb Family; appeared regularly internationally on tv; performed on Marie Osmond's Hallmark Channel Show, "Marie"; prepared to make his film debut in the movie "Inspiration Pop"; contributed the theme song to the film "Finding Faith"; co-hosted the GMA Hall of Fame Induction Ceremony and appeared several times on FOX News Network. Crabb was able to participate in Nashville's annual Bella Bash supporting The Angel Wings Foundation, Nashville's annual The Bridge to Christmas event as well as a Christmas benefit concert alongside Sandi Patty in New York that benefited the victims of Hurricane Sandy.
Love Is Stronger, exclusively distributed by EMI CMG Distribution, is currently available for pre-sale at www.JasonCrabb.com, iTunes, Amazon.com and at www.gaither.com. At LifeWay Christian Stores, consumers can purchase an advance "single CD sampler" and return to the store on March 12th to obtain the full release. The release will be positioned prominently in stores nationwide in the months ahead and will be featured on CTS, Family Net, FFE, GAC, Grace, Vision, RFD, TNN, TBN, Airtime, CTN, Gaither TV, The Walk TV (formerly Legacy), Miracle, TCT and TLN.
Connect with Jason Crabb: www.jasoncrabb.com, www.facebook.com/jasoncrabbmusic and www.twitter.com/jasoncrabbmusic.
About Jason Crabb:
Grammy® Award winner and 17-time GMA DOVE Award winner Jason Crabb has become known as one of the most respected and diverse vocalists in Christian music. His soulful, heartfelt vocals have made him a critics' pick and a fan favorite on stages ranging from "The Grand Ole Opry" and the Brooklyn Tabernacle to the Gaither Homecoming arena platforms. In 2012, Crabb was honored to be awarded with not only the Artist of the Year Award at the GMA DOVE Awards but also the Male Vocalist of the Year Award in addition to the Soloist of the Year Award at the NQC Music Awards. With a string of number one hits and chart-topping singles, a tour schedule of over 150 dates annually, ongoing tv appearances and an all-new recording, this vocal powerhouse's talent is topped only by his genuine personality and concern for others.
Track Listing for Love Is Stronger:
1. Give
2. What The Blood Is For
3. Let Mercy Hold You
4. Living Life Upside Down
5. Love Is Stronger
6. Morning
7. There's Not A Crown
8. God's Up To Something
9. Love Wins
10. Near
11. Satisfied
Tags:
Ed Cash
,
Gaither Music
,
Geron Davis
,
GMA Dove Awards
,
Jason Crabb
,
Jay DeMarcus
,
Jimmy Yeary
,
kari jobe
,
Michael A. Mobley
,
Southern Gospel News
,
Wayne Haun
Posted in
announcements
|
Comments Off

on Jason Crabb, Christian Music's Artist and Male Vocalist of the Year, to Release All-NEW, Sophomore Studio Recording
Written by SGN Scoops on September 6, 2012 – 12:10 pm -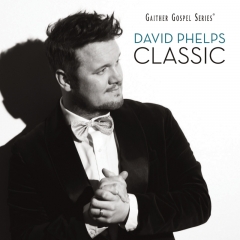 NASHVILLE, Tenn.—September 6, 2012—
Gaither Music Group
's acclaimed vocalist
David Phelps
has just recorded an all-new studio CD as well as a concert DVD, scheduled to release on October 9th.  The new audio recording,
Classic,
produced by Phelps and Bill Gaither, finds him showcasing the seemingly endless breadth of his vocal range and a depth, vocally and lyrically, unprecedented by a man already considered a premier tenor.
"It's been over four years since I recorded my last studio project," stated Phelps, "…a lot of things have happened for me during that time — Gaither Vocal Band recordings and videos, a solo Christmas video and the "best of" project.  One of the most positive areas of growth has been the energy that has grown behind my performance of 'Nessun Dorma.'  I never expected it to get such a broad response, but that reaction has definitely played into the current direction for Classic.
"Bill [Gaither] came up to me about a year-and-a-half ago and asked to be involved in a new solo recording," Phelps continues.  "I had never had the opportunity to work with Bill on anything solo-related, so I was very interested.  The song selection process took over a year, and the actual recording process lasted close to seven months.  He and I work very well together, but his perspective is different from mine.  It was a great experience to see how his mind works in this process, and it was a great confidence builder for me for him to put so much trust in me."
The new release, arranged and orchestrated by David Phelps, David Davidson and Jason Webb, features full orchestra.  Song selections include an invigorating and unpredictable arrangement of "Joyful, Joyful We Adore Thee," penned lyrically by Henry J. van Dyke and set to Ludwig van Beethoven's Hymn to Joy; an upbeat, trumpet-driven rendition of the popular hymn "Morning Has Broken," first published in 1931; Phelps' own arrangement of "The Lord's Prayer" and a riveting performance of the Rodgers and Hammerstein show tune "You'll Never Walk Alone," introduced in the 1945 musical Carousel.
Classic
showcases Phelps' classical vocal training and performance history on selections including the poignant "Donna Non Vidi Mai (1893), a song from Act I of the Italian opera
Manon Lescaut
by Giacomo Puccini as well as "Bring Him Home," from the popular stage musical
Les Miserables
.  Phelps gives an emotional performance of "O Mio Babbino Caro" (Oh My Beloved Father), an aria from the Italian opera Gianni Schicci (1918) by Giacomo Puccini.  In addition, the release features Cesar Franck's hymn "Panis Angelicus," with a lyric written by Saint Thomas Aquinas.
While many composers ranging from Franz Schubert and Mozart to Johann Sebastian Bach have created musical arrangements of "Agnus Dei," the Latin "Lamb of God" doctrine, Phelps puts his own pen to paper with an original creation — a reverent and inspiring composition on which he is joined by his 14-year-old daughter, Maggie Beth.  He gives a dramatic performance of a new epic ballad he penned called "The Dream," complete with haunting melody and stirring lyrics, and combines "America the Beautiful" and "God Bless America" for a moving patriotic tribute.
A full house at Franklin, Tennessee's newly renovated, state-of-the-art Franklin Theater was on its feet throughout the evening recently as Phelps performed the new release in addition to several of his most popular songs.  Complete with orchestra, choir, a band and a guest appearance by The Gaither Vocal Band, Phelps' powerhouse techniques varied from earnest interpretations and effortless strains to swelling arias, emitting the unfathomable control of a seasoned trained performer.
The intimate concert, to be released on DVD, included a lighthearted yet passionate rendering of the standard "What a Wonderful World" that found Phelps seated next to the grand piano played by Jack Daniels.  Phelps took his own turn on the keys for "Moonlight," a take on Beethoven's "Moonlight Sonata" with lyrics that he penned as a prayer, and also performed "Ave Maria" a cappella.  Also captured on the new DVD is his unique interpretation of "O Come Angel Band" and his noted performance of Giacomo Puccini's "Nessun Dorma," a song that brings audiences to their feet regularly during performances.
"This project has probably taken the most work of any recording I've done to date," says Phelps with a relaxed smile of relief.  "It's been great to be involved in every step of it, from producing to arranging to orchestrating.  I hope it moves listeners.  I hope they love the music and hear the songs with fresh ears.  I hope people really listen to the lyrics and find hope to get through the hard days that life can bring."
 "Gaither Music Group has had the privilege of working with some of the most talented artists in the world," stated Barry Jennings, president of Gaither Music Group.  "Among the most incredible voices we have ever heard is the classically trained tenor David Phelps.  David has wowed audiences around the world with the Gaither Vocal Band and now has recorded a new album that celebrates the influences that have made him the esteemed artist that he has become.  We are excited to partner with David in presenting this incredible project."
The Gaither Vocal Band's appearance on the new DVD included a contagious rendition of the traditional "Swing Down Chariot," the epic "Glorious Impossible" and the reverent "All in All."
Classic, a new release in the Gaither Gospel Series, will be distributed on CD and DVD through EMI CMG Distribution and will be available through digital stores and at retail stores everywhere.  The release will be positioned heavily at retail, through catalog placement and through a direct tv campaign on networks including PBS, GAC, RFD, TBN, FamilyNet, CTS, CTN, TCT, TLN, FFE Airtime 1, Grace, Legacy, Miracle and Vision as well as on Gaither.com.
Tags:
david phelps
,
Franklin Theater
,
Gaither Music
,
Gaither Vocal Band
,
Southern Gospel News
Posted in
announcements
|
Comments Off

on Premier Tenor DAVID PHELPS Records All-NEW Classic CD and LIVE Concert DVD
Written by SGN Scoops on June 19, 2012 – 4:02 pm -
Emotional Release Marks Randle's Debut Recording with
Co-Producer Ben Isaacs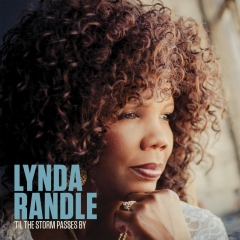 NASHVILLE, Tenn.—June 19, 2012–Gospel recording artist
Lynda Randle
has just recorded an all-new collection of songs entitled
'Til the Storm Passes By
, scheduled to hit the streets on July 31
st
.  Randle teamed up for the first time with co-producer Ben Isaacs (The Gaither Vocal Band, The Oak Ridge Boys) for the new recording, which showcases Randle's deep, transparent vocals highlighted with soulful tones.
The 12-song release marks Randle's first all-new recording in four years and includes congregational favorites "Just a Closer Walk with Thee," "Nothing but the Blood" and "I Have Decided to Follow Jesus"; a new version of the popular ballad "People Need the Lord"; a re-make of the unforgettable pop hit "What a Difference You've Made in My Life"; a crooning performance of the classic title cut; and a bluesy rendition of "Wayfaring Stranger."
With three additional songs written or co-written by Randle, the release, recorded in Nashville, finds the singer, a household favorite on the Gaither HOMECOMING touring circuit, reconfirming an assured faith with gratefulness and hope.
"I was facing many challenges during my time of recording," describes Randle, a resident of Kansas City, "and I feel as if God Himself just 'swooped me up' at times and placed me in front of a microphone and had the whole host of heaven sing for me!  I think Ben and I both knew that something supernatural was taking place; and for me, this release is a dream come true."
In some ways, 'Til the Storm Passes By feels more like a "reality come true" for Lynda, whose rich vocals resonate with the stirring emotion of a singer who has experienced firsthand the messages of her songs.
"My family and I have experienced so many spiritual and personal storms over the past two-and-a-half years," she explains, "and God has held us close through every single one and brought us safely to the other side.  'Til the Storm Passes By' is not just a line of an old song to me.  It's a testament of God's faithfulness in my life. He always keeps His promises.  Knowing the limitations of my own strength, all I can say is, 'But God….'"
"When the label and Lynda approached me about producing this release, I immediately had a vision of where I wanted Lynda to go musically, and it was really fun to watch that play out in the studio," recalls Isaacs.  "Lynda's voice is multi-faceted.  This release captures the depth of her vocals, and there is a spaciousness about it that accentuates those vocals beautifully."
'Til the Storm Passes By, the newest release in the Gaither Gospel Series, will be distributed through EMI CMG Distribution and will be available through digital stores and at retail stores everywhere.  The release will be positioned heavily at retail, through catalog placement and through a direct tv campaign on networks including GAC, RFD, TBN, FamilyNet, CTS, CTN, TCT, TLN, FFE Airtime 1, Grace, Legacy, Miracle and Vision as well as on Gaither.com.
For further information, visit www.lyndarandle.com.
Tags:
Ben Isaacs
,
Family Net
,
Gaither Gospel Series
,
Gaither Music
,
LYNDA RANDLE
,
oak ridge boys
,
Southern Gospel News
,
tbn
Posted in
announcements
,
new music
|
Comments Off

on Gospel Songstress Lynda Randle to Release All-new Recording
Written by SGN Scoops Staff on February 10, 2012 – 2:30 pm -
Dallas, TX – Popular singer, songwriter, author and talk show host, Janet Paschal, will be featured this Saturday,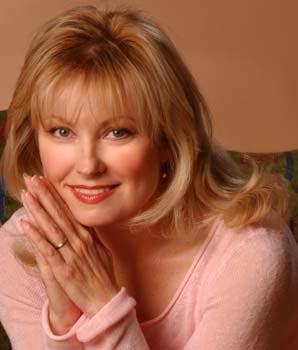 February 11 on Daystar Television Network. Paschal will be featured on the Network's popular Gospel Music Showcase at 5:30pm (EST). The program will feature an insightful interview with Paschal, as well as performances of several of her most popular hits, including God Will Make A Way and Illogical Case of Love, performed live at the 2011 National Quartet Convention, held in Louisville, KY, last September.
Paschal is one of the most celebrated Christian female recording artists. She has earned multiple Grammy and Dove Award nominations, as well as honors from the industry's leading trade and fan publications. With more than a dozen recordings to her credit, including her latest release, Treasure, Paschal is a favorite among audiences worldwide. Paschal's travels in 2011 took her throughout the US and Canada. Throughout the past several years, she has hosted a daily radio program, Walking The Good Road. The program focuses on cancer awareness. Just a few of Paschal's guests have included prominent authors and speakers Ann Graham Lotz, Dr David Jeremiah, Joni Erickson Tada and Dodie Osteen, as well as a Oympic Gold Medalist, Shannon Miller.
Daystar Television reaches over 200 countries and 680 million households globally, including over 100 million homes throughout the US. Many of today's leading Christian speakers and authors are featured each week on the Network, including Dr David Jeremiah, Joel Osteen, Rod Parsley, TD Jakes and Joyce Meyers.
Check local listings for availablity in your area, or visit www.daystar.com. Additional information regarding Janet Paschal, including scheduling information is available online at www.janetpaschal.com.
Tags:
Ann Graham Lotz
,
Daystar Television
,
Dr. David Jeremiah
,
Gaither Music
,
Gospel Music Showcase
,
Janet Paschal
,
Joel Osteen
,
Joni Erickson Tada
,
national Quartet Convention
,
Rod Parsley
,
TD Jakes
Posted in
announcements
,
christian entertainment
|
Comments Off

on JANET PASCHAL TO BE FEATURED ON DAYSTAR TELEVISION NETWORK
Written by SGN Scoops on February 8, 2012 – 2:19 pm -
NASHVILLE, Tenn.—February 8th, 2012—Together Again (Gaither Music Group), the all-new studio recording from the multiple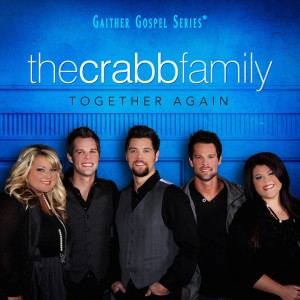 award-winning Crabb Family, hit shelves and online stores everywhere this week. The ten-song release, produced by lead singer and GRAMMY® Award-winning solo artist Jason Crabb, offers fans the first new music from the popular siblings in several years.
An extensive tv and media campaign surrounding the new release began this past weekend on networks including GAC, GMC, RFD, FamilyNet, TBN, INSP, CTS, CTN, Grace, Legacy, FFE, Miracle and Airtime. Gaither.com is currently featuring an exclusive interview with the entire Crabb Family. Members of hearitfirst.com can log on, starting today, to get a FREE download from the new release.
Coinciding with a recent, limited run of national tour dates that the group has just completed, Together Again was recorded with a vocal approach that was musically different for the group, which traveled together for around 15 years, garnering national attention and recognitions.
Apparently, the new style is working as the release has already been described by one reviewer as the group's best album to date–a big statement given the siblings' history of hit songs and glowing reviews.
Together Again includes three songs written by the award-winning country writer Neil Thrasher (who co-wrote Jason's solo hit "Somebody Like Me") in addition to tunes written by such industry pacesetters as their father, Gerald Crabb; Sue C. Smith; Lee Black; David Moffitt; Gina Boe; Don Poythress; Ronnie Freeman; Stephanie Lewis and Caleb Collins. The recording also features two songs co-written by Jason alongside longtime friend Sonya Isaacs Yeary, country tunesmith Jimmy Yeary, as well as Carl Cartee and Barry Weeks.
"If There Ever Was a Time," the first single from the new release, is currently playing at radio stations nationwide. The song, a pick hit at several southern Gospel charting stations, just hit the Top 10 New Release chart for February according to reporting stations for The Singing News Magazine.
Siblings Jason, Adam, Aaron, Kelly and Terah, known as The Crabb Family, took the Christian music industry by storm in the 90's with their signature brand of country-tinged Gospel, live stage band and powerhouse musical arrangements. The Crabb Family took home 11 GMA DOVE Awards, garnered three GRAMMY® nominations, and blurred the lines between Christian music genres with recordings and nominations ranging from bluegrass to black Gospel.
Their family blends became a hit on platforms varying from the Gaither HOMECOMING stages and "The Grand Ole Opry" to the Brooklyn Tabernacle and Carnegie Hall. Their downhome appearances, highlighted by songs written by the group's original founder Gerald Crabb, made them a household name in the southern Gospel music community and a "new favorite" across several genres. Heralded by the industry and fans alike, the group produced numerous Top 10 hits and 16 number one hits.
Together Again is now available digitally and at retail stores everywhere. It is distributed exclusively by EMI CMG Distribution. For further information regarding The Crabb Family, visit www.thecrabbfamily.com.
Tags:
Aaron Crabb
,
Adam Crabb
,
emi cmg distribution
,
Gaither Music
,
Jason Crabb
,
Kelly Bowling
,
Spring Hill Music
,
Terah Penhollow
,
The Crabb Family
Posted in
new music
|
Comments Off

on Crabb Family's New Recording Hits the Street and National Airwaves
Written by SGN Scoops on November 1, 2011 – 3:06 pm -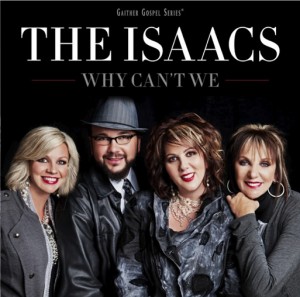 NASHVILLE, Tenn.—November 1st— Gaither Music Group celebrates today's release of Why Can't We, the all-new, studio recording by the award-winning Isaacs. Produced by group member and acclaimed producer Ben Isaacs, the new release, which was recorded in Nashville, follows the group's previous recording Naturally, which remained in the Top 10 BILLBOARD Bluegrass Chart for over 71 weeks following its debut.Group member Sonya Isaacs Yeary and husband, Jimmy Yeary, along with group member Becky Isaacs Bowman, penned nine of the songs for this release. One of those new songs, penned by the Yearys with songwriter Ben Hayslip, is "I'm Gonna Love You Through It," the current hit country single by country star Martina McBride. "I was writing with Ben Hayslip and Sonya," recalls Jimmy, "and Sonya had this idea of writing about her mom's (Lily's) story of surviving breast cancer. We threw around some thoughts as to how we'd approach it. We decided to let Lily tell her story, so we put her on speaker phone, and she just really told her story in detail. We based the song on that. It took us about three hours to write it. It can be difficult to put the word 'cancer' in a song, but we wanted to talk about breast cancer specifically and some of the hardships that come with that. We started writing it with no notion of what would happen with this song. We just loved writing it and getting it on paper. Then we got the call that Martina had heard it and loved it."Lily Isaacs and Becky Isaacs Bowman appear alongside Katy Couric, Sheryl Crow, Robin Roberts and Hoda Kotb, among others, in McBride's video for the song. "Sometimes when you record songs, what works in the studio may not translate to an audience," explains Becky. "When we started writing for this record, we really had that in mind. The more that you are transparent about yourself, the more your audience can identify with you. We wanted to share our stories of survival and victories, so we wrote songs that dealt with things that we want to be transparent about in concert."For Becky that includes the song "Waiting in the Water," a song based on the Bible story of the blind man who had an encounter with Jesus and who was told to go to the pool and wash. "It was a two- mile journey to that well according to commentaries," Becky describes, "and Jesus wasn't about showmanship; but for some reason, He told the blind man to find his way to the water. I think Jesus wanted to see how strong the blind man's faith was and how obedient he was. Jesus would be waiting in the water."Some people are instantly healed," continues Becky, who was diagnosed herself for ten years with a rare case of Crohns' disease causing inflammation to her eyes and nerve endings, "and some people have to take a journey of faith. I prayed and prayed for healing and felt hopeless so many times. I felt that, like the blind man, I would have to take a step of faith and believe that He would be 'waiting for me in the water.' This song is my healing story, and I have found that I can talk to people in a hopeless stage, whether it's from a long-term illness or something else, because I have been there."The Isaacs continue their vulnerability on the release with the song "Why." "I think we are sometimes afraid to ask 'why' because we don't want to question God," explains Becky, "but when you look at David [in the Bible] and all of his mistakes and questions, you see that in the end God called him 'a man after His own heart.' I don't think God minds us asking questions. Sometimes they come from the heart…that is what God wants–a heart for Him. We all make mistakes like David did, but it's not how you start the race; it's how you finish the race with God."Why Can't We also includes the cover tunes "I Still Trust You," "Hallelujah Turnpike" and "I Believe in a Hill Called Mount Calvary." The group created a rendition of "I Believe in a Hill Called Mount Calvary" to perform at the Tribute to the Songs of Bill and Gloria Gaither event that was held this year at Nashville's Schermerhorn Symphony Center. The audience as well as Bill Gaither liked it so much the group knew it would be featured on the new recording."We like to put our twist on songs to make them sound like us," says Ben. "You can copy others, but the things that make an impression in most any kind of music are the things that have been different. It's ok to get the basics from inspiration; but from that, you need to be an original and find what makes a song sound like you."The group did just that with the bluegrass tune "Hallelujah Turnpike," a song they were asked to learn for a tv special/tribute they were doing for the legendary Lewis Family. "We thought it was a fun song and down to the styling of the fiddle, we tried to emulate Buddy Spicher, really creating a tribute to The Lewis Family legacy."We thought it was time for a true 'Isaacs' band record,'" continues Ben, "I really like the title cut that says, 'If God can forgive, then why can't we?' People may forgive, but we don't often forget, and we find it hard to let go. Musically, I think the track marries this song perfectly…sometimes you only get close to that during a recording."The Isaacs have a long history, however, of doing more than "getting close" while creating moving music. The group has received a GRAMMY® nomination, three GMA DOVE Award nominations including a win for Bluegrass Album of the Year and a 2011 nod for Christmas Album of the Year (Christmas, Gaither Music Group), two IBMA Award nominations, an ICM nom and an SPBGMA Award. They have also received fan award nominations for Band of the Year, Song of the Year, Favorite Mixed Group and Instrumentalist of the Year (Sonya); and Ben has won two IBMA Awards as a producer.
Why Can't We is available everywhere Christian music is sold and is being distributed at retail and digitally through EMI CMG Distribution. The new recording will be positioned heavily at retail throughout the fall and winter alongside other Gaither Music Group releases and will be aired as part of a direct tv campaign on networks including GAC, RFD, INSP, GMC, TBN, FamilyNet, CTS, CTN, TCT, TLN, Airtime 1, GMTN, Grace, Legacy, Miracle and Vision.
For further information regarding The Isaacs, please visit www.TheIsaacs.com  or www.gaither.com , Follow them on Twitter at www.twitter.com/IsaacsMusic  and on Facebook at www.facebook.com/TheIsaacs .
About The Isaacs
The Isaacs is a multi-award-winning family group that blends tight harmony with contemporary acoustic instrumentation, winning the praise of critics and the loyalty of audiences all over the world. The Isaacs, known for their hair-raising arrangements, perform frequently at The Grand Ole Opry and are favorites on the Gaither Homecoming video and concert series. The group has performed with legendary performers such as Dolly Parton, Trace Adkins, Brad Paisley, Paul Simon, Vince Gill, Randy Owen, Trisha Yearwood, Ralph Stanley, Mark Lowry and many more.
Tags:
Becky Isaacs Bowman
,
Ben Isaacs
,
bluegrass
,
Gaither Music
,
Jimmy Yeary
,
Mark Lowry
,
Ralph Stanley
,
Randy Owne
,
Sonjay Isaacs Year
,
Southern Gospel Music
,
the isaacs
,
Trisha Yearwood
,
Vince Gill
Posted in
announcements
,
new music
|
Comments Off

on The Award-winning Isaacs Release All-new Studio Recording Why Can't We